Back to german article
Outdoor stove - Which type of camping stove suits you?
Which Bushcraft stove suits you? Gas, gasoline, spirit or Esbit? Or the one with wood? Get an overview of all bushcraft stoves.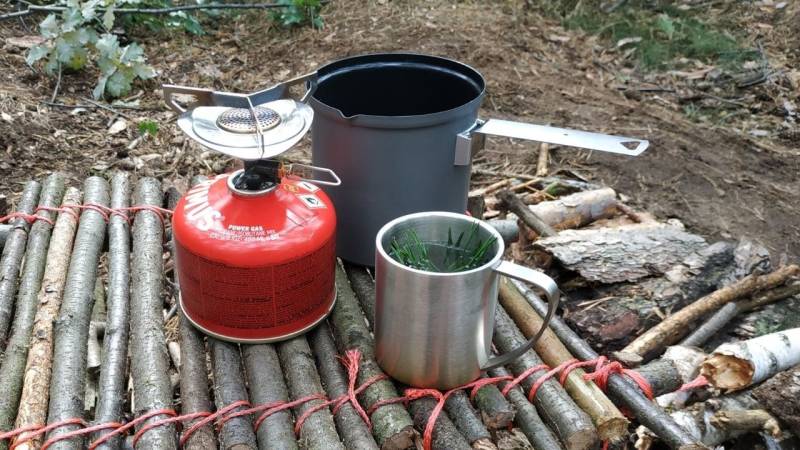 ---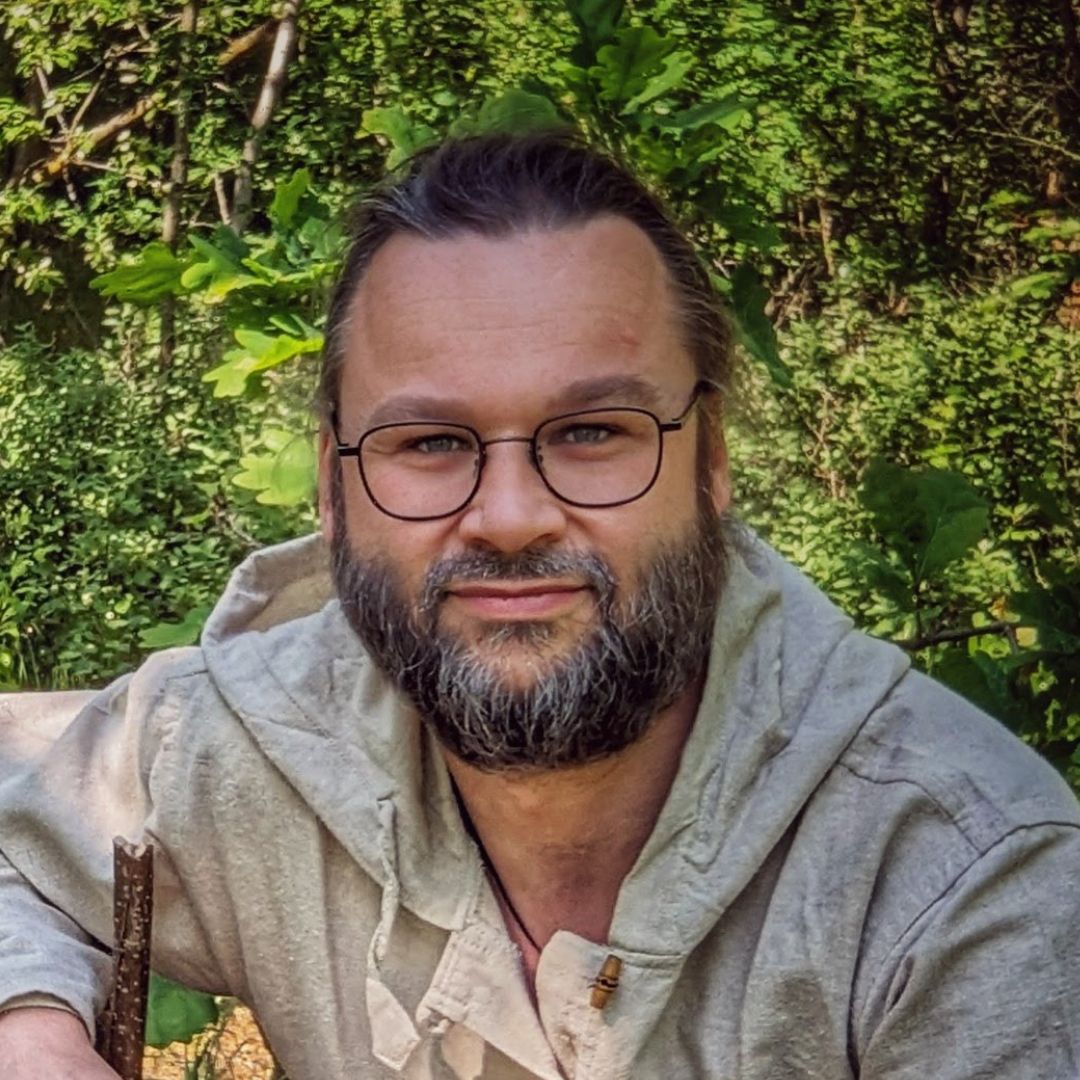 ---
👉 The key facts from this guide
There are different kinds of outdoor cookers, including the Hobo stove, the wood gas stove, the spirit stove, the gas stove, the gasoline stove and the Esbit stove.
The Hobo stove is a metal container used as a combustion chamber. It is lightweight, compact and can be fueled with wood from the forest.
A wood gas stove is an advanced Hobo stove that burns wood gas. It produces very little smoke and generates a lot of heat.
Spirit stoves are ideal for cooking for a whole family. They are safe to use, and alcohol fuel is available almost worldwide.
Gas stoves are popular because they burn very hot and are quickly ready for use. However, they are slightly larger and heavier due to the gas cartridge.
Gasoline stoves are ideal if you are on the move with a motorized vehicle. They become very hot, but are also noisy.
Esbit stoves are tiny and lightweight. They are quickly ready for use and generate heat immediately. The fuel is a tablet, which is also known as dry alcohol.
We outdoor enthusiasts love fire.
And what is the highlight of a sweaty hiking or bushcraft day?
Exactly: Cooking and preparing food.
Your meal is the reward for your strenuous day.
In addition, self-prepared food simply tastes great. Seasoned with fresh forest and meadow air, it becomes a delicacy.
Now I want to introduce you to the most popular outdoor and camping stoves.
All outdoor cookers and burners have one thing in common: they are portable campfires, your backpacking fire pit.
What does the community say? How do most people cook outdoors?
I asked the community how they like to cook best.
This came out: Most people like to cook with spirits. The answers are varied, but see for yourself.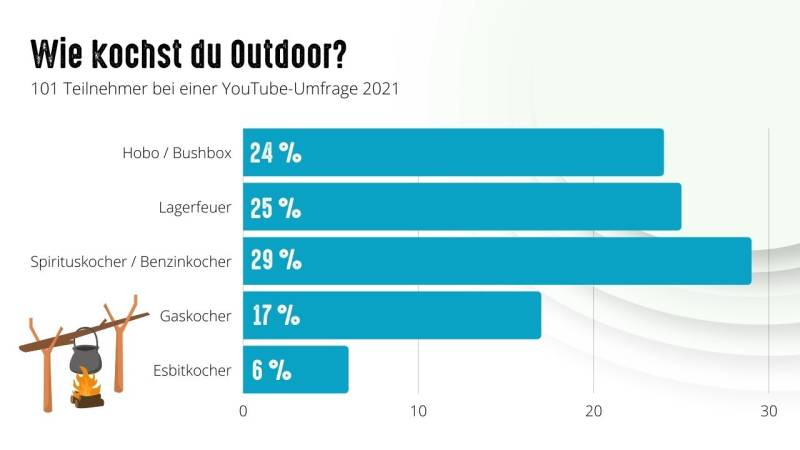 And now we'll take a closer look at each stove.
Let's start with the Hobo Stove.
The Hobo Oven / Bushbox
The Hobo stove or Bushbox, as it is also called, is a metal vessel that serves as a combustion chamber.
You place a pot or cup on top of the Hobo which heats up as a result. The lower part of the vessel has holes through which air is drawn in.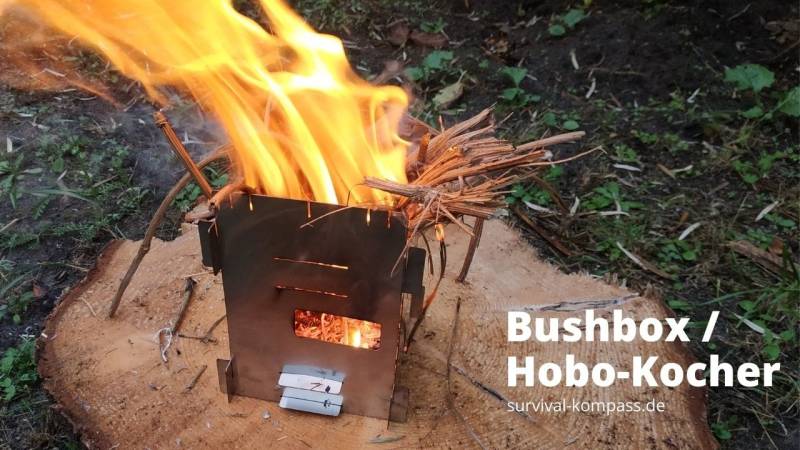 The fire in the Hobo is concentrated on the metal walls. The heat does not radiate outwards, as with a campfire, but remains largely in the vessel.
The chimney effect is created by the holes in the bottom of the Hobo stove.
Your fire receives particularly good oxygen supply and therefore burns well. As a result, even small amounts of wood burn completely, and it reaches high temperatures.
The advantages to using a Hobo:
Gas or other fuels are unnecessary, which saves weight. You can use wood from the forest as fuel.
A Hobo is small, compact, and lightweight. It can be assembled easily and packed away wonderfully. Therefore, it is ideal for your trekking, bushcraft, or survival tour.
The disadvantages:
You have to keep adding wood. With small Hobos, you may have to constantly collect wood.
Due to its size, you cannot use large branches with this type of stove.
While your wood burns hotly due to the chimney effect, it also burns faster.
You must light your Hobo before there will be enough heat for cooking purposes.
Its performance surpasses that of an alcohol stove but falls short compared to gas or petrol stoves which offer more heat output. Preparing coffee or lunch is no problem, however, providing for a whole family becomes difficult.
The Hobo stove is also called a portable wood burning stove, camping cooker or outdoor cooker.
Two of the most well-known hobos manufacturers are Wikatech and Bushcraft Essentials. Both offer high-quality hobo stoves that can be folded and assembled easily.
Tip: Also read my review of the FlexFire Premium 6.
Here are my buying recommendations:
Hobo Kocher FlexFire 6 mobiler Camping Ofen, Made in Germany, Outdoor Kocher Grill für Bushcraft Angeln Wandern Reisen Familien V4A Edelstahl Premium Esbit Trangia Gas Kocher für Jedermann
Großer Outdoor Kocher höchste Qualität "Made in Germany" Extrem schneller Auf- und Abbau des Hobo Kochers von unter einer Minute. Anpassbar von der kleinen Tasse bis zur großen Pfanne
Flexibel in der Art des Brennstoffs, Multifuel fähig! Alle Arten von Holz, Spiritus Kocher, Trangia, Gaskocher, Gel-Kocher, Festbrennstoffe wie Esbit oder Kohle nutzbar
Klimaneutral hergestellt und umweltfreudlicher CO2-Neutraler Betrieb des Holzofens möglich. Ascheplatte zum Schutz des Bodens gegen zu hohe Hitze. Robust durch die Verwendung von hochtemperaturbeständiger V4A-Legierung, Spülmaschinenfest Damit Leicht und kompakt zu verstauen.
Einfache Anpassung der Brenn- und Ascheplatte zur Nutzung anderer Brennstoffe möglich. Idealer Abstand zwischen Trangia und Topfboden
Der Feuerkocher ist dein perfekter Begleiter für ein Camping Feuer in wunderbarer Atmosphäre. Geeignet als Notfallkocher. Geliefert wird der Wood Stove in einer hochwertigen Segeltuchtasche. Upgradefähig zur 4er-Serie!
129,99 €
View Product
Interesting to know: during the Great Depression of 1929/1930, North American migrant workers were called Hobos. The name of the stove comes from them. The Hobo primarily served the workers as a heater, but also as a stove.
Wood gas stove
A wood gas stove is an advanced Hobo, which burns the wood gases. For me, this is a very interesting principle of a Bushcraft stove.
This stove smokes very little and produces a lot of heat. With it, you can prepare your food and tea in your outdoor camp. These advanced Hobos are based on the simple principle of wood gasification.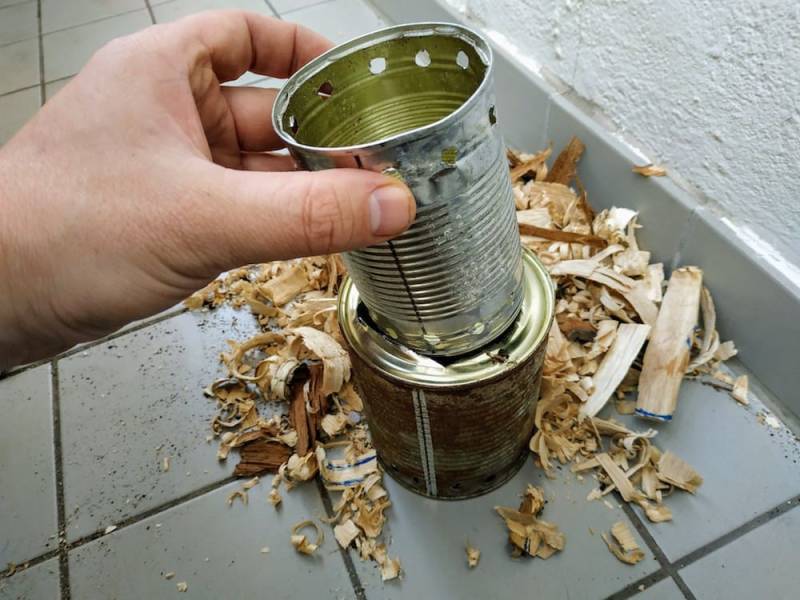 The first combustion chamber, the interior of the stove, contains wood as the fuel. In the outer cavity of the double wall, oxygen rises and there is a secondary combustion of the wood gases (and smoke) at the exit of the air holes.
This results in complete combustion through the double wall. This means that a wood gas stove works very efficiently and almost all the wood is burned.
A huge advantage of secondary combustion: there is almost no smoke. Because no smoke is produced, the wood gas stove is almost invisible in your Bushcraft camp.
The disadvantage of the wood gas stove is that it cannot be disassembled.
In my article "How to build a wood gas stove", you will find a detailed guide on building a simple wood gas stove.
Here is a recommended purchase:
CANWAY Camping Kocher Campingkocher Holzvergaser Kocher Outdoor Ofen Holzofen Camping aus Edelstahl für Picknick, Wandern, Camping (Style 2)
Gestaltungsprinzip : Bei der Verbrennung von Holz wird Holzgas erzeugt. Dann wird das Holzgas zweites Mal verbrannt. Bei diesem Prozess wird der schwarze Rauch ganz verbrannt.Und da die Luft in dem Camping Kocher zirkulieren kann, verbrennt der Brennstoff sehr voll.
Der Camping Kocher ist aus Edelstahl hersgestellt, dadurch ist er entsprechend langlebig, robust, rostfrei und natürlich hitzebeständig.
Der Aufbau des Camping Kochers ist modular, daher ist ein schneller Auf- / Abbau möglich, und die Verparkung(14x13.8x8cm) ist sehr handlich und klein. Sie können in dem Rucksack problemlos tragen. Beim Transport ist er sehr platzsparend.
Der Camping Kocher eignet sich für Outdooraktivitäten,und er kann im Rucksack bequem transportiert werden. Es ist sehr bequem, egal ob Stockbrot oder Marshmallows oder einfach nur Wasser Tee aufzukochen.
Die Garantie beträgt 18 Monate. Wenn es innerhalb der ersten 18 Monate Produktqualitätsprobleme gibt, können sie uns kontaktieren, um die Probleme für sie zu beheben. Lieferumfang: Holzofen; eine einfache Bedienungsanleitung; eine schwarze Netztasche.
13,99 €
View Product
Spirit stove / alcohol burner / storm cooker
With the spirit stove, you can cook for your whole family, as these outdoor stoves are also available in large sizes. Even big pots fit on them in your Bushcraft camp.
On the other hand, the alcohol burner is only suitable for a small pot – but it is compact and lightweight (e.g., a Trangia, starting at around €12.50).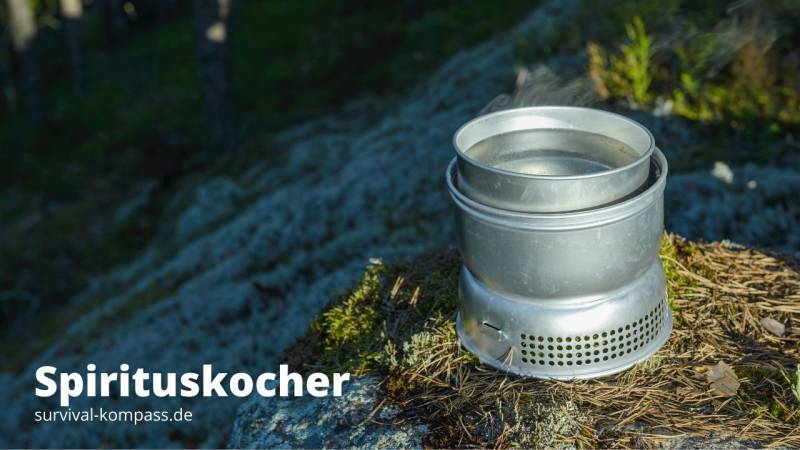 Alcohol is denatured alcohol, and this fuel is available almost worldwide. Furthermore, the application is very safe, as alcohol burns cleanly. In addition, alcohol has a good energy density.
Advantages: you can place a small alcohol burner wonderfully in your Hobo stove and prepare your food with it.
The disadvantage: you have to take the alcohol with you on your trip. Unlike wood, alcohol doesn't just lie around in the forest.
Here is a recommended purchase for an outdoor stove with burner:
Daten aktualisiert vor einer Stunde
I took a closer look at the Trangia Storm Cooker Set 25 and you can find my detailed review and test here.
Gas stove
Gas stoves are popular among outdoor enthusiasts because they burn very hot and can be obtained for €20.
The advantages: a gas stove burns constantly. This means that you also have a constant heat under your pot with this Bushcraft stove.
Furthermore, a gas stove is quickly ready for use. Screw it together, turn it on, and your food is immediately heated.
I started cooking with a gas stove and still use it. I infinitely appreciate feeling the power immediately under the pot, and in a few minutes my water is boiling.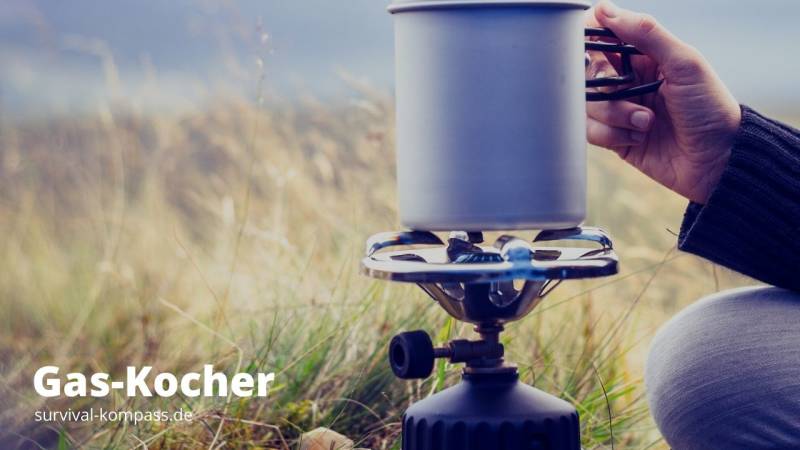 The disadvantages are the packing size and weight. After all, you always have to carry a gas cartridge with you.
If the flame is only tiny and in the middle, you have to stir a lot. Otherwise, your food burns in the middle and remains cold on the edges.
The volume is not to be underestimated, either. A wood fire crackles occasionally, but with a gas stove, you can hear the gas hissing if you turn it up all the way.
A gas stove costs €20 to €60 and the gas cartridge has to be purchased separately.
Here is an affordable and high-quality recommendation for beginners:
Daten aktualisiert vor einer Stunde
P. S. Gas stoves are also the safest to use indoors.
Petrol Stove
Petrol stoves are particularly popular when you are on the road with a vehicle (ideally with petrol) because then you can use the petrol for your outdoor stove.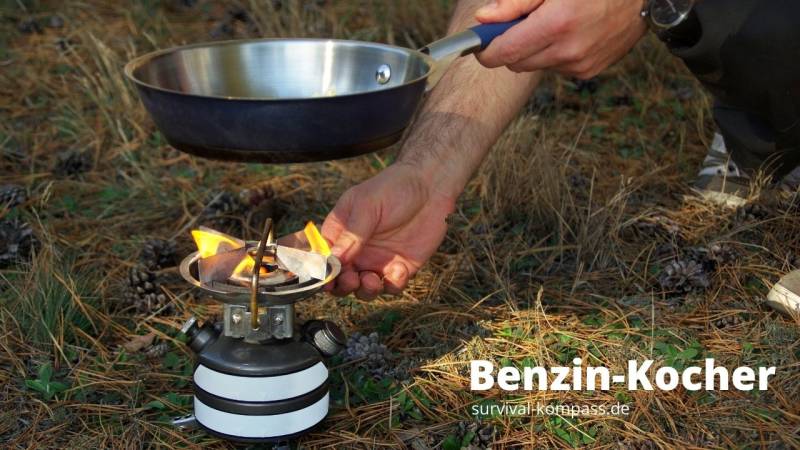 Petrol stoves get very hot, which makes them ideal for quick cooking. Now you might think: Oh dear, it will surely smell of petrol in my camp. But that's not the case. The petrol stove only emits a petrol smell when lit, but not during further use.
The disadvantage is the noise of some models. The price for most models starts at €40 to €50.
Daten aktualisiert vor einer Stunde
Coleman 442-700E Kocher unleaded Feather (12 x 15 cm)
Umweltfreundlicher Leichtgewicht Kocher mit Coleman Fuel oder belifreiem Benzin zu betreiben; 1 Liter Wasser kocht in ca. 3 Min 55 Sek.
Einfache Handhabung, ausklappbare Füße für sicheren Stand; Tankinhalt 0,35 L; Brenndauer bis zu 7 Std.
2200 Watt Leistung
Gewicht 685 g; Abmessung: H 15 x Ø 12 cm
Passender Ersatzgenerator (nicht im Lieferumfang) Art.: 201066
101,55 €
UVP: 129,99 €
View Product
Esbit Stove
Esbit originated as an acronym for "Erich Schumm's solidified alcohol fuel" and is a brand name/trademark for Urotropine fuel tablets.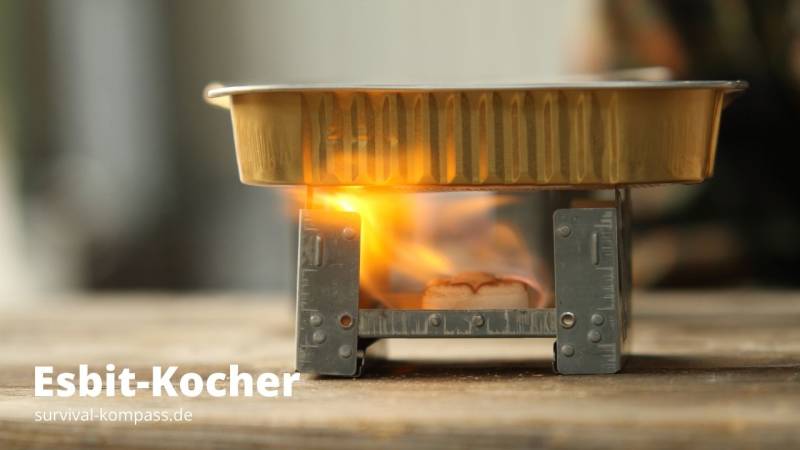 As you may have already read, the fuel for the Esbit Stove (Read more about the topic in my detailed review) is a tablet. The fuel is also called solidified alcohol.
The Esbit stove is therefore a solid fuel stove. The Esbit stove has a big advantage: It is incredibly small. It literally fits in your pocket.
It is also quickly ready to use and generates heat immediately.
The cost is around €10. The disadvantage of the Esbit stove is that it can only heat small amounts of food and water at once. Additionally, Esbit has a scent.
Daten aktualisiert vor einer Stunde
Rocket Stove
Sounds dangerous, doesn't it? But it's not, rather a rocket stove is fun and safe.
Most rocket stoves really go off like a rocket due to the optimal air supply, chimney effect and wood gasification principle. This makes the wood burn extremely efficiently.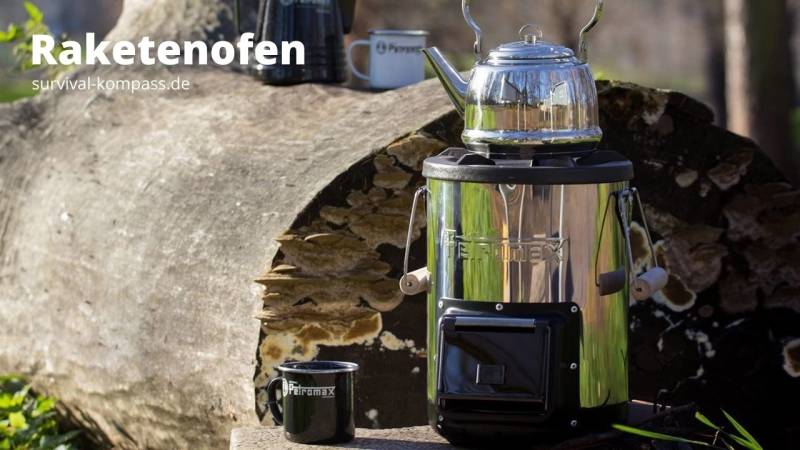 Most rocket stoves are built in an L-shape and the fuel is pushed into the combustion chamber at the bottom. The combustion chamber gets very hot because the heat is limited and also doesn't easily escape through the insulated housing.
Advantages: A rocket stove as an outdoor stove burns wood efficiently and gets extremely hot.
Disadvantages: The weight of the rocket stove is high due to stainless steel and cast iron. Outdoor stoves weigh 4 to 7 kilos.
Here is my recommendation:
Petromax Raketenofen | extrem effiziente Verbrennung von Holz, Tannenzapfen und Co. | Kochen, Braten und Brutzeln | robust | langlebig | gusseisernes Oberteil mit sehr guter Wärmespeicherung | sparsam
Der Raketenofen ist die ideale Kochstelle für den Outdoor- und Campingbereich. In kürzester Zeit ist er mit kleinen Ästen und Holzscheiten auf hohe Temperaturen gebracht – 𝐮𝐧𝐚𝐛𝐡ä𝐧𝐠𝐢𝐠 𝐯𝐨𝐧 𝐒𝐭𝐫𝐨𝐦.
Die L-förmige Bauweise sorgt für einen 𝐊𝐚𝐦𝐢𝐧𝐞𝐟𝐟𝐞𝐤𝐭. Durch den konstanten Luftsog ist die Brennweise des Raketenofens auch mit nur wenig Brennmaterialien besonders effektiv.
Brennrückstände fallen sicher in den herausnehmbaren Aschekasten. So wird der Untergrund geschont und das Reinigen geht schnell und unkompliziert von der Hand. Das isolierte Ofengehäuse ist doppelwandig und 𝐛𝐞𝐬𝐨𝐧𝐝𝐞𝐫𝐬 𝐛𝐞𝐥𝐚𝐬𝐭𝐛𝐚𝐫.
Die gusseiserne Kochfläche 𝐥𝐞𝐢𝐭𝐞𝐭 𝐝𝐢𝐞 𝐖ä𝐫𝐦𝐞 𝐠𝐥𝐞𝐢𝐜𝐡𝐦äß𝐢𝐠 an dein Kochgeschirr weiter und speichert sie lange. Einfaches nachschieben von Brennmaterialien reguliert die Temperatur. Das Öffnen und Schließen der Klappe steuert die Luftzufuhr.
Der Petromax Raketenofen kommt bereits 𝐢𝐧 𝐞𝐢𝐧𝐞𝐦 𝐒𝐭ü𝐜𝐤 bei dir an. Lediglich die Transportgriffe sind noch mit einem Schraubendreher zu befestigen.
119,00 €
View Product
Multi-Fuel Stove
I didn't know about this for a long time: the multi-fuel stove. This will make you even more independent of the fuel because with a multi-fuel stove you can cook with petrol, diesel, gas, kerosene, or petroleum.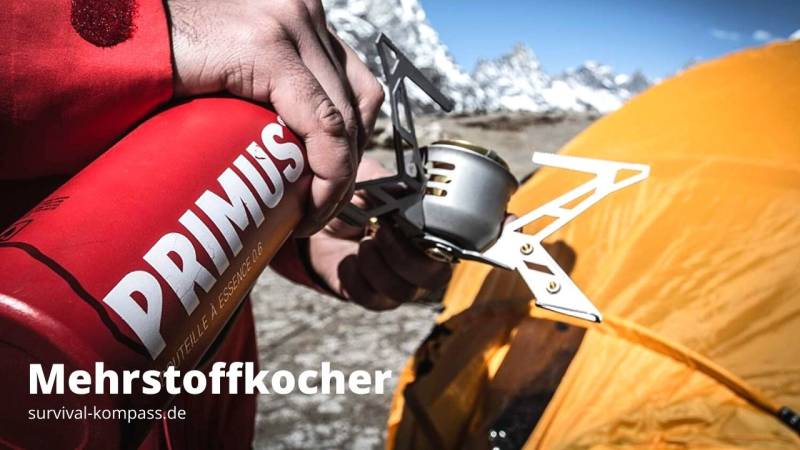 The nozzles for different types of fuel are usually marked and screwed to the outdoor stove to prevent them from getting lost.
Advantage: Absolutely flexible when it comes to fuel. Collapsible and serviceable on the go.
Disadvantage: Usually pricier than other bushcraft stoves because these outdoor stoves can handle all types of fuel. Prices start at around €100.
Daten aktualisiert vor einer Stunde
Primus Unisex – Erwachsene OmniFuel II Kocher, grau, 14,2 x 8,8 x 6,6 cm
Robust, zuverlässig, leistungsstark auch bei schlechtesten Wetterbedingungen: In großen Höhen oder bei niedrigen Temperaturen.
Der Omnifuel II ist genauso leistungsstark wie sein Vorgänger, jedoch kompakter.
Die Düsen für verschiedene Brennstoff-Arten sind deutlich gekennzeichnet und an den Füßen verschraubt, damit sie nicht verloren gehen.
Hat eine Leistung von 3000 Watt.
160,73 €
UVP: 254,95 €
View Product
Tent Stove
A tent stove is not only a cooking spot but also a heating system. As the name suggests, it is usable as a tent, tipis, yurts, cabins, or small houses.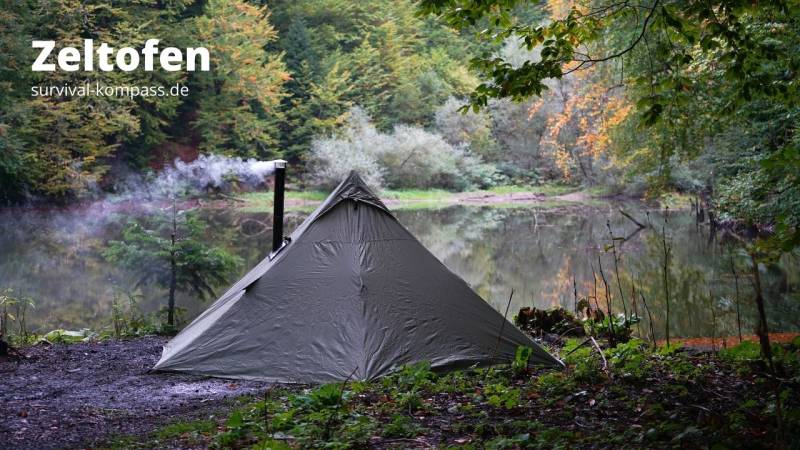 That is to say, you don't just carry this tent stove into the woods and back in a day. You take a tent stove with you when you spend several days or weeks in the wilderness during winter. Most stoves weigh between 9 and 13 kg.
The fireplace of the tent stove can be completely closed, or you can use it for cooking.
Fantastic is the warmth the tent stove radiates inside the tent. I still remember my first encounter in a tipi during winter. After 5 minutes, I had to take off my jacket and sweater because it was so cozy warm inside the tent.
Be clear: With a tent stove, you're buying a real stove, like the ones from earlier times. The tent stove has a chimney pipe attached that leads out of the tent.
The legs of the tent stove can be folded, and the pipe sections can be stored inside the stove. This makes the stove portable.
Tent stoves start at around €150.
Summary
All outdoor and camping stoves have their advantages and disadvantages. I summarized them for you in the table.
Cooker Type
Weight
Packed Size
Power
Price from
Advantage
Disadvantage
Bushbox/Hobo
Low
Low
Medium
€20
- Fuel wood available in the forest
- Need to ignite until cooking heat is available
- Constantly need to refill small hobos
Wood Gasifier
Low
Medium
Medium
€20
- Burns wood gases: less smoke and more heat
- Cooking heat is not immediately available
Spiritus Cooker/Burner
Very Low
Very Low
Very Low
€12
- Compact size
- Lightweight
- Risk of strong odor if leaked
Storm Cooker
Medium
High
Medium
€50
- Cook for the whole family
- Bulky packed size
Gas Cooker
Low
Medium
High
€16
- Immediate heat for cooking
- Maintenance-free
- The sound of burning gas can be heard
Petrol Cooker
Low
Medium
High
€56
- Immediate heat for cooking
- May emit slight odor
- Low noise level
- Requires maintenance
Esbit Cooker
Very Low
Very Low
Very Low
€9
- Fits in your pocket
- Suitable only for small meals
- Strong odor of Esbit fuel
Rocket Stove
High
High
Very High
€75
- Strong heat production
- Slightly heavy for daily outings
Multi-Fuel Cooker
Low
Medium
High
€50
- Operates on various fuels
(Gasoline, diesel, gas, kerosene, petroleum)
- Requires maintenance
Tent Stove
Very High
Very High
Very High
€105
- Cooking Station and heater in one
- Heats an entire tent
- Slightly heavy for daily transport
Now you can hopefully get an overview of the different types of cookers.
And for those who prefer to ignite their oven with wood because it's more rustic, I can understand that very well.
But maybe someone else needs a quick and hot flame? Then it makes sense to use the gas cooker.
Either way, it is important to know your preferences and needs. If you know them, you can quickly make a selection.
Which outdoor cooker do you like best? Write me your preferences in the comments.
And don't forget: If there is a risk of forest fires, keep the fire off.

Was this guide helpful?
28 people found this guide helpful.
4.86 out of 5 points (29 Ratings)