Back to german article
The Silky BIGBOY in test - large folding saw for the forest
Need to saw firewood quickly Then check out the Silky BIGBOY folding saw because it's a versatile tool for Bushcrafters, Survivalists, or Campers.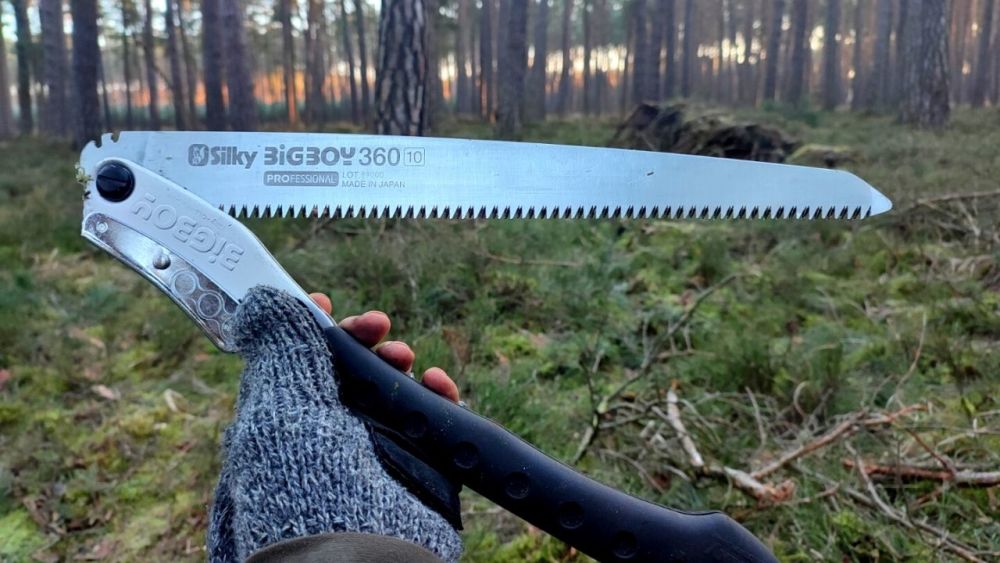 ---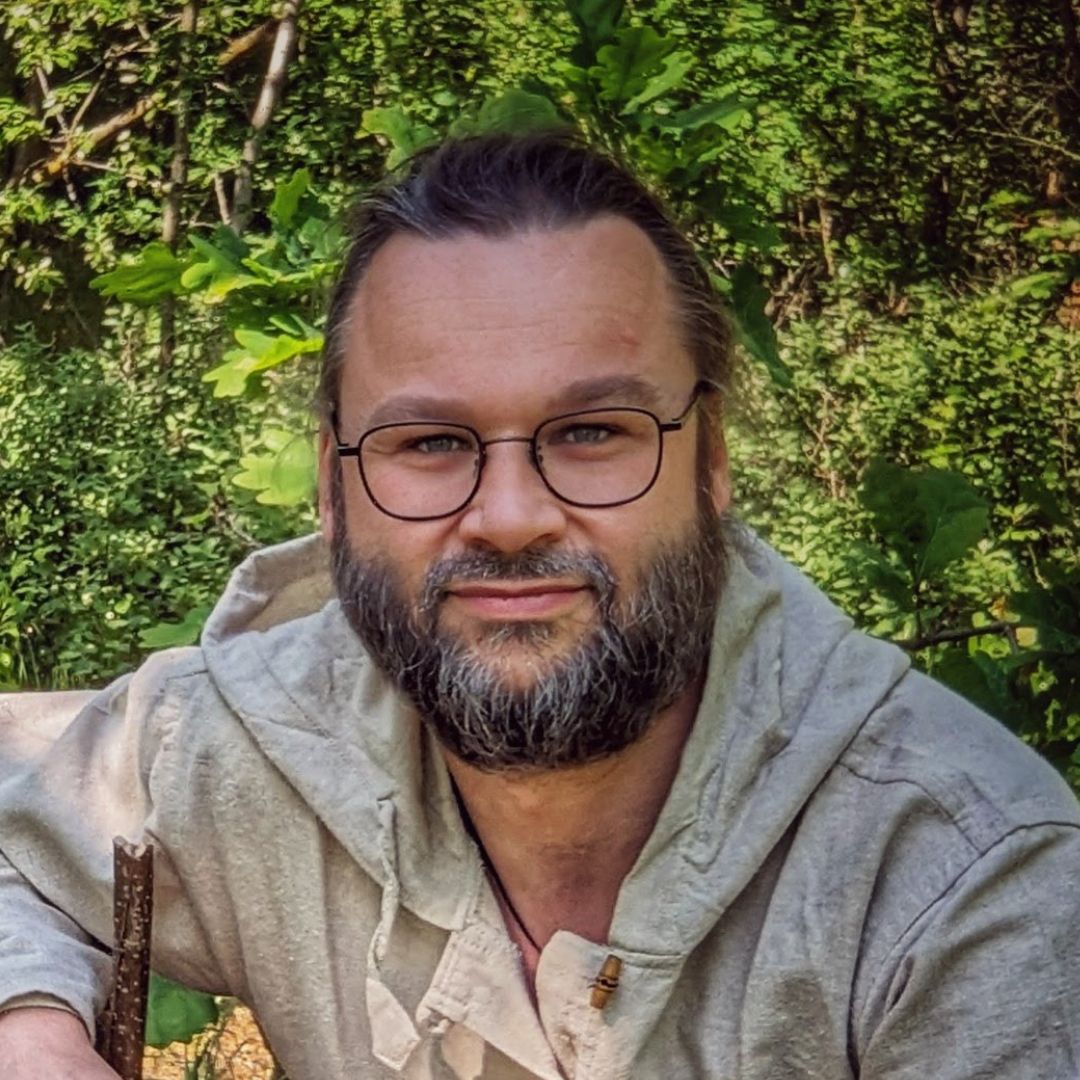 ---
👉 The key facts from this guide
The Silky BIGBOY folding saw is a versatile tool for bushcrafters, survivalists, or campers. It has a saw blade length of over 36 cm and is ideal for cutting larger logs.
The saw is lightweight and has a thick and strong aluminum handle. It is safe and efficient to use, although it can sometimes bend if handled carelessly when pushing.
The Silky BIGBOY saws smoothly, without much force and silently through wood. It cuts both green and dry wood and requires little pressure.
The saw has interchangeable saw blades, and there are four tooth sizes/configurations offered depending on the type of wood you want to saw.
Despite the length and weight of the saw, the flexibility of the Silky BIGBOY is impressive, and it offers fine control over the placement of cuts.
The Silky BIGBOY is an excellent choice for crushing large logs and is available for around €70.
You've always wanted to saw firewood in no time?
Then take a look at the Silky BIGBOY saw because it is an amazingly versatile tool for Bushcrafters, survivalists, or campers.
Discover all the important facts about the Silky BIGBOY now.
Why the BIGBOY belongs in your backpack
You're tired of sawing large tree trunks with your short saw? Your hand hurts because the axe is so heavy?
Then you should take a look at the Silky BIGBOY because it is one of the largest survival bushcraft folding saws on the market.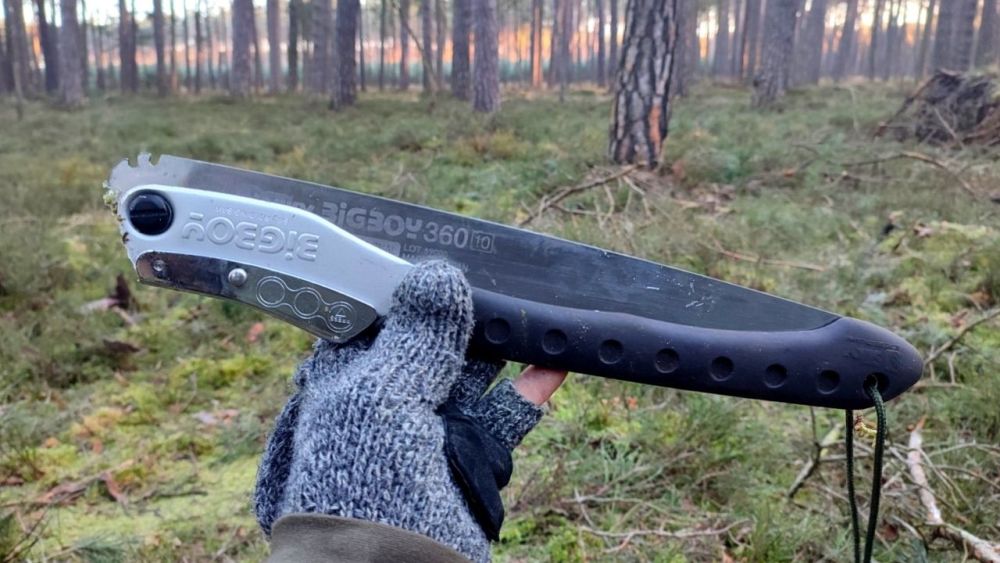 There are folding saws, and then there is the BIGBOY. With a blade length of over 36 cm, the BIGBOY offers a larger cutting capacity and a longer stroke than many other saws.
Large branches, small trunks, and even many construction projects are easily handled by this saw. The Silky BIGBOY is lightweight, with a thick and sturdy aluminum handle and a long blade, making it perfect for cutting larger trunks.
After experimenting with the smaller Bahco Laplander and the Coghlans folding saw for a long time, I recently purchased the larger Silky BIGBOY folding saw - and I was not disappointed.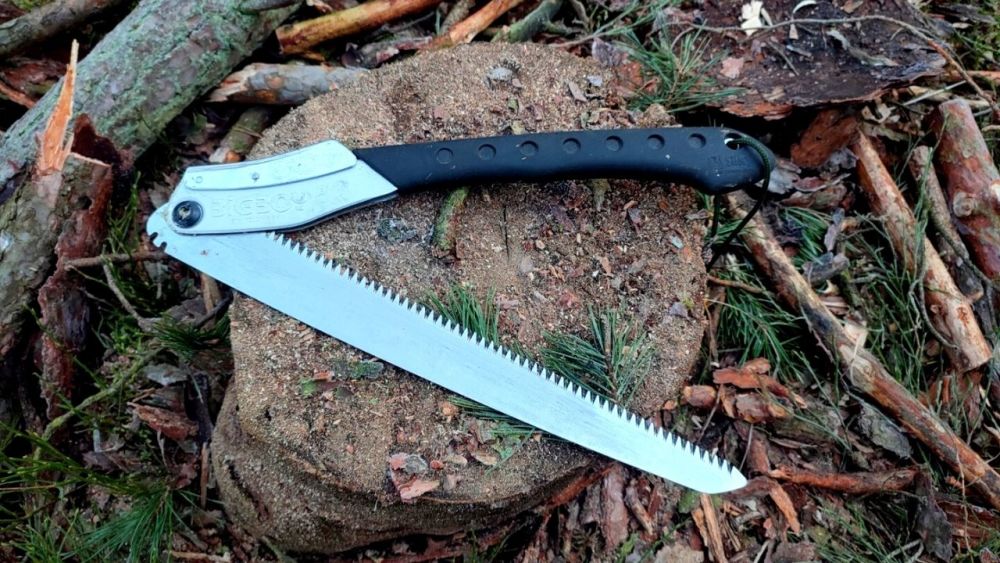 The Silky BIGBOY can be used ideally by beginners, as long as they are cutting firewood in their bushcraft camp.
However, I would not recommend the saw for beginners to fell trees. The long saw blade naturally invites you to do so, but felling trees is not safe.
The felling of trees by sawing is dangerous because they can fall on you if you are sawing in the wrong place. And there is a high risk of damaging your new Silky BIGBOY because the saw blade can get jammed.
Read also: How to fell a tree with a saw or an axe
Advantages of the Silky BIGBOY
The Silky BIGBOY has one thing above all: it saws smoothly, without much effort and silently through wood.
Here are the positive points that I noticed:
Cuts green and dry wood
Little pressure required
Super sharp
Great saw for camping
Secure non-slip grip
Replaceable saw blades
Optional: Curved saw blade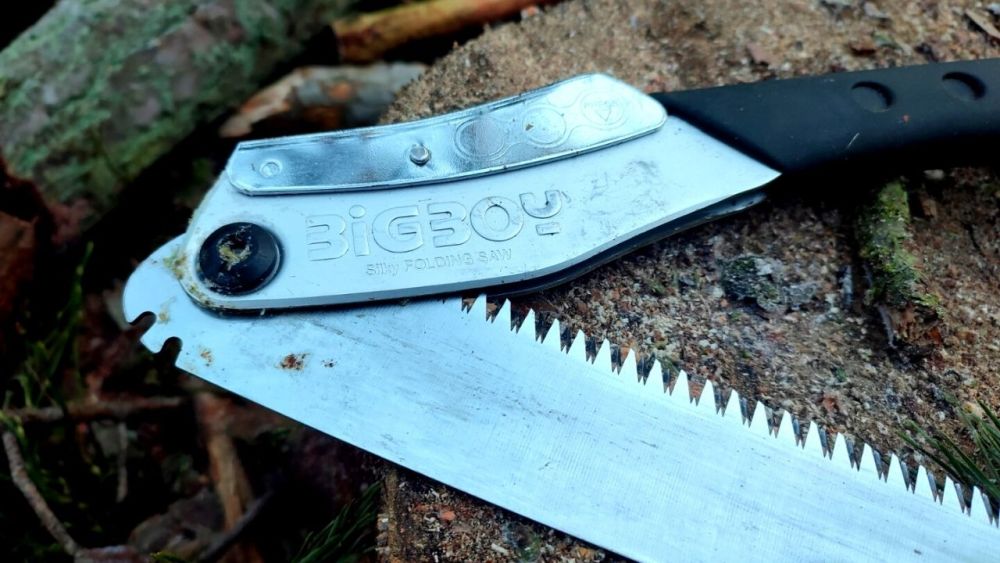 Disadvantages of the Silky BIGBOY
Do you like long saw blades? Then you also have to accept the length and weight of the saw (408 g), which is of course a disadvantage.
In addition, I noticed that the saw blade sometimes bends when pushed carelessly. This occurs especially when the saw blade is not aligned straight in the cut.
You should also be aware that the saw blade is quite flexible and can be easily bent.
I would like to mention that the saw blade of the BIGBOY only cuts in one direction, as the saw is a pull saw. This doesn't have to be a disadvantage, but those who are familiar with a push-pull saw may need to adjust at first.
I quickly got the hang of it and then realized that I didn't have to apply much pressure to the saw, as I was used to.
Furthermore, no carrying case for the saw is included in the scope of delivery.
Secure Grip
The BIGBOY is equipped with a thick non-slip handle that provides you with a strong grip.
In addition, you will find that the handle is long and comfortable enough to hold with both hands.
Once you have both hands on the saw, you feel like the boss in the sawmill.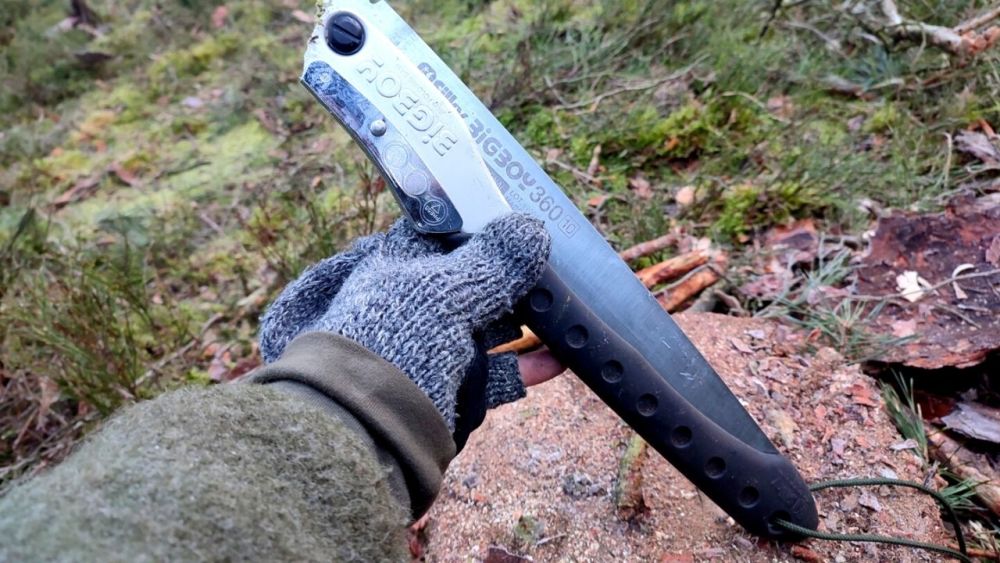 Handling the Silky BIGBOY
Furthermore, when handling the BIGBOY, you should proceed with caution because even when folded, some saw teeth are exposed (in the curved version). With smaller folding saws, like the Silky GOMBOY folding saw, the saw blade is completely folded into the handle.
Despite these security aspects, the flexibility of the Silky BIGBOY with its 30 cm blade is quite impressive. Non-folding saws, for example, cannot compete because the handle gets in the way and thick logs cannot be efficiently sawn through.
Summary
Although the Silky BIGBOY with its extra-large teeth is a wild cutting tool, it is still much safer than using a chainsaw or an axe and provides fine control over the placement of cuts.
When purchasing the BIGBOY, pay attention to the four tooth sizes/configurations that are offered.
Yellow handle: extra-large saw teeth (for pruning, green wood)
Red handle: large saw teeth (for pruning, green wood)
Black handle: medium saw teeth (soft wood)
Blue handle: fine saw teeth (hardwood, bamboo)
And what particularly impressed me about the Silky BIGBOY:
incredible cutting performance
minimal effort required
extremely clean cutting surface
It is available for around €70 and is an excellent choice for shredding large trunks.
Silky Big Boy Klappsäge 2000 360mm Klinge, 7,5/30mm, gelb, gebogens Blatt
BigBoy – eine sehr beliebte Serie japanische Klappsäge aufgrund ihrer Vielseitigkeit und Schnittleistung
gebogene 360mm Klinge mit grober Mirai-Me Verzahnung (7,5 Zähne/30mm) – geeignet für frisches Holz
insbesondere zur Baumpflege geeignet aufgrund der gebogenen Form, aber auch als nützliche Gartensäge oder Bausäge verwendbar
bei Zweihandnutzung optimale Schnittleistung bei höchster Präzision und sehr geringem Kraftaufwand
schnelle, saubere Schnitte bei geringem Kraftaufwand; schonend gegenüber den Holzzellen
98,27 €
View Product
And if you don't like the Silky BIGBOY, then you might find your desired folding saw in my top list.

Was this guide helpful?
13 people found this guide helpful.
5.00 out of 5 points (13 Ratings)