Back to german article
The best Survival-Bushcraft-Saw 2023 (foldable and most reliable)
Take a look at the list of the best folding saws for outdoor, survival, and bushcraft. The buying guide for saws helps you make the best decision.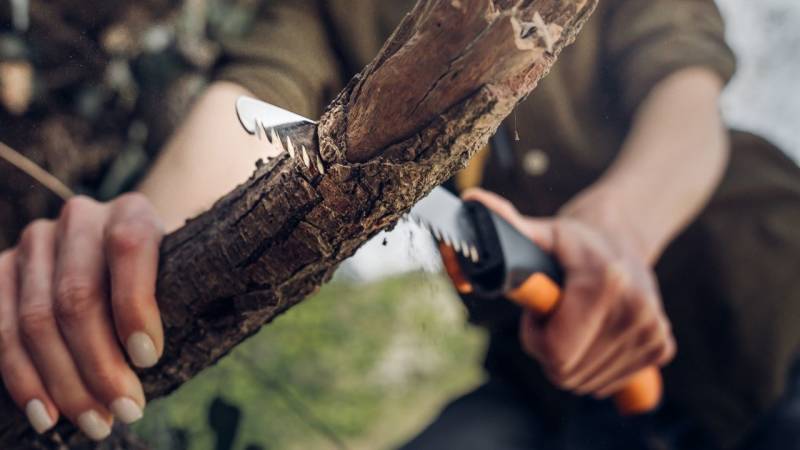 ---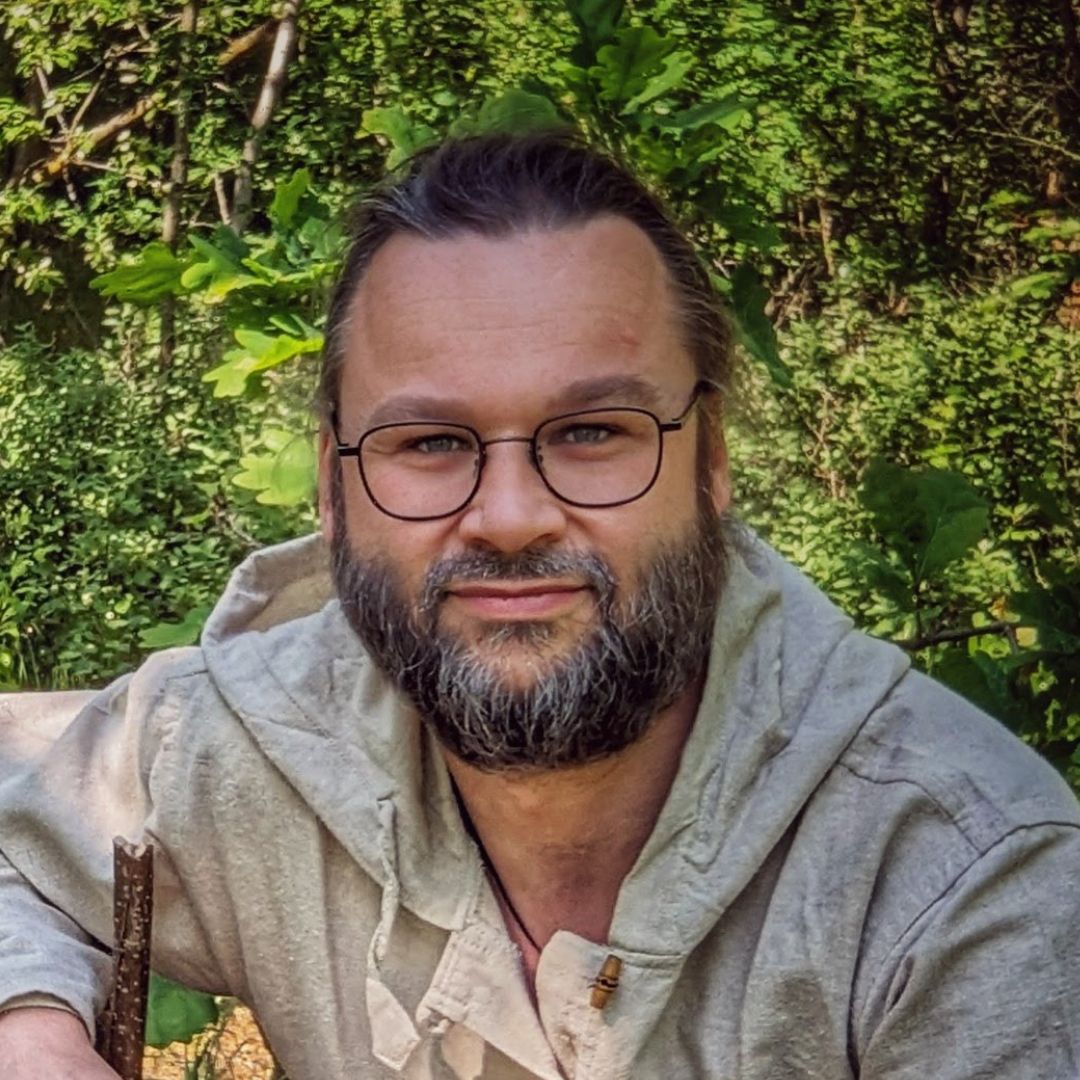 ---
👉 The key facts from this guide
When buying a folding saw, it is important to pay attention to the sawing mechanism. There are saws that cut only on the pull stroke, while others cut on both the push and pull stroke.
The efficiency of the saw blades is crucial. Saw blades with many teeth per inch are ideal for smooth cuts, while saw blades with fewer teeth per inch cut quickly but coarsely.
The material from which the saw is made influences its durability and functionality. The handle or frame should be made of a sturdy material that provides additional support to the saw blade.
The Silky Big Boy folding saw is a good choice if you are looking for a larger survival bushcraft folding saw. It offers solid performance and durability.
The Corona RS is a high-quality folding saw that has received overwhelmingly positive feedback. It has an efficient curved blade and an appealing handle.
The Coghlans folding saw is a suitable alternative for campers and hikers who want to take advantage of the benefits of a bow saw that fits into tighter spaces between trees and other obstacles.
With the huge selection of saws on the market, it becomes extremely difficult to make an informed choice.
There are always new brands coming onto the market.
Without good research, you will likely end up buying a low-quality product.
Fortunately, I deal with many tools and in my experience, it is quite easy to identify a good survival bushcraft saw.
At least I spare you the hassle of trying out by keeping you informed about the currently best survival bushcraft saws.
Furthermore, I have compiled a comprehensive shopping guide that will assist you during your purchase.
Top 7 Folding Survival Bushcraft Saws
Whether it's clearing a path, cutting firewood, or building your own shelter for the night - you need a saw.
In the next section, I will thoroughly review each folding saw so that you can familiarize yourself with the specific features of my top list.
I have invested a lot of work and research to provide you with my experiences of these folding saws. Of course, there are many saws on the market, but these are the elite of folding saws.
Here is my list:
And now let's take a closer look at the models.
1. Silky Ultra Accel Folding Saw
Silky is one of the most popular and respected companies in the industry and is quite good at producing high-quality outdoor saws.
At least you can be sure that the Ultra Accel model is a premium product designed for performance.
You're probably wondering why this folding saw is my top choice. Well, let's jump right into the attributes that make it a worthwhile investment.
Daten aktualisiert vor 19 Stunden
Excellent Performance
If you're looking for an all-around saw that delivers fast cuts, then the Ultra Accel is your best choice.
This beast comes with a curved blade that provides maximum speed and efficiency. Additionally, the saw has large teeth, which is why cutting wood with this survival bushcraft saw is always a breeze.
Build Quality
It goes without saying that the Ultra Accel has a great and solid design. Every single component is made from high-quality materials to ensure years of enjoyment.
For example, the blade has undergone a technology called "Impulse Hardening" to maintain sharpness and flexibility.
This allows you to push your saw to the maximum without compromising the blade. Furthermore, the frame itself is made of lightweight aluminum and coated with thick rubber. The sturdy and comfortable handle completes the job.
Advantages
Lightweight
Cuts quite fast
Has a very comfortable grip
The blade is durable
Replaceable blade
Limited Lifetime Warranty on material and construction defects
Disadvantages
Small cutting capacity
---
2. Bahco 396-HP
The Bahco 396-HP is an all-round folding saw that has been on the market for a long time. In fact, it is not difficult to find a Bahco at a bushcraft meeting or at a campsite.
Daten aktualisiert vor 19 Stunden
Like many saws from the company, the Bahco is a workhorse and performs much better than its competitors. The saw has definitely established its place in the outdoor industry.
Below are some reasons why you can never go wrong with a Bahco.
Easy to use
You may be familiar with saws that are difficult to move. Fortunately, the Bahco has XT teeth that are designed to cut on both the push and pull strokes. Beginners find it extremely easy to work with this tool.
Since Bahco saws have been with me for over 5 years, I have dedicated a detailed review to the Bahco Laplander. The Bahco Laplander was undoubtedly one of the best purchases I have ever made.
Great design
This outdoor saw is designed to be lightweight and compact so that it fits in your backpack. It is also equipped with a safety lock that keeps the blade in place when not in use.
This ensures that your backpack and belongings are protected from tears and scratches. Finally, the blade is coated with a black finish that reduces friction and provides rust protection.
Advantages
Cuts very quickly
Available at a reasonable price
Lightweight and compact design
Coated blade
Safety lock
Lightweight
Reasonably priced
Great for camping and bushcraft
Disadvantages
Plastic handle
The blade is thin and can bend under pressure
3. HEIMWERT Folding Saw made of ultra hard carbon steel
If you are looking for an affordable and well-made folding saw, you should take a look at the HEIMWERT Folding Saw.
HEIMWERT Klappsäge aus ultra hartem Karbonstahl - Zweifach verstellbare Astsäge - Gartensäge mit Sicherheitsverschluss
KARBONSTAHL - Die Heimwert Astsäge verfügt über ein 19,5cm langes Sägeblatt aus hochwertigstem Karbonstahl. So können wir Ihnen maximale Härte und Schnittfestigkeit garantieren!
VERSTELLBAR - Die Position des Sägeblatts ist zweifach verstellbar. Wie auf den Produktfotos ersichtlich, können Sie den Winkel zwischen Griff und Sägeblatt individuell für Ihre Situation einstellen. Das verbessert die Ergonomie und somit auch die Qualität der Sägung. Bei Heimwert wird mitgedacht!
ABSOLUT SICHER - Um Verletzungen auszuschließen rastet die Klappsäge im geöffneten Zustand ein. Das Sägeblatt wird erst wieder beweglich, wenn Sie den Sicherheitsverschluss lösen. Außerdem sorgt der ergonomisch geformte, rutschfeste Griff jederzeit für beste Kontrolle. Ihre Sicherheit ist uns wichtig!
GÜRTELTASCHE - Als Bonus erhalten Sie die klassische Heimwert Gürteltasche dazu. Mit ihren 24cm im zusammengeklappten Zustand passt die Gartensäge perfekt hinein und findet an jedem Gürtel Platz. So haben Sie die Klappsäge bei Camping- oder Outdoor-Aktivitäten jederzeit griffbereit dabei!
SEHR VIELSEITIG - Egal ob für das Entfernen von Ästen, alltägliche Gartenarbeit, Camping-Ausflüge oder Outdoor-Abenteuer: Mit diesem Produkt erstehen Sie eine echte Mehrzwecksäge, die Ihnen in zahlreichen Situationen gute Dienste leisten wird. Ein Muss für echte Naturburschen!
18,70 €
View Product
The rubberized handle provides a wonderful grip. The folding mechanism works flawlessly and secures the saw against accidental unfolding.
Generally, the saw is intended for cutting dry wood and it performs great for that purpose.
Advantages
Affordable
Great non-slip grip
Cuts on the pull stroke
Clean cutting edge
Fits well in the hand
Disadvantages
Relatively thin blade
---
4. Agawa Canyon Folding Bow Saw
The Agawa Canyon folding saw is a great option for people willing to spend a little more money. At the price (about €80), it is definitely one of the best saws for bushcraft.
Agawa Canyon BOREAL21-21-Zoll-Klappbogensäge – schwarzer Rahmen, grüner Griff, 21-Zoll-Allzweckklinge
Vielseitig: Nehmen Sie die Boreal21 faltbare Bogensäge überall hin mit – Camping, Rucksackreisen, Kanufahren, Off-Trail, Jagd, Trail-Räumung oder rund ums Haus.
Einfach: Öffnet in Sekunden – einfach aufklappen, in Position einrasten und mit dem Sägen beginnen. Automatische Klingenspannung ohne lose Teile – keine Notwendigkeit die Klinge beim Öffnen und Schließen zu berühren
Leicht und verstaubar: Länge (53 cm) und Gewicht (530 g)
Effektiv und ergonomisch: Hoher Durchgangs-Rahmen für Schnitte mit großem Durchmesser, optimierte Geometrie für den effizientesten Sägeschub
Langlebig: eloxierter 6063-Aluminiumrahmen, glasfaserverstärkter Nylon-Griff, alle Edelstahl-Hardware, gehärtete und beschichtete Sägeblätter
kein Preis ermittelbar (B01LWZ4ZLA)
View Product
Additionally, it features a bow design that sets it apart from other folding saws. The great thing about this saw is that it meets your requirements without compromising on functionality, size, or user-friendliness.
Great Design
As I mentioned before, the Agawa Canyon has a simple yet unique design that allows you to get started in seconds.
All you have to do is unfold the frame, snap it into place, and you're good to go. The foldable design allows you to use the saw for camping, hunting, and your survival bushcraft trips.
Durable Construction
Although the Agawa Canyon is expensive, you will be surprised by how uncompromisingly it will serve you. An aluminum frame, fiberglass-reinforced nylon handle, stainless steel hardware, and hardened and coated saw blades will make you happy.
Advantages
Unfolds in seconds
Weatherproof materials
Very sharp blade
Replaceable blade
Robust construction
Extremely durable
Disadvantages
The saw is somewhat large
Handle comfort
If the saw is out of stock but you are looking for a folding saw like this, also check out the "Gerber Bow Saw".
---
5. Coghlans Folding Saw
The folding triangle saw from Coghlan is the perfect alternative for campers and hikers who want to take advantage of a bow saw that fits into tighter spaces between trees and other obstacles.
Daten aktualisiert vor 19 Stunden
The Coghlan folding saw is made of an anodized aluminum frame and a 20-inch blade, which allows for quick work on most light to medium-duty tasks. The saw allows for blade storage within the frame.
My only complaints about this saw are the lack of a grip pad and the cumbersome carrying dimensions. The Coghlan saw lacks any kind of rubber or non-slip padding on the handle, making sawing for extended periods less comfortable.
The saw is also less compact than most folding saws and does not come with a carrying case, making storage inconvenient when not in use. However, this is not a big deal if you have space in your backpack for it.
All in all, if you are a fan of bow saws but are looking for something lightweight, I recommend giving the Coghlan folding saw a try.
Advantages
Blade securely stored within the frame
Replaceable blade
Fits into tighter spaces
Anodized aluminum frame
Lightweight
Disadvantages
Can be somewhat loud when sawing through the frame
Handle comfort
Dimensions
---
6. Corona RS 7265D folding saw
The Corona RS is another high-quality folding saw that has received overwhelmingly positive feedback. You will definitely fall in love with its overall design and performance.
Corona Tools RazorTOOTH Klappsäge 25,4 cm | Astsäge für Einhandgebrauch | gebogene Klinge | schneidet Äste bis zu 15,2 cm Durchmesser | RS 7265D
Dreiseitige Rasierzähne für effizientes Schneiden: 25,4 cm Klinge ist ideal zum Schneiden von 12,7 cm – 15,2 cm Durchmesser, klein bis mittel, Zweige
Ergonomisch gestalteter, komfortabler, zusammengeformter Griff: bietet einen komfortablen Griff für eine lange Nutzung
Einfach zu verriegelnde Klinge verhindert Verletzungen, wenn nicht in Gebrauch: Die Klappklinge ist gebogen, spitz geschliffen und austauschbar
Impulse gehärtete Zähne für lange Lebensdauer: Verlängert die Lebensdauer des Werkzeugs Saison für Saison
Bis zu 6 Zähne pro Zoll und gebogenes Blatt-Design für schnelleres Schneiden: Schnitte sind glatter und schneller als eine herkömmliche Säge.
46,77 €
View Product
Furthermore, the saw has established itself in the outdoor industry by giving its competitors a run for their money. This explains why the Corona RS is highly regarded among campers and gardeners.
Efficient blade
As one of the best folding saws, the Corona RS is equipped with an efficient curved blade. Its 25 cm blade has 3-sided razor teeth that cut through wood flawlessly.
The blade has a chrome-plated surface, which helps reduce friction and blockages when cutting wood. You will also notice that the blade made of SK5 steel stays sharp for longer as it contains a high carbon content.
Great handle
Once you get your hands on this saw, you will likely notice that it has an appealing handle. The handle is made of plastic and offers maximum comfort.
The red and black color also makes it look good. But above all, the color helps you easily find it if you have misplaced it in the forest.
Advantages
Impulse-hardened teeth for long life
Long and comfortable handle
Secure locking mechanism
Lightweight
Excellent for cutting large pieces of wood
Aggressive tooth pattern (Up to 6 teeth per inch)
Disadvantages
Quite expensive
---
7. Silky BigBoy
If you're looking for a larger survival bushcraft folding saw, then the Silky Bigboy should be your first choice. As you would expect from any Silky saw, the BigBoy offers solid performance and durability.
Silky Big Boy Klappsäge 2000 360mm Klinge, 7,5/30mm, gelb, gebogens Blatt
BigBoy – eine sehr beliebte Serie japanische Klappsäge aufgrund ihrer Vielseitigkeit und Schnittleistung
gebogene 360mm Klinge mit grober Mirai-Me Verzahnung (7,5 Zähne/30mm) – geeignet für frisches Holz
insbesondere zur Baumpflege geeignet aufgrund der gebogenen Form, aber auch als nützliche Gartensäge oder Bausäge verwendbar
bei Zweihandnutzung optimale Schnittleistung bei höchster Präzision und sehr geringem Kraftaufwand
schnelle, saubere Schnitte bei geringem Kraftaufwand; schonend gegenüber den Holzzellen
83,19 €
View Product
If you want to cut large thick pieces of wood, it will be done pretty quickly with this big saw.
Below are some things that make the Silky Bigboy the best value for money.
High Performance
Without a doubt, the BigBoy is in a league of its own when it comes to efficiency. As one of the largest folding saws on the market, you can rely on it to cut both large branches and small logs with its 35 cm blade.
When purchasing the BigBoy, pay attention to the four tooth sizes/configurations that are offered.
Yellow handle: extra-large teeth (pruning, green wood)
Red handle: large teeth (pruning, green wood)
Black handle: medium teeth (soft wood)
Blue handle: fine teeth (hardwood, bamboo)
Secure Grip
The BigBoy is equipped with a thick non-slip handle that provides a strong grip. You will also find that the handle is long and comfortable enough to hold with both hands.
Advantages
Cuts green and dry wood
Super sharp
Great saw for camping
Secure non-slip grip
Interchangeable saw blades
Curved blade
Disadvantages
The saw does not cut in both directions (pull saw)
No carrying case
Quite large
If you are interested in the Silky BigBoy, then check out my review: "The Silky BIGBOY in Test - Large Folding Saw for the Forest".
---
How to choose the best saw (buying guide)
The purchase of a folding saw should not be difficult if you know what to look for. However, beginners often make a bad purchase because they have not considered the most important aspects.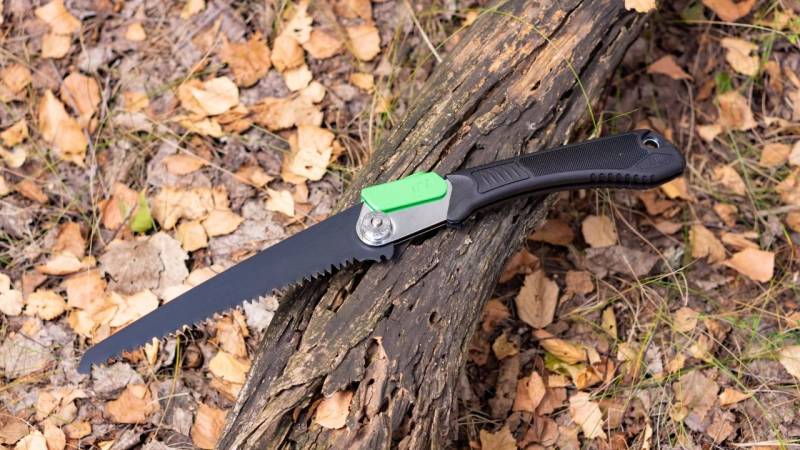 That stands out to me especially at wilderness camps when I look at the participants' equipment. There, beginners often have saws, axes, and knives that may be well-known on the internet (due to a lot of advertising), but are not very useful for outdoor activities.
I will now guide you through some of the most important factors so that you can make an informed decision when purchasing your survival bushcraft saw.
Saw mechanism
Folding saws use various mechanisms for cutting wood. Some only cut on the pull stroke, while others cut on both the push and pull strokes.
If you know the advantages and disadvantages of each type, you can settle for a survival bushcraft saw that meets your needs.
Saws that cut on the pull stroke allow you to cut in a straight line, as you have more control over the cut.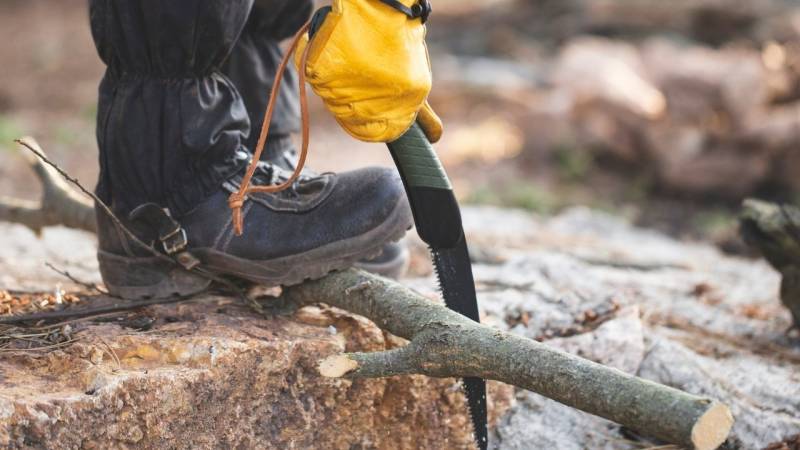 At least you get a precise cut and a smooth surface of the wood. On the other hand, saws that cut both on the push and pull strokes are fast and aggressive.
The only downside is that you have less control over the cut and your wood will have a rough surface.
Beginners will probably find the "push and pull models" more comfortable to cut with, as they are easy to use. Pull saws tend to jam if you apply too much pressure.
Efficiency of the saw blades
You probably know that the saw blade is the most important part of your survival bushcraft saw.
How do you now know that your saw blade is efficient?
Well, you have to look at the number of teeth per inch (TPI) (or per cm). Saw blades with a lot of teeth per inch are great for smooth cuts.
Unfortunately, it will take you a long time to cut through the wood with many saw teeth. On the other hand, a saw blade with fewer teeth per inch is quite fast, but it makes rough cuts.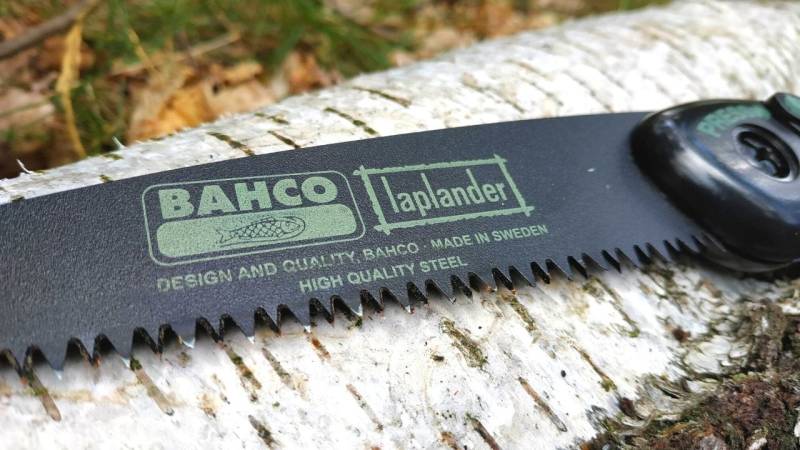 Also consider what type of saw blade your saw is equipped with and what materials it is recommended for. Most saws on my list come with a standard wood blade, but if you want to cut extra dry wood, wet wood, animal bones, or metal, you will need to purchase these saw blades separately (if the options are available).
Material
It is important to know what material a folding saw is made of. This factor gives you an approximate idea of how long your saw will last and how it functions.
The handle or frame must be made of a sturdy material that provides additional support to the saw blade.
Always choose saw blades made of hardened stainless steel, as they generally last longer and stay sharp for months. Additionally, you should check if the saw blade is coated to prevent rust and friction.
Size and Weight
The other factors you should consider are the size and weight of the saw. Nobody wants to carry a heavy or large survival bushcraft saw unless it is necessary.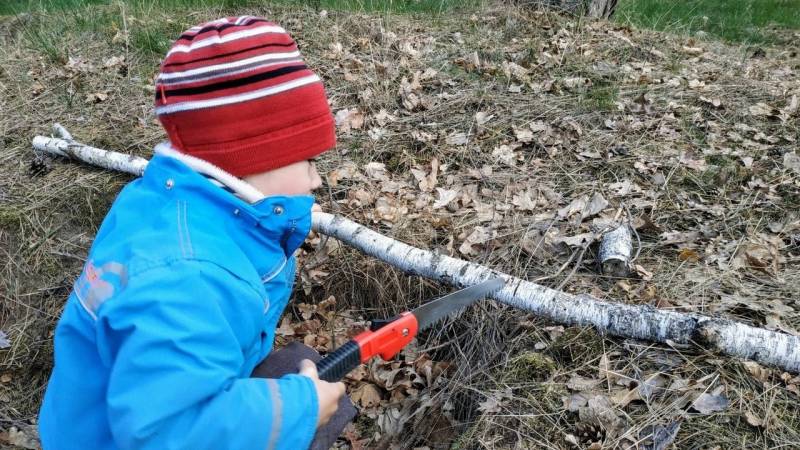 The good thing about most brands is that you can choose the size that suits your needs.
If you are looking for a saw to use while hiking or trekking, you should opt for a compact and lightweight option to avoid unnecessary weight.
The only reason you should bring a large folding saw is if you want to saw thick wood. This may be necessary, among other things, if you are setting up a camp or need a lot of firewood.
Security
Just when it comes to handling folding saws, safety is a crucial topic. That's why most companies equip their saws with locks to secure the saw blade when not in use. At least this way, you won't risk cutting into your hands or even damaging your backpack.
But there is more to consider: What kind of locking mechanisms does your saw have? Is the blade secured when not in use? How easy is it to change the saw blade if it breaks or becomes dull? How far away are your hands from the blade when using it?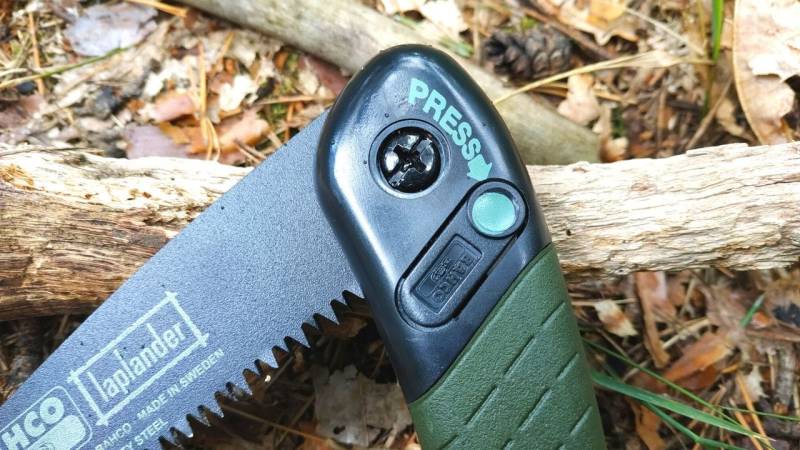 So consider the types and materials of the locking mechanisms. Also, take a look at the handles and see if they have non-slip properties or if you may need to bring a pair of bushcraft gloves.
Safety should be your top priority without exception when using sharp objects or tools. Consider how you want to protect yourself - and your fingers.
Availability of spare parts
Before you click the "Buy" button, it's good to know if your tool has replacement blades. Popular brands always have affordable spare parts to ensure that your saw can be repaired.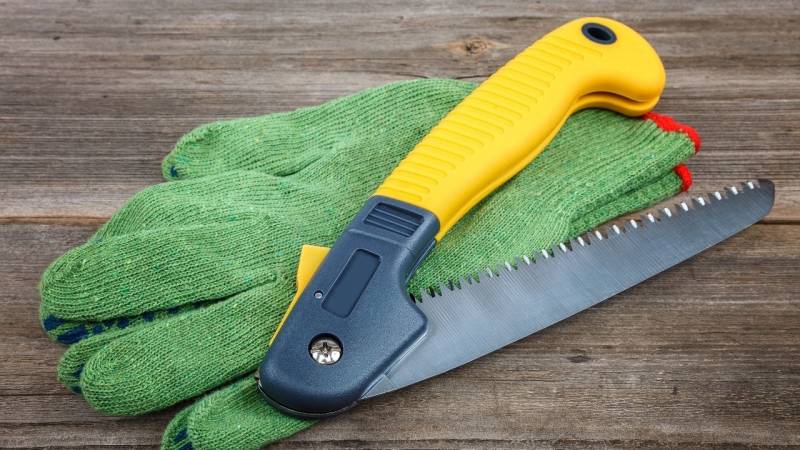 Summary of the best survival bushcraft saws
I hope that I have been able to provide you with a good overview and lots of information.
You should now be able to find the appropriate survival bushcraft saw, thanks to the buying guide. Definitely, an outdoor saw is a fine tool that I never want to be without in the woods.
And the good thing is: You don't have to carry around an axe or a hatchet. Most folding saws are a featherweight compared to heavy axes and hatchets.
I can wholeheartedly recommend a Bahco saw to you. Previously, there was also the Bahco Laplander, but this saw is often sold out or offered at exorbitant prices. Therefore, as an alternative, get yourself the HARDTWERK folding saw or the Silky Ultra Accel, which is, however, more expensive.
To saw large tree trunks and make a lot of firewood in winter, it's better to use the Coghlans folding saw (affordable) or the Silky Big Boy folding saw.
Here are my recommendations for my top survival bushcraft saws:
If you have any doubts or questions, feel free to leave me a message here, I will do my best to assist you.

Was this guide helpful?
23 people found this guide helpful.
5.00 out of 5 points (23 Ratings)