Back to german article
How you correctly set up, clean, and safely store your tent
In order for your tent to continue to accompany you faithfully, you will find various tips here on how to correctly set up, clean, store, and repair your tent.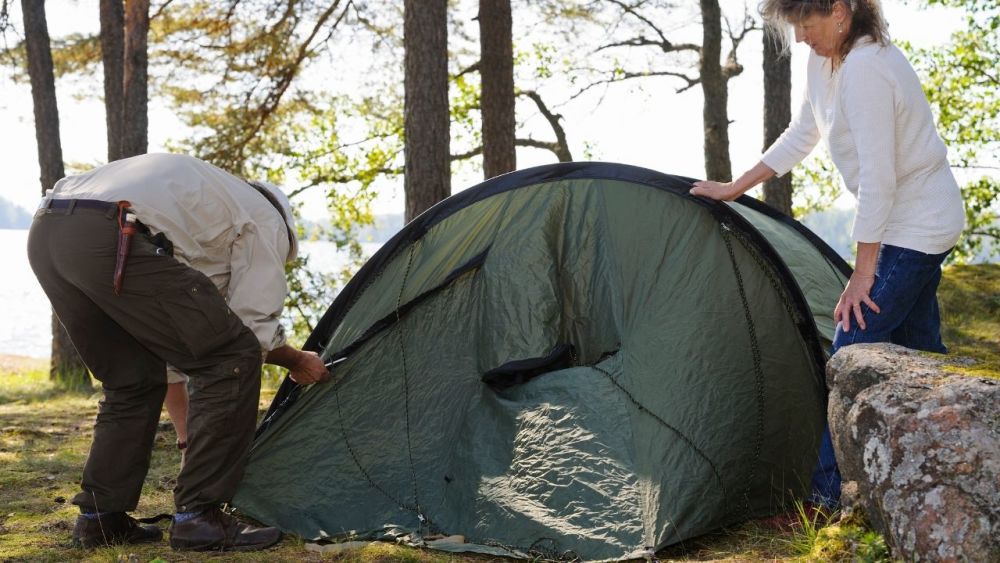 ---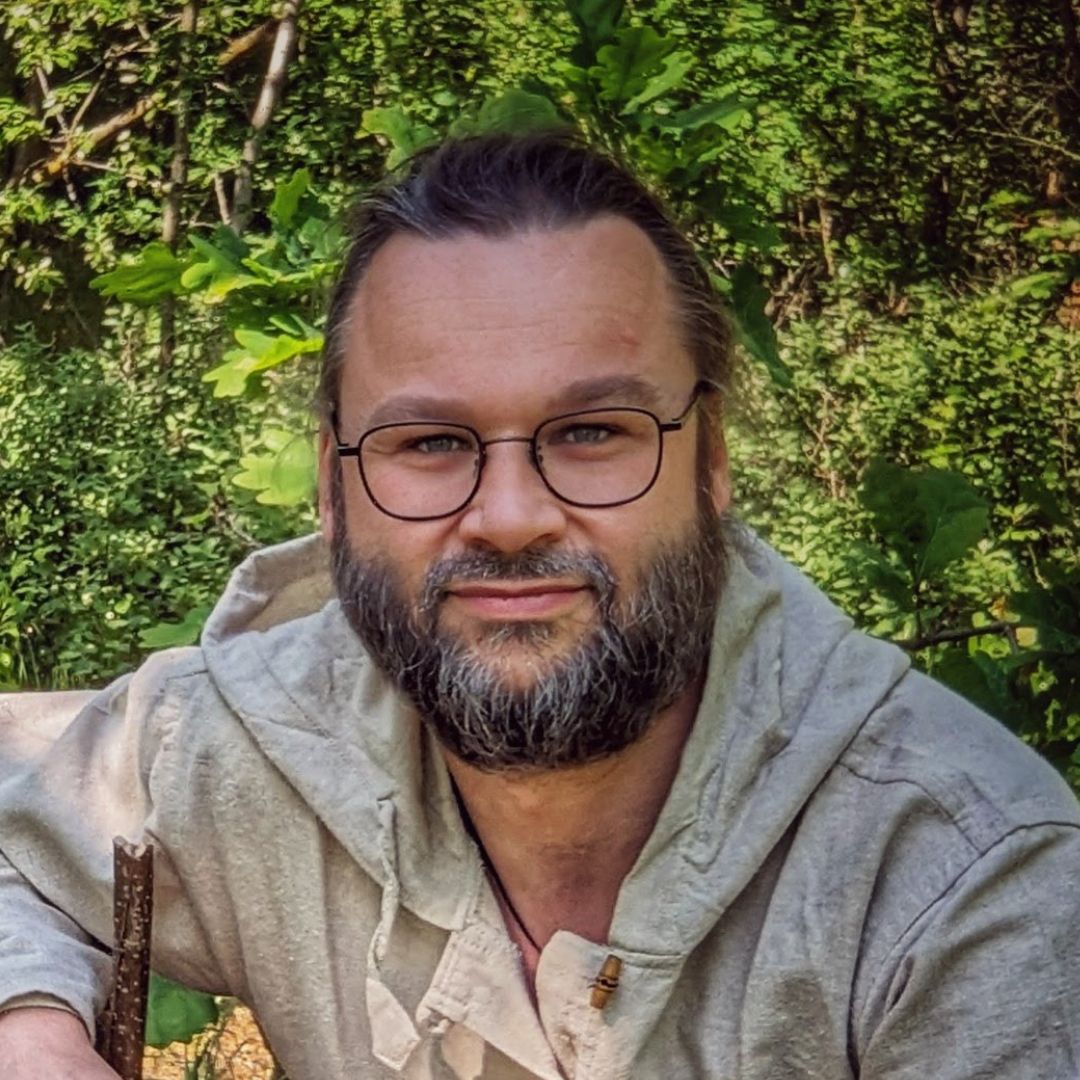 ---
👉 The key facts from this guide
Choose the right spot for your tent, pay attention to a clean surface, use a groundsheet, and find a shady place.
Always keep your tent clean while traveling by taking off your shoes, not eating inside the tent, and regularly sweeping it out.
When packing up your tent, make sure it is dry and shake it out before packing it up.
Clean your tent after use with some water and let it dry completely. If there is a strong odor, cleaning it with vinegar and citric acid can help.
Properly store your tent by taking it out of the bag and keeping it in a dry place.
In case of tears or holes in your tent, use a tent repair kit or duct tape for repair and reapply waterproofing to maintain its water resistance.
A good camping and outdoor equipment is expensive.
Therefore, it is important that you always take good care of your belongings. Only then can you enjoy them for a long time and always rely on your equipment.
If you're not traveling with a camper or a caravan, you're probably trekking through the country with your tent.
Constantly going in and out, setting up and taking down, and being exposed to various weather conditions really takes a toll on the tent.
However, in order for you to continue having a loyal companion in your tent, today I will give you various tips and hints that will make cleaning your tent much easier.
Set up your tent in the right place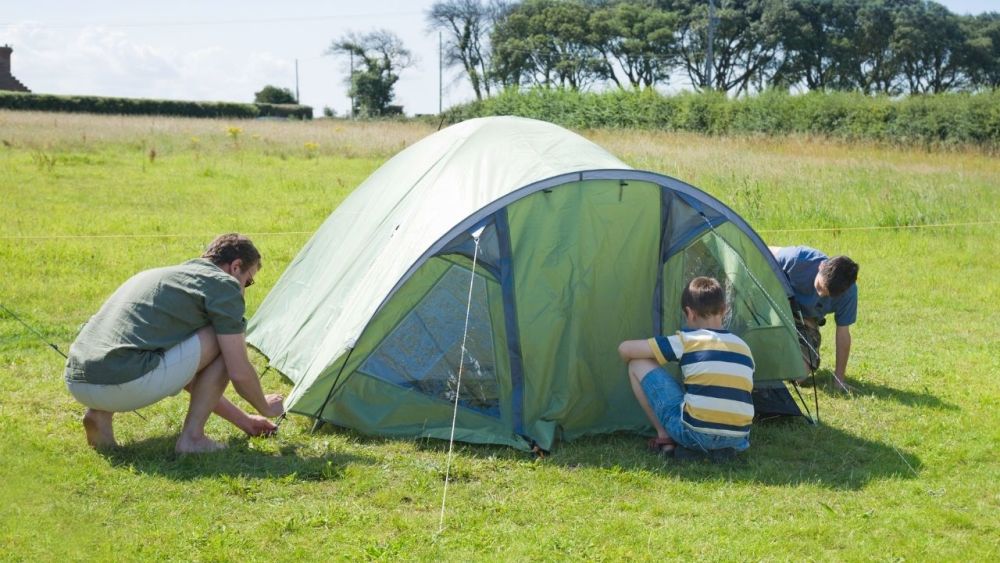 If you're traveling with a tent, you're very flexible and not bound to any specific places.
However, there are several things to consider when choosing a location so that your tent does not suffer from the conditions here. Therefore, please note the following tips and instructions when setting up your tent:
1. Pay attention to a clean surface
With this tip, I mean that you should not set up your tent directly where there is a lot of dirt and mud. This way, you already avoid a lot of mud getting on the outer wall, but also inside the tent. Set up your tent on a meadow instead.
Often, the season or weather conditions also play a role. If it rains a lot, a meadow can quickly resemble a swamp.
Gravel areas are only partially recommended. Small stones can press through the tent floor and damage it. If there are only a few stones lying around on your site, remove them carefully.
Read also: How to find the ideal location for your camp
2. Use a mat
An underlay protects your tent floor from scratches and heavy dirt. Additionally, you can always clean your feet on it - provided that the underlay is large enough.
You can, of course, take a tarp or even a carpet designed for outdoor use. If you are only traveling with a backpack, you will have to consider how much you can carry.
3. Find a shady spot
A tent can heat up quite a bit in the summer. But not only will you appreciate a shady spot and want to stay cool, but also the material of your tent.
Due to excessive exposure to sunlight and the associated UV rays, the material of your tent becomes porous quickly.
So, it can happen that the tarpaulin becomes thinner or even holes are created. You are then no longer optimally protected against weather conditions and uninvited guests.
Read also: You want to buy a tent? Then read this ultimate guide to tents first
Keep your tent clean on the go
If you already take care of your tent on the go and keep it clean, you won't end up with a big cleaning mess in the end. You usually don't need more than five minutes for that. Keeping order and cleanliness in the tent is important because you have limited space.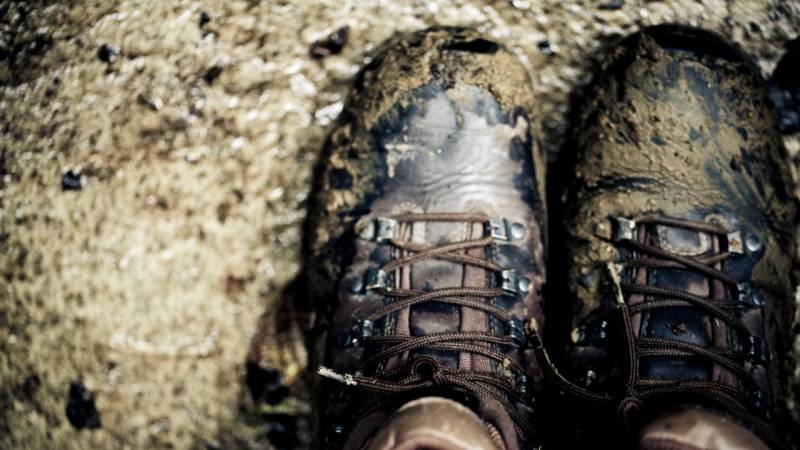 Therefore, please note the following tips and instructions for daily cleaning:
1. Take off your shoes
That the tent is only entered barefoot or with socks is the key to basic cleanliness in the tent. After all, you wouldn't walk into your bedroom with shoes on either. By following this advice, you'll save yourself a lot of dirt and therefore a lot of work.
2. Do not eat inside the tent
Chips and cookies for a cozy movie night in the tent. Sounds cozy? But it's not!
Before you know it, your entire tent floor and probably also your sleeping bag (here's my top list) are full of crumbs. The nasty surprise typically comes the next morning when light shines into the darkness.
Eat outside instead. This also applies to cooked food or sandwiches. Since you don't have a fixed seat or a table in the tent, things can easily go wrong and make a giant mess.
Also read: How to clean your sleeping bag properly, so it looks like new
3. Use a broom
It's best if you empty and sweep out your tent every morning.
This is mainly useful if you are camping with a dog. Maybe you have a small broom lying around at home that you can take with you in the car or attach to your backpack.
Pack your tent properly
You're probably wondering what you could be doing wrong when packing up your tent. A lot! So make use of my tips and advice to ensure your tent lasts a long time:
1. Let your tent dry
The most important tip is to pack your tent only when it is dry. This will prevent the tent from getting moldy or water from entering the interior of the tent. But what do you do if it's raining?
It can always happen that you have to take down your tent when it's raining or the moisture from the morning fog hasn't completely evaporated yet. If you're traveling by car, spread out your tent in it if possible. This way, it can at least dry a little.
If, however, you are only traveling with a backpack, you have no choice but to pack your tent while it is wet. The significant thing then is that you unpack your tent immediately when the sun is shining and spread it out to dry.
2. Shake out your tent
Have you already taken everything out of your tent, shake it out completely. Dirt, stones, and sand fall out, and the rough work is already done.
How to clean your tent properly
When you arrive home, the first thing you do is reach for your outdoor equipment.
Not only your tent needs a lot of care now, but also your sleeping bag needs to be cleaned and your clothes. Therefore, pay attention to the following tips and instructions:
1. Unpack your tent
First, it is important that you take the tent out of the backpack. Under no circumstances should you leave it in there.
Even if the tent was dry when you packed it, there may still be some moisture present.
This will eventually cause your tent to start molding and become unusable. It's best to first spread out the tent on a large surface.
2. Clean the tent with some water
If your tent is heavily soiled or dusty, you can clean it with a cloth and some water. In most cases, it is not necessary to wash a tent completely. If you do need to, then place the tent in a bathtub and clean it by hand.
However, do not use aggressive cleaning agents or soaps for this. If there are residues from trees, such as resin on the tent, add some oil.
If your tent is a bit larger, you can also use a garden hose. However, be sure to use only a weak stream. It's best to use a rain shower head for this.
3. Let the tent dry completely again
Are you finished cleaning your tent, it is necessary to let the tent dry completely again.
Spread it out fully here as well, but not directly in the sun. For cleaning, a warm day is best.
How to clean a musty tent
Generally, a tent cannot take on a musty smell. However, the exception is proper storage.
If you store your tent in a damp state without spreading it out, you will quickly get a nasty problem - in the truest sense of the word.
However, if you have ever forgotten to let the tent dry and spread out, I will give you important tips and instructions on how to remove mold and odor:
1. Clean the tent
The first step is to clean your tent. You probably won't get very far with spot cleaning. So, it's best to put it directly in the bathtub.
Add some core soap and let it sit for a while. Then you can start cleaning the tent by hand. Rinse everything well afterward.
It may be necessary to repeat this step several times until an improvement is noticeable.
I do not recommend using the washing machine, however. The aggressive spinning can quickly damage the material.
2. Use vinegar and citric acid
Vinegar and citric acid not only reliably remove dirt, but also unpleasant odors. Especially when mold has already spread, this is a suitable alternative to mold-fighting agents.
Add some vinegar and lemon juice to the bathwater and let it soak well here too. Then rinse everything well again. It may be necessary to repeat this process a few times until the odor is neutralized.
The smell of vinegar will linger in the tent for a while. However, after a few days, it will also dissipate.
Make sure to do the same with the backpack or tent cover.
At the end, it is important that you also dry the tent thoroughly here.
How to store your tent properly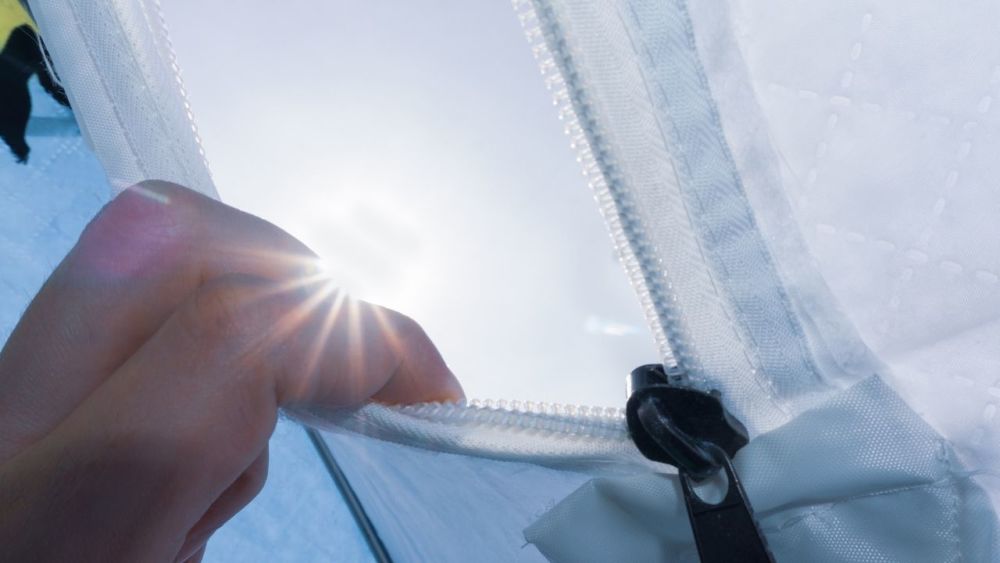 To avoid all these problems, you must always store your tent correctly. Therefore, pay attention to the following tips and instructions:
1. Get your tent out of the cover
The tent cover or a stuff sack are great for protecting the tent from water and dirt while camping. However, they are not suitable for properly storing the tent, as both options do not allow the tent to breathe.
Store your tent loosely. This means that after washing and drying it, you roll it up loosely.
2. Store it in a dry place
Never should you store your tent in the basement.
In basement rooms, the humidity is usually too high and there is a risk that the tent will start to mold. Living rooms are more suitable.
How to repair your tent
It can always happen that the tent tarp tears or small holes appear. It is therefore always advisable to have some patch material with you. At home, you can then repair your tent properly.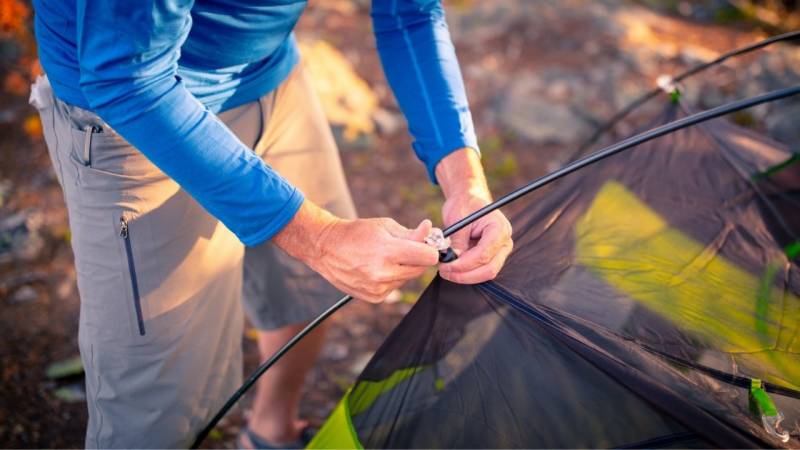 Pay attention to the following tips and hints:
1. Waterproof your tent
After extensive use, it can happen that the water resistance of your tent diminishes. Therefore, it makes sense to re-impregnate the tent at home. For this purpose, there are special sprays that can be applied easily and uncomplicatedly.
But be careful, these sprays can have a strong smell, so make sure to ventilate your tent well afterward.
2. Fix individual cracks
With a tent repair kit, individual tears can be easily patched. In an emergency, you can also use some duct tape for this.
Reading tip: How to buy a tent that suits your needs
Questions and Answers (Q&A) on the Topic
Can I clean my tent in the washing machine?
Cleaning a tent in the washing machine is only partially recommended. There is a risk that the delicate material will be destroyed. Therefore, it is better to rely on handwashing.
Can I store my tent in the car?
For a short while, it is possible to store your tent in the car. However, for permanent storage, I recommend finding a place in your apartment that is dry and dark.
My tent is moldy, what can I do?
Try washing it with vinegar and citric acid in a bathtub. Repeat this several times. Then let it dry completely. If that doesn't help, it is advisable to simply buy a new tent.

Was this guide helpful?
3 people found this guide helpful.
5.00 out of 5 points (3 Ratings)