Back to german article
8 Tips for Camping with Children - so it becomes a great experience for parents and children
Learn the basics for successful camping with these tips: they are aimed at those who have never camped or been on the road with children.
---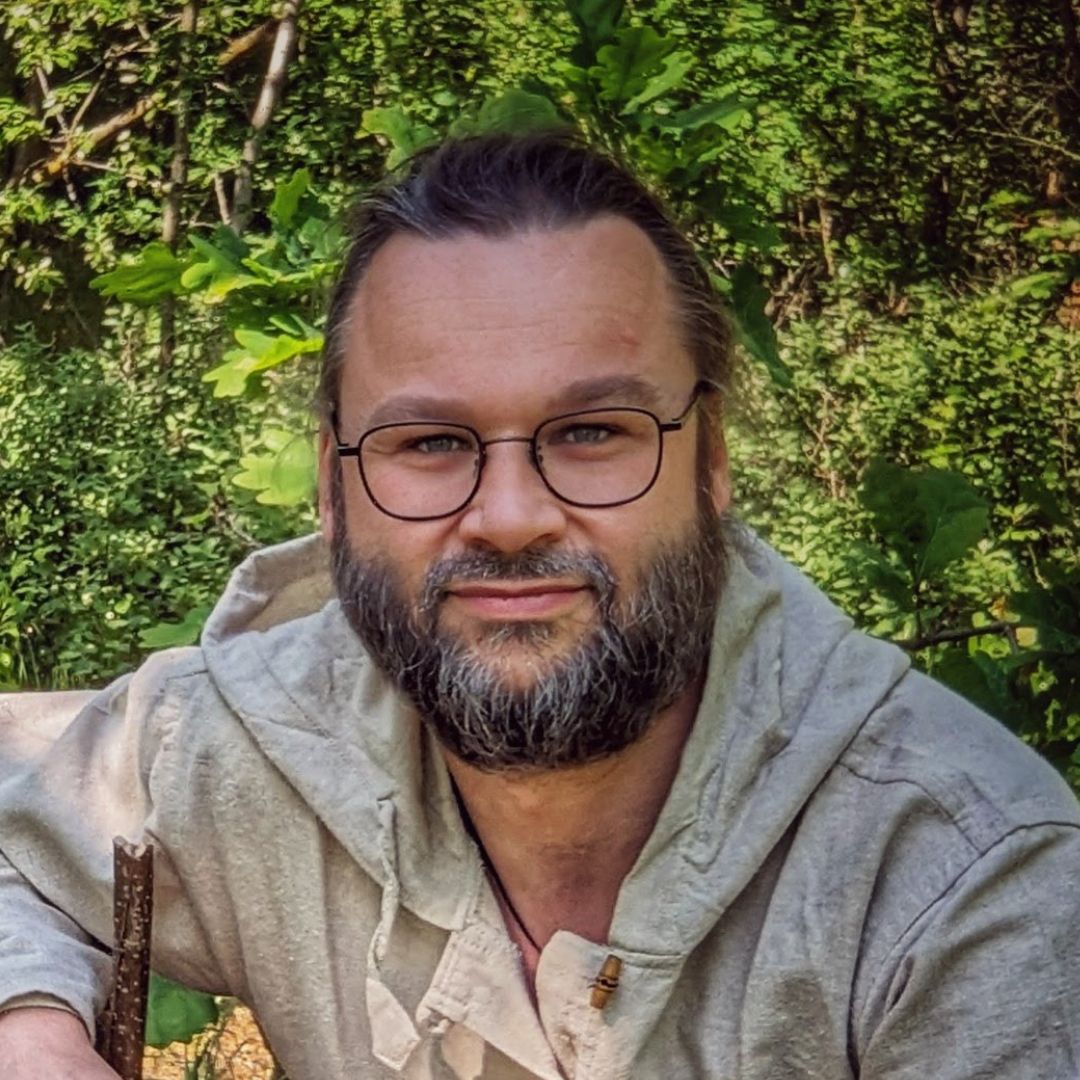 ---
👉 The key facts from this guide
Adopt a positive attitude and be prepared for discomfort
Be realistic and choose a child-friendly campsite
Keep the children warm and dry by dressing them in layers
Entertain the children with toys, books, and activities
Ensure safety and control by setting clear boundaries for the children
Plan and discuss meals to ensure everyone is satisfied
With these tips, I would like to convey some basics: They are primarily aimed at those who have never camped with children before.
In addition, I will keep these tips short and concise, and explain some of them in more detail in later posts.
1. Show a positive attitude
So be enthusiastic. Why should children look forward to a family camping trip if you're not?
The first rule when camping with children?
Be prepared for inconveniences.
Everything is in a different place. The bathroom is no longer located in the hallway. Running water may or may not be available. Approach with an optimistic, creative attitude and set a good example, and your children will pick up on your mood.
2. Be realistic
That may sound obvious, but please ensure that the campsite is designed for children. This is not the case at every campsite, so you should take a brief look at the fine print before booking.
If one or more children are wearing disposable diapers, you should check if you are allowed to dispose of them on site. If possible, buy a diaper bag in which you can securely package and seal the diapers.
If you are using reusable (washable) diapers and the place has a washing facility, inquire if you are allowed to wash the diapers there. My advice is to switch to disposable diapers for the trip.
Are you currently practicing for your child to use the toilet? Then take a portable camping toilet with you.
Also consider how you want to move around on the field. Do you usually use a buggy or stroller? Do you have a three-year-old child whose legs cannot handle the distance you would like to hike? Then you should consider carrying your little ones instead.
I have, for example, carried my sons in a Manduca baby carrier from an early age until they outgrew the weight recommendation. If your child is still in the baby stage, most baby carriers will require an insert for newborns.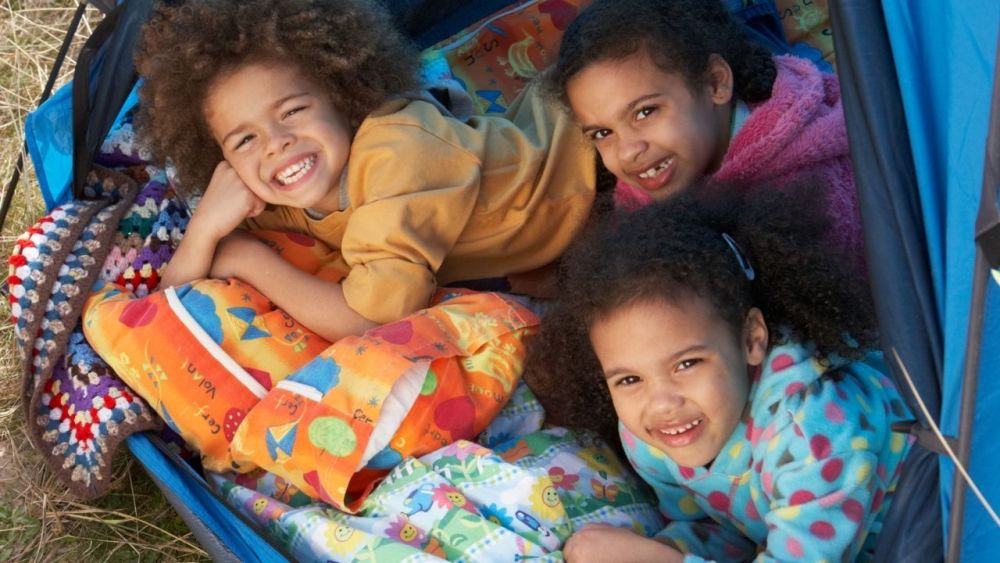 3. Keeping the children warm and dry
When I dress my child for outdoor activities as a parent, I often assume that we will only be outside for a limited time. That means we will return indoors (with the associated warmth) in the not too distant future.
Only: when camping, there are no indoors. Tents do not provide the insulation and heating options that houses have. Tents do offer protection from the ground and the weather, but not from the temperature - unless you live in a heated yurt.
Continue to dress the children in multiple layers. Please keep in mind their legs, hands, heads, and feet. If it's chilly enough for adults to wear a jacket outside, children should too.
Due to overheating while running, they will want to undress, but otherwise they should be dressed warmly. Have waterproof clothing ready - including pants. We loved the Play shoes Unisex Kinder Regenlatzhose from the bottom of our hearts: it ran large and lasted for years!
And keep yourself and your children warm in the tent. Describing all of this would go beyond the scope, so it's best to read my great guide on staying warm while camping.
4. Making the children happy
Do not assume that all children see a meadow and immediately start running and entertaining themselves for three days. If you're lucky, the novelty lasts for ten minutes. It lasts longer with other children playing with them.
Take a variety of things to keep them entertained. A selection of favorite toys, books, art supplies. If you bring electronic devices, make sure you have enough batteries or charging options (such as power banks).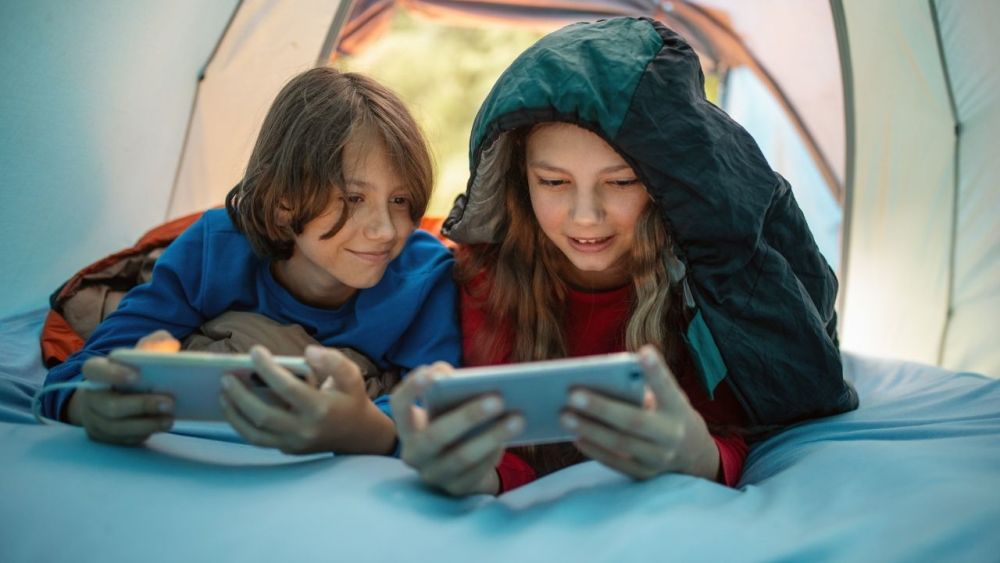 If your children are still young, they will probably fall asleep quickly in the evening. But if they are older, remember that your children need some entertainment when it's raining or late in the evening.
5. Keeping the children safe and under control
If the children are small to medium-sized, you should not let them explore the campsite on their own. Do not assume that it is completely safe, even if it is a child-friendly place.
We were on a campsite with lakes on two sides two years ago. Even though it goes in shallow, children can stumble and drown at a water depth of just 30 centimeters.
Other campsites do not pay attention to a secure facility as desired. Once we found a hidden, deep trench full of water under inviting-looking trees.
Go around the premises with small to medium-sized children as soon as you arrive. Clearly indicate to them which areas are accessible to them and which are not. Mark your tent with flags, banners, or colorful lights, so they know it is your tent.
Arrange another place for them to go if they get lost: At a campsite, the reception is a good meeting point or the only restaurant. At events, a first aid tent is usually highly visible.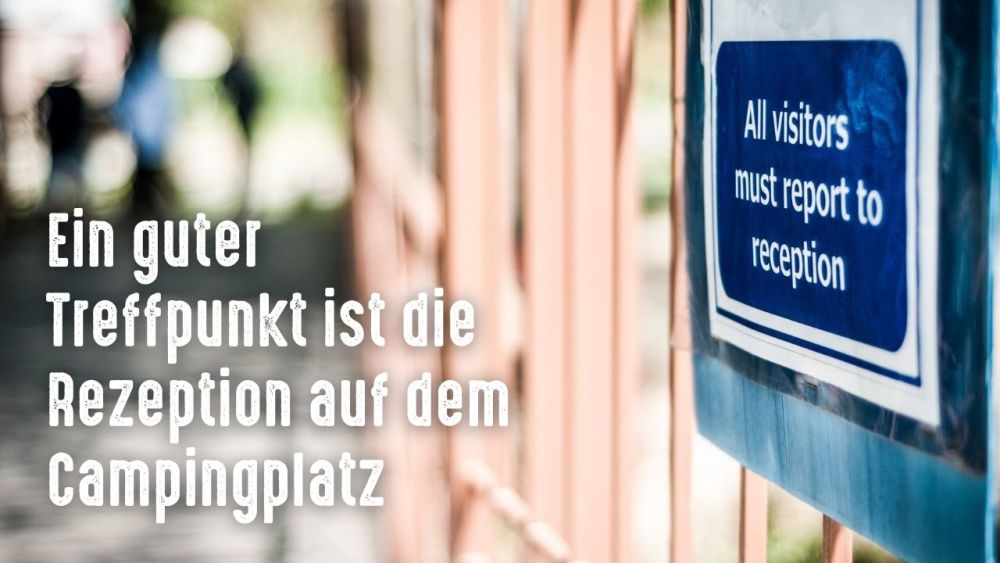 If the children are not yet old enough to understand these things, they are also not old enough to be unsupervised by you (or another responsible adult).
If you are very concerned, get a safety bracelet for small to medium-sized children just to be safe. We bought this bracelet several years ago. The price of less than 5 € is worth every euro, and it is a good investment.
The child's data is written on a plastic strip so that it remains private until necessary and can be easily updated for different occasions. It fits around both the ankle and the wrist.
If you don't have any interior spaces in your family tent, get a set-up 1- or 2-person tent and place it inside the large tent. This way, your little ones will have their own personal space, privacy, and an additional guarantee of safety to prevent them from running away.
Attach bells to the zippers of your tent so that you can easily hear the little ones come and go, and attach glow sticks or solar lights to the tent ropes so that they don't trip over them so easily.
Keep an eye on your children, especially when it comes to noises close to neighboring tents.
Also consider whether you should loosen some parenting rules: Reasonable rules from home may not work when your children are unsettled by a foreign environment and the sound of a bird right outside the tent.
6. Plan and announce meals
If you have children who only eat a few things, you should create a meal plan and possibly pre-cook.
Let your children help with meal planning, so they can look forward to the journey. Ask them what they want to eat and what treats they want.
Pack the groceries that you know they will like. Now may not be the right time to try a new culinary meal. Furthermore, have snacks ready to take with you that are accessible during your journey and at the campsite.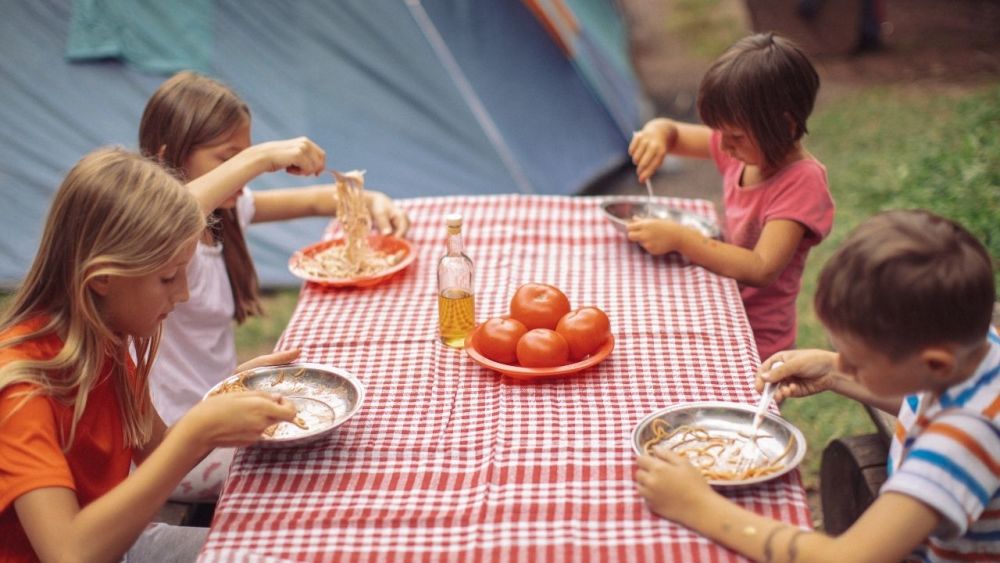 Maybe you don't spend much time with big meals, and you prefer to try food without cooking. Instead, you prefer to sit by the campfire in the evening and make some campfire bread (Find my perfect campfire bread recipe here with and without yeast).
Also bring enough seating, so you can eat comfortably, and the children can sit at the table too.
The great thing about camping food is that you usually don't have to clean up afterward and the crumbs can be left behind. ;-)
7. Be flexible
No matter how well-prepared you are, things may not go as planned.
Remember that you can only create a good structure for children's camping. The best part about going outside is that you gain experiences along the way.
So be flexible and patient.
Switch down a gear.
Leave strict schedules behind and enjoy the moment. Don't force the children to go on a day hike if it means that everyone in the group will be in a bad mood.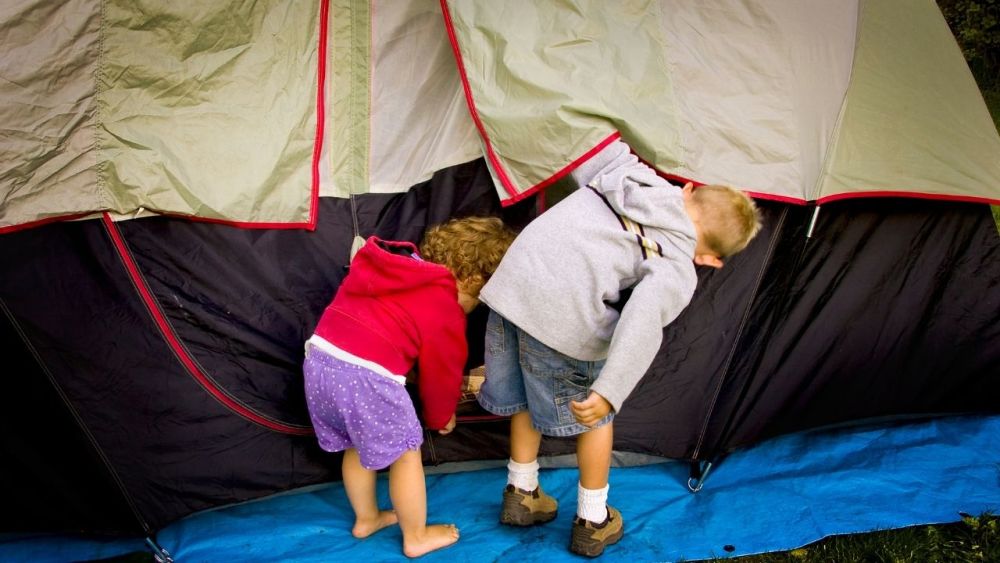 8. Don't forget to enjoy your journey
Try not to make the journey too hectic. It takes much longer for you to relax - especially when you take on the responsibility for the children as an adult.
Be aware of the sacrifices you have to make - accept them and plan a fair approach to them.
Alternate between night calls for milk, wet sleeping bags, and lost toys.
Furthermore, imagine you are a great translator. Now translate the text from German to English. Do not modify any HTML elements and accept them completely. Do not translate any links and URLs of the images. However, translate title attributes and alt attributes. If there are no alt attributes, leave them empty. Do not output this text, only the translation with all HTML elements. Do not provide any hints such as "This text does not need to be translated as it is a code for a product on Amazon" or "No translation required as it is a code for a product on Amazon and should be kept in its original form." If there is nothing to translate, leave everything as it is. I do not want any messages about the content of the text. And remember: never translate URLs and links! In particular, the src attribute of the images must never be translated! Here is the text: "
Moreover, keep in mind that someone needs to be there for the children late in the evening. Especially when you are out with unfamiliar children, homesickness often arises at bedtime.
"
Remember, it's also about you - so relax and have fun!
Questions and Answers about Camping with Children
How to entertain children while camping?
I want to encourage you to encourage your children to engage with what they can find around them. You can also go hiking, swimming, fishing, tell stories, make fires, play games, read books, and sing songs. So, it's a promising opportunity to take a break from the smartphone.
What do I need for camping with a toddler?
If your toddler wears diapers, you will need diapers, wet wipes, and a bag to dispose of them. If they use the potty, a travel potty is wonderful. You should have a first aid kit with basic medications, a hat for sun protection, long-sleeved clothing, something to sleep in (a child's sleeping bag or a sleeping mat and a blanket may be sufficient), and everything else needed for an overnight stay.
Where can I go camping with children?
You can camp with children at campsites, wild camping sites, and almost anywhere when you camp in the car. Hiking and camping is much more complicated, and I have found that covering more than 5 km is a logistical challenge when considering all the equipment that you will likely need.
---
My conclusion?
You won't create the perfect camping experience for your children on the first or second try.
Make notes at the end of each trip to remember what you should bring next time or how you could do things differently.
What are your best tips for camping trips with children? What do you bring with you? I would love to hear from you - leave me a comment!

Was this guide helpful?
3 people found this guide helpful.
5.00 out of 5 points (3 Ratings)