Back to german article
Best Tarp 2023 for Camping, Trekking, Bushcraft, Outdoor (with Buying Guide and Recommendation)
Find the best tarps 2023 for camping, trekking, bushcraft, outdoor. Learn in the buying guide what you should definitely pay attention to when buying a tarp.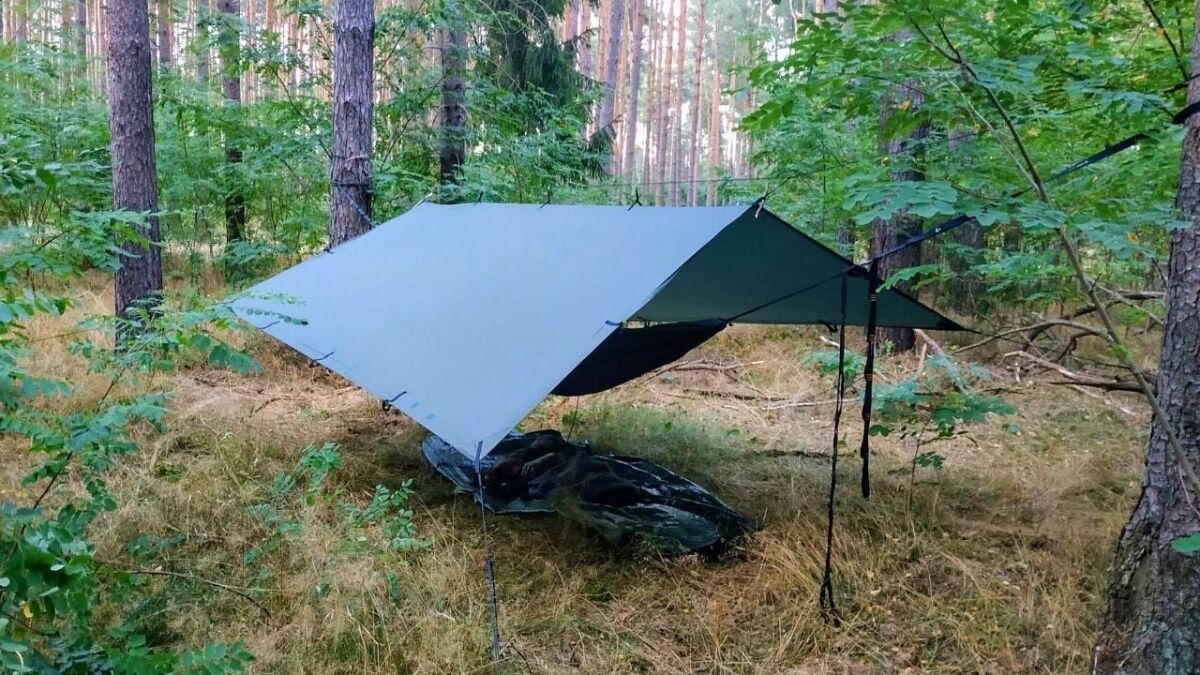 ---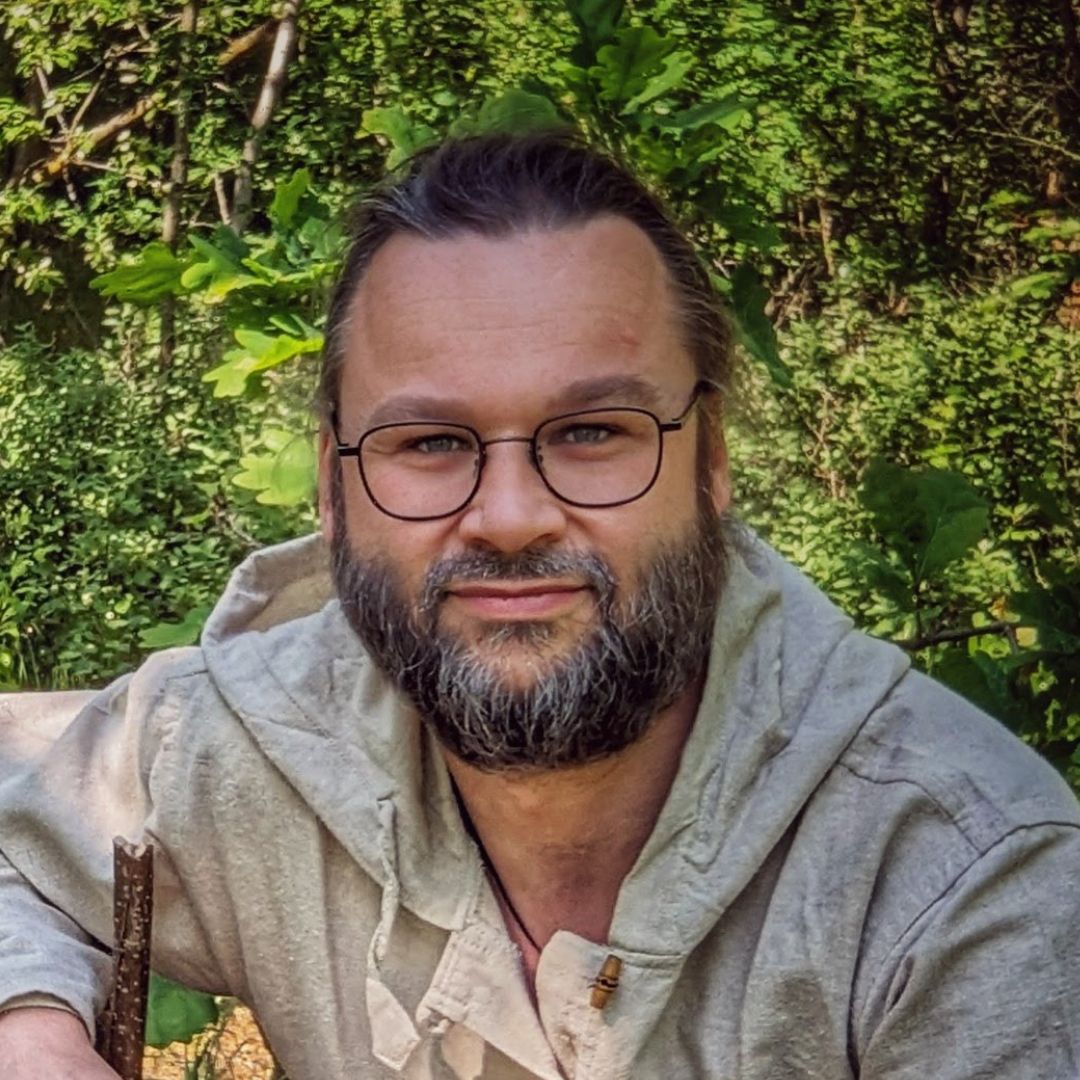 ---
👉 The key facts from this guide
A tarp is a versatile tarpaulin that can be used as a tent, rain shelter, sunshade, awning, sleeping bag cover, groundsheet, windbreak or outdoor shelter.
There are different types of tarps, including square or rectangular tarps that are often used as sunshades, shelters or for camping. The size of the tarp depends on your specific needs.
The Unigear Tarp is a good choice for beginners as it is a good compromise between durability, lightweightness, and flexibility.
The DD Hammocks tarp, the MC 4 x 4 Camo, is made of ripstop nylon and is 100% waterproof. It is ideal for groups and offers plenty of space.
The Aqua Quest Defender Tarp is sturdy and reliable, made of 100% waterproof, durable nylon, and is UV-resistant.
The AMAZONAS Ultra-Light Adventure Tarp is perfect for outdoor trips as it is ultra-lightweight and therefore easy to carry.
When it comes to finding the best tarp for your outdoor needs, there are a few things you should consider.
Firstly: What do you want to use the tarp for? There are different tarps for different activities, so it is important to find one that is suitable for your specific needs.
Secondly: What is your budget? Tarps can cost anywhere from a few euros to hundreds of euros, so it's important to find a product that fits within your budget.
And finally: What size and weight should the tarp you need have?
Lighter and smaller tarps are easier to transport and set up, but they may not be large enough to cover all of your equipment. Heavier and larger tarps can be more difficult to transport and set up, but they offer more protection.
Now that you know what to look for, here is my selection of the best tarps for 2022:
Tarp Test Overview: Which Tarps are the Best?
Do you want to get started right away?
First is the Unigear Tarp, and I recommend it to you if you don't already have a tarp and want to get one.
Unigear Tarp, affordable and versatile
Affordable and reliable, the Unigear Tarp is my recommendation for beginners. The tarp is a successful compromise between durability, lightness, and flexibility. With the included accessories, you can start your adventure right away.
Here are my 9 best compact tarps summarized in a table.
Now you can see that there are quite heavy tarps and also very light ones. The heavier tarps are all suitable for Bushcrafting or camping where you don't hike much.
However, if you go on a trekking tour, you cannot carry a 2 kg tarp with accessories. For this requirement, you should definitely rely on an ultra-light tarp, such as the AMAZONAS Ultra-Light Adventure or the Sea to Summit Escapist.
But let's now really get into the topic and start with what a tarp actually is.
What is a Tarp?
A tarp is a sheet that can be used like a tent. The sheet is usually made of a lightweight, tear-resistant material that can withstand the elements.
Tarp tents are usually of high quality and can be expensive. When choosing a tarp, make sure it is suitable for your planned outdoor activity. You can buy tarps in most outdoor stores or online outdoor shops.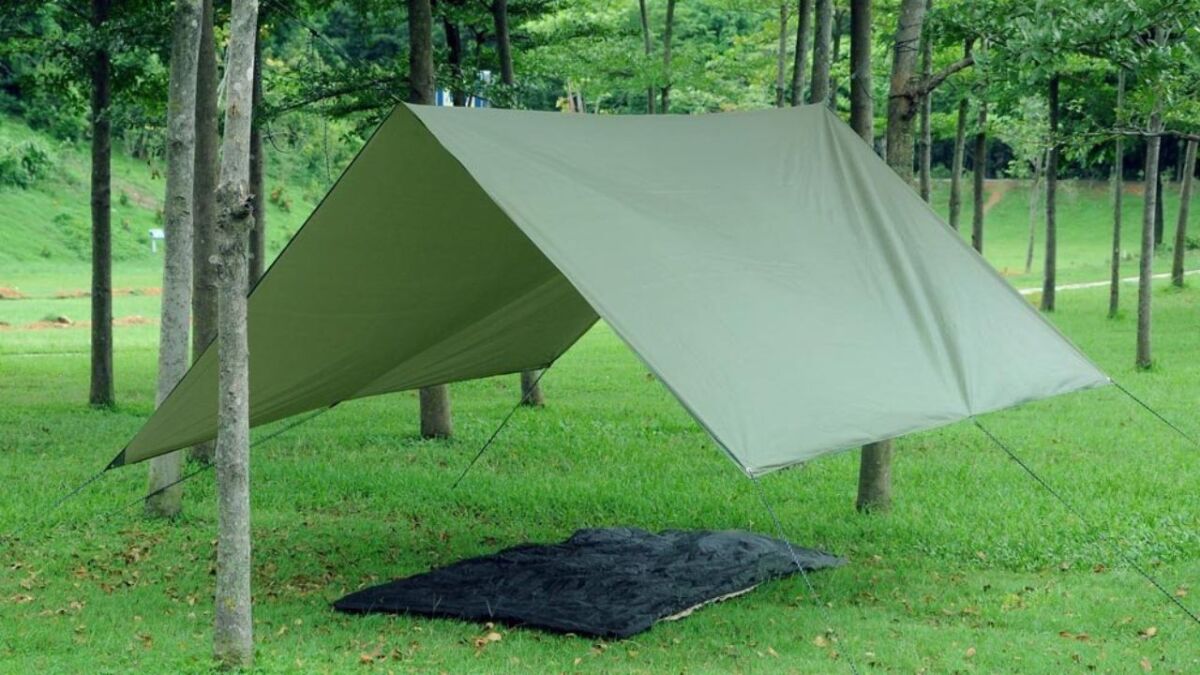 Who are tarps suitable for?
A tarp can be a suitable solution for someone who wants to travel light and easy, prefers sleeping closer to nature than in a tent, or needs a sun protection while camping.
Typically, people who consider trekking as their hobby prefer to use a tarp because it is available in ultralight versions. But also Bushcrafters, who like to camp in a more natural way in the forest, mostly use a tarp to spend the night.
Tarps are also a great option for those who need extra protection from the elements. A tarp can be used as a groundsheet or to protect important utensils from the elements, making them a versatile tool for campers and hikers.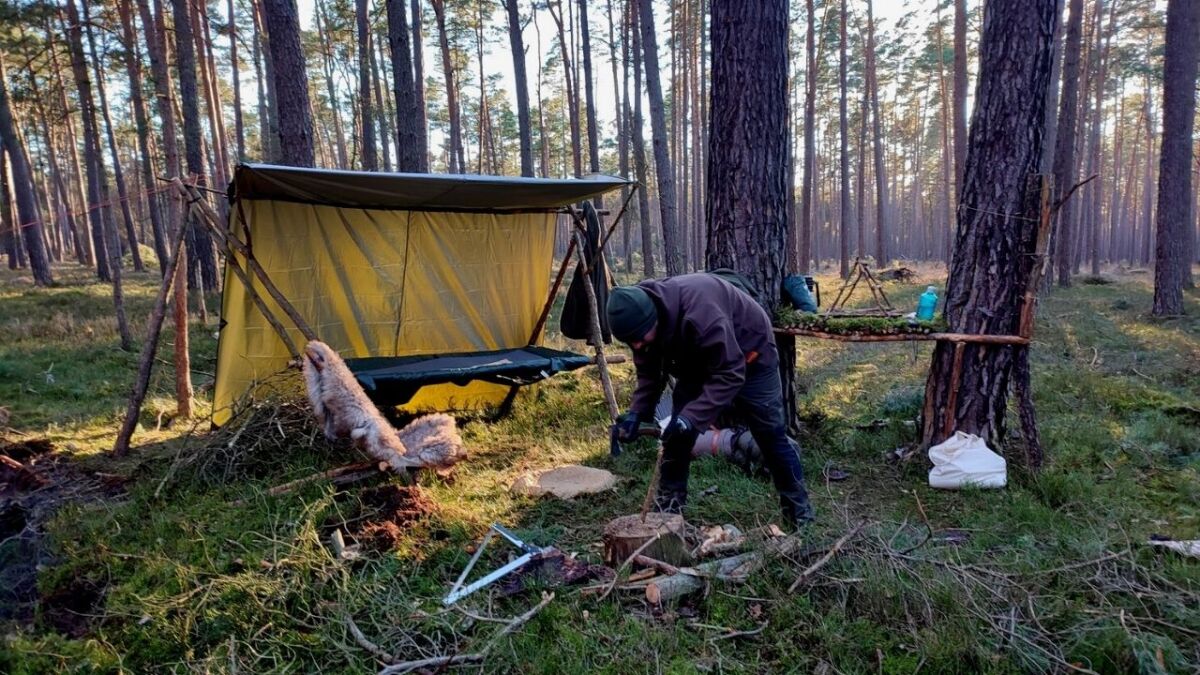 What types of tent tarps and tarps are there?
There are different types of tarps or tarps that can be used for different purposes. The most common type is the square or rectangular tarp, which is often used as a sunshade, shelter or for camping.
These tarps are available in different sizes, such as 4 x 4, 3 x 3 m or 4 x 6 m. The size you choose depends on the purpose for which you are using the tarp. A smaller tarp may be sufficient, for example, for sun protection, while a larger tarp may be required for a shelter.
The accessories for tarps include pegs and poles, which are used to secure the tarps and provide additional support. Finally, there are also triangular tarps that can be used as awnings or shelters.
What can a tarp be used for?
A tarp can be used for a variety of purposes, such as a tent, rain shelter, sun shade, awning, sleeping bag cover, groundsheet, windbreak or outdoor shelter. In an emergency, you can also use a tarp to collect rainwater or as an improvised duffel bag.
There are many display options that can be used depending on the purpose. They are well suited for a variety of activities and models.
There is the A-frame construction form, where your tarp is set up like an A. The setup can be close to the ground or higher up - either you are protected or you have more airflow.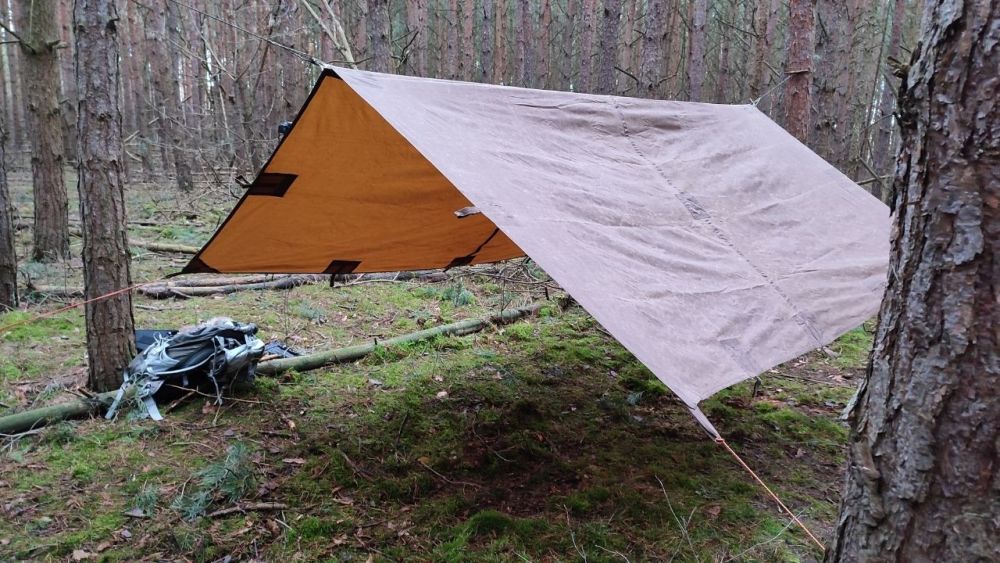 Tarps are also waterproof and provide excellent sun and rain protection. They are a great addition to any camping equipment and the pack size usually doesn't matter.
They can be quickly and easily assembled, making them a great choice for a variety of situations.
Checklist: What distinguishes the best tarps?
When it comes to tarps, size matters. The best tarps are large enough to cover everything you need, but not so large that they are difficult to carry, unwieldy, or difficult to set up.
Square tarps are often the best choice as they provide the greatest protection and are still relatively easy to handle.
Guy lines and poles are essential for securing your tarp, and stakes can help keep it in place. Make sure you have everything you need before heading into the wilderness - a checklist will help you not forget anything important.
Here's what you need for a tarp setup:
Tarp
Guy ropes
Pegs for various set-up forms
Possibly, a tarpaulin that you use as a base
What skills you need:
Spatial thinking
Estimation of the weather (where could it be windy or rainy)
Bestseller: My 9 most popular tarps and recommendations
Below, I have selected and evaluated the best tarps for you. Based on the facts as well as the pros and cons, you can compare the tarps.
The All-Rounder: Unigear Tarp, Waterproof, with Eyelets + 6 Pegs + 6 Ropes
The Unigear Tarp is a waterproof tarp equipped with eyelets and 6 pegs. It also includes 6 ropes for easy setup. This tarp is great for camping, bushcraft, or other outdoor activities where you need protection from the elements.
Daten aktualisiert vor einer Stunde
Unigear Abdeckplane für Regenwasser, Tarp Rain Fly, Zelt, wasserdicht, Wandern, faltbar, leicht, wasserdicht, für Camping und Schutz vor Regen, Schnee und Sonne
🎪ALLWETTERSCHUTZ – Besteht aus hochstrapazierbarem 210D Oxford Gewebe; PU 3000 wasserdicht und witterungsbeständig; Erhöher Sonnenschutz UV 50+ durch silberne Innenbeschichtung. Langzeitiger Schutz bei fast allen Wetterzuständen wie beim Regen, Gewitter, Schnee, starkem Wind, unter direkter Sonne etc
🎪MULTIEINSATZFÄHIGKEIT – Mit drei Größen (3x3m, 3x4m, 3x5m) ist UNIGEAR Zeltplane in verschiedenen Situationen einsetzbar – als Sonnen- bzw. Regenschutzschirm für Outdoor-Aktivitäten wie Camping, Picknick, Grillen oder Erholung am Strand usw. Als Hängematte Überzelt, Autounterstand, Sonnensegel für Ihre Outdoorküche
🎪PRAKTISCHE ALTERNATIVE - Breiten Sie die Zeltplane einfach aus und wandeln Sie die in einer Sekunde zum Zeltboden, Footprint, Campingplane etc. um, egal im Freien, auf Terrasse oder im Hof.
🎪LIEFERINHALT - ☀300 cm * 300 cm (8 * Festmacher): 1 * Zeltplane ; 6 * Aluminiumpfähle ; 6 * Nylonseile (400cm) ;1 * Tragetasche . ☀300cm*400cm (18*Festmacher): 1 * Zeltplane; 6 * Aluminiumpfähle ; 6 * Nylonseile (400cm) ; 1 * Tragetasche. ☀300cm*500cm (19*Festmacher): 1 * Zeltplane; 8 * Aluminiumpfähle ; 8 * Nylonseile (400cm) ; 1 * Tragetasche
💗Wenn das Produkt Probleme haben, kontaktieren Sie uns bitte, werden wir ihr Problem dann schnell gut lösen.
30,59 €
UVP: 35,99 €
View Product
Cheap and reliable, the Unigear Tarp is my recommendation for beginners. The tarp is a successful compromise between robustness, lightness, and flexibility.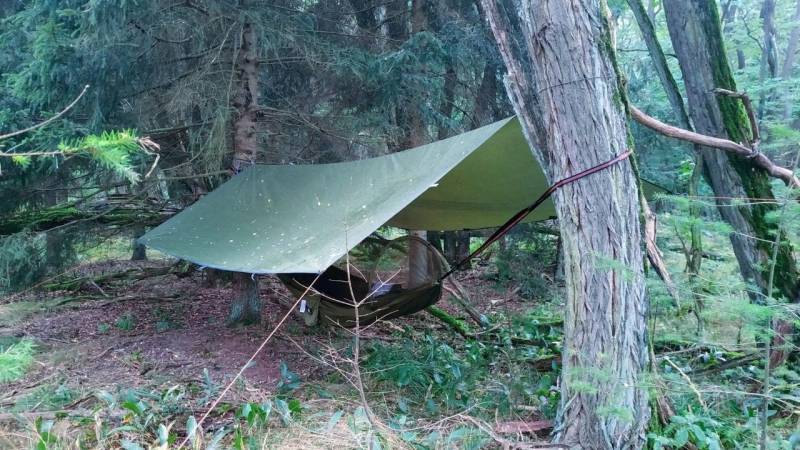 Facts:
Sizes:
Packed size:

3 x 3 m: 28.7 x 18.29 x 10.41 cm
3 x 4 m: 31 x 19.8 x 10 cm
3 x 5 m: 38 x 17.1 x 13.6 cm

Weight:

3 x 3 m: 1.02 kg
3 x 4 m: 1.29 kg
3 x 5 m: 1.67 kg

Water column: 3000 mm
Advantages
Does not rustle
Cheap
Robust
Seams cleanly sewn and tear-resistant
Disadvantages
Only 8 attachment points
Proven and Robust: DD Hammocks Tarp MC 4 x 4 Camo
The tarp from DD Hammocks, the MC 4 x 4 Camo, is made of rip stop nylon and is 100% waterproof. It includes 4 pegs, 4 guy lines of 2 meters each, and is 4 x 4 meters in size. It weighs 1290 grams without pegs and lines.
Material: ripstop Nylon, 100% wasserdicht
inklusive: 4 Erdnägel, 4 Abspannleinen a 2 Meter
Größe: 4 x 4 Meter
Gewicht: 1290 Gramm ohne Heringe und Leinen
111,19 €
View Product
You can already tell that the tarp is quite heavy, but it offers a lot of space. 4 x 4 meters is great for sheltering your equipment or sleeping two people underneath.
Furthermore, the tarp offers enough attachment options (19 attachment points, including 5 attachment points in the ridge area) and it hardly makes any noise in the wind. It is also inconspicuous because it does not reflect sunlight. It is pretty well camouflaged in our latitudes due to its relatively good camouflage pattern.
Facts:
Size: 4 x 4 m
Packed size: not specified
Weight: 1.29 kg
Water column: 3000 mm
Advantages
Tear-resistant rip stop nylon
100% waterproof
Camouflage pattern
Suitable for groups
19 attachment points
Disadvantages
Expensive
Heavy
Affordable and Durable: Aqua Quest Defender Tarp - 100% Waterproof, Tough Nylon
If you're looking for a sturdy and reliable tarp, the Aqua Quest Defender is a great choice. It's made of 100% waterproof, tough nylon and is built to withstand the elements and keep your gear dry.
AQUAQUEST Defender wasserdichte Campingplane – robuster Zeltunterstand oder Regenschutz – Wandern, Bushcraft und Hängematte, 4 x 3 m Waldtarn
Hochwertige Materialien und eine präzise Fertigung fließen in jede einzelne AquaQuest-Campingplane ein. AQ wurde 1994 gegründet und ist die Planenmarke, der Sie vertrauen können, wenn es um maximale Sicherheit in Ihrem Unterschlupf geht.
Die wasserdichtste Campingplane auf dem Markt. Die einzigartige Doppelbeschichtungsformel des Defender sorgt für eine branchenführende Wasserdichtigkeit von 20.000 mm, sodass Sie auch unter extremsten Bedingungen trocken und komfortabel bleiben.
Strapazierfähiges Nylongewebe, robuste Gurtbandbefestigungen, verstärkte Firstlinien und kräftige Nähte haben dem Defender den Ruf eingebracht, die robusteste Plane für Camping und Bushcraft zu sein.
Das DEFENDER 4 x 3 (Groß) Tarp hat 25 Befestigungspunkte, wiegt 2 kg und bietet eine Abdeckung von bis zu 11,3 m2. Die großzügigen Abmessungen bedeuten, dass Ridgelines effektiv sowohl in Längsrichtung als auch in Breitenrichtung verlaufen können, was mehr Aufstellungsoptionen ermöglicht. Es bietet Platz für bis zu 4 Benutzer.
Lebenslange Garantie für alle AquaQuest-Produkte inbegriffen, sowie kompetenter und zuverlässiger Kundenservice mit Sitz in den USA & Kanada. Mit 30 Jahren Erfahrung genießen Sie volles Vertrauen und gehen kein Risiko ein bei einem bewährten Branchenführer.
159,99 €
View Product
It's also UV-resistant and features reinforced grommets for added durability. Whether you use it as a shelter, ground cover, or for storage, the Aqua Quest Defender provides the protection you need.
Facts:
Sizes:
Packed Size:

3 x 3 m: 38 x 21.2 x 8.3 cm
4 x 3 m: 37.8 x 17.6 x 9.6 cm

Weight:

3 x 3 m: 1.69 kg
4 x 3 m: 2.08 kg

Waterproof Rating: 2000 mm
Advantages
Material 70D Nylon
Heavy TPU Coating
Reinforced Seams
Heat Sealed Seams
19 Tie-Down Points
Disadvantages
No Camouflage Style on the Inside
Heavy
Brand Quality: AMAZONAS Ultra-Light Adventure Tarp 340 x 280 cm, 380 grams
This ultra-light adventure tarp is perfect for your next outdoor excursion. With a size of 340 x 280 cm, the AMAZONAS Ultra-Light Tarp weighs only 380 grams and is therefore easy to carry.
Daten aktualisiert vor einer Stunde
AMAZONAS Ultra-Light Adventure Tarp 340 x 280 cm Eigengewicht 380 Gramm
Ultralight Outdoorerlebnis - Das leichteste Regendach für Hängematten. Das 'Adventure Tarp' ist genau auf Ultra-Light-Hängemattenmaße abgestimmt. Damit wird die Hängematte zum Outdoorbett!
Atmungsaktiv und Reißfest - 100 % extra stabiles Nylon-Ripstop (20 D) mit hochwertiger Silikon-2fach-Beschichtung sorgt für Schutz vor Regen, Wind und Schnee, für ein trockenes Naturerlebnis. Y-Heringe aus Aluminium.
Ultraleicht und kompakt – Maße für das Outdoordach für Bushcraft Hängematten siehe Bild links; Eigengewicht: 380g; Packmaß: 27,5 x 8,5 cm; Wassersäule: ca. 2.000 mm
Kombinierbar - mit allen Ultralight Hängematten (außer XXL & XL Hängematten) und der Tarp Sock
Lieferumfang - AMAZONAS Adventure Tarp inkl. extra kleinem, farblich abgestimmtem Stoffbeutel. Das Komplettgewicht beträgt 380g bei einem Packmaß von ca. 27,5 x 8,5 cm
129,51 €
UVP: 188,00 €
View Product
It is made of durable rip stop fabric and has welded seams for added stability. Thanks to the surrounding eyelets, it can be set up and taken down easily.
The included pack sack ensures compact storage. Whether you're hiking with a backpack, camping, or just spending time in the great outdoors, this tarp is awesome.
Together with the "Adventure Mosquito Hammock Thermo" and the "Adventure Ropes", it makes up the world's lightest hanging tent (approx. 940 grams).
Facts:
Size: 3.48 x 2.8 m
Pack size: 24.2 x 17 x 7.8 cm
Weight: 380 g
Water column: 2000 mm
Advantages
Extra stable nylon rip stop (20 D) with high-quality silicone 2-fold coating
Featherweight
Adjustable carabiners and Y-aluminum pegs
German brand manufacturer that has been developing outdoor products for over 25 years
Disadvantages
Small
Somewhat expensive
Large and Durable: AMAZONAS Ultra-Light Traveller Tarp XXL
The Amazonas Ultra-Light Traveller Tarp XXL is a weatherproof and waterproof tarp made of 100% rip stop polyester. It is coated with PUR (polyurethane) to provide additional protection against the elements.
This tarp is 400 x 300 cm in size, weighs 1.06 kilograms, and has a water column of 3000 mm. It is available in the color green.
AMAZONAS Ultra-Light Traveller Tarp XXL Wetterschutz wasserdicht 400 x 300 cm 980g Packmaß 30,5 x 12cm in Grün
Ultralight Outdoorerlebnis - Das XXL Regendach für Hängematten "Traveller Tarp XXL" ist genau auf Ultra-Light-Hängemattenmaße abgestimmt. Damit wird die Hängematte zum Outdoorbett!
Atmungsaktiv und Reißfest - 100 % Polyester-Ripstop (210T), PUR-beschichtet sorgt für Schutz vor Regen und Schnee, für ein Trockenes Naturerlebnis.
Ultraleicht und kompakt – die Maße für das Outdoordach für Bushcraft Hängematten beträgt 400 x 300cm, das Eigengewicht beträgt 980g
Atmungsaktiv und Reißfest - 100 % Polyester-Ripstop (210T), PUR-beschichtet sorgt für Schutz vor Regen und Schnee, für ein Trockenes Naturerlebnis.
Lieferumfang - Im Lieferumfang ist der AMAZONAS Traveller Tarp XXL inklusive einer Banderole zum Aufhängen oder Aufstellen und ein extra kleiner, farblich abgestimmter Stoffbeutel (Beutel wiederverwendbar, Maße mit Beutel betragen ca. 30,5 x 12 cm). Das Komplettgewicht beträgt mit Verpackung 1kg
80,72 €
View Product
This tarp is ideal for camping, backpacking, and hiking. It is made of strong, tear-resistant material and has reinforced eyelets for added durability. The tarp also includes storage bags for ropes and pegs as well as a high water column.
Facts:
Size: 4 x 3 m
Packed size: 30.5 x 12 cm
Weight: 1.06 kg
Water column: 3000 mm
Advantages
Large tent tarp
With accessories (pegs, guy ropes)
Includes storage bags for ropes
High water column
Reinforced eyelets
Durable material
Disadvantages
Somewhat heavy
Perfect for one person: PURE HANG Premium Tent Tarp 3 x 3 m for Hammock, Outdoor, Camping
The high-quality tent tarp from PURE HANG is 100% waterproof and has eyelets for easy hanging. It is perfect as a sunshade, umbrella, or rain protection for bushcraft or camping. It is ultra-light and compact and can be easily taken on your next adventure.
Daten aktualisiert vor einer Stunde
PURE HANG Premium Zeltplane Tarp 3x3 für Hängematte Outdoor Camping Wasserdicht mit Ösen Sonnensegel Strand Ultra-Leicht Sonnenschutz UV Schutz Regenschutz
MARKTDOMINANZ: PURE HANG bedient mittlerweile 10.000+ zufriedene Kunden und ist eine etablierte Marke im Bereich der Outdoor, Survival, Bushcraft, Freizeit & Travel Industrie. Die Mission - der PREMIUM-STANDARD -.
KOMPROMISSLOSE QUALITÄT: 3x3m Tarp aus robustem & reißfestem Ripstop Nylon. Wassersäule PU 2000mmH2O. Wasserdicht & UV-geschützt durch Polyurethan Beschichtung. 19 x strapazierfähige Befestigungspunkte / Tie-Downs. 6 x Schlaufen mit Metallösen & 13 x Schlaufen. Verstärkte Randnaht & doppelt-verstärkte Stiche an den Zuglaschen.
ULTIMATIVER SCHUTZ VOR DEN ELEMENTEN: Einsatz bei jeder Wetterlage. Bester Schutz vor Regen, Sonne, Schnee & Wind. Verwendung auch als Sonnensegel & Schattenspender. Tarneffekt durch an die Natur angepasste Farben gegeben.
VIELSEITIG & FLEXIBEL: Ausgestattet mit 19 x Befestigungspunkten ist nahezu jedes Setup möglich. Verwendung bei Hängematte, Bushcraft, Outdoor, Strand, Sonnensegel, Zeltplane, Bodenplane Rucksack-Reisen, Backpacking, Wandern, Trekking, Festivals, Sommer, Strand, Angeln, Picknick-Decke & Wandern.
GERINGES GEWICHT & PACKMAß: Packgröße 25cm x 13cm & ein Gewicht von ca. 950g. Im Set enthalten sind zudem 2 x 8m x 4 x 4m reflektierende Abspannseile inkl. Seilspanner, 6 x ultraleichte & robuste Premium Aluminium Heringe, 1 x Tragetasche für Tarp & 1 x Beutel für Accessoires. Platzsparender & leichter Transport.
42,95 €
UVP: 44,95 €
View Product
Facts:
Size: 3 x 3 m
Packed size: 25 x 13 cm
Weight: 0.95 kg
Water column: 2000 mm
Advantages
Robust rips top nylon
Reinforced fastening at the corners
Additional reinforced eyelets
Strong and lightweight pegs
Reflective guy lines
Incl. carrying bag
Disadvantages
Only 9 attachment points
Affordable: KALINCO Tarp for Hammock, Rain Protection, Sun Shade for Outdoor and Camping
The KALINCO Tarp is an essential item for any hammock lover. It provides protection from sun and rain and is made of waterproof and UV-resistant fabric (190T Oxford fabric). It is quick and easy to set up and perfect for use in the forest.
KALINCO Zeltplane Tarp für Camping Hängematte Regenschutz Multifunktionales UV Schutz Sonnensegel Zelt (Grün 3x3M)
MULTIFUNKTIONALE Zeltplane: Perfekt als Sonnen- oder Regenschutz für Outdoor-Aktivitäten wie Camping, Picknick, Grillen oder Erholung am Strand etc. Als Hängematte über dem Zelt, Autounterstand, Sonnensegel für Ihre Aussenküche.
STABIL & WASSERFEST: 190T Oxford-Gewebe kombiniert mit einzigartiger Wasserfestigkeit liefert bleibende Stabilität; schützt Sie und Ihr Hab und Gut vor Feuchtigkeit.
EINFACH VERWENDUNG: Einfach entfalten und auf den Boden legen; verwenden Sie Heringe und Zeltseil, um die Plane durch die vier Metallösen zu fixieren.
EINFACHE MITNAHME: Auf kompakte Größe faltbar und damit extrem transportabel; die enthaltene Zugbandtasche bietet zusätzlichen Komfort beim Tragen und auf Reisen
VERSCHIEDENSTE FARBEN UND GRÖSSEN: 2 unterschiedliche Größen für unterschiedliche Ansprüche: M: 300 cm x 300 cm L: 450 cm x 300 cm; macht Ihre Outdoor-Aktivität noch schöner
33,99 €
View Product
Facts:
Size: 3 x 3 m
Packed size: 26.6 x 21 x 8.8 cm
Weight: 1.08 kg
Water column: not specified
Advantages
Affordable
Reinforced eyelets and loops
19 attachment points
Disadvantages
Loops could be 1-2 cm longer
Heavy
For Beginners: FREE SOLDIER Tarp 3 x 3.2 m
The FREE SOLDIER Tarp is an extremely versatile product that can be used as a tarp, awning, or tent.
It is made of high-quality materials that are waterproof and UV-resistant, making it ideal for all types of outdoor activities. The tarp also comes with a set of pegs for securing it.
FREE SOLDIER Tarp Wasserdicht 3x3,2m Tarp Ultraleicht Zeltplanen UV Schutz Camping Sonnensegel Zelt Freien Multifunktionales Große Tarp für Camping,Wandern,Outdoor-Aktivitäten(Braun),Extrabrei
Wasserdicht und Anti-UV - Die wasserdicht tarp besteht aus 210T Ripstop-Polyestergewebe, das reißfest und pannensicher ist. Mit 2500 PU-Beschichtung und der wasserdichten Behandlung an den Nähten ist die wasserdicht tarp vollständig wasserdicht und UV-beständig. Sie kann lange halten -dauernder Schutz und halten Sie trocken bei Regenwetter und schützen Sie Ihre Haut auch an sonnigen Tagen vor UV-Strahlung.
Große Größe - 300 cm x 320 cm große Größe, ideal für mehr als 2 Personen. Tolle übergroße Zeltplanen für Familien, Paare oder Freunde. Ob Sie sich hinlegen oder mit Freunden sitzen, unsere Zeltplanen hat die perfekte Größe.
Stark und Stabil - Jeder Belastungspunkt der ultraleicht tarp ist mit mehrfach vernähten Nylongurten verstärkt, und die Oberfläche der Gurte ist gleichmäßig belastet, wodurch die Haltbarkeit und Stabilität der gesamten tarp verbessert wird. Mit reißfestem und pannensicherem Material kann die tarp stark und stabil befestigt werden.
Leicht und Tragbar - Mit einem Gewicht von nur 1 kg kann die ultraleicht tarp problemlos in einen tragbaren und leicht zu tragenden Beutel gefaltet werden. Das Paket beinhaltet 1 * tarp, 1 * Aufbewahrungstasche, 1 * Beutel, 4 * Seile, 4 * Befestigungsnägel.
Mehrzweck - Es gibt viele Möglichkeiten und Stile, um die tarp zu formen, die für viele Situationen geeignet sind und für Camping, Reisen, Picknick, Rucksacktouren, Sportveranstaltungen, Festivals und Strand verwendet werden können.
53,99 €
View Product
Facts:
Size: 3 x 3.2 m
Packed size: 27 x 14 x 10 cm
Weight: 1 kg
Water column: 2500 mm
Advantages
Available in many colors
Inexpensive
Comes with accessories (pegs and ropes)
Reinforced seams
Tear-resistant material
Comes with a storage bag
Many attachment points
Lightweight for Trekking: Sea to Summit Escapist 15D Tarp / Tent Tarp
The Sea to Summit Escapist 15D Tarp is a great tent tarp for anyone who wants to enjoy the great outdoors without having to worry about the weather.
This tarp is made of a waterproof and breathable material (silicone-coated nylon fabric) that will keep you dry and comfortable in any weather (water column of 1200 mm). The tarp also has a UV-resistant coating that protects you from harmful sun rays.
The tarp can be used as a standalone shelter or as an addition to your existing tent (such as the Ultra-Mesh Bug Tent from the same company). The tarp comes with all the necessary materials for setup, including guy lines and stakes.
Facts:
Size:

Medium: 2 x 2.6 m
Large: 3 x 3 m

Packed size:

Medium: 8.5 cm x 19 cm
Large: 9 cm x 23 cm

Weight:

Medium: 300 g
Large: 440 g

Water column: 1200 mm
Advantages
Very lightweight
Eight Hypalon guy points
Brand product
Eyelets have support for the tip of a trekking pole
Reflective guy lines
Reinforced corners with cord closure and guy line
Purchasing criteria: Using these criteria, you can compare and evaluate tarps
When buying tarps, you should compare and evaluate them based on weight, shape, model, pitching options, waterproofed, and size.
If you want to use a tarp as a sunshade or hammock, you should also pay attention to it.
Rectangular tarps are great for use as tent tarps, as they are small and offer good protection. However, when choosing a tarp, be sure to consider your needs.
How big should a tarp be?
The size of the tarp you need depends on the size of the area you want to cover. A 2x2 meter tarp is sufficient to build a small tent or protect a picnic table, while a 3x4 meter tarp covers an average-sized tent and still has some extra space.
I recommend that you buy nothing less than a 3x3 meter tarp if you have no special requirements. I own a 2.8x2.8 meter tarp and a 3x4 meter tarp and am very satisfied with them. The 3x4 meter tarp is still light enough, and I have enough space for another person or my equipment.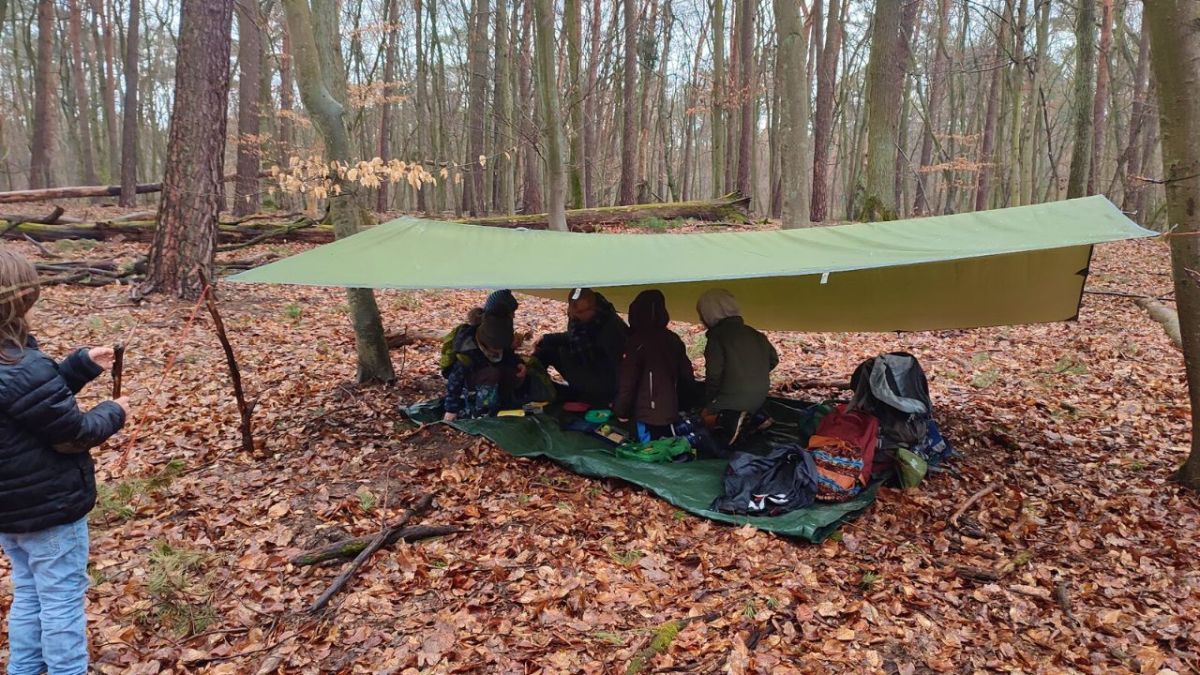 Weight of a Tarp
With a tarp, the weight can vary greatly. It always depends on the size of the tarp and the material used. The rule of thumb here is: the bigger, the heavier.
Furthermore, you should also pay attention to the material used. I will introduce the individual materials with their advantages and disadvantages below.
Also remember that the accessories of a tarp add weight. If you want to travel ultralight, you can either choose stakes that are extremely light or carve your own on site. You can also save weight on the ropes by looking for very thin and tear-resistant cords.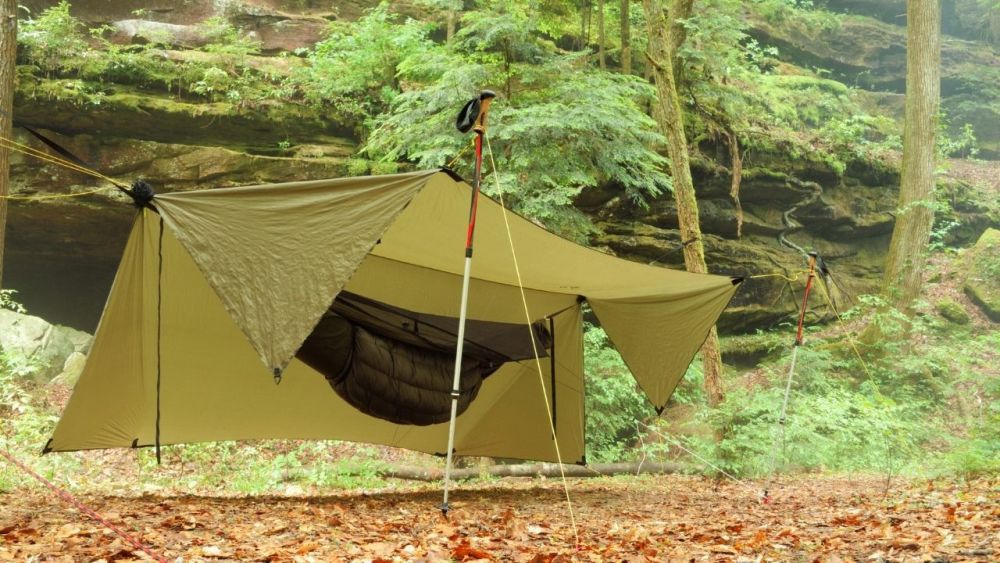 Thickness of a Tarp
Choosing a thick tent tarp can be life-saving in many ways while spending time in nature. It not only provides better protection, but also makes the tarp more stable when set up like a tent with hiking poles.
Thicker tarps are also more stable than thin tarps. The disadvantage is clearly the weight. Thicker tarps also weigh more and are hindering for ultra-light trekking.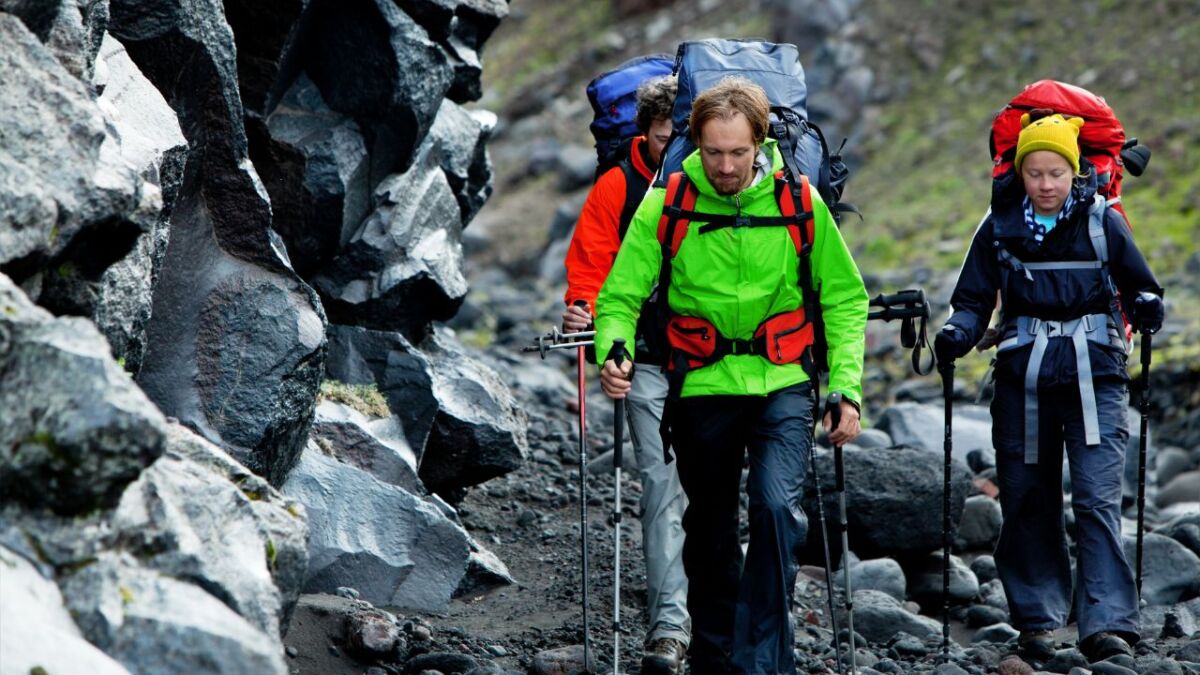 What does a good Tarp cost?
The cost of a good tarp can vary depending on the brand, processing, size, and design. In general, prices for tarps range from €15 to €150, but there are also tarps available that cost more than €300.
A good tarpaulin should be made of strong material that is waterproof, tear-resistant, and UV-protected. Additionally, it should be easy to clean and maintain.
Some offers include accessories. I recommend checking what is included in the price. If it is only the tarp itself, additional costs for tent accessories (pegs, ropes, etc.) will apply. However, the costs are not particularly high, depending on which products from which manufacturer you choose.
What shapes are available for tarps?
It is common to find tarps in various shapes, such as triangular, rectangular, or hexagonal. However, the most popular shapes are rectangular or square. Ultimately, you must make this choice yourself.
One thing should be said: The rectangular tarp is the most versatile. It can be laid flat on the ground to give you a large surface area, or used with a rope to create a makeshift tent.
I highly recommend the rectangular tarp - especially for beginners - because it is the easiest to set up.
How weather-resistant should my tarp be?
Your tarp should be able to withstand sun, snow, rain, and weather conditions.
Rain: Most tarps are designed to provide protection from rain. How waterproof each tarp is depends on the coating and material used. Below, I will introduce you to the different materials. Some materials expand when wet. Furthermore, pay attention to how quickly a tarp dries.
Snow: Tarps are very versatile and can be used in snow or snowfall as long as they are waterproof. When setting up the tarp, make sure it can sag quickly due to the weight of the snow. If your tarp is covered in snow, I would advise you to either remove the snow or re-tension it.
Wind/Storm: In most cases, tarps are not reliable in the wind. Therefore, I recommend setting it up relatively flat in strong winds - there are great construction forms that are well suited for this. To prevent wind from blowing through the tarp, let the windward side touch the ground. Read more about camping in winter storms here.
Sunshine: You can also use a tarp as sun protection or awning. You should consider whether it offers UV protection. You will read about the different materials of tarps below.
What sizes are available for tarps?
The size of the tent tarp largely depends on the number of people and amount of luggage that will seek shelter under the tarp. You should also consider the height of the people. The size of a tarp also depends on its shape.
Most sellers indicate the size of tarps in length x width in meters. Occasionally, the size is also given in cm. Less commonly, the size is used as S for "small", M for "medium", L for "large", or XL for "extra large".
The following common sizes I have found.
Square Tarps:
3 x 3 meters
3.5 x 3.5 meters
4 x 4 meters
Rectangular Tarps:
2.4 x 2.2 meters
2.85 x 3 meters
2.85 x 4 meters
2.95 x 3 meters
4.25 x 4.45 meters
3 x 2 meters
3 x 3.2 meters
3 x 3.5 meters
3 x 4 meters
4 x 5 meters
4 x 6 meters
Triangular Tarps:
3.6 x 3.6 x 3.6 meters
4 x 4 x 4 meters
5 x 5 x 5 meters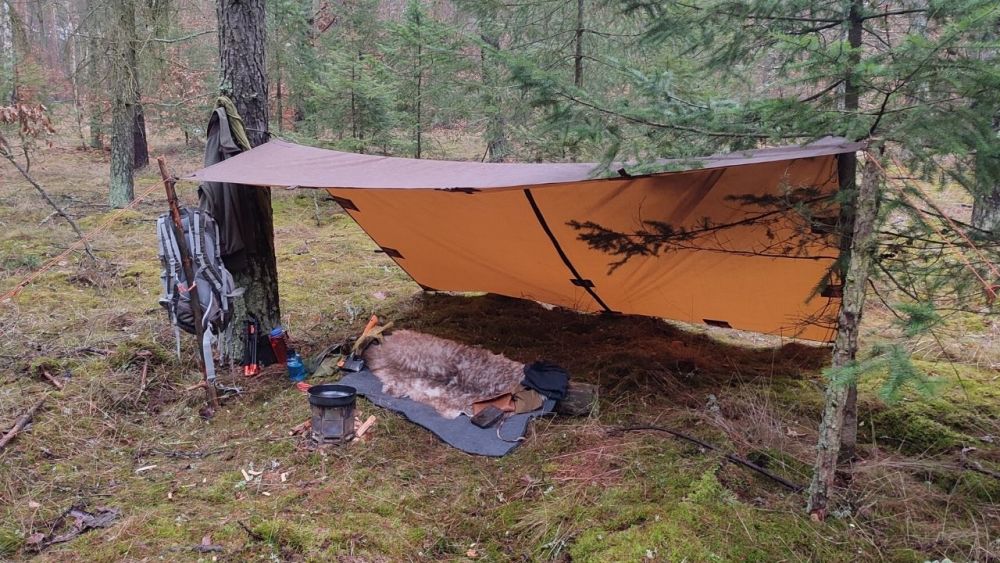 Which well-known manufacturers of tarps are there?
You can buy tarps from various manufacturers. Below is a list of well-known manufacturers who, according to my research, offer tarps in their range in German-speaking countries.
Amazonas
DD Hammocks
Aqua Quest
Coleman
Quechua
Salewa
Bessport
Tatonka
Dyneema
Hilleberg
LYDUO
Wechsel
Of course, there are many other manufacturers.
Which material should I choose when buying a tarp?
When choosing a tarp, it is important to pay attention to the quality of the material. A high-quality tarp is made of sturdy, tear-resistant, waterproof, and UV-resistant fabric. If you want lighter and extremely durable material, you unfortunately have to spend a little more money, as the high-quality fabrics are pricier.
What distinguishes a polyester tarp?
The main reason why polyester is used for tarps is its water resistance. Polyester is a synthetic material that absorbs less water than cotton, making it ideal for outdoor use. In addition, tarps made of polyester are usually durable and UV-resistant, making them ideal for long-term use. Many inexpensive tarps are made of polyester because the material is cheap to produce, but it is heavier than some other materials.
What distinguishes a nylon tarp?
Nylon is stronger and more elastic than polyester and about 30% pricier than polyester. Tarps made of nylon are lightweight and can be purchased in a variety of sizes to meet the needs of every camper.
Most affordable tarps are made of nylon because it is inexpensive to produce and also elastic and waterproof. However, note that nylon expands when wet and contracts when drying.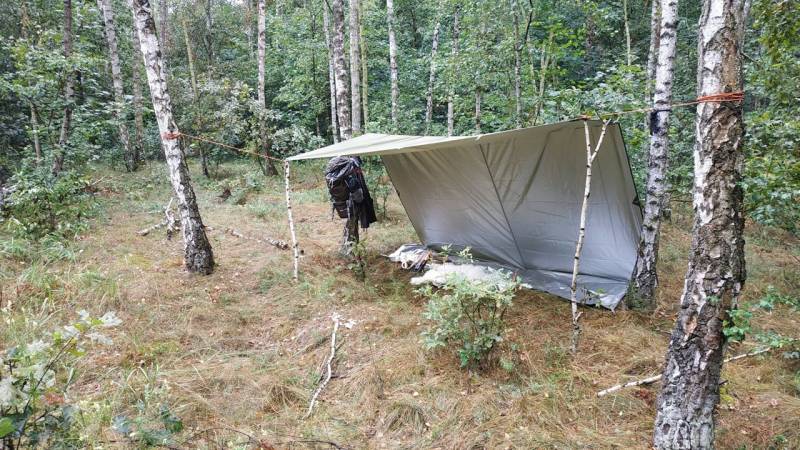 If the tarp gets wet, you may need to tighten the ropes or pegs and loosen them again once the material is dry. However, this point is only relevant for one-sided coated or completely uncoated tarps.
The disadvantage of nylon is that it is not breathable. If you would rather not get wet from condensation, I recommend ventilating well. This moisture then hangs on the walls of your tarp and can even drip down on you at night. Especially in the cold season, this can be annoying.
What distinguishes a tarp made of rip stop nylon?
Rip stop nylon is a strong, tear-resistant fabric used for making tarps and other outdoor equipment. Rip stop nylon is lightweight, durable, water-resistant, and is used in higher quality tarps. This material is also UV-resistant, making it ideal for outdoor use.
Rip stop without a special coating is not 100% waterproof and needs to be (repeatedly) impregnated. The acquisition costs are higher than with nylon and the fabric becomes stiffer in cold weather, which can cause noise.
What distinguishes a tarp made of Sil-Nylon?
This material combines the advantages of silicone and nylon in one. Sil-nylon is a very lightweight and durable material that is used for the production of tent fabrics and other outdoor equipment items. It is highly resistant to water and UV radiation.
It is a fabric made of nylon fibers that is coated with a thin layer of silicone. The silicone makes the tarp waterproof and at the same time increases the tear resistance of the fabric.
This material also has the advantage of being lighter and more durable than polyester. Due to the high-quality material, tarps made of silnylon are in the higher price range.
What distinguishes a tarp made of Cuben Fibre?
The main feature of Cuben Fibre is its exceptional strength at a low weight. Therefore, it is perfect for lightweight and compact outdoor equipment, such as tarps.
Cuben Fibre is a sail laminate and a lightweight material. Since 2016, it has been known as "Dyneema® Composite Fabric". It is only half as heavy as high-quality Sil-Nylon and offers high tear resistance.
This material is about twice as expensive as Sil-Nylon and therefore the most expensive option when buying a tarp.
The cost of this material is high because it remains dimensionally stable and resistant to bending even when wet, and is also UV-resistant. All of these advantages make it possible to use this material in outdoor applications, to meet the trend towards lightweight and ultra-lightweight products.
What does 210D or 210T mean for tarps?
D stands for Denier. The Denier number indicates how much 9,000 meters of the yarn used weighs (1 Denier = 1 gram per 9,000 meters). For a 15D fabric, 9,000 meters of yarn weighs 15 grams, for a 20D, 20 grams. This indirectly indicates the thickness of the yarn from which the fabric was woven.

So, it's about the fineness of the yarn used. The more Denier (i.e., thicker the yarn), the stronger and more durable the material. For comparison, a human hair has 20 Denier. The more Denier, the heavier the fabric becomes.

T stands for Tex. With Tex, it's similar, only here 1000 meters of yarn are weighed. 1 tex = 1 gram per 1000 meters. 210T corresponds to 210 g per 1000 m.

1 Tex corresponds to 9 Den.

Denier is usually used for nylon (polyamide) and Tex for polyester.
What distinguishes a cotton tarp?
A cotton tarp is particularly robust and durable when well maintained. It is also pleasantly soft and provides good protection against wind and weather. Unfortunately, a cotton tarp is heavy. For example, I sewed a 2.8x2.8 meter tarp myself from oilskin, and it weighs 3.2 kilograms.
Furthermore, you have to ask yourself whether you want a tarp that is coated or uncoated. Uncoated material is hardly used anymore because it expands when moist, dries slowly and rots or molds.
The advantage of this material is that it is breathable and has a pleasant climate.
If weight is not a major concern for you, a sturdy cotton blend fabric can be useful. It is particularly suitable for use near open flames or in the summer, as the heat does not build up too much here.
FAQ: Frequently Asked Questions and Answers about Tarps
How to tension a tarp properly?
Most tarps can be secured to the ground with pegs or branches. To tension the tarp, ropes, or cords are attached to the eyelets or hooks and then wrapped around trees, branches, or other solid objects.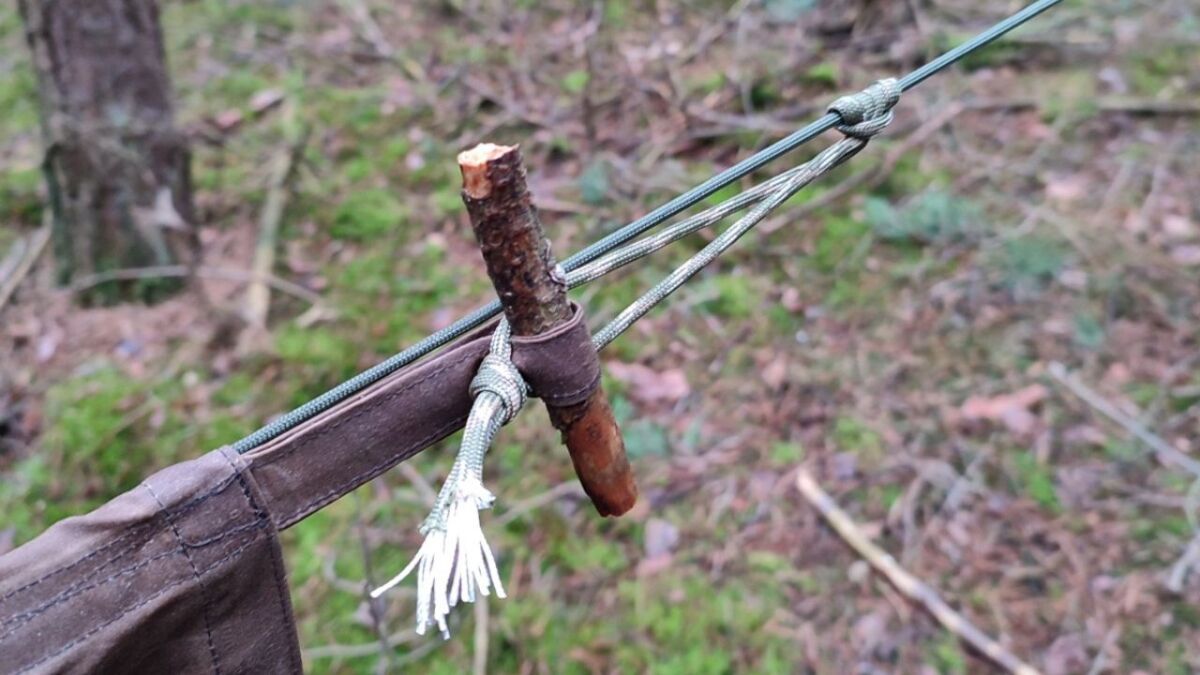 What are the alternatives to the tarp?
A tarp is a versatile and cost-effective survival tool that can be used in many situations. However, there are some other options that you should consider if you are seeking an alternative to the tarp. Alternatives to the tarp include a tent, a hammock with mosquito net, or a bivy sack.
Also read: Tarp or Tent? What is better? - A list of pros and cons (+ survey results)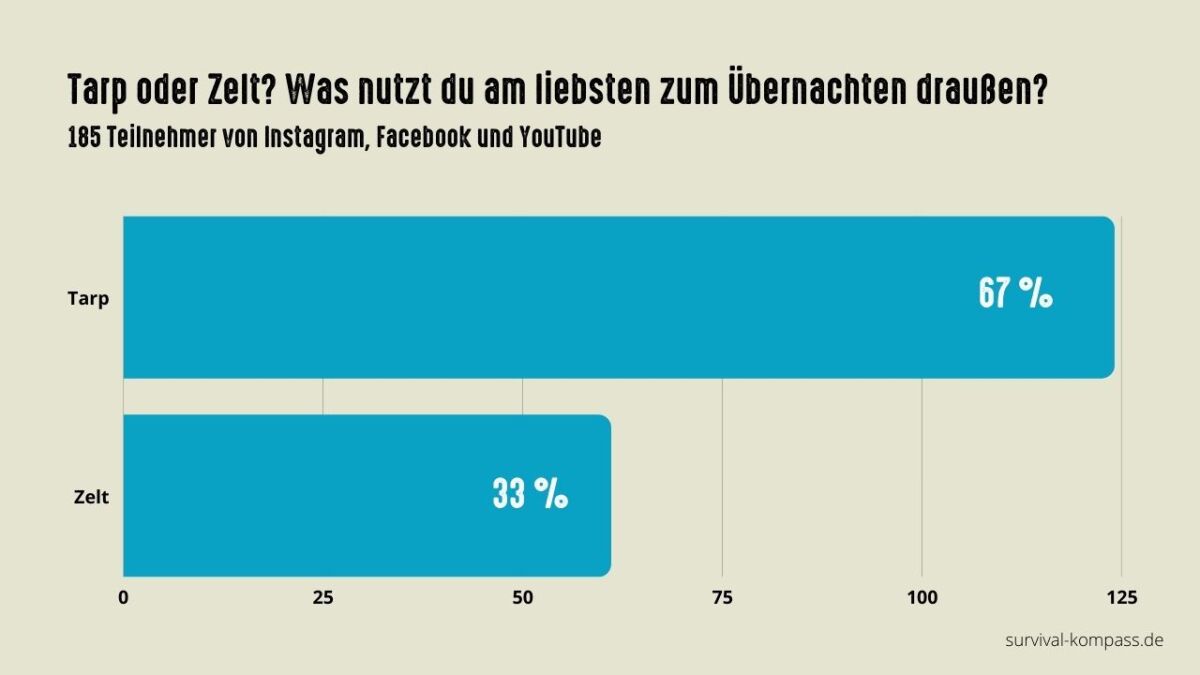 How to set up a tarp quickly and easily?
A tarp can be set up in various ways, depending on how much space you have and how much protection you need.
A simple method is to lay the tarp over a branch or other stable object and hold it down at the corners. Use stakes to keep it in place, or you can also use ropes to attach it to trees or other stable objects.
This video shows you how to set up a tarp as a flying A-frame. The video is part of the tarp module from the Wildimpuls program.
It is worth considering the different shapes and construction options, as this will affect how easy the tarp is to use. For example, a tarp that is set up between two trees can sometimes be easier to set up and take down than a tent.
And if you are looking for a tarp that can be used as a shelter in an emergency, it is worth investing in a high-quality tarp that can be securely fastened.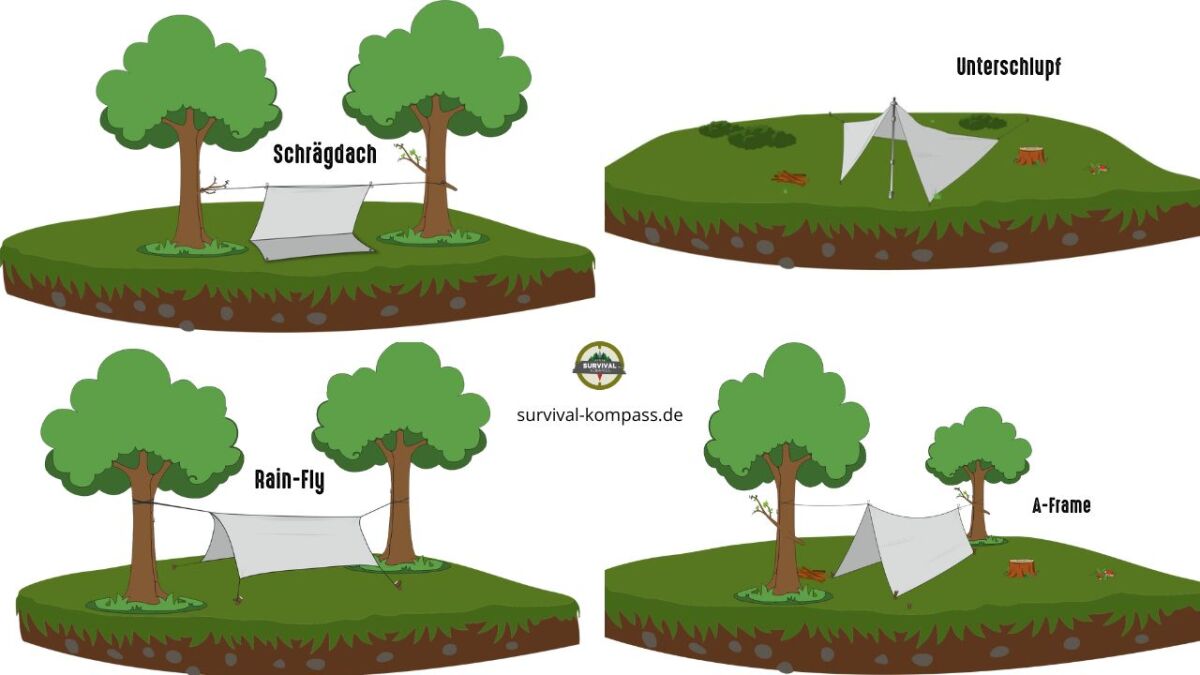 Can tarps be purchased at Decathlon?
Decathlon sells a variety of tarps for various outdoor activities. The selection of tarps varies depending on the store, but Decathlon usually has a good selection of tarps for camping, hiking, mountaineering, and other outdoor activities. You can find all the current tarps on Decathlon's online shop.
Popular for trekking at Decathlon is the "Tarp Trekking MT900", which measures 2.85 m × 2.40 m. The tarp has many attachment points and can be mounted in various ways. It comes with 8 tent pegs and 8 reflector guy ropes.
Furthermore, it has a water column of 2000 mm and is lightweight compared to other tarps, weighing only 360 grams (490 grams with accessories). The pack sack has a capacity of 1.5 liters and measures 15 cm x 10 cm in diameter. The tarp is made of 80% polyester (PES) and 20% thermoplastic polyurethane.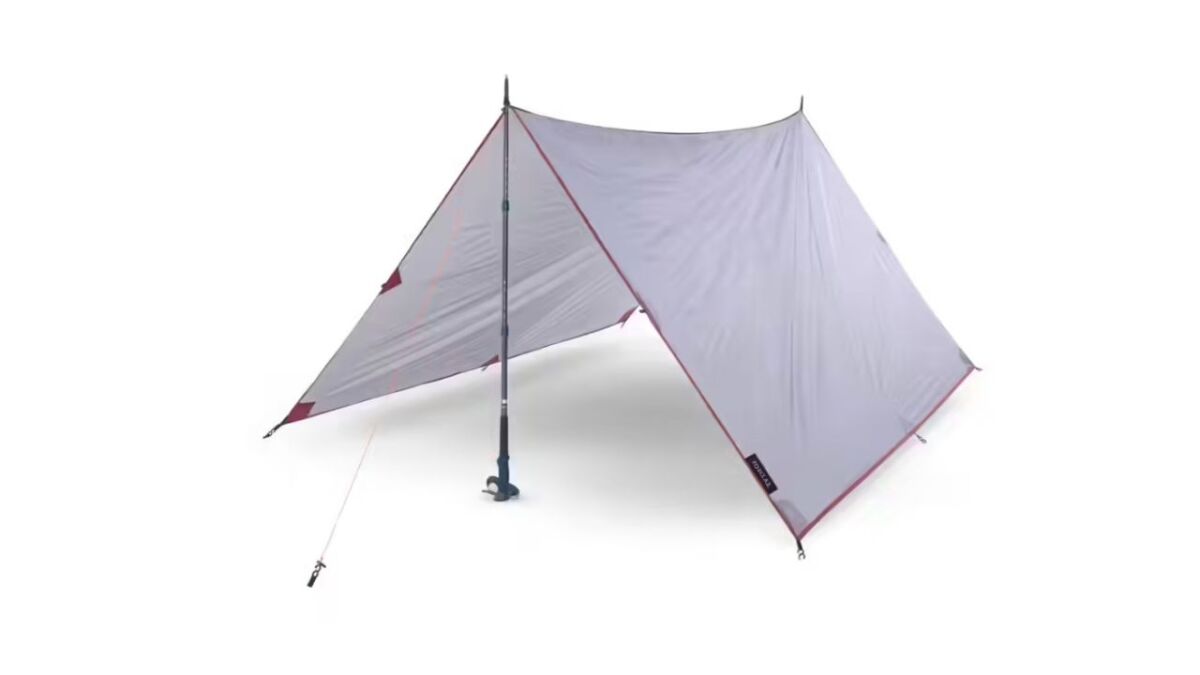 Another good tarp that Decathlon offers for a small price is the Camouflage Tarp for Bushcrafter. It is 2.97 × 2.85 m in size, waterproof, and has 21 fixing points for all possible construction forms. The tarp is made of polyester and has reinforced fixing points. Furthermore, you are protected from rain with a water column of 2000 mm.
Further facts about the Decathlon Tarp "Bushcraft Camouflage":
Weight: 815 g
Bag dimensions: 22 × 22 cm
Tarp dimensions: 2.97 × 2.85 m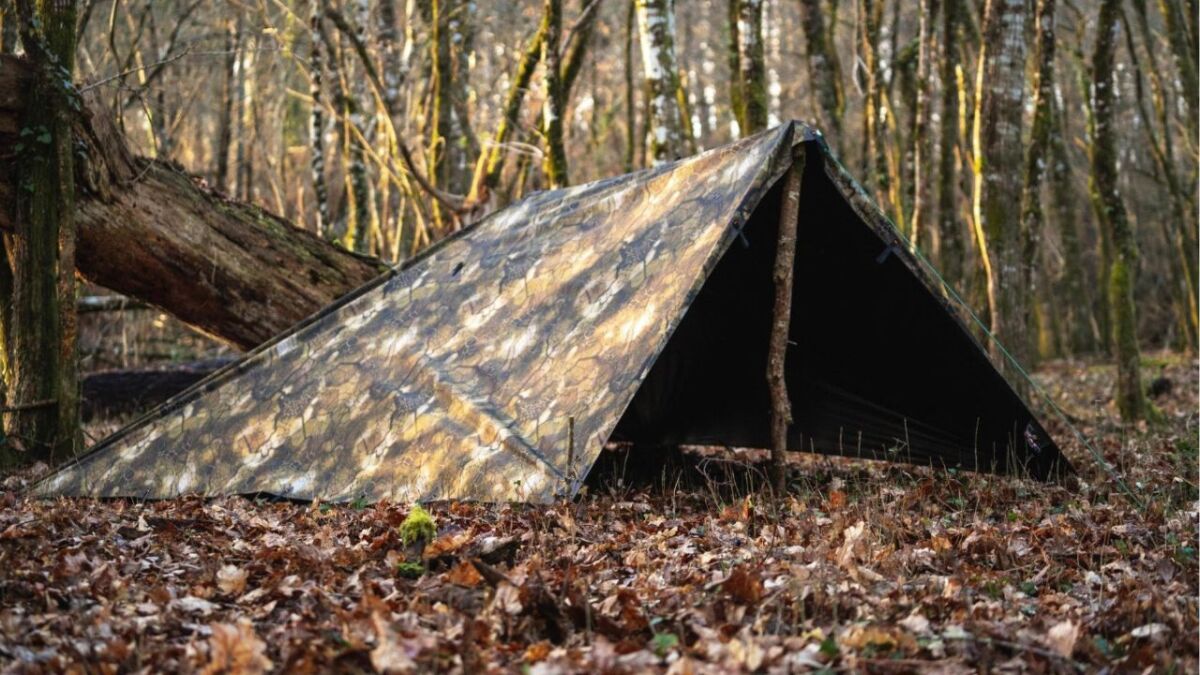 Where can I buy a tarp?
As tarps belong to outdoor equipment, you can buy them in various specialty stores or sports stores. If you want to use online shops, you will find plenty of shops on the internet that sell tarps.
Famous providers in the German-speaking area are:
Globetrotter
Decathlon
Tatonka
Obelink
Sportscheck
INTERSPORT
eBay and eBay Classifieds are both good places to find a good deal on a used tarp. In addition, discount stores like Netto, Lidl, or Aldi occasionally offer tarps as well.
How should I care for a tarp?
To keep your tarp in good condition, clean it regularly and store it in a cool, dry place when not in use. You can also treat it with a waterproofing spray to protect it from the elements.
Why are attachment loops better than eyelets on tarps?
Fastening loops offer better durability and are less susceptible to damage. With eyelets, it can happen that they tear out or rust over time.
If you don't have any eyelets or loops, then use this trick with a knot:
Can you stretch a tarp over a campfire?
It is possible to stretch a tarp over a campfire, but it is not a good idea. The fire could damage the tarp and smoke could also penetrate under the tarp, which could be very uncomfortable for the people under the tarp.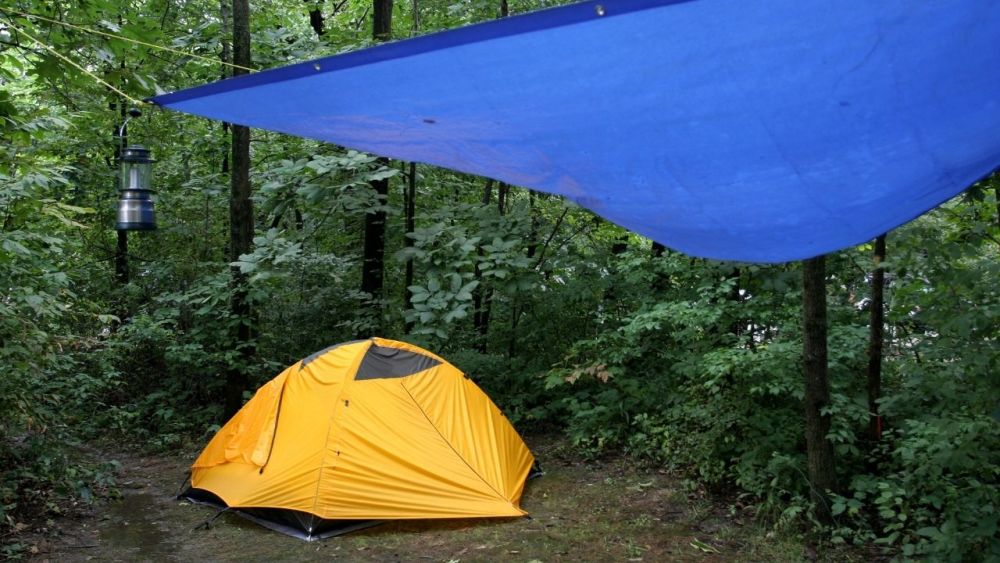 What do I need to set up a tarp?
To set up a tarp, stakes, and ropes are usually needed. If you don't have stakes, you can also tie the tarp to trees - this anchoring method is generally more durable than stakes. However, if you want to use stakes but don't have any, you can carve them from sticks (which is a cool Bushcraft project).
What to do if a tarp is not 100% waterproof?
If a tarp is not 100% waterproof, you can cover it with another waterproof material. In general, it is recommended that you always have some fabric tape on hand to seal your tarp in case of emergency. Here you can find 13 survival hacks for fabric tape.
Can I sleep with a tarp in winter?
It is indeed possible if you set up your tarp in a way that protects you from cold wind. A proven setup is the "tent shape". There, you set up your tarp flat on the ground like a tent. However, a prerequisite is that you have a good winter sleeping bag and a well insulating sleeping pad.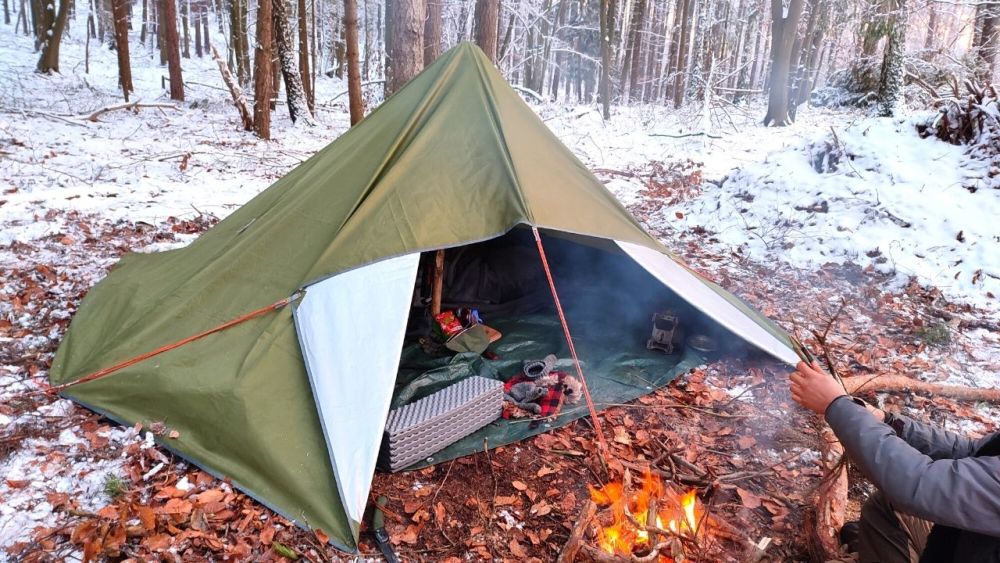 Final Thoughts
This list contains some of the best tips for tarps, both in terms of size and user-friendliness. Your camping needs and the number of people camping with you will determine the size and features of the right tarp for you.
When deciding on a tarp, also pay attention to the tarp accessories, the materials used, and how tear-resistant it is processed.

Was this guide helpful?
32 people found this guide helpful.
5.00 out of 5 points (32 Ratings)