Back to german article
19 clever storage ideas that help campers stay organized
When camping, things can quickly become messy and disorganized. Learn 19 storage ideas and tips in this guide on how to keep things in order.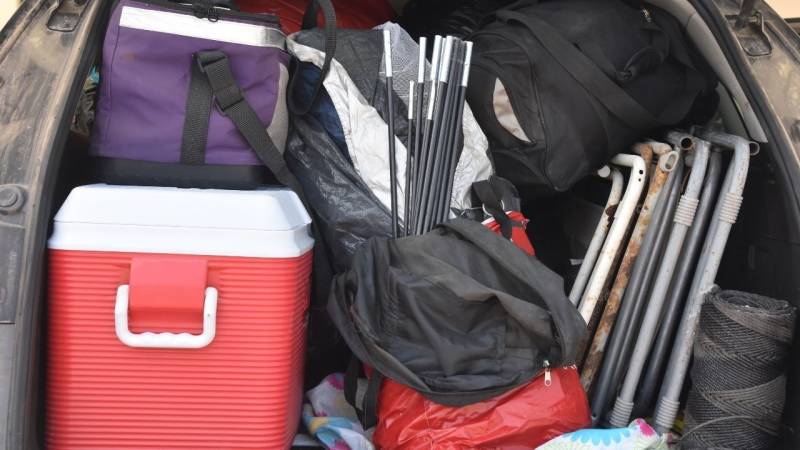 ---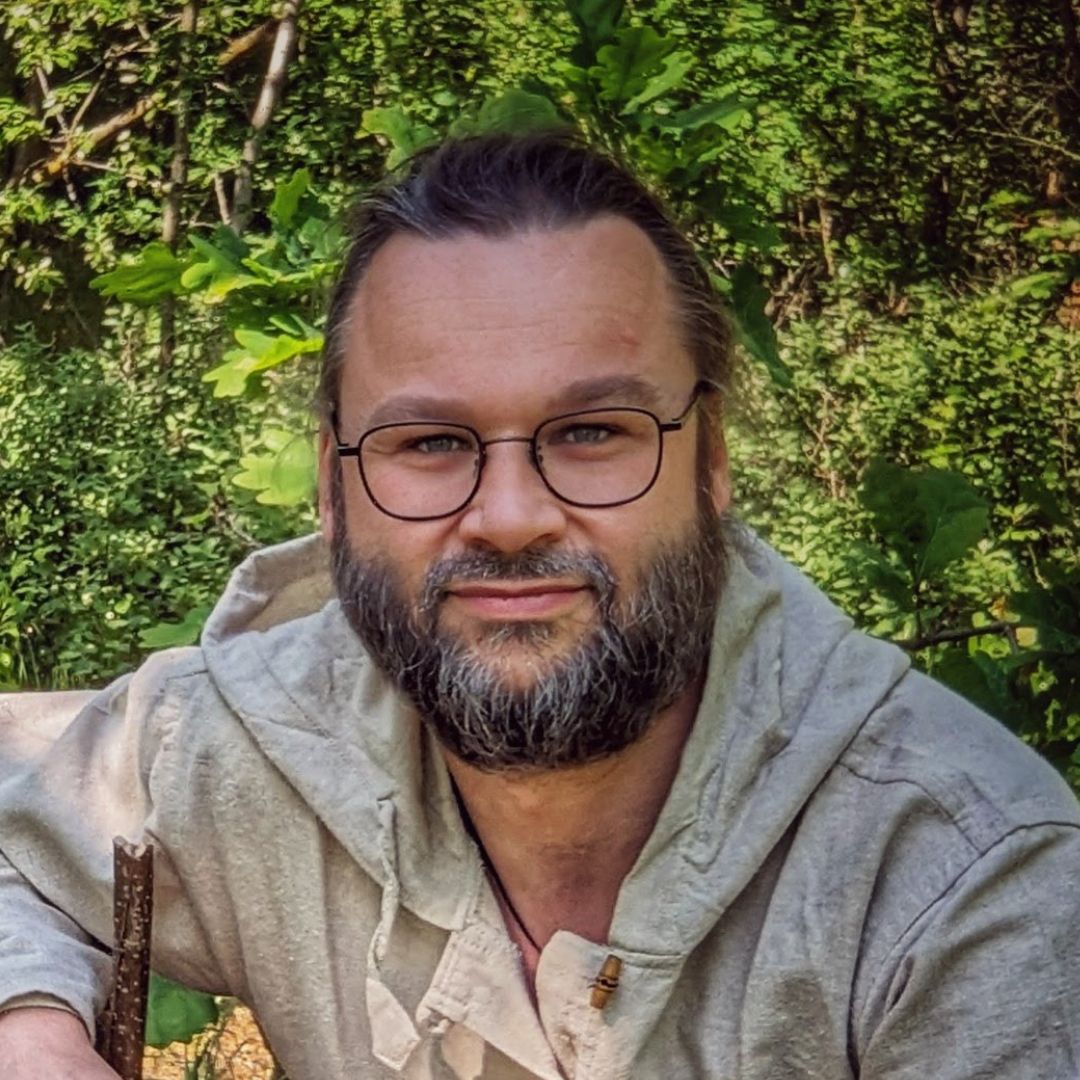 ---
👉 The key facts from this guide
Organize your equipment with color-coded packing bags and transparent boxes.
Use multipurpose items to save space and be creative with your gear.
Keep important safety utensils always within reach and organized.
Use magnetic strips, belt bags, and hanging shelves for additional storage space.
Pay attention to storing unpleasant smelling items and trash in separate containers.
Plan packing and unpacking carefully to save time and space.
I want to be honest - I used to be very messy.
Once I had found a place for the night, whether I slept in the car or was on the go with a backpack and tent, there was an explosion of equipment.
Clothing, food, and accommodation were scattered in chaotic disarray.
Often I had the feeling that I spent a quarter of my time in the great outdoors rummaging through my gear - to find what I need.
That's why some time ago, I started to better organize my equipment.
And that's precisely what this guide is all about.
19 super helpful camping storage ideas
Keeping order at the campsite is important for various reasons.
If you know where to find your equipment, you can better protect yourself in an emergency.
The proper storage helps you to not attract wildlife to your area and prevent them from becoming accustomed to humans.
Good ideas for storing camping equipment can also save you time, as you won't spend the majority of your trip unpacking and repacking, unpacking and repacking.
At some point, I got fed up with the mess and started using these ideas for storing my camping utensils.
These tricks not only improve my camping system and my experiences exploring the great outdoors - but now they also help you.
Mark your pack sacks with colors
I really like backpacks when camping, and when I started, I only paid attention to the size of my backpacks when packing my gear.
However, many pack sacks are not transparent, so once again in the camp I desperately searched through my many pack sacks for food supplies.
When I finally found my dinner, I opened it and had to sift through a bunch of breakfast stuff before I finally found the dinner.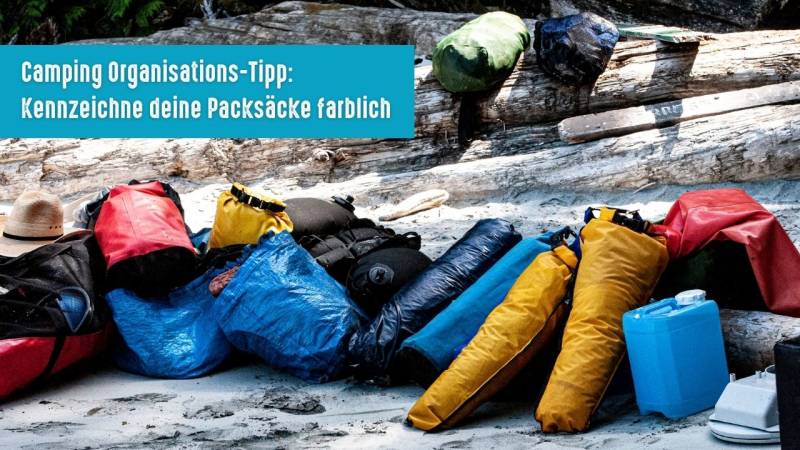 With that being said, the color coding of my packing bags is now one of my favorite ideas for camping storage.
I like to use 10- to 20-liter backpacks in many colors to organize my gear.
The breakfast goes in the black bag, lunch, and snacks in the red bag, and dinner in the blue bag. Pajamas go in the yellow bag and extra clothes in the green bag.
So I always know which bag I need when I need it most.
P. S. I recommend the Osprey Ultralight Dry Sack pack sacks.
Use transparent boxes
Just like at home in my children's room or with my outdoor equipment in my closets, I use transparent plastic boxes as much as possible.
Using transparent storage containers is a perfect idea for storing camping equipment in the car.
Store your entire equipment safely in the trunk so that it doesn't roll around with every turn.
When you arrive at the campsite, you don't even have to remove the lid of the container to see what's inside.
On the contrary: you quickly get to the content of the boxes to make sure you have chosen the right container before looking inside.
The transparent boxes are too unstable for you? Then why not use Euro boxes, they are very stable and can be stacked. You can even sit on such a box or use it as a table.
Use Multipurpose Items
When it comes to survival, there is a great saying:
"If an object cannot be used for at least three purposes, then leave it out."
And that's also the case when camping because here you have to pay attention to what you bring along.
A promising possibility is therefore to focus on equipment items that can be used for multiple functions.
One prime example is your knife. The range of applications is incredibly versatile. In my guide, you will learn, among other things, how to use your knife for making fire, felling trees, or carving.
Or use your cooking pot as a bowl, for digging, or to collect rainwater. With a little creativity, you can make more targeted use of what you already have.
Knowing what you carry - and where it is at night
When I go hiking or otherwise explore the nature around my campsite, there are certain pieces of equipment that I always want to have with me.
That includes a knife, a Firesteel, a whistle, a headlamp, my smartphone, and my first aid kit.
All these items I always have with me.
Also with "always" I really mean always. Whether I take a one-hour trip through the park with my children or ride the subway through the city - I always have this equipment with me.
These items that you always carry with you are also called EDC. I will explain in detail what exactly that is under "What is an EDC? What belongs in an EDC kit?".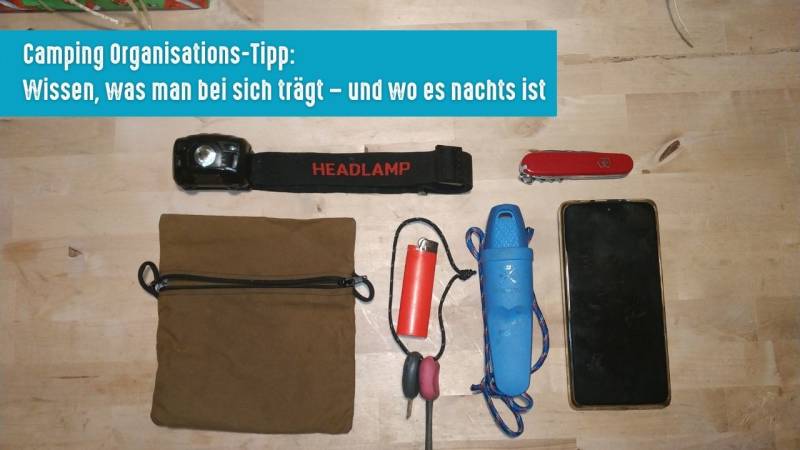 All items I have in a small self-sewn bag, and this bag is always in my backpack, which I always carry with me anyway. The whistle is attached to the backpack.
At night, the backpack goes into the tent next to my sleeping area. When I get dressed in the morning, I carry the backpack with me again.
So keep your safety utensils close by and keep them organized.
Install a magnetic strip on the wall
I love magnets in the car and I think the idea is brilliant. Especially because there are so few storage surfaces in my car.
If you don't have space for drawers in your motor home or car, a wall-mounted magnetic strip is one of the most productive ideas for storing camping utensils.
On this magnetic strip, you can store knives, tools, and other metal utensils. You can also attach magnetic hooks to hang other equipment or clothing.
One word: Fanny pack
As a child, I was a big fan of fanny packs, and I'm excited that they are now back in fashion.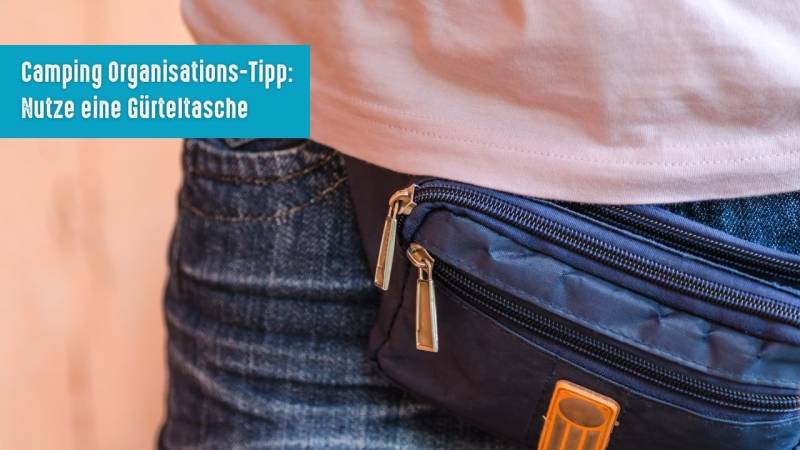 Even if you may have to put up with your friends calling you MacGyver from now on - fanny packs are extremely useful.
You are a great way to organize the equipment you need for the day.
Pack in a way that saves you space and time
Space is very limited when camping, so it's important to be mindful of what you bring.
You want to feel comfortable at the campsite, but you also don't necessarily need an excess of clothing and bulky items that you don't use.
Optimize your journey by considering the following:
Roll up your clothes instead of folding them. This technique makes it easier to find clothes and saves space.
When loading the car, make sure items like the tent, flashlights, and necessary toiletries such as insect repellent and sunscreen are easily accessible.
Create a packing equipment list instead of thoughtlessly throwing items into a backpack.
Note the items you don't use on a camping trip. Cross out these items from your inventory for the next time to save space.
Reading tip: Do you want to buy a tent? Then read this ultimate guide to tents first
Storing unpleasant smelling things in one place
One summer, I spent several days at a wilderness education training camp, and we camped in a beech forest. It was hot and there was a lake nearby. Mosquitoes were everywhere, but I had my mosquito repellent with me.
However, what I didn't pay attention to were the smells of the spray. In concentrated form, it smelled strongly. I didn't have an extra bag for the spray, so my clothes already smelled of the stench before spraying.
This is not a big deal in itself, but they were my fresh sleepwear.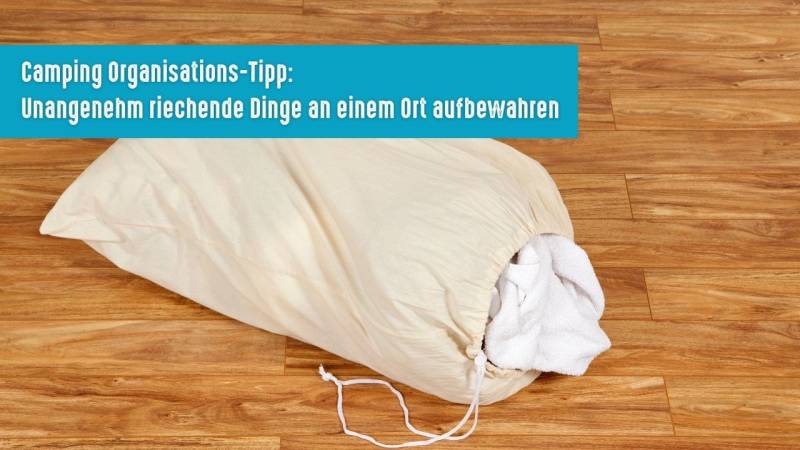 You should therefore make sure to store all odor-intensive items in special bags or boxes so that they do not contaminate your other equipment.
Store your smelly stuff better in zip bags that not only provide a certain level of protection but are also transparent.
Trash goes into trash bags
Previously, I used to go out often without thinking about my trash.
However, when I started eating my cereal bars and other snacks on the go, the trash had to go somewhere.
The packages then went into various bags or pouches that were available at the time.
If you don't plan ahead where to put your trash, eventually there will be trash in all pockets - or worse: it ends up in the forest.
I like to use zipper bags to store my waste on my hiking trips.
During camping trips by car, I keep some old shopping bags in the trunk to store the trash.
Compression bags are your friends in tight quarters
When I went winter camping for the first time, my backpack almost burst.
I found that my cold weather gear took up much more space than what I bring for the summer months.
Therefore, I needed an idea to make do with the limited space. Compression bags are perfect for this.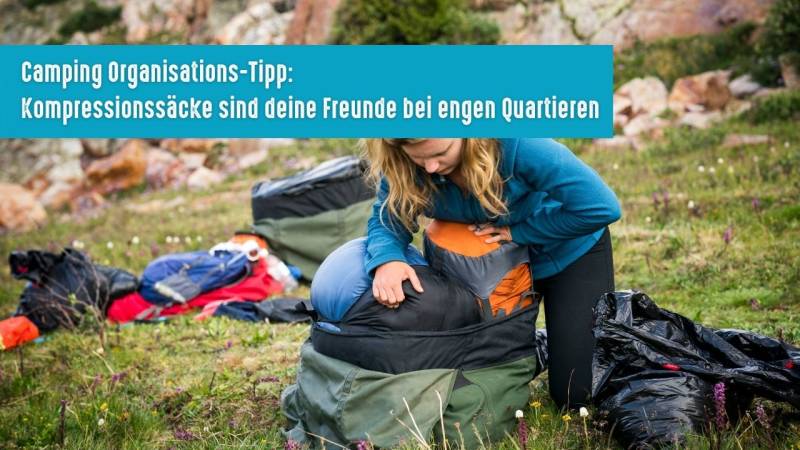 I recommend the dry bags SealLine Blocker PurgeAir to store your equipment when space is limited.
You are lightweight and have a PurgeAir valve to compress clothing, sleeping bags, and other gear even further.
Setting up a hand and dishwashing station
A designated place for handwashing and dishwashing is a promising way to maintain order at the campsite.
If you are camping with a car, you can get a 20-liter canister with a tap and place it on a picnic table.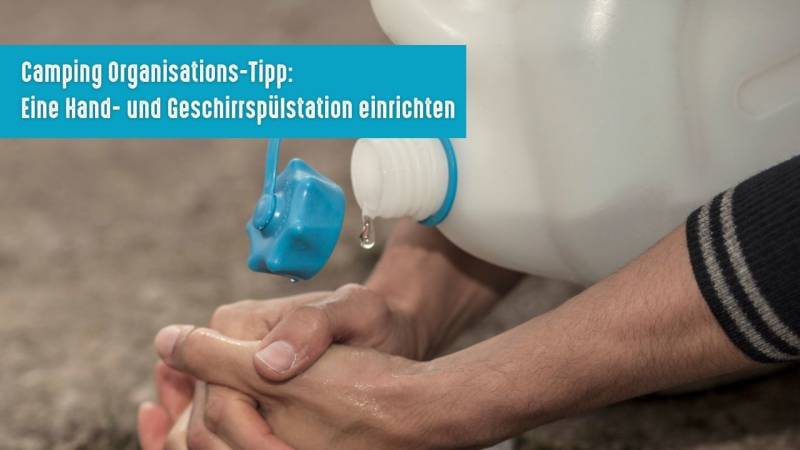 Put your soap next to it and hang towels on the side. Place a catch basin on the floor under the water container to collect the used water.
Hanging a clothesline at the camp
To store and dry your laundry, a clothesline is worth its weight in gold.
You can hang and air out musty hiking clothes or wet swimsuits and life jackets on it.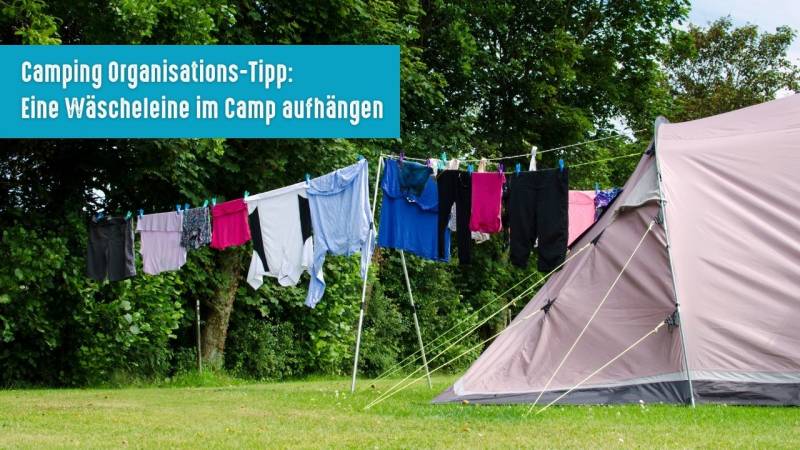 You also use them to protect your equipment from curious animals.
Store your equipment safely in wide-mouth barrels
Just when you're out canoeing, waterproof wide-mouth barrels are essential.
With them, you not only keep your equipment dry and above water, but you also protect it from breakage with these strong barrels.
And in addition, you protect your equipment from the usual camping animals such as raccoons.
You won't believe it, but in one of these wide-neck barrels I keep all my camping kitchen equipment.
Give every child their travel bag
If children come along, give each child a differently colored travel bag.
Let the children pack a few selected personal items.
But remember to pack your belongings in your travel bag at the end of each day.
In this way, you don't have to keep track of the children's equipment.
Construct shelves for more organization
Do you know those hanging shelves made of fabric? That's exactly what I mean!
They are great for camping because they can be set up and taken down quickly.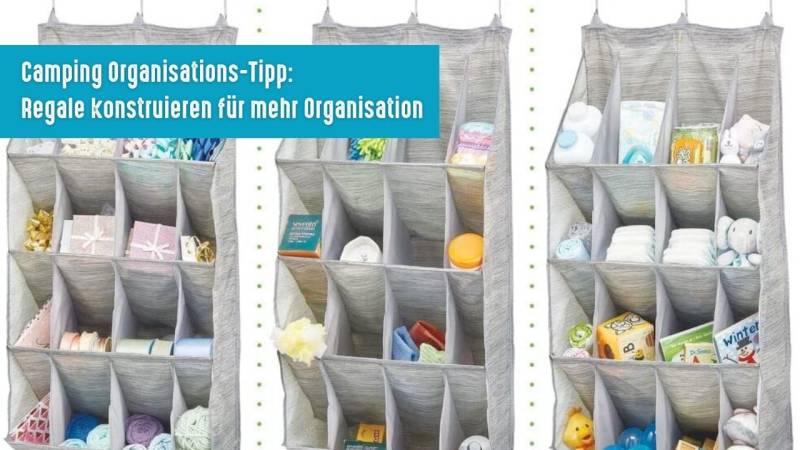 These hanging shelves come in all sorts of sizes, and they are a wonderful idea for storing things.
With their various compartments, they are perfect for storing kitchen utensils, food, and toiletries.
You can hang them inside or outside the motor home or even on a clothesline at the campsite.
Use mini containers for spices
Just because you go camping doesn't mean you should eat boring food.
Spices are indispensable to me because they can really jazz up bland food.
So bring your favorite spices to take your camping meals to the next level. But just not in the 500 gram spice can!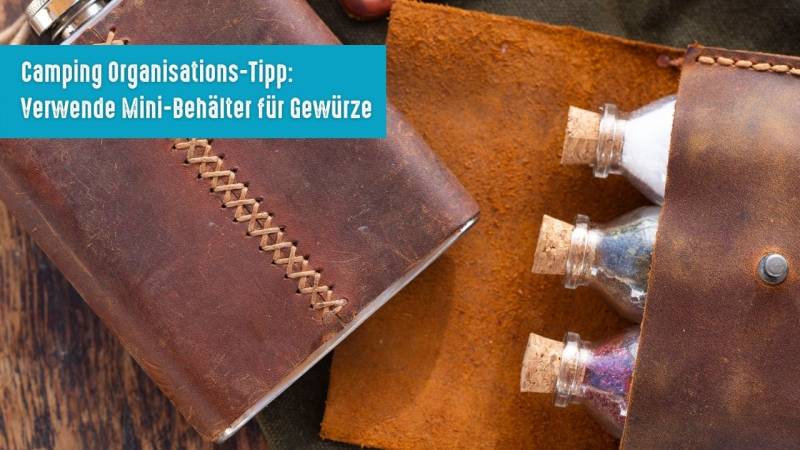 Keep them in reusable mini containers, such as old lip balm tins with screw caps or Tic-Tac containers.
Of course, there are also stylish spice jars available for purchase on the go if you are willing to spend money on them.
Creating a poop bag
What on earth is a "Kackbeutel"? Are you supposed to poop in it?
No, absolutely not. A poop bag is more of a hygiene bag with equipment for the big business.
Let's not beat around the bush, everyone needs to go to the toilet while camping - sometimes big, sometimes small.
And my tip makes pooping in the woods as easy as possible.
The poop bag is pretty simple. It's a 10-liter dry bag that contains everything you need for a bathroom break.
In the dry bag are all the necessary utensils - a small shovel, toilet paper, hand sanitizer, and some opaque zipper bags for used toilet paper.
It's good to have everything in an easy-to-grab bag, primarily for campers who are new to the "Leave No Trace" system of outdoor defecation.
P. S Also read: How to properly and sustainably go to the toilet in the forest
Use old cans
If you ever see cans like these, never throw them away - or send them to me!
I'm talking about old coffee cans that are made of metal and have a resealable lid. They are among my favorite reusable camping containers.
Old coffee cans are sturdy, easy to stack, and don't take up much space.
In addition, they are perfect for packaging various snacks such as trail mix or nuts if you would rather not bring plastic bags.
Some people also keep their toilet paper rolls in it because they have the right size, are waterproof, and have a secure lid.
Label large plastic boxes by equipment type for post-travel storage
Now your camping trip is over and the unpacking begins.
Even if you now want to collapse onto your couch, take 30 minutes now to properly store your equipment at home.
If you would like to get back on track, it's much easier to start.
Poorly stored camping equipment smells musty, spoils quickly, and becomes practically unusable much faster than properly stored equipment.
Buy some large plastic containers and label them with tape according to the type of equipment.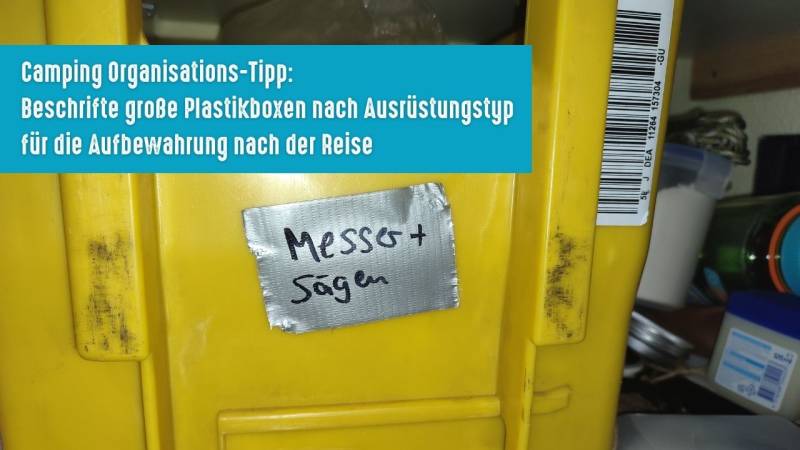 So you can easily determine where the equipment is that you need when you need it.
I have a container labeled "tools" where I keep my knives, an axe, a sharpening stone, and other tools.
In another box, my camping kitchen is stored. In another one, everything for water storage.
The boxes can be easily stacked on top of each other and fit perfectly in the cupboard until I require them.

Was this guide helpful?
18 people found this guide helpful.
5.00 out of 5 points (18 Ratings)