Back to german article
5 knife skills you need to have for bushcraft
5 knife skills for bushcraft that you must master in your sleep. Learn now how to use your knife for making fire, chopping down trees, or carving.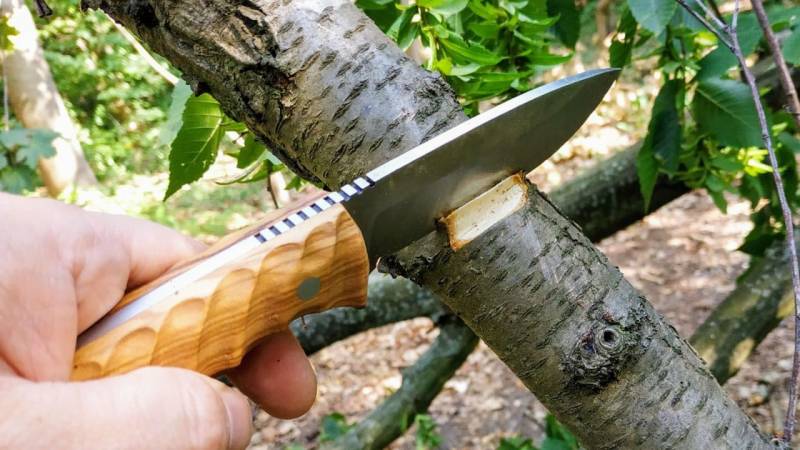 ---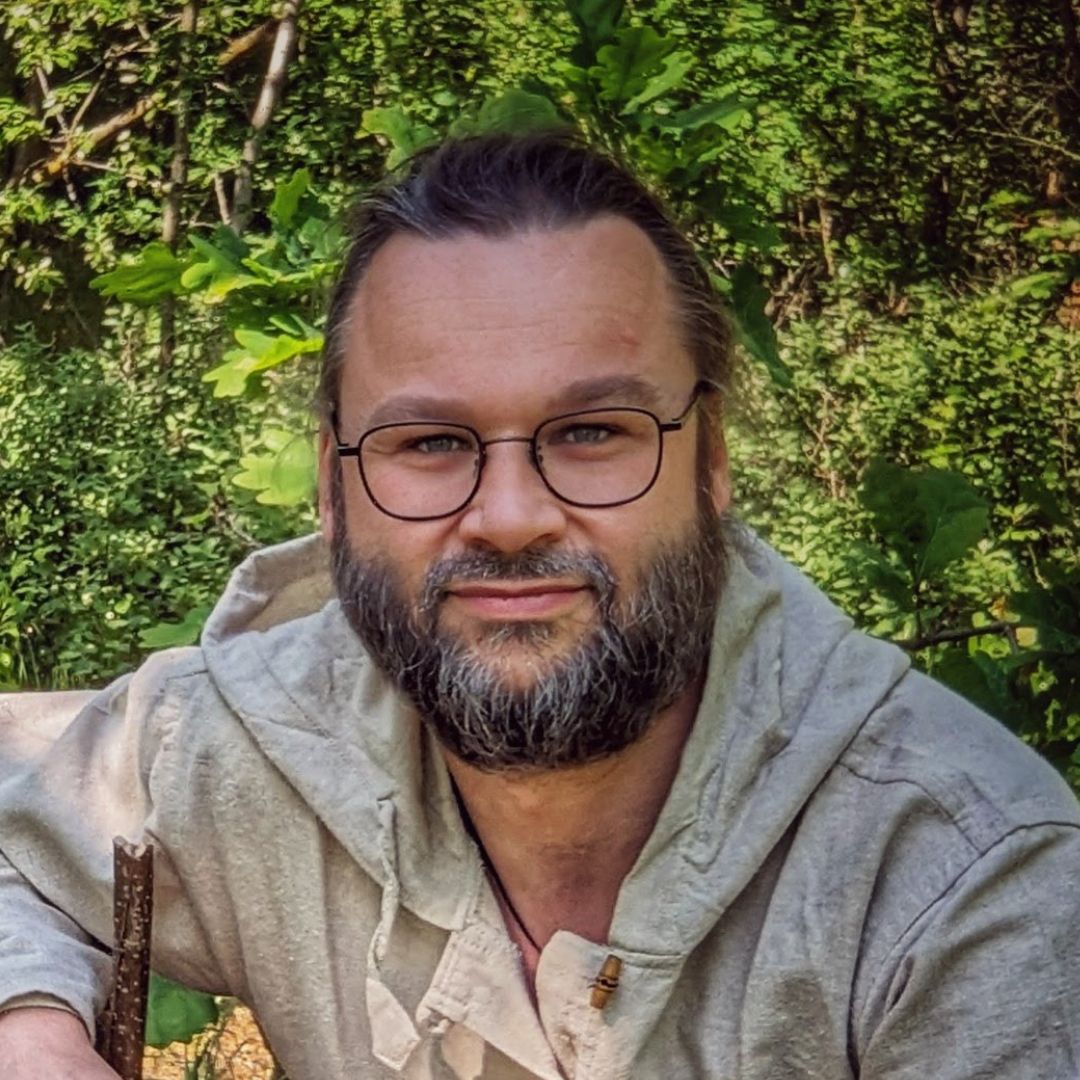 ---
👉 The key facts from this guide
Your bushcraft knife is a multifunctional tool that you can use for various tasks, including making fire materials, felling trees, carving notches, and carving.
A full tang knife, made from a single piece of steel, is particularly robust and versatile. The ideal blade length is between 10 and 12 cm.
When making fire materials, use your knife to collect and process tinder, kindling, and fuel. You should use your knife as little as possible.
Felling trees with a knife is possible, but only for trees of manageable size. For larger trees, an axe, or saw is required.
Carving is an important skill that you should learn with your bushcraft knife. You can use it to make useful tools like spoons, bowls, and boards.
Your knife is your main tool in Bushcrafting.
Therefore, it must be multifunctional in nature. And you must bring skill and ability for it.
Today you will learn which knife skills are essential for bushcraft.
Your Belt Knife
Being multifunctional means that your knife is versatile. Therefore, size plays an important role.
A knife that is too small is not suitable for processing firewood, and a knife that is too large is not suitable for carving wood.
Normally, an axe and saw handle the heavier tasks. However, there are also cases where these two tools are not available to you.
Therefore, it is best if you own a Full Tang Knife and the blade is 10 to 12 cm long. This gives your knife maximum versatility.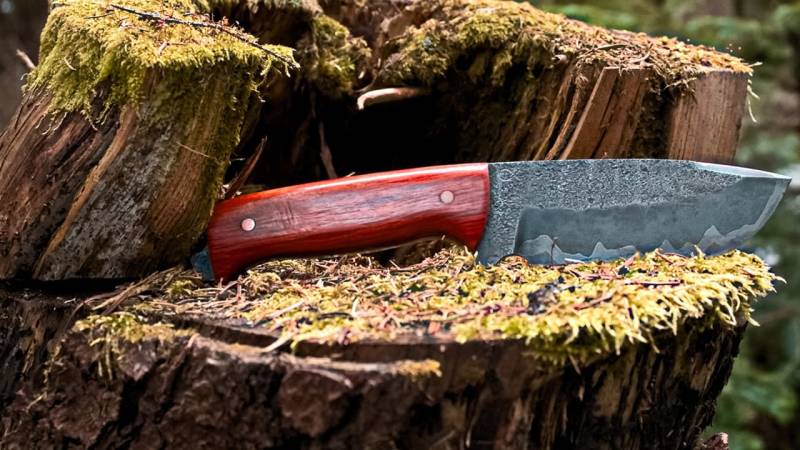 Full Tang Knife
Full Tang knives are knives that consist of a continuous piece of steel. The blade of the knife extends from the tip of the blade to the end of the handle. In Germany, they are also called "Vollerl knives".
In the graphic, you can see the differences and terminologies.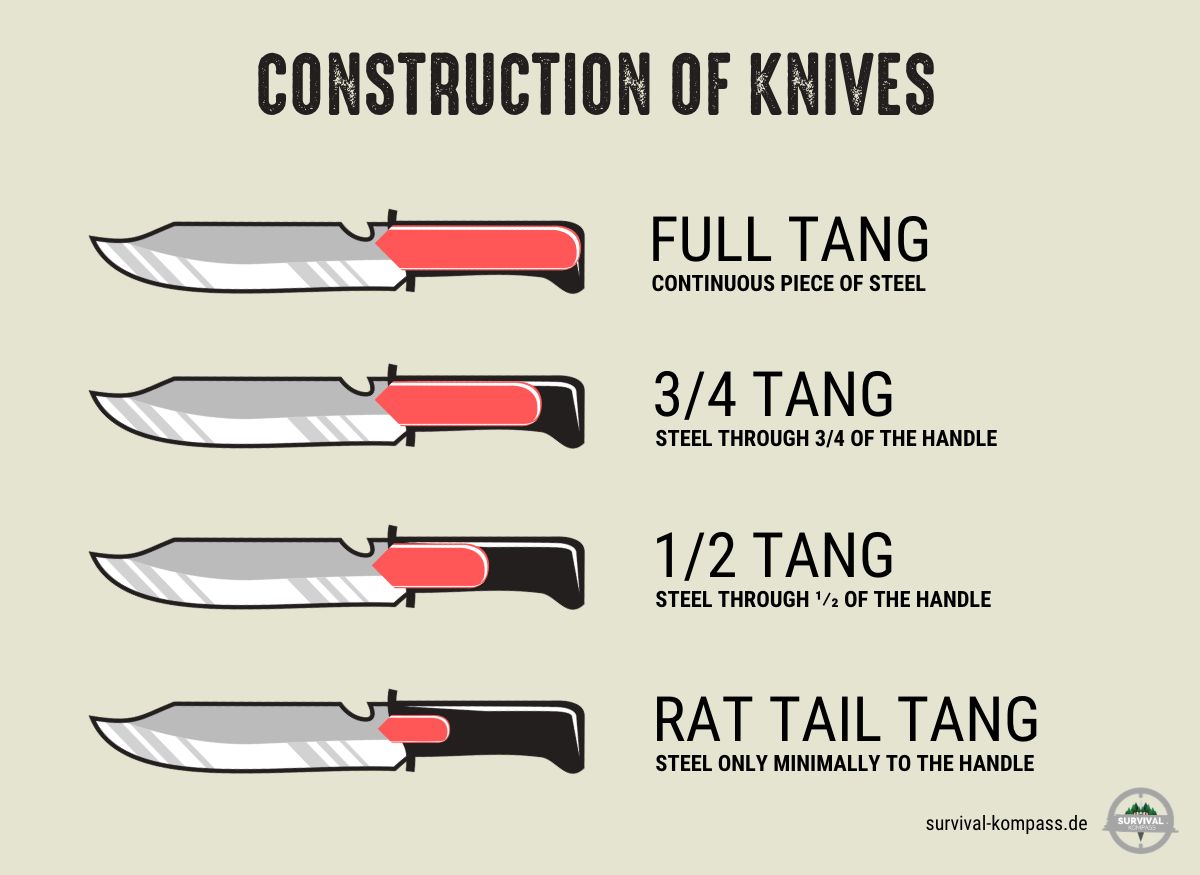 A full tang knife is particularly robust, stable, and durable due to the continuous piece of steel.
Blade length under 12 cm
Make sure to stay under 12 cm blade length, especially if you practice bushcraft as a hobby. In an emergency, this is of course irrelevant.
This also provides the additional advantage that you are allowed to publicly carry this fixed blade knife in Germany. So, you won't have any problems with the law.
You are not allowed to carry any fixed blade knives with a blade length over 12 cm in public spaces (possession is allowed).
Here is an excerpt from the german Weapon Law § 42a:
It is forbidden to carry fixed knives with a blade length over 12 cm.
As it was difficult for me to find the right knife, I wrote this help article: Finding the Right Knife [Basic Guide].
If you are uncertain whether your knife is legal or not, take a look at my exclusive "Guide Knife Law in Germany".
What do you and your knife need to be able to do?
You should be able to accomplish five main tasks with your belt knife:
Make fire materials
Make fire
Cut down a tree
Create notches
Carve
I think that these knife skills are the most important. Especially when you find yourself in an emergency and you only have your knife with you.
Producing Fire Materials
A fire consists of three significant parts: Tinder, Ignition material, and Wood as fuel.
With this knowledge, you have to consider how to effectively and safely collect and process all three materials with your knife. However, you must always keep in mind that your knife itself is a resource that you should burden as little as possible.
This means: only use your knife when it is really necessary.
Also: Firewood in the right size is not manufactured, but best collected from the forest floor or from trees.
However, it is often the case that you need things exactly when they are not readily available. This is where you use your knife.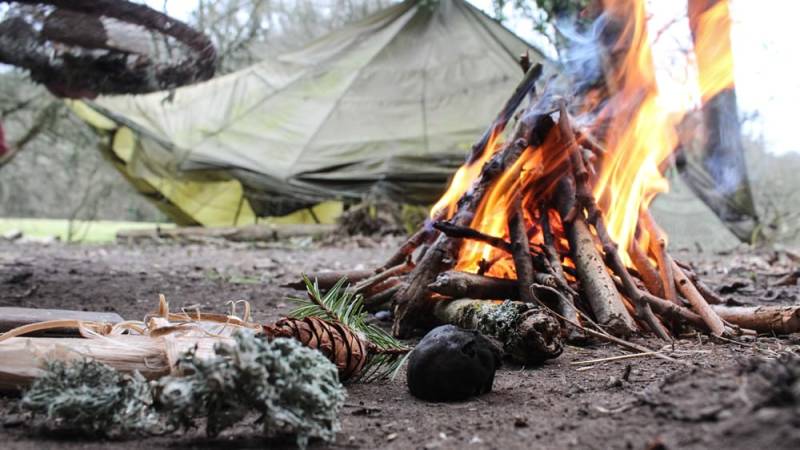 Tinder
When making tinder, you use your knife to scrape fine shavings from birchbark or fat wood (What is Fatwood?). However, it is best not to use the sharp edge of your knife, but rather the back of the blade.
Therefore, it should be sharpened at a right angle and not rounded. Because if your knife back is rounded, you will not be able to scrape.
Also read my article "Collecting and Making Tinder [18 Examples]".
In the image below, you can see how to scrape off these shavings with the back of the knife.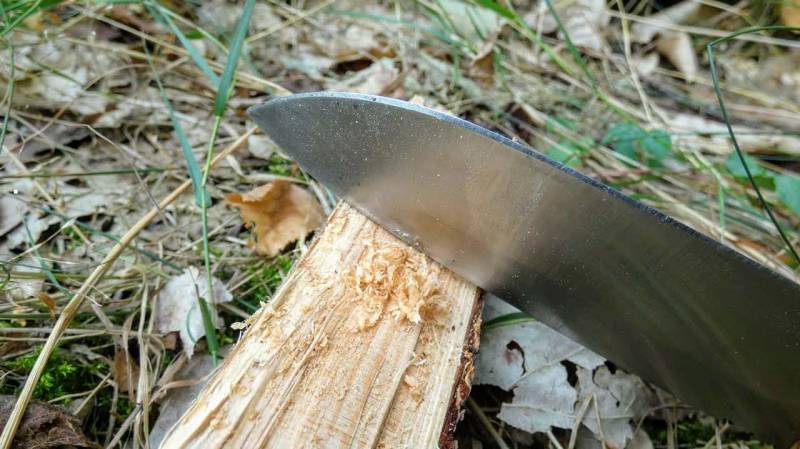 Feathersticks
I also call Feathersticks wood curls because they spin so beautifully.
Feathersticks are used when your tinder is burning and you need the first burning material.
You make Feathersticks by shaving thin wood shavings with a knife. If the feather sticks are thin enough, they curl up and burn wonderfully.
I recommend my article, "What are Feathersticks? (with video)" for you. There you will learn everything about this great bushcraft technique.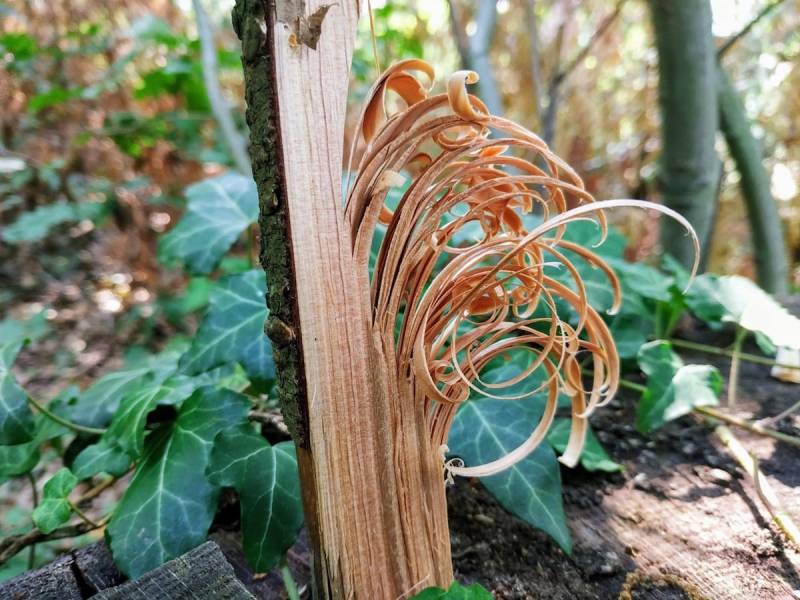 Splitting Wood
To make kindling and firewood, you need to split the wood into smaller logs.
Therefore, Batoning is an essential skill when you only have one knife available for woodworking. That's precisely why I wrote the article, "What is Batoning? [with video]". There you can learn more about this fantastic technique.
The most important thing is that the log you want to split does not have any forked branches. And your knife should be a full tang knife.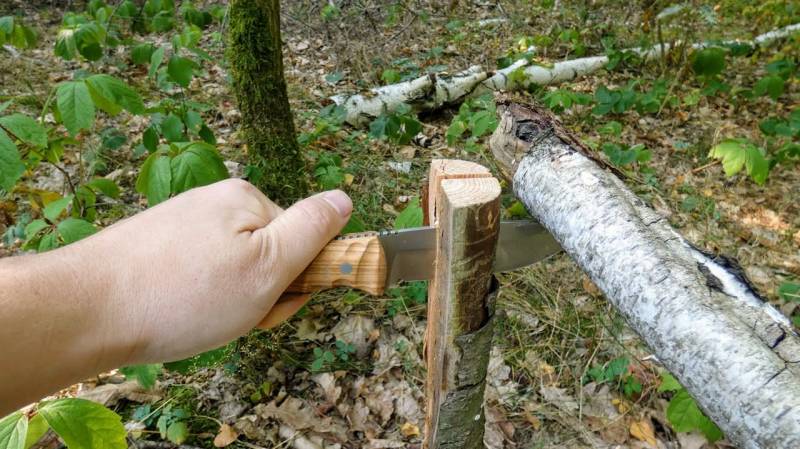 A good rule of thumb for splitting is to never split a log that is so large that at least 2.5 to 3 cm of the front blade does not protrude from the split once the knife disappears into the split.
When striking the knife, strike the tip of the blade and never the handle of the blade. Furthermore, choose a wooden anvil. This prevents the blade from being damaged when striking it through the trunk, and it hits the bottom with force.
Starting a Fire
Your knife is a significant tool when it comes to making fire.
Use the back of the knife to strike a ferrocerium rod (also known as Auer metal / magnesium rod). This is a metal rod that contains pyrophoric elements such as iron and magnesium. When scraped quickly with a sharp object (harder than the rod), hot sparks are created.
By using the 90-degree spine of your knife to strike a Ferrocerium rod, there are several advantages.
Firstly, you don't have to worry about carrying a separate scraper. And secondly, the knife fits much better in your hand than a small scraper.
In the image below, you can see a product recommendation. I buy these bars and I am satisfied.
It is also possible to use your knife as a striker for the fire rod ignition. Provided that you use a blade made of carbon steel.
Then scrape with the back of the knife or with the blade over the fire steel and sparks are created.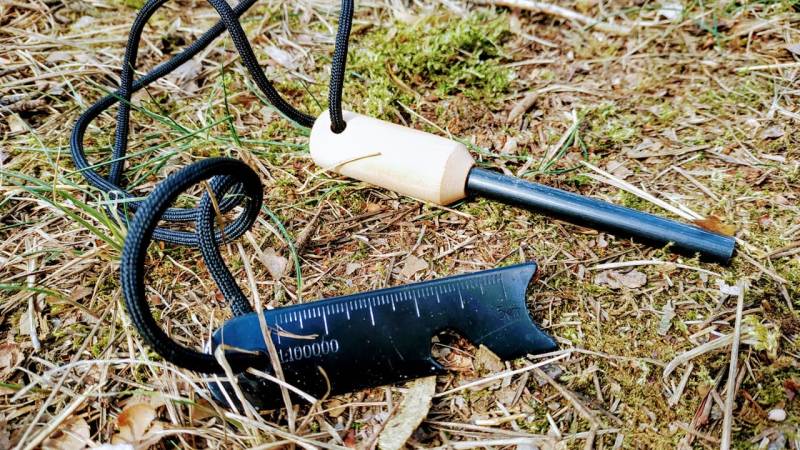 If you would like to learn how to make a fire with a Firesteel, then read the article "How to quickly and easily ignite a fire with a Firesteel".
Cutting down a tree
When I talk about felling a tree with a knife, I don't mean an old tree that is 100 years old. For that, a combination of an axe or axe/saw is really necessary (Learn in the article how it works).
It is rather about cutting down trees of manageable size. The diameter of the tree should not exceed 10 to 12 cm. Anything above that is very difficult.
In case of emergency, it's better to take smaller trees, as long as you have enough material for building your shelter or for firewood.
One technique of this is also called "beaver chewing" because you alternately strike the blade of the knife diagonally into the tree with a baton. And all around.
First a hit from diagonally above, then diagonally from below, and so on, all around the tree.
Thus, a large round V-notch is gradually created.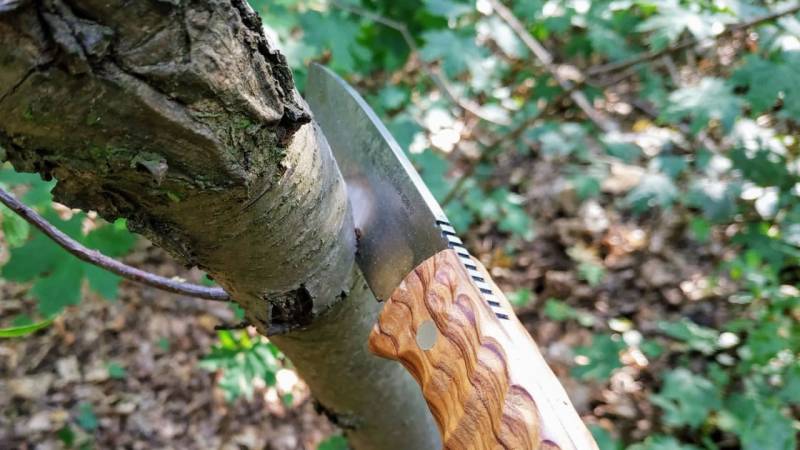 Another option is the methodical felling of a tree.
For this, you notch several notches in the tree and leave a bridge at the end.
Hit the front notch
Hit the back notch that sits slightly deeper than the front notch (felling notch)
The bridge serves as a hinge at the end
Here I have created a graphic for you regarding the technology: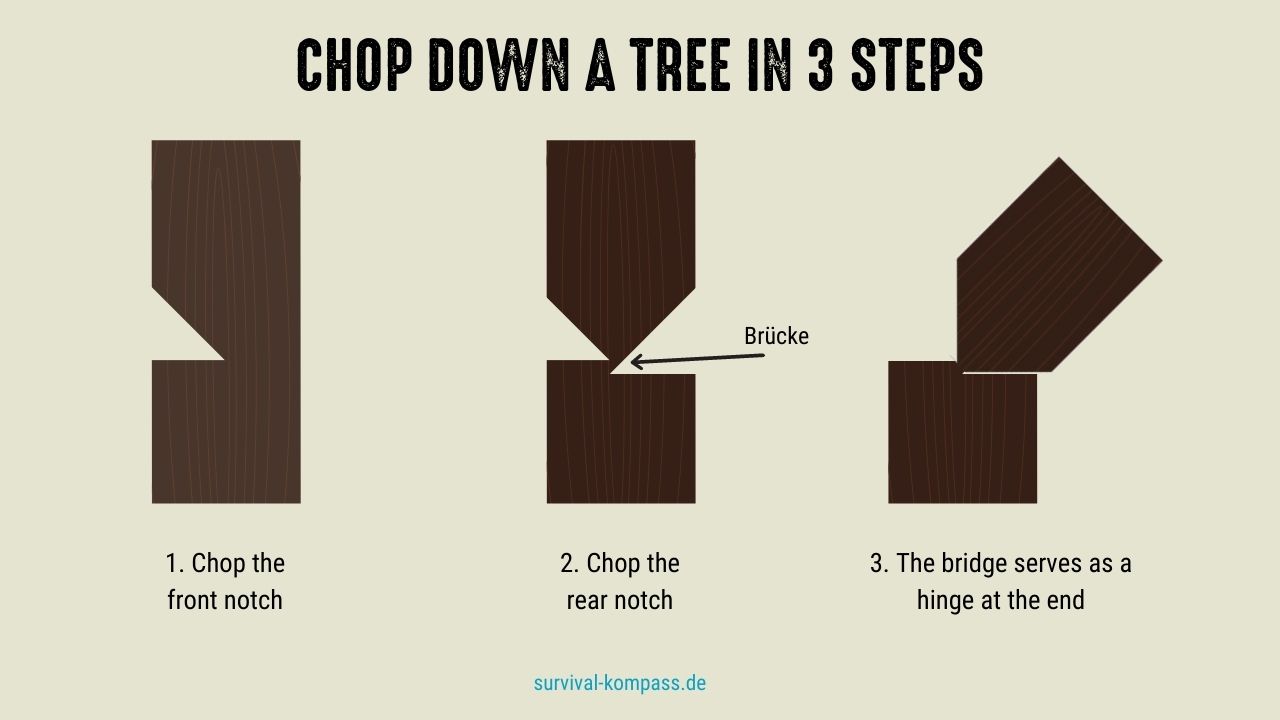 Create notches
You need notches for bushcraft everywhere. For building wooden structures, for hanging a pot over the fire (watch the video here), or for making animal traps (find a video here).
In my opinion, the most important notches are these four:
7 notch
V-notch
Log cabin notch
Handle notch
All notches can be easily made. The handle notch may require a bit more practice, but with Bushcraft, you need to practice many things anyway.
In the picture, you can see all four important notches: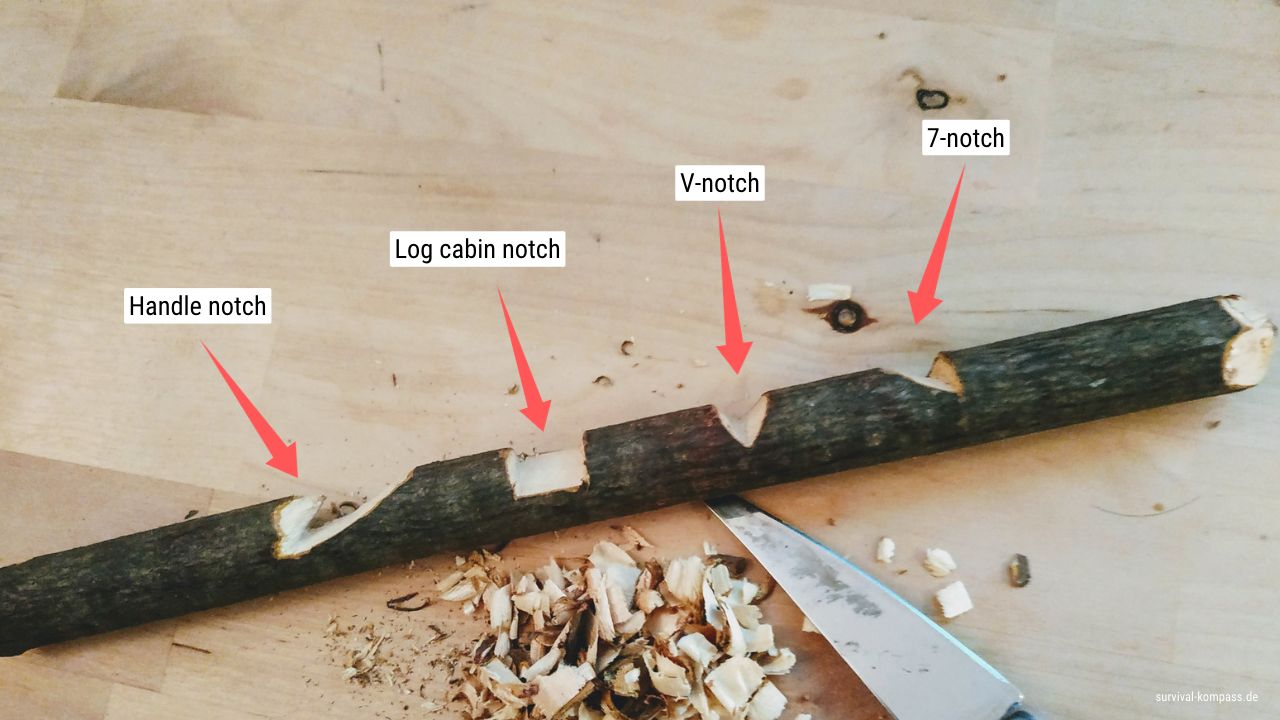 In my article "The 4 most important notches for Bushcrafting" I will show you how to make these notches and what you can use them for. You will find a picture tutorial and two videos in it.
Carving
You will most likely carve with your bushcraft knife often.
You create useful tools with it, such as spoons, bowls, boards. Carving is also a lot of fun for me, I can practice it at home and significantly strengthen my knife skills.
When carving, it is usually about smaller carvings. Therefore, in these cases, a long and thick knife is impractical.
There are also knives that are specifically designed for carving, such as the paring knife. With it, you can create great spoons and bowls.
But I recommend that you learn to carve these objects ONLY with your bushcraft knife. This way you demonstrate your skill, and you are not dependent on any special knives.
If you are interested in the topic of "carving", then read my article "Carving a wooden spoon: how to get started".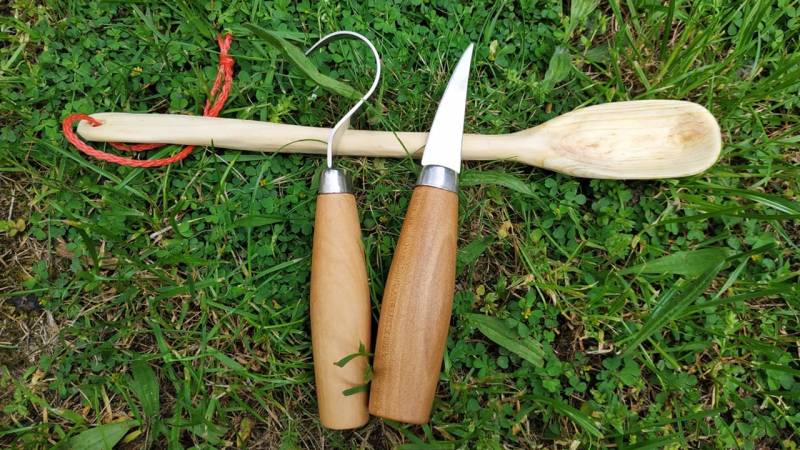 My carving tip: The best way to avoid injury is to focus more on precision and technique than on strength.
Extra Skill: Hunting and Meat Processing
Let's not just see Bushcraft as a hobby, but also as preparation for a life in nature.
Then hunting and processing of meat also count among the knife skills that you must master.
Hunting with the Knife
Hunting with a knife is anything but safe. With a 12 cm blade, you will never be able to kill a wild boar immediately.
The only option here is to repeatedly stab the knife into the back until the wild boar weakens.
The chance that the wild boar runs away is very high, but the chance that it catches you with its tusks is even higher.
Therefore, I recommend that you focus on smaller animals.
You can, for example, build traps with your knife. I'm talking about a mechanism that forcefully snaps a sharp stick onto the prey.
Here is a video of such a trap:
But be careful, you can't just build traps and hunt animals in Germany. You need a permit for that, unless there is a real emergency. You can find more information about this in my article "Can I hunt animals and build traps?".
Processing Animals
Your knife is also an important companion when it comes to processing the game meat you have caught.
You should have gutted and skinned a rabbit at least once.
Properly butchering an animal is also part of the knowledge of a Bushcrafter.
Bushcraft Knife Tips
Towards the end, I will give you some general tips. I highly recommend them to you so that you can be successful and avoid getting injured.
Note: A knife is only as good as the person who uses it. This shows how significant it is to learn the basics of all techniques and skills.
Whether it's a fight against a wild animal or your need to build a shelter - your bushcraft knife is significant to ensure survival in the wilderness.
You should be aware that your knife is a sharp object. You can injure anyone with it, including yourself.
Safety Instructions
It is best to always keep the sharp edge away from yourself and others.
Always keep an eye on who is moving next to you when using your knife.

To achieve this, take your knife in your hands and stretch your arms forward. Now turn 360 degrees and imagine an invisible boundary that the knife creates around you. This is your area, an invisible safety boundary that you must not break when working with a bushcraft knife. If people are near you, also pay attention to their areas.

Avoid using your knife when you are stressed, tired, or when the lighting is poor.
A dull blade can cause ugly injuries and requires more effort to cut: so always keep your blade sharp.
If possible, use safety equipment: gloves, thumb pads, and safety glasses.
Have a first aid kit nearby (here is my detailed article on this).
Final Tips
These tips will help you survive a little longer in the wilderness:
Knife Type: Use a Full Tang knife, as it provides more stability and does not easily break when striking or chopping.
Knife Length: Do not use a knife that is too short or too long. The length must be suitable for your purpose and size.
Practice: Practice all presented techniques regularly in peace and without stress. In an emergency, you should be prepared for the worst, and it will be essential that you can handle your knife.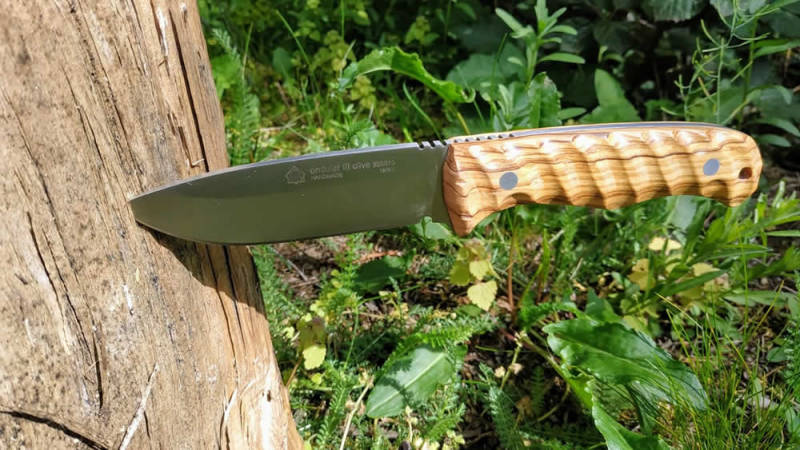 You can find my reviews (with videos) on knives here:
A few final words
Practice your newly acquired knowledge at home, in the forest or elsewhere.
This is the best part about any of the skills I listed. You can practice them over and over again. Make mistakes. Rewind and repeat until you have mastered it.
Or meet up with other people who also want to practice. Sign up for the Companions Search.
---
Were there any new skills that you didn't know yet?
What will you start practicing first?
Write your thoughts in the comments!

---
Sources for the guide

https://www.meister-messer.ch/full-tang-was-sind-die-vorteile-eines-durgehenden-erls

https://de.wikipedia.org/wiki/Auermetall
Was this guide helpful?
24 people found this guide helpful.
5.00 out of 5 points (24 Ratings)