Back to german article
Camping without battery stress: 11 effective tips for charging your smartphone outdoors
Discover 11 simple and effective ways to charge your smartphone while camping. Never worry about running out of battery in nature again.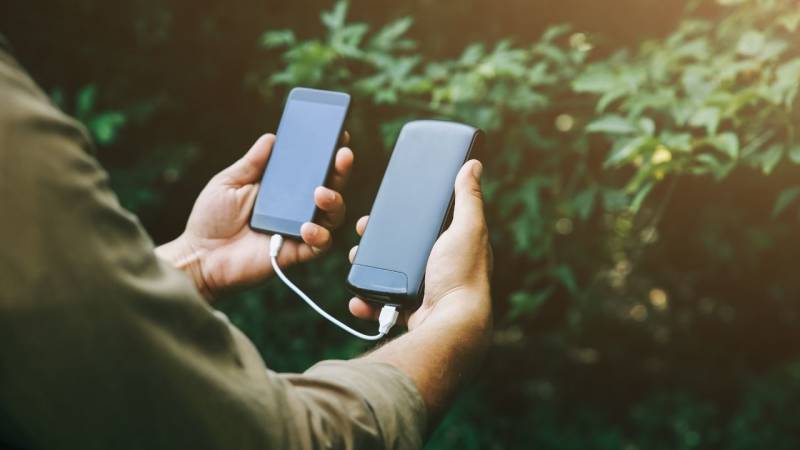 ---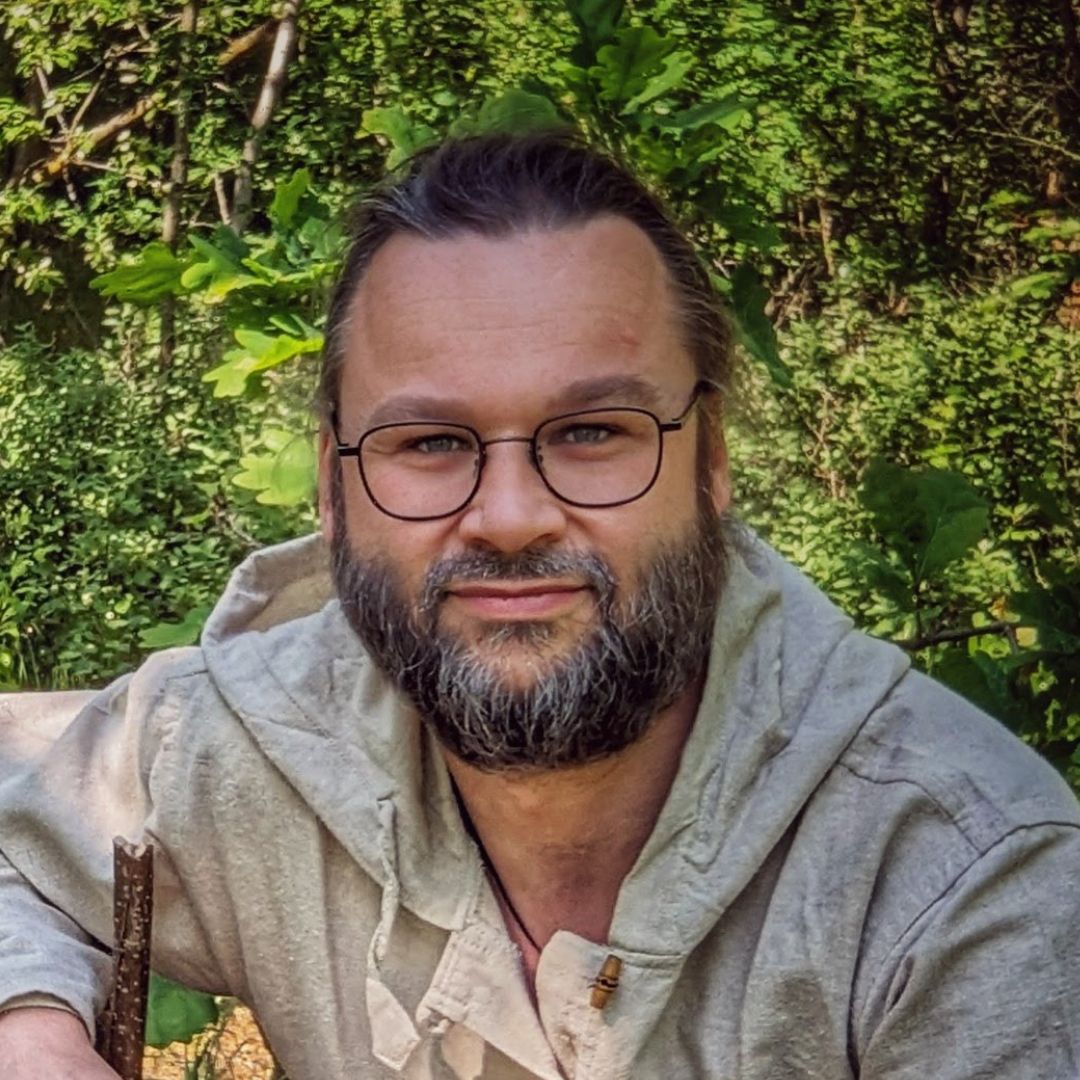 ---
👉 The key facts from this guide
Auto: Use the existing charger or an adapter for the cigarette lighter
WaterLily: Charge your phone with a turbine that generates energy from water or wind
Camping stove: Use models like BioLite that convert energy from burning wood into electricity
Crank radios: Use crank radios as power banks to charge your phone
Bluetooth speakers: Charge your phone with waterproof music speakers like the JBL Charge 4
Power banks, power stations, solar panels: Use various mobile power sources to charge your phone
Are you someone like me who likes to go camping without a lot of electronic gadgets?
If so, then you are surely familiar with the following problem.
Just when it is most inconvenient, the battery of our beloved mobile phone dies.
Sure, when camping we should relax and not be glued to our phones. However, this little supercomputer is very useful in some cases and sometimes even necessary.
To prevent you from getting into the predicament of an empty phone battery in the wilderness, when you need your phone the most, I have put together 11 tips for you to charge your phone while camping.
11 easy ways to charge your phone while camping
To make sure you always know how to charge your smartphone while camping, carefully read through the following options and see what works for you.
1. Your car
We start with the probably simplest method to charge your phone on the go - your car. Use the charger (often with USB connection) that is available in most cars for this purpose.
If your car does not have such equipment, you can check if an adapter exists. Many older models use the cigarette lighter for this purpose.
Usually, you can only charge your smartphone when your car is turned on.
So make sure your phone is plugged in during the journey and every subsequent trip by car. This way you always have the opportunity to bring your phone to full power.
If your car allows you to charge your smartphone even when the car is turned off, use it. The best way to charge your phone is at night when you don't need it.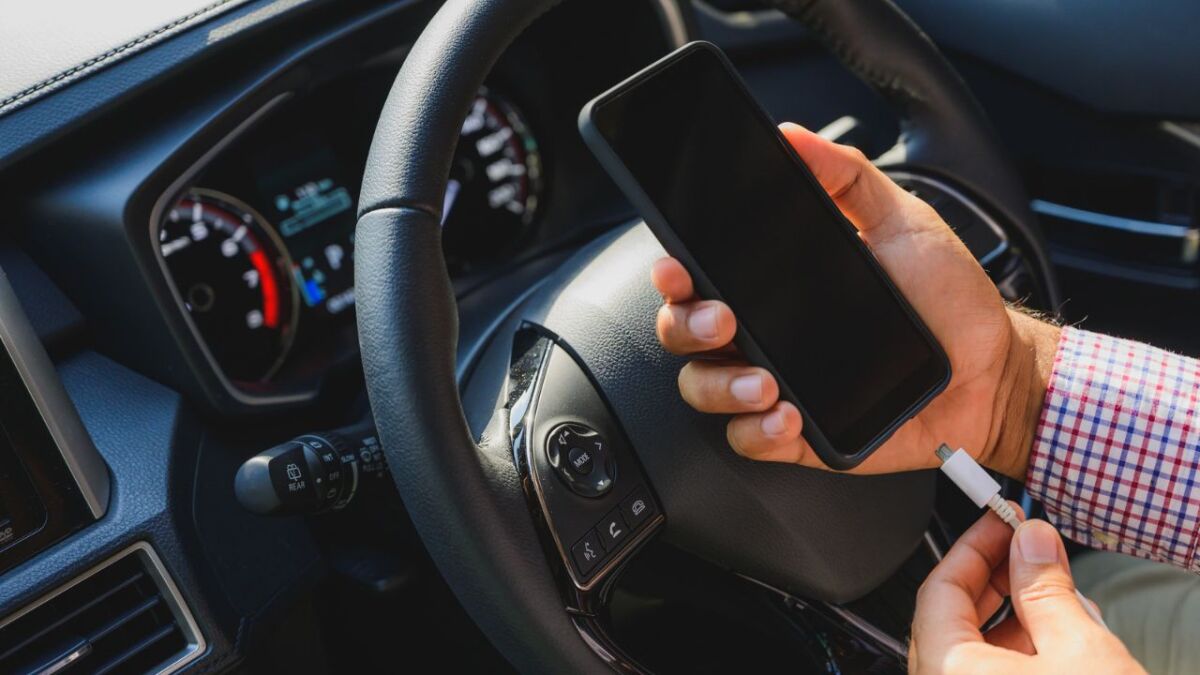 2. WaterLily
If you are near a lake or a very windy spot, the WaterLily could be a virtually inexhaustible source of energy and thus phone charging for you.
This practical turbine makes energy from its surroundings usable and is not only suitable for directly charging your phone battery.
It also gives you the opportunity to simply charge your power bank, which can then be used to charge your smartphone.
Depending on which cables you have available and what priorities you have set, you can either charge the power bank first, or directly connect your smartphone (if you are in a real hurry).
3. A camping stove
Wait a minute, why should you use a stove to charge your phone battery?
No, you are certainly not supposed to put your smartphone or battery on the hotplates and heat it until it is crispy brown - even though the idea sounds a bit amusing. But back to the point...
Modern ovens made specifically for camping purposes sometimes have the ability to charge your phone battery.
An extremely popular brand here is BioLite - which offers you two different models of ovens that use sophisticated technology to combine the main purpose of the oven with modern technology.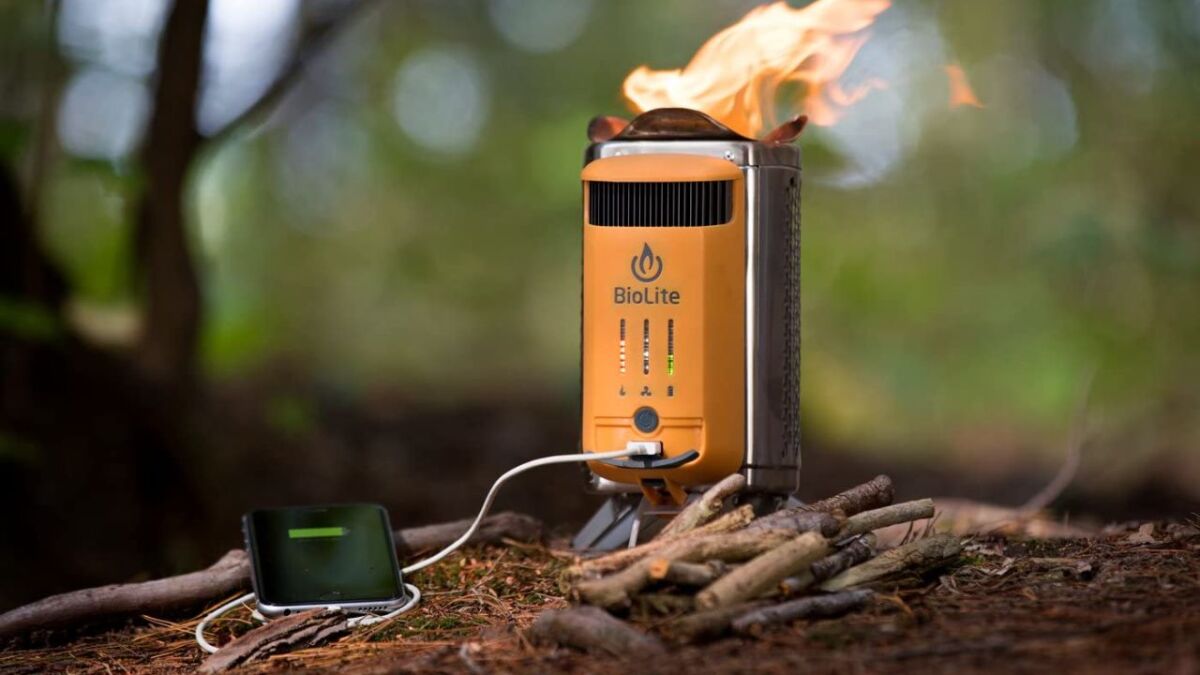 Both models use and convert the energy into electricity, which is released when burning wood inside the oven.
With this electricity and the available USB port, you can then charge your phone battery - ingenious, isn't it? Besides, the operation is anything but difficult, so it is also great for beginners.
The Campstove 2+ from BioLite, for example, is a great product for anyone who wants to go on a lonely trip into the wilderness, or who has very little space in the car or backpack.
Because the good piece weighs just under 1 kg, even a little less than a 1-liter water bottle.
Despite its small size and low weight, the Campstove 2+ from BioLite allows you to prepare a delicious meal on the one hand and efficiently charge your phone battery on the other.
If you are on a camping adventure with a large group, the FirePit+ is probably better suited for you.
At just under 9 kg, this device is significantly heavier than the Campstove 2+, but it is still easy to transport if you are traveling by car.
The FirePit+ allows you to charge two smartphones at the same time while serving as a mobile fire pit - a grill grate is included, of course!
So you can prepare the most delicious dishes on the grill while at the same time charging two phone batteries - absolutely awesome!
4. Hand-crank radios
That's right, even hand-crank radios now have the ability to charge your phone's battery.
In fact, most hand-crank radios these days even serve as effective modern power banks that can charge your phone battery.
The practical thing about it is that you can charge your phone completely independently of environmental influences such as sunshine.
A great option is the Midland ER300 - in plain language, it can charge your smartphone in various ways: charge it in advance before you embark on your camping adventure, use the solar panel located on the top, replace the battery, or simply crank it up until your phone is fully charged!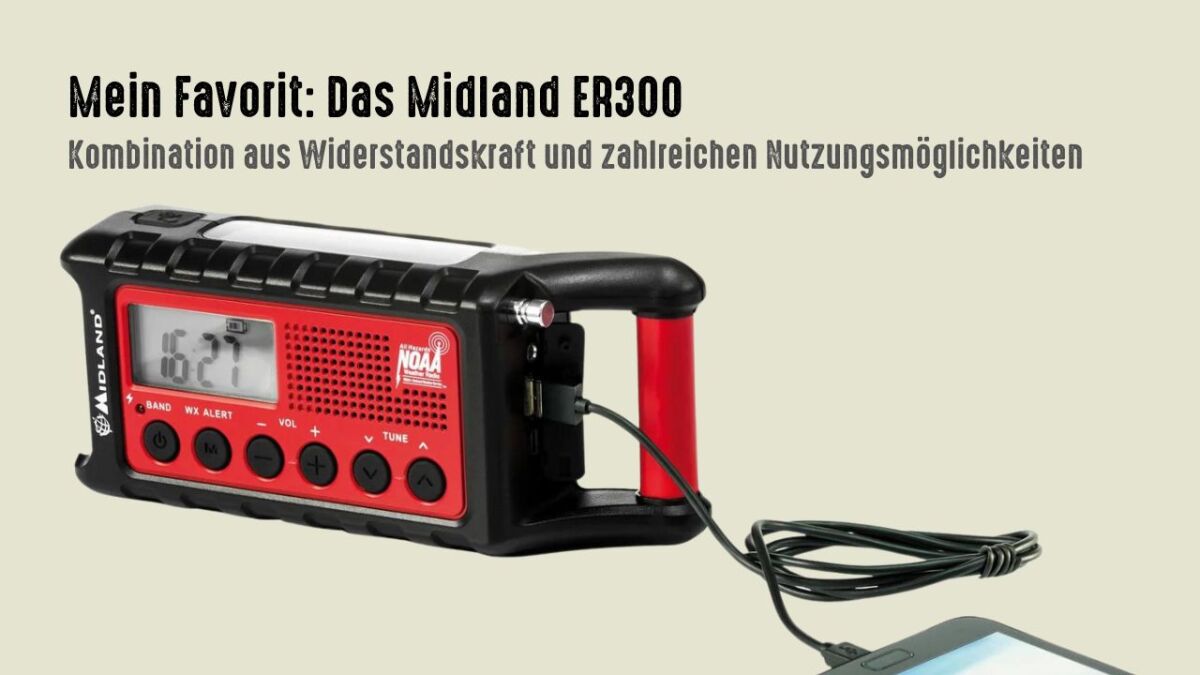 If you want to know which hand-crank radios are best suited for your needs, just check out my top comparison on my blog! Hand-crank radio recommendations 2023: These are the top models
5. Speakers and Bluetooth speakers
Of course, you may also be someone who likes to party a little on the campsite or just wants to accompany relaxed vibes with appropriate music.
Whatever your intentions are: Modern speakers or Bluetooth speakers can also be used as mobile power banks.
The JBL Charge 4 is a prime example of the combination of music box and power bank. High-quality music, coupled with an inexhaustible phone battery, sounds tempting, doesn't it?
With the JBL Charge 4, you can not only charge phone batteries but also any USB device you own.
Even better: The JBL Charge 4 is waterproof. This means that you can enjoy your desired sounds anytime, no matter what the weather is like.
6. A regular USB power bank
If we've been talking about useful alternatives to power banks all this time, we shouldn't forget the original.
Power banks exist in all shapes, colors, sizes, and capacities. One factor is therefore how many people will ultimately need the services or energy of the power bank on your camping trip and how long you will be on the road.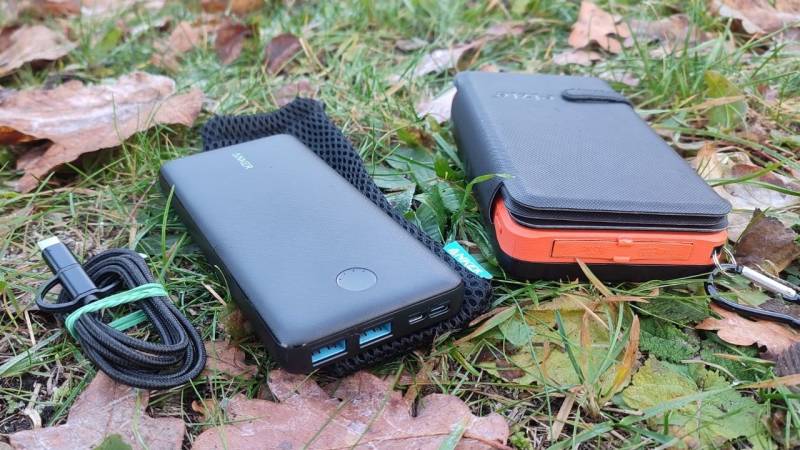 If you like to be on the road with your backpack for a long time, the Anker PowerCore Slim 10000 is worth it.
If you're on the road for a longer period of time, I recommend the Anker PowerCore 26800. It may be heavier than the small 10,000 model, but it allows you to charge your phone efficiently while having capacities for about a week of charging time.
Choose your preferences carefully, as there are enormous differences between some products.
To match this, I have created a large list of the best power banks and a buying guide. Check out this article for that: The best power banks for bushcraft, camping, hiking, and emergencies
7. Power Stations
Power banks and car chargers are two proven options for charging your smartphone while camping. But there is another option you should consider: power stations.
A power station is a mobile power source that can supply power to multiple devices at the same time, such as your smartphone, camera, or even a laptop.
These versatile charging stations are particularly useful for longer camping trips by car or motorhome, where you may need to go several days or even weeks without access to a power outlet.
Unlike a conventional power bank, a power station has a much higher capacity, so it can charge your smartphone multiple times before it needs to be recharged itself.
Furthermore, power stations often offer various connection options, such as USB ports, 12-volt sockets, and even AC power outlets, so you can charge a wide range of devices.
Another advantage of power stations is that most models have solar charging capability. This means that you can charge them during the day using solar panels and then use them at night or in bad weather to power your devices.
This makes them an environmentally friendly and sustainable power source that is perfect for nature-loving camping.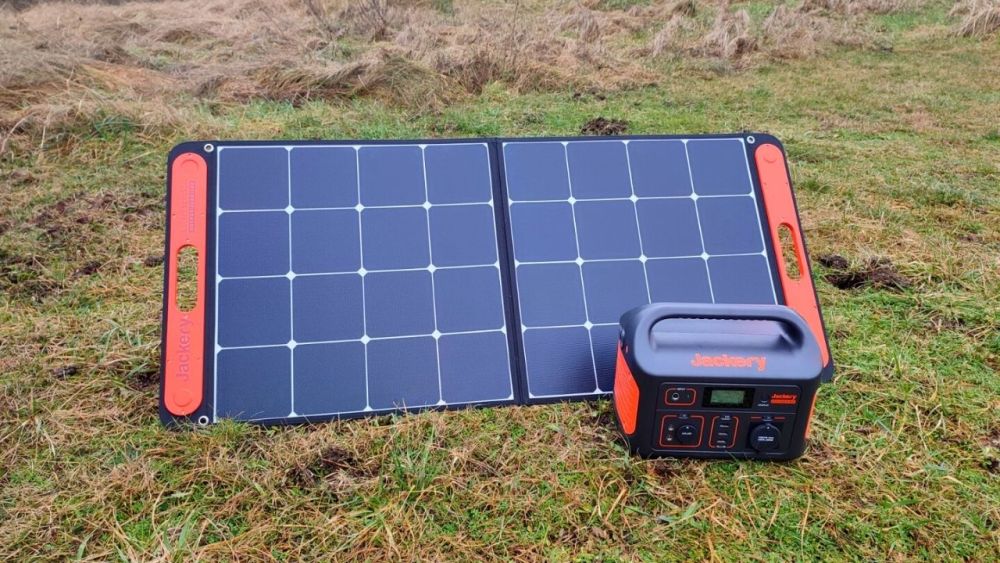 Power stations are a practical and powerful solution to keep your smartphone battery fully charged during camping.
With a power station in your luggage, you can rely on staying well connected and reachable even in the wilderness while enjoying the beauty of nature.
Check out my top list and the corresponding buying guide: The best power station in the test - for camping, road trips, and power outages.
8. Solar Panels
Solar energy is on everyone's lips. Therefore, they must not be missing from this list!
This is an environmentally friendly method of charging your mobile phone battery. If you are interested in this form of energy, you should visit my best solar panel list.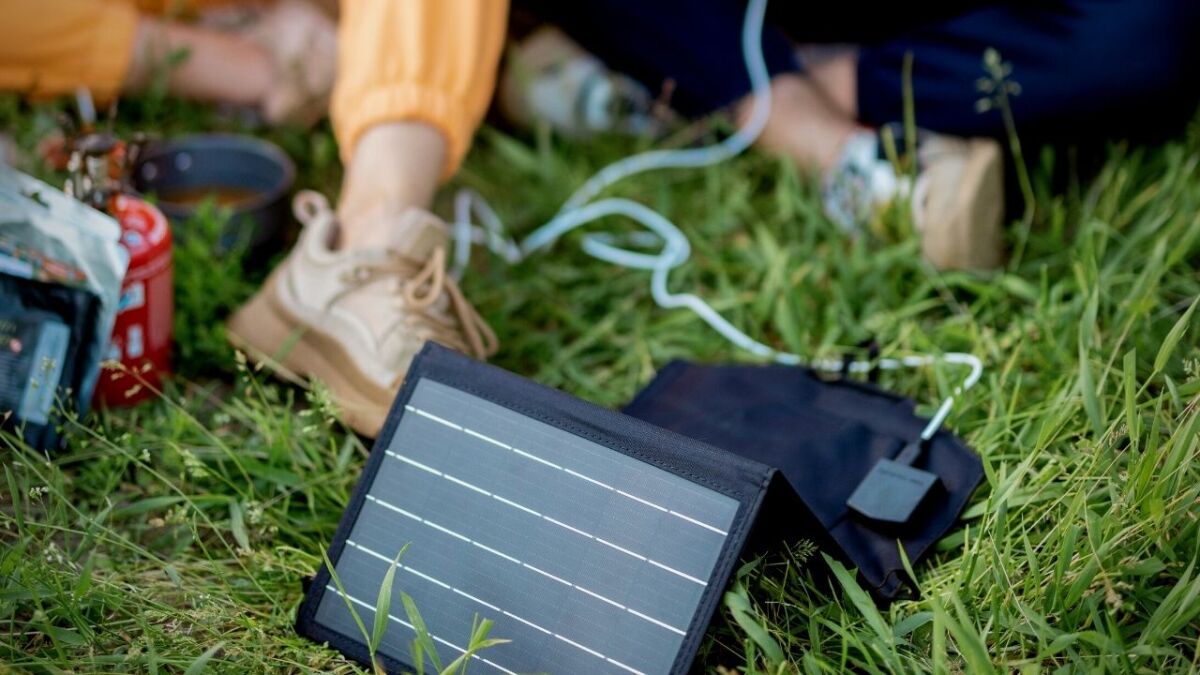 Are you interested in a solar panel that takes up almost no space, is very lightweight, and yet extremely efficient?
Then you should take a closer look at the Nomad 10 Solar Panel. It has the shape of a small stack of printer paper and can be perfectly stored in any backpack accordingly.
Space-saving and efficient, you are able to quickly recharge your mobile phone battery in sunny weather.
And if you are looking for even larger solar panels for camping, then read my guide "The 7 best camping solar panels to power you outdoors".
9. Camping Lanterns
If you are already going on a camping trip, then you will surely not retreat directly to your shelter when the sun begins to set.
On the contrary, you will probably have a camping lantern with you that will illuminate your way even in the darkest darkness - at least that's what I recommend!
Some camping lanterns, like so many other modern camping equipment, also serve as mobile power banks.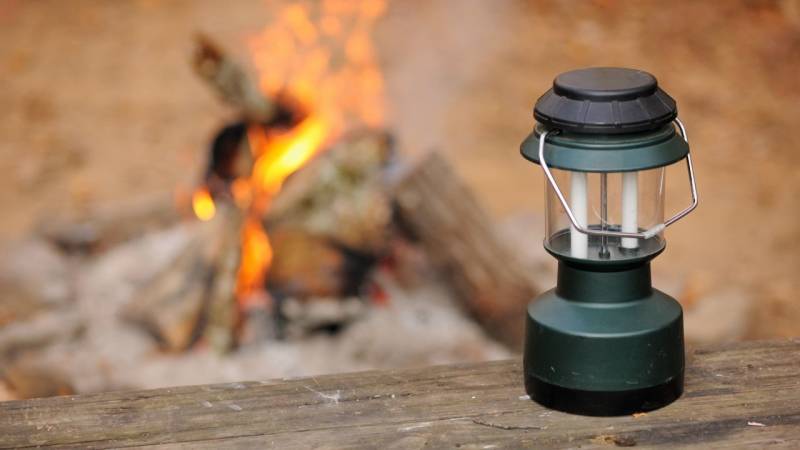 The Solar Lantern by Goal Zero is one of these multifunctional lanterns that may be worth buying for you.
If you want to learn more about camping lanterns or even if you are looking for a buying guide for the best camping lantern, then I have the right article for you on my blog, check it out! Find the best camping lantern [+ buying guide].
10. Generators
Getting yourself a generator is primarily worthwhile if you plan to go camping for an extended period – that is, if you're doing car camping or traveling with a motorhome.
Most generators run on gasoline as fuel, allowing for long-term use even far away from other power sources. Generators have a tremendous advantage when it comes to energy output.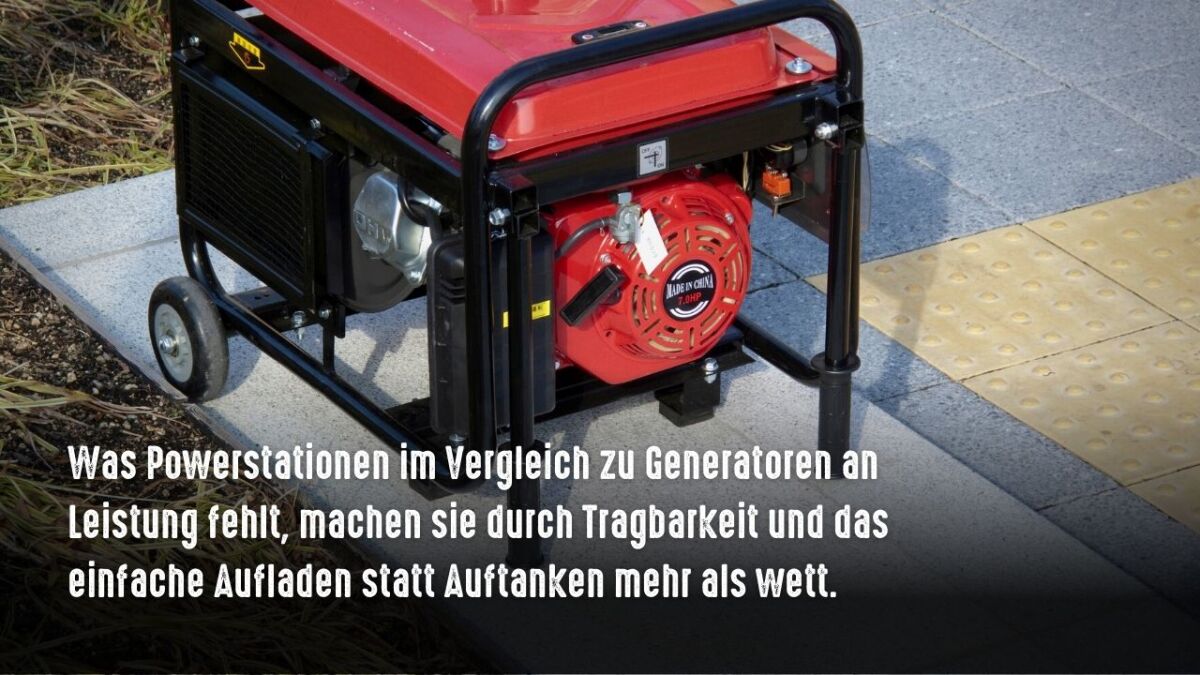 Their massive energy potential allows you to keep your phone and numerous other electrical devices running for several days without consuming much fuel.
So, you have a durable energy source that provides you with power for all kinds of devices. Well, if that's not a good investment!
Honda is an excellent brand for generators. There you will find a wide range of generators in different sizes and with different capacities.
A comparatively small but still very effective generator for car camping trips is the Honda EU10i. With its 230 V output, you can charge your phone just as quickly as at home.
11. Protective Cases for Your Smartphone
You won't have missed how rapidly everyday technology has evolved in recent years. The same goes for protective cases for smartphones.
That's right, even protective cases and bags that you can put your smartphone in are now capable of charging its battery.
While there are only a few of these models on the market so far, it will likely develop as rapidly in the next few years as some other technologies once considered "futuristic."
If you own such a piece, however, you must ensure that some cases are charged themselves to charge your phone.
5 Tips to Minimize Your Battery Usage While Camping
It's undoubtedly helpful to know how to charge your smartphone battery while camping or on the go.
However, it is advisable to keep battery consumption as low as possible. Try to use it sparingly to maximize battery life.
The following 5 tips can help you do just that!
1. If you have no reception, put your smartphone in airplane mode
Let's face it – if your phone has no reception and you have no access to the internet, it's virtually useless.
You can't write to anyone, you can't call anyone, and you probably can't surf the internet. Your phone is consuming battery for nothing.
So, if you want to save battery, set your phone to airplane mode.
You can always test from time to time whether you have reception or internet in the meantime – but ideally only when you really need it in that moment.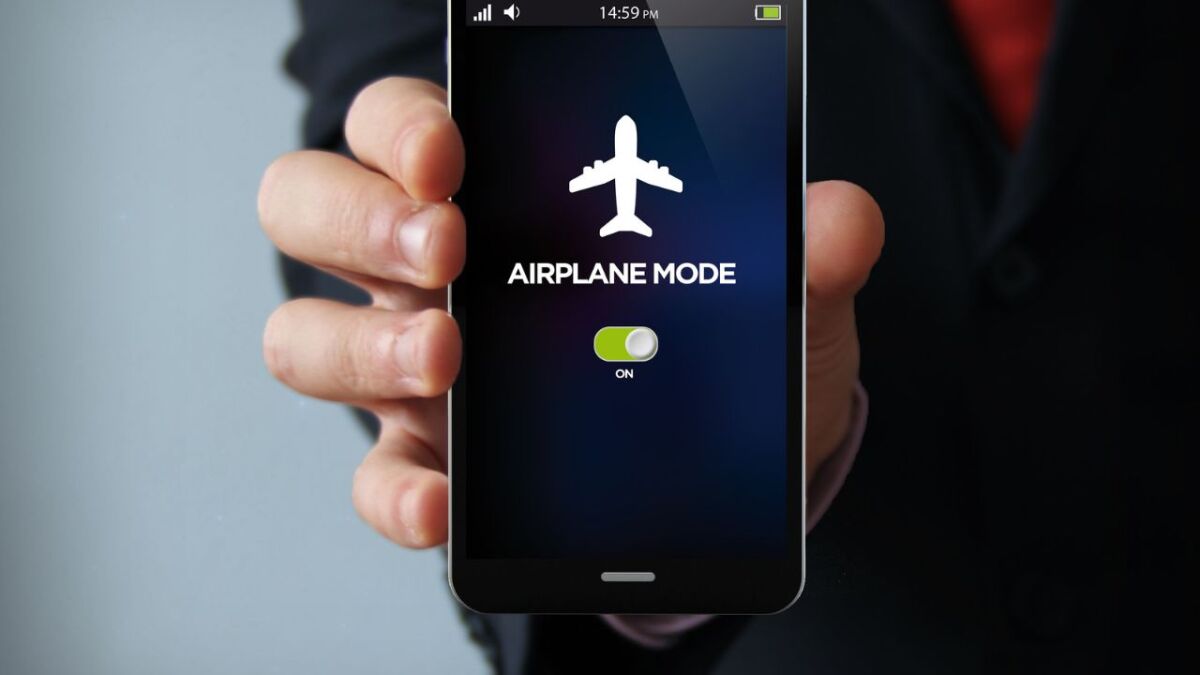 2. Download an energy-saving app
Energy-saving apps are now a very helpful tool for those who care about the longevity of their batteries.
Currently, there are various apps for all types of smartphones that constantly track your battery status and energy consumption. This can help you identify true energy hogs and turn them off.
Many energy-saving apps are also able to scan your smartphone thoroughly and give you tips for better energy and battery handling if you'd like.
It's definitely worth a try – especially if you're already using your smartphone a lot.
3. Reduce the brightness of your screen to save battery
You're probably familiar with the classic power-saving mode on your smartphone, right?
What's the most noticeable thing that happens when you activate it?
That's right, the brightness of your screen decreases.
This is because you can already save a lot of energy by doing this, if you want to. Even a little less brightness can have a big impact.
In addition, you can also choose the automatic brightness setting. This way, the brightness of your smartphone adapts to the external conditions.
In plain language, this means that you can save energy on the one hand and still see enough on your screen in unfavorable lighting conditions on the other.
You wouldn't believe how much energy a smartphone screen set to maximum uses. So take this opportunity to simply save battery!
4. Turn off your phone at night
The easiest way to save your smartphone's battery is to simply turn it off overnight.
Logically, your phone will use the least amount of battery this way.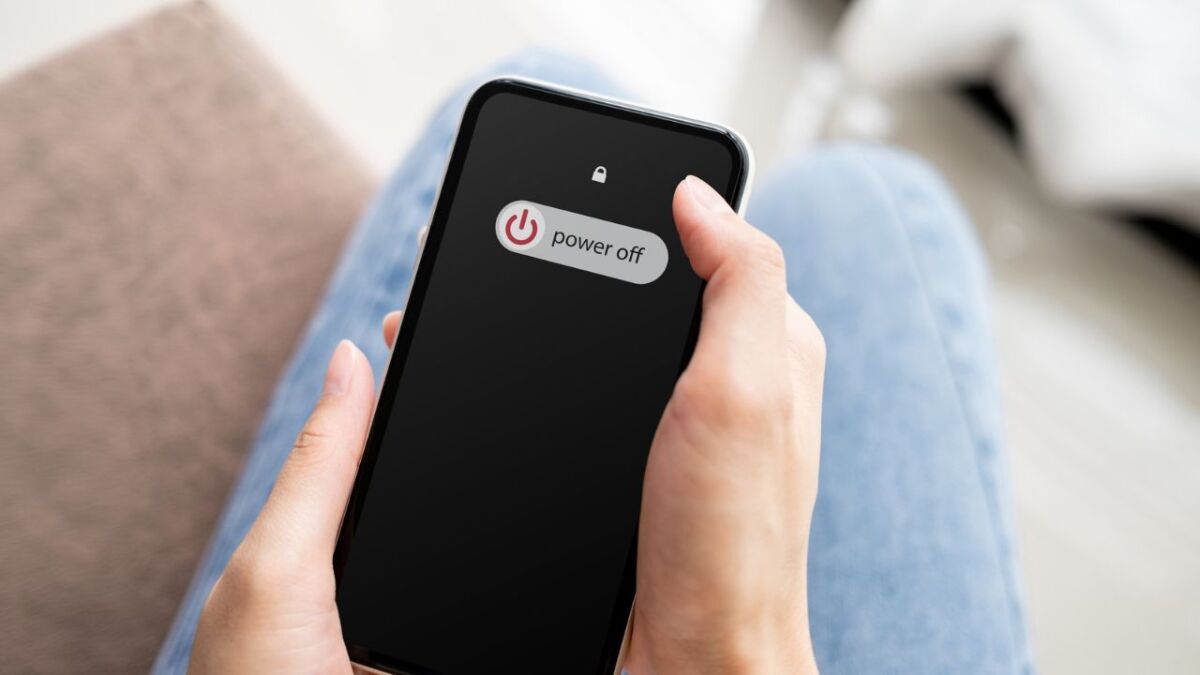 Most smartphones are still able to activate the alarm clock even when turned off - so you don't have to worry about oversleeping.
But beware: just because your phone is turned off doesn't mean that the battery won't still drain. Of course, the process is extremely slow, but it's not completely blocked.
Although your phone doesn't use a lot of energy when turned off, the battery still discharges on its own - albeit very slowly.
5. Keep your smartphone away from extreme temperatures
Regardless of whether it's extreme heat or biting cold: extreme temperatures literally suck the life force out of your battery, and faster than you'd like!
Most people are not aware of the impact weather has on the performance of their phone batteries.
To avoid unnecessarily shortening the battery life of your smartphone, you should pay attention to a few minor details:
Keep your smartphone out of direct sunlight, especially in hot summer months! Overheating can quickly bring your phone battery to its knees or even cause your smartphone to crash.
If it's very cold outside, store your phone in a (not too) warm place like your jacket pocket. At night, you can even pack your smartphone in your sleeping bag if it's very cold outside.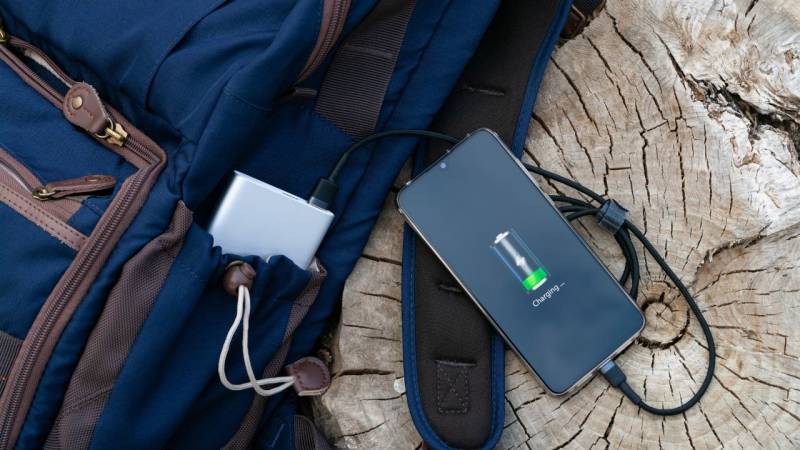 Conclusion: Use a combination of energy-saving measures and charging options
When camping, it's always important to be able to get by for as long as possible in case of emergency.
Therefore, my personal tip is to both try to save smartphone battery and create suitable ways to recharge it.
Of course, it also depends on the type of camping you're experiencing.
If you're in the wilderness, it's especially important to save energy. After all, you want to be prepared for all eventualities and stay capable of action.
The priorities are understandably different at the local campsite. However, you should never completely neglect the smartphone battery factor in any situation.
I hope this article was helpful and provided you with valuable tips and tricks. Maybe you can use one or two pieces of advice in your everyday life or generate added value for your next camping adventure.
Thank you for your attention and I would be happy if you take a look around my blog.

Was this guide helpful?
12 people found this guide helpful.
5.00 out of 5 points (12 Ratings)