Back to german article
How to sleep in a tent the best way [Sleeping options and tips]
Sleeping comfortably and deeply while camping is important so that you are rested and strong for the next day. Learn now how best to sleep in a tent.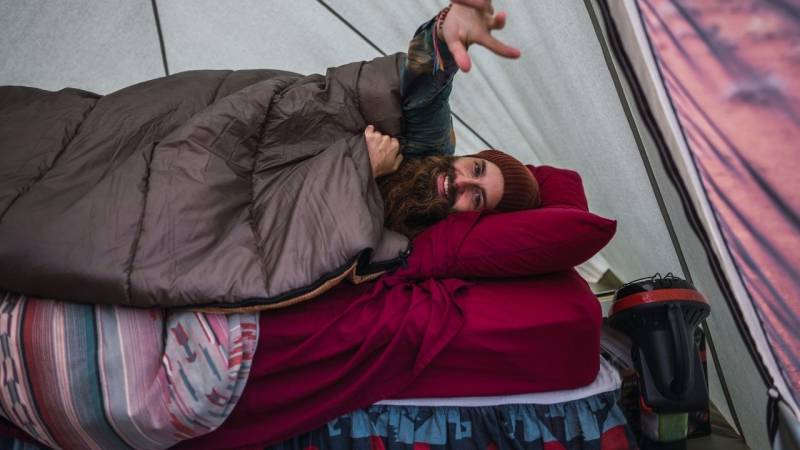 ---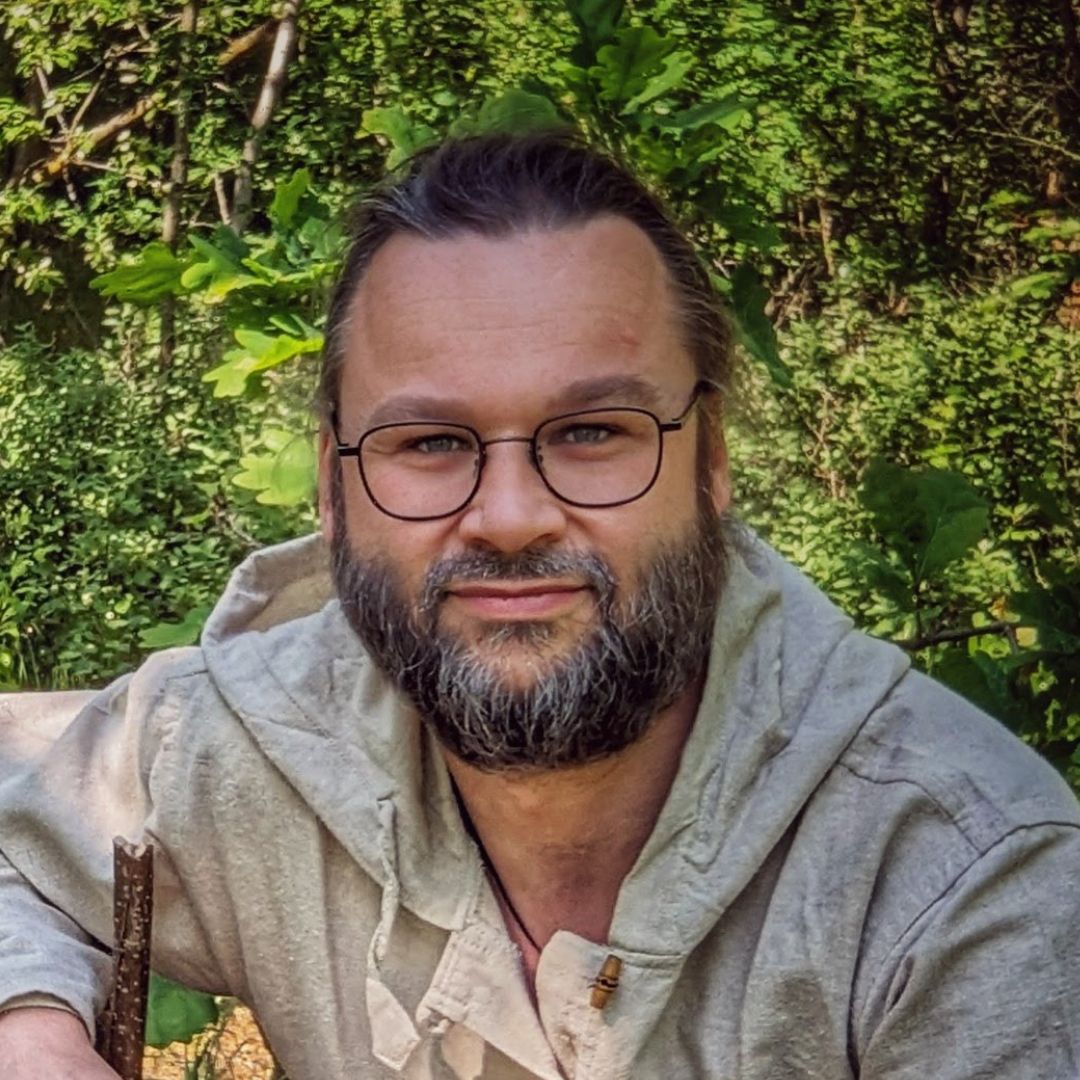 ---
👉 The key facts from this guide
Sleep comfortably in the tent: Combination of sleeping pad and air mattress, warm sleeping bag, pillow, and hot water bottle
Sleeping pad: lightweight, easy to transport, but not very comfortable
Air mattress: more comfortable than sleeping pad, but provides less insulation
Cot: most comfortable alternative, but bulky and difficult to transport
Important role of sleeping bag: insulates warmth, pay attention to temperature ratings and size
Tips for cold nights: hot water bottle, properly cinch sleeping bag, eat enough food, and wear a hat
Sleeping somewhere else is always comparable to an adventure. The unfamiliar surroundings and new sounds create an exciting atmosphere.
Just when camping, you surely know the feeling. However, sleeping in a tent comes with even more challenges.
Therefore, almost all camping beginners ask themselves: How can one sleep best in a tent?
Basically, a camp bed is perfect for sleeping comfortably in a tent. However, most people usually prefer a combination of a sleeping pad and an air mattress, along with a warm sleeping bag. A pillow and a hot water bottle provide even more comfort.
To prevent the night in the tent from ending in a disaster, there are some tips and tricks on how to sleep best in the tent.
Read on now, and you will learn all the important facts you need to know about "Sleeping in a tent".
A comfortable surface
Of course, there are many people who want to keep camping as simple as possible. Therefore, most people only sleep on a rolled-out sleeping mat.
However, there are also more comfortable options to avoid waking up with back pain.
Generally, you have to consider the ground on which you pitch your tent. A soft meadow is best suited.
If, however, you put a camp bed or an air mattress in your tent, the ground is probably not so relevant to you.
The sleeping pad for the toughest
For many campers, the sleeping pad offers the ideal "camping bed". Simply strapped to the backpack, the sleeping pad goes everywhere with you. You can also quickly unroll it, and you have your overnight accommodation set up.
That the sleeping pad is not the most comfortable alternative is clear to all of us. But it is the easiest! And occasionally that's what matters when camping.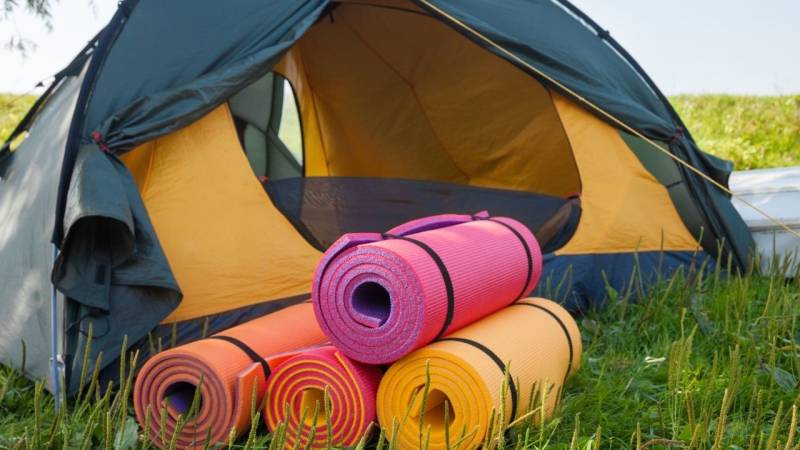 When making a purchase, it is still best to pay attention to the insulation value and thickness of the mat. A yoga mat doesn't perform as well. It is made of foam and therefore does not have an insulating effect - even if it seems more comfortable at first glance.
An air mattress is the ideal companion for short camping trips, such as a night in the woods with a tent. In the long run, it brings more suffering than joy. You certainly want to avoid back and limb pain on your vacation.
Reading tip: The best sleeping pads for your outdoor adventures
The air mattress for more comfort
The air mattress is probably the most well-known swimming tool of all. But it is also used frequently when camping. There are various types of air beds available. Whether for a single person or large enough to accommodate an entire football team.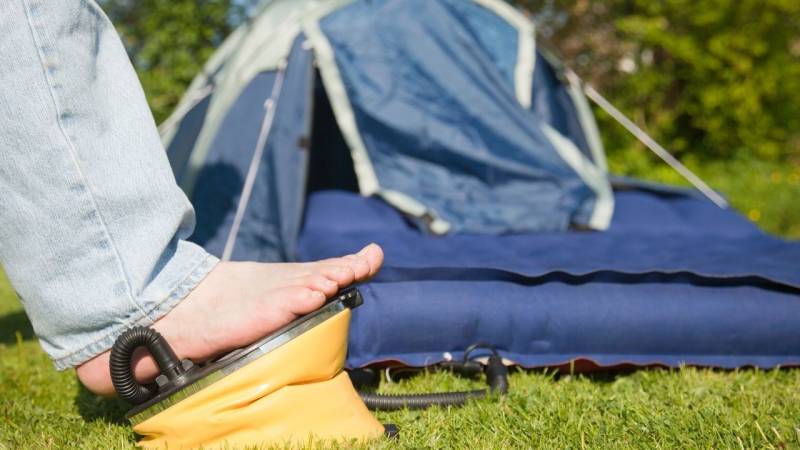 Air mattress alone, however, does not provide good service when camping. It is more comfortable than a sleeping pad, but it does not keep you particularly warm. After all, it is only filled with air.
By now, there are also air mattress sleeping pad combinations available for purchase. So to speak, simply an inflatable sleeping pad. This way, you have both advantages in one.
You can, however, save yourself the purchase of the luxury air mattress. Just put a sleeping pad underneath and you'll have the same effect. It also always looks good to put a wool blanket on top of the air mattress.
Generally, the air bed is a good choice for comfort. It can be easily stored and nowadays, it even inflates itself (at least in many new models).
Read also: Can I use a regular air mattress for camping?
The mattress for cloud sleepers
There are brilliant folding mattresses available for purchase that are actually intended as more than just a guest bed in your own four walls.
However, when I'm on the road with my car, I always have my folding mattress with me.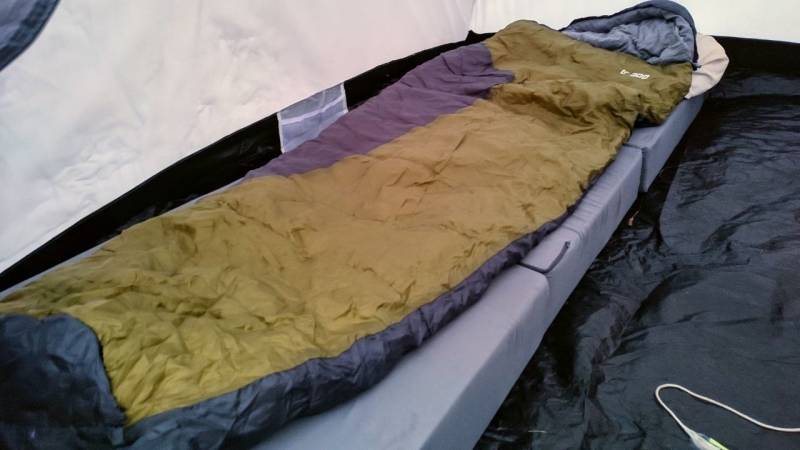 And for various reasons:
I can unfold it, and it's ready to use immediately
With a height of 15 cm, I will never sleep on the ground
The insulation underneath with 15 cm of foam is brilliant
I can put the folding mattress in my car and choose between tent and car
The mattress can also be used as a stool when folded
Look, I have these in use, and I am very satisfied with them:
Badenia Trendline faltbare Polyester Gästematratze XXL, Komforthöhe von 15cm, 196 x 65 x 15,5 cm Liegefläche, Plüsch, Öko-Tex zertifiziert, hellgrau, produziert nach deutschem Qualitätsstandard
MULTI-FUNKTIONAL - Platzsparende Gästematratze, bestens geeignet auf Reisen, zum Campen oder als Gästebett für Ihren Besuch
HOCHWERTIGER BEZUG - Strapazierfähiger und besonders anschmiegsamer Polsterbezug aus 100 Prozent Polyester (250g/m²)
ATMUNGSAKTIVER KERN - bequemer und langlebiger Komfortschaumkern mit 15 cm Komforthöhe. Besonders die angenehme Schlafhöhe unterscheidet unsere Gästematratze von herkömmlichen Gästematratzen
DETAILS - Größe ausgeklappt 196 x 65 x 15,5 cm. Größe zusammengeklappt 65 x 65 x 45 cm - so lässt sich die Gästematratze leicht transportieren und verstauen
NACHHALTIGKEIT - Badenia Trendline Matratzen sind geprüft nach Öko-Tex Standard 100
77,90 €
View Product
However, my folding mattress is not made for outdoor use, as it already gets cracks at the seams.
Therefore, you should consider whether you should not rely on a special outdoor mattress. These mattresses are designed to be durable and resistant to moisture and dirt, making them perfect for camping trips.
The camp bed for the most comfortable
Even when camping, there are people who simply cannot do without the comfort of a bed. Of course, a camping cot cannot compete with the box spring bed at home, but it is still a very comfortable alternative (check out camping cots here).
The advantage is definitely that the folding bed is very similar to a regular bed. So you don't have to crawl on the floor, and it also has a certain amount of suspension.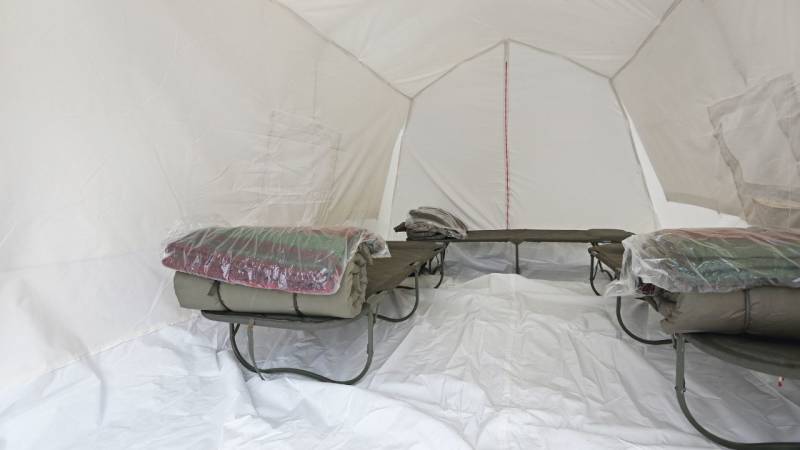 However, you need a lot of storage space in the car for the device. If you are on foot, this is not the optimal solution for you.
Even sleeping in a camp bed can be a challenge for many. The camp bed is a foldable bed. As a result, it is inherently somewhat unstable and may wobble a bit. Therefore, many people cannot find a peaceful moment in the bed.
However, the folding bed is also great if you are traveling with your partner. These beds are also available in large sizes.
However, you still have to consider the height of the tent. There are camping beds of different heights. However, many are so high or the tents are so low that you are practically lying with your head against the ceiling.
Without the right sleeping bag, nothing works!
The sleeping bag is the most important tool for every camper. You have probably seen many photos of people getting comfortable in their tents or campers with their duvets. The duvet from home is cozy, but not practical.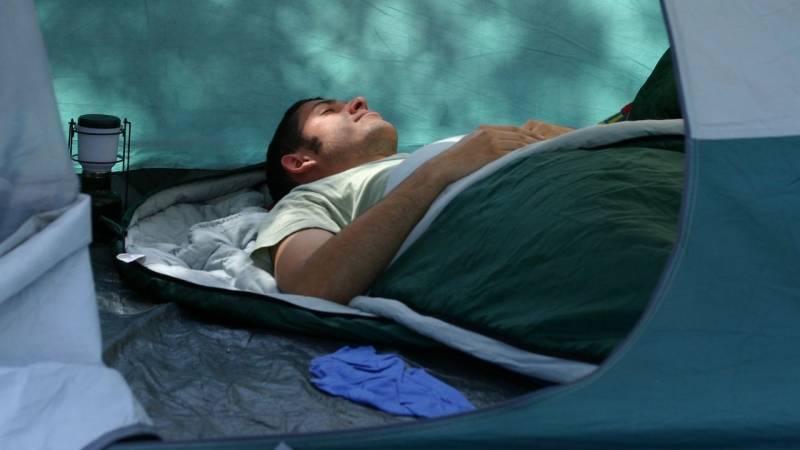 A sleeping bag is valuable because it isolates your warmth. You can wrap yourself up in a blanket as well as you want, but it will always release some warmth back to the outside.
The temperature information provides you with optimal guidance on the functionality of the sleeping bag. If you are traveling in colder regions, make sure that the sleeping bag can withstand these temperatures.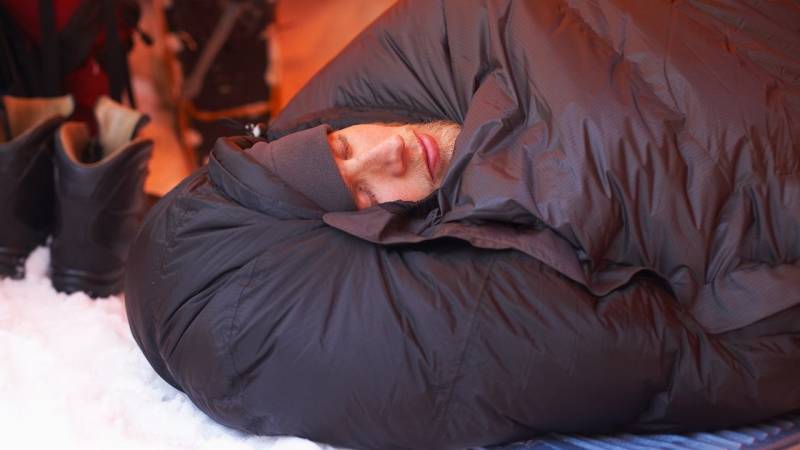 When hiking, it is particularly significant that the sleeping bag has a small pack size and is lightweight. However, it must still be able to provide full functionality. Down sleeping bags are the best choice here.
Furthermore, size matters. Make sure you don't have too much space in your sleeping bag. That's just an unnecessary room that needs to be heated.
The right choice of sleeping bag should not be underestimated. You will quickly realize that the money invested was worth it.
And that's exactly why I recommend my buying guide for sleeping bags. There you will definitely find a great model.
Read also: Sleeping outside in winter - with these proven tips it will definitely work
The question of the pillow
Often everything is thought of: the sleeping bag, the sleeping pad, a blanket for emergencies. But not a pillow.
Carrying such a pillow for camping regularly seems excessive. Nowadays, there are camping pillows. You can either just take a small pillow with you or opt for the inflatable version again.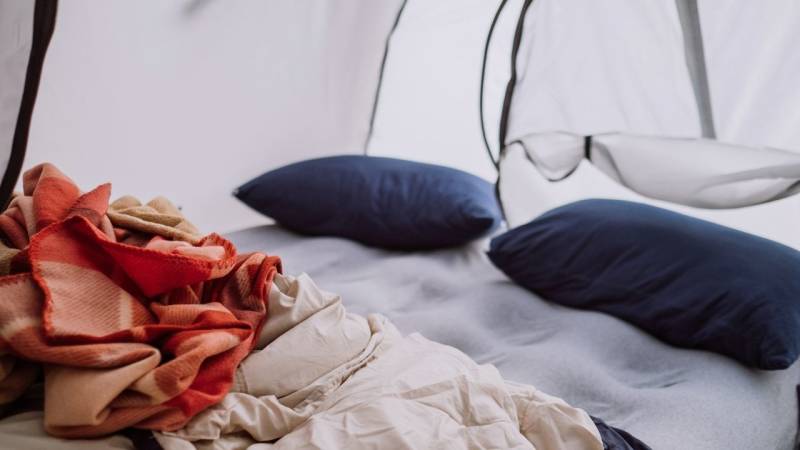 A tip for creatives or forgetful people: Make your pillow yourself. A rolled-up jacket works best for this. Simply stuff it into a bag and your pillow is ready!
Reading tip: Do you want to buy a tent? Then read this ultimate guide to tents first
Tips for cold nights
In the tent, you are constantly exposed to nature and weather conditions. It is obvious that the weather does not always cooperate. Nevertheless, there are certain tips to prevent your feet from freezing in the tent.
A hot water bottle
If you're camping with a tent, you usually have a gas stove with you. This way, you can boil some water and fill it into a small hot water bottle. Simply put it in your sleeping bag (preferably before you get in yourself) and you'll have a warm "bed" right away.
Tying the sleeping bag properly
The sleeping bag will only keep you warm if you use it correctly. So, tie it up all the way to the top so that no air can get in or out.
It also helps many people to put a blanket over the sleeping bag. So why not give it a try next time you go camping (when the weather is not cooperating again).
Often it is also said that you should lie naked in the sleeping bag. This may sound a bit strange at first. But it can help: This way, your body heat spreads directly in the sleeping bag.
If sleeping naked is too strange for you, wear functional underwear and put on a hat.
Have something to eat
Sounds trivial at first, but you read correctly. A full stomach protects you from the cold (in a certain way).
If you eat too little, your metabolism slows down. So your body only runs on low heat. Precious warmth is therefore missing.
Eat yourself full, and you will not only be able to sleep deeply, but also feel less cold.
---
What are your tips for a restful sleep while camping? Write it in the comments.

Was this guide helpful?
24 people found this guide helpful.
5.00 out of 5 points (24 Ratings)