Back to german article
Finding the right knife [Basic Guide + Buying Guide]
There are 1000 different knives. Which one should you buy? The solution: establish the basics. Afterward, the choice will be easier.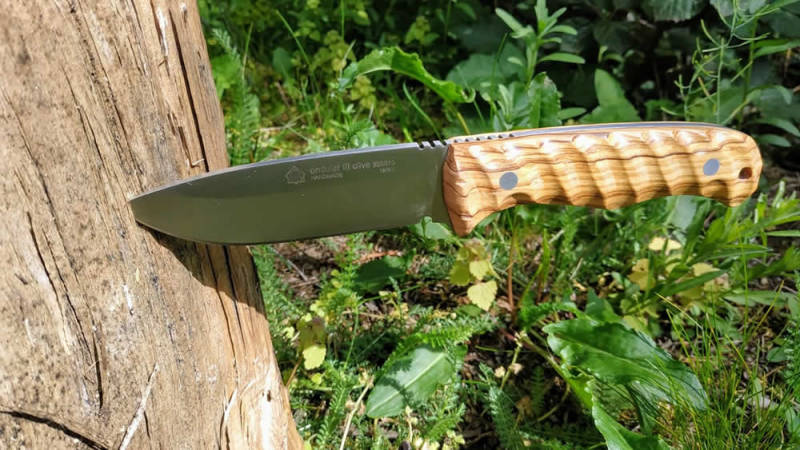 ---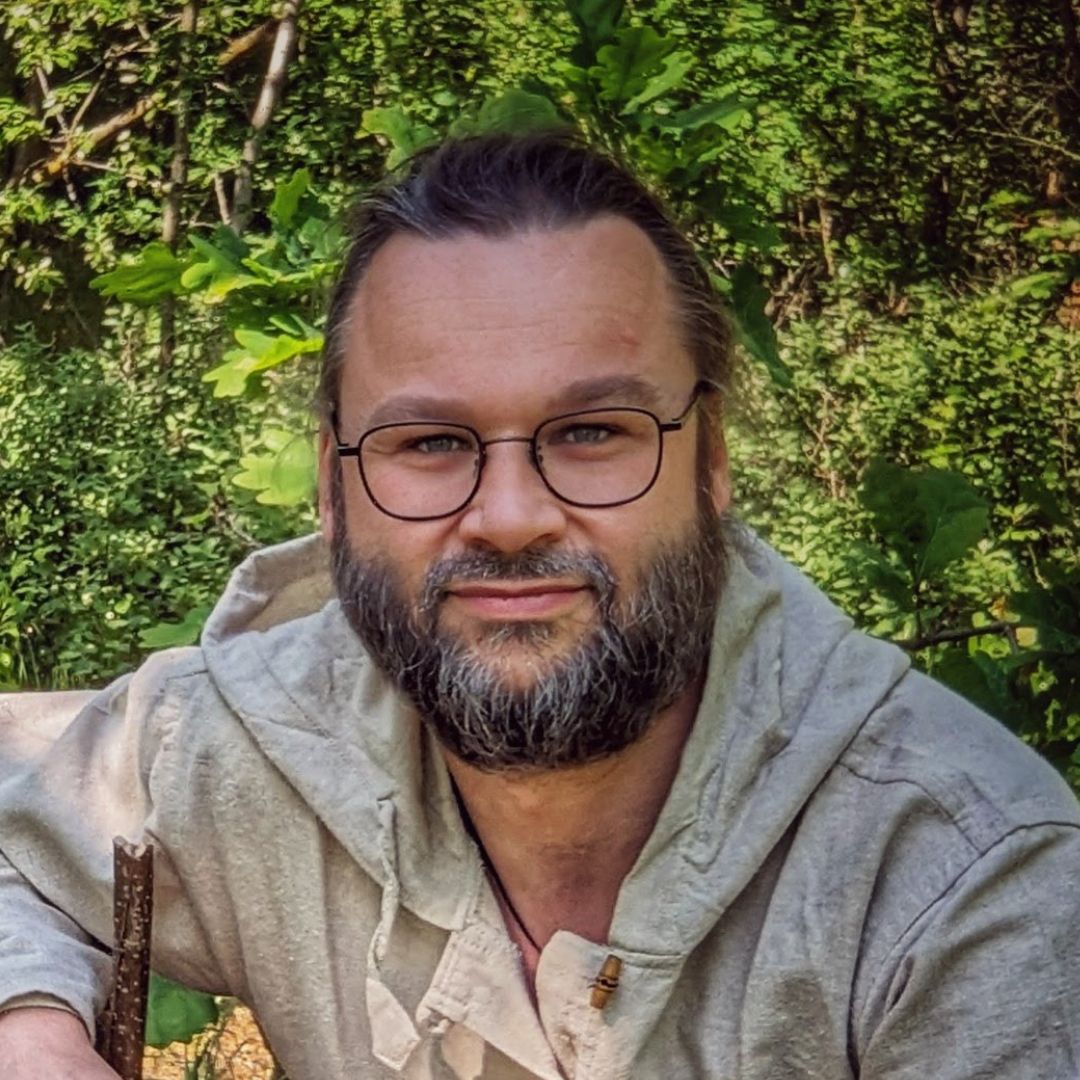 ---
👉 The key facts from this guide
Choosing the right knife: The choice of the right knife depends on your individual needs. Consider for which activities you require the knife and which size and functionality are best suited for you.
Types of steel: There are three different steel classes - carbon steel, stainless steel, and tool steel. Each type has its advantages and disadvantages in terms of durability, grindability, and rust resistance.
Handle material: You can select between plastic and wood. Plastic is more slip-resistant and durable, while wood is visually more appealing.
Blade length: Blade length is an important factor, especially in terms of the law. In Germany, it is usually illegal to carry and use knives with a blade length over 12 cm in public areas.
Knife design: There are folding knives and fixed blade knives. Fixed blade knives are typically more robust and therefore better suited for outdoor activities.
Purchasing considerations: Before buying a knife, you should consider various factors such as your needs, size, blade shape, material, handle, additional features, price, customer reviews, seller reliability, knife quality, and knife maintenance.
Do you know the feeling that you want to buy a knife, but you don't have an overview because there is so much selection?
I felt the same way.
I was confused and overwhelmed.
Which knife is now the RIGHT one for me?
There are a thousand different knives. There are dozens of types of steel. There are laws.
The solution: Creating foundations. Thereafter, the choice will be easier.
You will now learn the basics in the article.
Knife recommendations on the web
Have you also entered "best survival knife" or "top 10 bushcraft knife" on Google?
I landed on countless websites. I saw great knives. And I saw countless knives that were definitely not the right ones for my needs.
The choice of knives is as individual as each person.
What am I supposed to do with a survival knife (here's my top list) that has an 18 cm long blade? I always want to carry knives in my backpack. That causes problems with the law.
Another website recommends a bushcraft folding knife to me because it is so handy. But I require a knife to split wood. The recommendation also does not meet my requirements here.
You notice: The selection of knives is a very personal matter depending on your needs.
I will now give you an overview that will reduce the thousand possibilities to a few.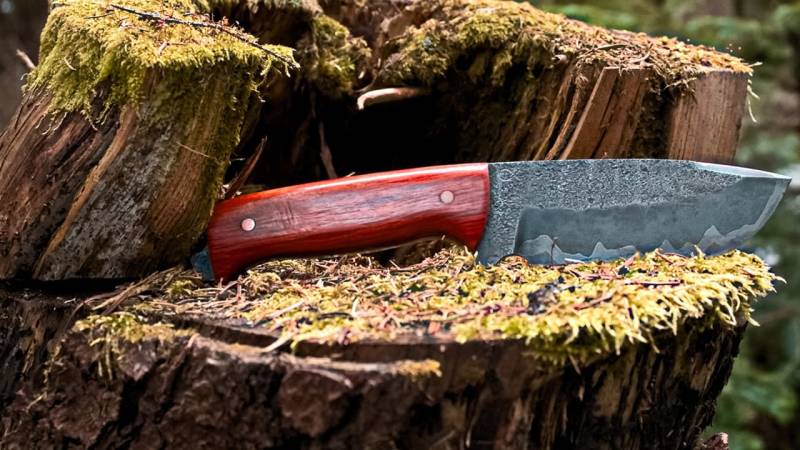 The Steel
I'll keep it short, so you can get to your answers quickly.
It is enough for you to know that there are three different steel grades.
Carbon steel
Stainless steel
Tool steel
I will now show you the three most important facts.
The scale ranges from 1 to 10. 1 = very good, 10 = very bad.
| | Carbon steel | Stainless steel | Tool steel |
| --- | --- | --- | --- |
| Success in grinding | 1 | 6 | 3 |
| Robustness | 1 | 6 | 3 |
| Resistance to rust | 8 | 1 | 4 |
| OVERALL Ø | 3.3 | 4.3 | 3.3 |
What do we conclude from this?
If you are looking for a highly durable knife that can be sharpened easily, then choose one made of carbon steel. The downside is that it rusts quickly.
This means that moisture must always be removed from the knife immediately.
Looking for a stainless-steel knife and something in the middle range, go for stainless steel. That will serve you well.
The Handle
The facts are briefly explained.
You are looking for something non-slip and durable: decide plastic as the material for the handle.
If you want it to be fancier, select wood. It is not as slip-resistant and durable as plastic, but it's also okay.
Here you just have to select between the two types.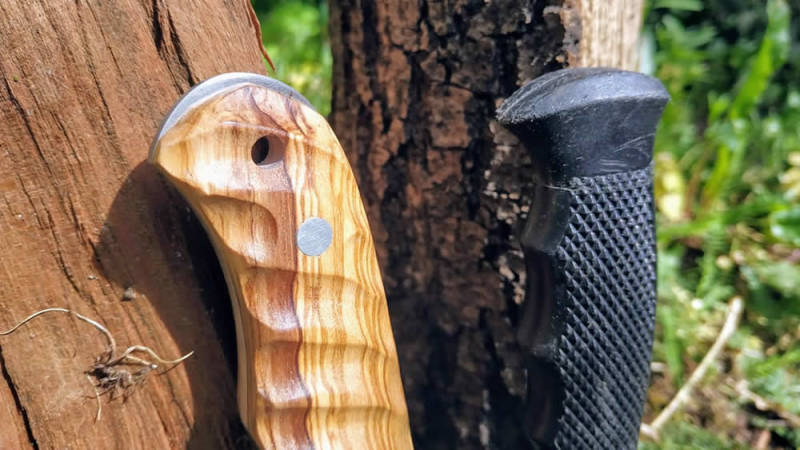 The Length
The length of a knife is certainly important to many people. I will discuss knives that are below and above 12 cm blade length.
12 cm as a guideline because carrying and using in public areas is illegal from a blade length of 12 cm.
Blade length up to 12 cm
If the blade of the knife is longer than 12 cm, the topic becomes difficult. Therefore, here is my tip in advance: take a fixed blade knife with a blade under 12 cm. That way, you'll be on the safe side.
The law actually states:
"It is prohibited to carry knives with a one-handed lockable blade (one-handed knife) or fixed-blade knives with a blade length over 12 cm."
Here's a quick note: a folding knife with a blade length of 4.7 cm that can be opened with one hand and has a locking blade is PROHIBITED to carry outside (you are allowed to own it). On the other hand, knives are allowed to be owned and carried if they can be opened with one hand but are not lockable.
Also read my article "What are one-handed knives and why are they banned in Germany?".
There are great knives with blades that are less than 12 cm long. With them, you can also do Batoning (splitting wood). Not the big logs, but usable for your fire.
My combination looks like this: I have an axe for rough wood. To split the small wood, the 12 cm knife is used.
With a 20 cm blade, you're not better off either. That's bulky, heavy, and much too thick for Batoning.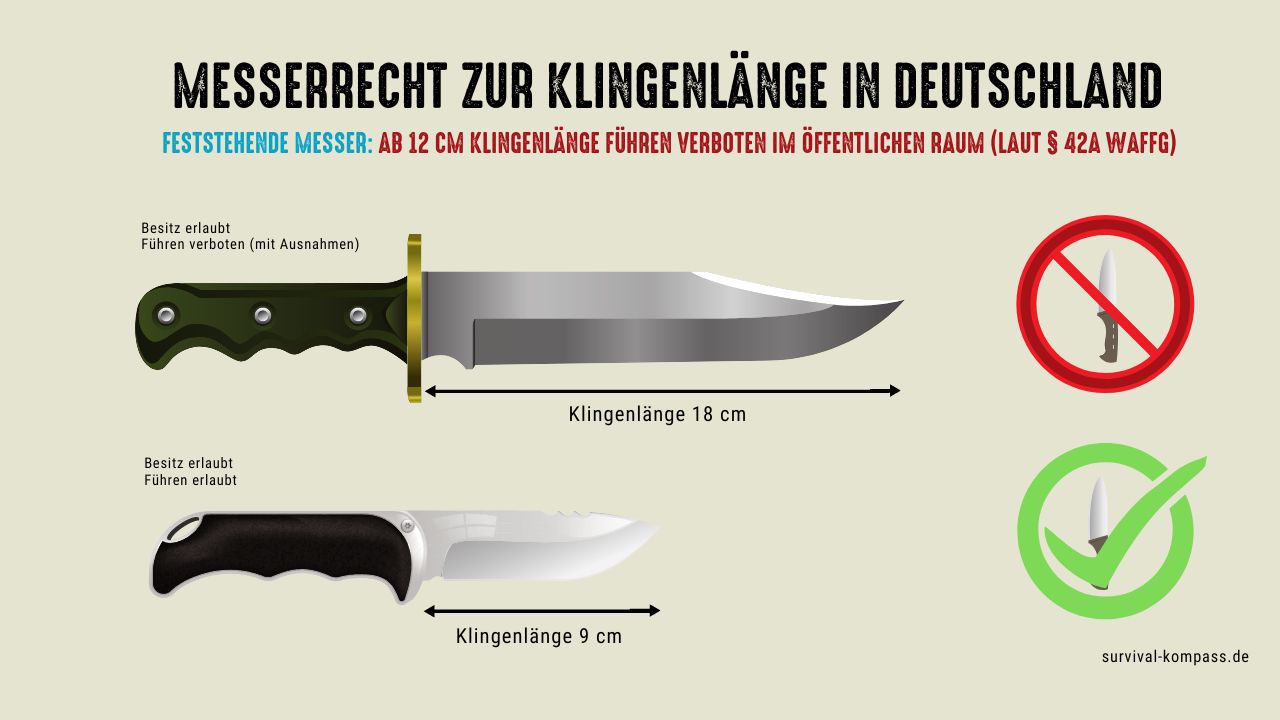 Blade length over 12 cm
Sure, you can also get yourself such knives. And they are also incredibly useful when the world comes to an end.
But it is not sinking yet. So think carefully beforehand if you really need it and are willing to take the risks.
Honestly, I would rather not encounter anyone with a 20 cm blade. It seems threatening.
Do you remember the teenagers who absolutely had to drive a big BMW? There are also some in the survival industry. Some of them have to adorn themselves with a big knife.
To me, this seems like a childish desire for attention. If you belong to this group and feel addressed: Interest in you is not generated by a big knife. People find you interesting because you have something to offer - your knowledge, skills, interests, experiences, or tips.
If you require a large knife for other reasons, I would be happy if you could explain your reasons to me. Maybe we can meet sometime. Or you can write them to me here in the comments.
When it comes to making a purchase decision: Carrying and using a blade longer than 12 cm is illegal in German forests and meadows. Weigh the pros and cons carefully.
You are not sure which knife is legal or illegal? Then read my exclusive guide "Knife Law in Germany".
The Thickness
There are thin and thick knives. Thick knives are at least 4 to 5 mm wide at the back of the blade.
These thick knives are more robust. You can use them for chopping or splitting wood. Even when prying, for example prying bark off a tree, everything stays straight and intact as it should be.
Thin knives are lighter for this reason, but they break faster. However, they are suitable for carving or filleting meat and fish.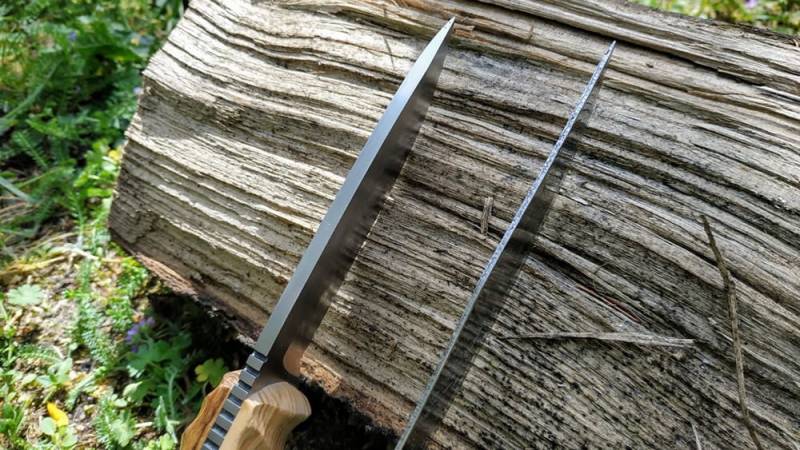 The construction
There are folding knives and fixed-blade knives.
Robust and stable are the fixed blades (Full Tang). And I recommend them consistently as well.
Folding knives are somewhat safer because the blade is well "wrapped up".
But at last, it's personal preferences that matter here.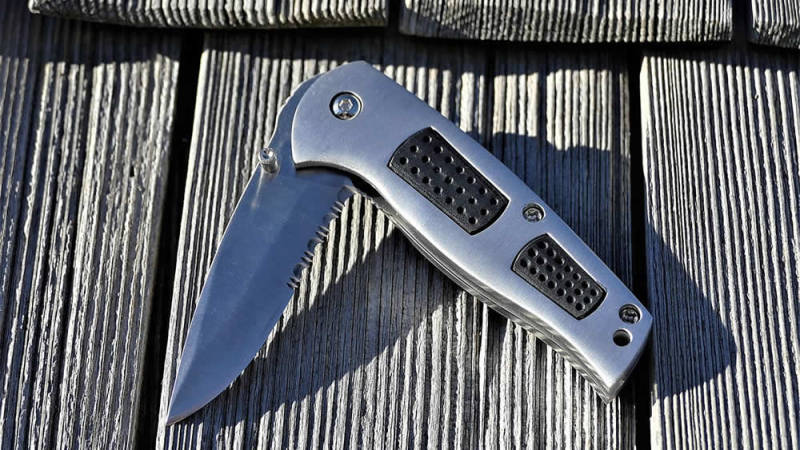 To the point: My list before I buy
Check your needs: Consider for which activities you need the outdoor knife. Do you require it for camping trips, survival in the wilderness, or daily use? This will help you determine the right size and functionality of the knife.
Choose the appropriate size: Consider how often you want to carry the knife with you. The larger the knife, the more difficult it is to carry, but also the more versatile it is. Decide a size that is suitable for your needs.
Select the proper blade shape: There are many blade shapes that are suitable for different purposes. Consider the tasks you want to perform with the knife and decide the appropriate blade shape.
Select the right material: Most outdoor knives are made of stainless or high-quality steel. Check the quality of the steel and make sure it is robust and durable.
Check the handle: The handle of the knife should fit comfortably in your hand and be made of non-slip material. Moreover, check if the handle is sufficiently sturdy to withstand heavy loads.
Check for additional features: Many outdoor knives have additional features such as a glass breaker, a fire starter, or a compass. Consider which features are important to you and choose the knife accordingly.
Check the price: Compare different models and select the knife that best fits your needs and budget.
Read customer reviews: Check the reviews of customers who have already purchased the knife and make sure it meets your expectations.
Buy from a reliable seller: Make sure to buy the knife from a trusted seller to ensure you receive a high-quality and authentic product. Furthermore, check the seller's return policy and warranty.
Check the quality of the knife: Thoroughly inspect the knife for any defects or damages before using it. Make sure it is well sharpened and ready for use.
Practice with the knife: Practice using the knife in a safe environment to ensure you are familiar with all its functions.
Care for the knife: Use the knife regularly and properly maintain it to extend its lifespan. Make sure to spotless and dry it after each use before storing it.
With these steps, you can buy a high-quality and reliable outdoor knife that meets your needs.
Make sure to consider all factors before making a decision to ensure that you get the best knife for your needs.
Summary
There is probably an exception to every point.
Folding knives can also be very sturdy.
With an 18 cm blade, you might also be able to split very thin wood.
Some swear by tool steel and will read up on different hardness levels.
I would rather not question that at all because as described above:
The choice of knives is as individual as each person.
I think I was able to provide an overview of the basics.
You can now narrow down your choice even further. For example, like this: "Knife stainless steel, blade under 12 cm, plastic handle, fixed".
Here are a few examples and recommendations. All knives are from quality brands, and you generally can't go wrong with any of them.
Knife stainless, under 12 cm blade, wooden handle, fixed:
Knife stainless, under 12 cm blade, plastic handle, fixed:
Daten aktualisiert vor 2 Stunden
There are many other great knives, especially from quality companies like Fallkniven (higher priced), Morakniv (mid-priced), Bergvist (folding knives, affordable) or Puma (mid-priced).
---
That's a start, isn't it?
What do you think about it? Write it in the comments.

Was this guide helpful?
19 people found this guide helpful.
5.00 out of 5 points (19 Ratings)