Back to german article
The 6 best survival knives 2023 - Survival in the wilderness and city
Discover the best survival knives for all wilderness adventures. Compare our top 6 picks and find your perfect knife with the buying guide.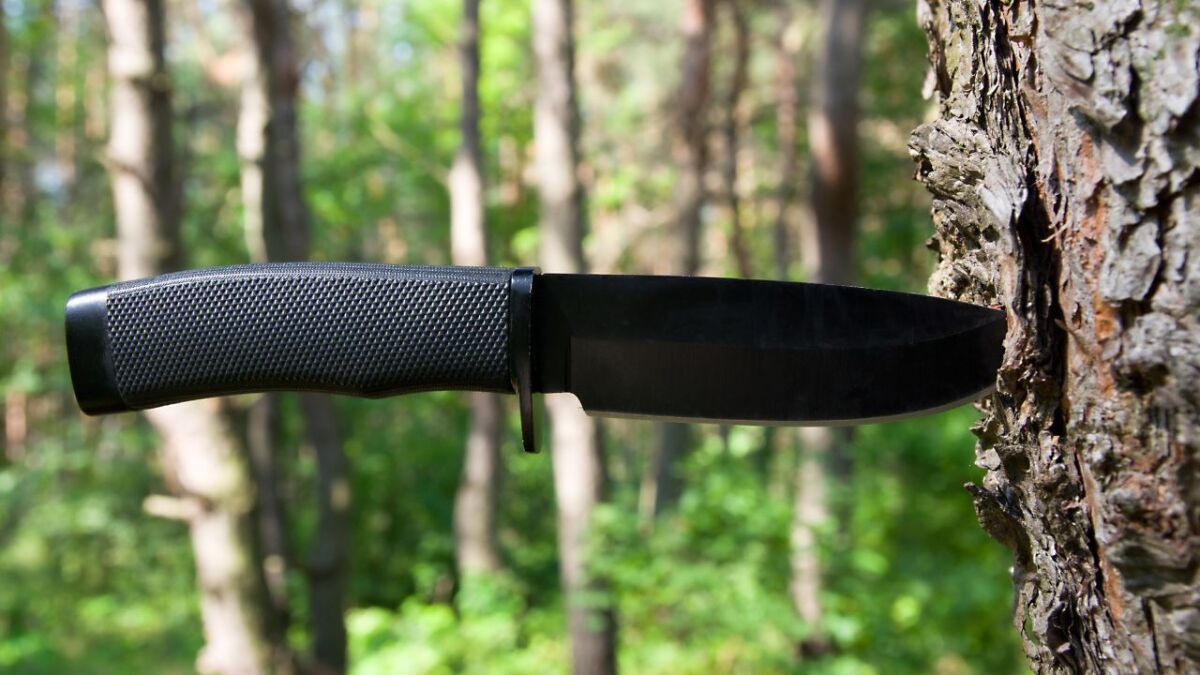 ---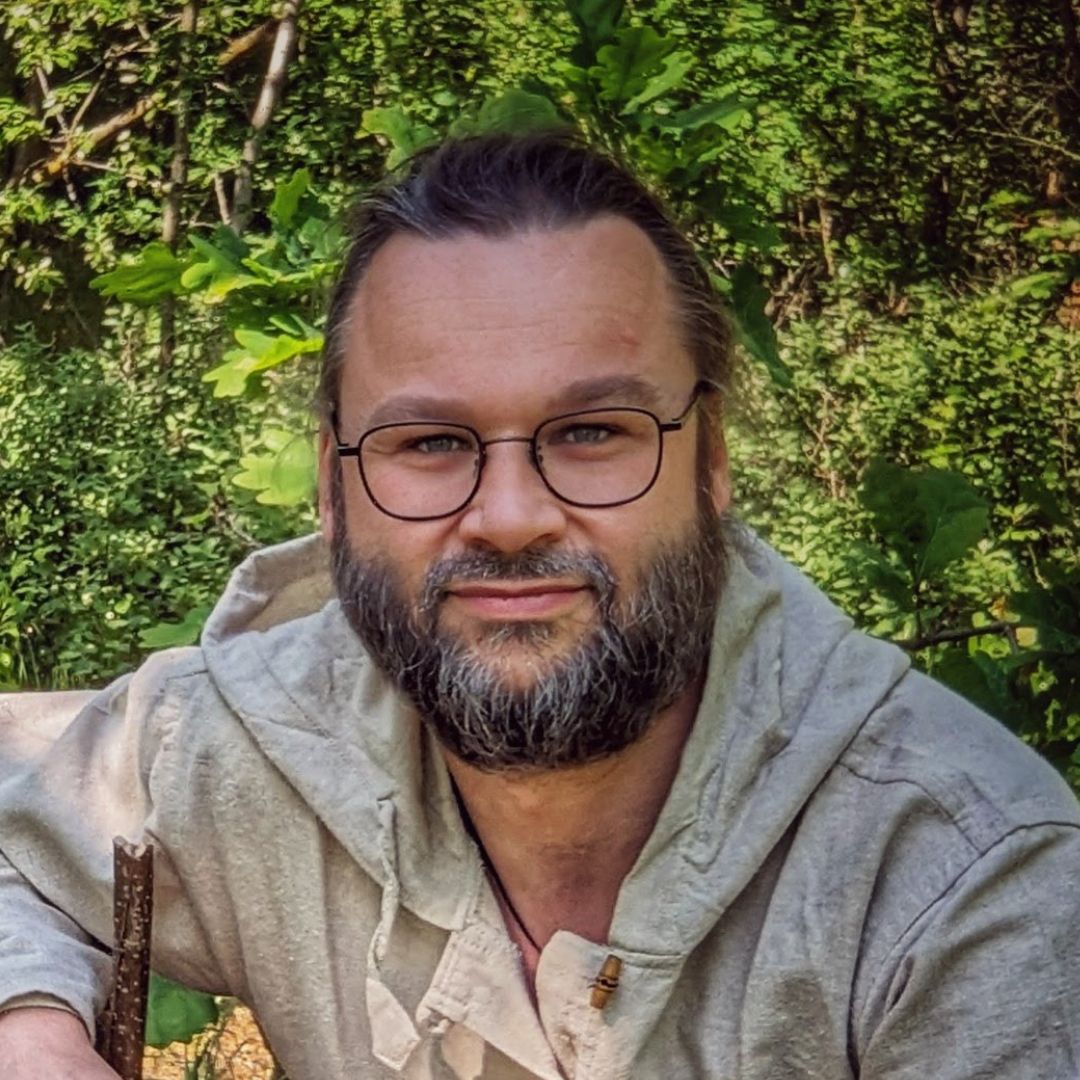 ---
👉 The key facts from this guide
Choose the right survival knife: It's important to choose the right knife for your needs. Consider what you require the knife for and what environment you'll be in.
Quality is crucial: The quality of a survival knife depends on many factors, such as reliability, durability, and additional features.
Survival tool: A good survival knife can help you survive in numerous situations. It needs to be able to do more than just a simple pocket knife.
Top 6 picks: My buying guide presents the top 6 survival knives and compares them to help you decide.
What to look for when buying: There is basic information that you should pay attention to when buying a survival knife, such as the length and thickness of the blade, design, the type of steel used, and the knife sheath.
If you are on the road in the wilderness for several days, weeks or even months, you should always carry the right tool with you - one of the most important tools is your knife.
No matter if you are on a hike or in a real survival scenario, a good knife can help you survive in numerous situations.
A survival knife must be able to do much more than a simple Swiss Army Knife (Find my buying guide + the best list for Swiss Army Knives here).
Perhaps you will have to cut through dense undergrowth, build yourself a shelter, or prepare food.
In short: your survival knife must be able to reliably perform a whole range of tasks!
But which is the best survival knife for you? Don't worry, I have selected and compared the top 6 for you.
So, you can decide which knife is best for your situation.
Subsequently, you will find basic information to know what to look for when buying a survival knife and where certain differences lie.
Which knife is best for you?
The quality of a survival knife is determined by many factors, such as:
What can it do?
How reliably does it work?
How durable is it?
Is it affordable?
What additional features does it have?
The fact is, however, that which knife is actually best for you largely depends on what you want to use it for at the end of the day.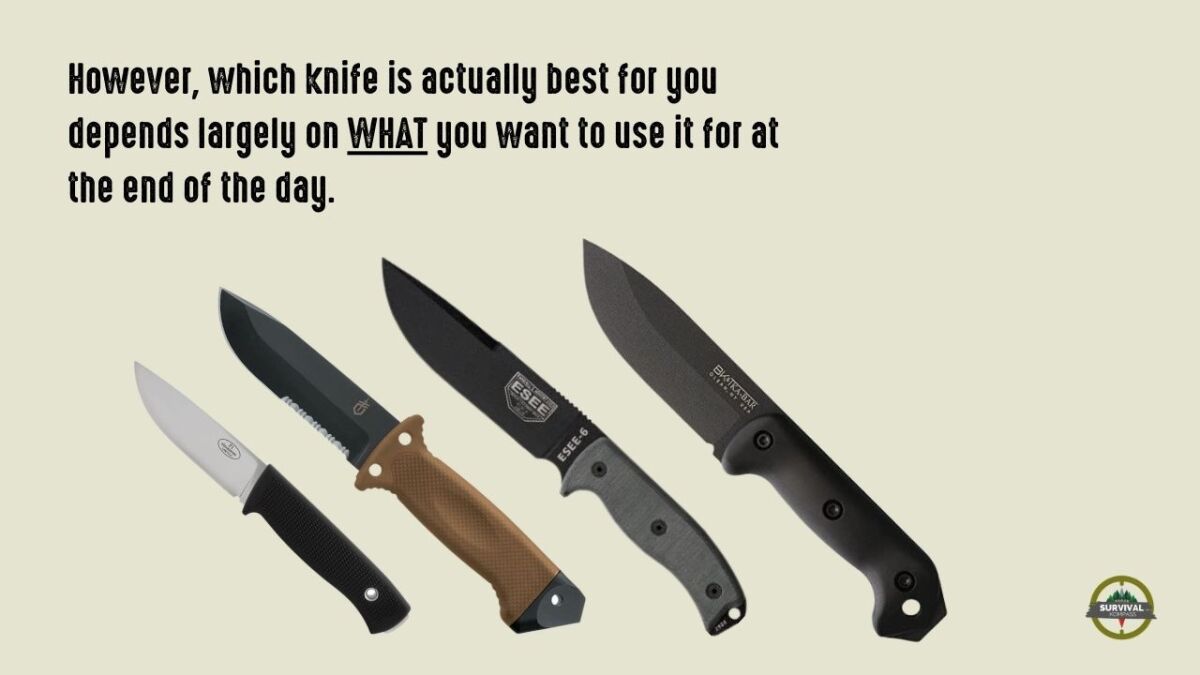 It makes a difference whether you need the good piece for relaxed camping trips or tough survival adventures. Another role is played by your environment, so where you start your adventure.
To not confuse you, but to give you a clear direction, let's start with my favorite:
Randall's Adventure Unisex - Adult ESEE Outdoor Knife
As a sturdy all-rounder with a high-quality carbon blade, you can cut through dense undergrowth or pry open doors with it.
Despite its total length of just under 30 cm, it fits perfectly in the hand and allows for a stable grip, even during rough work. The blade can be sharpened excellently on almost any stone. However, the classic carbon blade requires regular care to protect it from rust.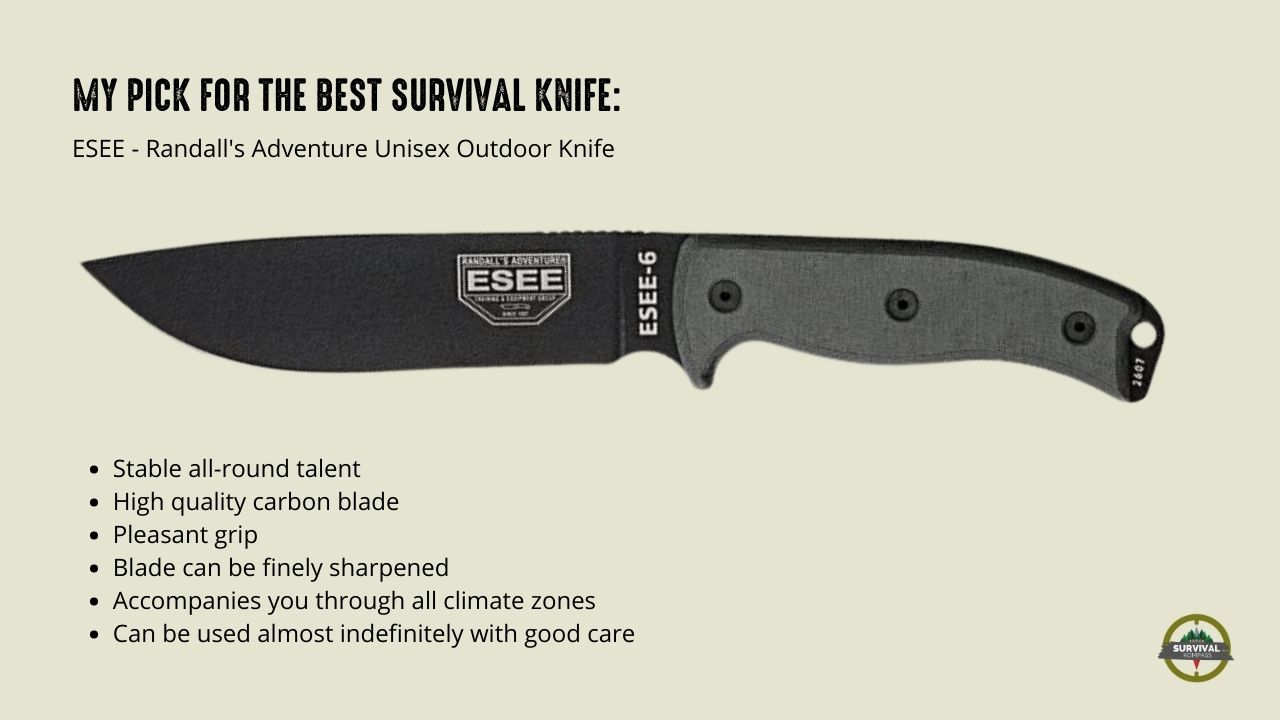 Here are some more facts:
Blade length: 14.6 cm
Powder-coated 1095HC steel blade
Black Micarta handle
Full tang | Lanyard hole
Weighs 453.59 grams
If you are looking for a survival knife that will accompany you through all climate zones and remain almost indefinitely usable with good care, then you are in good hands with the Randall's Adventure Unisex - Adult ESEE Outdoor Knife.
My 6 purchase recommendations for you at a glance
Do you have little time? No problem, take a look at my best survival knives in the quick overview here.
You can find them on a clear table, so you can quickly decide. Compare the blade length and price to find the best survival knife for your needs.
The 6 Best Survival Knives in Detail
Gerber Survival Knife, LMF II Infantry - Classic and Reliable
With this survival knife in a more classic design, you can perform all outdoor activities, whether it's carving or cutting. The 12.3 cm long drop-point blade with a partially serrated edge allows you to easily cut through more resistant roots or ropes.
Gerber Survival-Messer mit Teilwellenschliff und Bein-Holster, LMF II Infantry, Klingenlänge: 12,3 cm, 420HC Stahl, 22-01463
Survival-Messer für sämtliche Outdoor-Aktivitäten, Ideal für verschiedene Schneid- und Schnitzarbeiten
Scharfe Drop-Point-Klinge (12,3 cm) mit Teilwellenschliff zum Durchtrennen von Seilen, Zweigen etc.
Rutschfester Griff aus glasfaserverstärktem Kunststoff mit TPV-Ummantelung für sicheren Halt in jeder Situation, Griffende als Hammerkopf verwendbar
Praktisches Beinholster aus feuerfestem Nylon mit integriertem Schleifstein für den universellen Einsatz, MOLLE kompatibel
Lieferumfang: 1 x Gerber LMF II Infantry, 1 x Holster, Klingenlänge: 12,3 cm, Gesamtlänge: 26,9 cm, Gewicht: 330 g (670 g mit Holster), Farbe: Coyote Braun, Klingenmaterial: 420HC, 22-01463
158,47 €
View Product
The handling is also excellent thanks to the non-slip handle made of fiberglass-reinforced plastic.
The sturdy end of the handle can be used as a hammer when there are rougher tasks to be done. You also get a fire-resistant nylon leg holster for transport - a sharpening stone is also included.
Product dimensions: 12.7 x 12.7 x 12.7 cm; 670 grams
Advantages
Classic all-rounder
Non-slip handle provides good handling
Sturdy handle end can be used as a striking tool
Disadvantages
Steel can quickly lose stability with insufficient maintenance
Fallkniven A1XB Expedition Knife – the survival Swede
The Fallkniven A1XB Expedition Knife is a full tang variant of the well-known Fallkniven A1. Here you will find the relatively simple design of the A1, but in contrast a really long blade.
With the FallKniven A1XB Expedition Knife, things that require a long, robust and sharp blade should be done quickly and easily.
The high price is explained by the top quality, because this knife can withstand almost all stresses - in keeping with its purpose.
The blade made of CoS steel (high-quality, cobalt-containing special stainless steel) has a fairly wide spine, namely around 7 millimeters. So you can count on stability here. Hacking is no problem at all with this little sword.
With a special tungsten carbide coating that is even harder than the blade itself, this knife is extremely robust and durable. It comes with a Zytel sheath that has an additional holding mechanism to safely transport the knife.
With a blade length of 16 cm and a weight of 400 g, this knife is suitable for many rugged outdoor adventures.
Product dimensions: 40.11 x 7.62 x 5.08 cm; 408.23 grams
Advantages
Reliable quality work knife
Robust and durable thanks to the tungsten carbide coating
Convex cut
Thermorun handle offers a good grip and absorbs blows to the blade
Full tang construction provides additional stability
No frills
Disadvantages
No pronounced "thumb protection" at the blade transition
Might be too long and heavy for some people
Ka-Bar Becker Companion - Matte Black and Solid
If you are a fan of holding a real beast of a knife in your hand, then the Ka-Bar Becker Companion is just right for you. The blade width is over half a centimeter, making it just right for splitting and prying.
Daten aktualisiert vor 20 Stunden
The drop-point blade made of 1095 Cro-Van carbon steel and coated with black epoxy powder comes extremely sharp and high quality.
If you like, you can also remove the coating. Just make sure to oil the blade regularly. Carbon steel is susceptible to rust if not properly cared for.
With this piece, you are holding one of the heavier models, which of course means a lot of potential force to clear obstacles out of the way.
Product dimensions: 8.64 x 34.8 x 6.35 cm; 453.6 grams
Advantages
Powerful and solid
Extremely stable
Perfect for splitting, chopping, and prying
Stable handle scales
Decent "outward appearance"
Disadvantages
It may be too large for some people
If the coating is removed = susceptible to rust
STATGEAR Surviv-All Rescue Knife - for the budget-conscious
Survival knives are usually relatively expensive, especially when it comes to high quality. However, the STATGEAR Surviv-All Rescue Knife, which costs just under €60, shows that a reliable survival knife doesn't necessarily have to cost too much.
Basically, the good piece has all the parts that a survival knife could need in the wilderness: the stainless-steel blade on one side, the emergency hammer at the end of the handle.
In addition, there is a diamond sharpener, a seatbelt cutter, and a fire starter. Furthermore, it fits perfectly in the hand and is relatively easy to handle.
Although the STATGEAR Surviv-All Rescue Knife costs only about a quarter of the price of the more expensive models in this comparison, it does not offer only a quarter of the quality. I definitely recommend this survival knife if you don't want/can't spend too much money at the moment.
Product dimensions: 24.13 x 6.35 x 5.08 cm; 200 grams
Advantages
Inexpensive model
with fire starter
with sharpening stone
Handle removable for cleaning
Disadvantages
Sharpening plate attached to the outer edge of the handle makes it difficult to transport in a pocket (pants are partially worn away) - transport usually requires an additional bag
ESEE - Randall's Adventure Unisex - all advantages in one piece
With the Randall's Adventure Unisex - my personal recommendation - you definitely can't go wrong.
Although the good piece is very massive, it is by no means "clumsy", quite the opposite. The razor-sharp blade allows you to perform fine work with it. At the same time, its decent size also provides enough force behind your blows.
The coating makes the Randall's Adventure Unisex knife very weather-resistant and protects the steel from damage. However, also pay attention to the care of the exposed areas, as the steel can otherwise rust and lose stability.
All in all, in the ESEE - Randall's Adventure Unisex, you will find one of the best survival knives in Germany, even if it has the highest price on the list.
Product dimensions: 12.7 x 12.7 x 12.7 cm; 453.59 grams
Advantages
Excellent combination of force and sharpness
Very resistant
Easy to handle
The sheath is robust and fits perfectly
Lifetime warranty
Gerber Knife Survival Knife - A Classic in Modern Design
If you are looking for a sturdy knife in a modern design for your outdoor activities that comes at a relatively low price, then you are in the right place with this piece.
Daten aktualisiert vor 20 Stunden
Gerber Messer mit glatter Klinge und Holster, Klingenlänge: 12,2 cm, Strongarm Fixed Blade Survival Knife, Schwarz, 31-003654
Robustes Messer für jegliche Outdoor-, Jagd- und Survival-Aktivitäten, Ideal für verschiedene Schneidarbeiten oder zum Schnitzen
Scharfe, gerade Edelstahl-Klinge (12,2 cm) mit Keramikbeschichtung, Klinge und Griff aus einem Stück geschmiedet
Rutschfester Griff aus Gummi und Nylon für sicheren Halt in jeder Situation, Nützliche Lanyard-Öse, Griffende als Hammerkopf verwendbar
Praktisches Nylon-Gürtelholster mit Sicherungsverschluss zur Aufbewahrung ohne Wackeln oder Klappern
Lieferumfang: 1 x Gerber Strongarm Survival Knife, 1 x Holster, Klingenlänge: 12,2 cm, Gesamtlänge: 24,8 cm, Gewicht: 309 g, Klingenmaterial: 420HC, Farbe: Schwarz, 31-003654
99,00 €
UVP: 119,00 €
View Product
It features a straight stainless-steel blade that is coated with a ceramic coating. The handle is made of lightly textured rubber, which gives you a secure grip.
The handle and blade were forged from the same piece - the straight blade makes the knife feel like an extension of your arm.
The relatively soft steel (57 HRC) is easy to sharpen, but loses some cutting power. Basically, you get a decent knife that can definitely withstand some use, but you shouldn't overdo it.
Product dimensions: 25 x 5 x 5 cm; 309 grams
Advantages
Well-made and robust
Easy to sharpen
Weight proportions are very comfortable
Secure handling due to lightly textured rubber on the handle
Angular back of the knife for fire steel
Disadvantages
Less cutting power than premium steel (60+ HRC)
What should you consider when buying survival knives?
First, I would like to clear up a misconception that has been circulating on some websites for some time now - namely, regarding survival knives.
Some websites recommend folding knives when it comes to survival, bushcraft or similar outdoor activities.
In plain language: You should stay away from folding knives!
If you have the opportunity to choose a survival knife, it should have a full-tang construction (continuous steel).
Otherwise, especially with rough work, you risk the knife breaking over time, the folding mechanism no longer working, or the entire structure becoming increasingly unstable until you can no longer use it.
So stick with Full-Tang knives when it comes to survival and other outdoor activities!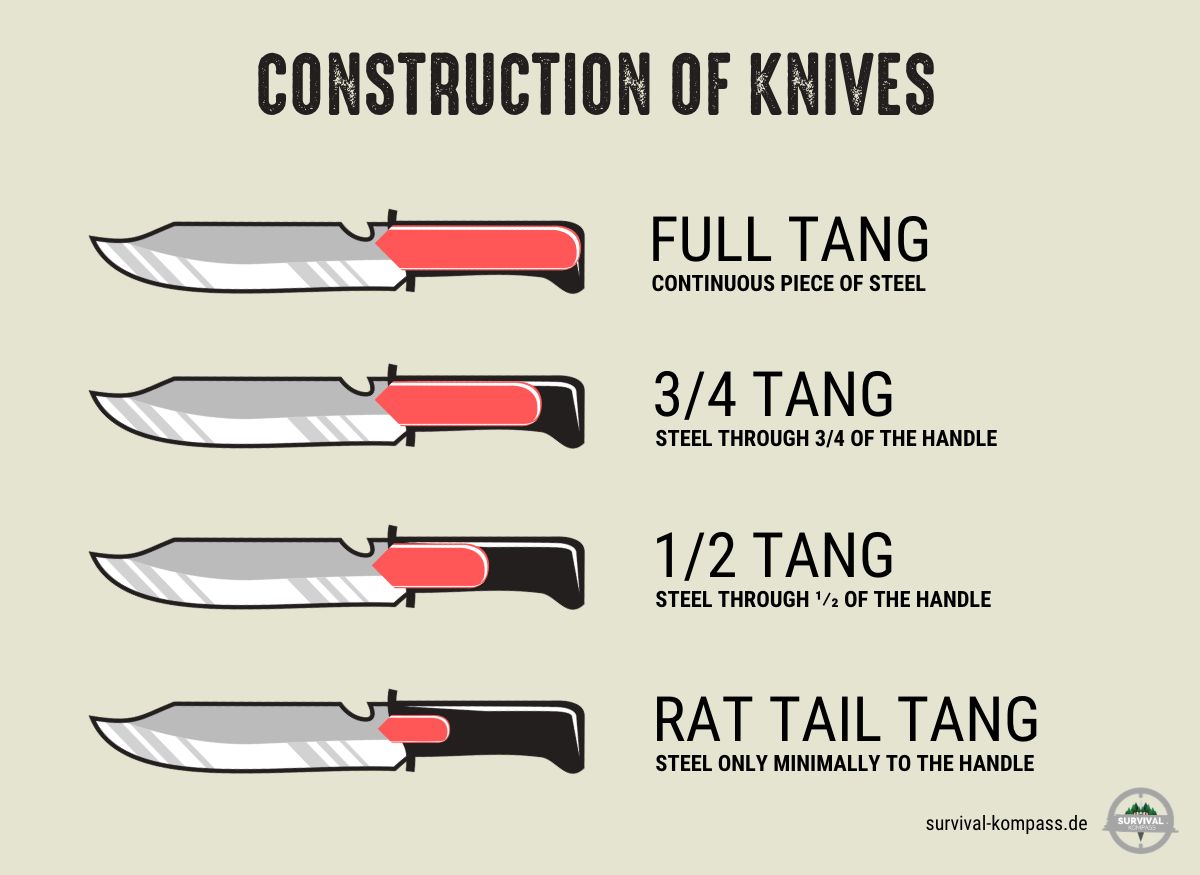 But now let's discuss the important factors that you should consider when making your purchase decision!
What do you need the knife for?
First, you should consider whether and for what purpose you need a survival knife - or whether you might prefer a bushcraft knife (here is my buying guide) or an EDC knife (every day carry).
You should know that survival knives are usually heavy and large. If you want to carve a small figure out of a piece of wood, your survival knife won't be much help. However, if you need to quickly chop down a small tree, your survival knife will be of great service.
A survival knife is the right choice if you plan to do the following:
Cutting materials such as ropes, fabrics, or papers
Removing barricades or obstacles
Opening doors or windows
Starting a fire
Hunting small animals or fishing
Working with wood, chopping, splitting
Preparing food
Defense in emergencies
Cutting through thickets
However, survival knives are not only suitable for exceptional situations where survival is at stake. Ideally, investing in one is also worthwhile in other areas, such as the following:
✅ For Bushcrafting
First, I recommend a knife with a shorter blade for Bushcrafting (What is bushcraft?). This is because you usually carve more than you chop when Bushcrafting. However, the Fallkniven F1z Outdoor F1 is also good for Bushcrafting.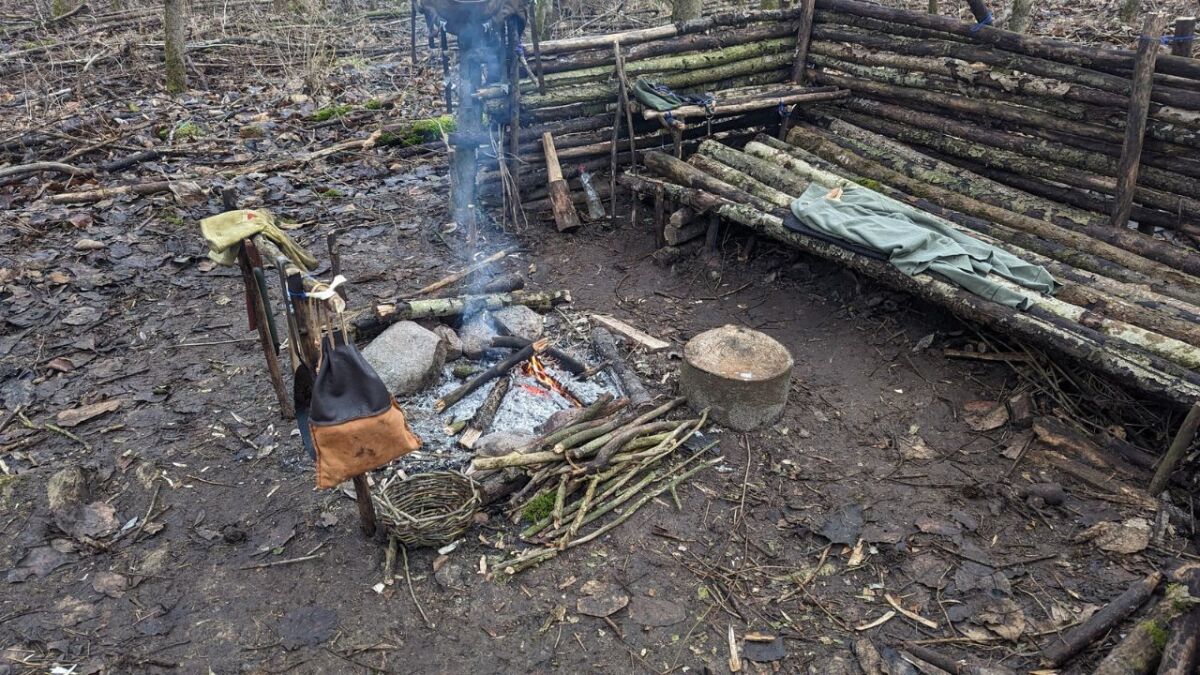 You can use it, for example, to build or refine your shelter (cutting ropes or cutting patches for damaged tents). Furthermore, it is wonderful for preparing firewood or even preparing and cutting the occasional meal.
✅ On the hunt
On a hunt, a survival knife combines all the skills it has: clearing the path, slaughtering the prey, and gutting the animal. Additionally, you can use it to advance your trap building.
✅ Urban Survival
A survival knife can be useful in urban survival by using it as a tool to open a door, cut a rope, or remove a barricade. It can also be used as a weapon to defend oneself in emergencies.
---
Survival knives are not really suitable for:
❌

Hiking

Hikes usually last for a day, and a large and heavy survival knife would not only be a hindrance while moving, but also draw the attention of other hikers to you. You would rather not endure those disapproving looks, do you?

Furthermore, it is not necessary to cut a 2 cm sausage with a 13 cm blade. A pocket knife like the Victorinox Huntsman Pocket Knife is completely sufficient (read my review here).
❌

Trekking

Bringing a survival knife on a trekking trip is impractical because it is too heavy. For trekking, it is better to use a smaller and lighter knife that can assist you in preparing meals and cut ropes well.
❌ Going Camping
No question: With a good survival knife, you can perform almost all (more or less) everyday tasks that arise when camping. Nevertheless, I recommend a smaller and lighter outdoor or bushcraft knife here.
❌ For Fishing
When fishing, you don't need a 500 gram knife or a 14 cm blade. Any outdoor or bushcraft knife is better suited for this, as you perform finer work when fishing than in survival situations.
After you have decided for yourself what purpose your survival knife should serve, you can focus on the next factors.
The length of the blade and the legal aspect
The blade length plays a significant, if not the most important, role in your purchasing decision. It almost solely determines whether and where you are allowed to carry the knife - yes, that's right, allowed!
In Germany, it is not allowed to carry fixed knives with a blade longer than 12 cm. However, there are a few exceptions:
When using the knife for sports, cultural preservation, or profession
Photo or film shoots, theater
When the knife is carried in a closed container
Always pay attention to the blade length of your knife to avoid getting into uncomfortable situations and having to explain yourself to the police.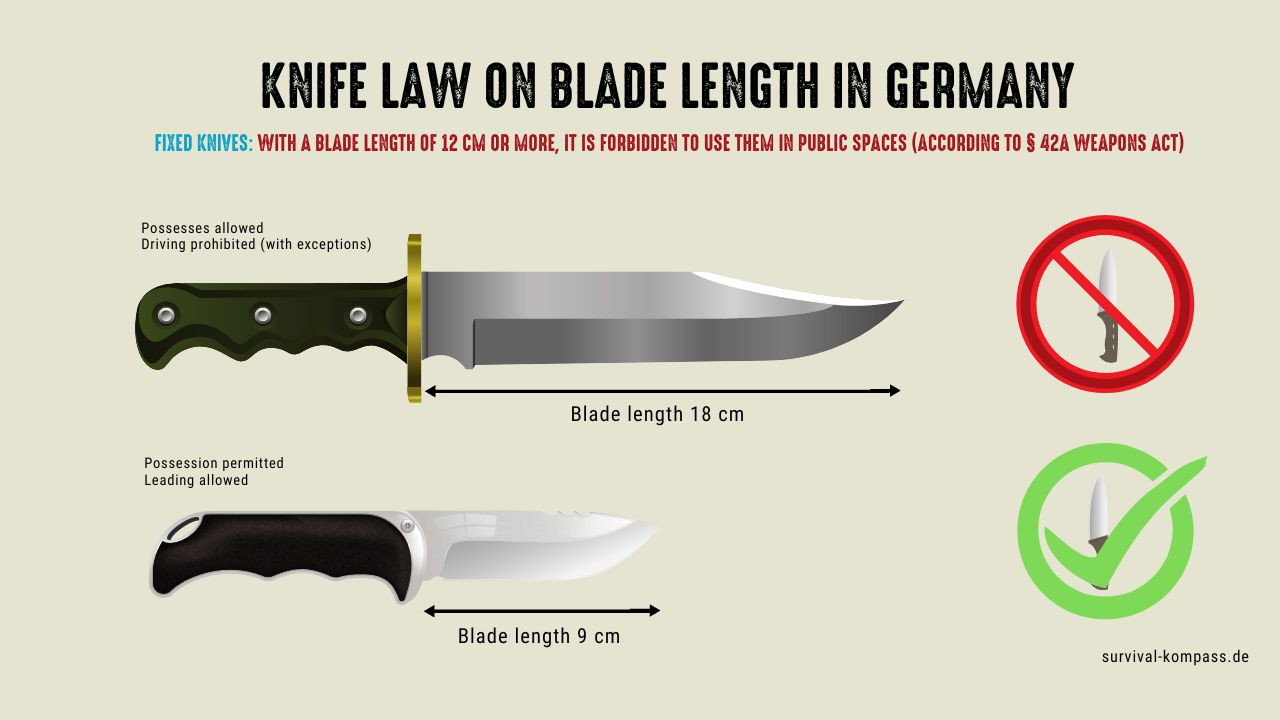 Depending on the length of the blade, a knife is more suitable for one task or another:
Short blade: Tasks that require more finesse and attention to detail. With a short blade, you can carve, engrave, or even build traps for small animals. The shorter the blade, the easier it is to transport the knife (less weight, less space required). More prone to breaking than long blades.
Long blade: A longer blade means more space required and more weight. Best suited for rough work such as chopping and cutting sturdy objects. Not suitable for fine work.
Another tip that you may have already read in other articles from me: If you need a knife-like tool that you can always carry with you and whose overall size should exceed 15 centimeters, then I recommend using an axe.
With an axe, you can accomplish almost everything that you can do with such a heavy knife - besides, axes do not fall under the weapons law, so you can carry and use them as ordinary tools!
Strength and Width of the Blade
The width and thus the strength of the blade largely determines which objects you can split with your blade. Keep in mind that survival knives are relatively large for a reason, to generate enough force to be able to split even harder materials if necessary.
Ideally, the width of your blade should be between 3 and 6 mm. The wider the blade, the more powerful the strike and the greater the splitting force behind it. However, more blade also means more weight, so always consider that in your purchasing decision.
Blade Grinding and Design
Blades of outdoor knives come in different grinds, all of which have different advantages and disadvantages.
You must know these grinds to be able to recognize what your favorite knife is suitable for and whether you should choose a different model for certain purposes.
Since knife edges are a great topic, I have also written my comprehensive guide "What common knife edges are available for outdoor knives?". This gives you all the information to choose the knife edge suitable for you.
Here is an overview: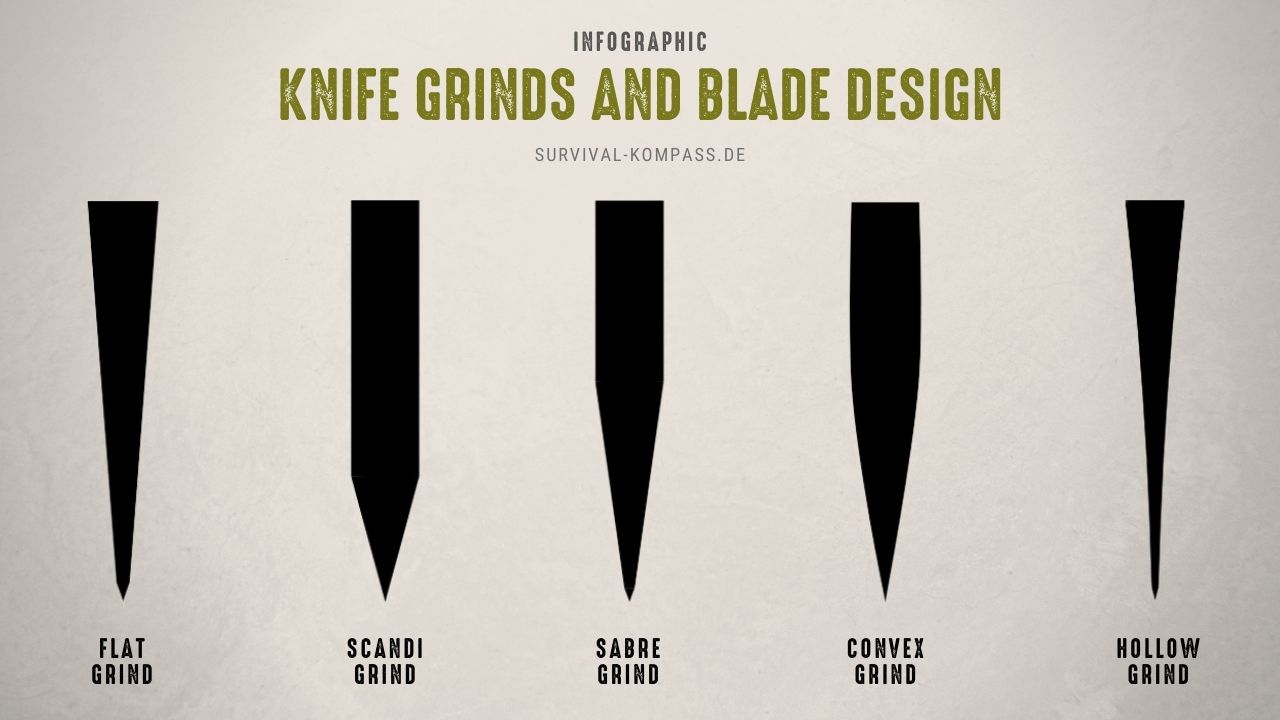 Let's now go into detail.
Flat Grind
The most common type of grind is the so-called flat grind, also known as the Flat Grind. As the name suggests, the blade has a generally flat grind and a flat edge. The flat grind is achieved by balancing the Sabre Grind and Scandi Grind.
The flat grind is best suited for very fine cutting work, less so for coarser chopping work.
So, you can use it excellently to:
cut your food
dissect prey
cut rather delicate raw materials
However, always proceed with caution when cutting if you want to keep the flat grind for a long time.
The problem is the relatively thin edge: if you are too rough, it can happen that the edge breaks or shows other damage, and that even relatively quickly. So, only use this blade shape to a limited extent and use it according to its purpose.
Scandi Edge / Scandi Grind
The Scandi Grind, on the other hand, is already very suitable for harder materials such as wood.
However, you should not start performing constant chopping work with this blade shape, as it is still too delicate for that. If you want to carve wood or perform fine work on slightly harder materials, you can use the Scandi Grind for that.
Ideally, you can use the Scandi Grind whenever there is something to be made from wood. This includes things like traps or the basics of your camp. You can also work on firewood excellently with the Scandi Grind - similar to a small, double-sided chisel.
The Scandi Grind is relatively easy to sharpen. So, even if you don't have much experience, repairing a small notch shouldn't be too difficult for you. Here you can find my method for sharpening.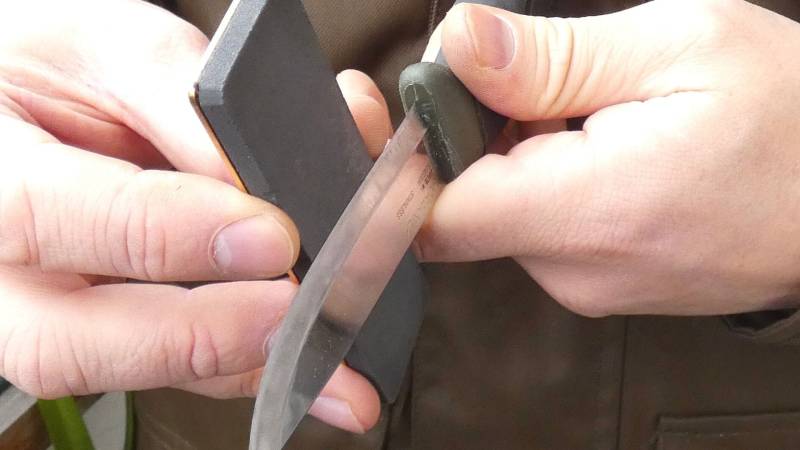 Sabre Grind
The Sabre Grind can best be described as a combination of Flat Grind and Scandi Grind.
With this type of blade, you can already start splitting wood. The Sabre Grind is even more stable than the Scandi Grind, so you can get even more creative with this blade shape.
The saber grind can handle much more and can be used when you want to split wood or fell small trees and branches, but you don't have a saw or axe available.
As you will be performing rough work much more frequently with this blade shape, regularly check it for defects.
Although it should be resilient enough to withstand hard work in the long term, you definitely want to avoid it giving up the ghost just when you need it.
Convex Grind
The Convex Grind is not called the "Axe Grind" for no reason. The Convex Grind is very stable and strong, with sharpness hardly being affected during work. In general, cutting with the Convex Grind is as good as with the Scandi Grind - but be careful: it is still not quite as durable as the Sabre Grind.
If you want to cut relatively finely or harvest or remove very controlled small amounts of resources, then the Convex Grind is ideal.
With this edge, there is a healthy mix of resilience and finesse, rough work and control. Unfortunately, this versatility also makes it very difficult to sharpen - there are no flat edges.
Hollow Grind
The true fillet knives are probably equipped with the Hollow Grind. The sole purpose of this blade design is sharpness, sharpness, and more sharpness. How thin the blade becomes is completely irrelevant. With such a sharp blade, you naturally cut through numerous raw materials excellently, but you lose a lot of stability.
Therefore, keep in mind that you should only use this blade shape for filleting, gutting, skinning, and quickly slaughtering small animals or the like. The hollow grind breaks incredibly quickly if you use it, for example, for work on harder materials such as wood.
The Steel you use
Choosing the type of steel for your blade can have a big impact on how you handle the knife later on.
Depending on which type of steel you choose, the maintenance effort for the blade can be greater or smaller. Basically, the blades are preferably made from two types of steel:
Carbon steel and
440 steel / stainless steel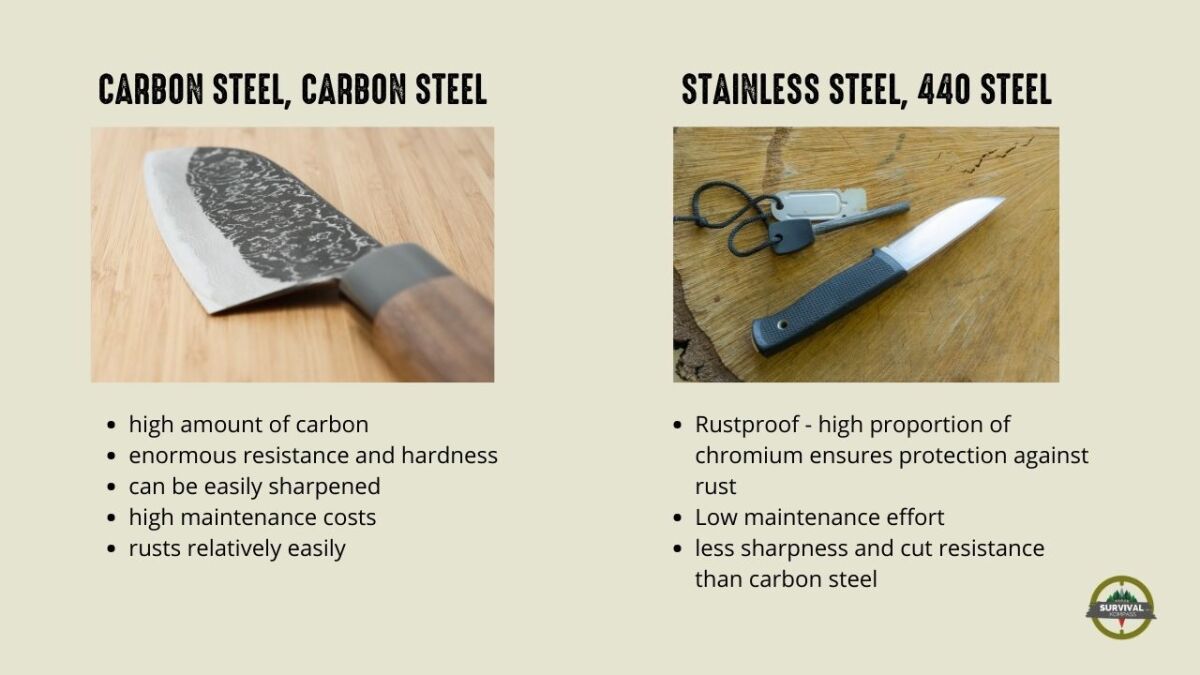 Carbon Steel
The name of carbon steel comes from the high amount of carbon that is present in addition to its core component, iron.
Carbon steel is known for its tremendous resistance and hardness. Furthermore, it can usually be sharpened effortlessly and can be used for a long period of time with good care.
Its disadvantage is the comparatively high maintenance effort that you have to put in to maintain its good condition.
Carbon steel reacts quickly with other substances and rusts relatively easily. Therefore, regularly inspect your blade and care for it appropriately if you choose a knife with a carbon steel blade.
Carbon steel variants include: 1095, 1085, 52100, 5190, D2, CPM D2, A2, O1.
Stainless Steel / 440 Steel
440 steel is what is meant by "stainless". This type of steel is the current standard in knife production and is very commonly used in industry.
The high percentage of chromium provides excellent protection against rust, which reduces maintenance effort, especially compared to carbon steel.
However, with 440 steel, you probably won't achieve the sharpness and edge retention of carbon steel.
You can also find stainless-steel variants in the following versions: CPM 3v, CPM 154, CPM-30V, CPM S35V, 440c, VG10.
A suitable reading tip here:
What is the hardness level of the steel in your knife?
The hardness level of your knife steel also plays a role, as it determines the deformation resistance of your blade. You can recognize the hardness level of the steel by the abbreviation "HRC" (Rockwell hardness test), which also represents the corresponding unit of measurement.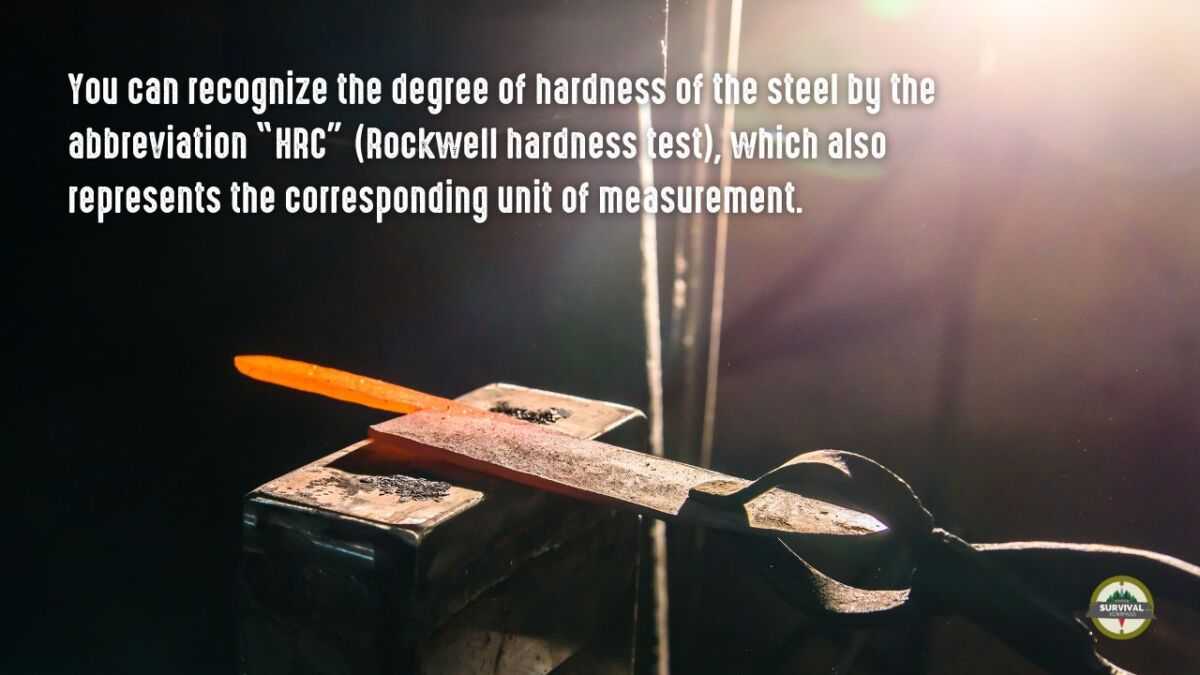 The average currently lies between 58 and 60 HRC, with hardened knife steel typically having a hardness of between 55 and 62 HRC.
Hard steel, e.g., 62 HRC is resistant and dulls very slowly. However, it is also difficult to sharpen.
Soft steel, e.g., 55 HRC dulls faster than hard steel. However, it is much easier to sharpen.
Focus on the following factors:
How well can your knife be sharpened? Prioritize what you can live with: hard steel - more resistant but difficult to sharpen - or soft steel - faster to dull but easy to sharpen. Your personal preferences will decide.
How well does your knife cut? In plain language: if your knife doesn't cut exactly as it should, you might as well throw it away. You wouldn't keep an oven that doesn't bake, would you?
How long do the edges of the knife stay sharp? You should know how long you can use your knife in the great outdoors without having to sharpen it again. If your knife dulls quickly, and you don't have the means to sharpen it, it's not good.
The Handle Material
The handle of a survival knife can make a difference. Especially with very heavy knives, poorly crafted handles that do not fit well in the hand can be a problem.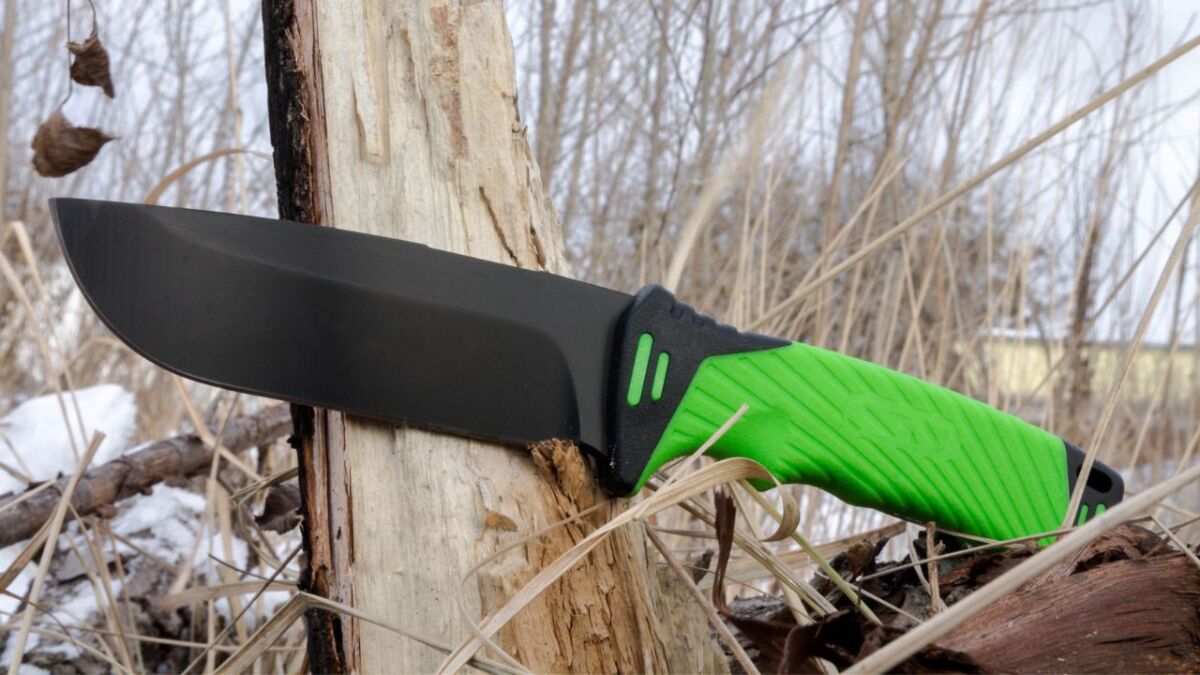 The heavier your knife, the better the handle should support you in safe handling. The most common handles for survival knives are:
Wood
Micarta
Rubber
Plastic (hard)
Of course, the different handles also vary greatly in their appearance. If you value a more traditional, classic look, then you will probably prefer the wooden handle. However, keep in mind that wood absorbs moisture relatively quickly.
For huge and heavy survival knives, a handle made of plastic or rubber can be very useful. This is because you usually have a secure, non-slip grip. This way, the knife won't slip out of your hand too quickly during rough work or fast movements.
Micarta - a composite of fibers and plastic - is extremely resistant and has a long lifespan. However, your choice ultimately depends on your individual preferences - but always pay attention to a firm grip, as it can quickly become dangerous otherwise.
The Knife Sheath
Survival knives usually come with a corresponding sheath (this is not always the case, so inquire beforehand!).
It is needed to protect the knife from unwanted external influences and thus from damage. Furthermore, it shields the knife from its wearer and thus contributes to accident prevention.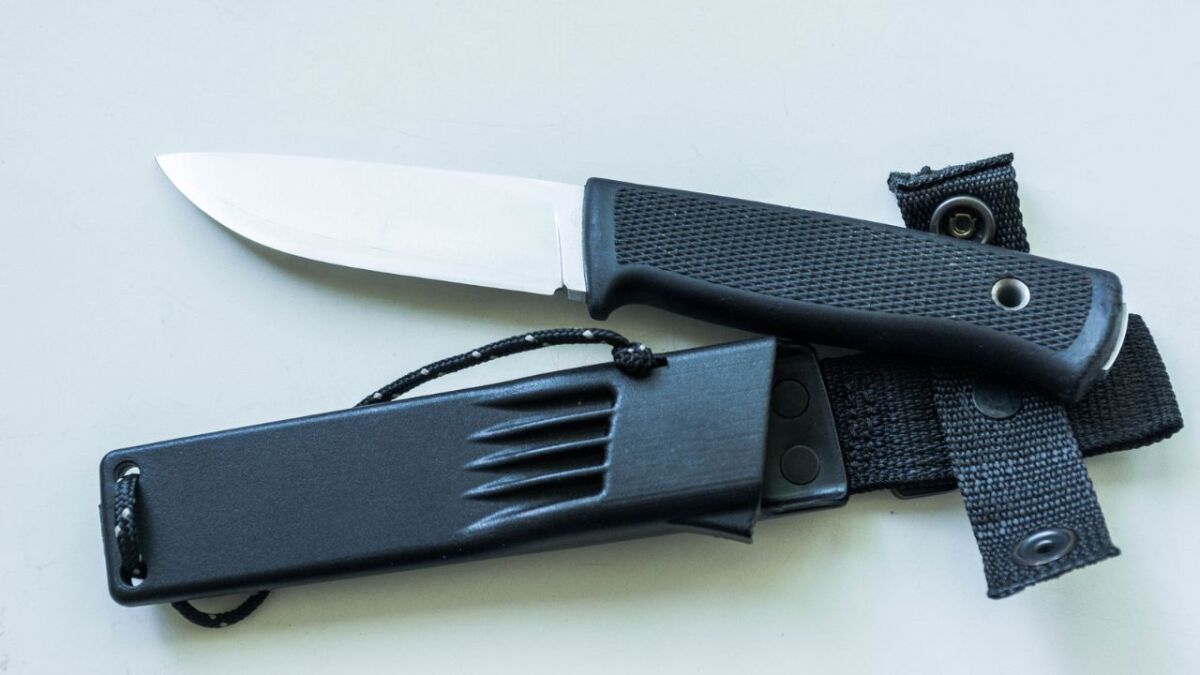 Knife sheaths are usually made of the following materials:
Leather: If you are a fan of true classics with tradition, then you will probably prefer a leather sheath. However, leather shows signs of wear and discoloration relatively quickly. Furthermore, securing heavy survival knives in leather sheaths is relatively difficult.
Plastic: Sheaths made of plastic focus more on functionality than aesthetics. They are usually resistant and dirt-resistant.
Kydex: Knife sheaths made of this malleable thermoplastic are connected, for example, with rivets or eyelets.
How should I maintain my survival knife?
If you regularly use your survival knife, it will inevitably show signs of wear and tear over time, which is completely normal. Therefore, you should invest some time in maintaining your knife - at least if you want it to last.
Especially if your knife has a blade made of carbon steel, you must not neglect regular oiling - you have already learned that carbon steel rusts more easily than stainless steel.
Furthermore, you should make sure not to unnecessarily burden your knife. So don't use it as a shovel to dig a hole, don't hit it on too hard surfaces, don't overstrain the tip, and sharpen the blade regularly.
Furthermore, spare your blade from high temperatures: That means you'd rather not poke around in the campfire with the tip of your knife.
Here are some tips on how to take care of your knife:
After use: You should remove dirt and moisture with the knife.
Drying: Make sure the knife is completely dry before storing it to prevent rust formation.
Sharpening: A sharp knife is important for effective use. Sharpen the knife regularly with a sharpening stone or a knife sharpener.
Oiling: Oil the knife to protect it from rust and corrosion. Use a suitable oil, such as gun oil or knife oil.
Storage: Store the knife in a dry and safe environment to ensure it remains in good condition.
Note that not all knives are the same and there may be specific care instructions based on the type of knife and its coating. Read the user manual for more information.
Which manufacturers produce good outdoor knives?
Let's take a brief look at the masters behind these sharp treasures. There are numerous reputable manufacturers who specialize in providing us with top-notch bushcraft knives that will serve us faithfully during our outdoor activities.
For example:
Mora of Sweden (Morakniv)
ESEE Knives
Fallkniven
Benchmade
Spyderco
Böker
Cold Steel
Helle
But in this guide, we mainly focus on the knives themselves. Therefore, I would like to highly recommend my other guide, in which I extensively discuss the best manufacturers of outdoor knives.
There, I explore the different brands and their special features - as if I were uncovering the hidden treasures of a dense forest.
Take a look at my article on the best outdoor knife manufacturers to dive deeper into the subject and find the perfect manufacturer for your knife.
Survival Knife vs. Bushcraft Knife vs. Pocket Knife vs. Machete
What are the differences between survival knives, bushcraft knives, pocket knives, and machetes? Let's find out!
Survival Knife
Survival knives are relatively large, fixed-blade knives. As the name suggests, a survival knife should be able to do everything necessary for survival in the wilderness - so it's an all-rounder.
From preparing food, chopping wood and cutting bulky materials to felling small trees, everything is included.
Bushcraft Knife
The Bushcraft knife is very similar to the survival knife, just a little smaller.
These handy little helpers are particularly suitable for working with wood and fine work, for which a rough survival knife is not so well suited.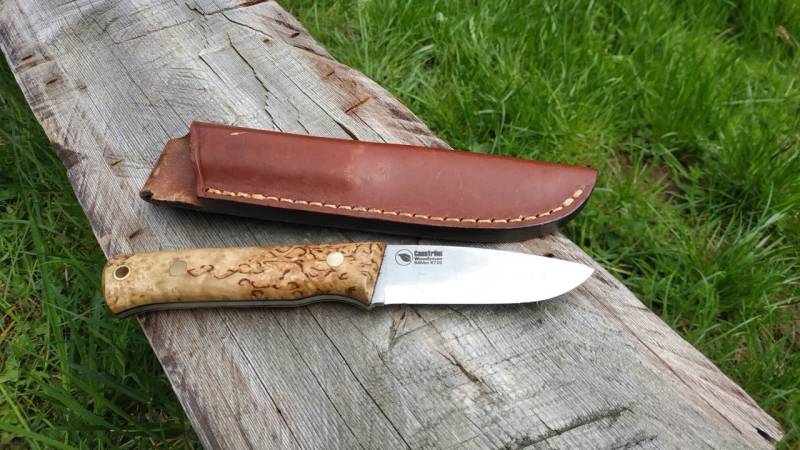 If you want to know what makes a good bushcraft knife, just take a look at my related article: The Best Bushcraft Knife - Your Buying Guide 2023 (survival-kompass.de)
Here is a table showing the differences between survival and bushcraft knives.
| Survival Knife | Bushcraft Knife |
| --- | --- |
| Robust construction for use in emergencies | Can have a robust construction, but not necessarily required |
| Multiple functions (e.g., sawing, cutting, filing, chopping) | Versatile functions (e.g., woodworking, collecting firewood, cutting food) |
| Portable and easy to handle | It can be portable and easy to handle, but not necessarily required |
| Focus on emergencies | Focus on use in the wilderness |
Pocket Knife
A folding pocket knife belongs more in the EDC category and therefore in its drawer.
It is less suitable for large outdoor activities such as a survival or bushcraft knife, but rather as a useful tool in everyday use.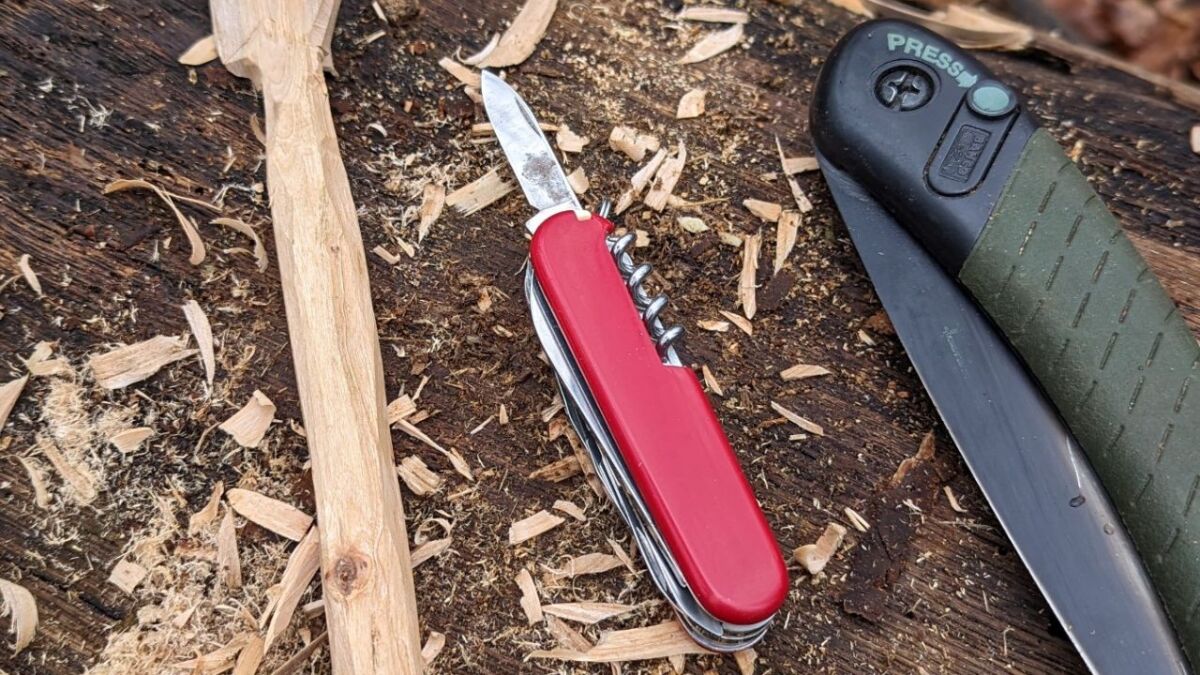 Machete
In plain language, a machete is like a survival knife on steroids - bigger, more powerful and bulky, the machete is less suitable for fine work, but is intended to clear even the roughest obstacles in the wild.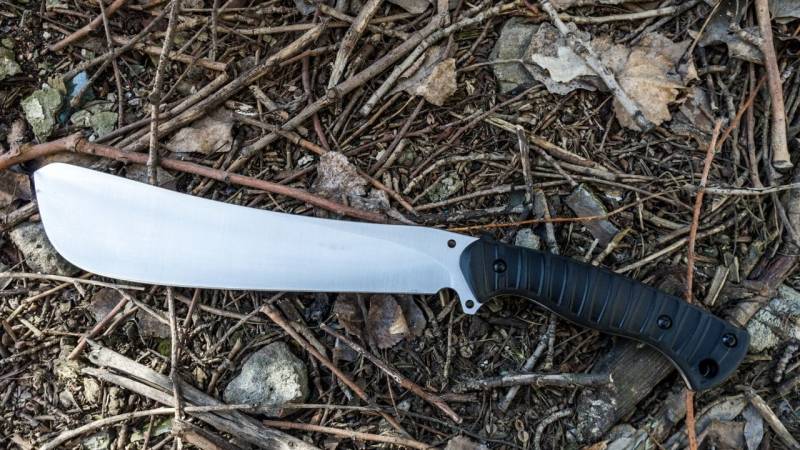 The machete is the best tool for hacking and chopping among all the types listed, but it can also cut excellently.
If you are keen to learn more about machetes, their history, and their uses, then read the article "6 Types of Machetes and How to Use Them" on my blog.
FAQ: Questions and Answers on the Topic
Are there professional tests for survival knives?
Professional / official tests, such as those conducted by Stiftung Warentest or Öko Test, where there is an official winner, do not exist yet. However, other tests can be found on other websites.
Should I always buy full-tang knives?
Full-tang knives are always preferable when you want to use them for outdoor purposes such as bushcraft or survival. Full-tang knives consist of a continuous piece of steel, which makes them very resistant, durable, and stable.
Are there also folding survival knives?
A folding survival knife is rather inconvenient. The folding mechanism makes the knife less stable than the full-tang model, which becomes particularly apparent during rough work. Of course, you can use a folding knife in an emergency, but for outdoor purposes, if possible, you should always rely on full-tang models.
Are there alternatives to the survival knife?
If, for whatever reason, you cannot or do not want to use a survival knife, there are still alternatives. Depending on whether you prefer larger or smaller models, you can also use bushcraft knives or machetes. However, keep in mind that each knife shape has its advantages and disadvantages.
What materials are survival knives made of?
In general, survival knives are made of steel, mostly carbon steel or stainless steel. Additionally, there are numerous coatings for the blade and handle, from epoxy powder for carbon blades to plastic coating for better handling.
Where is the best place to buy survival knives?
You can buy survival knives both in online shops (such as Amazon or eBay) and in specialty stores. If you choose specialty stores, you will benefit from on-site advice. Additionally, you can take a close look at each knife yourself if you wish. You can get a feel for the knife, hold it in your hand, and examine the details.
On the other hand, the selection is much larger in online shops and the comparison options are much more extensive. Comparisons on websites like this one often do good preliminary work and give you an overview of the large selection. Furthermore, you can benefit from the author's experience.
Is there the best survival knife in the world?
There is not THE BEST survival knife that surpasses all others. You decide for yourself which knife suits you best and is best for you. It always depends on where and for what purpose you want to use your knife. In addition, your preferences play a major role. Which handle should it be, which grind, which size?
What does a good survival knife cost?
Survival knives that truly deserve this designation usually cost at least €50. For a very high-quality model, you'll pay between €200 and €300.
What criteria should a good survival knife meet?
For a survival knife, it should always be a fixed blade made of high-quality steel that reliably performs even in extreme weather conditions. The blade should be sharp enough to cut reliably and large enough to provide impact force.
Another essential factor is the non-slip handle. If the blade slips out of your hand, it can end badly.
Some knives also have a few additional gadgets, such as:
Compass
Flashlight
Fire starter
Seatbelt cutter
Saw
Emergency hammer
Am I allowed to carry a survival knife openly?
Survival knives (fixed blade) with a blade length of 12 cm or more are not allowed to be carried openly. However, you can transport the knife in a closed container. You can find more information about this in my German Knife Law Guide.
Conclusion: Your needs decide
Which survival knife you choose depends on your personal preferences - there is no "THE BEST" survival knife for all situations.
This statement may surprise you - especially since I have chosen a favorite (the ESEE - Randall's Adventure Unisex) and recommended it to you.
However, this is only MY favorite, which I have chosen based on my preferences.
Maybe you want to use your survival knife for something entirely different than I do? Maybe you prefer a different material, design, or blade type than I do?
Anticipate in advance exactly where and for what purpose you want to use your survival knife, then decide. However, always pay attention to a firm and secure grip; otherwise you risk not only poor functionality and wasting money, but also your safety and health.
You can read more guides to knives here:
I hope that this buying guide has been helpful to you and that you can soon decide on your favorite - choose wisely!
Thank you for your attention, I would be happy if you take a look at a few more articles on my blog.

Was this guide helpful?
22 people found this guide helpful.
5.00 out of 5 points (22 Ratings)