Back to german article
What is a survival bracelet? Do you need this for the wilderness?
What is a survival bracelet? A bracelet with a compass or even a small knife? I'll show you exactly what a survival bracelet made of paracord is.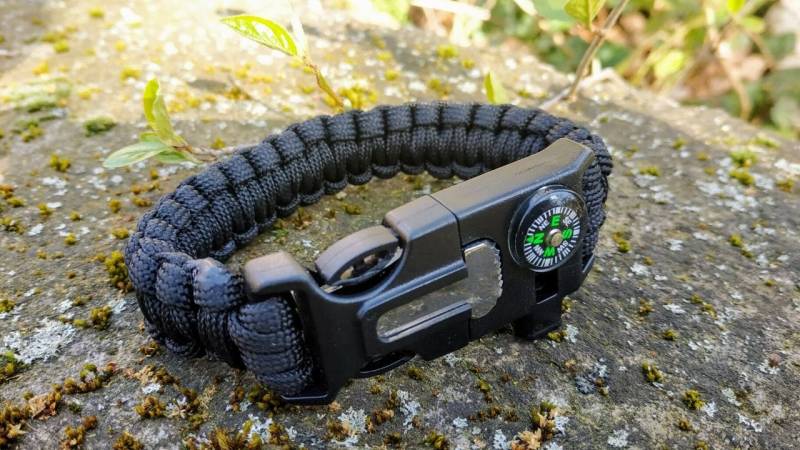 ---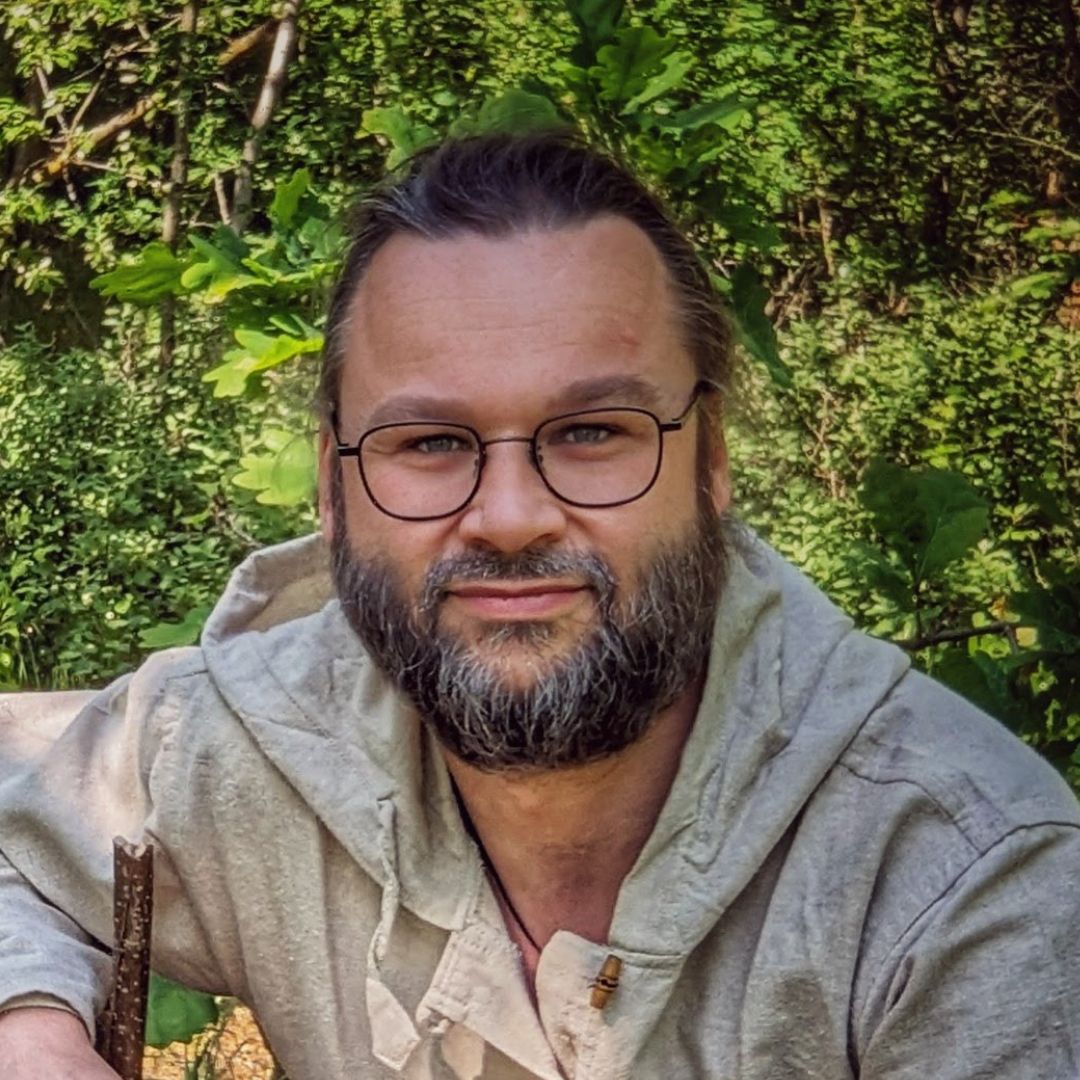 ---
👉 The key facts from this guide
A survival bracelet is a survival tool for emergencies. It is made of a strong cord (paracord) that can be used in a variety of ways.
Oftentimes, a compass, a signaling whistle, and a mini-knife are attached to the bracelet. There are also bracelets with LED lights and fire steel.
Paracord is a tear-resistant parachute cord that is durable, lightweight, flexible, and versatile.
A knife can always be useful in the wilderness, but the knife on the bracelet is tiny and therefore only limited usable.
A compass can be very valuable in an emergency. The small compass models on the bracelet work fairly well, but are not as accurate as a high-quality compass.
A bracelet with a fire steel can be helpful if you need a fire.
A survival bracelet is not a complete survival tool, but can be at most a support. It is important to have the skills to effectively use the tools on the bracelet.
You've probably seen them before, haven't you?
An armband with an integrated compass or even a small knife.
Now I'll show you what a survival bracelet is and what functions it has.
Afterward, you'll know exactly if you need such a bracelet.
What is a survival bracelet?
A survival bracelet is an emergency bracelet for survival situations. The strong cord (paracord) of the bracelet can be unraveled and used in various ways. The bracelet often has a compass, a signaling whistle, and a mini-knife. There are also survival bracelets with LED lights and fire steel.
Now I will explain the different functions of the paracord bracelet.
There are many combined survival bracelets available. For example, with a whistle and compass. Or with a knife and fire steel.
Select the most important tools for you and then decide on a combination.
For each function, I will give you a buying recommendation.
The video about survival bracelets
Watch my video where I present a survival bracelet in detail.
Survival bracelet made only of paracord
This is generally a great thing. Because paracord is an incredibly strong parachute cord.
Paracord is durable, lightweight, flexible, and versatile, which I also demonstrate in my article "What is a paracord and what do you need it for?" with 39 examples.
Most Paracords consist of 32 braided threads in the mantle and 7 core threads that give the rope its robustness and tear resistance.
Here are two recommendations from me. You won't be buying any cheap bracelets here.
Survival Bracelet with Knife
You always require a knife in the wilderness. Even if it's just to open a can of beans on a trekking trip, or to sharpen a spear.
But as you might imagine, the knife on the bracelet is tiny, how else could it be stored?
Therefore, the knife is only of limited use. You should be aware of that.
And one more note on the legal side of the knife: There is a BKA Declaration of Prohibited Object for an almost identical knife ("Outdoor Edge"). This is classified as a prohibited item.
Steinbock7 Zugspitze Mini-Messer Paracord-Armband - stilvoller Outdoor-Begleiter mit praktischem Werkzeug-Verschluss - grün
Outdoor-Ready: Ein Must-Have für Abenteuerlustige und stilbewusste Outdoor & Survival Fans.
Zweifach Funktion: Mini-Messer als praktischer Verschluss und nützliches Werkzeug für unterwegs.
Robust & Modisch: Vielseitiges Paracord-Armband, das sowohl funktional als auch trendig ist.
Der Hingucker: Perfekter Begleiter für alle Abenteuer und garantiert immer ein echter Blickfang.
Lieferumfang: 1x Steinbock7 Zugspitzen Armband mit Mini Messer als Verschluss & ca. 3 m langer Paracord Schnur geknüpft in der Farbe grün - Umfang: 23cm für Handgelenke zwischen 18 und 20 cm
kein Preis ermittelbar (B07JDGVPNR)
View Product
Survival Bracelet with Compass
In an emergency in the wilderness, a compass is worth its weight in gold.
And the small ones on the bracelet function quite well.
However, it must be said here that a good compass is much more accurate and costs at least 40 euros. Such a compass definitely measures accurately, and navigation with a map and compass is problem-free.
Comparisons by me have shown that my compass on the paracord bracelet deviates slightly from my digital compass.
Survival Bracelet Flint / Firesteel
If you need a fire, bracelets with a firesteel are a blessing.
You actually create sparks with it. It's somewhat cumbersome because the firesteel is small. However, the sparks are enough to get your tinder glowing.
I strongly recommend practicing sparking beforehand.
Reading tips:
Survival Bracelet with Signal Whistle
For me, a brilliant solution because you always have a whistle with you.
If you get lost in the wilderness and other people are already looking for you, you can draw attention to yourself with the whistle.
The whistles are also available to purchase individually, but with a bracelet, it's a great combination.
Daten aktualisiert vor 8 Stunden
Steinbock7 Hochkönig 3-in-1 Paracord-Armband 2er Set in schwarz & grün - im Verschluss integriert: Pfeife, Feuerstein & Messer, E-Book zum Flechten - Camping, Outdoor, Wildnis
Vielseitiges Survival-Tool: Das Armband kann in Notsituationen als Zeltleine, Schnur, Schlinge, Angelschnur oder zum Reparieren von Ausrüstung genutzt werden, wodurch es zu einem unverzichtbaren Begleiter für Outdoor-Aktivitäten wird.
Hochwertiger Klippverschluss: Ausgestattet mit einem Klippverschluss, der einen integrierten Schaber, Feuerstein und Pfeife enthält, bietet das Armband zusätzliche Funktionalitäten für das Überleben in der Wildnis.
Robustes Material: Gefertigt aus widerstandsfähigem Paracord, das bis zu 249 Kilogramm tragen kann, gewährleistet das Armband Langlebigkeit und Zuverlässigkeit.
Stilvolle Farboptionen: Schwarz und Grün, um den individuellen Stil jedes Abenteurers zu ergänzen und gleichzeitig Funktionalität zu bieten.
Lieferumfang: 2er Set Hochkönig 3-in-1 Paracord-Survival-Armband in schwarz und grün, inklusive 2 E-Books ( Paracordarmbänder knüpfen & Outdoor Guide)
23,99 €
UVP: 24,99 €
View Product
Survival Bracelet with SOS LED Light
When darkness falls, you're completely screwed. The night can be so black that you can't even see your hand in front of your face.
Most mini LEDs will hopefully light your way for the last few meters to your campsite or sleeping area.
So, here too, a great solution.
Here is a bracelet with an SOS LED:
Daten aktualisiert vor 8 Stunden
Paracord Survival Armband Kit für Herren Damen, Survival Armband mit Feuerstein + Kompass + Thermome (Armeegrün)
▲ 8-in-1 Survival Tool: Es ist ein komplettes Paracord Survival Armband. Dazu gehören: Hochwertiger Kompass, Feuerstein mit Feuerstein, Notpfeife, Thermometer, Regenschirmseil, LED-Licht, Multi-Werkzeug, Kartenleser, Ideales Zubehör für Camping, Jagd, Wandern und andere Outdoor-Aktivitäten
▲ Größen Passen Alle: Für männer frauen teens kinder, Unser survival armband bieten einstellbare größe. feste größenvariationen: 20,5 cm bis 24 cm.
▲ Mehrere Werkzeuge: Der schaber und der feuerstein mit feuerstein sind von der schnalle von hand abnehmbar und können als werkzeuge wie sägeblatt, säge, stange usw, verwendet werden. Die eingebaute pfeife und der kompass halten Sie beim navigieren in der wildnis.
▲ Hohe Qualitat: Das paracord armband kann für Notfallhilfe, wie Hämostase, Fallen, Bündelung temporärer Zelte, Tragen von Ausrüstung, um Verlust zu verhindern, und so weiter verwendet werden! Es kann sich bis zu 3,2 meter ausbreiten und wurde auf tragende 160 kg getestet.
▲ Die Ultimative Überlebensausrüstung: Das paracord armband ist ein kompaktes und taktisches Überlebensarmband, das mit allen notwendigen funktionen ausgestattet ist, um in der wildnis zu überleben.
11,01 €
UVP: 12,95 €
View Product
Summary and Review
I think you now have a rough idea of what a survival bracelet can do.
One thing is for sure: Tools of all kinds can significantly improve your chances of survival. So if you really only wear your survival bracelet on you, that's better than nothing.
But now to the real facts because I would rather not present you with a jack-of-all-trades. You surely want to know what others - like me, for example - think of survival bracelets.
First: A survival bracelet is not a survival tool. It can only be a support at best.
Why is that?
Here is a list and how I rate the individual tools:
Paracord: Great thing to have, usually comes with 3 meters. 3 meters isn't much, but it's good to have any cordage at all.
Knife: Useless for anything except for opening cans. Someone who is in the wilderness typically has at least a pocket knife or a simple knife with a fixed blade. Additionally, a bracelet with a knife is often a prohibited item.
Compass: Try walking 8 hours in one direction with a 5 to 10 degree deviation. Then you'll know what kind of compass is built into most bracelets. The bracelet clasp with a compass can be bought in Asia for 10 cents. What kind of high-quality technology is in there?
Fire steel: You have to practice igniting a fire with this mini fire steel. Even with a normal fire steel, it's almost impossible for beginners if you haven't dealt extensively with ignition form and tinder beforehand. Useless for me.
Signal whistle: Thumbs up, it's really a good thing. Please test it before venturing into the wilderness.
SOS LED light: It can help you in the dark. It probably won't last long and won't light up a forest path.
My conclusion: Most survival bracelets are a nice gimmick. Something that costs 7 to 14 euros and contains so many tools can't be high-quality.
Imagine the following situation: I knock on your door and say that I have an unbeatable offer for you.
I say: Be careful, I have combined the following tools in one: rope, fire starter, compass, whistle, knife, LED light.
You think: Wow, a multi-tool for my outdoor passion.
And then I say: It will cost you 10 euros. What do you do? You smile at me and try to close the door. Or not?
Now consider whether you really need such a survival bracelet.
Are you just starting with Bushcraft and survival? Then buy it if it makes you feel more secure (I recommend my email course instead).
Is it a gift for a long-time outdoor enthusiast? Then do not give it to him or her. It will just be in the closet.
Have you been involved in Bushcraft and Survival for a while? Then you have already come to the conclusion that survival bracelets and survival kits (here is my guide to survival kits) are just toys.
Other Websites and Amazon
And do not be fooled by other websites or Amazon reviews. Survival bracelets are praised in the highest tones on some websites, such as this one:
"… you always have your survival equipment with you in case of emergency …"
No, you do not. A real survival kit looks different. In addition, you must be able to handle a tool, such as reading a compass, using a fire starter, using a knife.
Or like this website writes:
"… A survival bracelet is a must-have for outdoor enthusiasts."
This makes me sick. A "must-have for outdoor enthusiasts"? An outdoor enthusiast is someone who is passionate about the outdoors. They will know what they are holding in their hand. Usually, the outdoor enthusiast has been pursuing their passion for years and knows exactly what good tools are. A survival paracord bracelet for 10 euros is not one of them.
There are also black sheep on Amazon, as everywhere else. I view the reviews with caution.

Look at Zoey. She looks really cool, with sunglasses and on a shopping spree. She must be wearing the survival bracelet under her fur coat. Honestly, that smells strongly of fake reviews. I looked at Zoey's other reviews. All products rated positively across the board and on a regular basis. That doesn't look like a real profile.
Do you know why I wear my survival bracelet? For one reason only: to show my belonging to the bushcraft, survival and outdoor scene.
And: The bracelet is self-knotted and made exclusively from paracord. I also think it looks nice.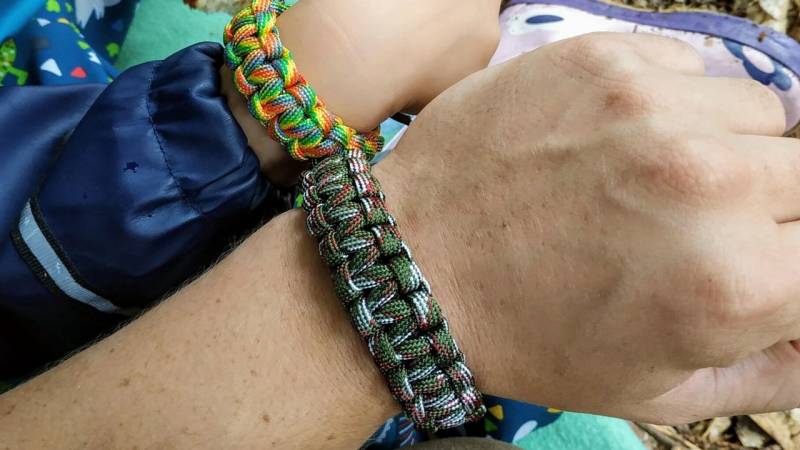 ---
What do you think of survival bracelets?
Could I shed some light on the subject for you?
Leave me a comment.

Was this guide helpful?
30 people found this guide helpful.
5.00 out of 5 points (30 Ratings)