Back to german article
What is a Survival Kit The ultimate Guide 2023 (with Video)
With a survival kit, you have all the important helpers readily available in an uncomplicated manner. But what to look out for when buying a survival kit?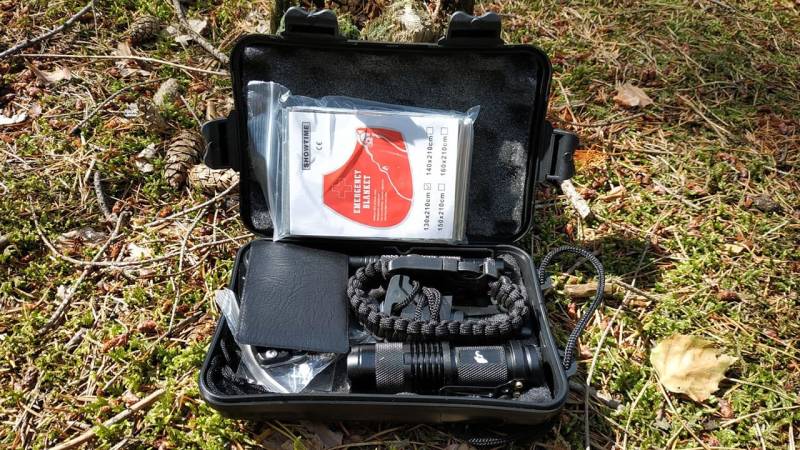 ---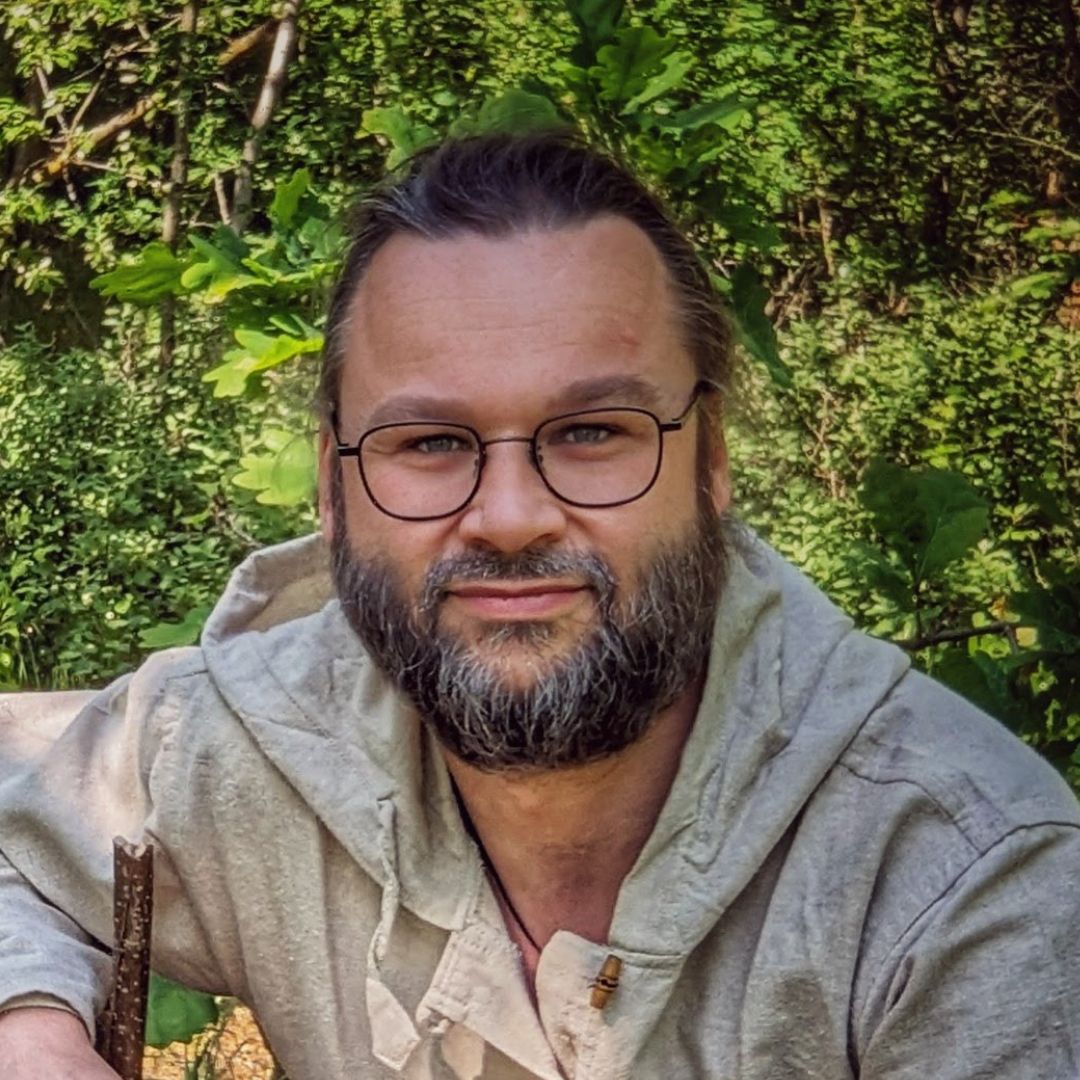 ---
👉 The key facts from this guide
A survival kit is a box with survival equipment that contains basic tools and supplies that are useful in case of emergency.
A good survival kit should include items such as a flashlight, whistle, multi-tool, knife, hand chain saw, emergency blanket, and paracord.
A high-quality survival kit is safe, efficient, and waterproof. It should offer over 24 different functions and be well-made.
Cheap survival kits are often only equipped with certain parts and cut corners on important features, such as a safety blanket.
Some survival kits offer additional support through a corresponding app and e-books that provide instructions and hints for the different tools.
When buying a survival kit, one should pay attention to size and weight, German weapon regulations, manufacturer warranty, and the included items.
You know for sure: Without the right equipment in the wilderness, you will have a damn hard time.
Sure, you can carry all different pieces of equipment individually with you.
But honestly, that's not practical.
More practical are the sets that combine all essential equipment items.
Because it is promised: with a survival kit you have all the important helpers at your disposal in an uncomplicated and quick manner.
In this article, you will learn more about the structure of survival kits and what a survival kit actually is.
You will learn which features must not be missing in any of the products. Additionally, I will show you how to best utilize the different elements in nature.
Read on now and get essential tips and tricks on what matters in a survival kit.
What is a Survival Kit?
A survival kit is a box of survival equipment. This package contains basic tools and resources that are useful for survival in emergencies. The survival kit is intended to help start a fire, build a shelter, navigate, and procure food and water.
Survival Kit: Why you need it
Survival Kits provide the equipment you need for your outings.
Without the right equipment, everything becomes much harder and your chances of survival decrease drastically.
Imagine a day in the wilderness without a knife. Or a night without a flashlight.
You will be extremely lost.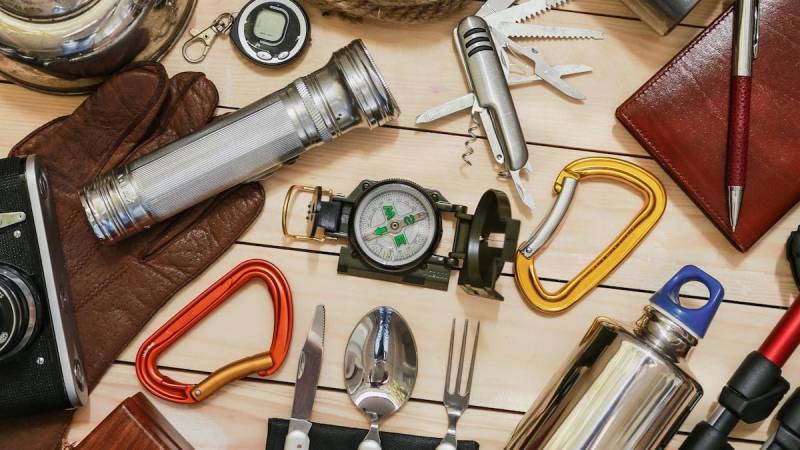 A survival kit will be a useful companion on these trips.
It ensures survival because it allows you to satisfy your basic needs.
This includes the following elements:
So, it's about procuring food for you. It is also important to search for and find water as well as identify a protected place.
In addition, the factors of fire and orientation should be considered.
If you spot a stream while searching for water, you can't just drink the water. Because it is usually contaminated with bacteria. And your body can't handle these bacteria. The consequences are diarrhea and nausea.
First, it is necessary to boil the water over the fire. Filters for disinfection or comparable tablets are also suitable here. Necessary equipment for supply is provided by a well-organized survival kit.
Reading tips on the topic:
What components must not be missing in a good survival kit?
There are certain elements that must not be missing in any survival kit. Because they enable basic supplies.
For this, I took a closer look at the Survival Kit by "Cliff & Cliff" in a video.
You will now find equipment items that are included in many survival kits. However, they are not always all available, so when making a purchase, pay attention to what is important to you.
Flashlight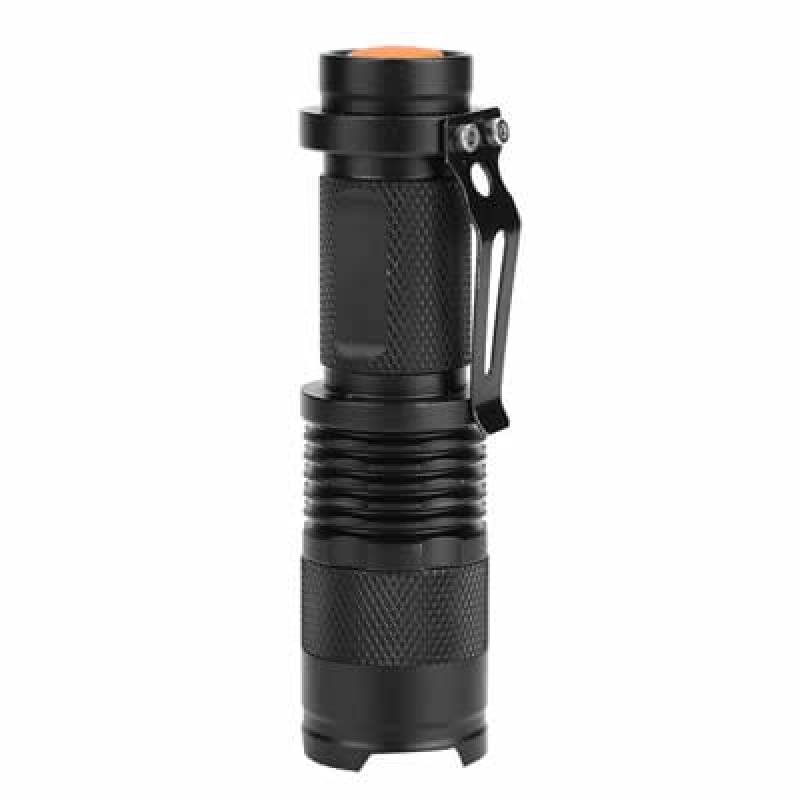 Essential is initially an LED flashlight. With it, not only reliable illumination is possible. It also offers the option to expand or narrow the beam of light.
A light signal button is a useful extra. For example, when it comes to sending an emergency signal with light.
Note: Batteries are not included in most survival kits.
Reading tip: Are you looking for a high-quality, bright, and compact flashlight? Take a look at the article about the "Streamlight Stylus Pro LED Flashlight".
Whistle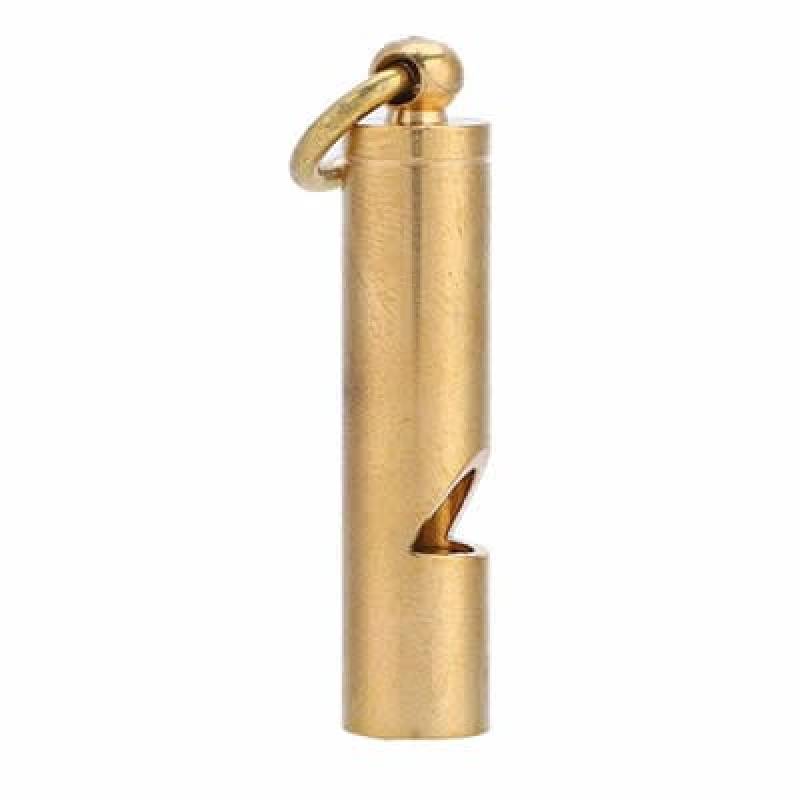 The whistle is essential for emergency calls by acoustic means. You use it, for example, when there are helpers nearby. With it, you emit a loud distress signal. Not much air is needed for this.
Therefore, this whistle can also be used when you are not in the best physical condition. The sound alerts the helper to your presence.
Multifunctional Steel Tool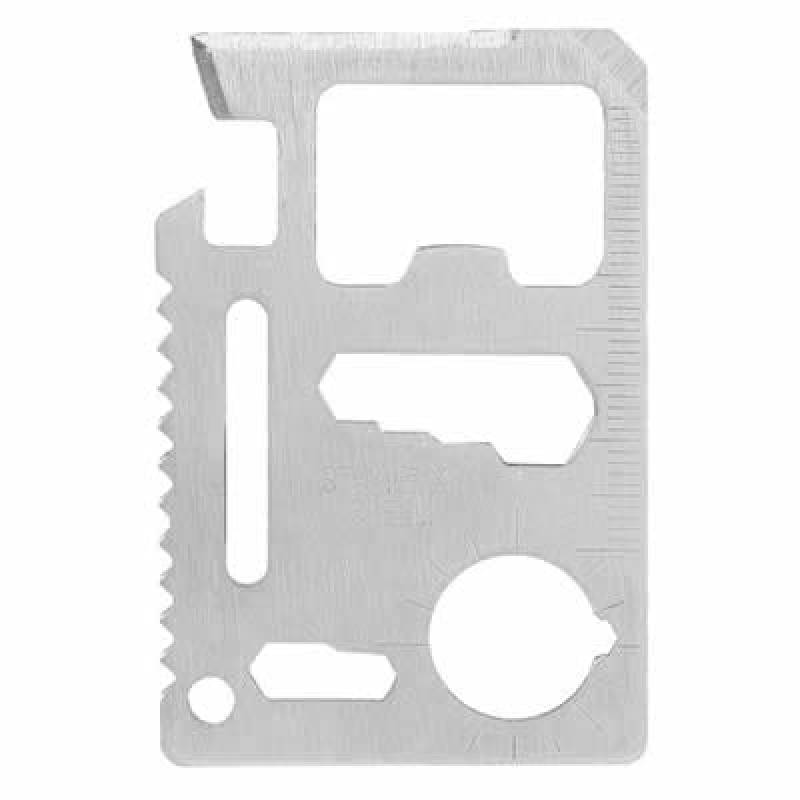 The multifunction tool made of steel (in credit card format) is used in various areas. For example, it can be used as a screwdriver or wrench. The multifunction tool is also very helpful as a rope cutter. In addition, you can use it as a can opener.
Knife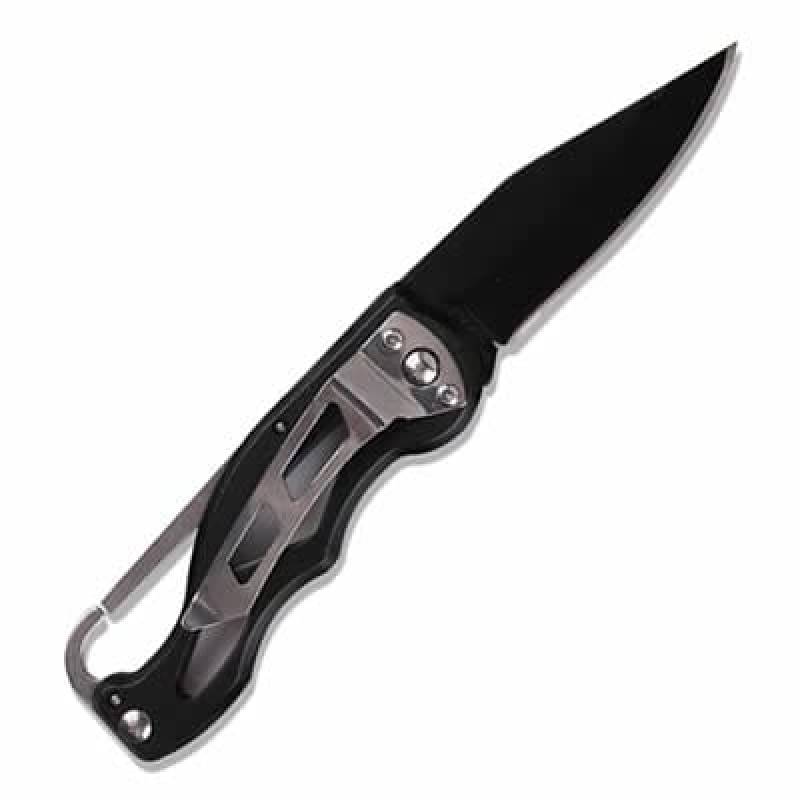 A folding knife has a sturdy steel blade and an aluminum handle. The handle fits perfectly in the hand and does not slip. The knives also have rope-cutting capabilities.
Hand chainsaw / Leaf / Wire saw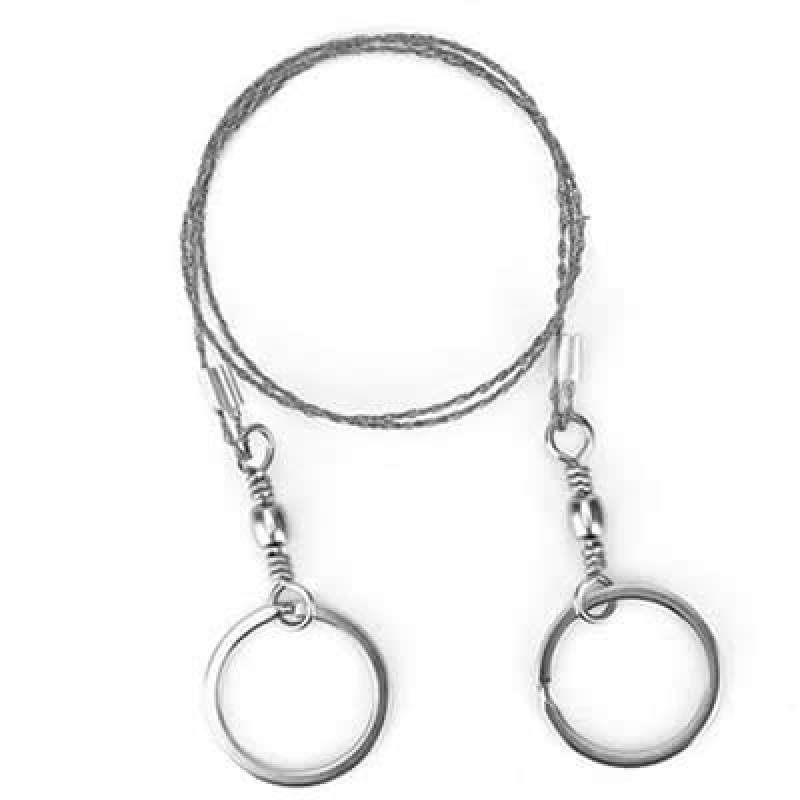 The pruning and wire saw is a particularly lightweight tool. With it, you can work on wood - from thin sticks to medium-sized branches, you can cut everything as desired.
But be careful, an emergency saw is generally not an adequate replacement for a folding saw.
Emergency blanket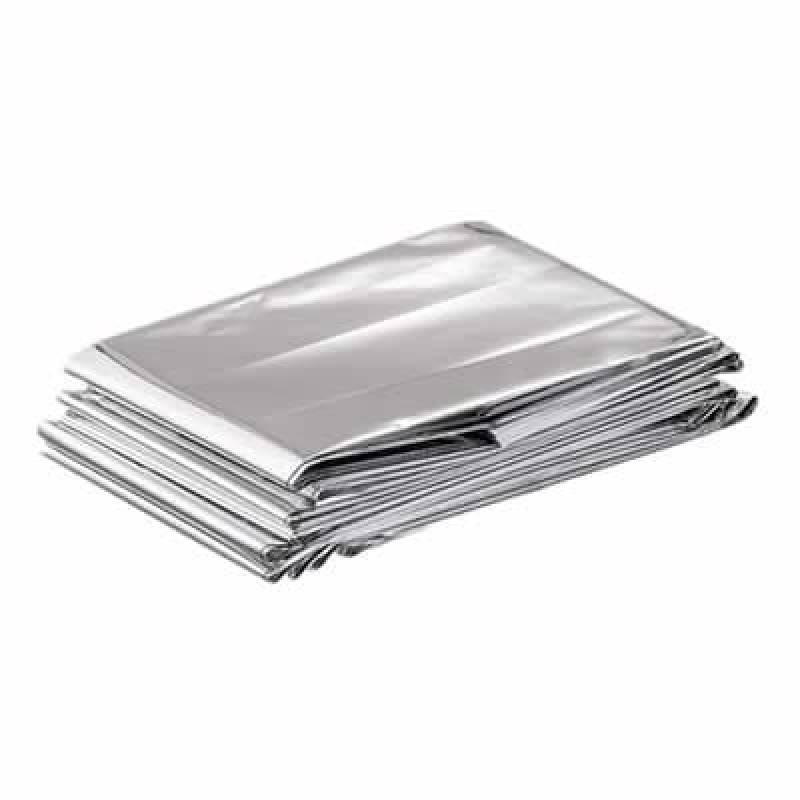 In accidents, an emergency blanket is indispensable. The two-sided model gives you the option to use the blanket as protection against heat or against hypothermia. It also blocks strong sunlight.
Paracord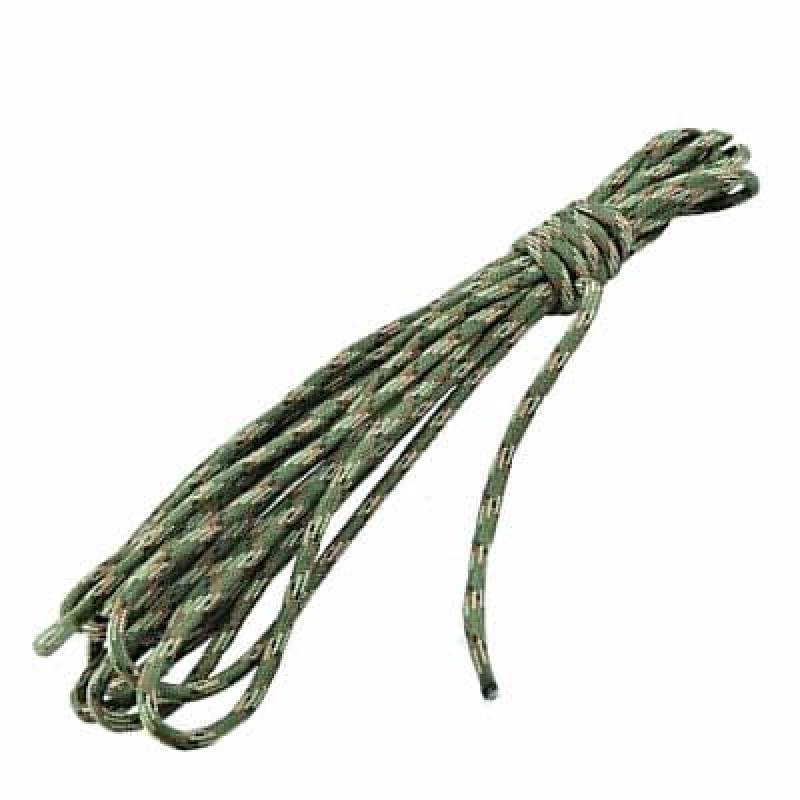 Originally produced for parachutes, the Paracord strings can be used in a variety of ways and are very helpful in various situations. For example, you can use them to hang up your clothes to dry after an unexpected rain shower.
In my article "What is a Paracord?", I write extensively about Paracord and show you 39 examples.
Survival Bracelet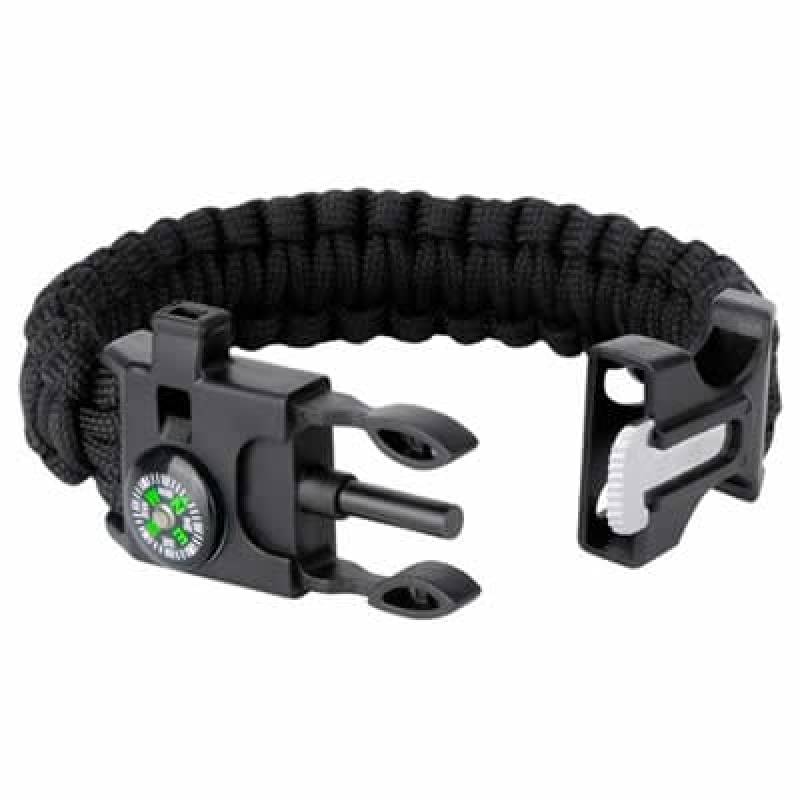 As an all-rounder for the survival trip, the kit also includes a Paracord survival bracelet.
Particularly practical is that you can unravel the bracelet and create a durable rope from it.
Tactical Pen / Ballpoint Pen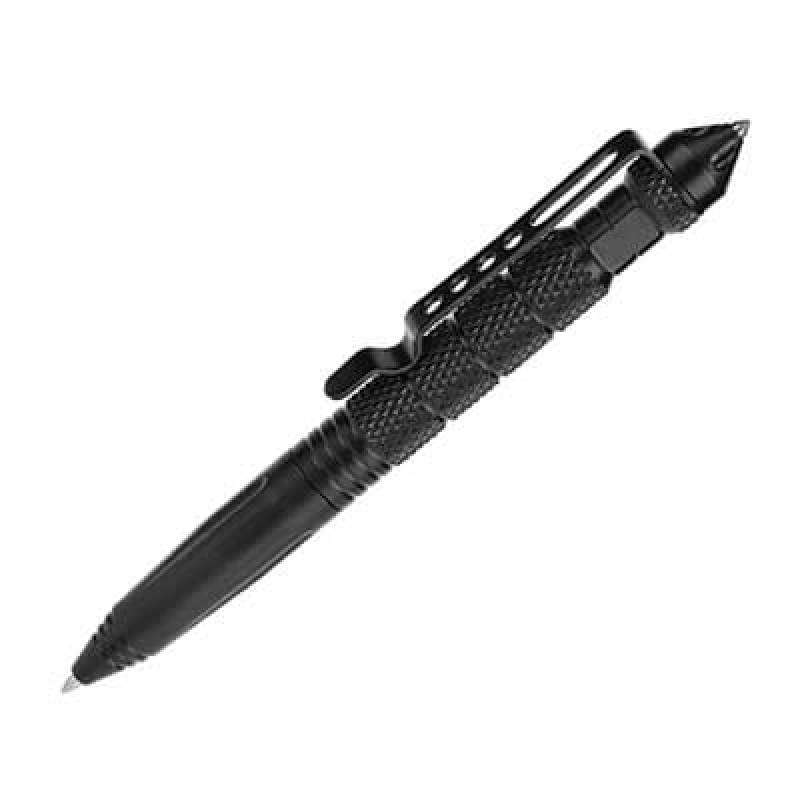 Another item in the survival kit is a Tactical Pen. It can not only write, but also break glass or be used for self-defense.
Firesteel / Firestarter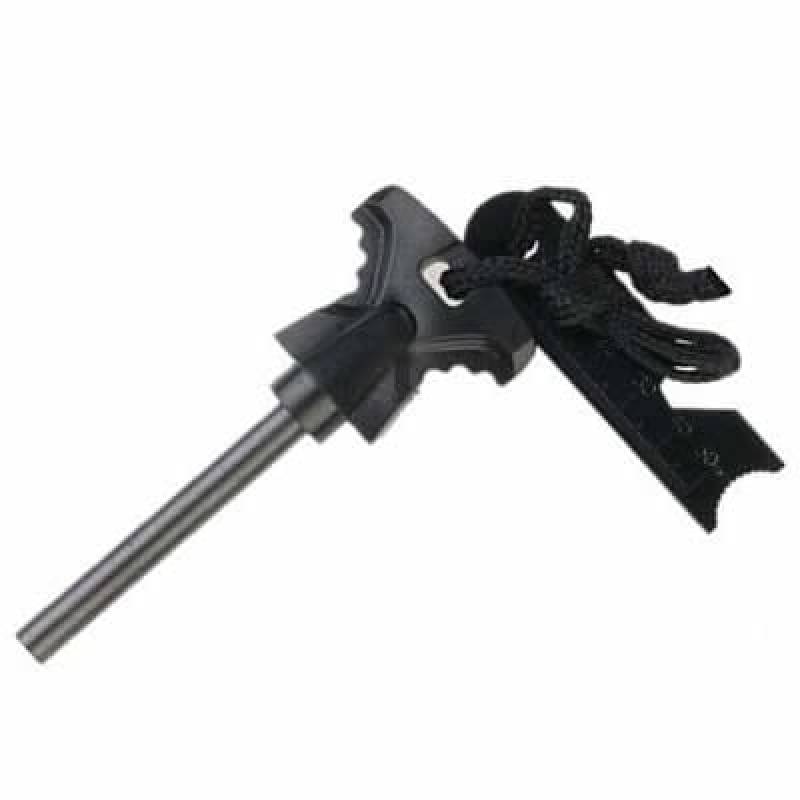 In case of emergency, you use it to ignite a fire to make drinking water safe, to keep warm, or to protect yourself from wild animals.
Check here how to ignite a fire properly and how to handle the Firesteel correctly.
Compass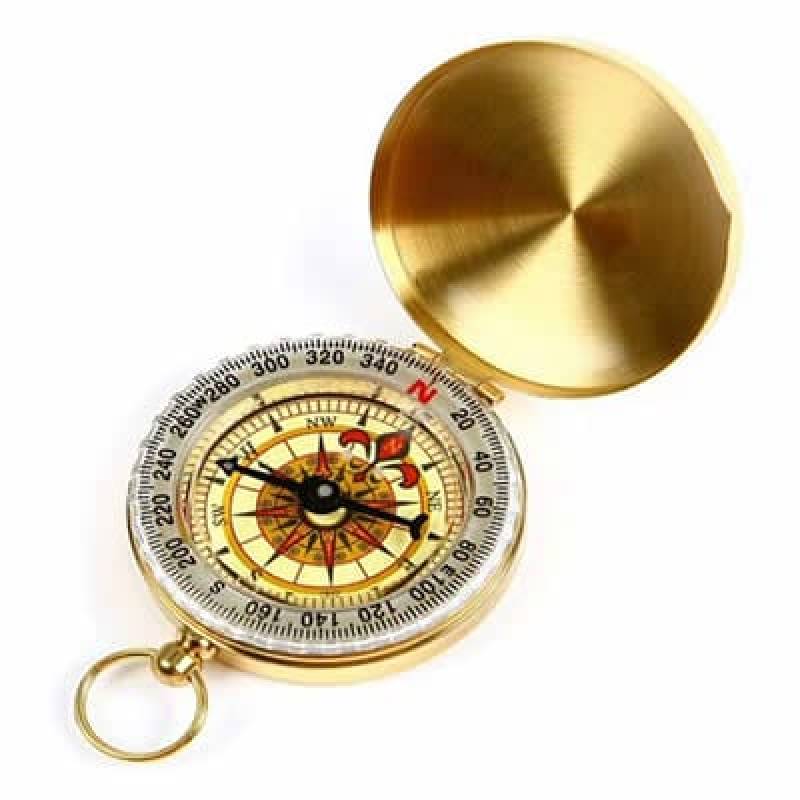 There is also a small compass available. It will guide you back on the right path when you need to navigate in the wilderness.
Unfortunately, the compass is often a major weak point in a survival kit. Some users report inferior constructions or inaccurate readings.
But let's be honest? What can you expect from a price range of 20 to 30 euros for the whole kit? A really good compass costs more than 50 euros.
---
Overall, the Survival Kit consists of at least eleven parts. However, these can be used in a versatile way, so with a high-quality Survival Kit, you have more than 24 functions at your disposal.
The differences compared to a cheap survival kit
While the high-quality models enable many functions in a small space, the cheap variants are typically only equipped with certain parts.
A cheap survival kit presents you, for example, with a compass, pliers, and a knife. However, you won't find a carabiner here.
In addition, when it comes to equipment, important features are also being saved. Many of the cheap models do not have a safety cover. And that is especially necessary for more serious injuries or for weakened individuals.
So if you want to get a higher quality survival kit, you should be willing to spend a little more money.
The affordable versions are often available for as little as 10 euros. However, the quality of the content in these models is not recommended.
Experts prefer models where at least the equipment is right. The better survival kits start at 20 to 30 euros.
The Benefits of Survival Kits
Whoever relies on a higher quality survival kit enjoys various advantages. Firstly, they start their trip with the good feeling of being well-equipped.
A broken knife or a defective flashlight are catastrophic in a survival situation.
A survival kit is for emergency situations.
Furthermore, such a kit also has the advantage that as a buyer, you do not have to assemble all the parts individually.
You rely here on the knowledge of the experts who equip these survival kits with a rich wealth of experience in mind.
If you buy each part of your equipment individually, it can happen that you forget one or more elements or end up paying more in total.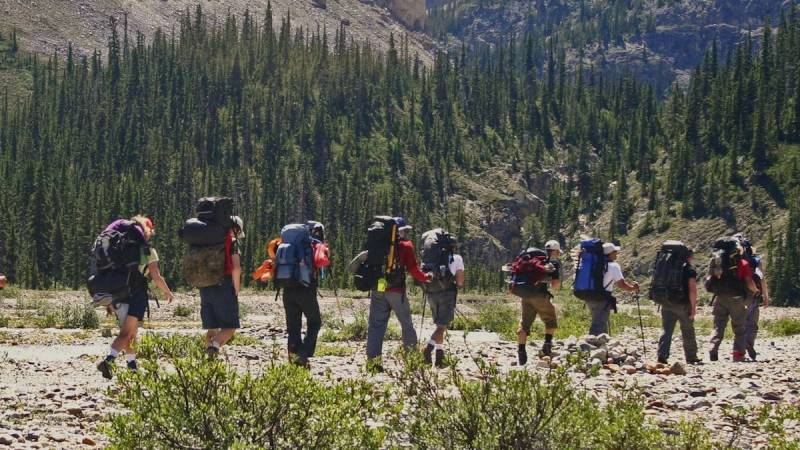 During hikes and excursions that go according to plan, this is not a problem. However, as soon as an emergency situation arises, you may then be missing the crucial piece of your equipment.
What distinguishes a high-quality survival kit?
Certain attributes a survival kit must have in order for you to be well-equipped for your wilderness adventure.
So, the kit should definitely be safe and efficient. Its parts must be robust, stable, and well-made.
It is helpful if the box has a good tactile feel so that it can be quickly located and retrieved from the backpack.
A high-quality model has over 24 different functions. This will ensure that you are optimally prepared for almost any situation.
In addition, a high-quality survival kit is also waterproof. The box in which the tools are stored is water and impact resistant.
Each of the tools impresses with precise functionality and excellent efficiency.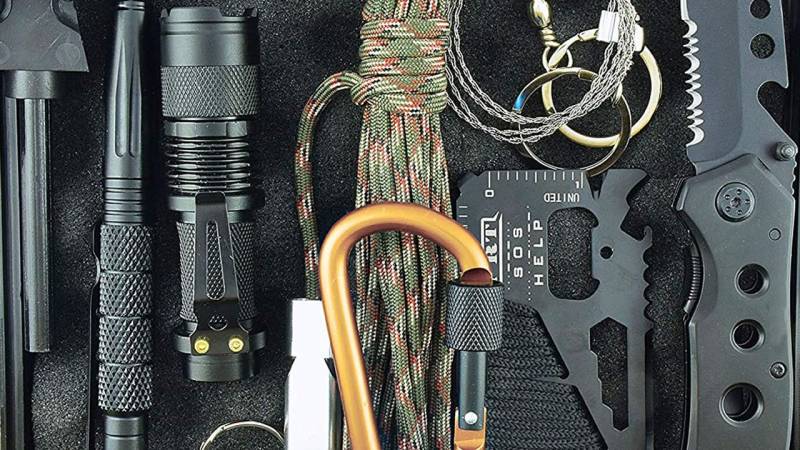 Support through an associated app and e-books
To make the use of the Survival Kit as successful as possible and to avoid any questions, it is advisable to use the associated app and the e-books beforehand.
Moreover, a detailed user manual is part of many survival kits. Through the app and e-books, you have direct access to the instructions and tips that the experts have written for the different tools.
Questions will be clarified, such as:
What is my Survival Kit made of?
How do I use my Survival Kit?
Step-by-step image series for replication
Survival tips from experts
How do I navigate in nature?
So, you succeed in the uncomplicated use and get the best out of the respective situation. The tips and hints are saved directly on your smartphone.
If there are any further questions, you can also use the app for this purpose. It is available in German language.
The manufacturer Stookker for example, offers an app. The Cliff&Cliff Survival Kit includes two e-books.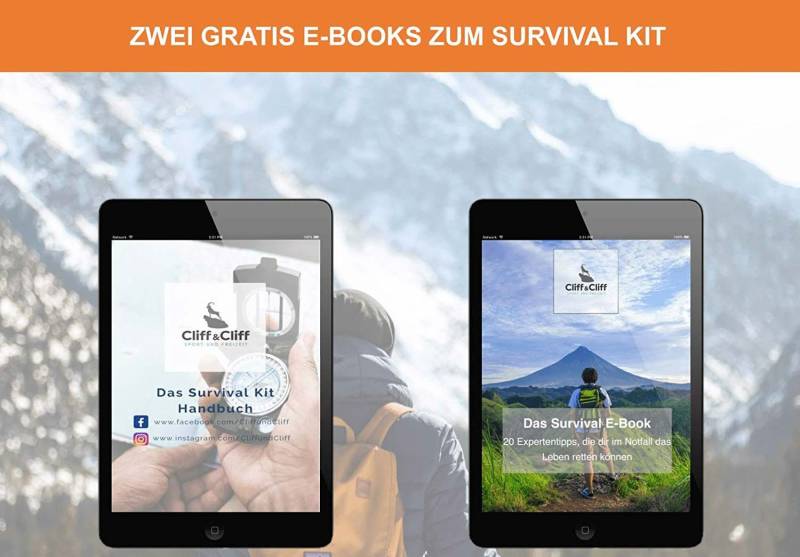 What to consider when buying?
There are important factors that I want to explain to you.
Size and Weight
Make sure that your set does not weigh more than 500 grams.
Average survival kits weigh 300 to 450 grams.
The size is approximately 15 cm in length, 10 cm in width, and 5 cm in depth.
Observe German Weapons Law
When choosing a knife, make sure it is a folding knife that you must open with both hands.
Only such knives can be carried in public (e.g., in the forest) without hesitation.
The Survival Kit by Stookker is certainly of high quality, however, it includes a one-handed knife that can be locked with one hand. Carrying this in public is prohibited in Germany!
If you are unsure which knife is legal or illegal, read my exclusive guide "Knife Law in Germany".
And if you are interested in non-lethal weapons, then read my guide to non-lethal weapons in Germany.
Manufacturer's Warranty
Most providers do not offer a manufacturer's warranty. When making a purchase, pay attention to how the exchange rights are regulated.
Purchase Recommendations
Survival Kit, 54 in 1 Erste Hilfe Set Auto Outdoor Zuhause, Notfall Ausrüstung Stromausfall First Aid Kit Survival Set Überlebensausrüstung für Camping/Bushcraft/Wandern/Vatertagsgeschenke für Papa
𝐇𝐎𝐂𝐇𝐖𝐄𝐑𝐓𝐈𝐆𝐄𝐒 𝟓𝟒 𝐈𝐍 𝟏 𝐒𝐔𝐑𝐕𝐈𝐕𝐀𝐋 𝐊𝐈𝐓 𝐒𝐄𝐓Unser survival kit militär hochwertig Set beinhaltet: 1.Taschenlampe 2. Kompass 3. tactical pen 4. Drahtsäge 5. Schweizer Karte 6. Wasserflaschenclip 7. Schraubendreher 8. Survival Whistle 9. Multifunktionaler Spork 10. Survival Armband 11. Angelzubehör 12. Feuerstarter 13. Kunstköder 14. Erste hilfe set auto 15. Rettungsdecke 16. Survival messer 17. Einweg-Regenmantel, was Sie im Notfall helfen können.
𝐍𝐎𝐓𝐖𝐄𝐍𝐃𝐈𝐆𝐄𝐒 𝐒𝐄𝐓 𝐅Ü𝐑 𝐎𝐔𝐓𝐃𝐎𝐎𝐑 𝐄𝐐𝐔𝐈𝐏𝐌𝐄𝐍𝐓Das Erste Hilfe Set Auto Survival Ausrüstung ist notwendig und zuverlässig beim Camping, Wandern, Rettungsarbeiten, Jagen, Abenteuer, Überleben und in Notsituationen. Notfalldecke kann 90% der Körperwärme behalten, sie kann als Sonnenschutz oder Regenschutz bei schlechtem Wetter verwendet werden. Eine taktische Taschenlampe soll im Notfall Ausrüstung nachts auftreten, damit sind Sie bei allen Lichtverhältnissen ausgestattet!
𝐏𝐑𝐀𝐊𝐓𝐈𝐒𝐂𝐇𝐄 𝐔𝐍𝐃 𝐒𝐈𝐂𝐇𝐄𝐑𝐄 𝐄𝐑𝐒𝐓𝐄 𝐇𝐈𝐋𝐅𝐄 𝐒𝐄𝐓 𝐎𝐔𝐓𝐃𝐎𝐎𝐑Ein taktischer Stift/tactical pen ist für das Brechen von Autoglas im Notfall vorbereitet, kann auch für Selbstverteidigung und normales Schreiben verwendet werden. Ein Outdoor überlebensmesser Messer aus Kaltes Stahl mit schwarzem Aluminiumgriff darf bei Wanderausrüstung nicht fehlen, deshalb ist unseres Outdoor Survival Kit überlebensausrüstung militär ein hochwertiges und zuverlässige Hilfe für Sie.
𝐊𝐎𝐌𝐏𝐀𝐊𝐓𝐄𝐒 𝐃𝐄𝐒𝐈𝐆𝐍 𝐔𝐍𝐃 𝐏𝐄𝐑𝐅𝐄𝐊𝐓𝐄𝐒 𝐆𝐄𝐒𝐂𝐇𝐄𝐍𝐊Alle survival outdoor ausrüstung wurden in professionellen Überlebensausrüstung verpackt und wiegen nur 0,9kg, eine praktische Campingausrüstung und leicht in Ihren Rucksack und Auto passendes Ultimative Kit. Als beste Gescheken für Ihren Mann und Ihre Kindern. Unser Survival Kits hilft Ihren Kindern, praktische Fähigkeiten und Überlebensfähigkeiten im Freien zu entwickeln. Geschenke für Männer/Vatertagsgeschenk.
𝐐𝐔𝐀𝐋𝐈𝐓Ä𝐓𝐒𝐒𝐈𝐂𝐇𝐄𝐑𝐔𝐍𝐆 𝐔𝐍𝐃 𝐖𝐀𝐑𝐌𝐄 𝐊𝐔𝐍𝐃𝐄𝐍𝐒𝐄𝐑𝐕𝐈𝐂𝐄 Unsere Militär ausrüstung Überlebenskit/Notfall ausrüstung stromausfall überlebensausrüstung survival set sind innerhalb von 12 Monate garantiert. Beim Auftreten von Qualitätsproblemen fühlen Sie sich bitte frei, über das first aid kit survival set uns zu kontaktieren. Wir werden uns so schnell wie möglich bei Ihnen melden und das Problem lösen. Bestes Vaterstagsgeschenk!
32,99 €
View Product
The BACROOM Survival Kit is a bit more expensive, but great.
It weighs 675 grams and contains 14 items.
But be careful: the kit includes a one-hand knife that can be locked with one hand!
Survival Kit 14 in 1, Professionelles Notfall Survival Kit mit Klappmesser, Taschenlampe, Survival Ausrüstung für Outdoor Camping, Abenteuer, Wandern, Jagen, Angeln, Männer, Väter
IDEALE GESCHENKE FÜR MÄNNER: Perfekte Geschenke für Männer, Vater, Ehemann, Freund, die gerne campen, erkunden, wandern, jagen, radfahren, angeln und den Haushalt pflegen. Das Survival-Kit ist auch die ideale Wahl für Weihnachtsgeschenke, tolle Geschenke für Weihnachten, Vatertag, Valentinstag, Erntedankfest und Geburtstag. Dieser Strumpffüller wird ihn sicherlich überraschen und glücklich machen.
14 IN 1 ÜBERLEBENSAUSRÜSTUNG UND AUSRÜSTUNG: Diese kompakte EDC-Überlebensausrüstung wird mit 14 sehr praktischen Werkzeugen geliefert: Taschenlampe, Feuerstarter, Drahtsäge, Taschenbalg, 2 * Karabiner, Multifunktionskarte, Überlebensarmband, taktischer Stift, faltbares Militärmesser, Kompass, Rettungsdecke, Angelausrüstung, Box mit großem Fassungsvermögen. Coole Survival-Tools für Männer, Outdoor-Enthusiasten, Wildnis-Survival-Herausforderer, Camping-Liebhaber.
HOCHWERTIGES UND ZUVERLÄSSIGES ÜBERLEBENS-SET: Alle taktischen Ausrüstungen bestehen aus hochwertigen und langlebigen Materialien, die dem Test verschiedener Faktoren standhalten. Die robusten Werkzeuge können lange oder wiederholt verwendet werden, sodass Sie die wunderbare Zeit des Campings, der wilden Erkundung oder des Bergsteigens genießen können.
LEICHT & TRAGBAR: Das gesamte Campingzubehör ist in einer großen wasserdichten Box von 21 x 12 x 6,5 cm verpackt. Das professionelle Werkzeugset ist klein, leicht und einfach zu transportieren. Es kann problemlos in Rucksäcken, Autos, Schiffen, Schubladen verstaut und mit Sicherheitsschnallen fest an Gürteln oder Mountainbikes befestigt werden. Klein und tragbar, geeignet für alle Arten von Outdoor-Aktivitäten.
ESSENTIELLE CAMPINGAUSRÜSTUNG UND ZUBEHÖR: Diese Notfall-Überlebensausrüstung ist praktisch und weit verbreitet, was sie zu einem guten Helfer für den Außen- und Heimgebrauch macht. Speziell für verschiedene Outdoor-Aktivitäten wie Wandern, Radfahren, Überleben in der Wildnis, Angeln, Abenteuer, Klettern und Outdoor-Camping. Tolle Geschenke für Männer, Frauen, die alles haben. Ihre Zufriedenheit ist unsere erste Priorität. Wenn Sie Fragen haben, können Sie sich gerne an uns wenden.
36,99 €
View Product
Conclusion about the Survival Kit
A survival kit is intended for the one-time survival situation.
For camping, hiking, and outdoor activities, it is useful. However, do not expect high-quality products for the price.
If you buy all the products individually, you will never get away with 20, 30 or even 50 euros.
One good knife costs at least 40 euros.
A high-quality Firesteel also costs an additional 15 euros.
A good flashlight cannot be obtained for less than 20 euros.
If a compass is added, it costs at least 30 euros.
With high-quality products that have to withstand the wilderness, I have already reached over 100 euros!
You should now be aware that a survival kit for 20 euros does not contain high-quality products.
If you are spending several days in the wilderness or using your knife extensively in your bushcraft camp, then stay away from the products in the sets.
Or use such a kit as a replacement for your high-quality equipment. I have done that, and it gives me more confidence.
---
What do you think of survival kits?
Do you have one or are you more of the type who puts together their equipment?

---
Sources for the guide

https://en.wikipedia.org/wiki/Survival_kit

https://en.wikipedia.org/wiki/Mini_survival_kit
Was this guide helpful?
8 people found this guide helpful.
5.00 out of 5 points (8 Ratings)