Back to german article
8 tips to hike better in winter
If you don't go hiking in winter, you're missing out. Here are some tips on the right equipment and how to safely move around in the snow.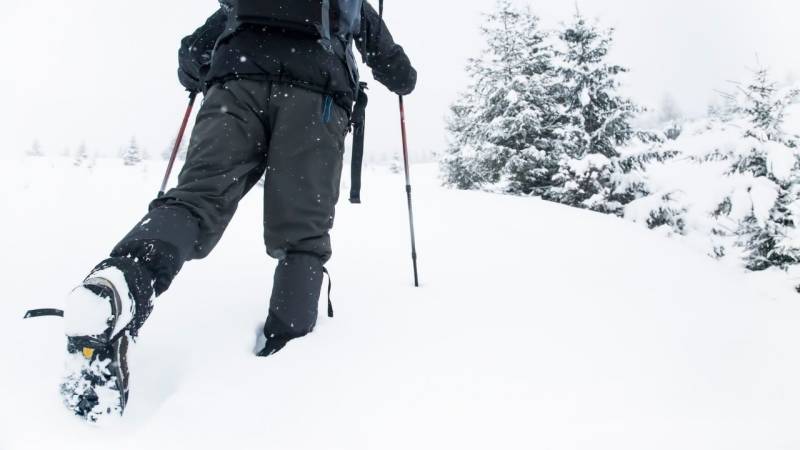 ---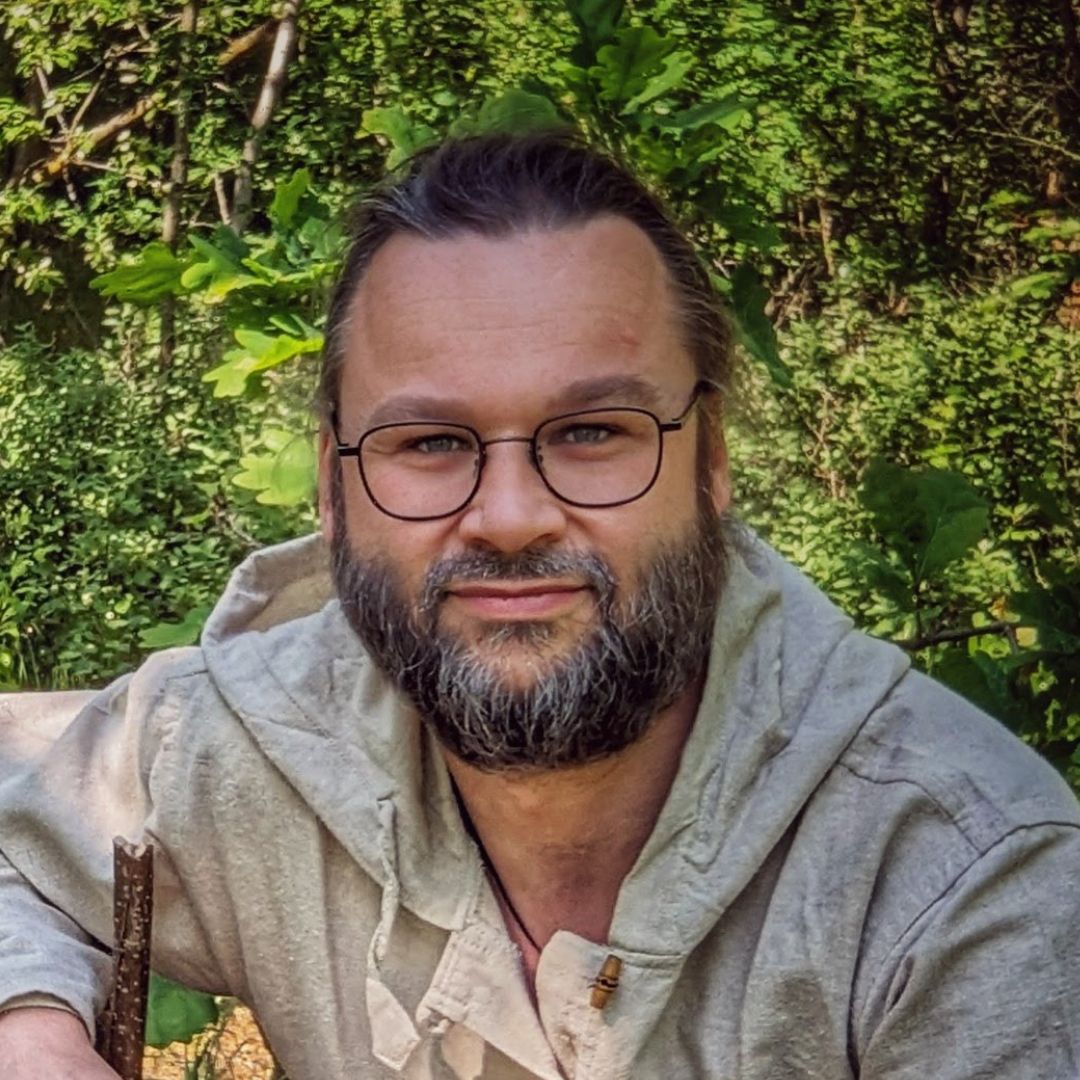 ---
👉 The key facts from this guide
Wear the right hiking shoe for winter, pay attention to deep tread and ankle support.
Make sure you feel a little cold before you start running to avoid sweating.
Wear wool socks and bring an extra pair.
Microspikes are better than YakTrax for icy trails.
Snow gaiters keep snow off pants and boots.
Boil your drinking water before you go to prevent freezing.
Winter hiking is better than summer hiking for two reasons: there are no mosquitoes, and it's not hot.
Furthermore, it is the best way to avoid crowds and have the path all to yourself.
It may get a little slippery, but with the right equipment and a little know-how, you'll be able to take on more winter hikes than you think.
1. Wear the right hiking shoes for winter
Pay attention to a hiking shoe with a deep tread and good ankle support.
My favorite boots for a few years now are from the company Lowa, including the Lowa Tibet GTX. Although they are technically trekking boots, they also work fantastically for bushcraft trips or survival training.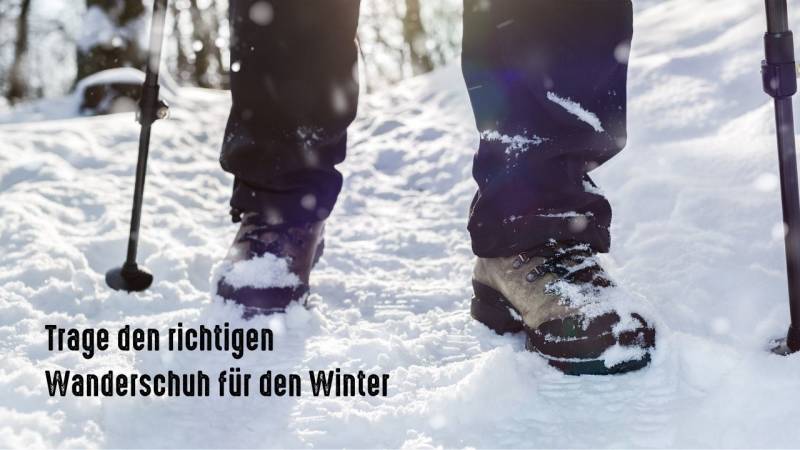 Snow and ice can damage leather, so it's good to rely on high-quality and sturdy footwear.
If your boots are equipped with Gore-Tex, you should treat them with a breathable waterproofing agent, such as Nikwax water-based, before hiking.
You can treat boots without Gore-Tex with a good leather balm. However, pay attention to the warranty on your shoes: with some manufacturers, the warranty is voided if you use oil-based care products.
2. Make sure you feel a little cold when you get out of the car
At the beginning, it's uncomfortable, but try to put on more clothes before you start running.
The last thing you want is to break a sweat. Because when you take a break, you quickly get cold.
To avoid this, I only hike with a sweater or even a t-shirt, depending on how strenuous the path is and how cold it is outside.
Pack several loosely fitting clothes in your day pack and put them on when you stop or slow down.
3. Wear woolen socks (and bring an extra pair)
For winter hikes, you don't necessarily need insulated boots, but only good wool socks.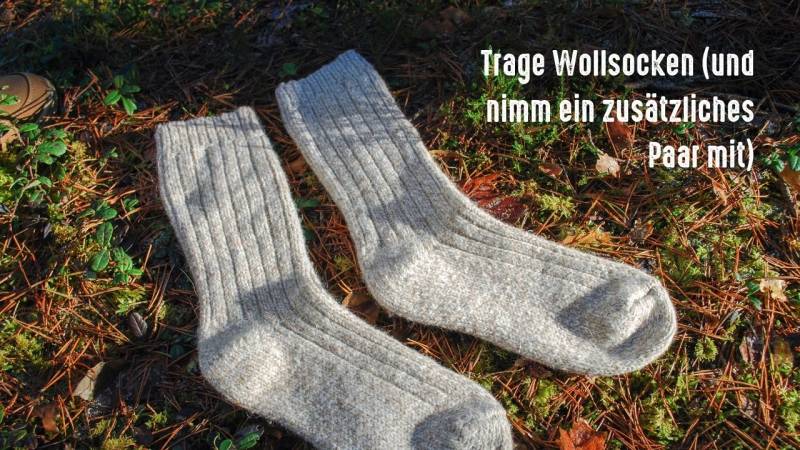 And if you're moving around all day, these socks shouldn't be too thick. Thick socks make the boots too tight, which makes your feet even colder.
Try to find warm socks that allow a little air to breathe. And always bring an extra dry pair in a Ziplock bag in case you get wet.
One more thing about socks: Don't skimp on the wrong end. In a world full of cheap socks, it may seem crazy to buy a pair of socks for 25 euros, but they are worth every penny.
For hikes in any season, socks are one of the most important pieces of equipment you can bring with you.
4. Microspikes work better than YakTrax
YakTrax work, but on a long hike, they can get clogged with snow.
I have found that Microspikes are the best option for finding traction on icy trails.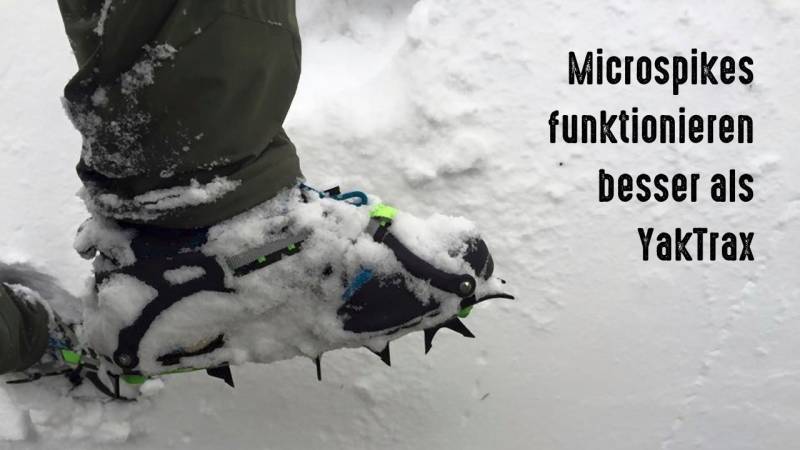 They are like mini crampons and allow you to walk directly on smooth surfaces.
You will even look forward to ice because you can move faster on it than on snow.
Even if a winter hiking trail appears to be free, I pack a few microspikes because there could be ice on the route.
Reading tip: How to hike in the snow, so you can make progress safely
5. Snow gaiters change everything
Hiking through the snow is exhausting because it wets the pants and penetrates into the boots. If this happens after one or two kilometers, you can abort.
A solution is an extra high boot, such as a snow boot, but it can be heavy and cause blisters. I have such snow boots myself, and they are definitely not meant for hiking and cause blisters.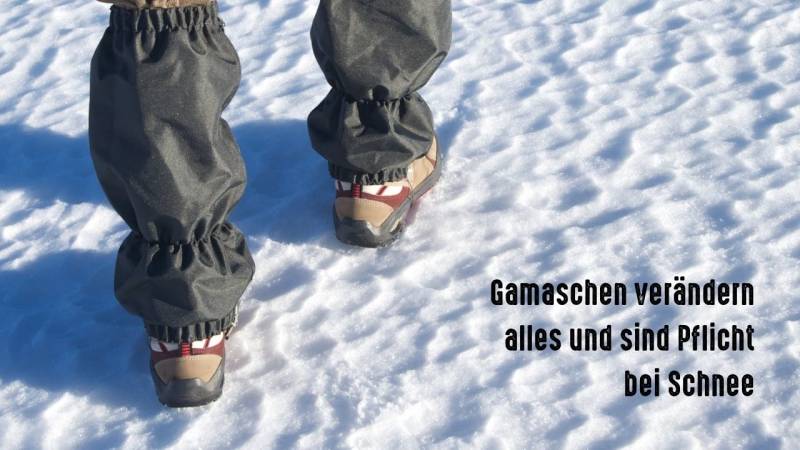 Snow gaiters are another great option and probably one of the best.
They can be combined with almost any hiking shoe. A good pair of gaiters keeps the snow out, even if it goes beyond the gaiter.
6. Boil your drinking water before you set off
On freezing days, the water bottle freezes while hiking, and before you know it, you have to melt snow to get water.
Do it differently and be smart: Before leaving the house, boil your drinking water and fill it into your bottle.
This gives you extra time and prevents the water bottle from freezing all day long. Insulated bottles also help to avoid ice.
It is also not a promising idea to use hydration backpacks. The drinking tubes freeze quickly, so you have a bag full of water but cannot drink it.
7. Pack energy-rich food
Forget power bars. You'll need some calories to walk around in the cold. That's why I suggest packing something like pemmican.
Pemmican is a durable food of the Native Americans, made from dried and ground meat mixed with fat.
In my comprehensive guide to Pemmican, I will show you three recipes.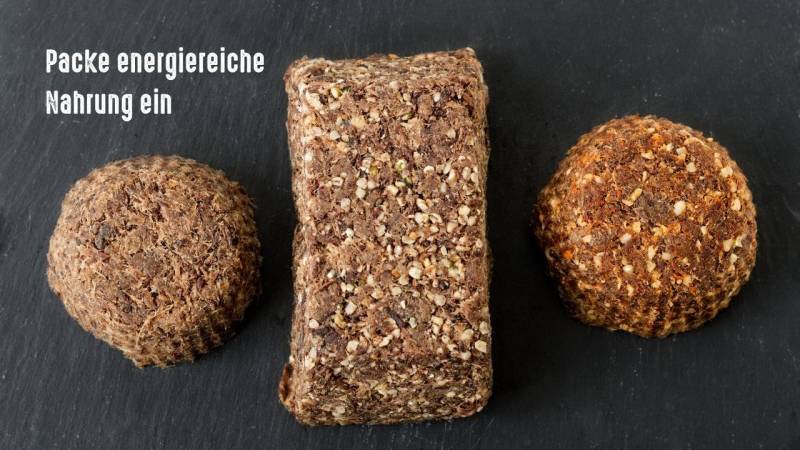 The reason I choose Pemmican is because of its fat content. Foods with high fat content provide more energy than sugary foods.
A good, affordable, and light option is a bag of potato chips. They contain a lot of fat (and can even start a fire).
Dried or smoked pork sausage is also good, as well as nuts like almonds and cashews.
Reading tip: How to easily make your own beef jerky
8. Have means to start a fire
If you go into the forest in winter, you should have a way to make a fire - preferably several ways.
At least pack a lighter and a pack of waterproof matches in your backpack.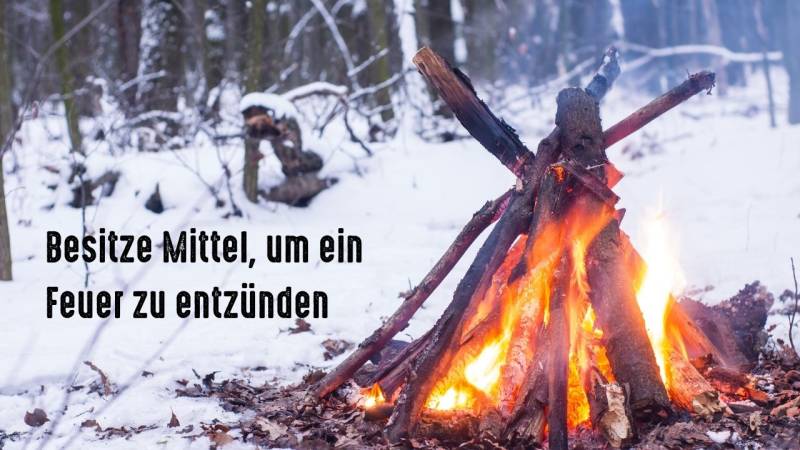 If you are off the beaten path, you should have a fire starter (here is my top list), a bushcraft knife (here is my top list), and a few lighters with you.
It goes without saying that a good fire can mean the difference between life and death if you get lost.
Furthermore, it is essential for making S'mores on the go or cooking a warm lunch.
---
How do you like the tips? Do you know any other recommendations to make a hiking trip as enjoyable as possible?

Was this guide helpful?
11 people found this guide helpful.
5.00 out of 5 points (11 Ratings)