Back to german article
Bushcraft Beginner Equipment - 5 pieces of equipment every bushcraft beginner needs
5 pieces of equipment every Bushcrafter needs. Find your beginner's equipment for bushcraft that doesn't cost a lot and is high quality.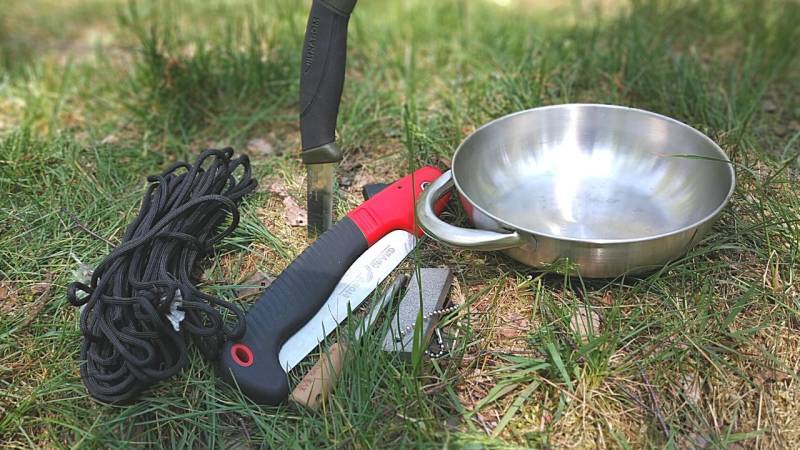 ---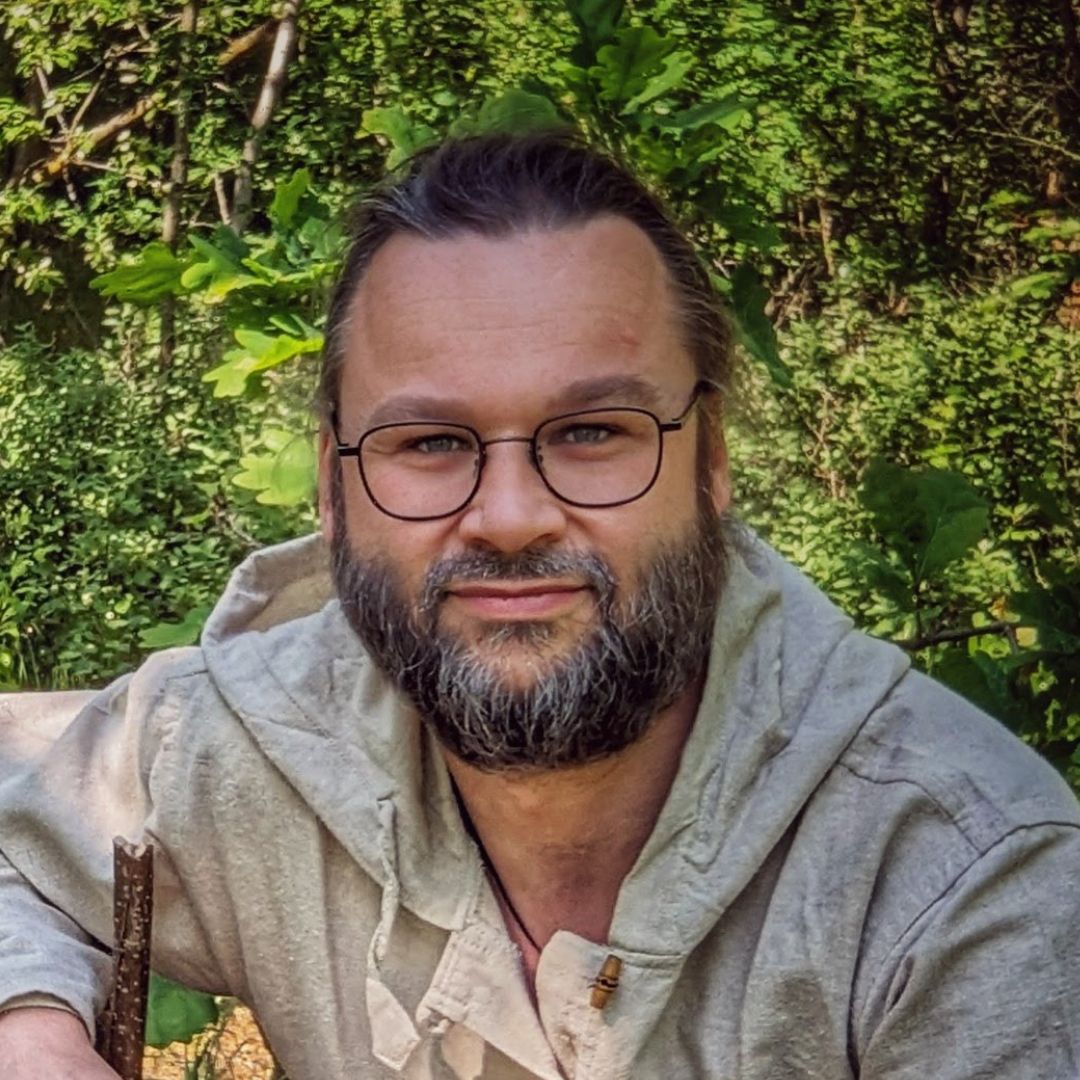 ---
👉 The key facts from this guide
You need a knife for various tasks such as shaping sticks and branches, cutting small branches, cooking your meals, and making various wood notches.
A saw is useful for quickly removing and cutting branches from the trunk.
A firestarter is essential for cooking and igniting fire.
Rope, cord, and string are important for connecting, hanging, or reinforcing various things.
A pot or container is necessary for cooking, carrying liquids or embers, and making charred tinder.
Recently, I received an email and this is what it said:
Subject: Bushcraft Beginner Equipment

What equipment do I need to start with Bushcraft?

Philipp from Munich
I then talked to Philipp and quickly noticed that Phillipp is really into bushcraft. Great, Philipp is just discovering bushcraft for himself and is now looking for the right equipment.
We exchanged messages several times. After three days, Philipp had a small list in front of him, with specific items and a price below.
I have now improved, revised, and structured these recommendations. You now benefit from this and don't have to wait three days.
Discover in my guide what you REALLY need as a beginner in Bushcraft equipment.
Who is this article intended for?
There you are now, and maybe you have recently discovered the world of bushcraft. You have read articles, watched videos, and heard stories.
Experiences of people who work, learn, and survive in nature. You have surely noticed the equipment of these individuals. And have you stumbled upon the often high prices, too?
Therefore, a beginner's bushcraft equipment should not cost much. The focus is not on expensive gear, but on learning and developing your skills.
And since you're just starting or planning to start, you're probably wondering:
What equipment items make sense?
Which items have proven themselves?
How much does it all cost?
The listing is especially for beginners starting with bushcraft. Especially at the beginning, it is difficult to know if bushcraft will become a hobby for oneself.
At the end of the guide, you will know what you need and which specific tools and resources I recommend. This way, nothing stands in the way of your adventure, and you are well-prepared.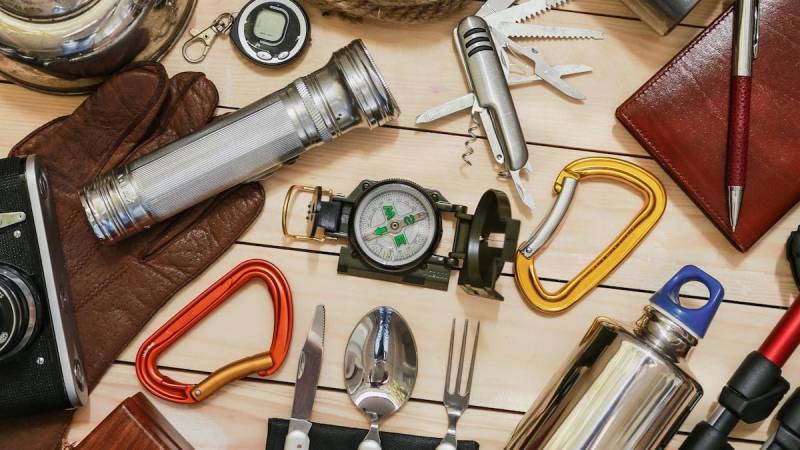 The Video: Bushcraft Beginner Equipment
Take a look at my video and learn about the 5 essential equipment items every beginner Bushcrafter requires.
1. A Knife
I think we can all agree on this quickly. A knife is part of the standard equipment.
With a Bushcraft knife:
you process sticks and branches
you cut small branches
you cook your meals
you process tinder and kindling
you make various wood notches
You also prepare firewood by Batoning (splitting branches with the knife; learn how to do it here) or cutting ropes.
A knife is versatile. Once you start working, you'll realize how vital your knife is.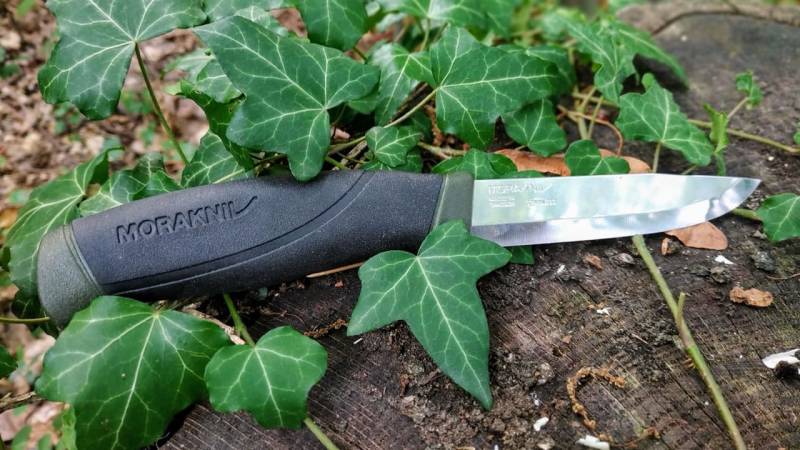 In my experience, bushcraft beginners would rather not spend a lot of money at first. Or you're uncertain if Bushcrafting will be your next hobby, and you will want to take it slow. I entirely understand that, I would do the same.
Therefore, I now recommend 3 affordable, good, and sturdy knives.
Especially the Mora Companion, which costs less than 15 €. High quality for the price and incredibly popular in the bushcraft scene. Take a look at the reviews and you'll see what I mean.
Daten aktualisiert vor 13 Stunden
Or the outdoor knife from Hultafors. Hultafors produces great axes and knives. A company with high standards for its tools. Bushcrafters especially like the axes, but they are expensive.
Or take the Fiskars Universal Knife. Fiskars produces solid tools, there's nothing to complain about.
---
I could tell you a lot about blades, sharpening, handles, or rust resistance. But that's not the purpose of this article. I think you want to get started quickly and try out the techniques that I present here on my website (e.g., carving notches or practicing knife skills).
Therefore: buy a knife that has a good price-performance ratio. And the three knives presented here offer that.
Perfectly, the three knives are fixed-blade knives and the blade is not longer than 12 centimeters. This way, you get the most power out of the knives and avoid any legal troubles. In most cases, you are NOT allowed to carry a blade longer than 12 cm in public. For more information, read my guide on knife law in Germany.
As you can see, I do not recommend a pocket knife or folding knife ("Folder"). Even though there are models that lock, fixed-blade knives are my first choice when looking for sturdy, stable, and secure knives.
2. A saw
It takes a long time to remove and chop branches from the trunk with your knife. Therefore, I recommend that you get yourself a saw. A saw is small, lightweight, and quiet - perfect for your bushcraft beginner's equipment. (here you will find a detailed article about the advantages).
As you can tell, I do not recommend an axe for chopping branches. For the following reasons: An axe is heavy, and you must learn how to handle it. Inexperienced individuals who handle an axe hastily and carelessly can cause serious injuries to themselves and others. With a knife, you may cut yourself, but with an axe, you can hack down to your bones.
So take a lightweight saw with you on your first tours. It takes up little space and costs between 8 and 25 € depending on the provider.
My first choice is the folding saw from Bahco (read my review of the saw). Among survival and bushcraft enthusiasts, this saw is a must-have in every bag.
If the Bahco is too expensive for you, buy a regular pruning saw. It is cheaper than the Bahco, but not as sturdy. Sufficient for starters, though.
Attention, insider tip: Get the Bahco Knife-Saw Set. You get the Bahco folding saw plus a knife for €30. The price is unbeatable for the set. The knife is a Mora Companion quality knife, which I already recommend above.
3. Firestarter
Bushcraft would only be half as great without cooking and fire. Even though it is difficult to officially start a fire in Germany (Is a fire in the forest allowed?), I recommend that you at least have one option available.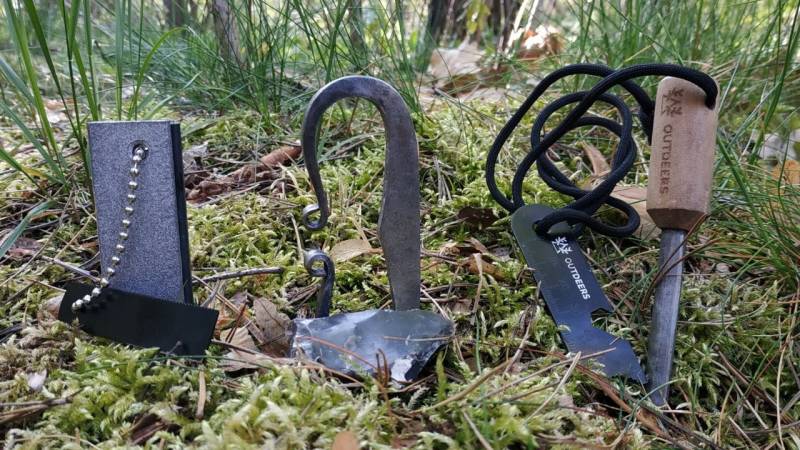 In the picture you can see various igniters. Let's go through them briefly.
Magnesium block
You scrape off the magnesium first and ignite the magnesium with the small fire steel (attached to the block). Magnesium burns hot and is a perfect accelerant. You only need a small amount of tinder for this method and your fire will burn. The magnesium block is suitable for beginners.
Chisel and Flint
I love the method wholeheartedly because it is primitive. And for me, bushcraft is about learning and experiencing ancient arts and techniques. However, starting a fire with a flint and steel is difficult, and you should practice it beforehand. You also require the right tinder, like charred cotton (here I show you how to make it).
Firesteel
With the Firesteel, you generate sparks faster than with the flint. But there is no accelerant like the magnesium block.
You have to scrape off some shavings and ignite them with your tinder. The method is good to learn when you're just starting with bushcraft.
Here is my video review of the Firesteel Light My Fire Scout and you can read the written review here.
---
How you choose: I love to start a fire. Before that, collect or make tinder. Then decide the right ignition method and prepare your meal at the campfire - that's the Bushcraft feeling.
4. Rope, cord, and twine
As a Bushcrafter, you want to build (craft) something and for that, you need ropes. At the beginning, it doesn't matter whether you use paracord (parachute cord) or the inexpensive hemp rope.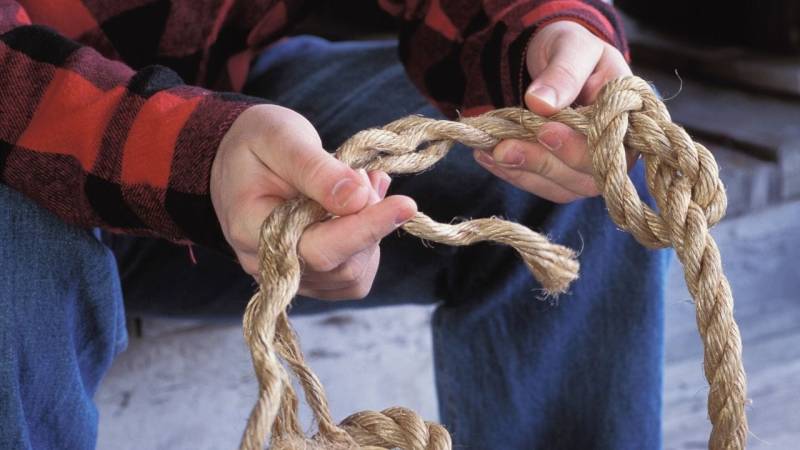 At the beginning, you require ropes to connect, hang, or reinforce all sorts of things. For example, for your camp, your tools, or a tripod.
You are building a fence or a trapper bed in your camp? Then ropes are excellent for that.
At the latest, when you expand your camp or spend the night in the forest, you will need sturdy ropes for your constructions, your tarp (here's my top list) and the hammock.
P. S. I recommend that you take a look at how to make ropes yourself. Read my guide "How to make ropes yourself (picture guide + video)".
The most commonly used rope in the bushcraft world is Paracord. If you want a strong rope at an affordable price, you can't go wrong with 550 Paracord.
Inside the Paracord, you will find 7 core strands made of 100% nylon. A Paracord is perfect for a Bushcraft beginner's equipment because it can be used in so many versatile ways.
5. A pot or container
Part of bushcraft is cooking. It doesn't have to be a fillet steak, for now, a simple tea from a coniferous tree will do.
Therefore, my final recommendation: a cooking pot. It can be tall and narrow, or wide and low. But make sure to choose one with a lid. You will need the lid to simmer faster and for other skills.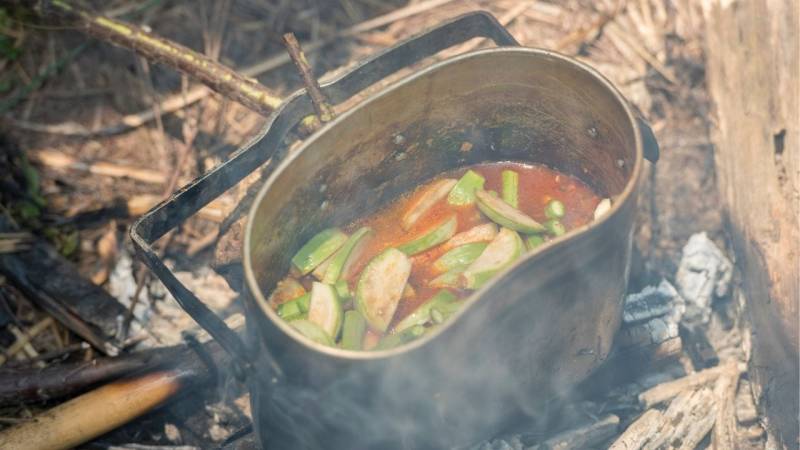 With a container, you not only cook: you also transport liquids or embers with it. Or you make char cloth for tinder with a cooking pot charred cotton. The possibilities of use are diverse again.
If you would rather not spend a lot on a cooking pot, check out your local flea market. There you will surely find an affordable model. Read more about it "21 items to look out for at every flea market and thrift store".
Otherwise, take the Cozyswan Camping Cookware, it's cheap. Or a cooking pot made of titanium by Lixada - pricier, but high quality.
Summary
That was my recommendation for "Bushcraft Beginner Equipment". It is the basic equipment that will help you as a beginner to expand and develop your bushcraft skills.
It's not much and that's a good thing because with all the items together you'll pay between 50 and 60 €. That's also a good thing because I carefully selected the items. I own all the equipment items myself and they are worth their price. I know they have proven themselves in use.
You don't need to buy everything at once.
Start with a knife and gradually upgrade your equipment to what you need.
Always remember: In bushcraft and survival, it is not necessary who has the best and most expensive equipment. It is important to learn how nature takes care of you. You can find many guides about this on my website.
Grab a few books about bushcraft (I recommend these here). Go into the woods and start building up knowledge about nature. Soon you will realize that you don't need a lot of equipment at all.

Was this guide helpful?
47 people found this guide helpful.
4.92 out of 5 points (48 Ratings)