Back to german article
What is a Tarp [Sizes, Costs, Setup Variants]
What is a tarp? Many Bushcrafters swear by the tarp. Today I will introduce you to this special variant of a roof.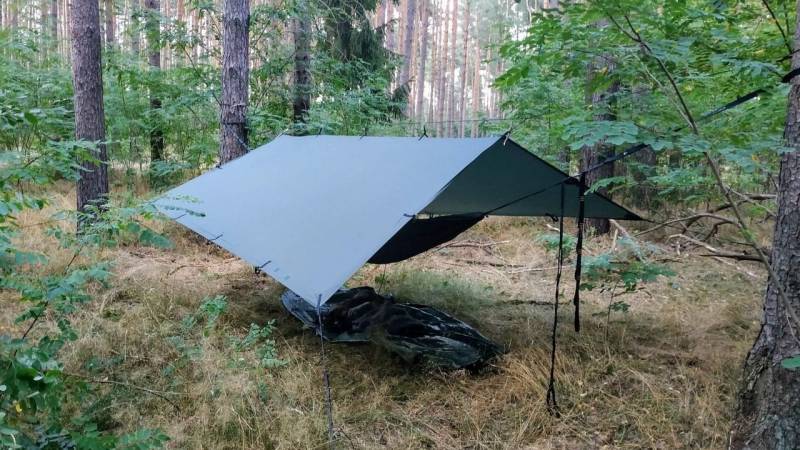 ---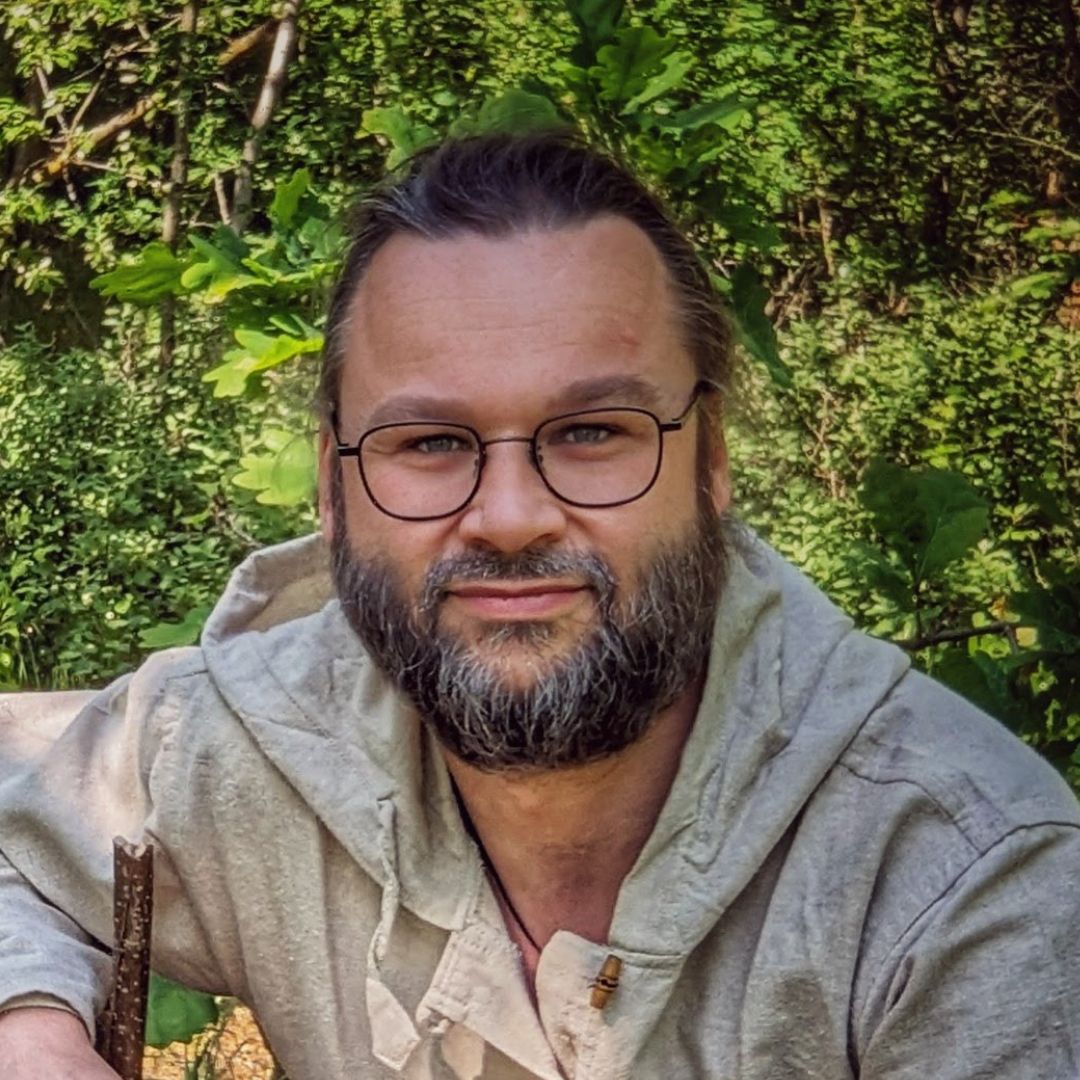 ---
👉 The key facts from this guide
What is a tarp: A tarp is a simple, usually rectangular tent tarpaulin that serves as an airy roof and protects against rain and direct sunlight.
Advantages: Tarps are ultra-lightweight and have a small pack size, making them ideal for bushcraft and survival. They also offer a variety of setup options and protection against sun and rain.
Disadvantages: With a tarp, you have to additionally shield the ground and high-quality tarps can be expensive.
Usage: Tarps can be used as rain and sun protection, as a shelter for you and your equipment, or even as a makeshift stretcher in emergency situations.
Sizes and costs: The most common size of a tarp is 3 x 3 meters and the costs can range from about €40 for cheap models to over €300 for high-quality models.
Setup: There are many ways to set up a tarp, including the lean-to, rain fly, shelter, and A-frame.
If you're wondering what a Tarp is, then you've come to the right place.
Many Bushcrafters swear by the tarp, I'm sure you've also read or heard about it.
Today I will introduce you to this special variant of a roof.
What is a Tarp?
A tarp belongs to a special category of tents. Unlike a tent, a tarp is not closed. The tarp is an airy shelter that protects against rain and direct sunlight.
In general, a tarp is a simple tarpaulin. More specifically, it is a rectangular tent tarp that is equipped with its eyelets.
This is either tensioned with paracord (Here is my article about paracord), a rope or similar through the eyelets or, in some setups, additionally secured with tarp poles.
The cheapest tarps are mostly made of polyester-PU. The advantage lies in the affordable purchase. Such tarps are completely sufficient for occasional bushcraft trips in temperate climates.
The term "Tarps" is English, it comes from American English. "Tarp" is a short form of "tarpaulin", which means "tarp" or "cover". The verb "to tarp" means "to cover".
Advantages of a tarp
There are several advantages why a tarp is so popular in the field of Bushcraft and Survival.
Weight: A tarp is ultralight compared to a whole tent. You can feel it less in your backpack during long marches. It is ideal for Bushcrafters who want to travel ultralight or minimalist. This way, you are much lighter and also faster on the go.
Packed Size: In addition to the low weight, there is also the small size and thus a tiny packed size. This gives you significantly more space for other things in your backpack.
Variety: You have the possibility to set up a tent in exactly one way. With a tarp, there is a great variety. There are many options for setting up your tarp.
Protection: The tarp protects you from direct sunlight, but even more importantly, from rain.
Disadvantages of a tarp
You will also have to accept a few disadvantages if you choose a tarp.
Ground: You have to additionally shield the ground with a tarp. In most setup methods, it is not intended for parts of the tarp to serve as a groundsheet.
Price: Unfortunately, most high-quality tarps from reputable manufacturers are not inexpensive.
What can I use my tarp for?
The primary purpose of your tarp is to use it as a rain protection and protection against direct sunlight.
It is an open alternative to the tent. This also offers many possibilities to set up your tarp to use it as a shelter.
So, your tarp serves as a shelter for you and your friends, as well as protection for your backpack, utensils, and tools, but also for your firewood and possibly even the fire itself.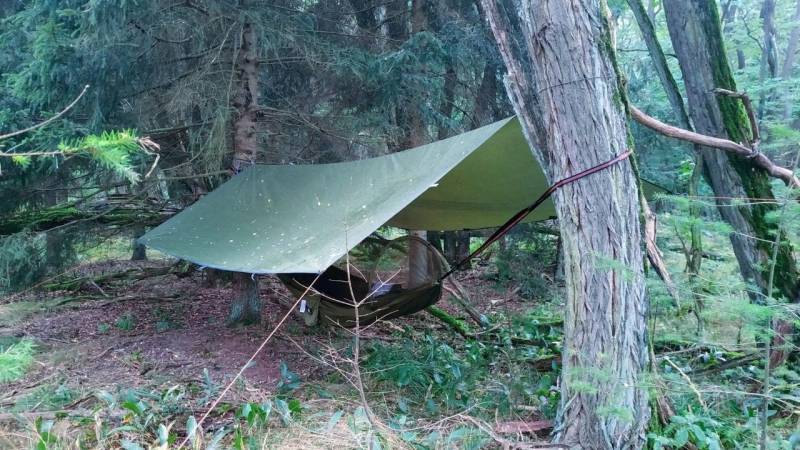 Under certain circumstances, you may find yourself in situations where you have to repurpose your tarp. Let's say you are still on the go, haven't found a campsite yet, and haven't set up camp.
Right at this moment, the rain is pouring down on you. Now is the opportunity to unpack your tarp and use it as a rain cover for your backpack and for yourself.
If you are out with friends and one of them injures their leg, use your tarp as a stretcher. However, make sure that you have a tarp that is sturdy enough for this purpose.
Tarps are also commonly used as sun sails.
What sizes are available?
The most common size of a tarp is 3 x 3 meters.
You will probably encounter these dimensions most frequently. You should also not choose a smaller tarp.
With 3 x 3 meters, you have enough space for everything you need and of course, also for your companion.
Other common sizes are 2 x 3 m, 4 x 4 m, and 3.5 x 4.5 m.
In between, above and below you will also find almost everything.
I recommend, however, that you decide a size of at least 7, preferably 9 square meters.
How much does a tarp cost?
Cheap tarps are available starting at around €40,- to €50,- and up.
There are hardly any limits when it comes to the price range. I have also seen tarps for well over €300.
If, however, this is too expensive for you and you just want to try out whether you are even the tarp type, I have a tip for you.
For starters, the hardware store tarp for 5 to 15 euros is generally sufficient.
This, however, comes with a few disadvantages. It rustles louder, reflects more, and usually has only a few eyelets that you need to use for setting it up.
Can I sew a tarp myself?
Yes, of course you can sew your tarp. You just need to be skilled with a sewing machine.
I have created a detailed step-by-step guide for this, which you can find here:
How to sew your tarp - the complete guide with tools, materials, and costs
How do I set up a tarp?
As I mentioned above, there are many variations and options for setting up your tarp.
Here in the picture you can already see a few variations.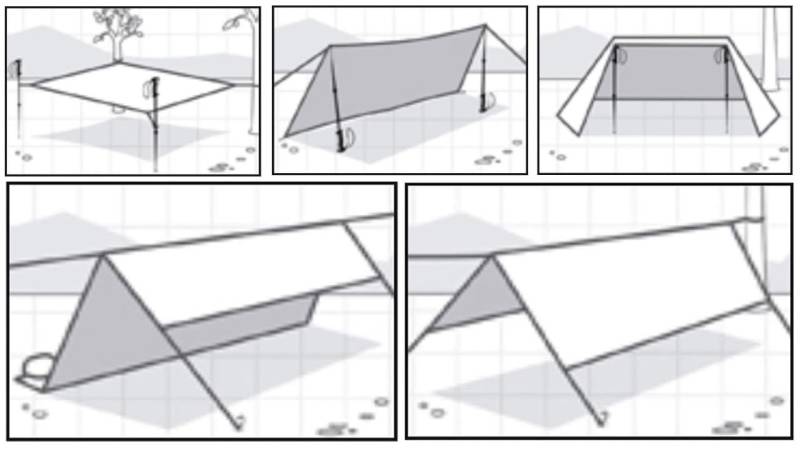 I will now introduce you to some of the most well-known construction variants. These are my four favorites, but there are still numerous alternatives.
What do I actually need?
To set up your tarp, you will need a few utensils:
The tarp.
Trekking poles, branches, professional poles or multiple tripods.
Paracord, rope or similar for guy lines.
Pegs (you have the option to carve your own).
Possibly carabiners.
Take the rope if possible. Paracord is less static and needs to be tightened again in case of rain or damp weather (but that's also not a problem).
Seat selection
When choosing a seat, first make sure you feel comfortable.
It is also important that the lying surface is as even and free from sharp objects as possible.
Then look up. If you see rotten, dead branches or the like above you, clear them out of the way to prevent any surprises later on.
Moreover, make sure that you set up your camp not near wild roads and wildlife crossings. Otherwise, you won't have a peaceful night.
In general, I advise you to experiment with your tarp yourself. This way, you will find the ideal setup variant for you.
Variant 1: The pitched roof (also known as Lean-To)
Fast and effective. Spread the tarp flat on the ground and secure one side directly to the ground. Thread your cord through the other two corners that you haven't secured.
Set up the tarp similar to a tent using two poles (or attach it to trees on the left and right) and tighten the ropes. The slanted roof is now complete.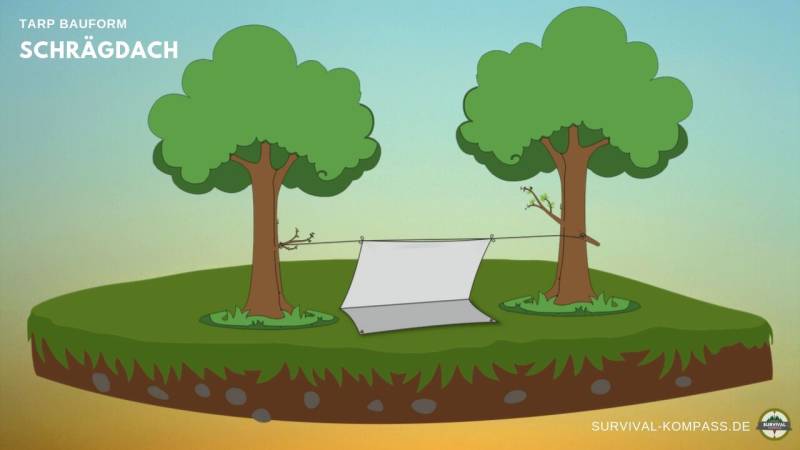 Variant 2: The Rain Fly (also known as Flying A-Frame)
Like a tent, but in the air. You don't need any poles to anchor it. But you do need more rope and a suitable environment.
First, tie a small loop in your guy line with an Achterknoten. Attach a carabiner to the loop. Thread the cord around a thick tree and attach it to the carabiner. Then you need to tighten it. Stretch a cord at the desired height parallel to the ground, where you want the highest point of your shelter to be.
That works best between two trees. So, connect the loose end of your string to another tree. For this, a topsail bowline is suitable.
Then work on both sides of the tensioned cord and insert a Prusik loop on each side (so that the rain runs off there) and then place your tarp in the middle. Tighten the tarp by adjusting the two Prusik knots.
You can now either tie the hanging sides to the ground at the four corners with a string or tie two more strings. Your roof is finished.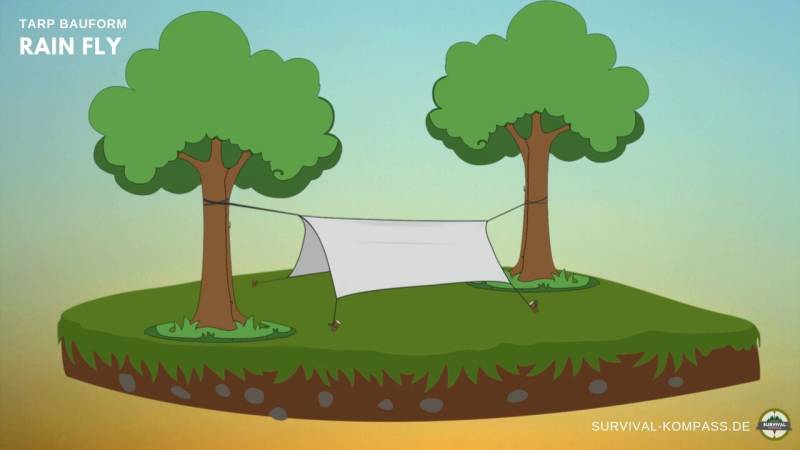 Variant 3: The Shelter
Simple and particularly wind stable. Spread out your tarp flat on the ground for that.
Then you stake down one of the short sides, as well as a third corner. Now you have one side and three corners staked down.
Stretch the other, unsecured short side up now with a stick in the middle.
Tighten the fourth corner nice and tight now.
To make the setup even more stable, also secure the pole with a rope. And there you have built a deep, particularly aerodynamic shelter.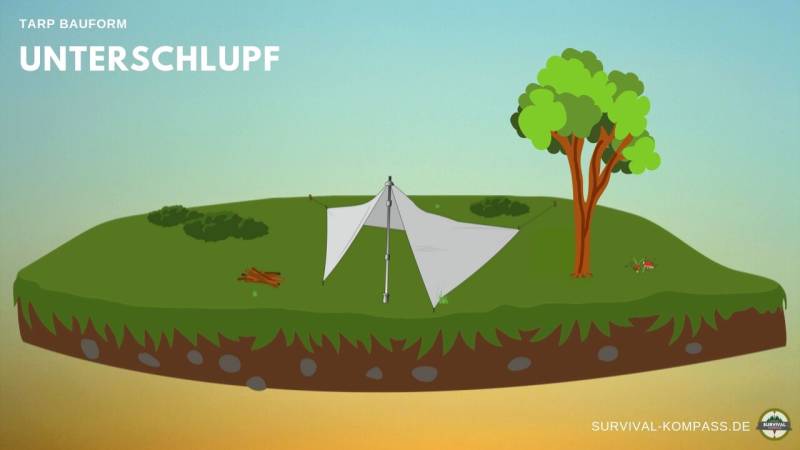 Variant 4: The A-Frame
The classic and very flexible. Proceed with the A-Frame exactly the same way as with the Rain Fly.
Don't hang your ridge cord too high. The difference to the Rain Fly is that you anchor the sides of the A-frame directly to the ground with carabiners, while those of the Rain Fly are floating in the air, so to speak.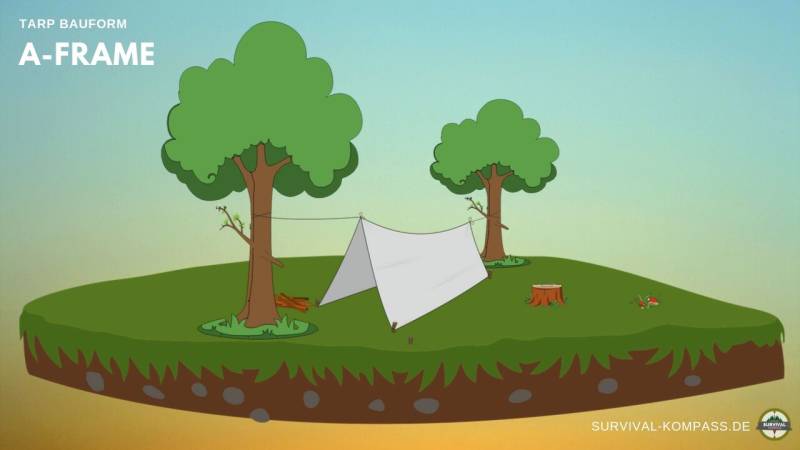 Purchase Recommendations
Do you want to start quickly and easily? Then take the tarp from Unigear. It is waterproof, with eyelets + 6 pegs + 6 ropes.
When purchasing, you acquire a compact and good beginner version.
Daten aktualisiert vor 19 Stunden
Unigear Abdeckplane für Regenwasser, Tarp Rain Fly, Zelt, wasserdicht, Wandern, faltbar, leicht, wasserdicht, für Camping und Schutz vor Regen, Schnee und Sonne
🎪ALLWETTERSCHUTZ – Besteht aus hochstrapazierbarem 210D Oxford Gewebe; PU 3000 wasserdicht und witterungsbeständig; Erhöher Sonnenschutz UV 50+ durch silberne Innenbeschichtung. Langzeitiger Schutz bei fast allen Wetterzuständen wie beim Regen, Gewitter, Schnee, starkem Wind, unter direkter Sonne etc
🎪MULTIEINSATZFÄHIGKEIT – Mit drei Größen (3x3m, 3x4m, 3x5m) ist UNIGEAR Zeltplane in verschiedenen Situationen einsetzbar – als Sonnen- bzw. Regenschutzschirm für Outdoor-Aktivitäten wie Camping, Picknick, Grillen oder Erholung am Strand usw. Als Hängematte Überzelt, Autounterstand, Sonnensegel für Ihre Outdoorküche
🎪PRAKTISCHE ALTERNATIVE - Breiten Sie die Zeltplane einfach aus und wandeln Sie die in einer Sekunde zum Zeltboden, Footprint, Campingplane etc. um, egal im Freien, auf Terrasse oder im Hof.
🎪LIEFERINHALT - ☀300 cm * 300 cm (8 * Festmacher): 1 * Zeltplane ; 6 * Aluminiumpfähle ; 6 * Nylonseile (400cm) ;1 * Tragetasche . ☀300cm*400cm (18*Festmacher): 1 * Zeltplane; 6 * Aluminiumpfähle ; 6 * Nylonseile (400cm) ; 1 * Tragetasche. ☀300cm*500cm (19*Festmacher): 1 * Zeltplane; 8 * Aluminiumpfähle ; 8 * Nylonseile (400cm) ; 1 * Tragetasche
💗Wenn das Produkt Probleme haben, kontaktieren Sie uns bitte, werden wir ihr Problem dann schnell gut lösen.
30,59 €
UVP: 35,99 €
View Product
If you're looking for a slightly better tarp, then get a tarp from DD Hammocks.
If you are looking for a really good tarp, then you are well served with the tarps from "Aqua Quest". Here you can't go wrong and have purchased a durable tarp.
AQUAQUEST Defender wasserdichte Campingplane – robuster Zeltunterstand oder Regenschutz – Wandern, Bushcraft und Hängematte, 3 x 2 m Olivgrün
Hochwertige Materialien und eine präzise Fertigung fließen in jede einzelne AquaQuest-Campingplane ein. AQ wurde 1994 gegründet und ist die Planenmarke, der Sie vertrauen können, wenn es um maximale Sicherheit in Ihrem Unterschlupf geht.
Die wasserdichtste Campingplane auf dem Markt. Die einzigartige Doppelbeschichtungsformel des Defender sorgt für eine branchenführende Wasserdichtigkeit von 20.000 mm, sodass Sie auch unter extremsten Bedingungen trocken und komfortabel bleiben.
Strapazierfähiges Nylongewebe, robuste Gurtbandbefestigungen, verstärkte Firstlinien und kräftige Nähte haben dem Defender den Ruf eingebracht, die robusteste Plane für Camping und Bushcraft zu sein.
Das DEFENDER 3 x 2 (Mittel) Tarp hat 21 Befestigungspunkte, wiegt 1,1 kg und bietet eine Abdeckung von bis zu 5,8 m2. Diese Größe ist ideal für schnelle und einfache Aufstellungen, die grundlegende Schutzbedürfnisse erfüllen. Es bietet Platz für bis zu 2 Personen.
Lebenslange Garantie für alle AquaQuest-Produkte inbegriffen, sowie kompetenter und zuverlässiger Kundenservice mit Sitz in den USA & Kanada. Mit 30 Jahren Erfahrung genießen Sie volles Vertrauen und gehen kein Risiko ein bei einem bewährten Branchenführer.
99,99 €
View Product
If the recommendations are not enough for you and you want to buy a tarp, then be sure to read my Tarp Buying Guide with additional recommendations.
---
What about you? Do you own a tarp?
How do you prefer to build it?
Or have you heard about this alternative to the tent for the first time today? If that's the case - could I convince you?
Will you get yourself a tarp and give it a try?
You are welcome to share your experiences in this field in the comments.

Was this guide helpful?
41 people found this guide helpful.
4.90 out of 5 points (42 Ratings)