Back to german article
The best Bushcraft pants for your outdoor adventure 2023 [+Buying guide]
Finding a good pair of bushcraft pants can be difficult given the immense selection. Here you will find the best and most established bushcraft pants.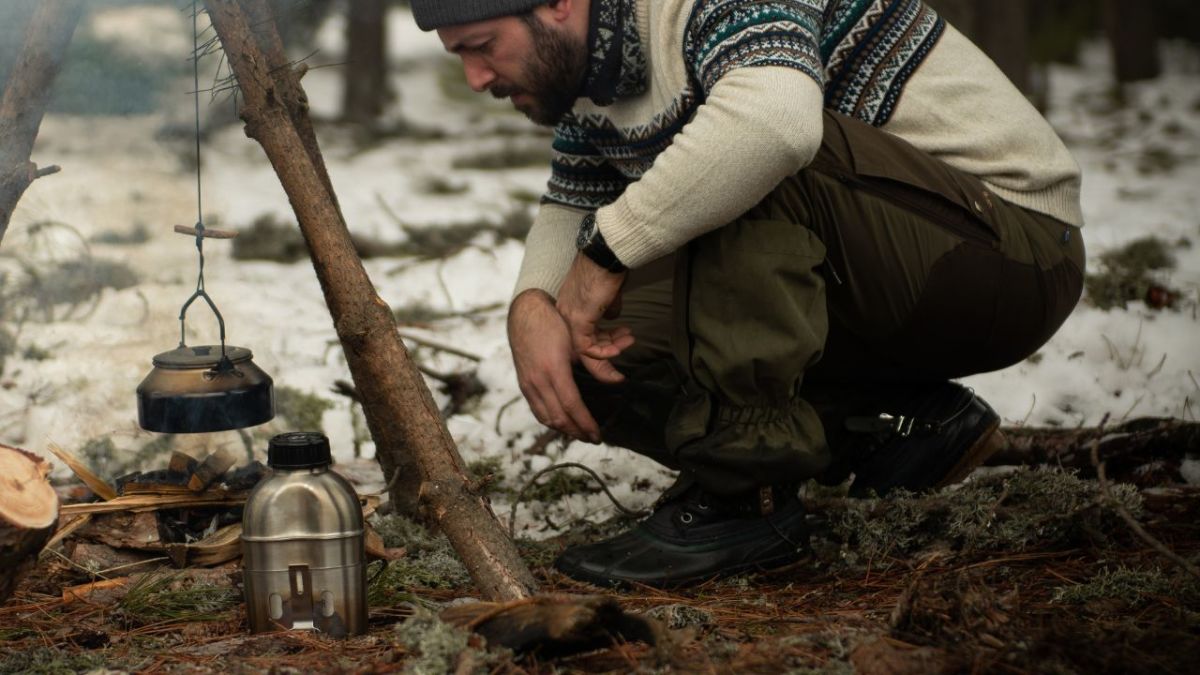 ---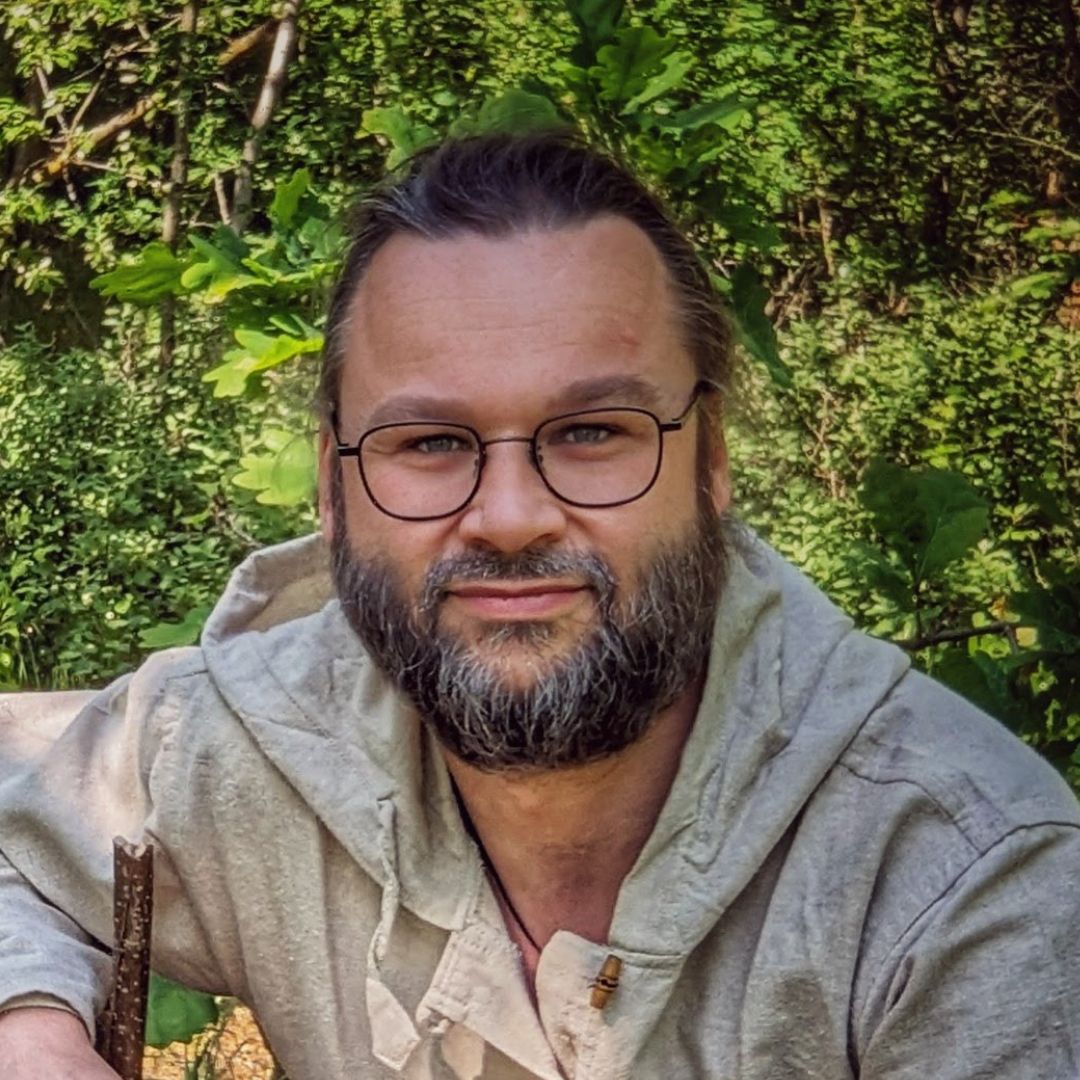 ---
👉 The key facts from this guide
Bushcraft pants are sturdy and durable, ideal for outdoor activities such as camping, hiking, hunting, and fishing. They are often made of robust materials like canvas, Hypershell, or a blend of polyester and cotton.
The Sitka Timberline pants are the ultimate bushcraft pants, they are extremely durable, waterproof, and have removable knee pads. However, they are also expensive.
The Fjällräven Vidda Pro is another suitable option, it is comfortable, has many pockets, and is wind and water-resistant.
The Wrangler Riggs Ranger pants are a more affordable option, they are made of cotton ripstop material and have reinforced knees and back pockets.
For hot weather, the LA Police Gear Tactical pants are a good choice, they are lightweight and quick-drying.
For winter, the Carinthia G-LOFT Loden pants are ideal, they are warm, breathable, and water-repellent.
It can be a challenge to find the best bushcraft pants that can withstand your next adventure.
Do you want a lightweight, breathable, and durable pair of pants, but with the right details to ensure comfort as well?
The right pants should be more than just a piece of clothing on the body.
It should seamlessly fit you and your lifestyle. The perfect pants for you are out there, and I'll help you find them!
This article is about finding the best bushcraft pants for your next adventure, so you don't have to waste time reading reviews.
What is a Bushcraft pant?
Bushcraft pants are a type of pants that are rugged and durable. They are best suited for people who enjoy exploring nature and enjoying bushcraft, survival, camping, hiking, hunting, fishing, and more.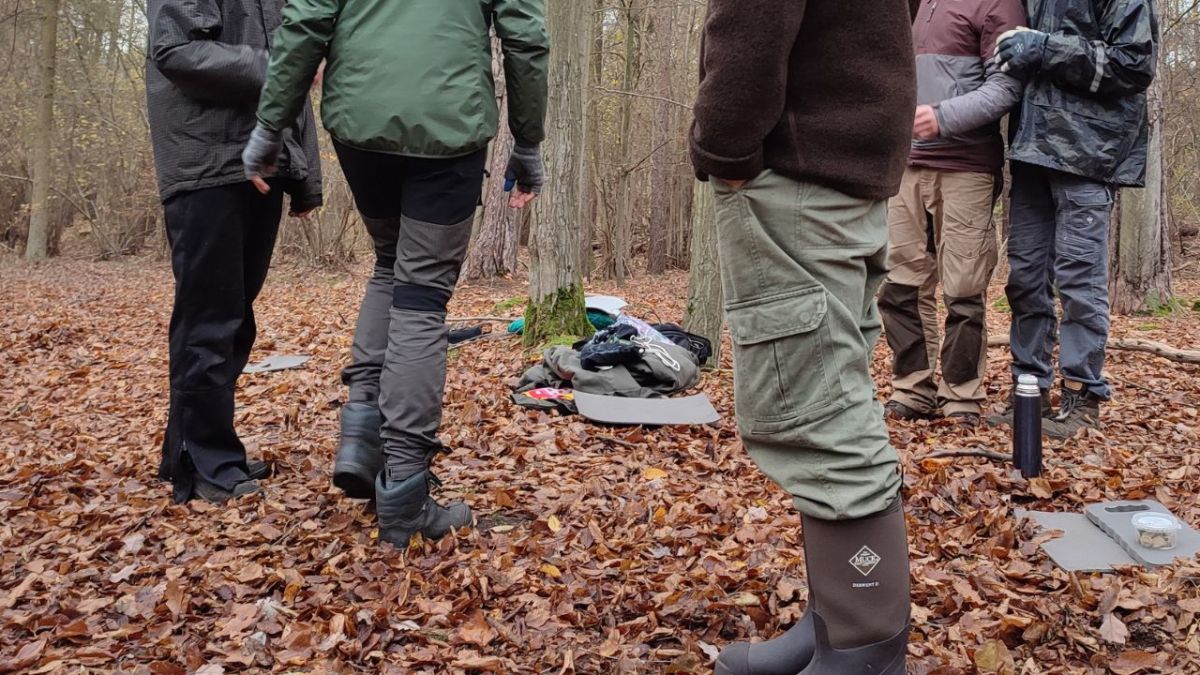 These pants are usually made of a sturdy fabric such as canvas, Hypershell, or a material blend of polyester and cotton. Bushcraft pants often have additional pockets and loops to store tools and other supplies.
The best bushcraft pants are not only made for men, but also for women. There are also a variety of different styles and colors to choose from. These pants are designed for durability so that they can withstand all types of outdoor conditions.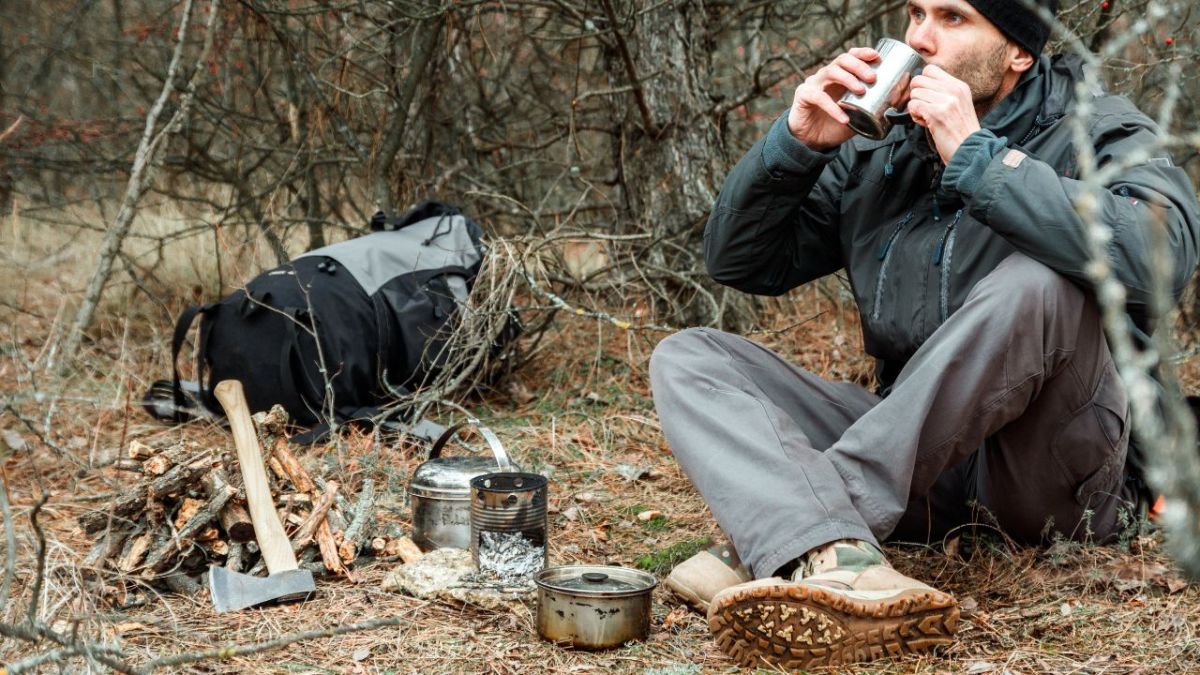 Some good brands of bushcraft pants are Helikon-Tex, Fjällräven, Sitka, or Wrangler.
Now that we have clarified what Bushcraft pants are, let's discuss some of the best pants on the market and how to decide the best Bushcraft pants for you.
A selection of the best bushcraft pants
The Ultimate Bushcraft Pants: Sitka Timberline Pants
If you want the best of the best, go for the Sitka Timberline Pant.
SITKA Gear Herren Timberline Hose Tarnung, Jagdbekleidung, Lead, 52
Stoff: 4-Wege-Stretch-Polyester-Außenhülle, Nylon-Ripstop-Sitz und Knie
Verstärkter Sitz und Knie – Der Sitz und die Knie sind mit einem wasserdichten Nylon-Ripstop-Gewebe verstärkt, so dass ein langer Slog auf einem nassen Sattel oder ein schneller Sitz im Schnee Sie nicht kalt und nass machen
Abnehmbare Knieschützer – Abnehmbare Knieschoner bieten zusätzlichen Schutz, egal ob Sie durch Talus in den nördlichen Rockies klettern, sich Ihren Weg durch Kakteen in der Sonora-Wüste suchen oder ein Tier auf dem Feld kleiden
Bewegliches Muster – die Passform ist sportlich mit konischen Beinen und einer flachen Taille, die sich nicht unter einem Rucksack zusammenfaltet oder scheuert
Entwickelt für wechselnde Bedingungen – diese Softshell-Hose ist die erste Wahl für die harten Bedingungen in der Mitte bis spät im Hinterland. Sie ist aus ultra-strapazierfähigem 4-Wege-Stretch-Polyester hergestellt, das sowohl wasserdicht als auch atmungsaktiv ist
kein Preis ermittelbar (B01B6QZVCS)
View Product
These pants are the most high-performance brand for comfort and performance. They are extremely durable, with waterproof seat and knee inserts, removable molded knee pads, and a water-resistant surface.
Admittedly, the big downside is the breathtaking price.
But these pants fit like a dream and are durable enough to last for years. Combined with warm leggings, they are suitable for three-season use.
Advantages
Excellent design and comfort
Durable
Removable knee pads
Water-resistant
Disadvantages
Expensive
Knee pads may sit slightly high or low depending on body type
Second Place: The Fjällräven Vidda Pro
Fjällräven pants are an absolute favorite among experienced Bushcrafters and the Fjällräven Vidda Pro is one of my favorite pants.
Daten aktualisiert vor 5 Stunden
It is made of a polyester/cotton fabric that has been treated with wax to give it wind and water resistance.
It is worth checking the fit and size before purchasing - with the right fit, the design of the pants allows for good freedom of movement. There is also a long version for taller people.
The pockets were designed for specific functions. There is a map pocket, an internal cell phone pocket, and a pocket for multiple tools.
It is nice to see that thought has been given to the functionality of the pockets, although the lack of back pockets may bother some people.
Advantages
Excellent design and comfort
Good selection of front and cargo pockets
Knee pockets for (optional) padding
Elastic cuffs keep snow out
Disadvantages
Expensive (although not as expensive as the Sitkas!)
No back pockets
Mid-range pants: Wrangler Riggs Ranger Pants
If you're looking for a fairly inexpensive bushcraft pant, then the Wrangler RIGGS is definitely the right choice for you. Although it is one of the cheapest pants on my list, it has a lot to offer and is exceptionally well-suited for bushcraft.
Wrangler Riggs Workwear Herren Ranger Hose, Navy, 34W / 32L
Entspannte Passform. Diese Arbeitshose mit lockerer Passform wurde mit Blick auf Funktion und Komfort entwickelt. Mit einer entspannten Passform durch Sitz, Oberschenkel und Knie sitzt diese Arbeitshose bequem auf der Taille und lässt viel Platz, um über Ihre Arbeitsstiefel zu passen.
ROOM2MOVE COMFORT Für lange Tage am Job wollen Sie eine Arbeitshose, die Sie bequem hält. Diese Hose mit verbesserter Passform verfügt über einen Schritt mit Zwickel und tiefe Vordertaschen für mehr Bewegungsfreiheit und Komfort.
Langlebige Materialien. Hergestellt aus 100 % Baumwolle Ripstop-Gewebe, für lange Haltbarkeit und Komfort, bietet diese Ripstop-Arbeitshose eine Schicht Schutz vor den Elementen während des Arbeitsplatzes.
Verstärkte Konstruktion. Gebaut für lange Haltbarkeit bei der Arbeit. Diese Arbeitshose ist in den Knien, Nähten und einem Bandmaßclip verstärkt. Gesäßtaschen sind mit 1000 Denier Cordura gefüttert für zusätzliche Haltbarkeit.
Zusätzlicher Stauraum. Ein sicherer Platz für alle Ihre Werkzeuge, diese Arbeitshose ist ausgestattet mit (1) Hammerschlaufe, (1) verstärktem Lederbandmaßclip, (2) geräumigen seitlichen Cargotaschen, (2) Gesäßtaschen, (1) Uhrentasche und (2) tiefen Vordertaschen.
90,32 €
View Product
For example, it is made of 100% cotton rip stop material. Rip stop is a special weaving technique that produces an exceptionally tear-resistant fabric.
This material is ideal for bushcraft, where your clothing can be subjected to extreme wear and tear.
All important elements have also been reinforced, contributing to great overall durability. The back pockets have also been lined with 1000 denier Cordura. This is a strong nylon-based material that gives the back pockets, which are the most susceptible to tearing, good durability.
Speaking of pockets: it's worth noting that there are a total of 7 pockets around both legs, and a tool storage loop on each leg.
In terms of comfort, Wrangler has opted for a fairly relaxed fit. The pants are not particularly tight, nor are they overly baggy. They are essentially designed to maximize comfort, so you can focus on the task at hand without having to worry about your clothing.
Even though these pants are more geared towards industrial work, they are still suitable for bushcraft.
Advantages
Very durable
Provides adequate protection against the elements
Reinforced seams and knees for additional protection
Multiple large and cleverly placed pockets
Comfortable and improved fit to increase mobility
Available in a variety of sizes that fit most people
Disadvantages
Requires special care when cleaning, as it can wrinkle and shrink
Can be a bit tight around the waist
Affordable Pants: Double-Knee Work Pants by Dickies
Although not labeled as bushcraft pants, the versatile work pants by Dickies are known for being comfortable and virtually indestructible.
The work pants by Dickies come with reinforced knees, front and back pockets, and a leg pocket in cell phone size.
This is a great pair of pants for dry conditions when you're fighting through trees or bushes or completing tasks at camp. However, since the fabric is not water-resistant, it may not be the best choice if you're exposed to a lot of rain.
Dickies pants don't have the bells and whistles of the Sitka line, but since they cost about a tenth of the price, they're great for budget-conscious bushcraften.
Advantages
Robust, durable fabric
Reinforced knees
Comfortable and long-lasting
Affordable
Disadvantages
No cargo pockets
Fabric is not water-resistant
Best for hot weather: LA Police Gear Tactical Pants
Another popular brand for affordable pants, LA Police Gear pants come in a wide range of colors and are inexpensive.
The Tactical Pants with Elastic Waistband are particularly good for hot weather. The polyester/cotton fabric is lightweight and dries quickly when wet.
LA Police Gear Herren Urban Ops Tactical Pants, Leichte Cargohose für Herren, Wasser/Fleckenresistent, Durable Ripstop Pants, Schwarz, 28W / 30L
Vielseitig – Mit vielen Funktionen kann unsere taktische Urban Ops Hose als Wanderhose, Arbeitshose, Arbeitshose oder EDC-Hose getragen werden, ohne dabei aus Platz zu schauen.
Langlebig – Hochwertige Materialien, verstärkte Steg-Tack-Nähte, RipStop-Gewebe, vorgeformte Knie und ein Zwickel im Schritt bieten Bewegungsfreiheit und Reißfestigkeit, um sicherzustellen, dass diese Tac-Hose auch unter rauen und unermüdlichen Bedingungen hält.
Taschen – 7 Taschen insgesamt; darunter 2 Fronttaschen, 2 Gesäßtaschen, 1 Einschubtasche vorne und 2 große Cargotaschen. Diese Cargohose bietet viel Platz zum Verstauen und Organisieren Ihrer EDC- oder Arbeitsausrüstung.
Stoff – Ripstop-Gewebe verhindert das Ausbreiten von kleinen Rissen und Rissen, während eine spezielle Gewebebehandlung diese Hose wasser- und schmutzabweisend macht. Damit sehen Sie sauber und professionell aus.
Dehnbarer Bund – Diese taktische Hose hat einen selbsteinstellenden, elastischen Bund, der eine präzise Passform für zusätzlichen Komfort bietet, während Sie gleichzeitig mehr Platz für das verdeckte Tragen eines IWB-Holsters oder zum Einstecken in Ihr Uniformhemd geben.
kein Preis ermittelbar (B01CF3J03M)
View Product
The pants have an elastic waistband for a comfortable fit, but many people find them a bit tight and the low rise may not be for everyone.
Advantages
Lightweight and cool in hot weather
Wide range of colors
Good number of pockets
Inexpensive
Disadvantages
Fabric is not water-resistant
Fit may not be for everyone
Best for Winter: Carinthia G-LOFT Loden Pants
When the temperature drops and the landscape turns white, you need pants that will keep you warm and protected. The Carinthia G-LOFT Loden Pants combine warmth and durability in one.
Carinthia G-LOFT Loden Hose oliv/braun
Elastischer Gummibund mit Knopfverschluss und Gürtelschlaufen
Abgedeckter seitlicher Reißverschluss vom Saum bis zum Knie für ein leichtes Anziehen
Zwei große Seitentaschen mit Munitionsschlaufen
Verstärkter, anatomisch vorgeformter Kniebereich
379,95 €
View Product
The Carinthia Loden Pants, known for their quality and warmth, are made of 75% virgin wool, 25% polyamide, and Loden.
Unlike most fabrics, wool is both breathable and naturally water-repellent. And most importantly, if the pants do get wet, they will still keep you warm.
The Carinthia Loden Pants have two large side pockets and a knife pocket on the right, and can be worn with either a belt or suspenders. A word of warning - never wash the pants in the washing machine, as wool shrinks in the machine.
One of the useful features is the zip-in inner pants - this keeps you nice and warm in the winter.
Advantages
Very warm
Breathable and water-repellent
Plenty of natural material
High-quality, durable workmanship
Reinforced inner leg and hem area
Adjustable inner leg closure
Sturdy shoe hook for attaching to shoes
Zip-in inner pants for additional insulation
Includes stuff sack
Disadvantages
Only dry clean
Expensive
If you're looking for a cheaper pair of Loden pants, refer to the Pinewood Edmonton Hunting Pants.
Best Bushcraft Pants for Women
If you are looking for a feminine fit, you may feel limited in your selection of pants.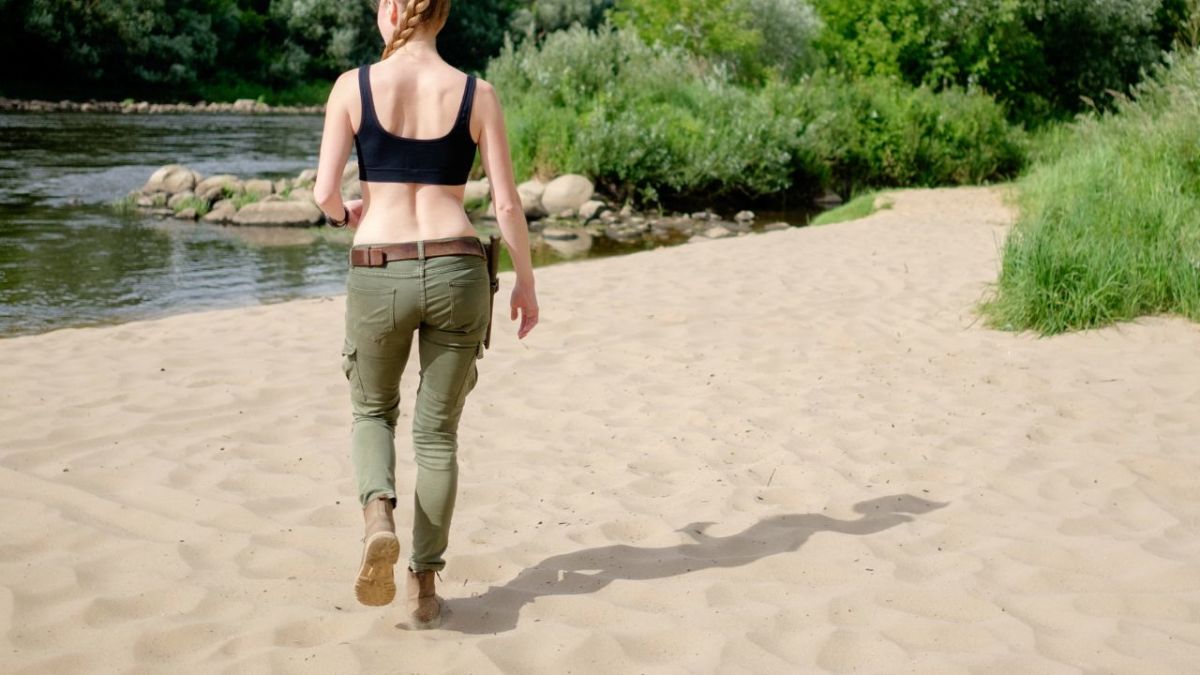 But you don't have to resort to buying men's pants unless you want to, as there are several brands that offer the same quality and features in a woman's fit.
Fjällräven Vidda Pro
If you have money to spare and are looking for an extremely high-quality bushcraft pants, then I recommend the Fjällräven Vidda Pro. I have already written about the pants in more detail above.
Daten aktualisiert vor 5 Stunden
Overall, this is a good quality outdoor pants, well constructed with multiple pockets and cut to fit comfortably. These pants keep you warm and dry and are recommended for any season.
The Fjällräven Vidda Pro is definitely a good choice if you are looking for the best bushcraft pants for women.
Helikon-Tex OTP Pants
Making outdoor pants is one thing, but making outdoor pants that are truly high-quality is another thing. This is something that Helikon has perfected over the years to create the best bushcraft pants for women.
The Helikon-Tex OTP tactical pants are a comfortable 4-season pants that are perfect for outdoor use all year round.
Many female Bushcrafters find these to be the ultimate tactical outdoor pants because it is designed to withstand all types of terrain use.
The fabric is effortless to wear, and the pants are super breathable, allowing for most outdoor activities. These tactical pants protect against rain and winter weather, dry quickly, and keep you warm.
If you are looking for a bushcraft pants that have a rugged design, many pockets, and high-quality comfort, then the Helikon-Tex OTP pants could be a practical option for you.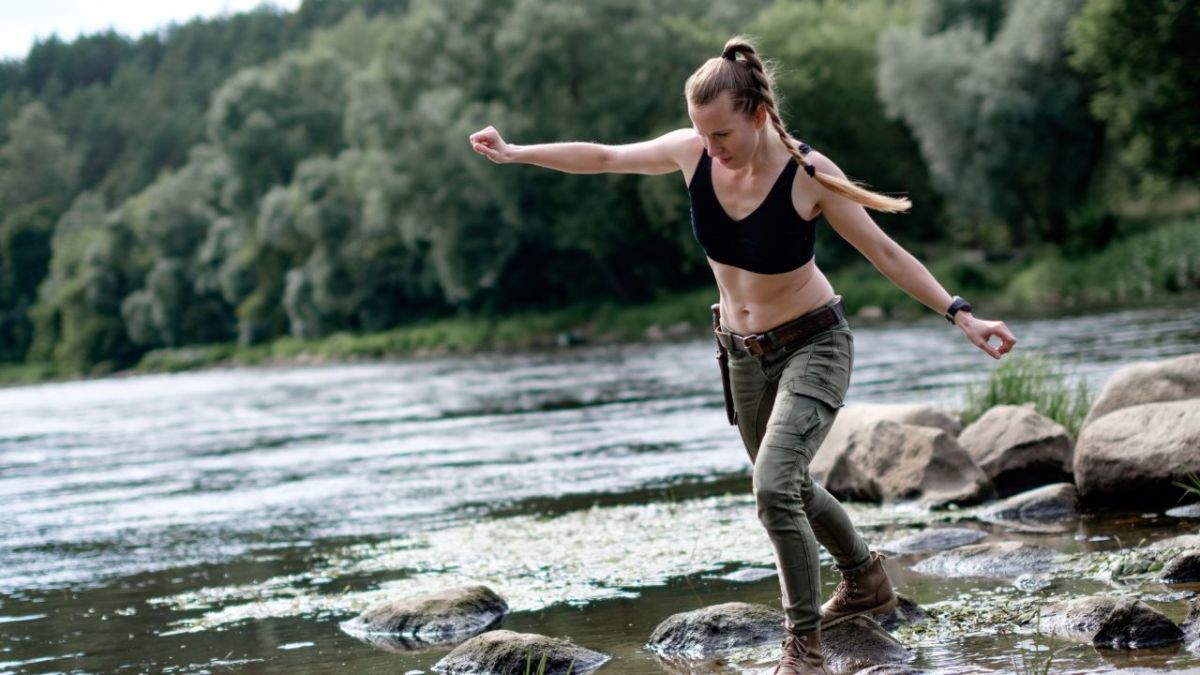 Singbring Women's Outdoor Pants
Now we have another great option for women. These fleece-lined Singbring outdoor pants for women are wind and waterproof bushcraft pants.
The best activities for these outdoor pants are skiing, climbing, camping, fishing, and hiking. It is a four-season pants that is perfect for most leisure activities.
Singbring Damen Outdoor Wasserdicht Winddicht Ski Schnee Wandern Hose - - Mittel
Dickes Fleece und dünne und schnell trocknende Typen. Dicke Fleece-Hose ist besser geeignet für kaltes Wetter
Mehrere wasserdichte Reißverschlusstaschen halten persönliche Gegenstände sicher
Verstellbare Taille ermöglicht eine bequeme Passform
Das Patchwork-Knie ist atmungsaktiv, stark und verschleißfest
Damen-Outdoor-Hose, ideal zum Wandern, Bergsteigen, Camping, Skifahren, Snowboarden und für andere Winteraktivitäten
kein Preis ermittelbar (B07GGY7QD9)
View Product
The pants are an affordable alternative to some of the more expensive outdoor pants on my list, but overall they are good for most outdoor activities. In summary, I would say that these pants are great for someone who is just getting into an outdoor hobby or simply does not want to spend a lot.
Under Armour Tactical Patrol Pants
The Under Armour Tactical Patrol Pants for Women is a comfortable mid-range option with a good selection of pockets and colors.
Under Armour Damen Tactical Patrol Pants II
Das Material leitet Schweiß ab und trocknet sehr schnell
Strapazierfähiges Rip-Stop-Gewebe hält der härtesten Behandlung stand
Offene Taschen für die Hände, sichere Klappenverschluss hinten und Cargotaschen
Schrittlänge: 81 cm
Under Armour Mission ist es, alle Athleten durch Leidenschaft, Design und das Streben nach Innovation besser zu machen
123,11 €
View Product
Do I really need a Bushcraft pants?
An outdoor pants is an essential piece of equipment for any type of outdoor activity, especially in winter. It is a layer that protects your legs from wind, snow, and water. A good pants also provide additional warmth.
There are many reasons why someone might want an outdoor pant. Maybe you are just starting with Bushcraft, or perhaps you enjoy hiking.
No matter what you do, there is a possibility that you will eventually encounter extreme weather conditions or require pants that are extremely durable.
If you're still running through the woods in denim fabric, that's not a good choice as it doesn't hold up well to water and isn't durable.
Furthermore, denim fabric is not particularly breathable, dries slowly, and is overall heavier than many other fabrics. A better choice would be a synthetic fabric such as polyester or nylon, which are lighter and more breathable.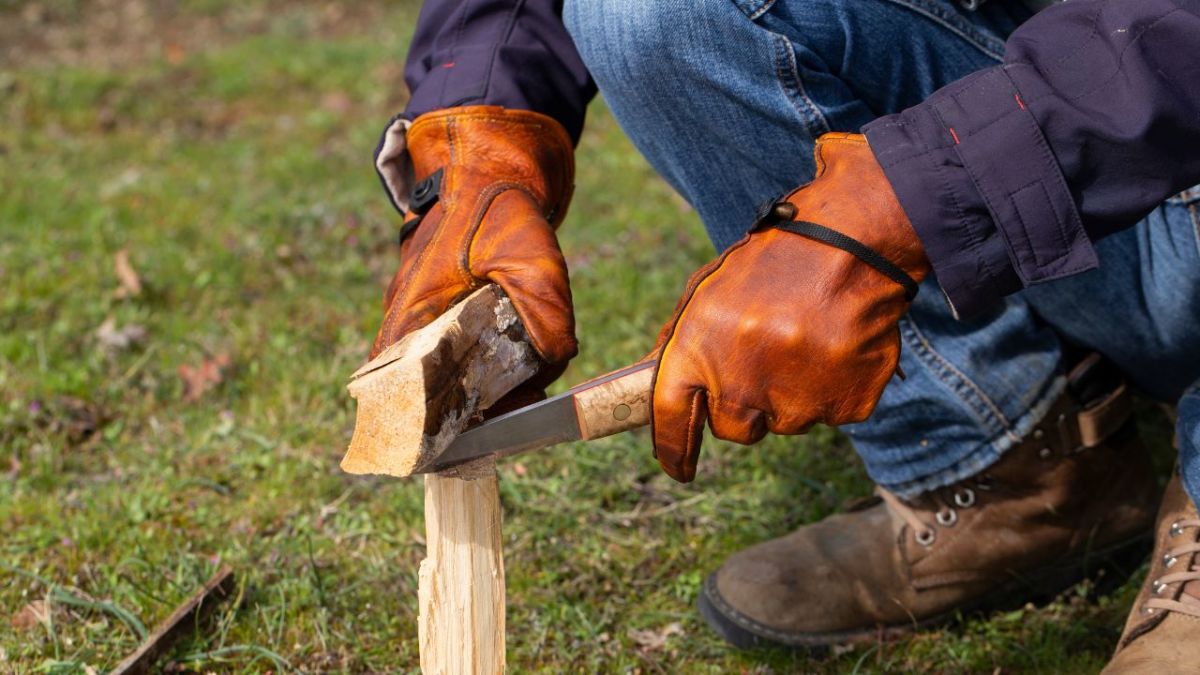 The advantages are obvious because Bushcraft pants are often:
Protective, because it's robust
Water-repellent
Quick-drying
Warm, depending on the pants
Breathable
Lightweight
Good bushcraft pants often come with a high price tag. But are they worth it?
In my opinion, YES.
Usually, you're not just paying for a brand name. You're paying for a fabric that repels water, dries quickly, and is sturdy enough to walk through thickets and bushes without tearing.
A cotton pants worth 15 euros may be okay for summer hiking trails, but if you're looking for clothing that can withstand a disaster scenario, you should set your standards a bit higher.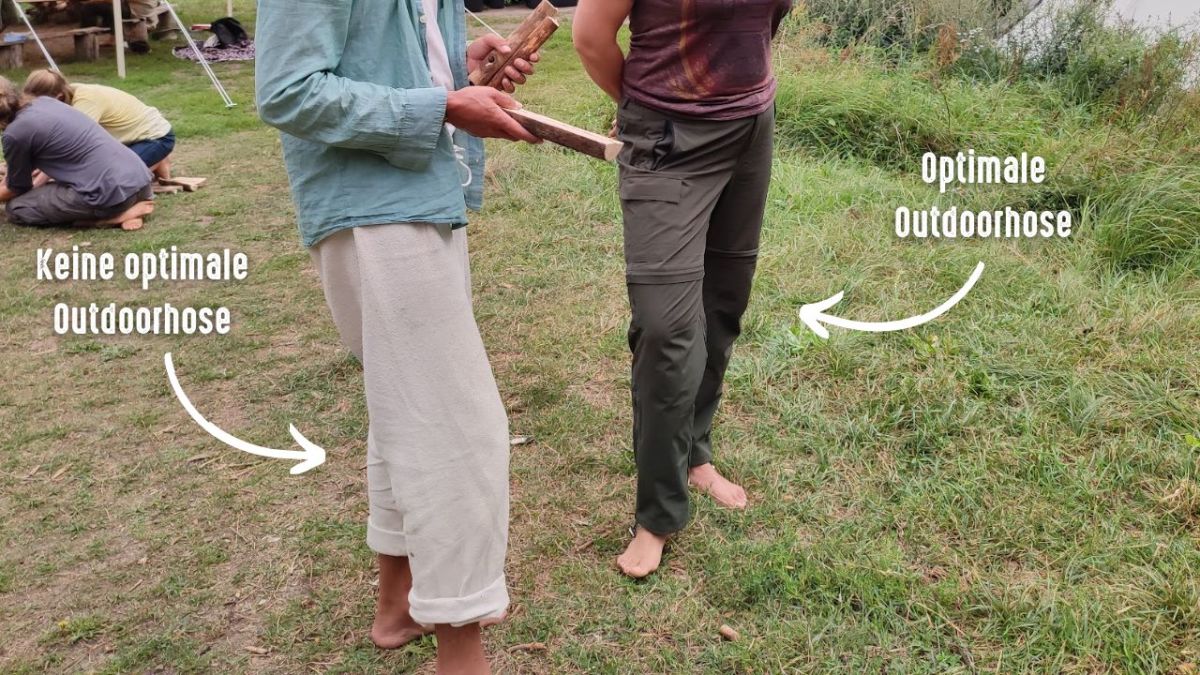 A good pair of pants lasts a decade or longer. The upfront investment may make you cringe, but eventually, it could be cheaper than having to buy a new pair of pants every season.
How to choose the right Bushcraft pants? - What to consider when buying Bushcraft pants
Surely, when buying pants, you think about good comfort. That is still the most important factor, but if you are looking for the perfect pants for Bushcrafting, there are a few other things to consider.
Durability
Durability is the main feature to look for in Bushcraft pants.
Sure, you can buy several cheap pants, but you will regret it when your legs are full of scratches, and you constantly wonder how that could happen again.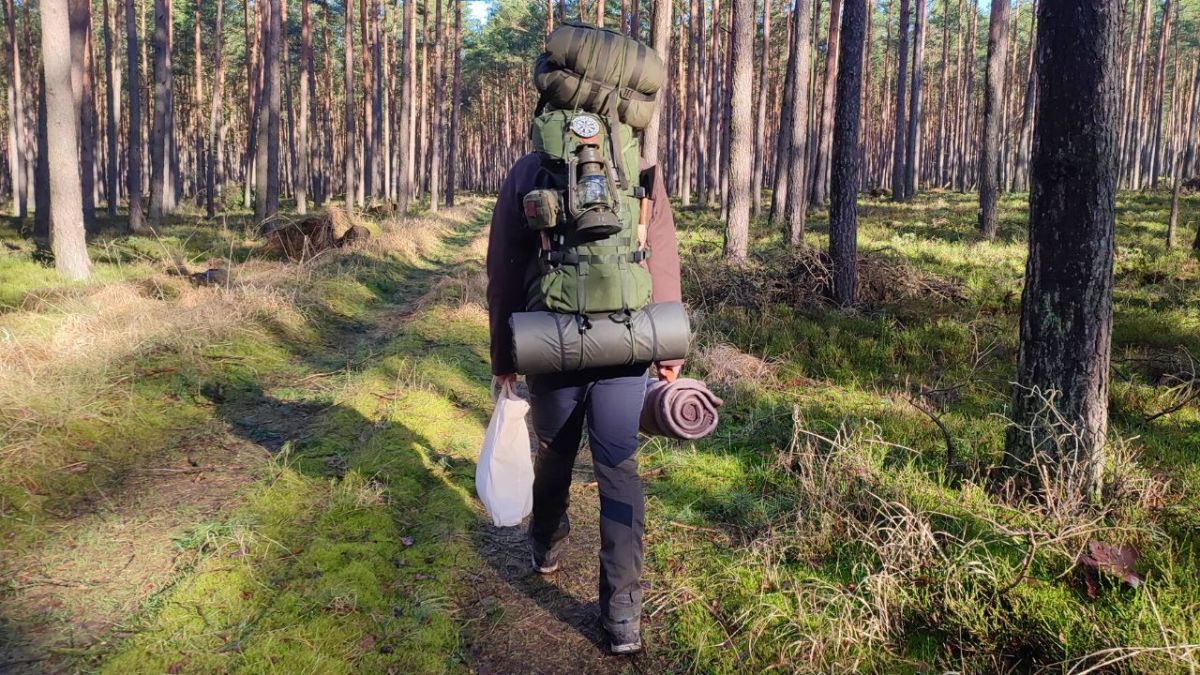 Instead of owning multiple pairs of pants, it's better to invest in a high-quality bushcraft pant that will accompany you for your entire life.
Remember that they are much more robust than your normal clothing, as these pants are designed for outdoor use.
The cost of your pants should be directly proportional to their quality and durability. Bushcraft is a serious activity that is all about your safety.
The fact is that we often work with dangerous tools such as knives, saws, or an axe, so it is incredibly important to always be protected.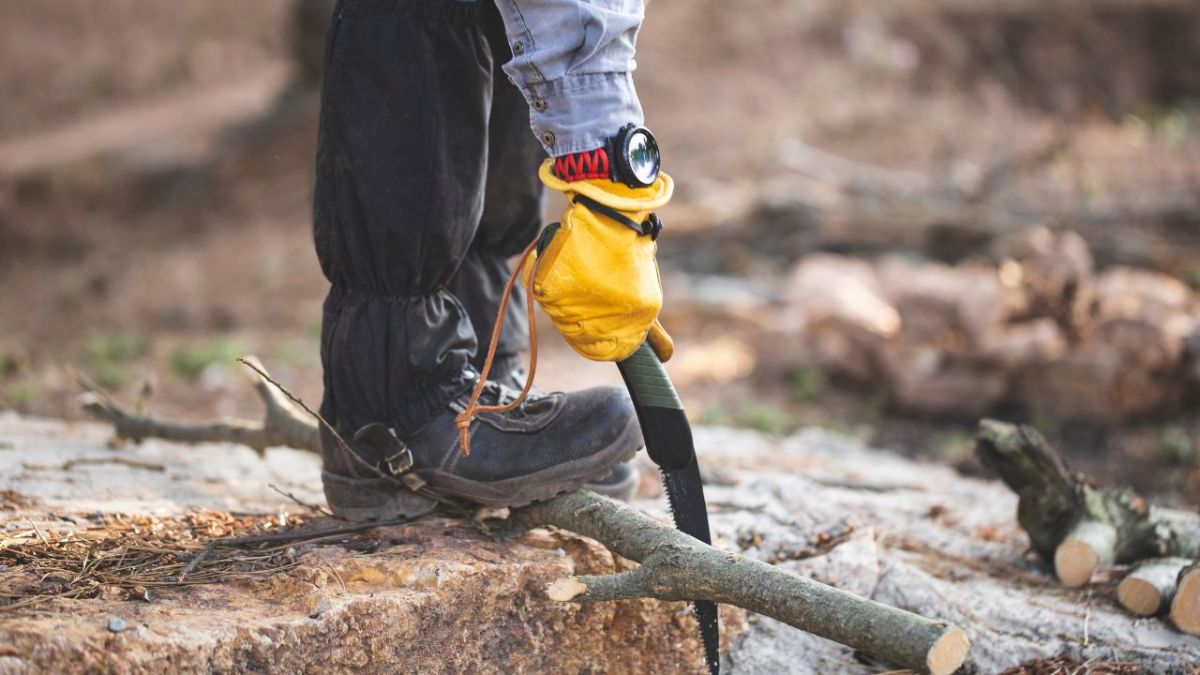 If you want something you can trust, then invest in a matured Bushcraft pants.
Comfort in Bushcraft Pants
At the end of the day, it is incredibly essential to feel comfortable. It doesn't make sense to have the most durable and functional pants in the world if they are not comfortable to wear.
I can still remember my first time Bushcrafting well: after a long day in the woods, I was plagued by my itchy, stiff, and chafing pants. At the latest from this point on, I wished for more comfort.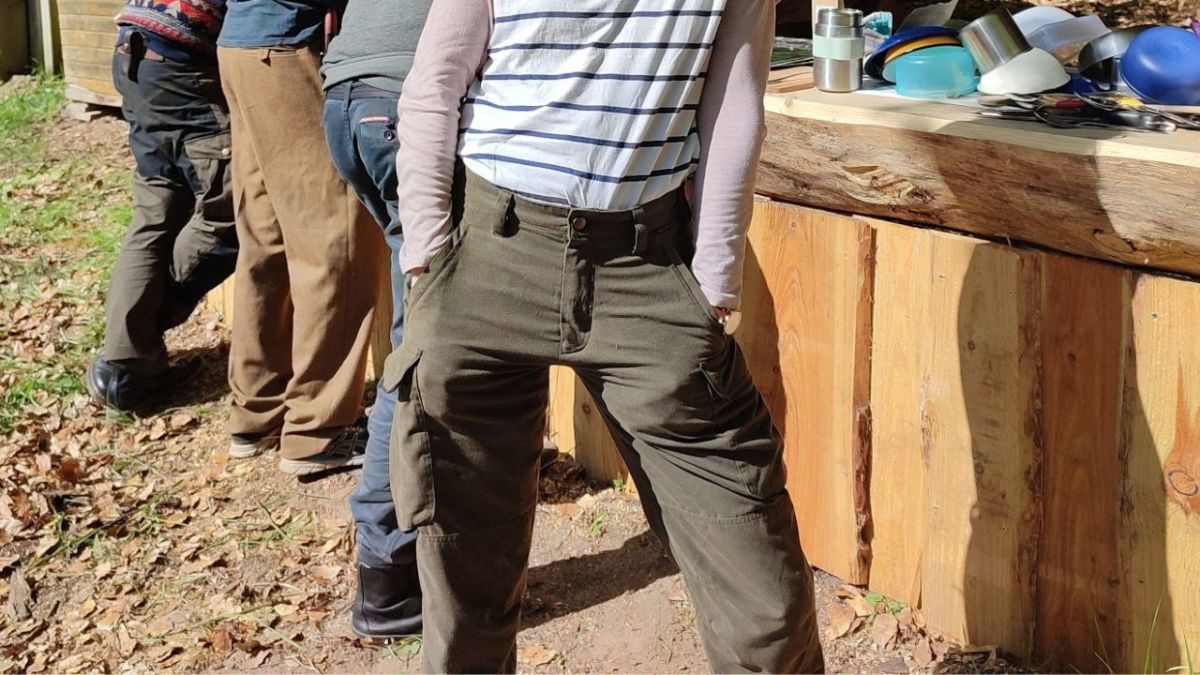 Therefore, comfort is one of my top priorities. Practical features include a wider waistband for more support, a gusset in the crotch area, and additional padding in the knees.
A few different factors contribute to the overall comfort of a pair of pants.
General fit: Fortunately, most brands offer their outdoor pants in a fairly wide range of sizes. The right fit is important if you don't want to constantly adjust your pants while on the go.
Adjustability at the waist: Due to the general nature of Bushcrafting, you will be doing some pretty strange things in some pretty strange positions. Whether you're climbing a tree, crawling through underbrush, or whatever, your pants must fit and adapt to your body shape. The problem is that everybody is different, which means we need to be able to adjust our pants to our specific body shape.
Fabric - The fabric not only plays a key role in protection, but also in comfort. Fortunately, both cotton and polyester (the two most common materials) tend to be quite comfortable.
Ventilation - Just as bushcraft pants are meant to keep you warm in the cold, they should also help you stay cool in the heat. To this end, most brands integrate mesh inserts into a range of pockets to support airflow in and out of the pants.
Which fabric should I choose?
During a bushcraft tour, you will most likely come into contact with dangerous and sharp objects: not to mention thorns, branches, and twigs!
You should consider where you want to wear your pants. If you spend most of your time in damp environments, wool may be a better choice than cotton or polyester as it dries faster and does not absorb water as easily.
Generally, cotton is not a good choice of fabric for outdoor activities, as it absorbs and retains moisture and draws your body heat away from your body and outwards.
A polyester blend wicks sweat away better and dries quickly after getting wet. In freezing conditions, wool is your friend.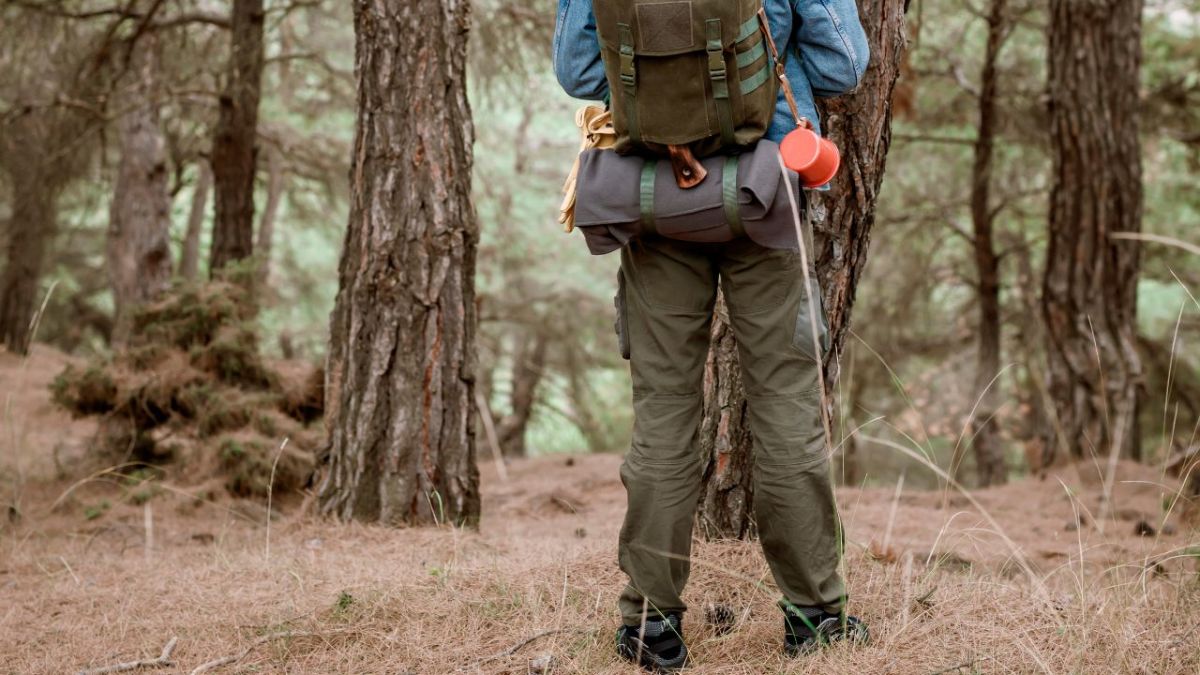 You may find that there is a compromise between weight and durability. If you can rule out being outside in very hot weather, a medium-weight fabric is a suitable option.
Some pants also have a water-repellent treatment, although you can always do this yourself at home with a chemical or wax treatment. I do not recommend a fully waterproof pants for Bushcrafting.
Waterproof and weatherproof
Being outside while it's raining is a burden. You won't feel comfortable or be able to fully exercise your Bushcraft skills if you're afraid of getting wet.
Furthermore, you will encounter different weather conditions. It can be hot during the day and extremely cold at night.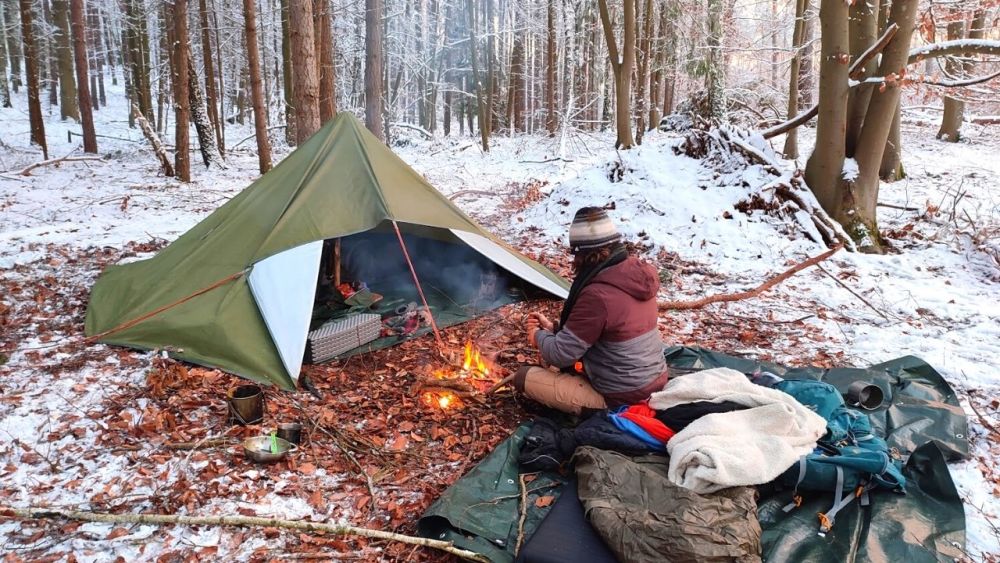 As it is not realistic to change clothes with every change in weather, the best pants for Bushcrafters provide the weather protection they need. This way, you are always safe from the elements.
Bags from Bushcraft Pants
The more pockets, the better, right?
Well, only if you require them.
If you are out in the wilderness, it is naturally useful to have your bushcraft tools and equipment within reach. This is especially important when you are carrying a heavy backpack.
Most pants have a variety of pockets and belt loops to store money, tools, phone, and snacks. It is useful to have at least one zipper pocket for valuables that should be easily accessible.
A good pair of pants for bushcraft should have at least two pockets and a compartment.
The most significant pockets are placed near the waist for simplicity.
Reinforced fabric or knee pads
If you often kneel and sit down to carry out your Bushcraft projects, you should primarily protect your knees and buttocks. You do this with additional fabric or reinforcements on the knees.
Remember: You can always replace a pair of pants - replacing your knees is more difficult.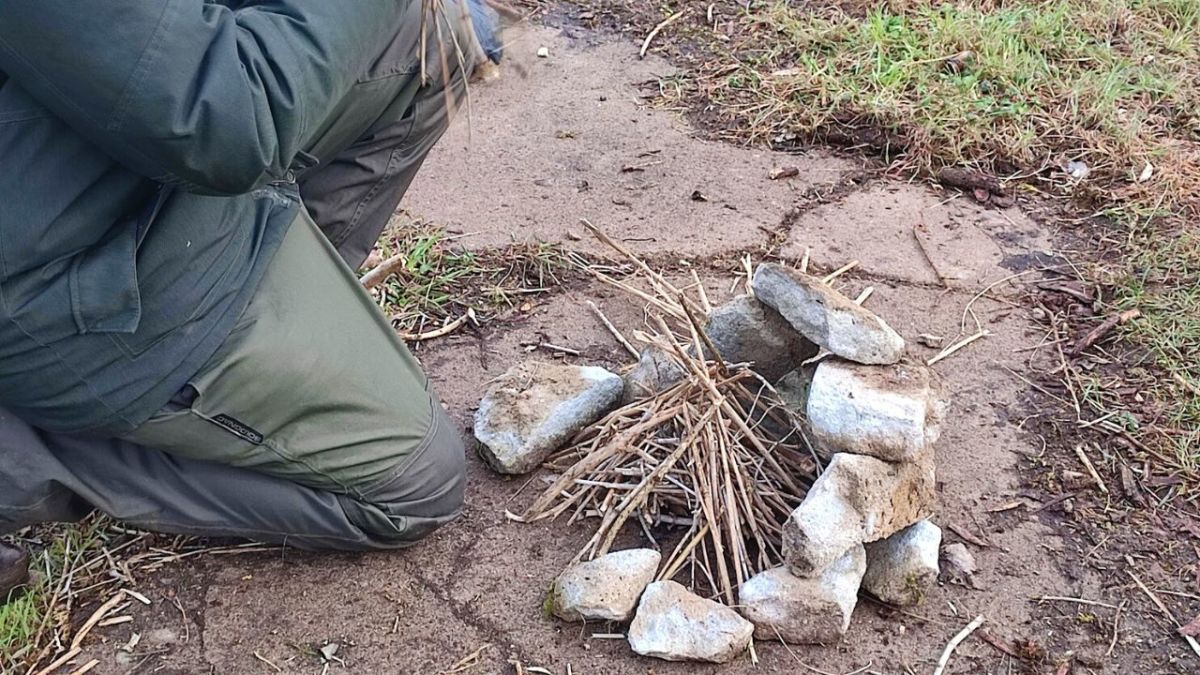 Zippers and ankle closures
Leg zippers can contribute to ventilation in warm weather and ankle cuffs provide a snug fit and secure your pants high above your boots, making them less likely to get wet.
Conclusion: Consider carefully where you want to use the pants
Before you start looking for a specific pair of pants, you should carefully consider under what conditions you will be using them.
No matter how expensive or feature-packed they are, the best pants are the ones that are comfortable for you and keep you warm, cool, or dry in all weather conditions.
If you want a more flexible clothing system, add a thin thermal pants for cooler conditions.
If you know that you will be spending a lot of time outdoors in the rain, you should get yourself a waterproof pants that you can wear over your regular pants.

Was this guide helpful?
32 people found this guide helpful.
4.88 out of 5 points (33 Ratings)