Back to german article
Bushcraft: how to get started? (The ultimate beginner's guide)
Do you want to start with bushcraft? Then learn everything about the first equipment and exercises as well as German laws and techniques in this guide.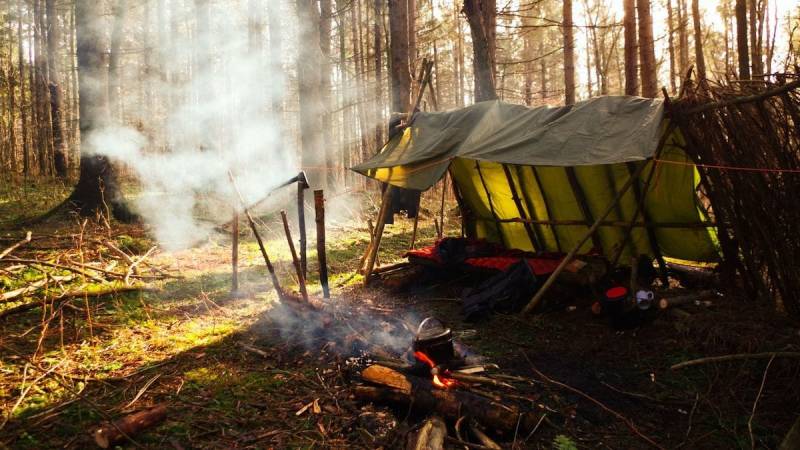 ---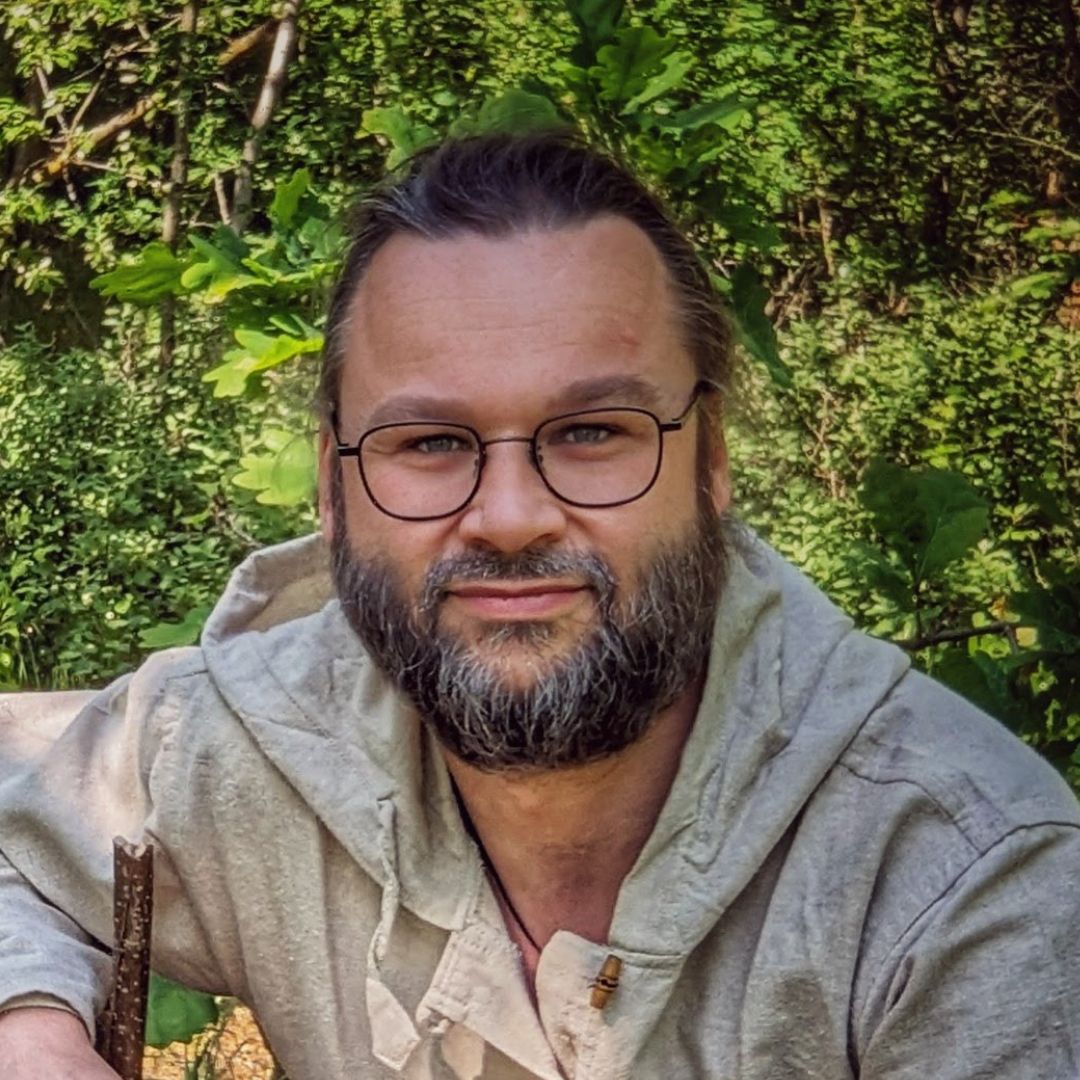 ---
👉 The key facts from this guide
Bushcraft is living in nature with craft skills. Start with a day trip before venturing into overnight stays.
The equipment for bushcraft does not have to be expensive. Important items are a good knife, weatherproof clothing, a backpack, food, drink, and a first aid kit.
There are certain laws that you must observe when Bushcrafting, such as where you can make a fire or camp. Inform yourself well beforehand.
The preparation for the first day in the forest includes planning for water and food, checking the weather, and choosing a suitable location.
There are many exercises that you can try as a beginner, such as setting up a camp, starting a fire, and cooking outdoors.
Avoid common mistakes such as carrying a backpack that is too heavy, having too little food and drink, being careless with tools, and underestimating the weather.
You want to start with Bushcraft, but don't know how?
In this article, you will learn the following:
What kind of excursion you should make as a beginner
What equipment is useful
Which specific equipment items I recommend
What laws you need to follow (in Germany)
How to prepare for your first day
Which first exercises I recommend
Let's get started!
How do I start with Bushcraft?
Bushcraft: life in nature combined with artisanal skills.
Setting up camp by a small stream, in the forest among the trees. That sounds great, doesn't it?
So that you don't get lost in the woods without a plan, I'll show you how to start easily and quickly.
A Day in the Forest
Start with a day trip. It can last for 3 hours or even 8 hours.
Don't plan for an overnight stay, that would be too much for your first time doing Bushcraft.
Your food and drink are, of course, with you. Plan a hike of a few kilometers and then find a spot to linger.
Or book yourself a night at a campsite because there you can usually make a fire, and you are not alone.
There you will start your first exercises, which I will describe in more detail further down in the text.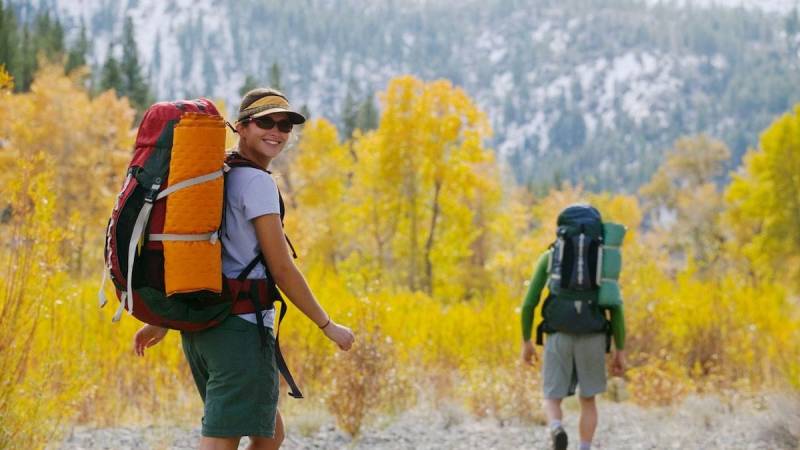 A night in the forest?
You should bring more knowledge for that.
Especially because you won't be sleeping in your own comfortable bed. This can be very unusual for someone who hasn't even slept in a tent before.
I do not recommend sleeping in the woods before you have thoroughly practiced important bushcraft or Survival Techniques.
Sleeping in the forest is not the same as sleeping in a tent at the campsite.
Realize that it is pitch black and you are on your own.
In my article "The first night in the forest: how to sleep well in your camp", you will receive the complete guide to location, equipment, and attitude.
And here's a tip: Sleep like almost all Bushcrafters with a tarp, sleeping mat, and sleeping bag.
And if you like it rustic and primitive, then build a shelter from natural materials.
Take on the endeavor only when you are proficient in the basics, such as:
If you add more survival components, you must master the following:
For starters, that's just too much, even though you're probably eager to try it now.
Alone or with a partner?
Bushcraft is already a lot of fun and enjoyment.
But I can assure you that Bushcraft is much more enjoyable when you can share the joy with others.
I am happy, for example, when I can show like-minded people what I have built - and when the shelter is standing or when the fire pit is prepared.
Or when I can learn something from others and gain new knowledge.
Therefore, do not go alone, but find yourself a partner.
For this, I have developed the companion search. Sign up on the website and create your first event.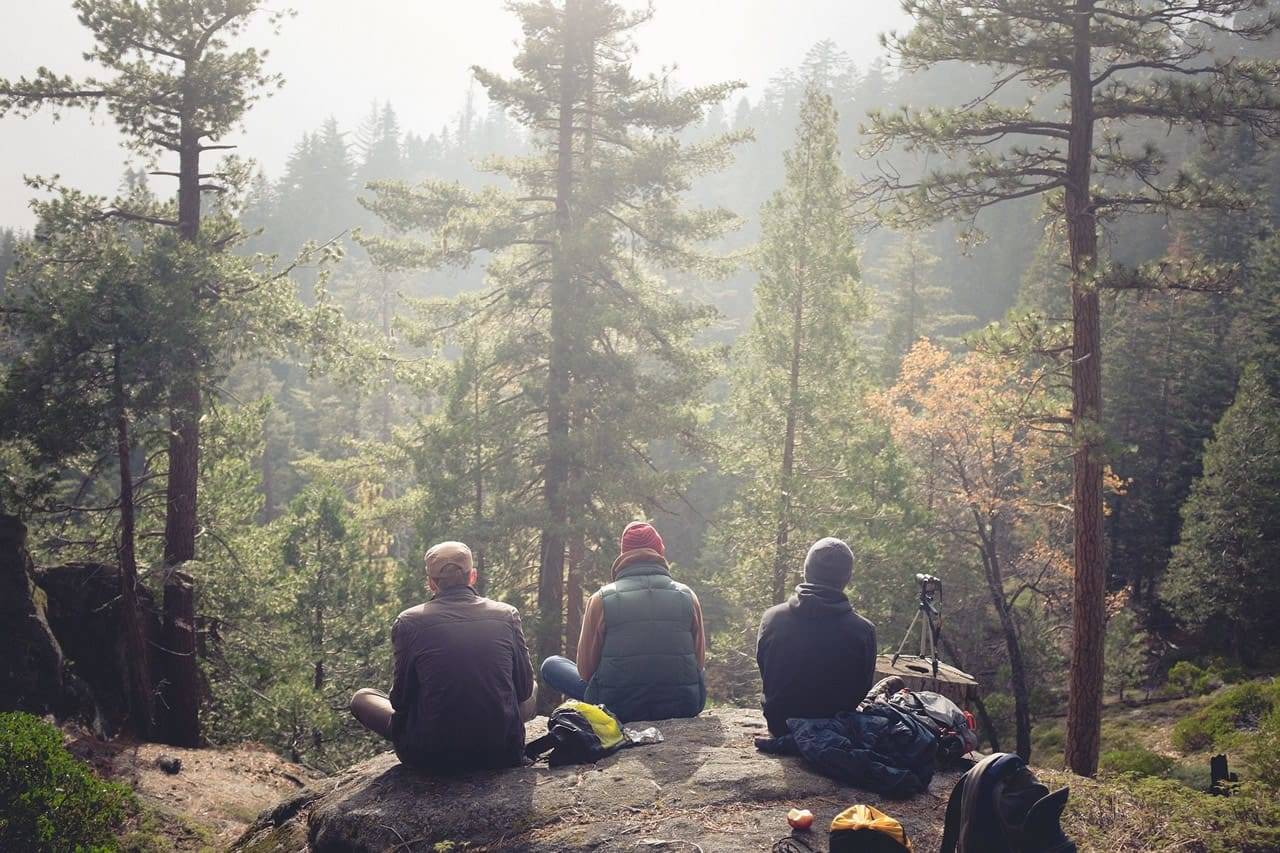 A Wakeful Mind
Bushcraft (and survival) thrives on a vigilant mind.
You have to think along, combine and then implement your plan.
The right strategy leads you to your goal. Simply "going for it" may work at the beginning, but after a short time, you have to use your head.
Furthermore, you must gradually sharpen your senses: perceive the calmness, the scent, the sounds, and the wind.
My tip: approach nature with "childlike curiosity" and open eyes and ears.
What equipment is useful for bushcraft
The most important thing for learning bushcraft is a great interest in nature. That costs nothing.
For a day in the wilderness, you don't need much.
Minimal equipment for a day trip
As already described above, it's better to start with a small day trip. Take the following with you:
Weatherproof clothing and comfortable hiking shoes
The weather is unpredictable, so bring good clothing. In addition, your shoes should be broken in. Blisters on your feet can ruin your entire trip. Later on, you can look for good bushcraft pants and gloves.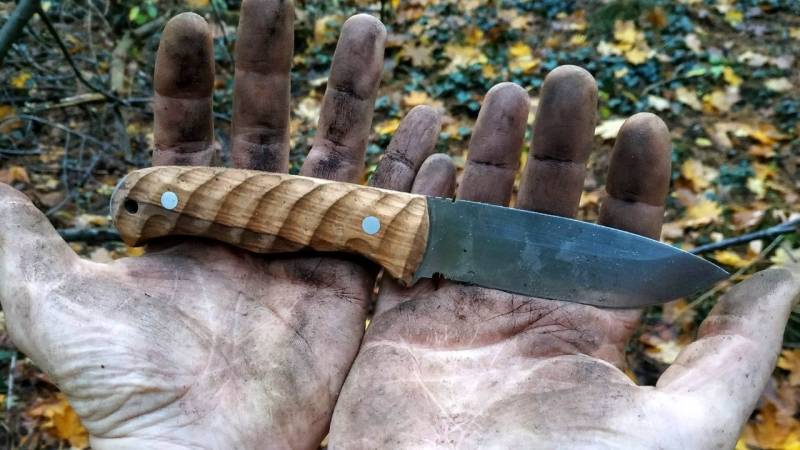 Backpack and Blanket
You probably have both at home. Or you can borrow them from your family/friends.
Food and Drink
Hunger and thirst are not good advisors on your trip. Pack sandwiches and drinks.
First Aid Kit
Unexpected things often happen in the wilderness. To be prepared, bring a mini first aid kit with you.
Standard equipment for a day trip
With your minimal equipment and a few day trips, you now realize that you are very interested in bushcraft?
Then you expand your equipment. Surely, you have already noticed that some ideas are difficult to implement with just one knife.
Or you encountered bad weather. Then take the following with you in your equipment:
Plane
You need this for a permanent camp. Protection is essential in case of rain or strong sun.
Saw
Working on logs or branches with a knife is tedious. Therefore, take a saw next.
Knitting / Rope
Take whatever you find at home. This can also be the hemp rope from the garden. This is useful for making wood connections or securing things.
Advanced equipment for spending the night in the forest with fire
If you need more flexibility, spend the night in the forest and make a fire:
Metal container or pan

You need to eat something and maybe even prepare a warm meal.

Axe
Firesteel
Flashlight

Without a flashlight, you are lost in the woods at night.

Sleeping bag and sleeping pad

So, you can stay warm at night or warm up in case of a weather change.

Tarp / Tarpaulin

This protects you from rain and wind (P.S. you can also sew a tarp yourself)

Lighter / Matches

You can surely find them at home.

Waterproof backpack

Instead of a regular backpack, it's better to take one that is waterproof.
What do you need for Bushcrafting?
There are countless pieces of equipment and thousands of websites that recommend "the best knife" or "the best axe" to you.
You don't need any of that at the beginning because Bushcraft does NOT mean collecting high-quality equipment items.
You require the skill that you gain through experience and knowledge. When you practice your skills, you will become a master at it.
And for practicing, you don't need a €100 axe or an €80 tarp.
Attention: do not buy a "Survival Kit", it is not sufficient for Bushcraft! In my article "Survival Kit: The Ultimate Guide" you will learn what it's all about.
Recommendation list for the beginning
Here is my recommendation list for your first bushcraft equipment. These are simple items that are completely sufficient. You will spend about 35 - 50 € on them.
With overnight stay and fire (total of approx. €60):
Which laws you need to comply with
Is Bushcraft legal? An important question that I am often asked.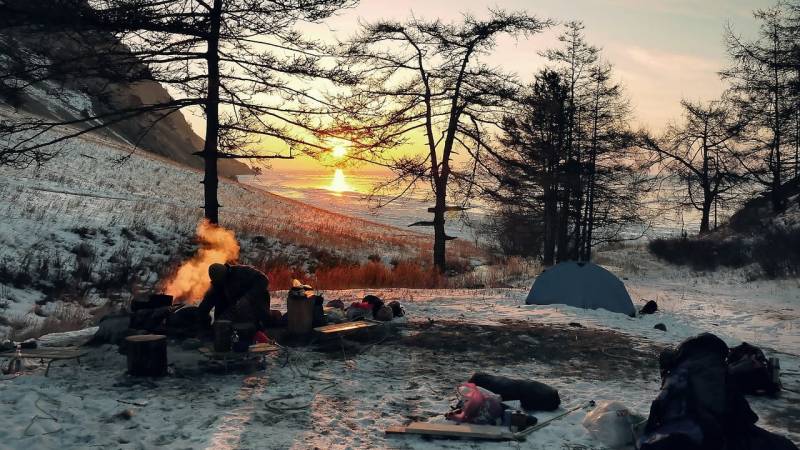 One day, all bushcraft, and survival enthusiasts will ask themselves these questions:
Are you allowed to build a shelter or camp?
Are you allowed to make a fire in the forest?
Are you authorized to sleep or camp in the forest?
I'll tell you quickly and painlessly: All three questions should be answered with NO in principle (in Germany).
There are essential laws that Bushcrafters must know.
However, to not spoil the fun for you here: there are exceptions and alternatives.
And since this is a big topic, I have written an article about it and a podcast episode on outdoor law is also available.
You can find it here: "Is Bushcraft legal in Germany?". Read it carefully because I deal with fire, camping, hunting, fishing.
However, since you are just starting out, leave out fire and sleeping in the forest.
In the "Exercises" section (further down), I write that building a camp is my first recommendation. So, you don't need a fire right away.
I do not recommend staying overnight in the beginning.
Preparing for the first day in the forest
Water and Food
Depending on the duration of your first trip, take about 1 liter of water for a stay of 2–3 hours.
For 8 hours, you will need about 3 liters. That's a lot to carry, but if you work in the forest, you will be very thirsty.
As food for the beginning, a few sandwiches and fruit, such as bananas, are sufficient.
Nuts and power bars are great sources of energy. Always pack a bag of them in your backpack.
Also read: "Survival Basics: What Food to Take into the Wilderness? (Easy to Carry, High Energy)"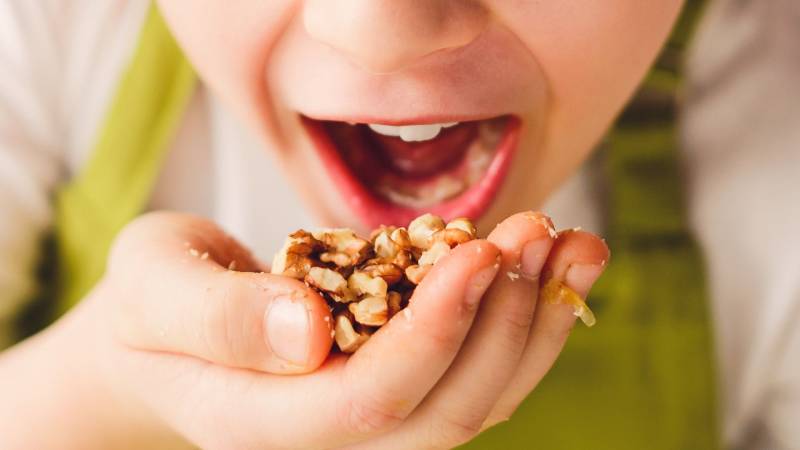 Weather
Before your first Bushcraft trip, check the weather forecast.
Especially at the beginning, bad weather is difficult because you don't yet know how to build a rain- and windproof shelter.
If you still go out in bad weather, get yourself a rain poncho (there are already good ones for €30 that you will have for your entire life).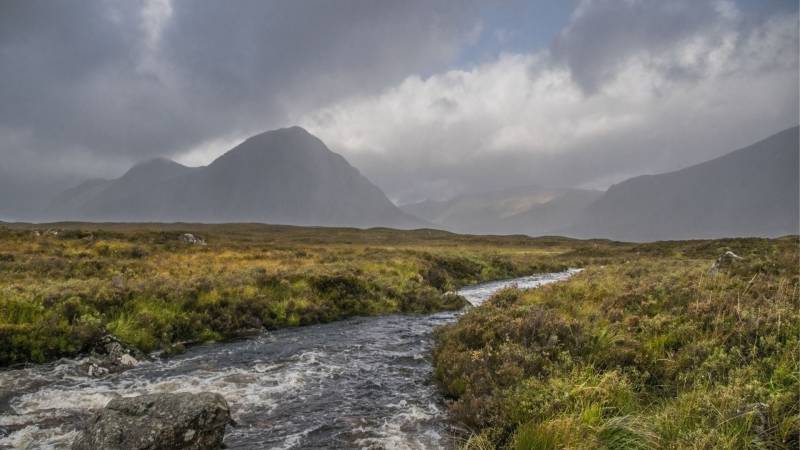 Location
Choose a clearing as your location and make sure that no rotten branches can fall from above.
Furthermore, watch out for ants, they can be quite annoying - especially when you want to eat something.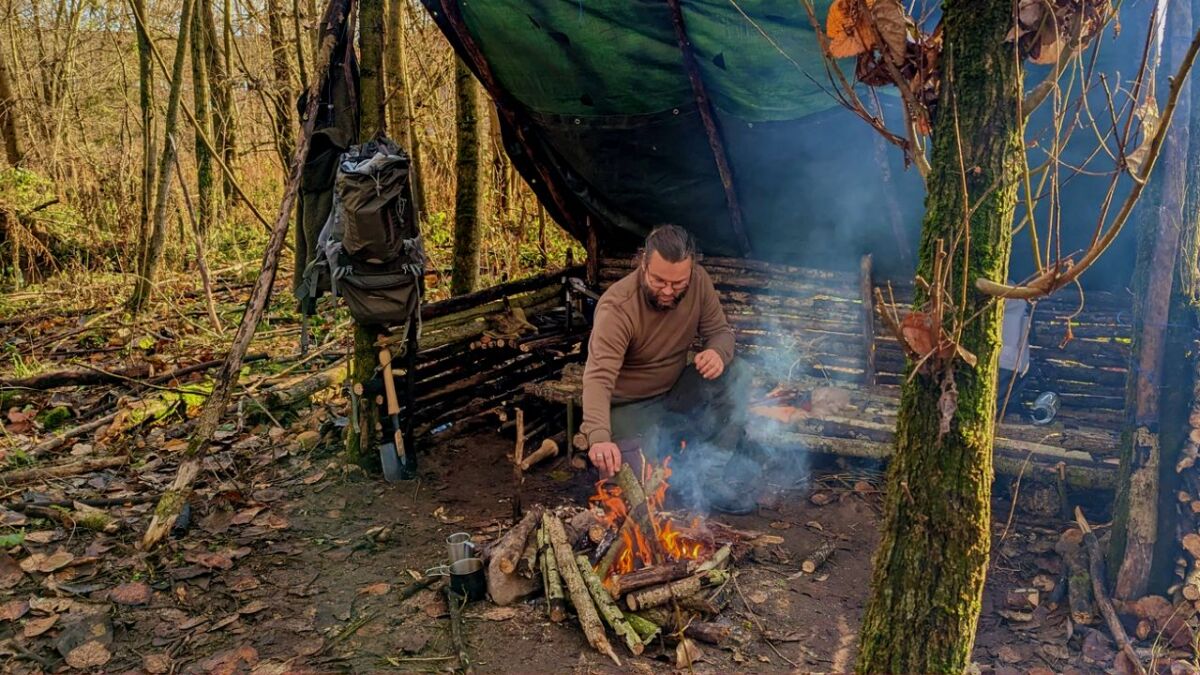 Moreover, select a location for your destination that is not too far away from civilization.
You can find many more information about the ideal location in my article "How to find the ideal location for your bushcraft camp".
Precautions
Tell your family or friends where you want to hike and camp.
In case of an emergency, someone needs to know where you are. Occasionally check in with your family if you're really hiking through the woods.
Furthermore, take a small first aid kit with you. Band-aids, tissues, toilet paper, 2x gauze bandages, and a compress (for pressure bandage).
In my video "First Aid Kit / Medipack for the Wilderness [Cheap Basics]" you will learn more about a first aid kit.
Season
If you're starting with bushcraft, don't start in the winter.
Take spring or autumn. 20 degrees in the shade is optimal. Then you don't have to worry about sun, snow, or frostbite.
Because bad weather dampens the mood, especially when starting with bushcraft.
Winter Bushcrafting is best tackled once you know how to start a fire quickly and build a shelter.
Additionally, well, put-together clothing is also important.
First Exercises
There are exercises that are simple and just right for beginners.
Others, on the other hand, require a lot of skill and I recommend tackling them only on the following excursions.
Camp (simple)
Set up your camp. This includes seating, a table, and your rain protection. To achieve this, you stretch out your tarp or canopy. Practice tying knots at the same time.
For all the exercises and making of objects, you will need several hours the first time. You have to search for wood and stones. Work with the wood. Be able to handle ropes and knots as well as carve notches.
You will always need these skills, so practice them every time.
Also read: "The 4 most important notches for Bushcrafting".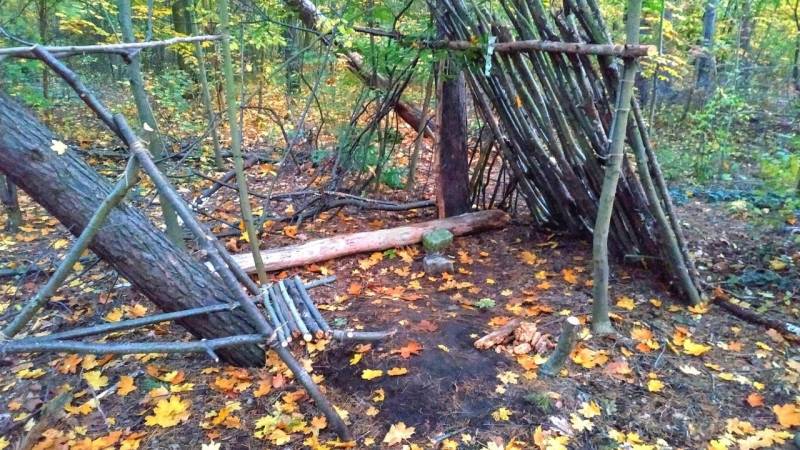 Furthermore, you should gradually practice the following skills:
Fire (medium)
When your camp is set up, get to the fire.
Especially in the cold seasons, a campfire is a great thing to warm yourself up.
Ignite a fire whenever you can, but not on the first day.
"Making a fire" sounds easy. But there is so much more to learn about fire.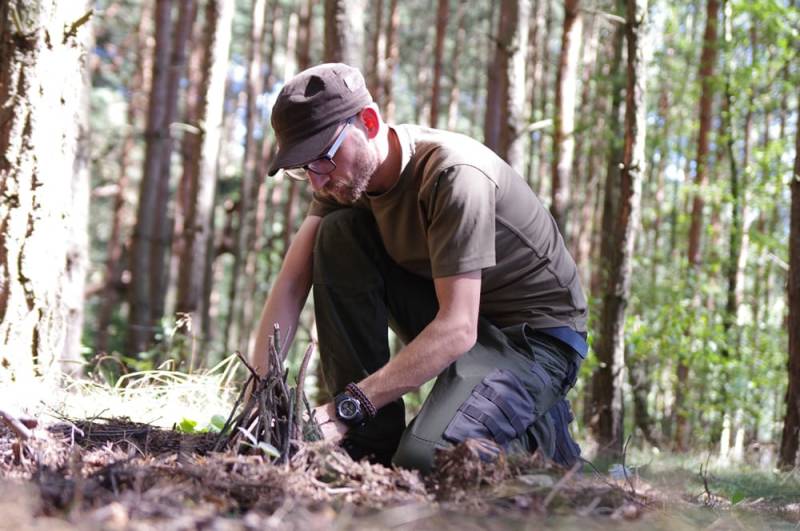 Making a bushcraft campfire means:
Collecting and preparing tinder
Creating a fire pit
Igniting the fire with
Keeping the fire burning
Disappearing the fire pit at the end (watch the video)
Also read my other guide articles:
Cooking and preparing food
Do you know what "forest and meadow seasoning" is?
This is the spice of the wilderness for me.
I can taste it when I eat outside. Suddenly, everything tastes even better.
This is the fresh air, the peace, the view. All of this gives our food the special flavor kick.
And I love cooking and eating outside. Whether it's hearty or sweet: cooking over an open fire is incredibly fun.
Cooking is a craft and therefore an integral part of bushcraft.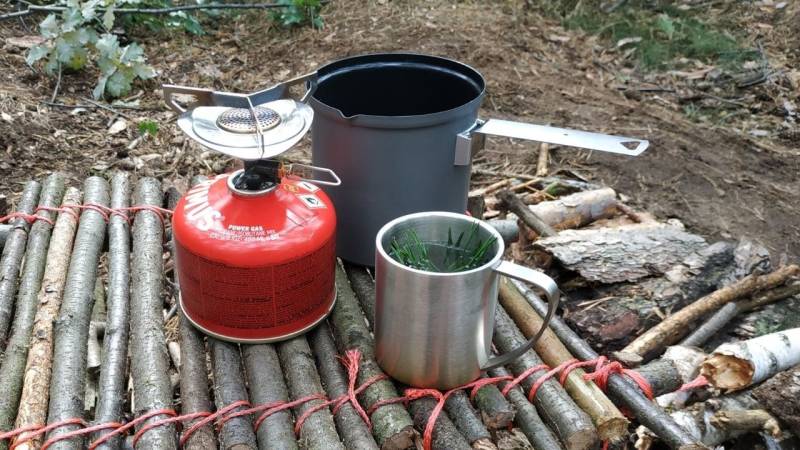 If you have never cooked outdoors before, then make sure to give it a try.
I believe that everyone can cook. Including you.
You don't need much: a stove, some cookware, a recipe, and the ingredients. Read my guide "Outdoor Stove - Which type suits you?" for that.
Start simple, then it will definitely work.
You wonder what you could cook?
I have good news for you. I have created a recipe database - only with outdoor recipes.
The recipes are particularly easy to cook. The ingredients don't cost much, and often you'll find a touch of nature in them.
Take a look at the outdoor recipes here.
And then choose one and cook it on your next trip.
Tip: A classic dish for outings is the Bushcraft bean pan. Watch the video here:
Shelter / Undercover (medium to heavy)
Building a shelter from natural materials is one of the skills that I consider to be more difficult.
A shelter is certainly one of the bushcraft skills you must master.
So, take this into account for your next exercises and build your own shelter!
Read my guide: "How to Build a Bushcraft Shelter".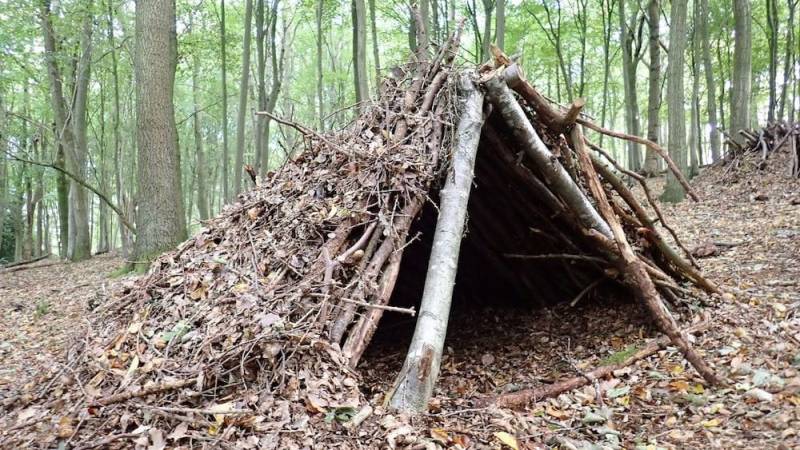 And there are so many more ideas for exercises. However, listing them all here would exceed the scope.
Therefore, read my article "5 great books about bushcraft" or check out this article: "19 bushcraft ideas that will definitely sharpen your skills and provide fun in the forest".
Furthermore, I have developed a PDF that provides you with 21 ideas for knife projects. Download it for free.
Avoid these mistakes
Everyone makes mistakes, that's okay. I learn from them, that's what, I think, is most important.
The following happened to me and these mistakes should be avoided:
The backpack was too heavy
I didn't bring enough food and drink
I was careless with a knife or axe and got injured
I was too hasty and didn't approach the situation with the necessary calm
I underestimated the weather
I downplayed the cold in the evening and didn't inquire about how to stay warm
It's best to read my guide "8 basics you need to know before going into the wilderness".
Summary
My best tip for you: start small, but start. No matter how.
With Bushcraft, it's not about collecting equipment.
When learning Bushcraft, the goal is to gain knowledge and actively acquire skills.
Less is indeed more.
Do you only have a pocket knife?
Doesn't matter. Go ahead.
Collect experience because it is worth its weight in gold.
If you now feel like heading out into nature, go outside. Walk through the forest and have a forest picnic. Or book a spot at a campsite.
And then you get yourself a small equipment and plan the next Bushcraft day.
You must go your own way.
Create your own Bushcraft!
Now.
Now I wish you lots of fun and great success.
---
How did you like the guide? Was I able to help you get started?
Do you feel like it now? Did I forget something important?
Write your thoughts in the comments. I will respond to every entry.

---
Sources for the guide

http://frontierbushcraft.com/2012/07/06/bushcraft-on-a-budget-kit/

https://www.thebugoutbagguide.com/what-is-bushcraft-survival/
Was this guide helpful?
56 people found this guide helpful.
4.93 out of 5 points (57 Ratings)