Back to german article
Sleeping with the Hammock: important basics for beginners and required equipment
Sleeping in the forest with only a hammock is not a sensible idea. Learn from the guide how to stay warm and be protected from rain and mosquitoes.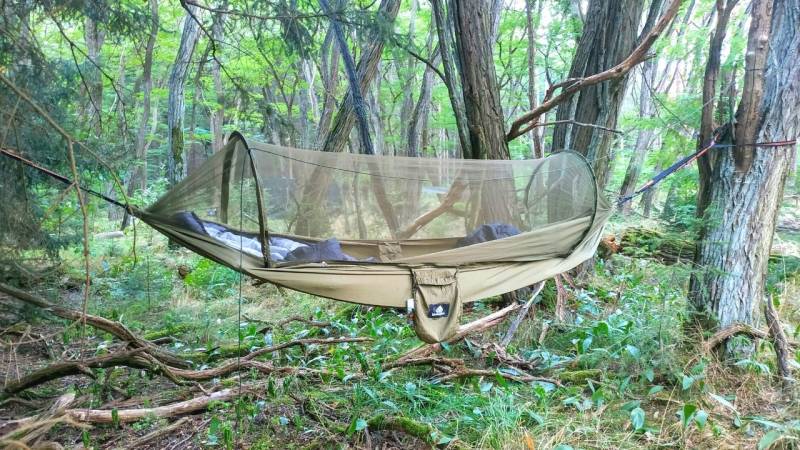 ---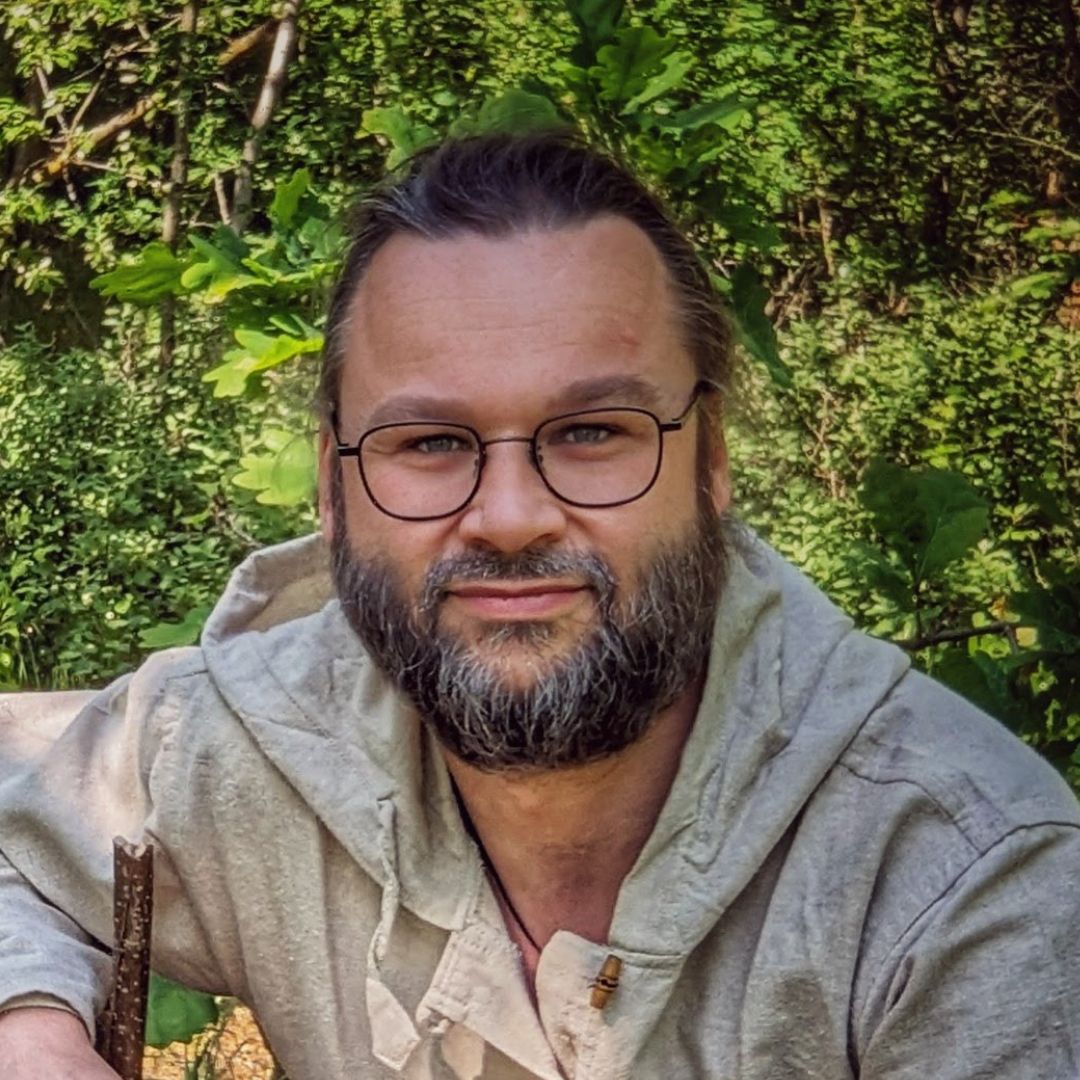 ---
👉 The key facts from this guide
The right hammock: A simple nylon hammock is a good choice for beginners. It is durable and relatively inexpensive. Make sure it offers enough space and is robust enough to support your weight.
Hanging system: Hammock straps are essential for securely hanging your hammock. They should be sturdy and easy to attach. Avoid using paracord or other ropes as they can stretch over time.
Sleeping bag and quilt: A sleeping bag is a must for staying warm in the hammock. An Underquilt, which hangs beneath the hammock, can provide additional warmth and protect you from the cold wind.
Tarp and mosquito net: A tarp helps protect you from rain and dew and can provide additional insulation. A mosquito net is essential for keeping annoying insects away, especially in the summer.
Proper positioning: To lie comfortably in the hammock, you should position yourself slightly diagonally. This way, you can utilize the entire lying area and your back won't be as curved.
Sometimes I walk through the park and see people lying in their hammocks. They are resting and enjoying the day.
However, their equipment is by no means intended for several days.
If you want to sleep in a hammock overnight, you need more than just a nylon hammock.
At night, you're not just a few hours in the park. It gets cold, the wind bothers you, or it rains.
However, there are a few things you should bring along to have a good experience with the hammock.
And that's exactly what this guide is all about: Learn what you need to sleep warm and protected overnight in your hammock.
Your Hammock
To get started, you obviously require a hammock. There's nothing wrong with a simple nylon hammock. They are durable and relatively inexpensive compared to other hammocks.
I also use a simple 36 Euro hammock and have spent many nights in the forest with it. Such affordable models are wonderful, especially for beginners.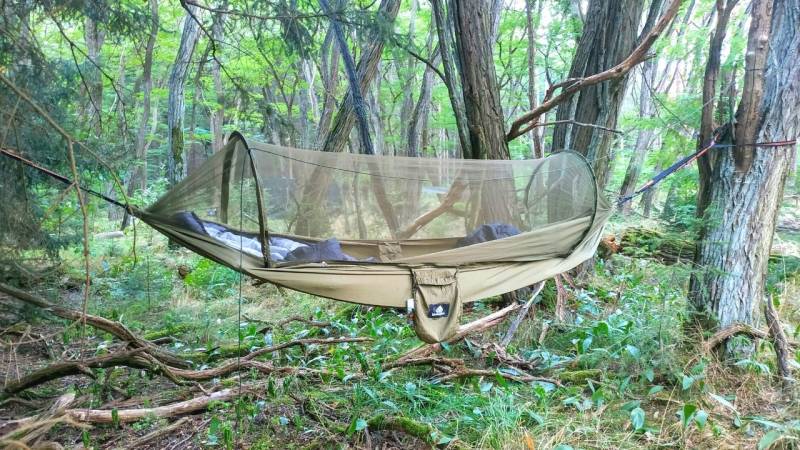 It works well for pretty much any situation, but if I could return it, I would definitely buy a double hammock. That way I would have much more space.
Nylon hammocks have a huge advantage: they are absolutely lightweight.
But that also creates a problem: They are thin.
You are thin like paper and that will allow the weather to come directly to your body. So, they are not useful for keeping your body warm.
A few exceptions exist on the market that ensure you stay warm. But these special hammocks can get quite expensive.
Now, of course, we don't just settle for a hammock. There is stunning equipment that ensures it stays cozy and warm. More on that shortly.
Hammock Straps / Suspension System
The next thing you urgently require, are hammock straps. Some hammock sets already include them, including carabiners.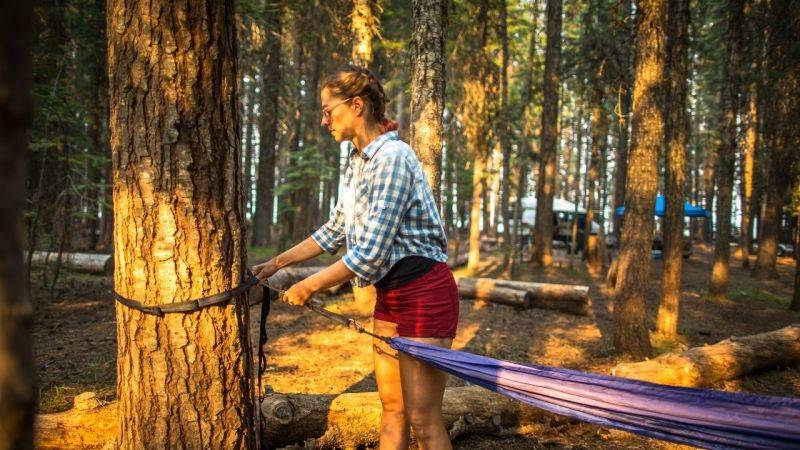 Occasionally, however, you don't have any, then you have to get some. Don't skimp on this, as the straps have to bear your entire weight. Please don't use Paracord or other ropes.
The advantages of straps are obvious: they are easy to attach and adjust. Furthermore, I have never had one slip off a tree, and they are much more durable than paracord.
Paracord expands over time when under tension. So don't be surprised if your hammock is almost touching the ground when you wake up in the morning.
How to hang a hammock?
There is a simple rule of thumb: The hammock must be shaped like a curved banana.
How do you calculate that approximately?
Measure the hanging distance, i.e., how far it is from tree to tree
The hanging height of the hammock is now approximately half of the hanging distance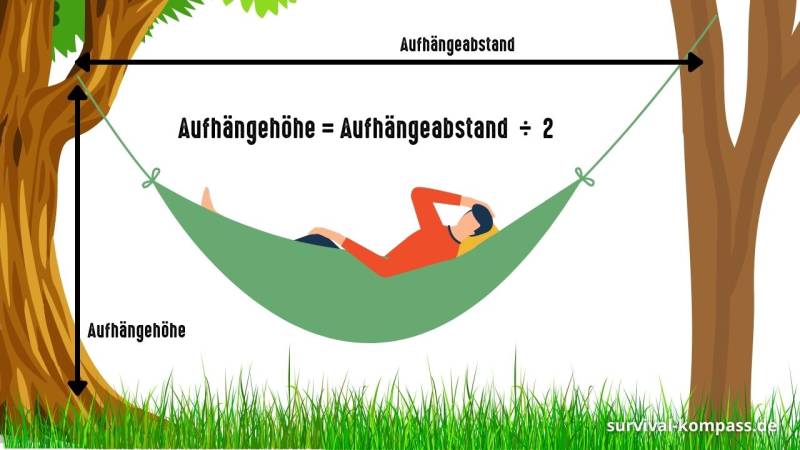 Here are two simple calculations:
If the hanging distance is 5 meters, you hang your straps at a height of 2.5 meters.
If the hanging distance is 3 meters, you hang the straps at a height of 1.5 meters.
And here's another tip: Don't make a science out of it. Lie in the hammock in a way that you can lie and sleep comfortably.
Your Location
To find the right position for sleeping, you need at least two trees, or you have to build another tripod.
When it comes to trees, make sure they are not old dead trees that might collapse while you're sleeping.
Furthermore, you should also look up because so-called widow makers are lurking everywhere. These are old heavy branches that come crashing down on you in strong winds.
If you want to know what other dangers are lurking out there and how to choose the perfect spot for your camp, then read my article "How to find the ideal location for your bushcraft camp".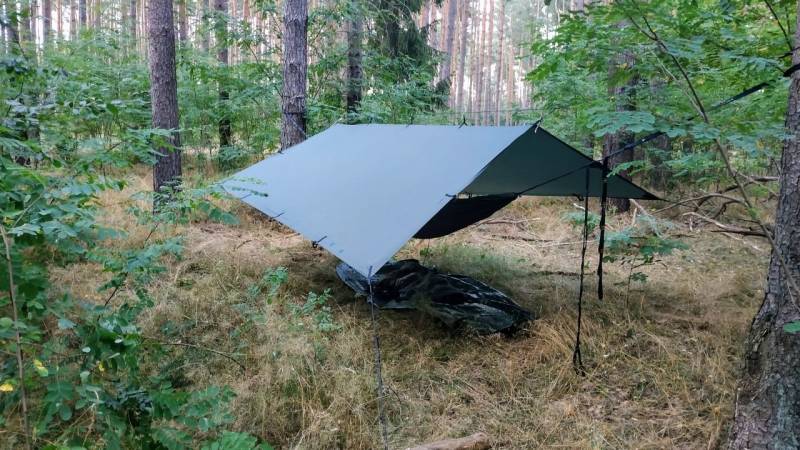 The Sleeping Bag
Now let's finally get to how you stay warm. A sleeping bag is a must in cold weather. It keeps you really warm in the hammock.
There are all kinds of sleeping bags on the market. When choosing, buy one for the summer, as you will probably start sleeping in a hammock during that season.
The second sleeping bag is then for the winter time. They are additionally padded and will keep you warm even in sub-zero temperatures.
All information about the temperatures for which the sleeping bag is designed can be found in the manufacturer's specifications.
Read also my buying guide and check out the top list.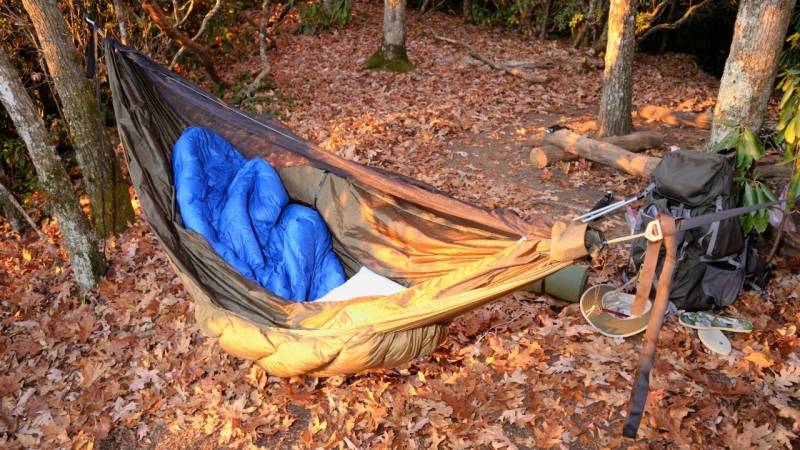 The Quilt under the Hammock
A quilt is a down or synthetic fiber blanket. And to stay warm in the hammock, there are Underquilts.
An Underquilt attaches to the ends of your hammock and hangs "under" your hammock. This makes it like a second, fluffier hammock.
Although the Underquilt is not designed to support your body weight, it is designed to keep you warm. It is the main barrier between the cold wind and your back.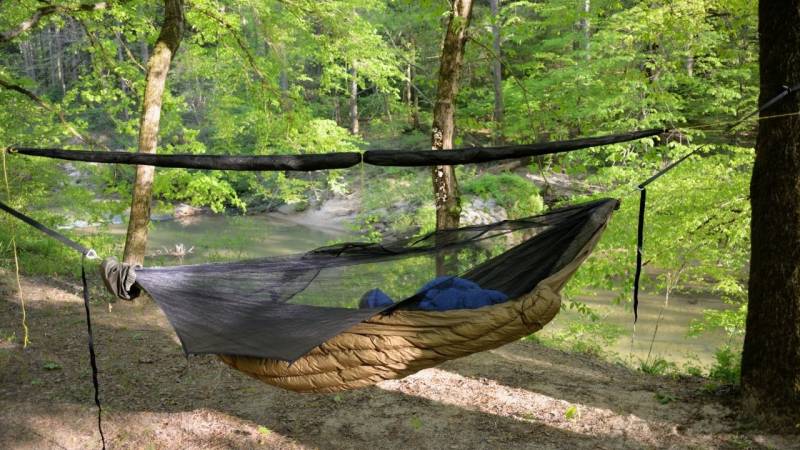 Some models are even designed to function like a gondola system and have a zipper above you.
Even with a sleeping bag, an Underquilt can make all the difference when it's cold outside.
When hanging the Underquilt, make sure it hangs a few centimeters below your hammock. After all, you will still be getting into the hammock and it will lower down.
And it creates a small isolating barrier for you because a few centimeters of air are created between you and your hammock.
The tarp for the hammock
One essential piece of equipment for a restful night is your purchased tarp or self-sewn tarp. Obviously, your tarp is designed to protect against rain, but it can also help you stay insulated.
Set it up like a tent close to and above your hammock. If you set it up too high, it will keep the rain out, but it won't insulate you anymore.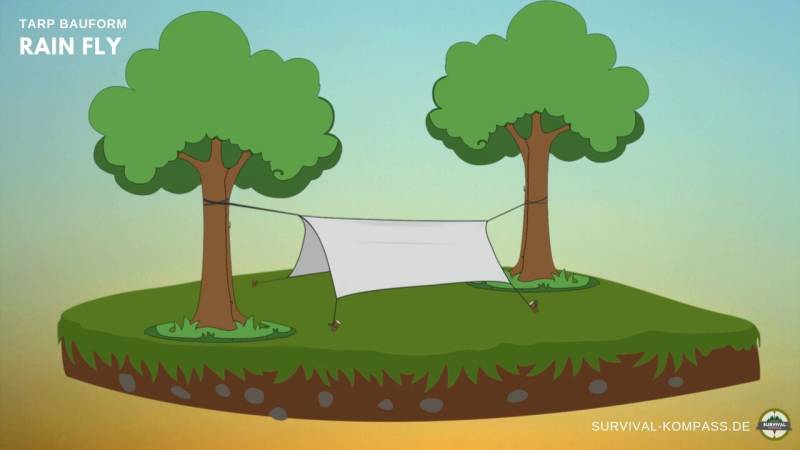 If you hang the tarp close to your hammock, it captures some of the warm air that comes from your body and keeps it close to you.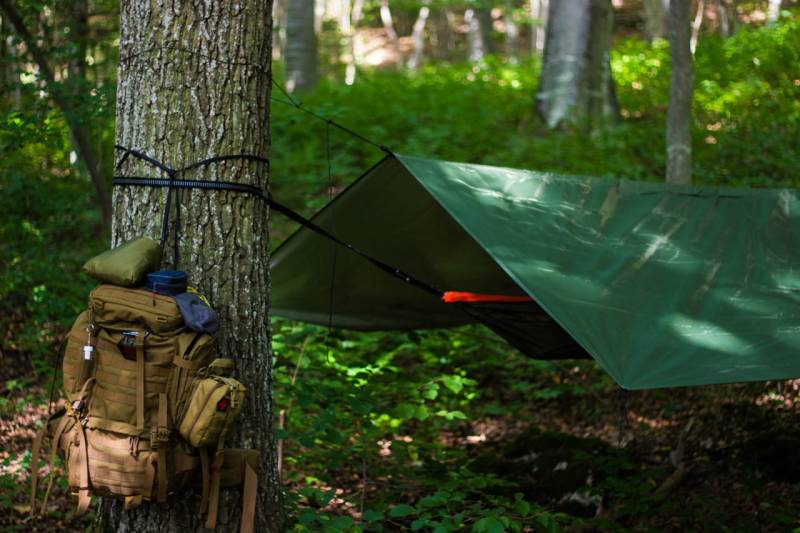 Also check out my guide article "What is a Tarp". There I show you different setup forms.
In addition, you should take a look at the "topsail sheet bend" knot, as it is perfect for securing the ends of the hammock.
The Mosquito Net
Whoever has ever slept in the forest in the height of summer knows what I'm talking about. Whether you set up your hammock by the water or not. The mosquito net is a must.
Without a mosquito net, you won't be able to close your eyes. I promise.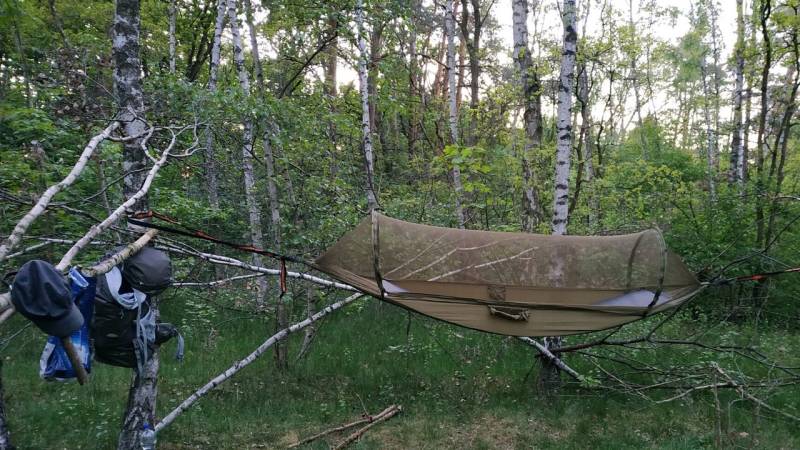 I love the great outdoors, but I hate mosquitoes. A mosquito net will keep all these annoying insects away.
Mosquito nets are not expensive, and some hammocks even have an integrated mosquito net.
And the fact is: millions of people die every year worldwide from diseases they have contracted through mosquito bites.
How to lie correctly in the hammock?
Usually, you lie slightly diagonally in the hammock. This way you use the entire lying surface and your back is significantly less curved. Simply lying lengthwise in the hammock is a bad idea.
I have created an infographic for you: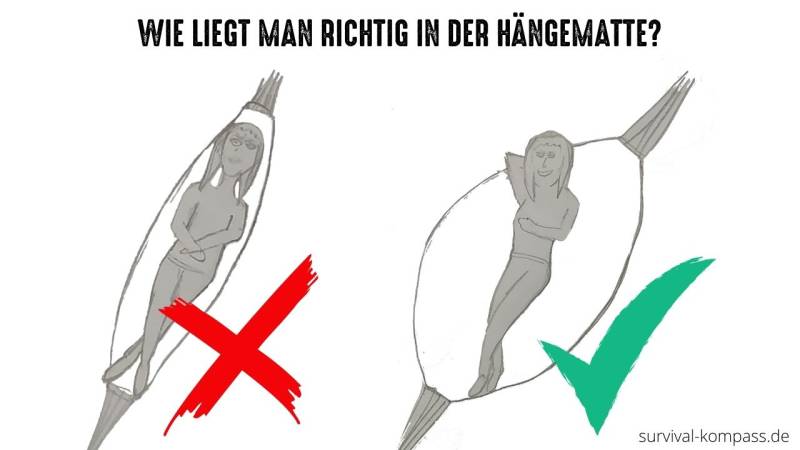 Summary
So, you see, just a hammock is not enough to sleep in the forest. You need to plan some equipment.
Make sure you stay warm at night. Get yourself a quilt and a good sleeping bag. You can always take off layers or set the sleeping bag aside in the summer.
You won't regret buying a set of hammock straps that allow you to securely hang your hammock.
Finally, you use a tarp to keep the rain and dew away from you and to provide a bit more insulation. For additional protection, you consider a mosquito net.
In the end, you will realize that sleeping in hammocks is even more comfortable than in a bed.
---
Write to me in the comments what you think of the tips and basics. Do you also use the same equipment?

Was this guide helpful?
35 people found this guide helpful.
5.00 out of 5 points (35 Ratings)