Back to german article
The first night in the forest: how to sleep well in your camp (location, equipment, attitude)
Great, you want to spend a night in the woods. In this bushcraft guide, you will learn how to spend the first night in the great outdoors without stress.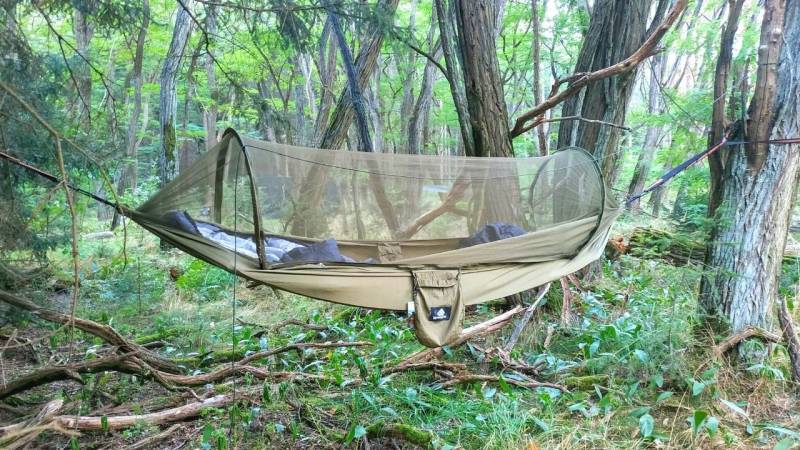 ---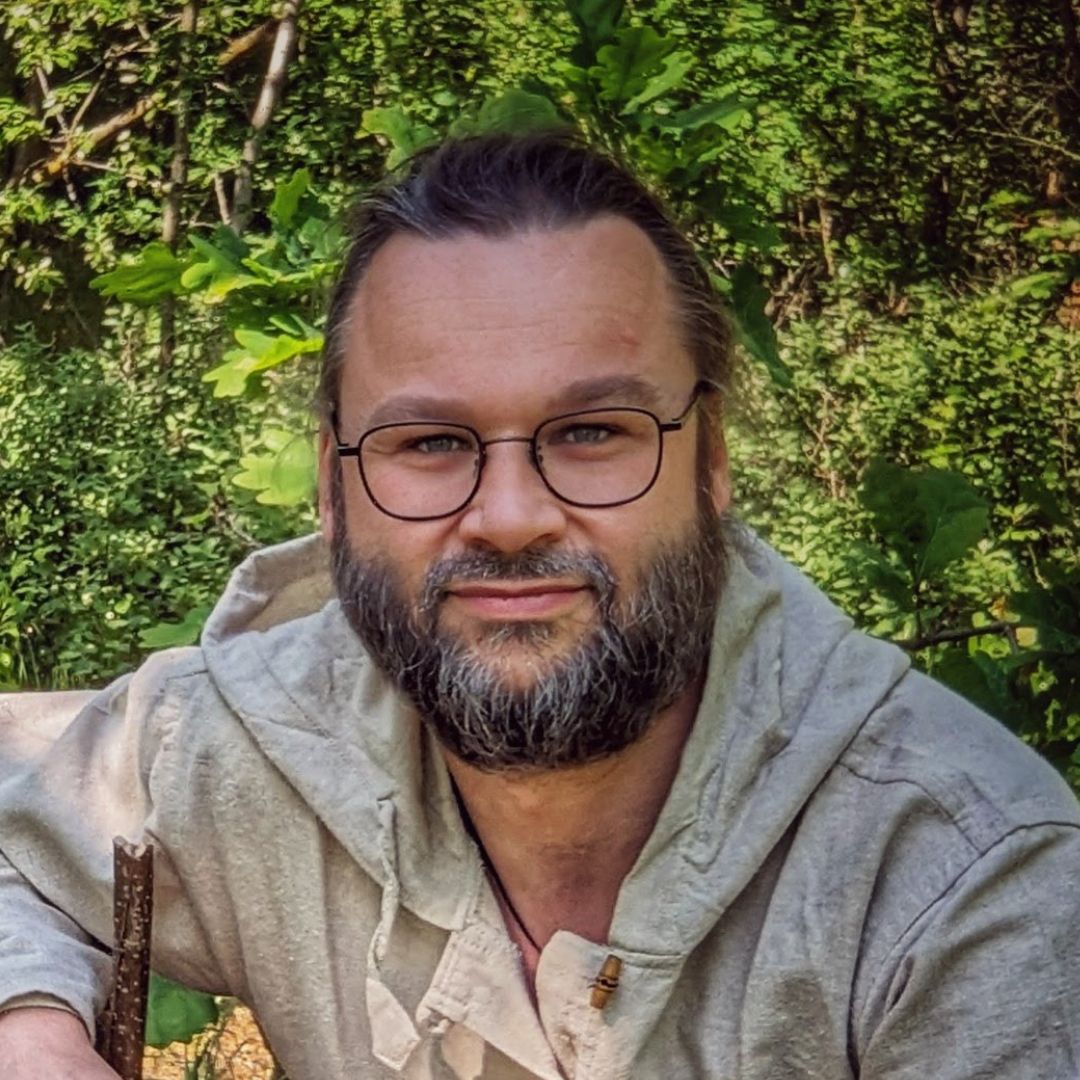 ---
👉 The key facts from this guide
Choose a suitable place to sleep, preferably at the edge of the forest, to have enough light and not be too deep in the woods.
Avoid areas with hunting grounds, feeding troughs, and animal tracks to avoid unwanted encounters with wildlife.
Select the appropriate weather and season for your first night in the woods. Nights between 10 and 20 degrees are ideal.
The equipment should be kept to a minimum and only include the essentials, such as a flashlight, a tarp or tent, a sleeping bag, a sleeping pad, water, and some food.
Be prepared for noises and possible encounters with animals. However, most wildlife will make a wide berth around you.
The attitude plays a big role in sleeping in the woods. It is important to maintain self-confidence, courage, and composure.
Great, you want to spend a night in the woods.
First: you don't need much.
Don't spend your first night in the great outdoors with a lot of equipment.
Take only the essentials and prepare yourself mentally instead.
In this guide, you will learn how to spend the first night in nature without stress.
Choose a good location
I recommend that you do not spend your first night in the forest in the deepest part of the woods.
It's pitch dark in the forest, and the moonlight won't penetrate to where you are.
Choose a spot on the edge of the forest if possible. Preferably with a good view (sunrise view).
It won't be as dark there as it is deep in the forest.
Here's an example of a forest edge: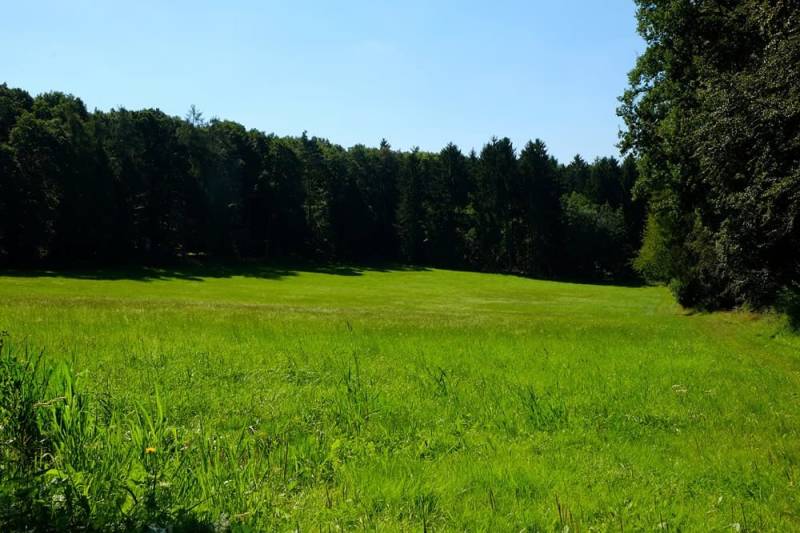 It's best to set up your small camp so that you have a bush, tree, rock, or fallen tree behind you.
This will give you security because no one can come from behind you.
Yes, I just wrote that someone can come from behind you. But it won't happen. The main thing here is the psychological aspect. The protection from behind will give you a good feeling.
Furthermore, there should be no rotting trees next to or above you. A rock wall can also be dangerous. If there is gravel on the ground, it's a warning sign for you.
Hunting areas and feeding troughs
You better keep your distance from hunting areas. I would never set up my camp near high seats or feeding troughs.
This is primarily because you could be mistaken for a wild animal by hunters.
The danger is: hunters could mistake you for wild animals. And animals are active near feeding troughs during dusk and at night.
Moreover, look for animal tracks and if wild boars have disturbed the ground. Both indicate that animals are moving around here. Take a look at my article "Learning to track for beginners" to learn more about tracking.
Choose the right weather
I recommend that you spend your first night in the woods in spring or autumn. It's pleasant outside – not too cold and not too warm.
The best nights are between 10 and 20 degrees Celsius – that's when I sleep most comfortably.
I only recommend sleeping outside in winter when you have already spent several nights outdoors at pleasant temperatures. If you still want to do it, read this great experience report on camping in winter.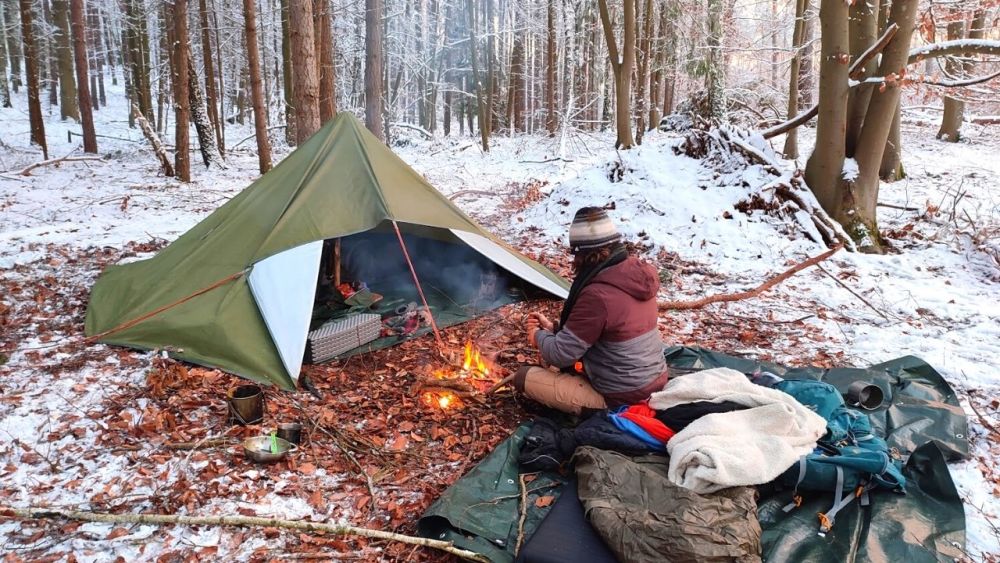 Furthermore, pay attention to the weather because a storm, a thunderstorm, or heavy rain can spoil your trip quickly.
This equipment should be on your list
You don't need much to sleep your first night in the woods.
Here's my standard equipment:
Equipment
Notes and recommendations
Flashlight or headlamp
For example, the Streamlight Stylus Pro LED flashlight, here's my review of this headlamp
- Tarp and hammock
- Tarp and bivy sack
- Tent
Moreover, read What is a Tarp? [Sizes, Costs, Construction Variants] and check out my Tarp buying guide + best list. And check here to learn more about Hammock or ground sleeping. Otherwise, there are good bivy sacks here and here.
Sleeping bag
For example, the EXPLORER Sleeping Bag up to -23 degrees or, even better, the ones from Carinthia. However, the sleeping bag from High Peak is completely adequate in summer. Check out here my top list.
Insulated pad, air mattress
For example, choose one to your liking from my best list
Clothing
You can always take off. So grab at least a fleece or wool sweater and thick socks – even in summer, it gets cool at night. Also, think about long clothing on arms and legs so that mosquitoes don't bite you.
Fleece blanket / wool blanket
For example, one from Ikea or buy here
Paracord / cord
In case you need to anchor more. If you want to know more about paracord, read: What is a Paracord, and what do you need it for?
Knife
Your multi-tool. Irreplaceable. Have a look at my ultimate guide: Find the best bushcraft knife. Thereafter, you'll definitely be smarter.
Water
For example, in a sturdy water bottle like the Nalgene Everday. One liter of water is enough for one night.
Sandwich / Cookies
It's best to seal your food airtight, the animals in the forest can smell everything ;-)
If you are at a campfire, you may want to start another one.
But then you also have to take tinder with you, along with lighter fluid and enough firewood for the night, especially if you want the campfire to burn all night long.
However, for the first night in the woods, I don't recommend starting a campfire that burns all night long.
A night fire requires work, and others may become aware of your camping spot.
You're better off taking your clothing, such as a jacket or thick sweater, and climbing into your sleeping bag using your clothes as a pillow.
What does my sleeping equipment look like?
I'm a fan of hammocks in the summer, but I also like to sleep on the ground under a tarp in the winter.
My sleeping area should be soft and far from insects. The hammock can even be strung up so that wild boars could run underneath it.
Here is what my setup looks like:
The gear is hung far off the ground on the left
I've placed branches around the area - this creates a kind of border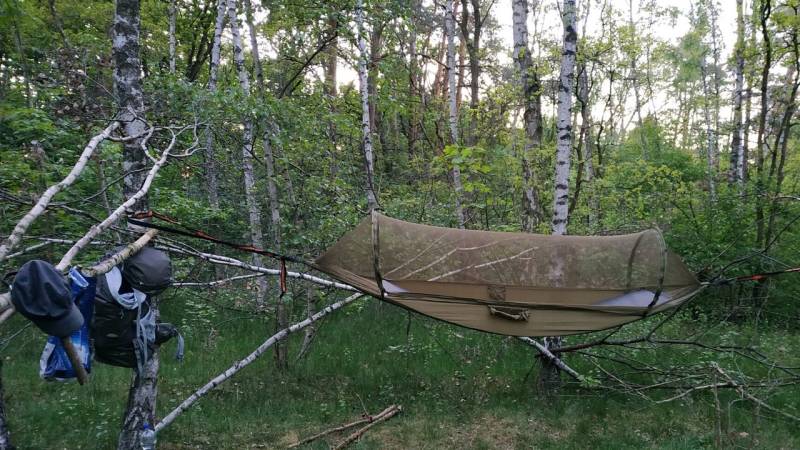 Your mindset plays a big role
A person doesn't need much to survive:
Water
Warmth
Shelter
Food
And: Self-confidence, self-assurance, courage, and serenity. These skills are essential for the first night in the woods.
Because: There will be cracking noises here and there. Animals make noises. Mosquitoes may come.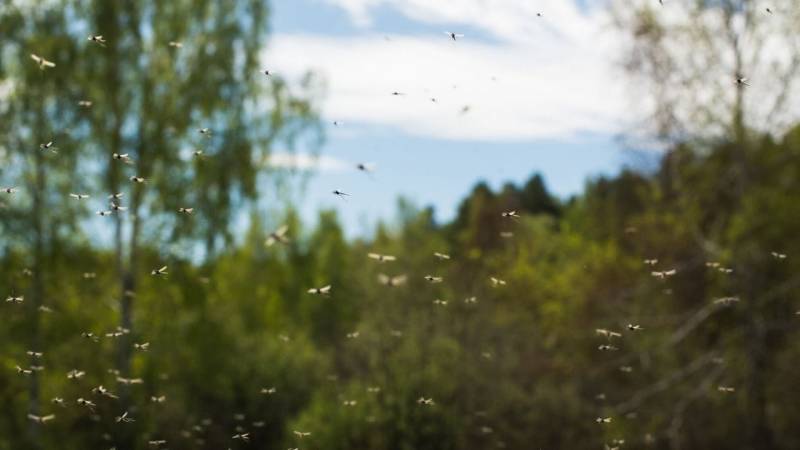 Additionally, for many people, the first night in the woods is completely unusual.
Normally, we humans are used to sleeping between strong concrete walls. There is a door with a lock.
Realize: You will not find any of that in the wilderness. It can be scary.
Therefore, make a plan for your first night. Additionally, you are reading this article and informing yourself extensively. This already gives you more security. ;-)
Your plan for the night
First: Don't stress yourself.
Slow down a gear.
Stress causes insecurity.
I'll sit first in my new camp.
Then I observe the surroundings. Listen, look, smell. I try to activate my senses to get a feeling for the environment.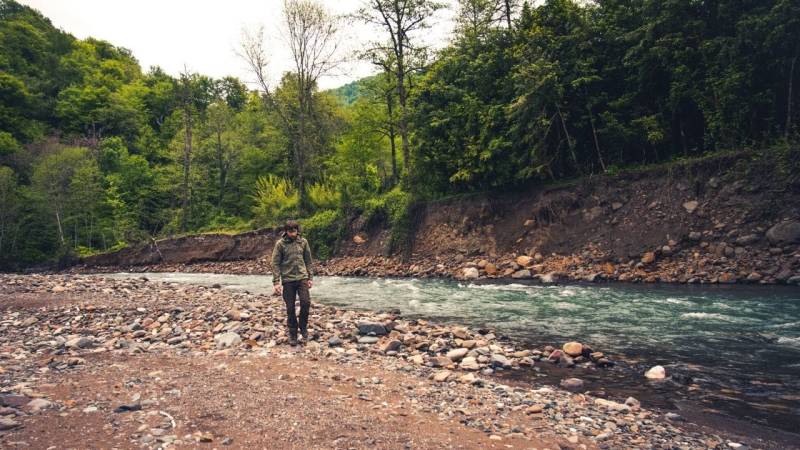 Then, when you're ready, prepare your camp.
Use daylight to set up and store everything - things are ten times harder to find in the dark.
Your shelter:

Tighten the hammock properly and put your tarp over it.
Tighten only your tarp or set up your tent if you sleep on the ground.

Lie down in your sleeping place and check how it feels.
Check the batteries of the flashlight and store spare batteries on your person (immediately accessible).
Eat and drink something before the night.
Check your mosquito net, if you set one up.
But don't plan hour by hour. Always plan 50 percent more time for discoveries, experiences, and relaxation. It should be fun, shouldn't it?
Then go to sleep with the animals.
Lie down and enjoy the calmness of the forest.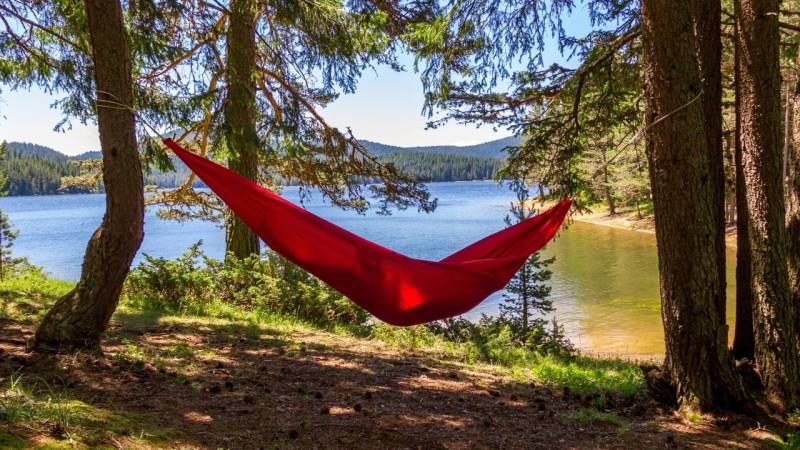 Reading tip: Sewing your tarp? Sure, let's get started!
What if I hear strange noises?
Yes, that sounds a bit creepy at first. It can be very quiet in the woods, but it can also be exactly the opposite.
In some months of the year, there is as much going on at night as during the day - or even more. After all, there are nocturnal animals, such as owls, martens, raccoons, deer, wild boars and foxes.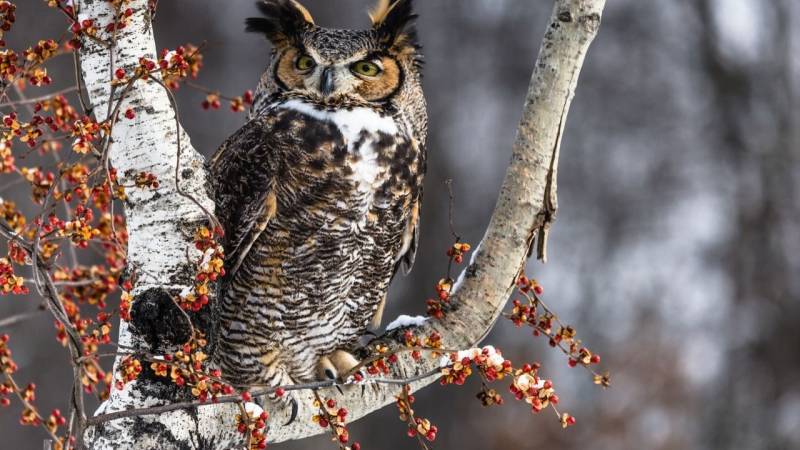 Most wild animals avoid humans during the day and become active at night.
So be prepared to hear something. These can be animal sounds and movements.
You will also hear the cracking of branches. And these don't even have to be animals. Branches also crack from the wind or when it cools down at night.
What if wild boars or wolves come?
That's quite unlikely. All types of animals will smell, see and hear you. Especially, wolves will keep a wide berth of you.
If you still expect it, I recommend using a hammock right away. This way you are safer from larger animals. Of course, you have to hang the hammock high enough.
I would also recommend securing the camp a bit. Build branches around it to create a small fence. This provides protection and is also psychologically important.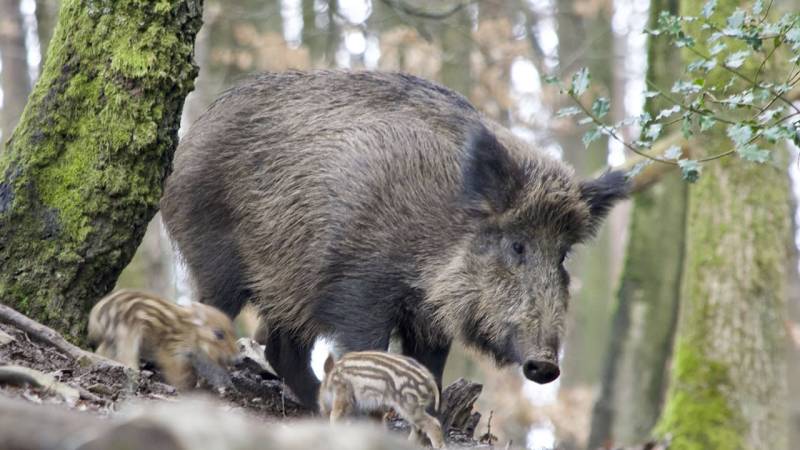 However, I would rather not paint too rosy a picture. It does happen that wild boars, deer, or foxes stand near your camp. Animals are curious beings, especially wild boar piglets are keen to explore everything.
But don't worry, as soon as you make noise, for example, speak to them or clap your hands, they will run away. In this case, they will have been more scared than you, for sure.
Help, insects!
Yes, there are bugs in the woods, you are in nature and not in your well-polished apartment. And if you have a frantic fear of spiders or ants, then take the hammock. It's quite safe from insects coming from the ground.
Basically, there aren't many insects that can harm you at night. You already know about mosquitoes. Then there are ticks (more on tick protection here), but they tend to stay near the ground.
Alternatively, you might take a small tent, then you are completely protected from insects.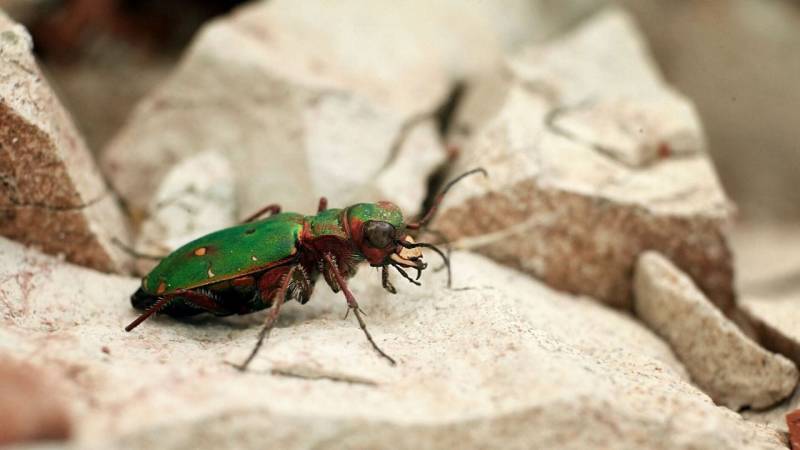 Summary
A night in the woods fills me with happiness.
It grounds me with Mother Nature. And it makes me more satisfied and relaxed.
The evening and morning atmosphere in the woods is unique and irreplaceable.
Take a spot where you can see the sunrise as well as possible.
Take my recommended minimum equipment, and nothing will stand in the way of a successful night.
P. S. Tell your family where you are spending the night - better safe than sorry.
---
Tip: If you would rather not sleep alone in the woods, take a partner with you. This increases the mood and provides more security. You can find like-minded people or look for them in the companion search on our website.
---
And now to you: Are you ready for your first night under the open sky?
How was your first night and what is so special to you about sleeping in the woods?

Was this guide helpful?
50 people found this guide helpful.
5.00 out of 5 points (50 Ratings)