Back to german article
The Mora Garberg Carbon - a solid and durable bushcraft tool
The Mora Garberg Carbon should become my new knife. Is it worth it? You will find out my assessment of the Mora Garberg Carbon in the next 5 minutes.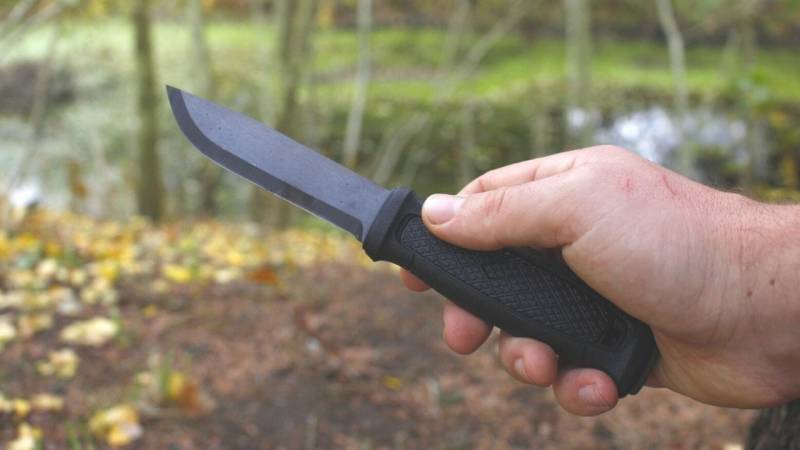 ---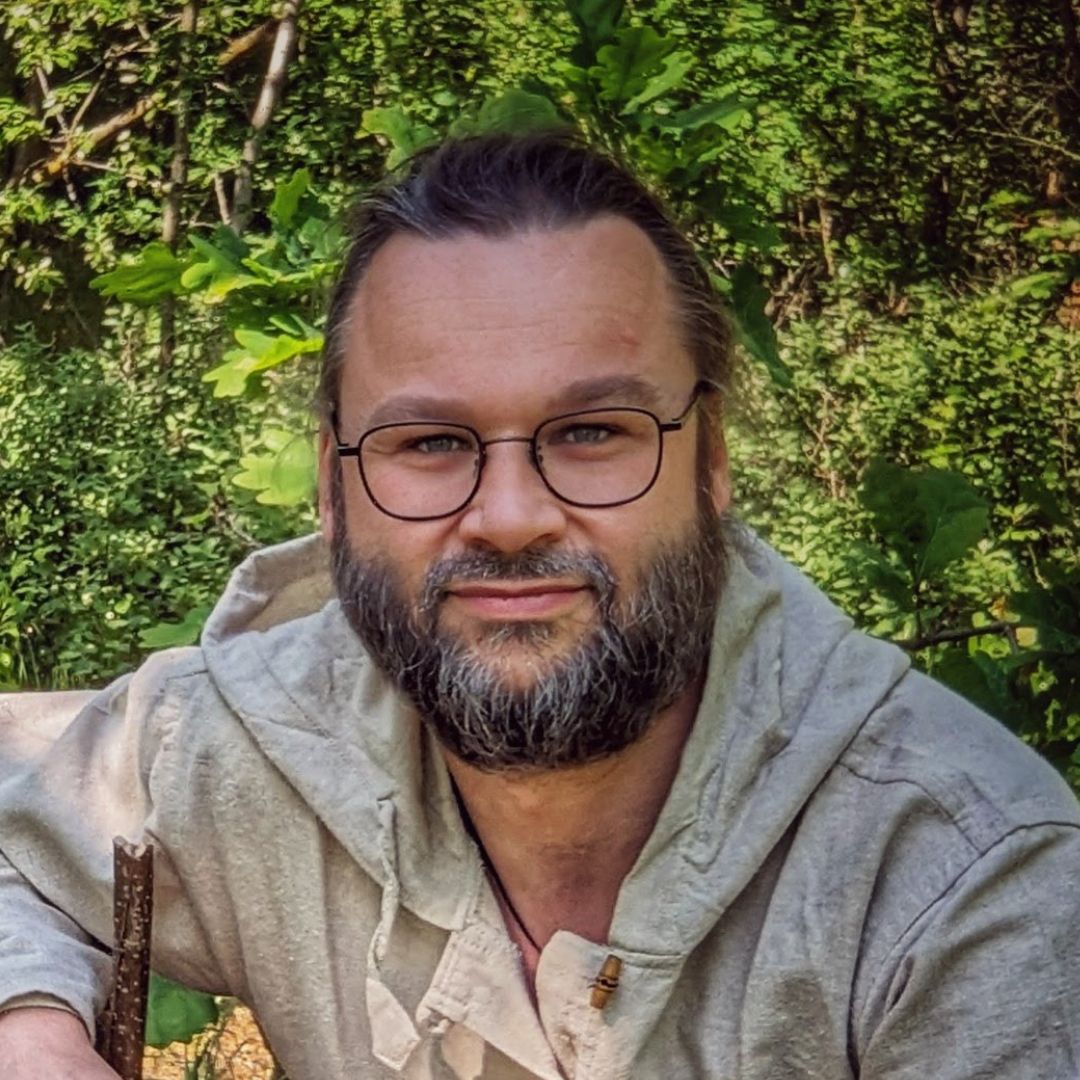 ---
👉 The key facts from this guide
Mora Garberg Carbon: A robust full tang knife made of C100 carbon steel that is suitable for bushcraft and outdoor activities. It has a blade length of 10.8 cm and weighs approximately 169 grams. The handle is made of polyamide and is somewhat hard but still handy.
Knife Sheath: The knife comes with a plastic sheath that has two holes for water drainage. There are also options for a multi-mount or leather sheath. The knife fits a bit loosely in the sheath, which is due to the expandability for "multimount".
Practical Test: The knife is optimal for bushcraft activities. It works reliably for carving and Batoning. The spine of the knife is ideal for striking a Firesteel and scraping wood shavings.
Critical Points: The knife was not perfectly sharpened upon delivery and the handle could be more comfortable. Nevertheless, it is a solid and well-developed product.
Conclusion: The Mora Garberg Carbon is a robust and durable knife that is well suited for bushcraft and outdoor activities. Despite some minor flaws, it offers good value for money.
I thought about it for a long time, and then I did it.
The Mora Garberg Carbon should become my new knife.
Does it dive? Or is it overhyped?
My review and test of the Mora Garberg Carbon will now be revealed in the next 5 minutes.
I have to be honest, I'm a little Mora fan
For a long time now, I have been regularly using the Mora Robust.
It's simply a brilliant piece: super comfortable. Very sharp. Incredibly affordable.
But it's just not a full tang knife, and it doesn't have a 90 degree blade spine.
Because many Bushcrafters and outdoor enthusiasts wanted a full tang knife, the answer came in 2016 from the company Mora.
The Mora Garberg knife with Sandvik 14C28N steel was born.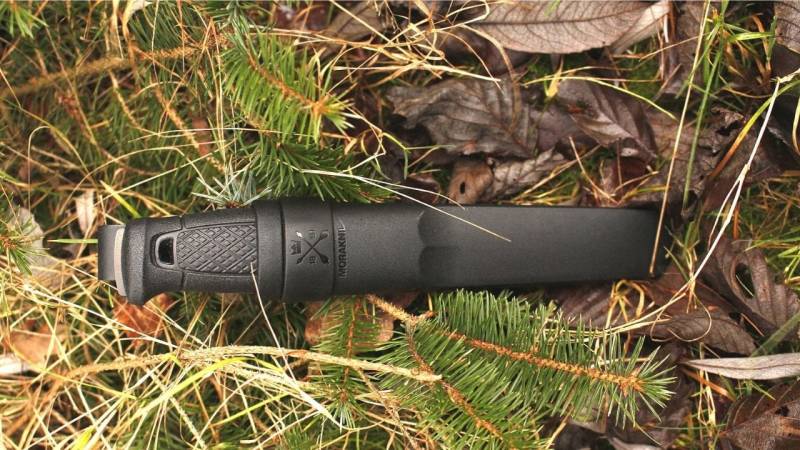 However, since I don't like stainless knives, I decided to forgo the good piece back then. The price also played a role in this decision.
Two years later, the carbon steel version came out. And I have owned this knife for a long time now.
Note: Carbon steel knives rust easily without proper care. However, they can be sharpened more effectively and often achieve a higher level of sharpness compared to stainless-steel knives.
Durable Knife, Knife Sheath in Order
I bought the Mora Garberg Carbon with the plastic sheath. But when purchasing, you can still choose between the Multi-Mount and leather sheath.
With the plastic sheath, two holes are integrated at the bottom in case the water needs to drain. That's a good thing, especially with the carbon steel version (which rusts faster).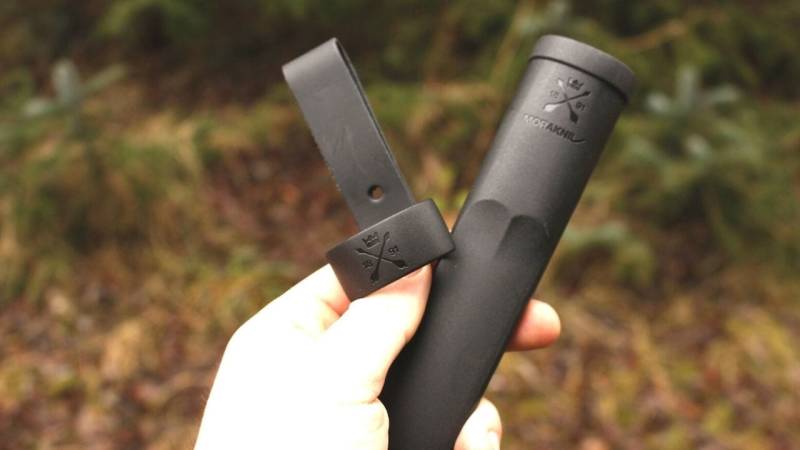 The knife sheath is generally fine. However, the knife should fit a little tighter in it. But that is probably because the sheath is expandable to "Multimount" (which makes the knife even more secure in the sheath).
The knife itself is very sturdy (like its little brother). Here are the details:
It has a blade thickness of 3.2 mm
The blade length is 10.8 cm
Total length of the knife with handle: 22.9 cm
The steel is a C100, better known as 1095 (58 to 60 HRC)
Scandi grind (good for woodworking)

Weight of the knife without sheath: approximately 169 grams
I was very curious to see what I would get for 80 €
I have watched videos and read reports about the Mora Garberg Carbon. Usually, only good things were said about the knife.
So, I ordered it and shortly after the knife arrived. I unpacked it full of expectations.
And then I had a blunt object in my hand.
I've never received such a dull knife from Mora before.
I have, among other things, the Mora Companion Carbon, the Mora carving knife "Hook Knife". They were all very sharp when they arrived.
And now I had a Morakniv knife that, "Out of the box", was as dull as a garden shovel.
Ok, first, don't panic.
After 45 minutes of grinding and sharpening, I finally achieved razor-sharpness.
But honestly? For 80 euros, I expect more.
The other thing that disappointed me was the handle
In the videos and reviews, it was reported that the polyamide handle is super comfortable. Well, unfortunately not for me. The handle of the Mora Garberg Carbon is too hard for me.
The handle is not very comfortable, but also not uncomfortable.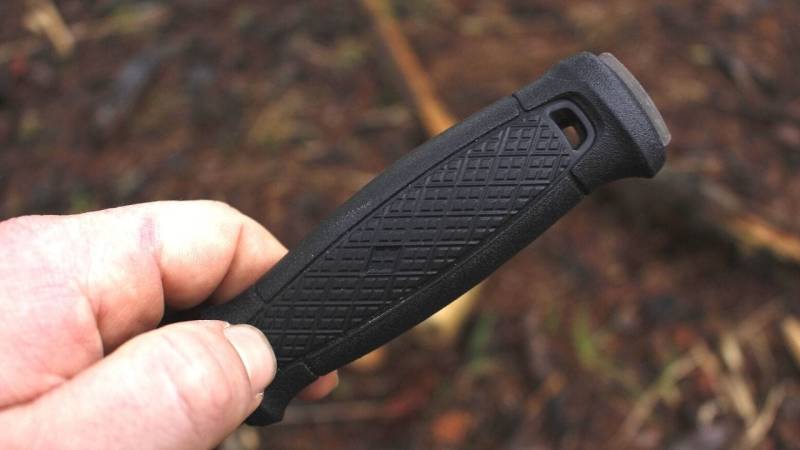 I was used to the soft handles of the Mora Robust or the Mora Companion (read my review here).
With the Mora Robust, I feel like the handle was specifically molded for my hands.
What's good about the handle of the Mora Garberg Carbon: At the end, a piece of the metal of the full tang blade is visible.
The end is mainly there to hammer something and to be able to break a window with it in case of emergency.
You can easily strike your fire steel with it.
At the end of the handle there is also a lanyard hole. This easily fits 550 Paracord.
After one hour of carving, no pressure marks
The blade is coated with an anti-corrosion layer. Some people don't like that. It doesn't bother me.
Whether the coating fulfills its purposes and really protects the blade from rust, I will see.
Let's move on to the positive. Now the practical test.
After an hour of carving wooden spoons (learn how to do it here), I didn't have any "hot spots" on my hands - that is, pressure points where it starts to hurt over time.
Furthermore, I really like the back of the knife. It works well with a fire steel.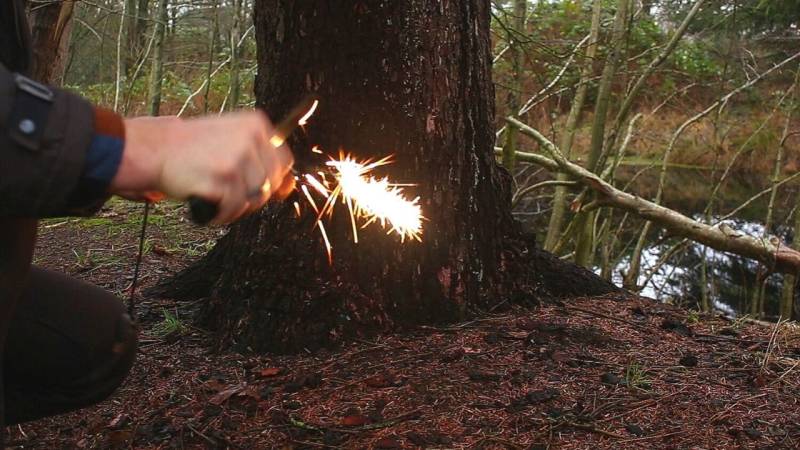 And you can easily scrape wood and pine shavings for your tinder.
The blade is perfect for Bushcrafting
A blade this long (10.9 cm) was not something I was used to, but I can still work wonderfully with it.
The blade is optimal for Bushcrafting, where I recommend a blade length of 8 to 12 cm (learn more about the best bushcraft knife here).
Speaking of blade length: Yes, you are allowed to carry the Garberg legally in Germany. It is 42a compliant (read more about knife law here).
I don't like Batoning (splitting wood) with knives, but I still tested it. It worked great with the Scandi grind.
If the knife has the right sharpness, it will also hold. Nevertheless, I still strop the Garberg on a leather strap after each use. It has become a ritual for me.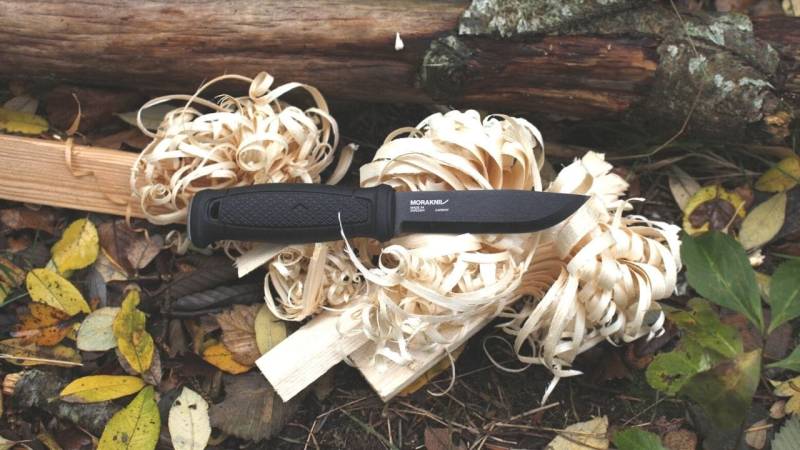 I haven't been working with the knife for very long, but I can already say that we are becoming good friends.
After a longer field test, I may update the article here.
Is it worth getting the knife? Yes.
If you don't have the necessary pocket money yet, you should wait a bit.
At the beginning, the stainless-steel version of the Garberg cost around 100 euros. Now it is available for 60 euros. The price of the Garberg Carbon will probably also decrease.
Here is the current offer:
Daten aktualisiert vor 18 Stunden
Morakniv Garberg Full Tang Messer mit fester Klinge aus Karbonstahl, 10,9 cm, Polyscheide, Schwarz
Messer aus Karbonstahl mit Polyamid-Ummantelung ist leistungsstark genug, um harte Aufgaben zu bewältigen, ohne die Gefahr zu brechen
Hochwertige Karbonstahlklinge mit Rasiermesserschärfe, hoher Härte und außergewöhnlicher Zähigkeit und Korrosionsbeständigkeit
Robuster, schlagfester Polyamidgriff und -scheide inklusive Klick-Verschluss, um zu verhindern, dass Messer aus der Scheide fallen
Quadratisch geschliffene Klinge, kann als Anschlagklinge mit Feuerstahl verwendet werden (separat erhältlich)
Gesamtlänge 9.0"(229mm); Klingenlänge 4.3"(109mm); Klingenstärke 0.13"(3.2mm); Gewicht 10.2oz(272g)
85,12 €
UVP: 103,99 €
View Product
The negative things are not decisive now, so you don't have to refrain from making a purchase (yours will certainly be delivered very sharp).
I think the two Garbergs are still prototypes, and they will be improved in the future.
Some knife fans are already wishing for a Garberg Carbon without the black PVD-coated blade.
Some others (including myself) want the grind to be extended to the handle, like in many other models. Unfortunately, this currently results in wasted blade in a very useful area.
My advantages and disadvantages at a glance
Advantages:
Durable
Great design
Good ergonomics and user-friendly to handle
The Garberg is excellently balanced
Easy to sharpen
Disadvantages:
Factory sharpness not optimal (at least for me)
The handle could be more comfortable
The knife sits a bit too loosely in the sheath
The Mora Garberg Carbon is fundamentally a solid and mature product.
Price-wise, it's a bit expensive, but justified (there are much worse knives in the category).
If you're looking for a tough workhorse that's sharp, then go for the Mora Garberg Carbon.

Was this guide helpful?
20 people found this guide helpful.
4.64 out of 5 points (22 Ratings)