Back to german article
Camping in the rain - with these 10 tips you'll stay dry
Here you get 10 tips, with which you stay in a good mood and dry in rainy weather. Don't let the rainy weather spoil your camping vacation.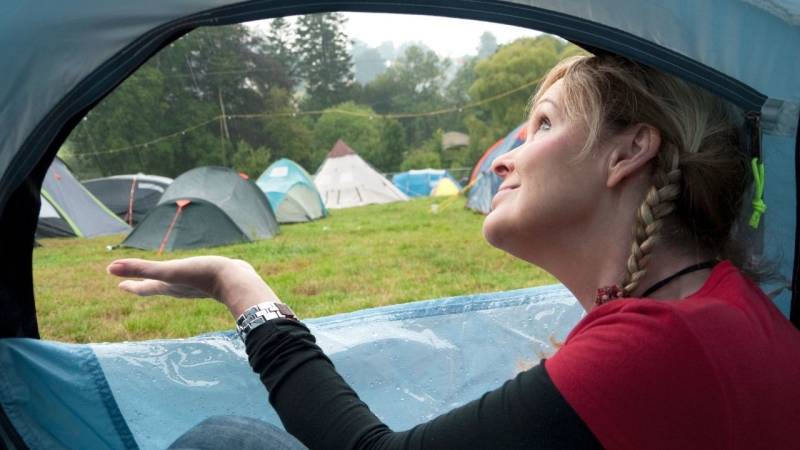 ---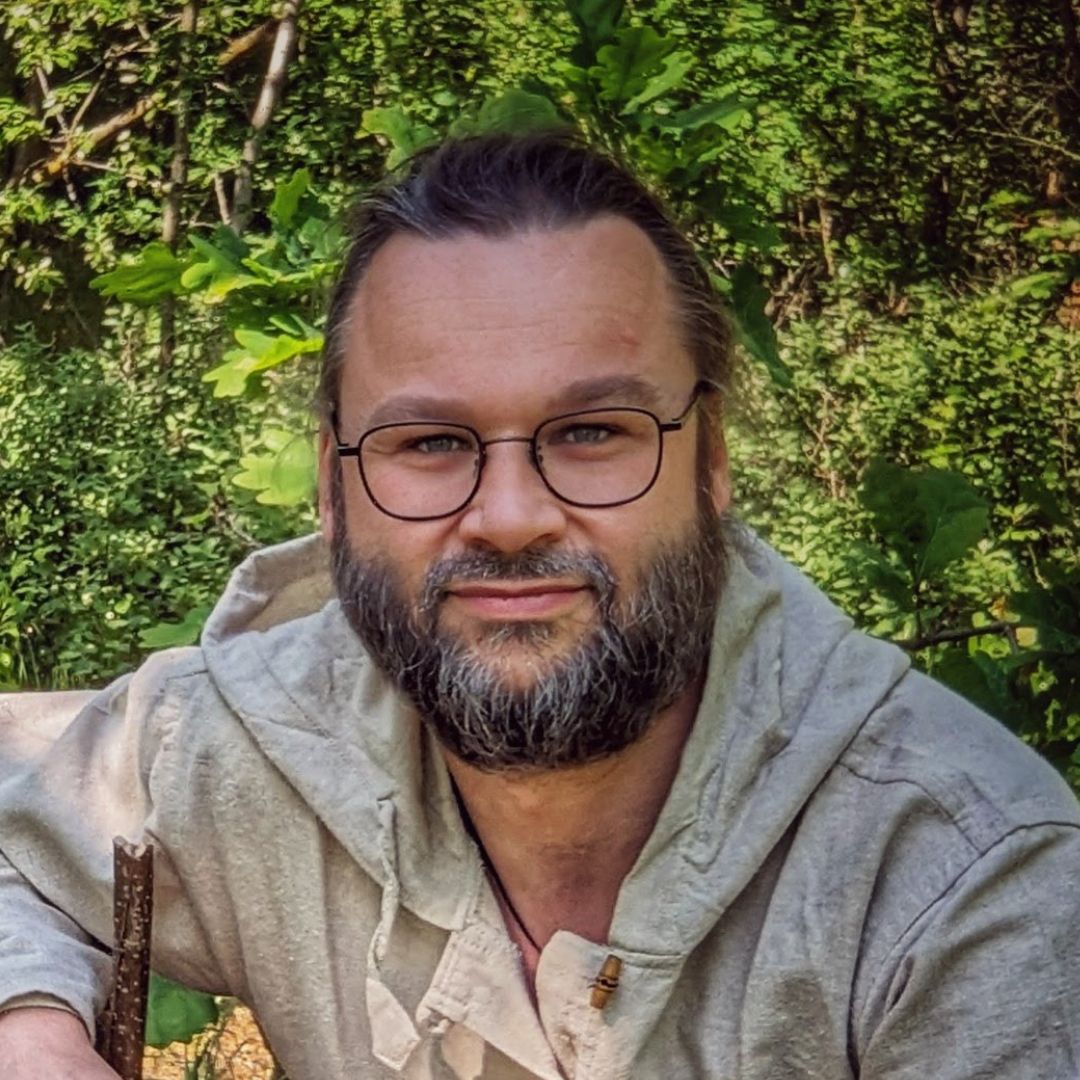 ---
👉 The key facts from this guide
Wear the right clothing, such as a rain jacket, water-repellent pants, and waterproof shoes
Choose the appropriate campsite to avoid water accumulation
Use an awning, tent extension, or tarp for additional protection from rain
Use plastic bags or dry bags to keep valuables and clothing dry
Set up your tent properly to avoid moisture
Enjoy the weather and take the opportunity for activities in the rain or cozy hours in the tent
When camping, you can and must plan and predetermine a lot.
The weather, however, is difficult to influence and can ruin your vacation. Especially when you are out in nature, you need to be adequately prepared for any weather conditions.
Camping and sunshine are a dream come true for all campers, but unfortunately, it doesn't always happen.
Here I give you 10 tips to stay well protected, especially in rainy weather.
Your camping vacation will therefore not end in a complete catastrophe, as you will be perfectly prepared.
1. The right clothing
When camping, choosing the appropriate clothing is crucial. Usually, there is not enough space in the camper or tent to store a whole suitcase. Functional clothing is therefore necessary.
The great thing about functional clothing is that it dries quickly and keeps you dry. Provided it is water-repellent clothing. An excellent tip is the layering principle.
This means that you wear multiple layers on top of each other. This way, even if the sun comes out, you can take off something. So you need to have the following clothing items with you:
Rain jacket
Water-repellent hiking pants or rain pants
Waterproof shoes (e.g., hiking shoes or rubber boots)
Functional shirts
If you have these clothes with you, at least you will stay dry.
Reading tip: Do you want to buy a tent? Then read this ultimate guide to tents first
2. The right parking space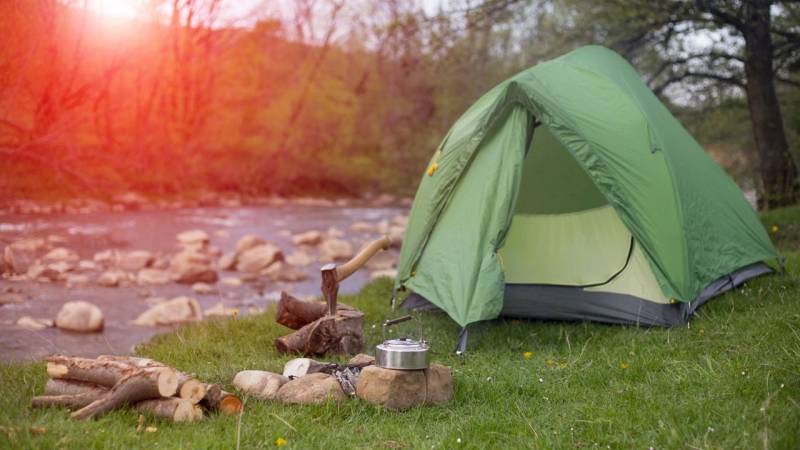 The proper pitch is not only important when you're camping with a tent, but also for your camper. You should avoid deep hollows in bad weather. Here, large amounts of water can quickly accumulate.
Avoid parking spaces that are too close to the water. I understand that everyone wants to be in the front row. Ideally right by the lake or the sea. However, this can quickly become a problem in rainy weather.
Permanently heavy rain quickly causes a rise in the water level. Often, the only solution is to flee. So find a place that slopes slightly. This way, the water can drain directly and does not collect in your tent or camper.
So it's best to pitch your tent on a hill and not stand under trees. During a storm, branches can break off here and hit you.
Reading tip: Is it dangerous to camp in a thunderstorm? How to behave safely?
3. Awning, Tent, or Tarp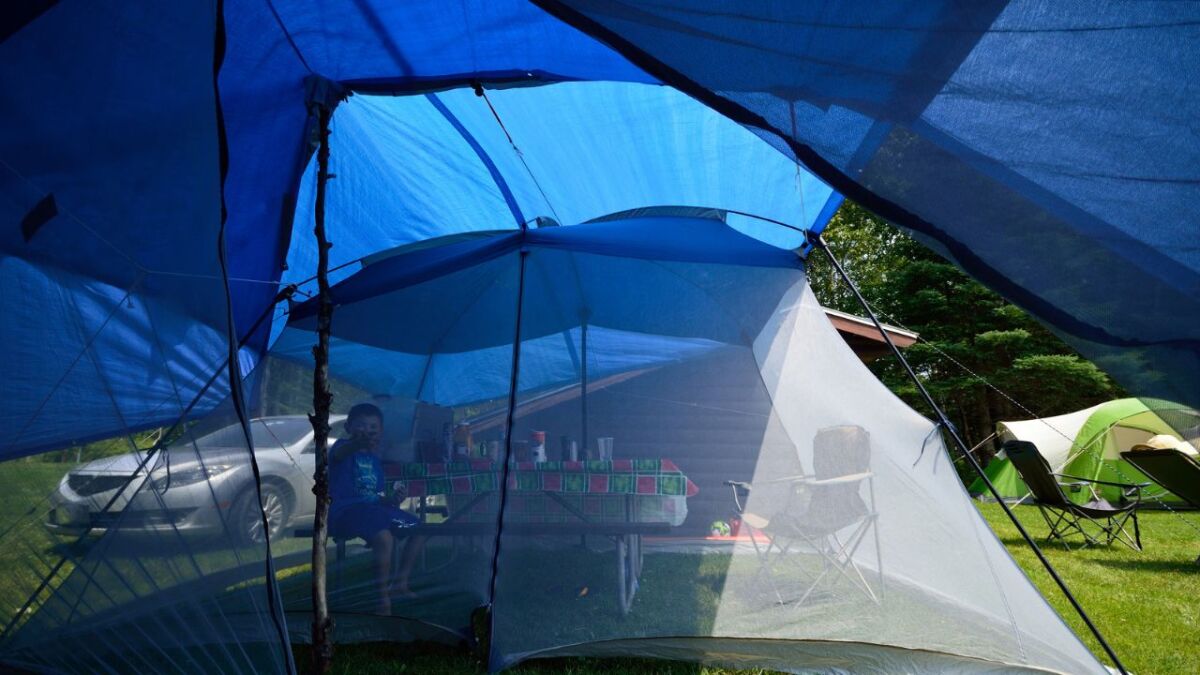 Despite the bad weather, you certainly don't want to sit in the tent or camper all the time. In such moments, an awning, a porch tent, or a tarp (here's my top list) can be very helpful.
With this canopy, you have the opportunity to stay outside without sitting in the rain. However, only set up these things if it's not too windy. Otherwise, there is a risk that you will have to search for your equipment throughout the entire campsite.
The awning and the tarp, however, have a few advantages over the awning:
fast setup and teardown means quick departure possible
compact size (for the tarp)
open (you are not sitting in a closed space)
However, always make sure to slope the awning, the awning extension, or the tarp on one side, as otherwise the water will collect.
Reading tip: What is a Tarp? [Sizes, Costs, Setup Variations]
4. Plastic bags or packing sacks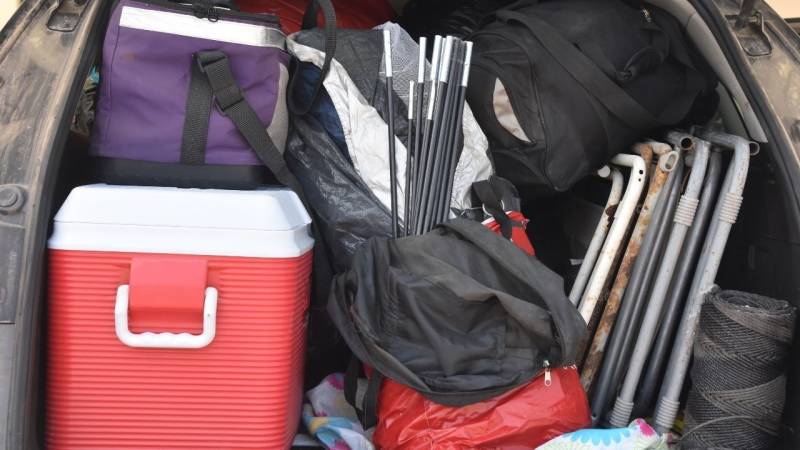 Moisture, a tent, and electronic devices don't go well together. Packing bags (buy here) help you keep valuables dry. Unlike plastic bags, these are reusable and therefore environmentally friendly.
You can also store your firewood dry and hope for sunnier moments. It is also advisable to securely store wet clothing or other wet items.
So that no more moisture enters your tent. However, before everything becomes damp and wet, you can also protect your still dry clothing as a precaution. But to completely avoid moisture in the tent, the following tip is advisable.
5. Set up your tent correctly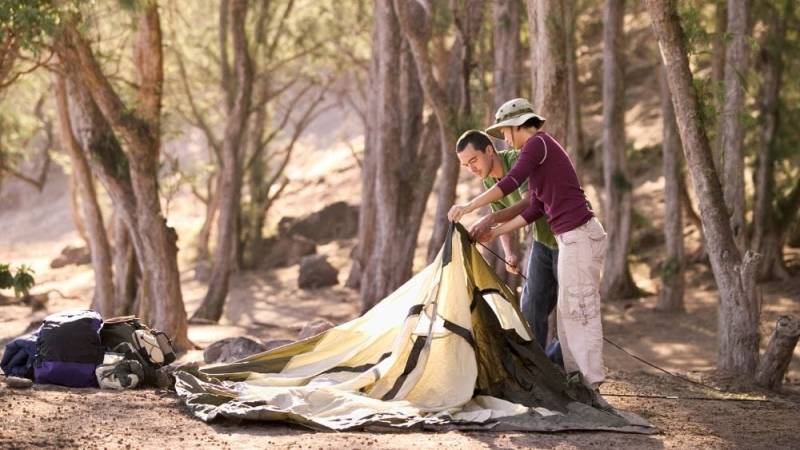 Setting up a tent is always annoying and almost no one wants to do it. But if you set up your tent properly once, you will benefit from many advantages.
Always ensure tight tent walls. Avoid sagging, as this makes it easy for rainwater to penetrate the tent. It is important to tighten the guy ropes and anchor them well in the ground with the pegs.
Moreover, make sure to close all zippers and ensure that they are waterproof. Additionally, an impregnating spray can be helpful to be on the safe side.
But it's not just in tents that water accidents happen. Many caravans or campers are also affected. Often, the doors are not properly closed, and the water can easily penetrate the interior.
You should always keep your windows closed in such weather. However, if you still want some ventilation while sleeping, I can recommend window deflectors. After installing them, you can partially open the windows.
Reading tip: What beginners need to know about setting up a tent
6. Protect the tent from below and above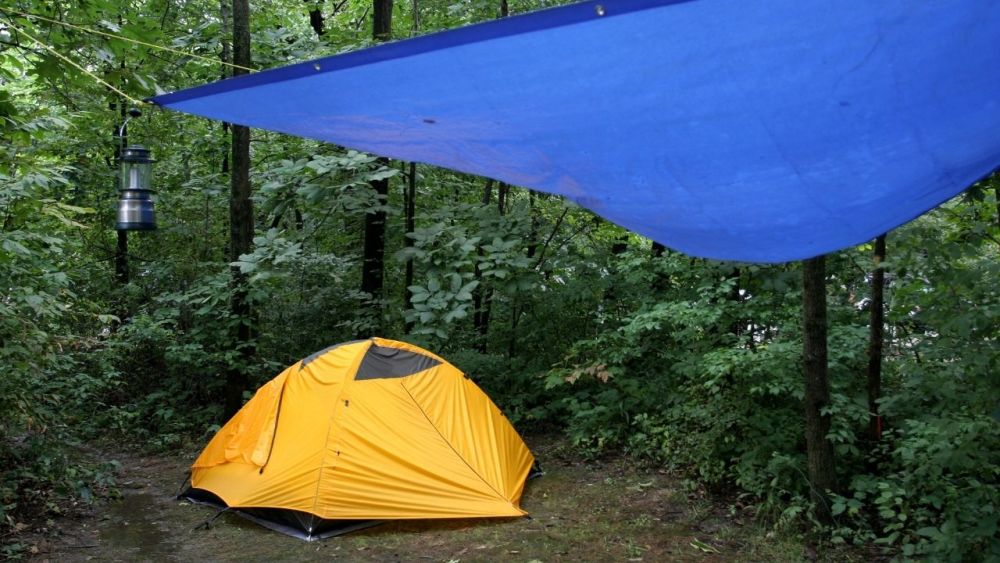 Usually, it is not necessary for you to additionally protect your tent with tarps from rainy weather. However, if it rains continuously, it can quickly happen that the ground can no longer absorb the water.
With a simple tarp or a groundsheet, you can keep your tent dry from below. The advantage of the tarp is that it is easy to store and can always be kept in the car or camper.
Furthermore, you can protect your tent from above. Simply stretch a tarp diagonally over the tent or use a tarp.
7. Keep wet objects outside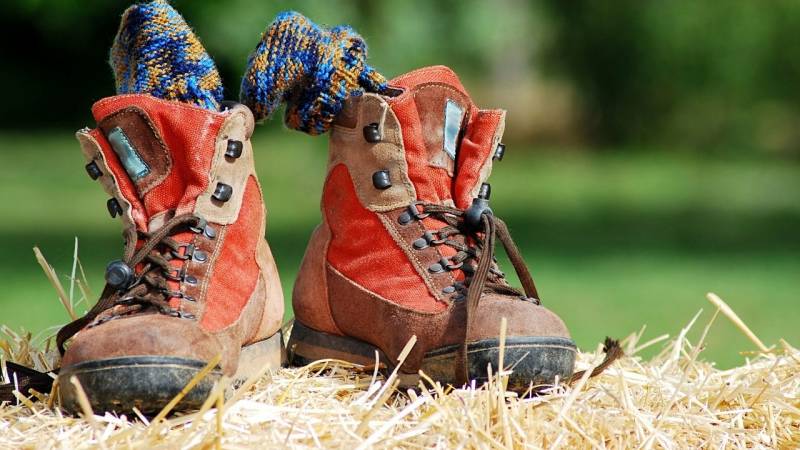 This tip is actually quite logical, but is often completely forgotten. As soon as you bring wet clothes or other items into the tent or camper, your interior starts to get damp.
Under a tarp, you can easily hang up and dry your wet clothes. The same applies to wet hair. Rub them dry as much as possible or blow dry them if you have the opportunity.
It is also important to regularly ventilate your tent or camper. This allows the warm air to escape and prevents condensation from forming.
8. Enjoy the weather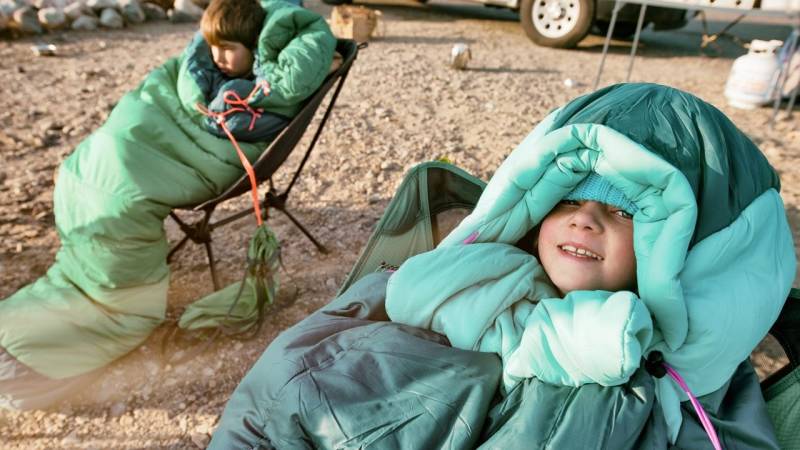 Bad weather often causes bad mood. But if you are also a nature lover, then rainy weather should not spoil your mood.
Even if it's raining, you can still do many great things. Hiking in the rain is just as fun as on sunny days and makes your trip even more special.
However, you can also make yourself comfortable in a tent or camper. Cook something delicious, make yourself a cup of tea, and simply enjoy the sound of the rain.
Don't hold on too tightly to your plan. If the weather absolutely doesn't allow for outdoor activities, just do some other activities instead. Go to the swimming pool or visit an indoor climbing gym. This way, you can get some exercise and then relax at the campsite.
9. Provide warmth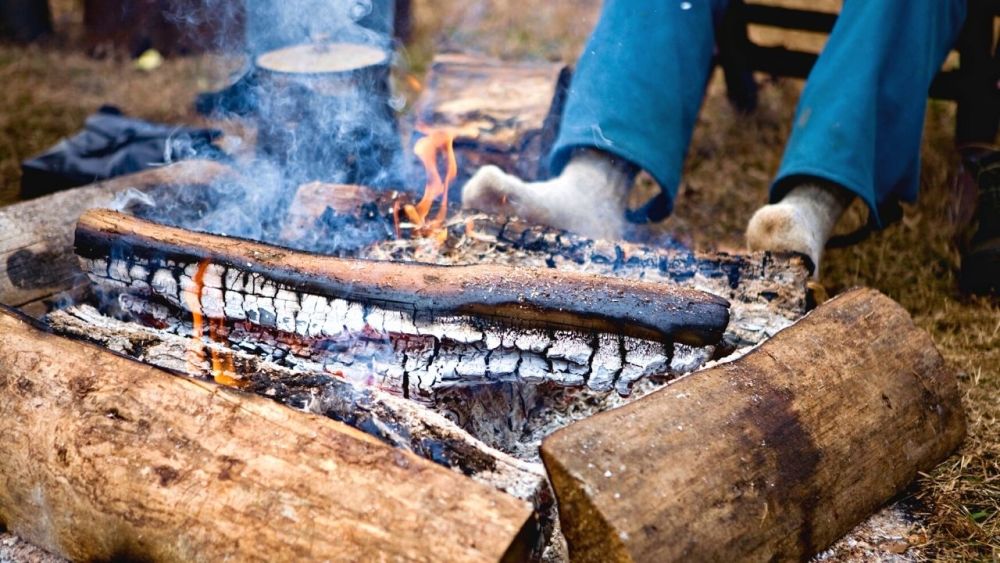 A hot water bottle should be with you on every camping adventure. Whether it's for stomach aches or freezing cold - in those moments, you'll be glad to remember this tip.
Rainy weather usually brings low temperatures with it. So it's especially great when you can put something warm under your blanket or in your sleeping bag (here's my top list).
A great tip is also to bring extra blankets or faux fur covers for your chairs. With something cozy and warm against your back, the bad weather won't feel so bad anymore. If necessary, you can also use a sleeping mat (check out my top list here).
Reading tip: How to stay warm in a tent and sleeping bag
10. Go somewhere else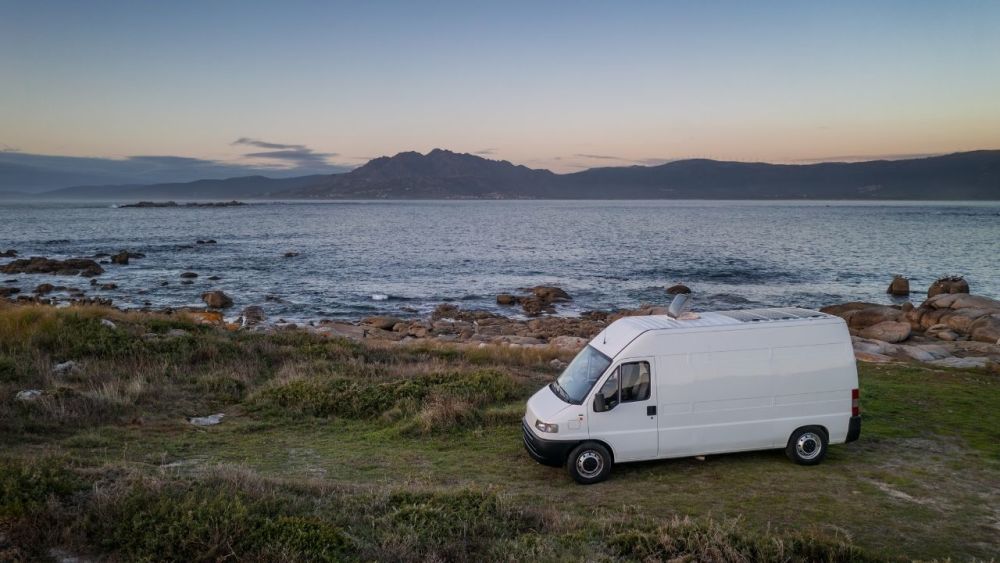 The great thing about camping is that you are not tied to anything. You can be as free as you want.
It is completely understandable that after a week of continuous rain, you long for drier times. Just take down your tent, pack everything into the car, and drive somewhere else.
Of course, it is better if you plan ahead. Check the weather forecast and simply plan an alternative destination in advance.
---
Are there any more tips? Then tell us in the comments.

Was this guide helpful?
11 people found this guide helpful.
5.00 out of 5 points (11 Ratings)