Back to german article
You are never too old for the wilderness: Here you will learn how to still have fun in nature at an advanced age
You are never too old for the wilderness. Learn how to have fun in nature even at an advanced age. Ideas and inspiration for natural experiences.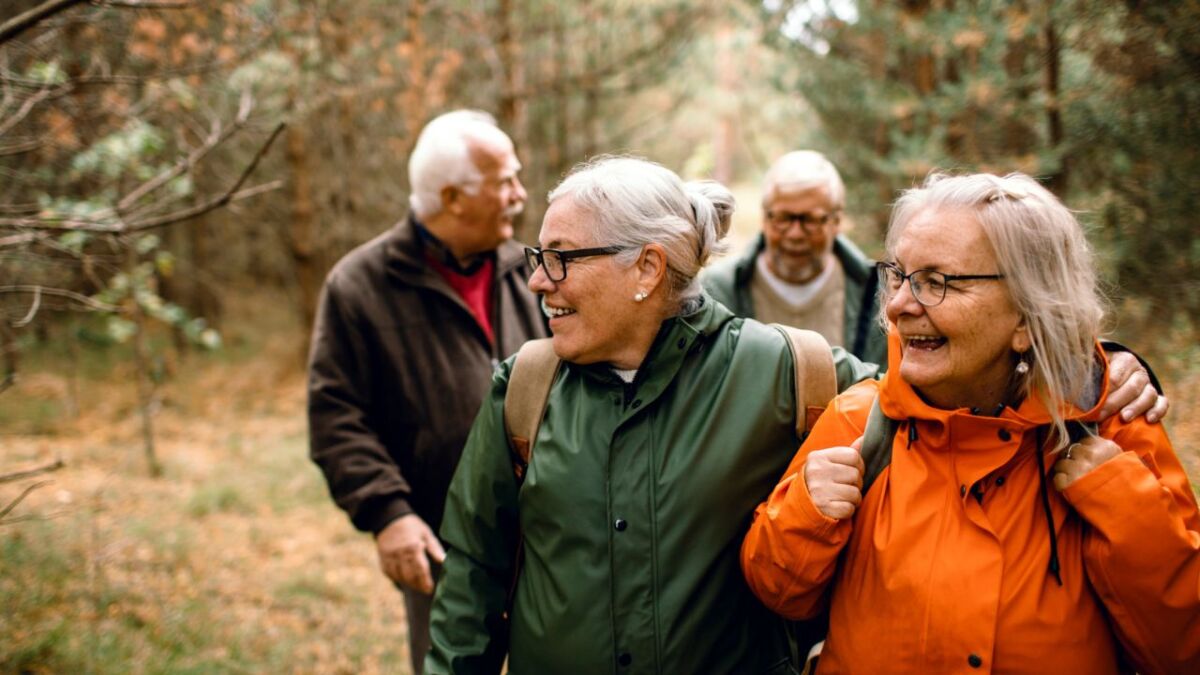 ---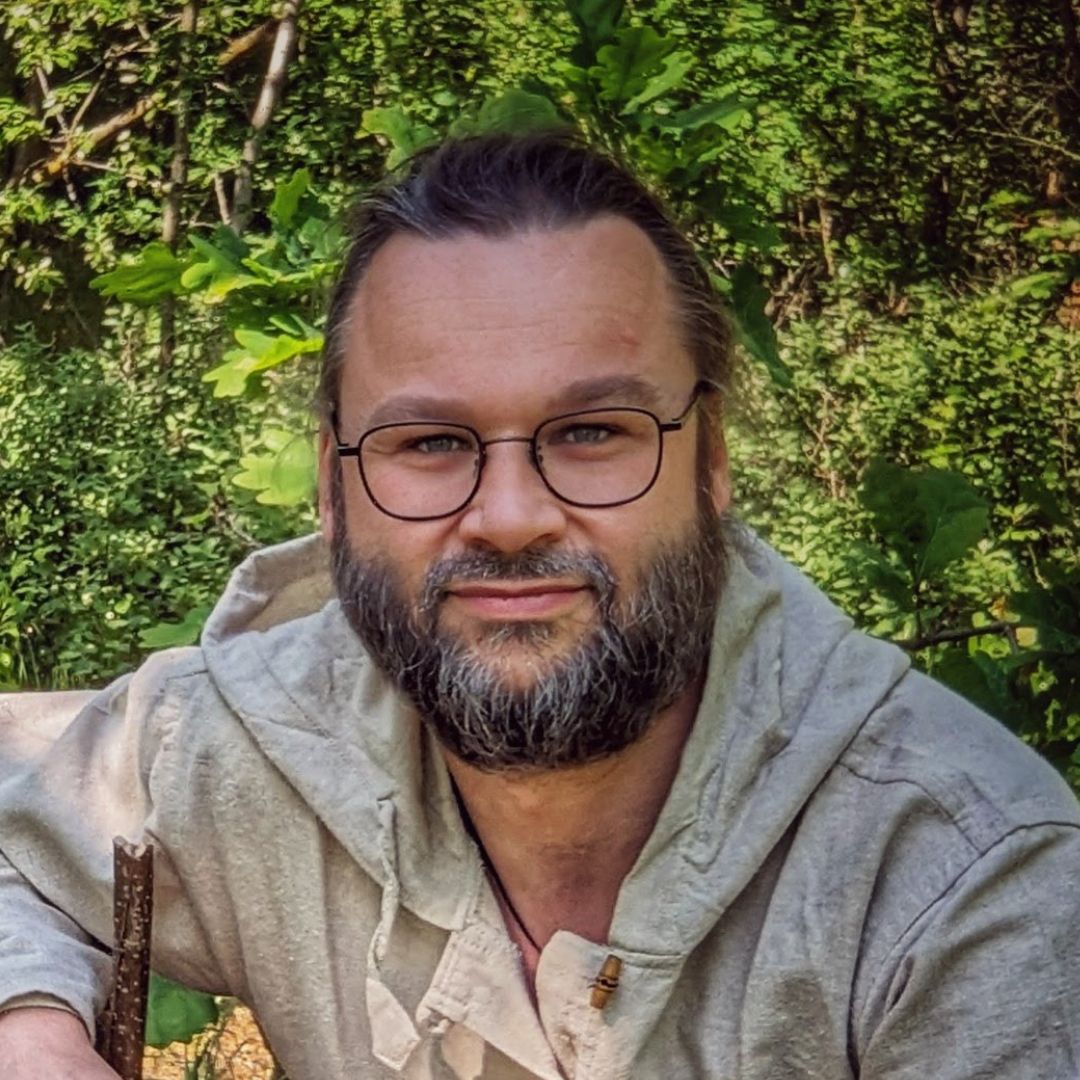 ---
👉 The key facts from this guide
Hiking, camping, and bushcraft are accessible to all age groups and promote physical and mental health.
Start with short trips and gradually increase to avoid overexertion.
Pay attention to proper equipment, especially good footwear and appropriate clothing.
Warm up before hiking to prevent injuries.
Enjoy the journey and take time to appreciate the surrounding nature.
Be prepared for emergencies and inform others of your plans in nature.
Hiking, camping, and bushcraft are versatile hobbies that are a passion for many people.
Being outside is also beneficial for your physical and mental health.
This experience should not be reserved for young people only and is accessible to all age groups.
Have you always wanted to spend more time in nature, but never had the time and now think it's too late to start?
In my opinion, it's never too late for that!
Therefore, I am trying to dispel your concerns here and provide you with more safety in contact with the wilderness.
At first, the first night of camping may seem impossible, but if you give yourself time, you will find your way.
If you want to get tips on how to feel safe and comfortable in nature in your later years, you've come to the right place.
You should plan your trip safely and thoroughly
First, you should consult your doctor and assess whether your endeavor is safe for your health, especially if you have any pre-existing medical conditions.
I am not a doctor and do not want to presume here which diseases make it unsafe to roam in nature. Therefore, the first step is to inform yourself about what is even possible.
Afterward, you should focus on your destination or activity. Which route do you want to hike, where should your camp be set up, or do you want to go camping?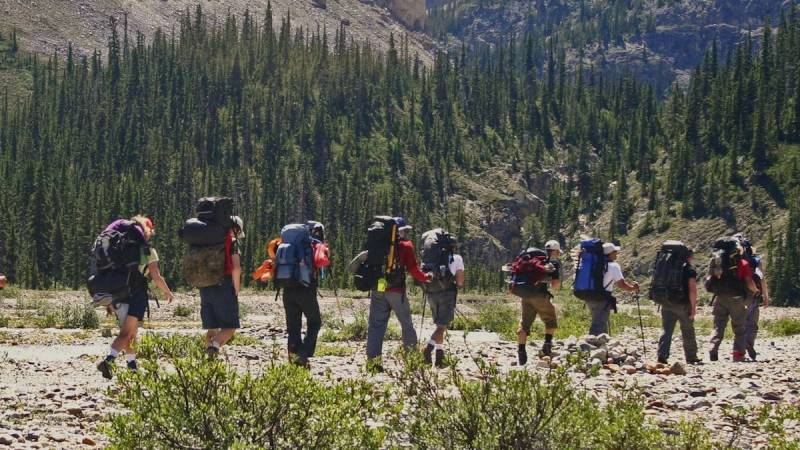 Here are some outdoor activities that older people can also enjoy:
Hiking and Trekking
Camping and Tenting
Bushcraft and Survival Training
Nature Observation and Animal Watching
Fishing and Angling
Canoeing and Kayaking
Stand-up Paddling
Cycling and Mountain Biking
Nordic Walking and Strolls
Geocaching and Orienteering
Outdoor Yoga and Meditation
Bird Watching and Stargazing
Photography and Painting in Nature
Start with short trips
Whether camping, Bushcrafting, or hiking, you shouldn't overexert yourself.
If you have never spent a long time in nature, start with a one to two hour hike on an easy trail.
Here you can get information about your strengths and assess what feels good for you.
Then you can also gradually increase and tackle more difficult routes. Here, further ideas for your next tours can also emerge.
If you are limited in terms of your endurance, camping would still be possible. Bushcraft (What is Bushcraft?) is also feasible to a certain extent.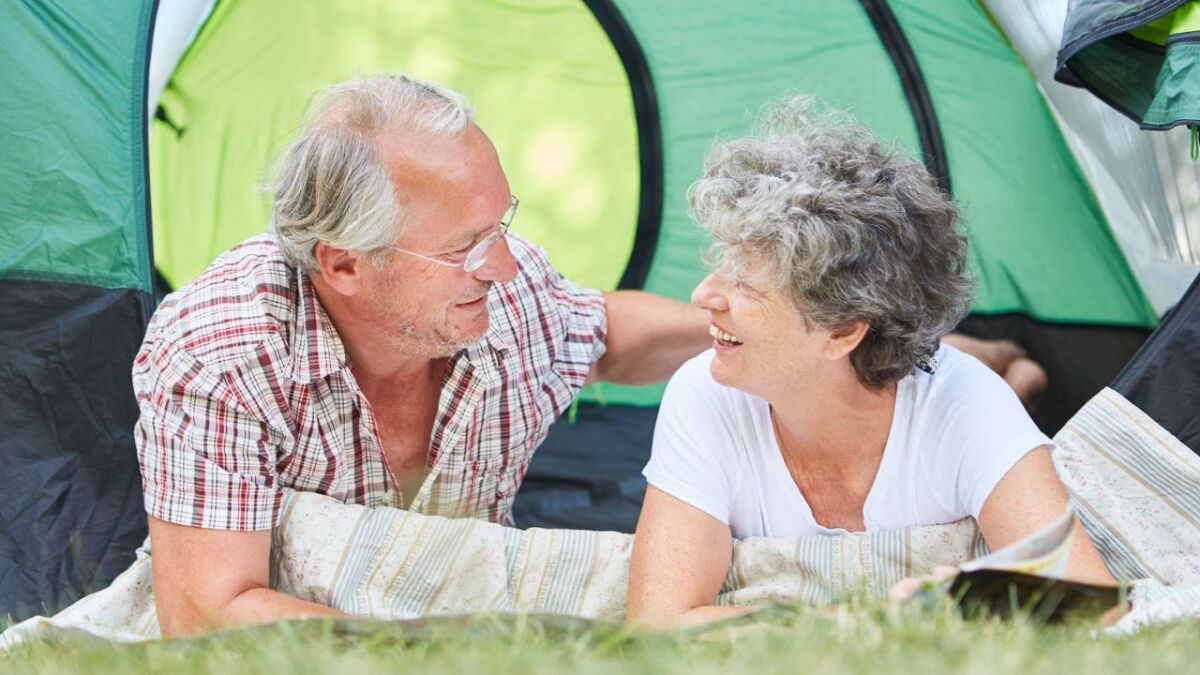 Maybe you've always wanted to cook over an open fire or build your own shelter. Let your inner child run wild here, as it often has much more creative ideas than our adult selves.
It is important not to overexert yourself. You will develop more strength after regular outings and can gradually increase your goals.
If you are unsure whether you can manage on your own, you can also book a guide or go out with a group.
The Right Equipment: Essential Items You Should Bring
Especially on one-day hikes, you shouldn't go crazy with your equipment. Because the lighter your backpack is, the more enjoyable the hiking is.
However, there are some essential things that you should definitely have with you.
This primarily includes:
Water
Food
A light rain jacket
Your smartphone
Spare underwear (+socks)
A whistle for emergencies
A first aid kit
For your camping trip, things obviously look different. Here, I recommend that you first set up as comfortably as possible. Ideally, you start in your garden or at a campsite.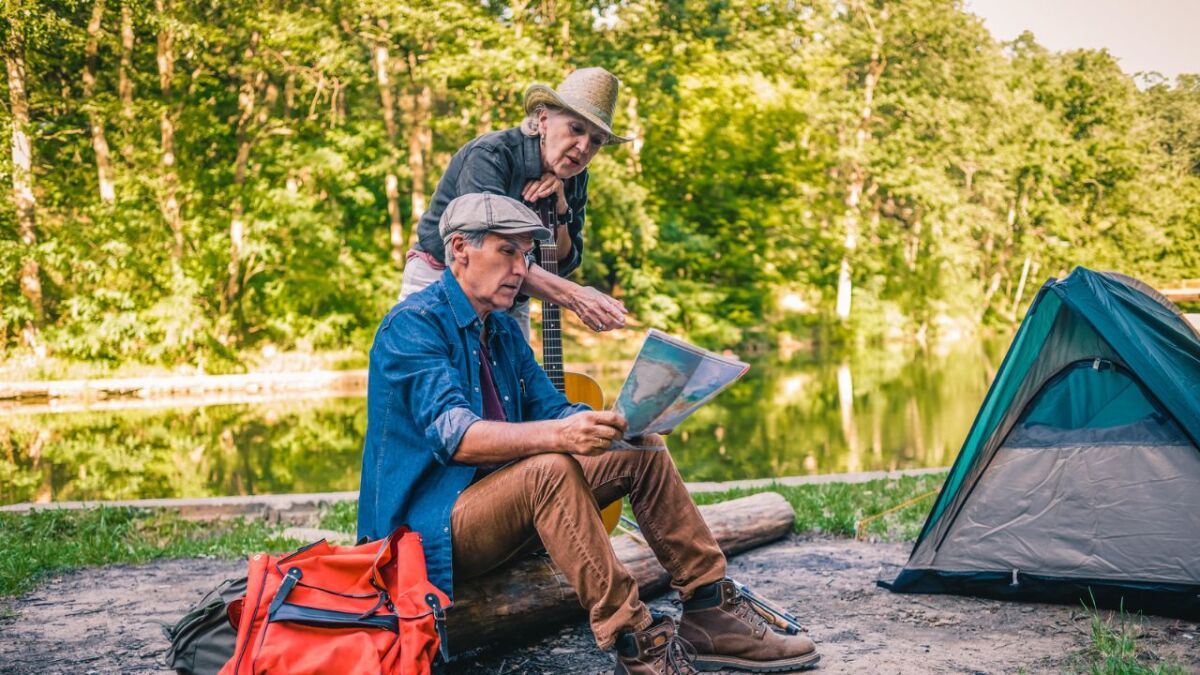 This way, you can already estimate what you need and what is unnecessary. Your tent, sleeping bag, and sleeping pad can also be put to the test this way.
The needs here are very diverse, which is why I don't want to make a specific recommendation. Try out what feels good for you and what you really require for your time in nature. You are welcome to check out this guide for help with purchasing a tent.
It's similar to Bushcrafting. You don't have to survive for several days in the woods, but you can also start at home or in your garden.
The equipment is also diverse, and you can accomplish a lot with simple knives, axes, and some rope.
Here I have listed the bushcraft ideas and here you can find ideas for backyard or garden.
Don't skimp on good clothing and the right footwear
Choosing the appropriate clothing for the correct circumstances is a big topic. I will briefly touch on it here, but you can find a detailed guide here on the website for various situations and what clothing is ideal.
The most important thing is clearly the right footwear. Your feet carry you through the wilderness, and it is essential to protect them accordingly. Good hiking shoes last a lifetime and are a significant investment.
It is also critical that you feel comfortable in your clothing. In the summer, you are still quite flexible, but in the winter, you have to carefully assess what you need. For me, the layering principle has proven to be effective, as it allows me to regulate my body temperature well.
Furthermore, headwear is essentially both in summer and winter. In summer, it protects you from the sun and in winter from the cold.
Warming up helps you prevent injuries
To avoid unnecessary injuries, you should definitely warm up before hikes or similar activities.
Especially feet and legs are at risk here. I speak from experience, as I have already injured my Achilles heel and had to hobble to the nearest civilization in the middle of nowhere. I am certain that this would not have happened with appropriate warm-up exercises.
Make sure to take off your shoes and prepare for five to ten minutes of warm-up exercises (such as rolling your feet to mobilize them) to prepare your body for physical activity.
Take your time: The journey is the destination
However, there is a trap that many hikers can fall into: the obsession of reaching the destination quickly.
However, it is important to remember that hiking is not just a race against time. The focus should be on enjoying nature and hiking at your pace.
By taking your time and enjoying the journey, you can appreciate the beauty of nature around you and focus on the present moment.
Hiking becomes a meditative experience that reduces stress and increases well-being. It helps to clear the mind and gain new perspectives.
Even if that means you don't reach your daily destination goal. If there is one proverb that applies to hiking, it's definitely: "The journey is the destination!"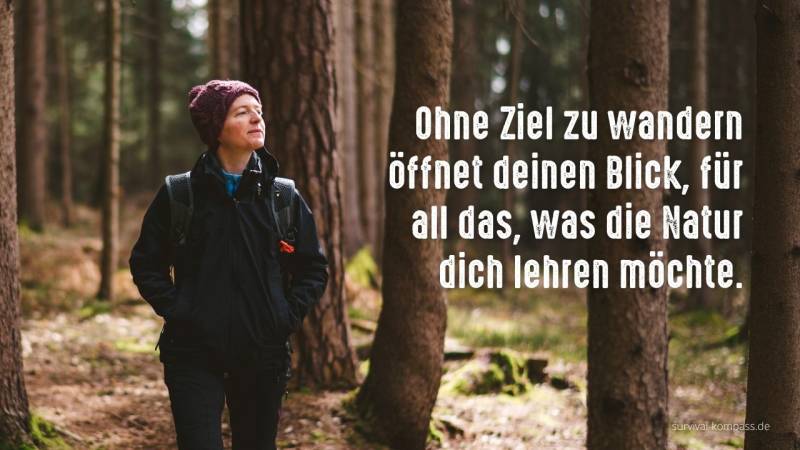 Be prepared for emergencies
In case of an emergency, you should definitely stay at the scene of the accident and the victim should not be left alone. Therefore, you can request help with your mobile phone.
In Germany: Either 112 or in case of a mountain hike, call 140 for mountain rescue.
If your mobile phone fails, you can attract attention with a whistle or a flashlight. To achieve this, you should give a signal six times in a row (3x short, 3x long, 3x short for the SOS Morse code signal). After a pause, you can do this again until you receive a response.
You should always let people know where you are going. This way, the people around you won't worry unnecessarily and help can be sent to you in case of an emergency.
Have you ever tried survival training?
A survival training can be an exciting and educational experience that teaches you skills to survive in the wilderness.
Here you will learn how to find food, access water sources, and build shelters. Additionally, you can test and strengthen your physical and mental resilience.
The wilderness schools (find some here) that offer such survival trainings usually do not have any age restrictions.
Older people can also participate in these courses and benefit from the experience. The training can be offered at different levels, from beginner courses to advanced training that deepens and expands existing knowledge.
During survival training, you will also learn how to handle the resources available to you in nature.
You will learn how to make a fire to keep warm and prepare food, how to build a shelter to protect yourself from the elements, and how to make tools and weapons from natural materials.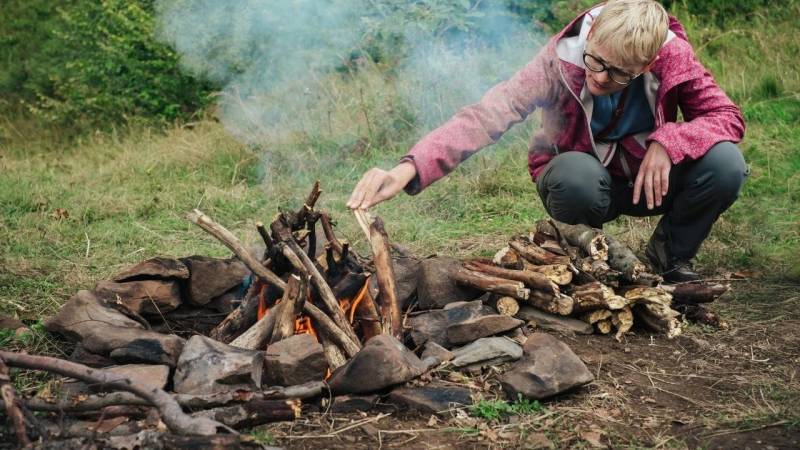 Furthermore, through survival training, you can develop a more profound understanding of nature and learn how to protect it. You will learn which plants and animals are present in the environment and how to responsibly interact with them.
Overall, a survival training can be a great experience that gives you self-confidence and teaches you skills to survive in nature.
It can also be a springboard to discover your sense of adventure and try out more outdoor activities.
Stay in a car or camper
If you don't enjoy sleeping in a tent, there is still a way to spend the night in nature and enjoy the outdoor experience: sleeping in a car or camper.
The fact is: By staying overnight in a car or camper, you have sufficient comfort and safety, but are still in the middle of nature.
There are different ways to explore nature using a car or a camper. You can use your car or motor home if you have one, or rent a motor home to have more space and comfort.
Staying in a car or camper offers the advantage that you can quickly and easily set up your sleeping quarters. You are not dependent on a campsite reservation and can stay overnight at any location at any time. This makes you more flexible and allows you to adjust your travel route spontaneously.
Note: In Germany, it is allowed to sleep at any location (except private property) to restoring driving ability.
Additionally, sleeping in a car or camper provides more safety than sleeping in a tent. You are better protected from weather conditions and can also stay better protected from animals and insects.
If you would rather not buy your car or motor home directly, there is also the option to rent a motor home. This way, you can experience the adventure in nature without having to make a big purchase.
Why nature is also healthy in old age
People over 65 are even recommended to spend three to four hours a week outside. In addition, physical activity should be carried out on three days a week.
Hiking is ideal for this, as it trains the muscles and strengthens the sense of balance. This can improve physical performance and prevent falls.
In addition, hiking also has a relieving effect on certain illnesses and supports the healing process. I have listed all the benefits of hiking for you here - you will be surprised what they are!
In addition, hiking is much gentler on the joints than other running sports and strengthens not only muscles but also bones and joints. Furthermore, it promotes the heart and circulatory system and ensures that the organs are effectively supplied with oxygen.
But it's not just hiking that keeps you fit, other outdoor activities do too, because you're in the fresh air, your stress reduces and your immune system strengthens.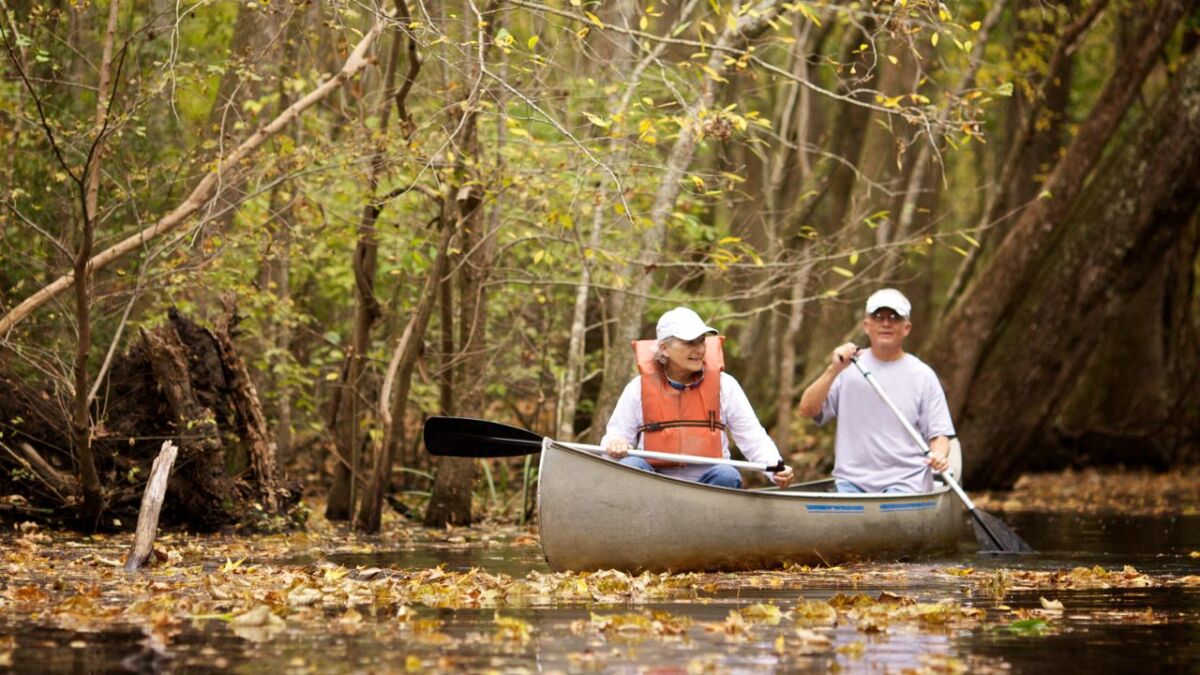 Conclusion: Spending time in nature is good for you and also promotes health
The possibilities are vast and if one activity doesn't suit you, there is still a wide selection of other activities.
You just have to dare to try everything once. As so often, preparation is essential.
Beforehand, you should clarify everything with your doctor and carefully plan your adventures. That's already half the battle.
A mindful approach to and in nature also minimizes the remaining risk.
And now get out of the house! The wilderness is waiting!

---
Sources for the guide

https://survivallife.com/hiking-safety-tips-for-active-seniors/
https://www.gesund-aktiv-aelter-werden.de/gesundheitsthemen/gesund-wandern/wie-wandern-die-gesundheit-foerdert/
https://www.provita-deutschland.de/wandern-fuer-senioren-5-tipps-vom-wanderprofi/
https://www.trekkingguide.de/knowhow/seniorenwanderung.htm
Was this guide helpful?
11 people found this guide helpful.
5.00 out of 5 points (11 Ratings)