Back to german article
Your first overnighter - A guide for beginners at bushcrafting
Learn how to make your first overnighter in the woods a success. Tips for preparation, equipment, and outdoor fun. Discover now in the Bushcraft Guide.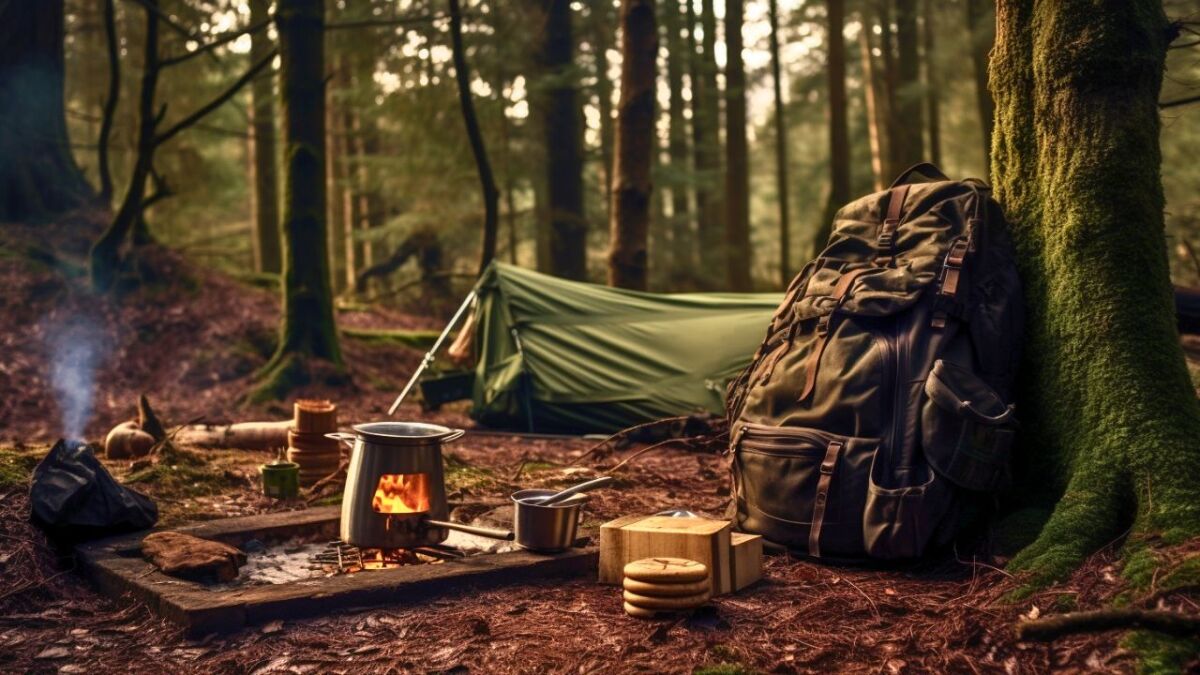 ---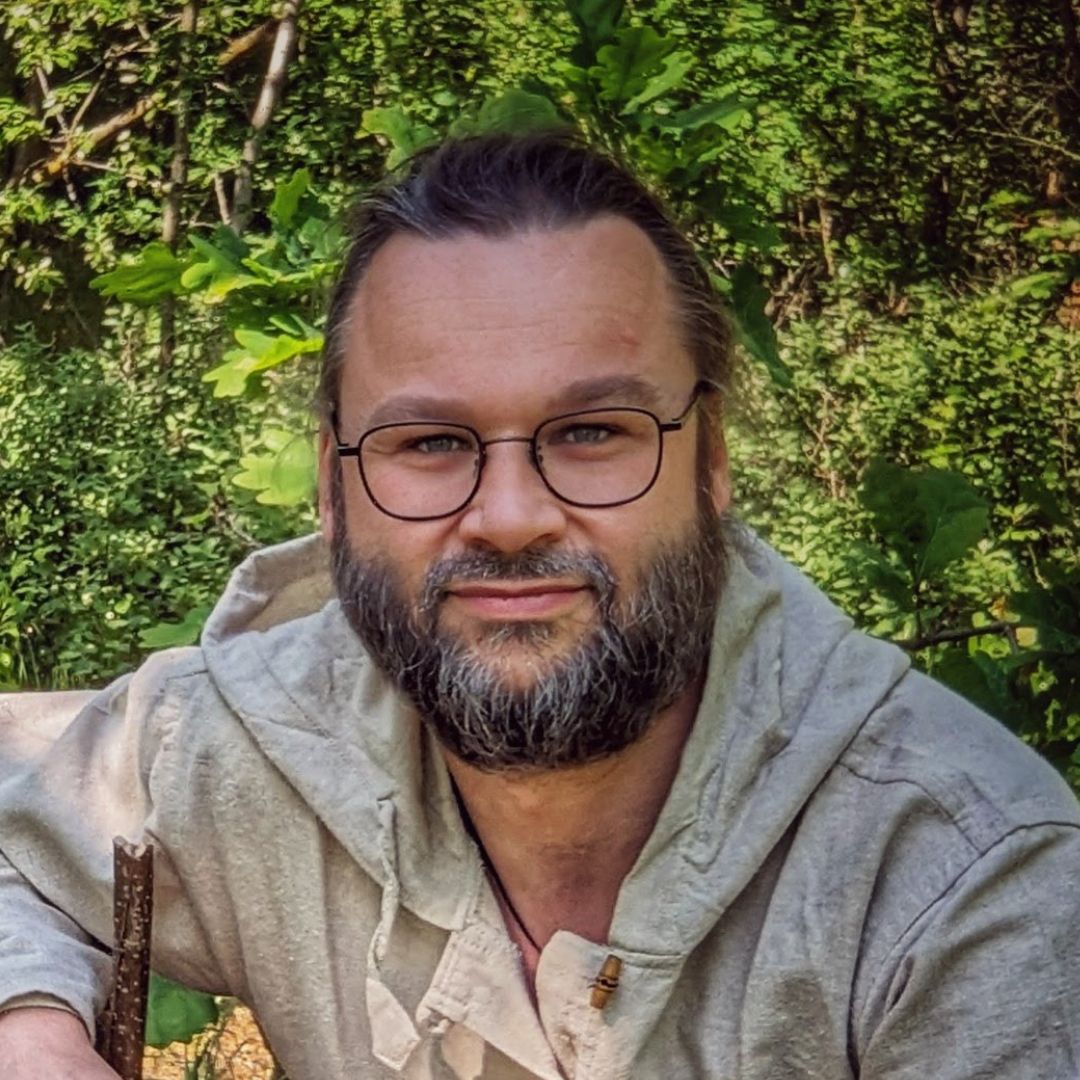 ---
👉 The key facts from this guide
You discover the fascination of a bushcraft overnighter: sleeping in the forest with your tools, surrounded by natural sounds.
A bushcraft overnighter is an intense experience: building, tinkering, cooking over a campfire – you live and survive in nature.
Choose the perfect time and place for your first overnighter: spring or October, because of mild temperatures and fewer insects.
Inform yourself about legal camping: use fee-based campsites, trekking sites, or ask landowners.
Pack wisely: select the right equipment like knife, saw, fire steel, tarp, and more, depending on the season and activities.
Follow the Leave No Trace principle: leave no trace, respect nature, and share it considerately with others.
I was where you are - aimless and hungry for knowledge.
How do I do my first overnighter?
Come, I'll take you with me, out of uncertainty, into adventure.
Pack your bag, let's ignite the campfire together. Ready? Then let's go into the night!
About: What is a Bushcraft Overnighter?
Imagine being deep in the forest, just you, your tools, and the sounds of nature. A Bushcraft Overnighter is your wilderness return ticket. Here, you don't just sleep outdoors, you live Bushcraft.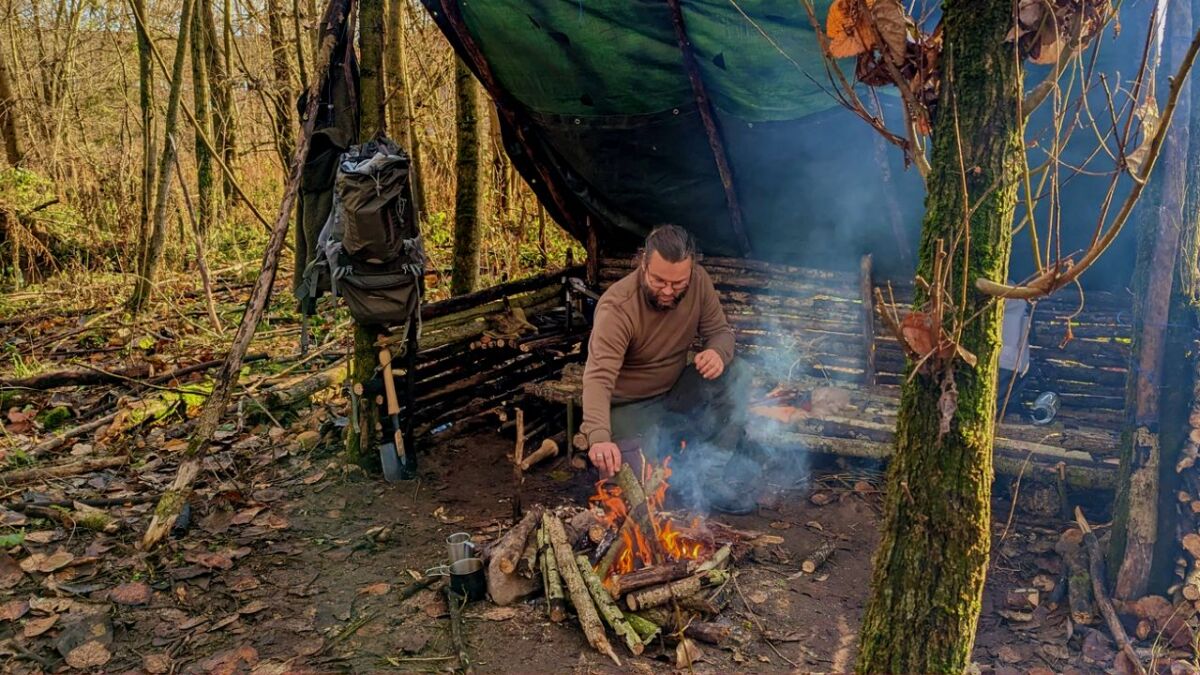 DIY, Building, Cooking - all of this is part of it. You learn to survive with what you wear and find. An overnighter allows you to truly enjoy the daily routines and skills of Bushcrafting.
"Bushcraft is not just a hobby, it is the art of being at home in nature."
Why is an overnighter an enriching experience?
The air is clear, no artificial light disturbs the view of the starry sky, and the silence of the night envelops you.
You are away from the everyday hustle and bustle, your campsite is what you make of it. It's not just about hiking.
Bushcraft overnight stays are a combination of:
Building: Constructing a safe and warm shelter.
Working: Crafting tools and utensils directly from nature.
Cooking: Preparing your meal over an open fire, a taste that no restaurant in the world can capture.
Camp setup: Creating a functional camp that is more than just a place to sleep - it is your temporary home.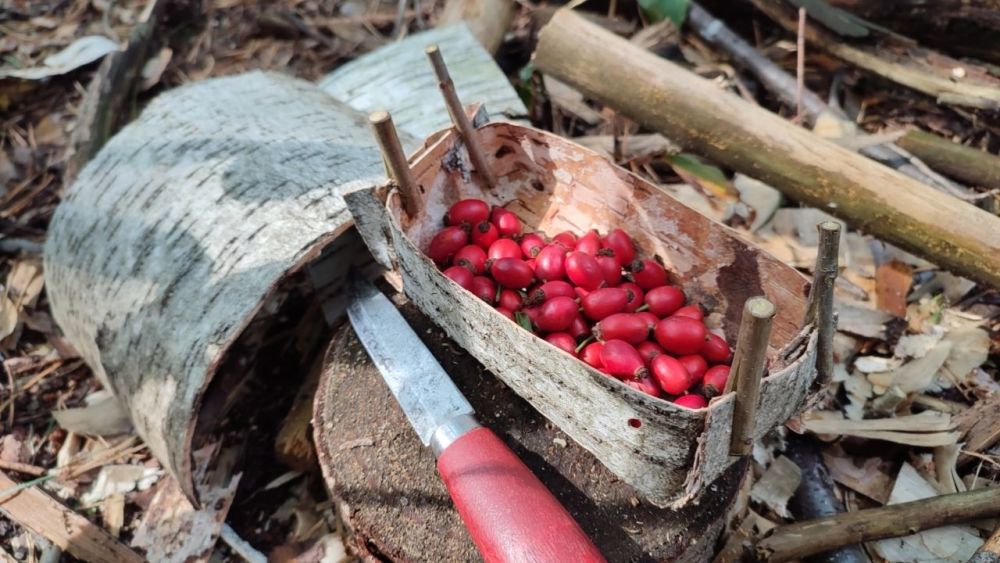 Every time you come back with new stories just waiting to be told.
You encounter your limits, but also your long-forgotten strengths.
With the first ray of sunshine that touches your handmade camp, you know all the work was worth it.
Planning your first overnighter
When and Where - Perfect Timing and the Ideal Location
Your first time in the forest - it's going to be great, isn't it?
Like the timing of a joke, the when and where also matter here.
Let's start with the When: I recommend spring or October.
Why, you ask?
Little creepy crawlies like mosquitoes or ticks and mild temperatures. That's worth its weight in gold and perfect for getting started.
| Month | Advantages |
| --- | --- |
| Spring | Nature in full bloom, less insect annoyance |
| September/October | Splendor of the leaves, cooler nights |
| Winter | Silent and untouched landscapes, ideal with proper equipment |
The places are diverse. From deep forest to mountain stream, your choice should be wild but accessible.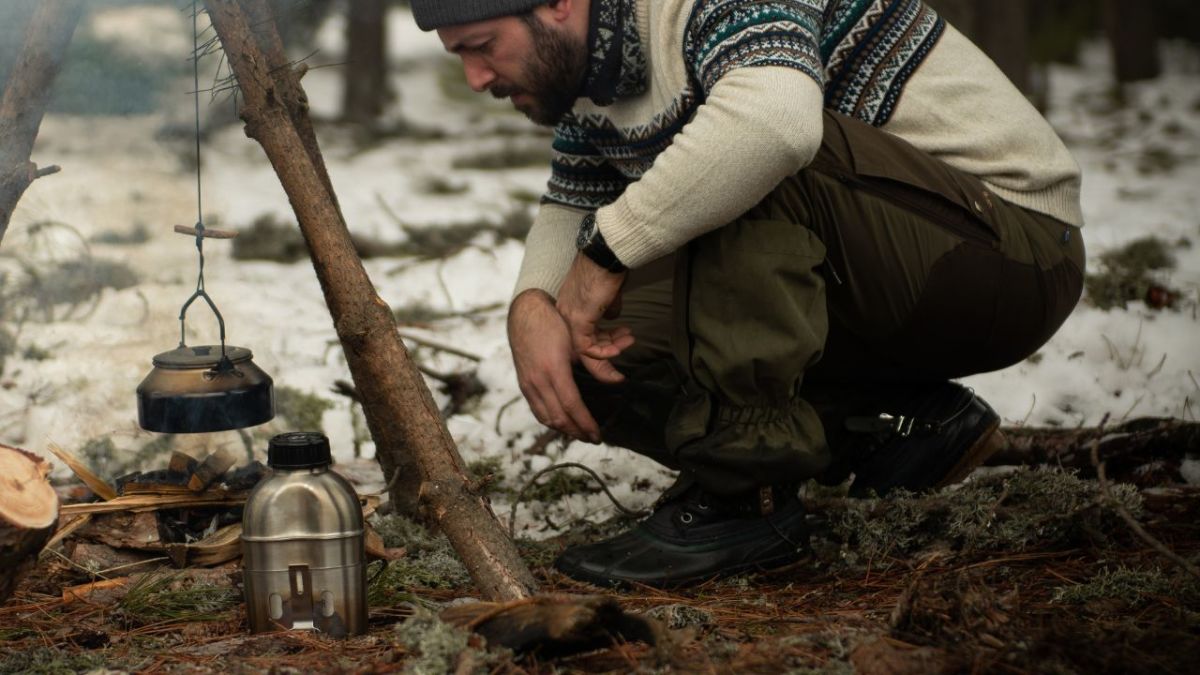 Legal - Knowledge instead of fines
Now that your sense of adventure has been awakened, here's a serious tip: familiarize yourself with the legal situation. Wild camping is prohibited in most parts of Germany. But don't worry, there are legal ways:
Paid campsites: They offer legal space and often basic infrastructure.
Trekking sites: A slightly wilder option, legal and with the necessary sense of adventure. Here's my list.
Personal inquiries: Sometimes forest owners/landowners allow camping on their property - it can be worth asking politely.
Equipment List for Bushcraft Overnighter
Yes, some equipment is great because it helps you a lot on your first night.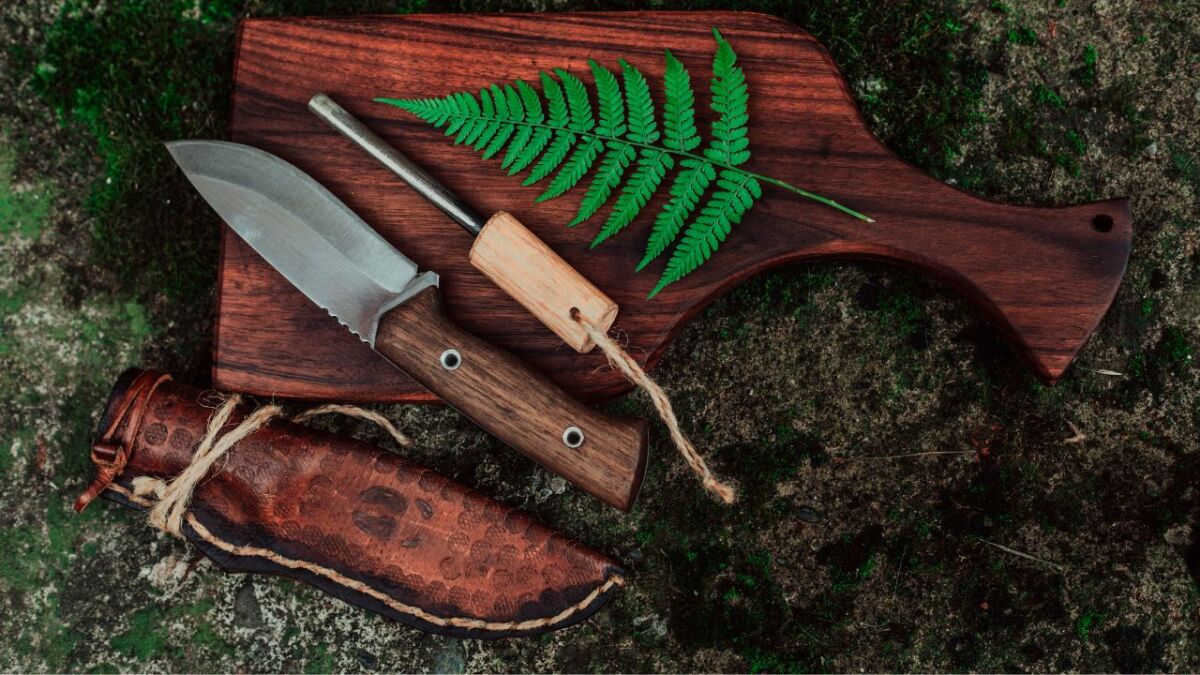 Basic Bushcraft Equipment
Let's get packing! Never forget: Good tools are half the battle. I've got the essentials for you that will have your back.
Knife: Your best friend. A sturdy, fixed blade knife for carving and more.
Saw: Lightweight and foldable - for wood to fire.
Firesteel: Reliable, even in wet conditions. Spark it, and it burns.
Tarp: Your roof. Protection from rain, wind, and the cool night.
Sleeping bag: Warm, so you can slumber blissfully at any temperature.
Sleeping pad: A little comfort on hard ground never hurts. And insulation against the cold.
Stove: A big campfire on your first overnighter? Probably not, so bring a stove.
Here, every item is a part of your survival strategy. Test them before you set out. Knowing how to use them is the real trick.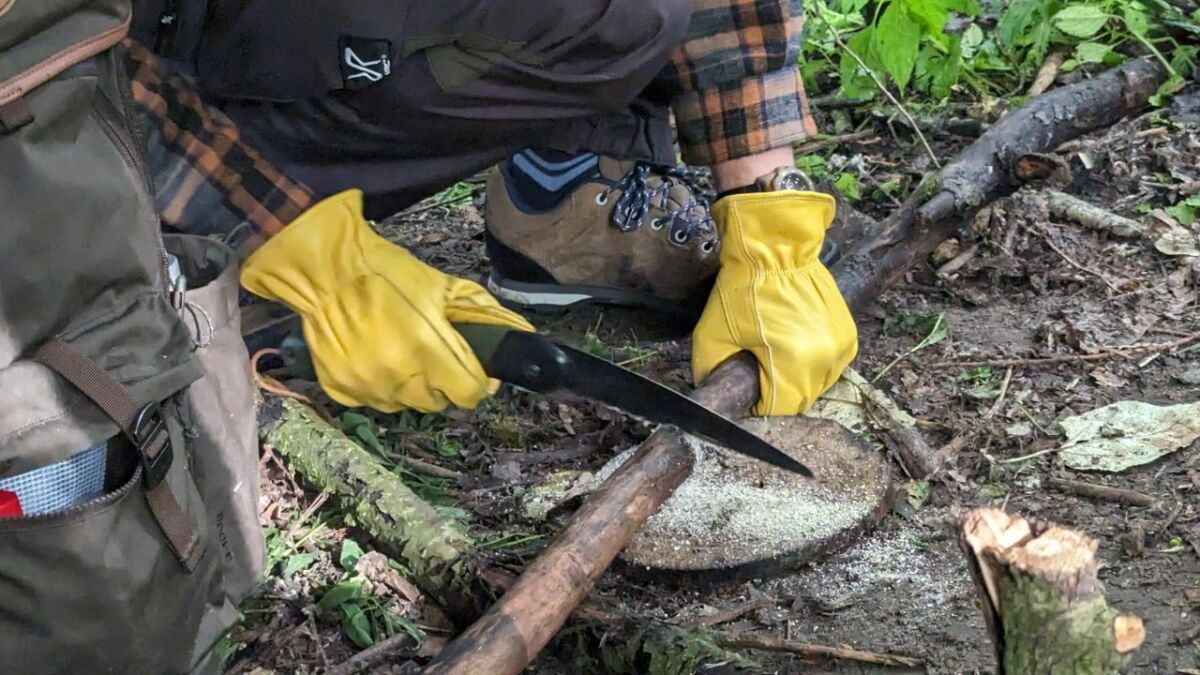 And here are my additional guides so that you are perfectly informed and don't buy any junk.
Another important word about equipment because it's not about collecting equipment first: Start with what you feel comfortable with. Maybe just take your grandpa's pocket knife for now. And a €10 tarp from the hardware store. I didn't start any differently. Equipped only with a sandwich, a bottle of water, a tarp, a wool blanket, and a pocket knife, I also survived my first night. And even had a lot of fun in the middle of the forest.
Packing list for various scenarios
Depending on the season and planned activities, your packing list may vary.
Summer camp? Warm nights, light blanket.
Winter expedition? You need insulation at its finest.
Here's a mini guide to packing specifically for the season:
| Scenario | Must have |
| --- | --- |
| Summer camp | Sun protection, insect repellent, lightweight clothing |
| Autumn trek | Warmer clothing, rain protection, wind protection |
| Winter expedition | Down sleeping bag, thermal clothing, snow equipment |
Take this to heart:
"Pack light, but pack right."
Balance is the keyword. Too much luggage becomes a burden, too little can get you into trouble.
I've experienced it often enough: The right equipment makes the difference between a tough night and one where you sleep agreeing with the wilderness. Pack smart, and nature will reveal its rich sound to you.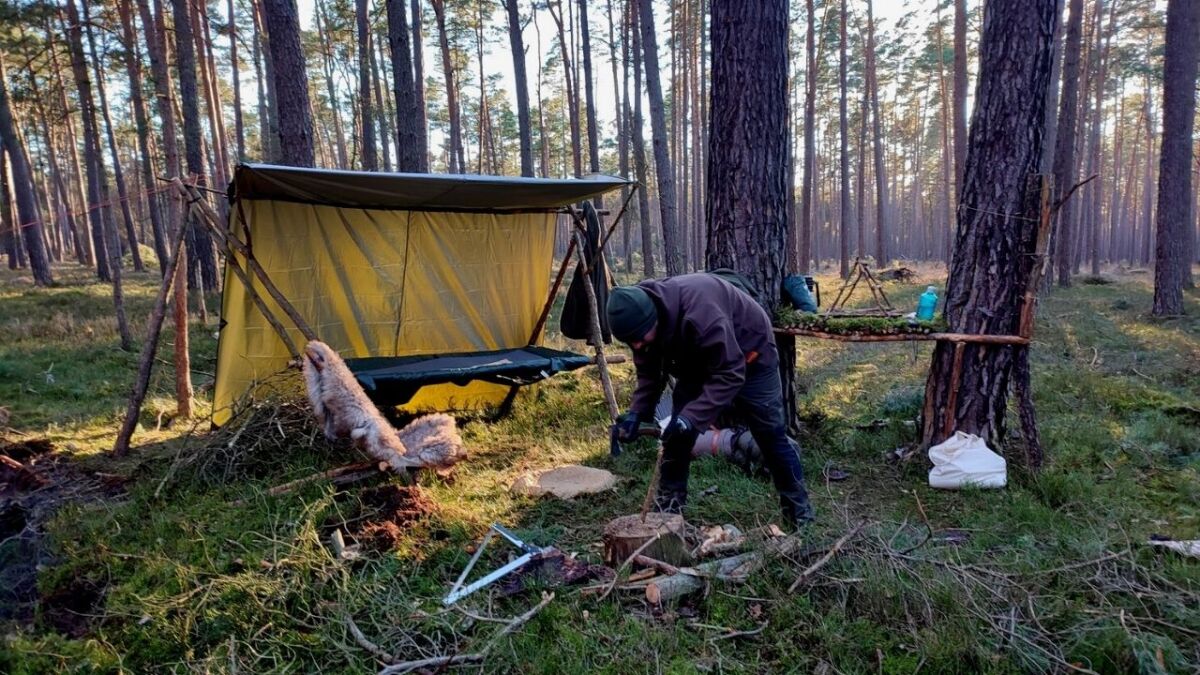 Choosing the Right Bushcraft Backpack
Imagine your backpack is like a loyal companion. It carries everything you need to survive. And it's always there when you need it - that's how it should be.
And one big advantage your backpack brings: You have your hands free at all times - your most important tools.
The perfect backpack - Your mobile shelter
But how do you find the one that fits you and your adventures like a glove?
"Choose wisely because your backpack is so much more than just a bag - it is part of your survival strategy."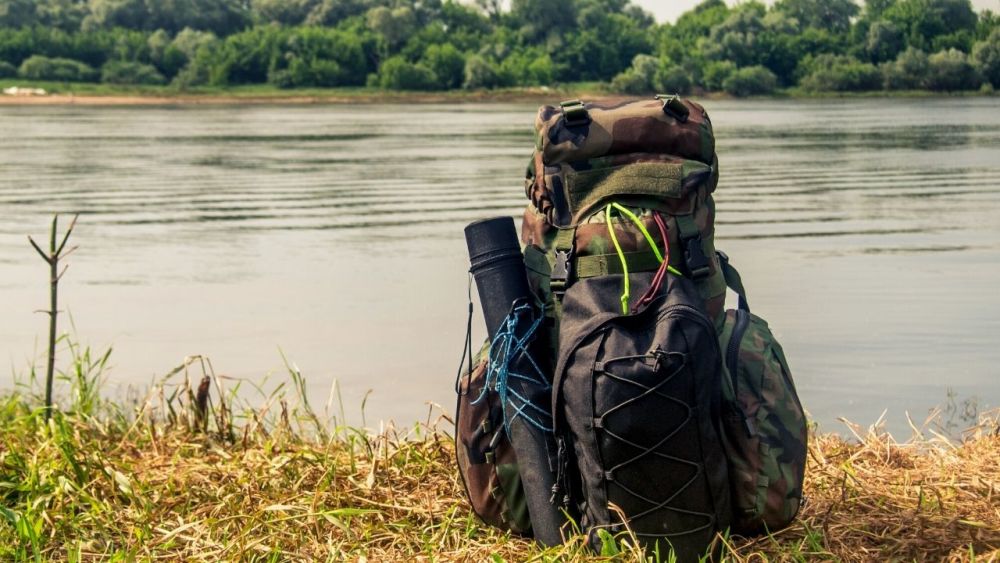 Distribute Weight and Pack Efficiently - Small Packing Tips
Now that you may have found the perfect backpack, let's load it up. The art lies in efficiency:
Heavy items at the bottom: Stove and food go down. This provides stability.
Easy access to frequently used items: Map, compass, and snacks in the outer pockets. Poncho on top.
Roll your clothes: Saves space and prevents wrinkles.
Waterproof packing: Bags or pouches for anything that shouldn't get wet.
I always pack as if it has to be done quickly next time. You reach into your backpack and immediately find what you're looking for - even if it's pitch dark.
So your equipment becomes the extended arm of your bushcraft skills.
Your first overnighter: Setting up the campsite
Are you out, in the green expanses, your camp becomes the center of your world. Here you will cook, sleep, live - even if it's just for one night.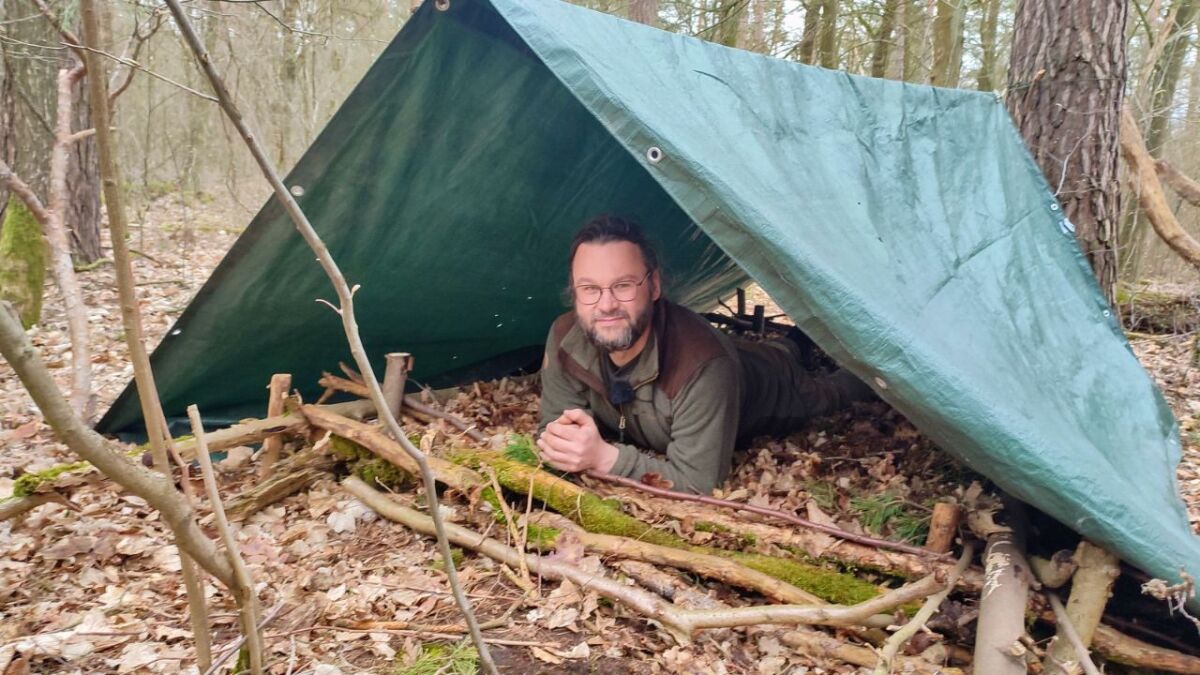 Your Base Camp - Forest Living Room and Fortress in One
The choice of the right place - that is crucial. I've stayed awake at night a few times because I wanted to know better. Learn from my mistakes.
Flood-free: Look for higher areas if it rains and rivers swell. Especially essential in the mountains!
Sheltered from the wind: Trees are your friends - they block the wind and provide a sense of security.
Sunrise: There's nothing better than welcoming the morning glow.
Nature gives you an indescribable feeling of freedom, but you have to follow its rules. Safety first, always.
The Shelter - More than just a roof over your head
Tarps (here my guide and here my best list) are the all-purpose weapon (here my tarp hacks) of Bushcrafters. Lightweight, adaptable - perfect for the night.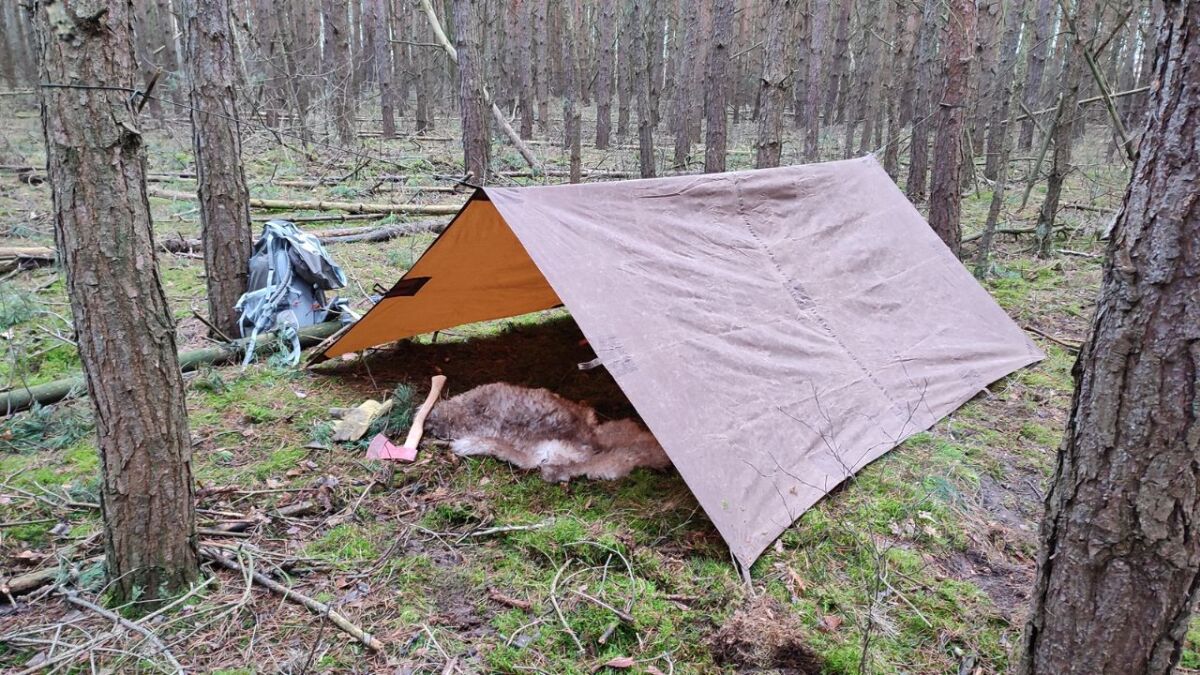 Here are three possible structures that work well:
A-Frame: Classic, wind-stable, and spacious. Twice as good with a hammock.
Lean-To: Simple and quick, provides you with shelter and fire reflection.
Tarp Tent: Completely enclosed when the weather gets really bad.
Here it applies: Practice makes perfect. Try out different structures. This way you will find out what suits you and what you can assemble and dismantle in your sleep.
I have been grateful more than once for the speed of construction when a storm approached.
Food and Drink in the Wilderness
The cool thing about Bushcrafting? You're not just cooking, you're creating. Do you remember the last time you carved a stick to roast your food over the fire?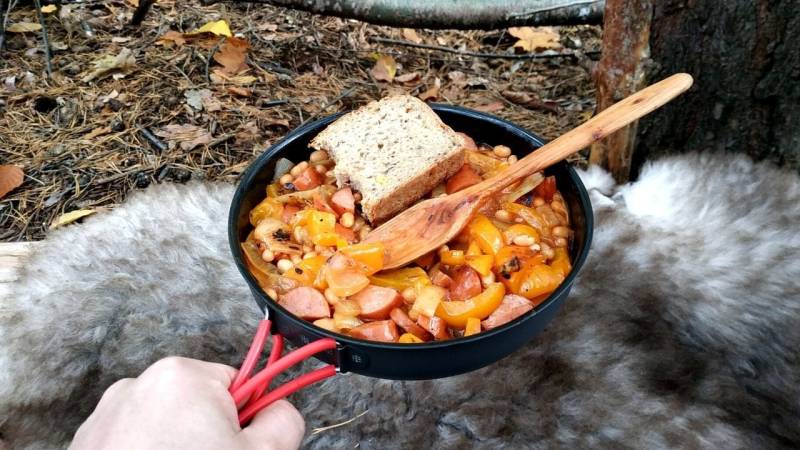 Bushcraft Cooking - From Fire to Fork
It simply tastes better when you make it yourself - a gift from nature.
Here's a crash course in bushcraft cooking:
Open Fire: Here is where romance resides. Allow the smoke to enhance your meal.
Bushcraft Hobo: Compact, efficient - a small marvel for quick warmth.
Smoking: Slow and low, for full flavor - if you have the time.
What are you cooking? Simple and nutritious. A pot, a few ingredients, that's all you need for a feast under the stars.
Here in my recipe database you will find more than 90 delicious outdoor recipes - from bushcraft bean pan to grilled banana with chocolate.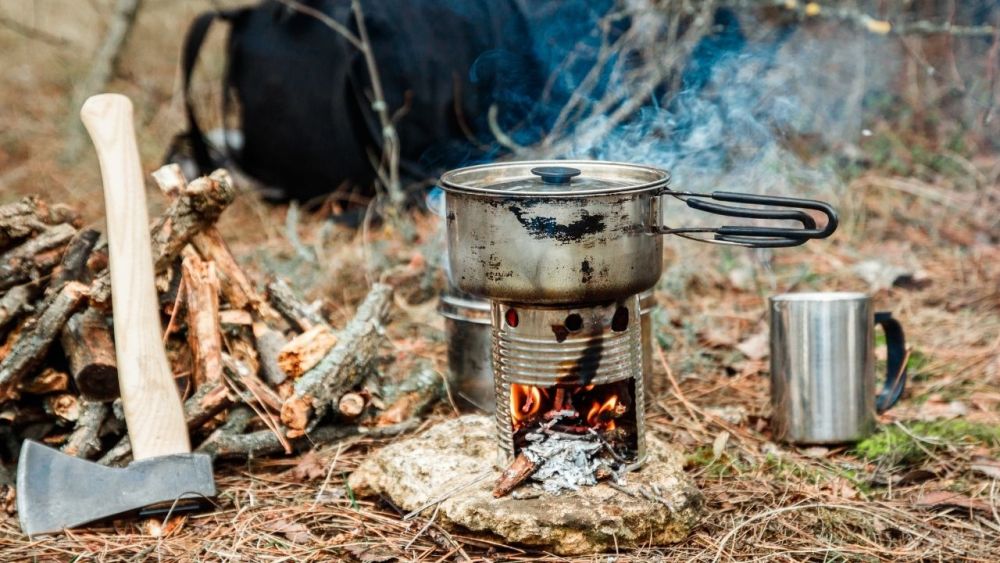 Liquid Gold - Securing Drinking Water
Water filtration is lifesaving. Clear stream? Looks clean, but you never know. A good water filter or tablet and you're on the safe side.
Here are my life-saving devices for water:
Filter: Pumps rather laboriously, but gives you pure, comforting refreshment.
Chemical tablets: Quick and easy. A must-have in every backpack.
Gravity filter: Takes time, but perfect for group supply.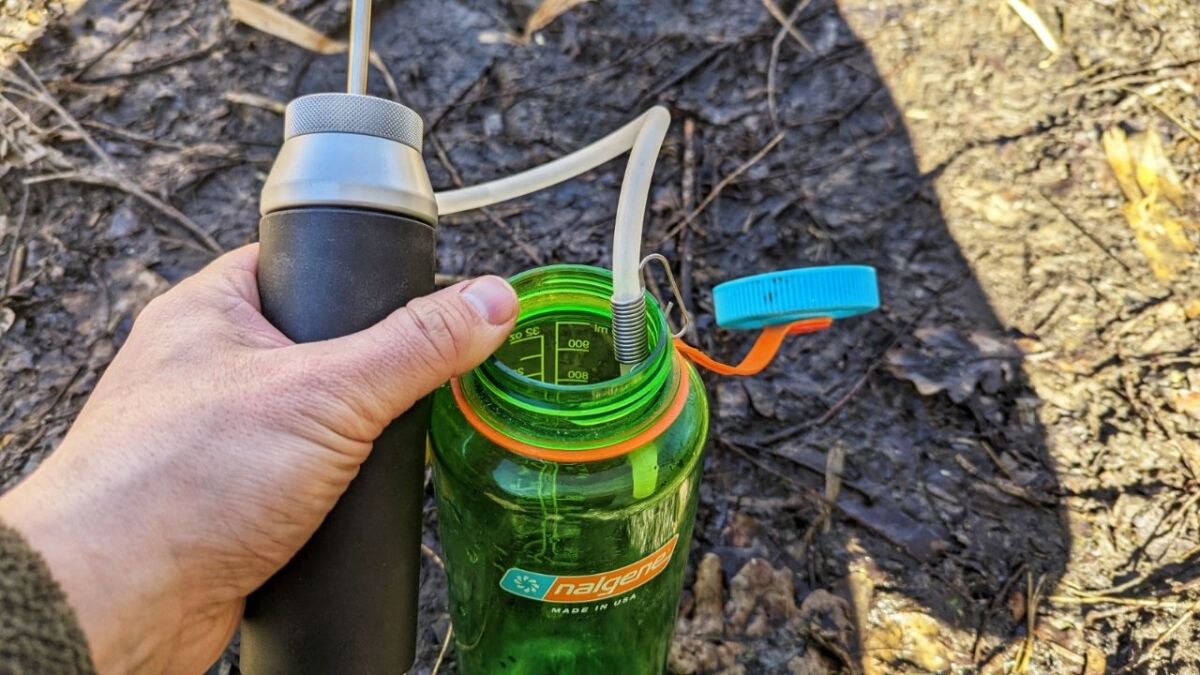 Remember: Never without a water reserve. And always keep an additional source in mind.
"Pot over the fire - it crackles not only in the wood, but also in the soul."
Bushcraft Clothing and Protection - Stylishly Confronting the Rush of the Elements
Take a look at your outdoor wardrobe. It should do more than just look good - it should protect you, keep you warm, and ideally not even be noticeable.
Layers, layers, layers: Like an onion system. Always adaptable to the weather.
Material is everything: Merino wool for warmth, synthetic for quick drying, Gore-Tex for the water shield.
Colors? Inconspicuous!: You want to blend in with nature, so stay inconspicuous.
From head to toe, that's how it should be. In the right clothes, you feel like a part of the forest - familiar and ready.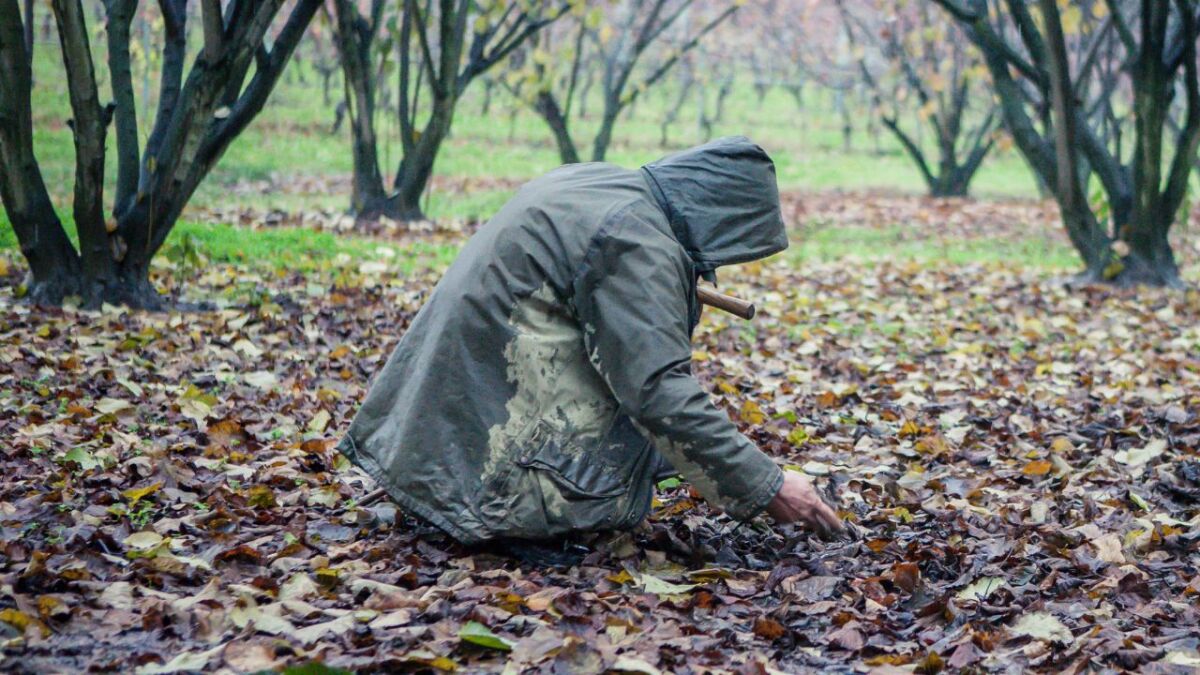 Every weather its dress - Appropriate clothing for every mood of nature
| Weather | Your Outfit Partner |
| --- | --- |
| Sunshine | Light long-sleeved shirt, sun hat |
| Rain | Rain jacket, waterproof pants |
| Cold | Thermal layers, insulated jacket |
| Snow | Snow pants, insulated boots, snow gloves |
Dressed right, you can dance in the rain, laugh in the snow, and shine in the sun. Knowing what to wear is like reading a map - it leads you to your destination.
I always pack my things with the weather forecast in hand. That way, I'm prepared when the weather changes.
"Dress for the adventure, and the adventure dresses for you."
Learn more about the right choice of clothing in my comprehensive guide "The Ultimate Guide: What Clothing to Wear for Survival Training and Bushcrafting?". Slip into your new second skin and become part of the endless outdoor story.
Safety aspects in bushcraft - Your safety, your priority
I can tell you one thing: In the forest, a band-aid is more than just a band-aid. It is peace of mind. Imagine your first aid kit as a guardian angel.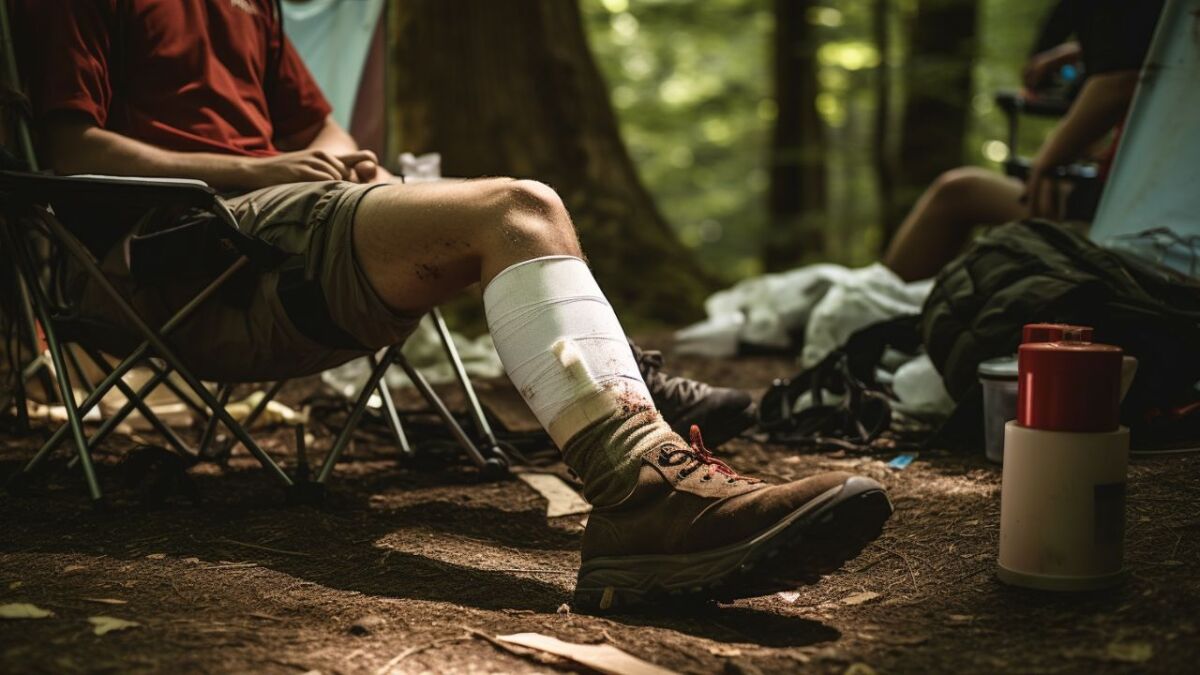 First Aid Know-how
Here is the content of my first aid kit:
Bandages & Plasters: Various sizes, for all wounds.
Disinfectant: Keeps it clean, keeps infection away.
Tweezers & Tick remover: Essential when the little pests come.
Bonus: also remember to bring a rescue blanket - it can be life-saving in case of hypothermia or shock.
"Be prepared, not intimidated. With the right first aid equipment, you are well-prepared to return home safely."
Check out my guide "Bushcraft First Aid Kit: assembling and using" for even more detailed information. There you will find everything you need for quick help in nature.

Stay Clean - Hygiene and Environmental Awareness
It's not just about you. It's also about the forest that challenges and embraces you.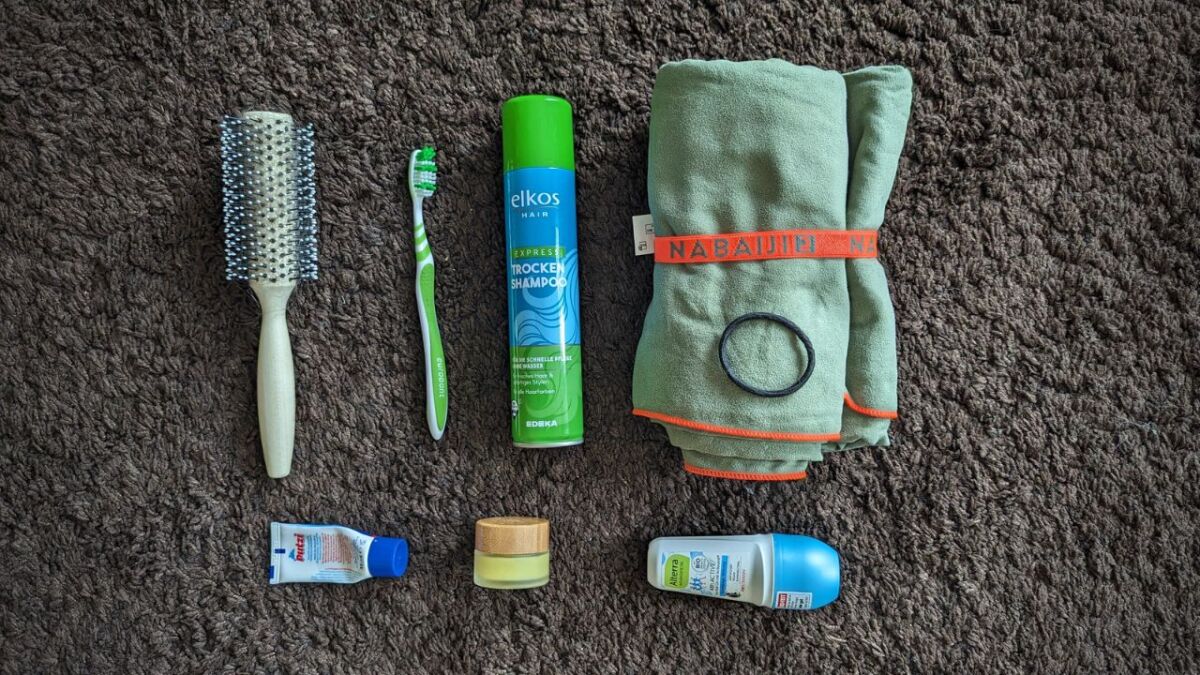 A few golden rules:
Do not leave toilet paper behind: Bury it or pack it. Never use wet toilet paper or wet wipes - the forest doesn't like non-woven fabric.
Natural soaps: Do not harm the water that animals also drink. 100% biodegradable soap is mandatory.
Trash? Take it with you!: Whatever you bring in, you bring out.
Hygiene in the wilderness is an art. Knowing how to achieve it without leaving a trace is part of your bushcraft ethos.
Discover the depths of wilderness hygiene on "Tips and tricks for outdoor hygiene to stay healthy and clean in the wilderness". A clean camp is a happy camp.
Building a Fire and Wood Usage during the Overnighter
A bushcraft adventure without fire? Almost unthinkable. It warms, it cooks, it tells stories. Let's be honest, who doesn't love the crackling and dancing of the flames?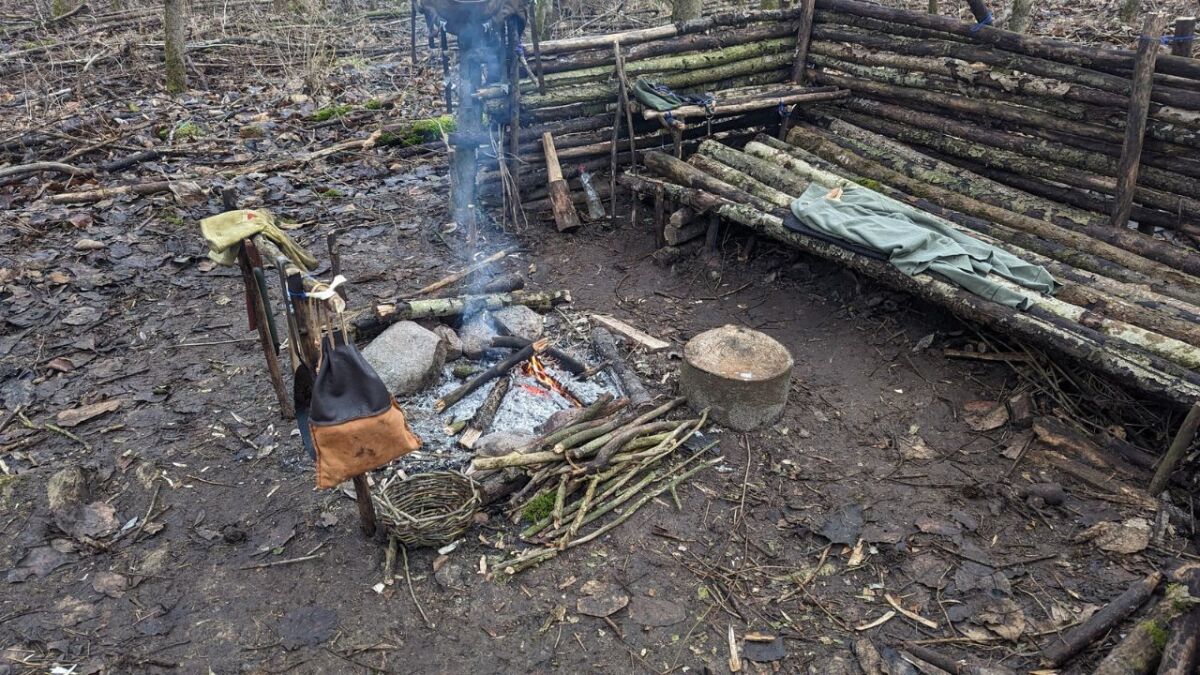 The Heartbeat of the Camp - The Art of Making Fire
I will give you a fire wisdom to take with you:
Firesteel or lighter, use what works in wind and weather.
Practice, practice, practice: Fire making is a skill that only gets better the more you apply it.
Take a look at my resources on how to start a fire "How to Start a Fire? [10 Steps to Success]" so you can fully enjoy getting back to nature.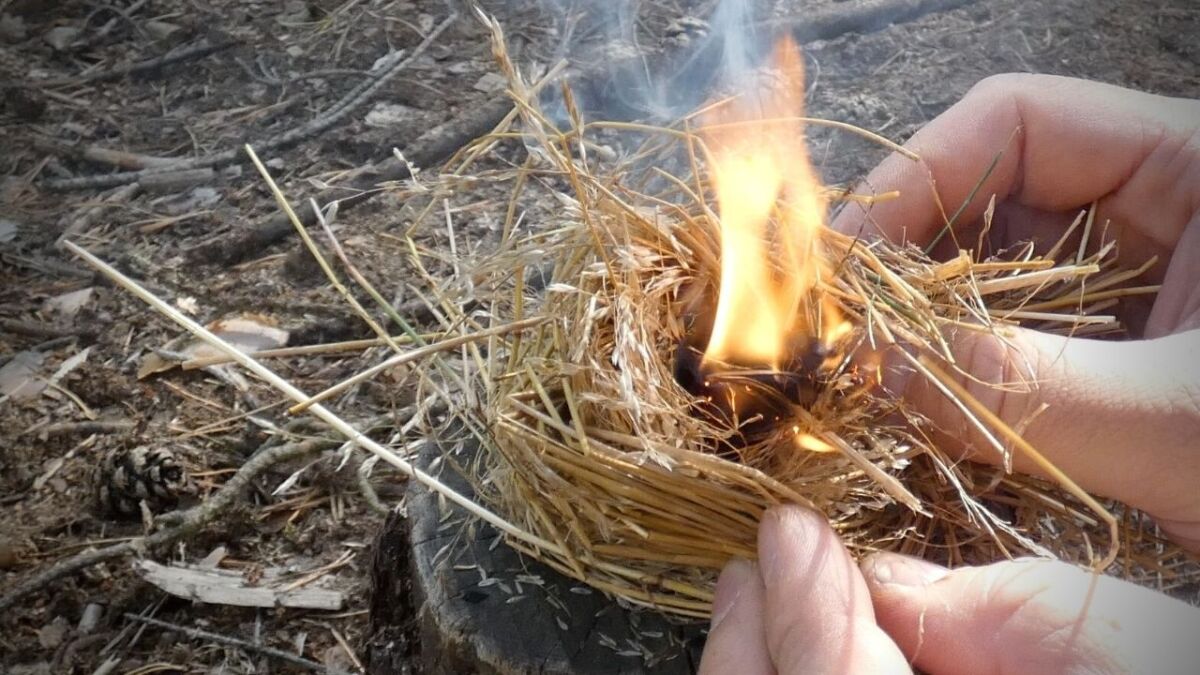 Law and Respect - Safety and Laws for Making Fire
We live in the present, but we think about tomorrow. That means we respect the laws and protect our nature.
A small guide to making fire in Germany:
Generally prohibited in the forest: Consider the risk of forest fires. Exceptions are possible.
Use fire bowls: Often the allowed option at many campsites.
Always extinguish: Never leave a fire unattended.
For more safety, all laws as well as ways to make fire, check out: "Is making a fire in the forest allowed? (in Germany)".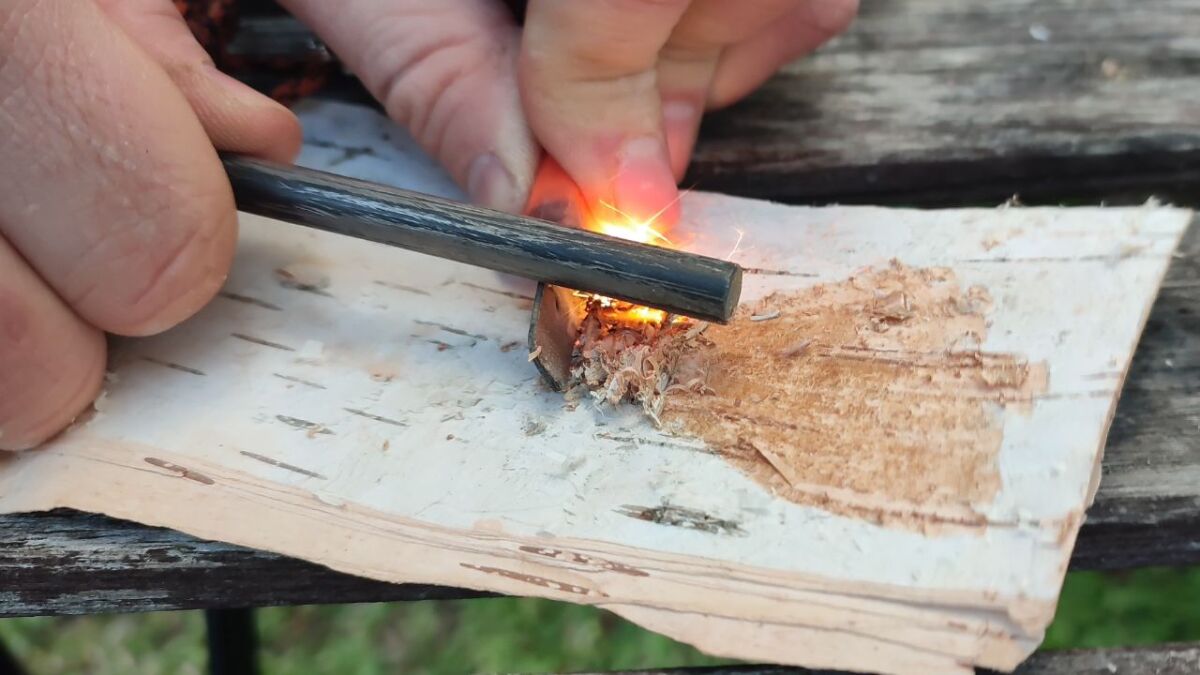 And here's a note: I know that sometimes it's not possible to start a fire. So that you stay warm at night, I have put together everything I have learned over the last few years in my guide "18 tips for staying warm and not freezing when camping in a tent and sleeping bag".
Here are my top 4 tips:
Good sleeping bag (maybe even with a liner)
Insulate well from the ground
Wear a winter hat
Use a hot water bottle (worth its weight in gold!)
I know you need a fire for the hot water in the hot water bottle. Ideally, use a small gas stove for this.
The Right of the Wood Collector - How to Use Locally Available Wood
Fallen branches, dead wood - that's your source. Living trees? We leave them alone. Nature provides us with enough materials. The important thing is that you know what burns and how.
Always remember:
Moist wood smokes more and produces less heat.
Hardwood (such as beech or oak) burns longer and more evenly.
Branches on the ground: Perfect for starting your fire.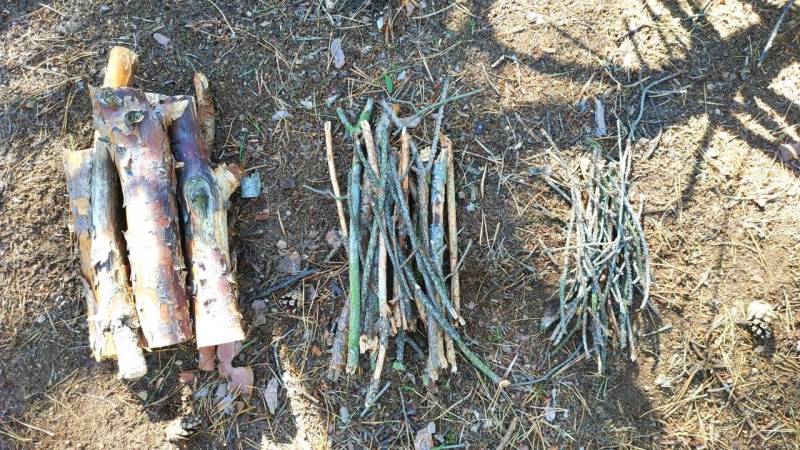 For information about the type of wood and fire-making techniques without matches, visit "Making fire without a lighter or matches (18 ways)" and "Gather and make your own tinder to start a fire [20+ examples like birch, Fatwood, and tinder fungus]".
"Fire is magic, it provides warmth and light and demands our respect - in the end, it leaves behind ashes that are returned to the forest."
Leave No Trace - Enjoying and Preserving Nature Without a Trace
If you wander through the forest alone, feel the freedom - but never forget the responsibility you carry. Leave No Trace, my top commandment, means nothing more than: Leaving nature as you found it. Pure preservation and respect.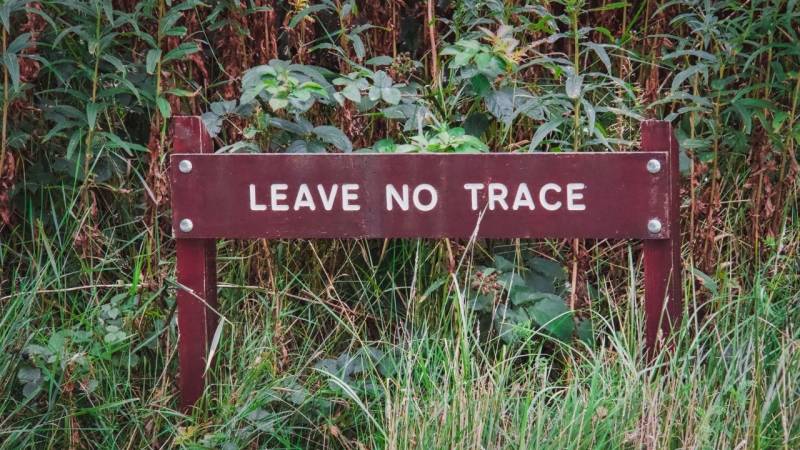 The Leave No Trace Principle - Your Responsibility in Nature
Do not destroy anything: Do not cut down trees, do not pluck plants.
Take everything with you: Every bit of trash belongs in your garbage bag.
Modesty: Big bonfires and loud music? No, thank you. Silence is king.
Believe me, there is no better feeling than looking back and leaving nothing but your footprints. Footprints that the next rain will wash away.
The seven "Leave No Trace" guidelines - How to stay invisible
Here's a brief reminder of what really matters:
Plan ahead and prepare: Know where you're going and what to expect.
Travel and camp on durable surfaces: Use trails and designated campsites.
Dispose of waste properly: Pack it in, pack it out.
Leave what you find: Take only pictures, leave only footprints. Preserve nature as it is.
Minimize campfire impacts: Use fire rings, stoves, or avoid fires altogether.
Respect wildlife: Keep your distance, don't feed them. They are wild and that's a good thing.
Be considerate of other visitors: Share the outdoors without imposing on others.
Dive deeper into the Leave No Trace principle with this video on YouTube:
"Nature speaks to those who listen - become a part of the conversation without leaving your words behind."
Personal experiences and advice for the Bushcraft Overnighter
Tales from the Forest - How to Make Your Overnighter Unforgettable
I lean back, the smoke of my campfire curls towards the sky, and I think of all the nights I have spent out here.
Each one was unique and educational. And every time I left the forest with a smile, ready for the next adventure.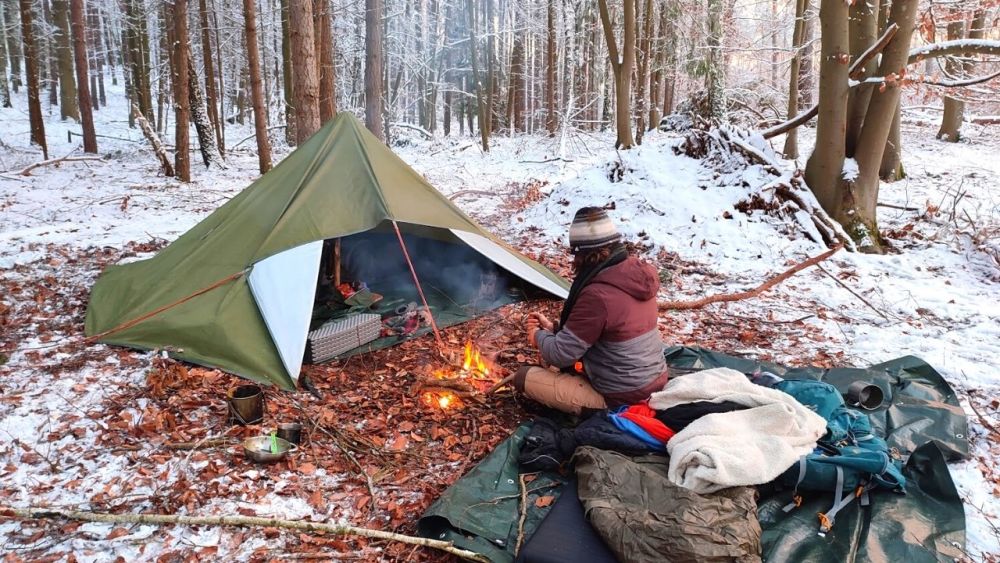 Here is some personal wisdom that I have learned under the stars:
Comfort is relative: A soft mossy surface can be your luxury bed.
Doing the right thing: If you're unsure, follow your instinct to protect nature.
Appreciating the little things: The sparkle of morning dew on a leaf - priceless.
The best advice? - Just do it!
You can pack, plan and watch videos for hours - but nothing replaces experience.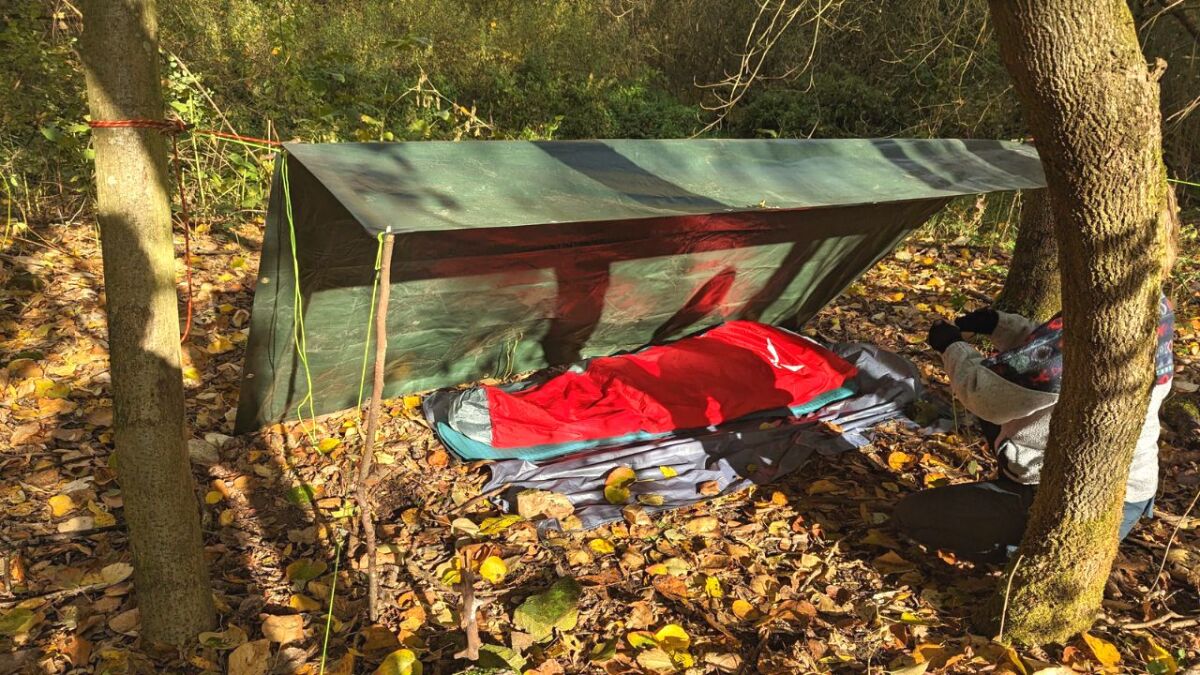 The trees are waiting for you, so are the stars. Your first steps into Bushcrafting should not be perfect, they should be authentic.
"It may sound like a cliché, but the first step is always the most important."
Trust me, after this first overnighter you will never be the same again. The fire will burn within you, and you will want more, more nights, more nature.
And don't forget: Survival-Kompass.de is your compass in the world of Bushcrafting. We are a community that shares your passion and always has an open ear for your stories.
Fear of sleeping in the forest? - My tips on that
I remember my trip well. I wanted to camp alone in the nearby park. I had already prepared the campsite during the day.
Unfortunately, that didn't happen.
The herd of wild boars is so accustomed to humans there that I didn't blink an eye.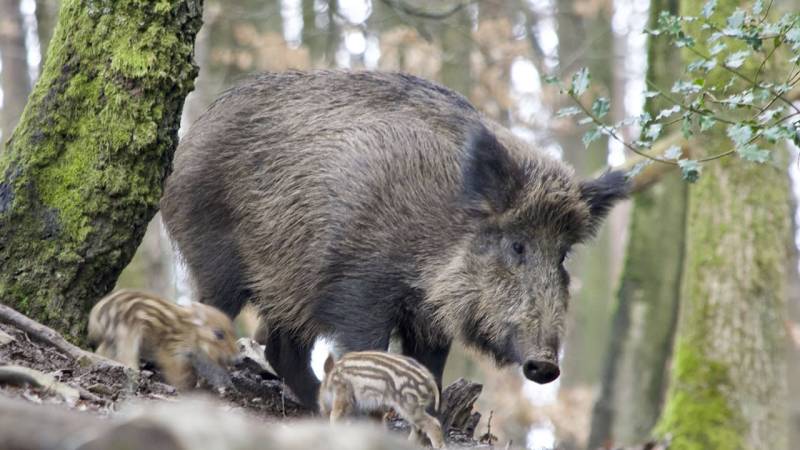 Maybe I shouldn't have brought any food?
Anyway, I went out again at 2 o'clock at night and slept the rest at home.
The Whisper of Darkness - How to Confront Fear in the Forest
A night in the forest sounds spooky, doesn't it?
Every noise seems louder, every shadow movement suspicious.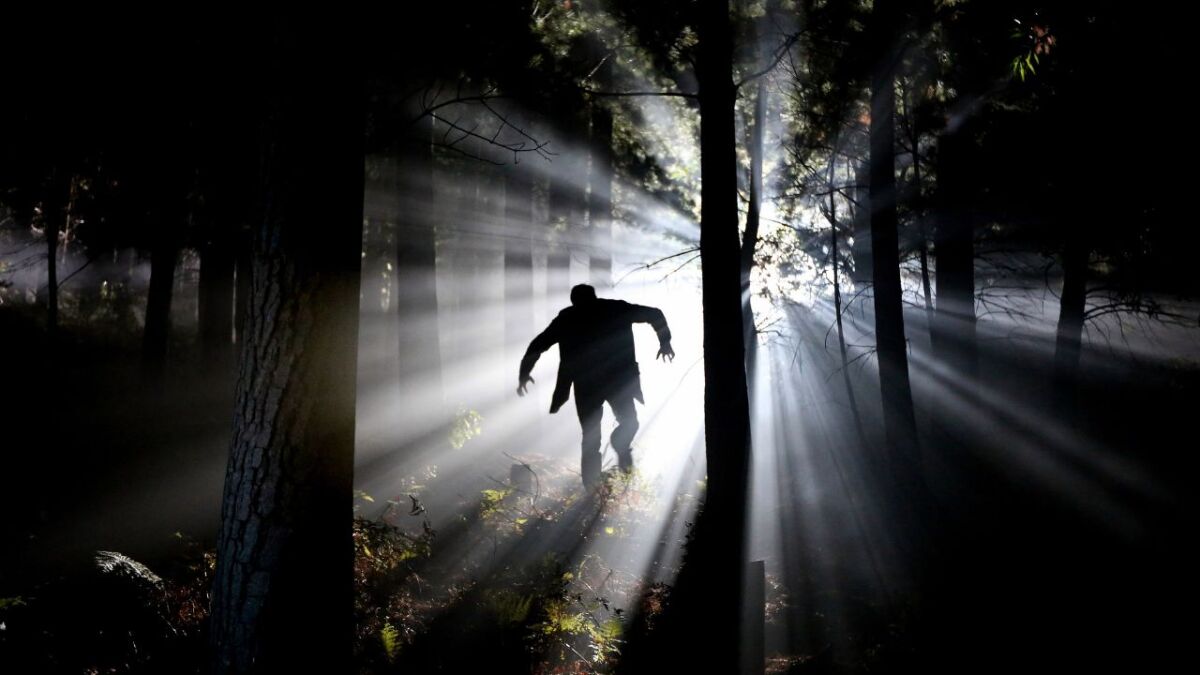 Your tarp or tent is a thin barrier between you and the black infinity. But you know what? That tingling, that tension, that's pure life.
I know the feeling, it tingled in my veins during my first nights under the trees. But I have learned to transform fear into awe. I will share with you a few tips on how you can try it too.
Steps to more forest comfort
Get informed: Knowledge about nature calms. Know the plants and animals around you. Look out for animal tracks.
Take control: Prepare for all eventualities. Have emergency equipment with you.
Small challenges: Gradually increase the difficulty of your trips.
Positive thinking: The forest is your friend, not a monster trying to swallow you.
The Forest - Much Safer Than You Think
Cities are hectic, loud, and full of uncertainties. The forest? A refuge.
Yes, there are risks, but with caution and knowledge, you can turn them into manageable sizes.
Remember:
Dangers are calculable. With mindfulness and preparation, you remain in control.
The wilderness respects you, as long as you respect it.
If you want to delve deeper into this topic, you can find my comprehensive guide here: How to overcome my fear of the forest and wilderness? (+Exercise)
Interestingly, attacks in wilderness areas are rare. According to an FBI statistic, the risk of a violent crime in such areas is only 0.0003 percent.
Considering this number, it is over 3000 times less likely to become a victim of violence in the wilderness than in populated areas.
What does that mean? If you prefer the proximity of nature over society, statistically speaking, you have reason to be reassured - forests and nature parks offer far more safety than crowded places.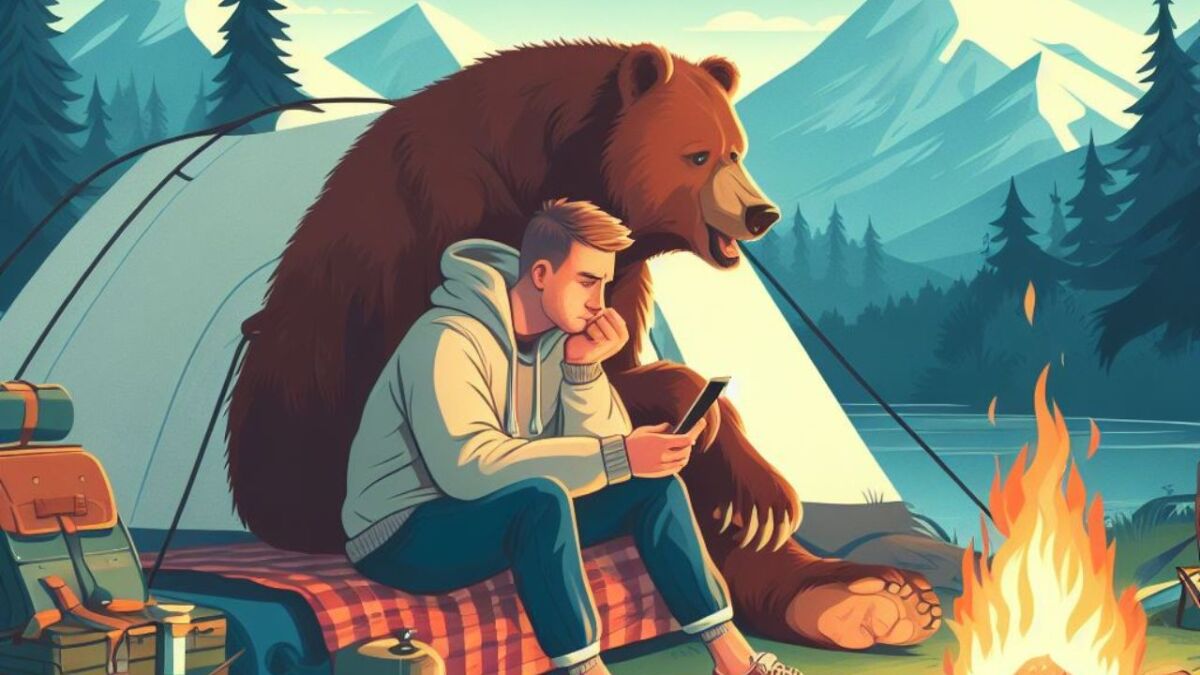 It's not just the trees and the undergrowth that you hear. It's your own inner self that listens and grows.
The darkness becomes your ally when you approach it with respect and understanding.
FAQ: Questions and Information about the first Overnighter
What do you need for a bushcraft overnighter?
For a bushcraft overnighter, you will need basic equipment such as a fixed blade knife, fire steel, tarp for protection from the elements, sleeping bag, sleeping pad, backpack, appropriate clothing, and simple cooking utensils. Equally important can be navigation tools like a map and compass, as well as a reliable first aid kit.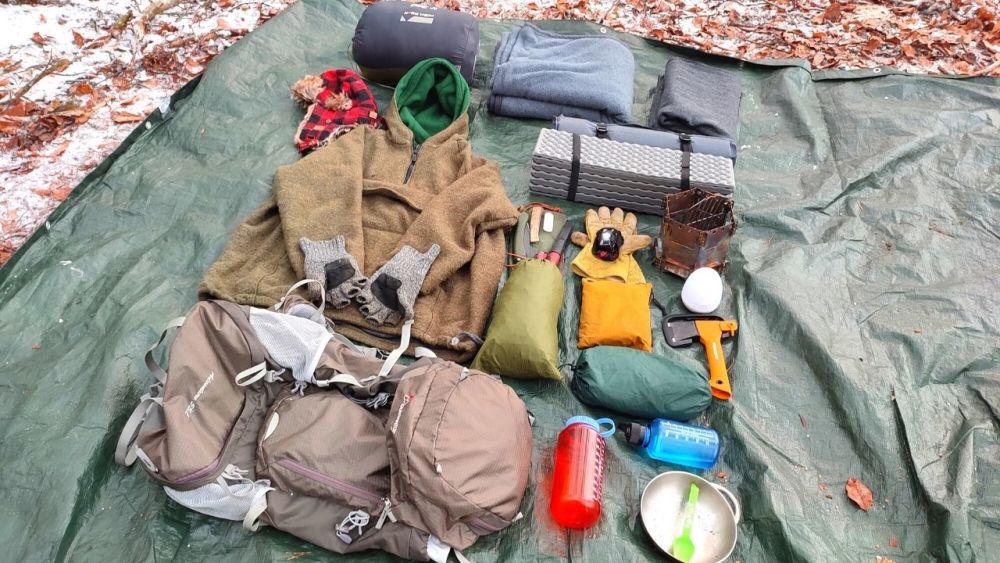 Which sleeping bag is suitable for a bushcraft overnighter?
Choose a sleeping bag based on the season and expected temperatures. For most bushcraft overnighters, 3-season sleeping bags with good insulation, such as down or synthetic fill materials that also provide warmth in damp conditions, are suitable.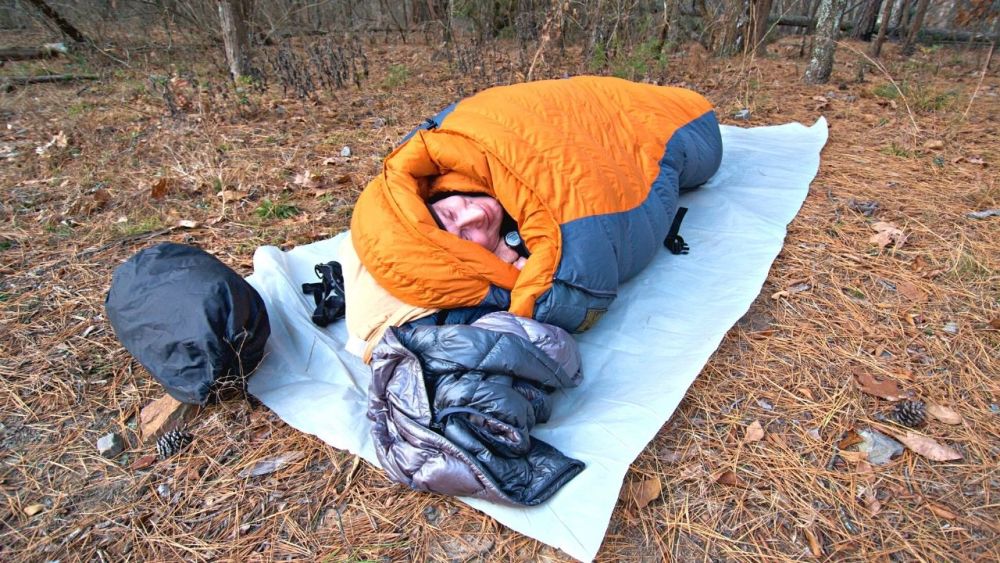 How to find the perfect spot for my bushcraft camp?
Search for a location that is elevated to avoid flooding, sheltered from wind by trees or terrain elevations, and preferably close to a water source. Avoid damaging trails or sensitive ecosystems and maintain a safe distance from wildlife.
How do I prepare my food during a bushcraft overnighter?
Use simple bushcraft cooking techniques such as cooking over a campfire, using a portable bushcraft stove, or smoking your food if you have time. Minimize the impact on the environment by using fire pits or portable stoves (called hobo stoves) and learn to prepare nutrient-rich meals with few ingredients.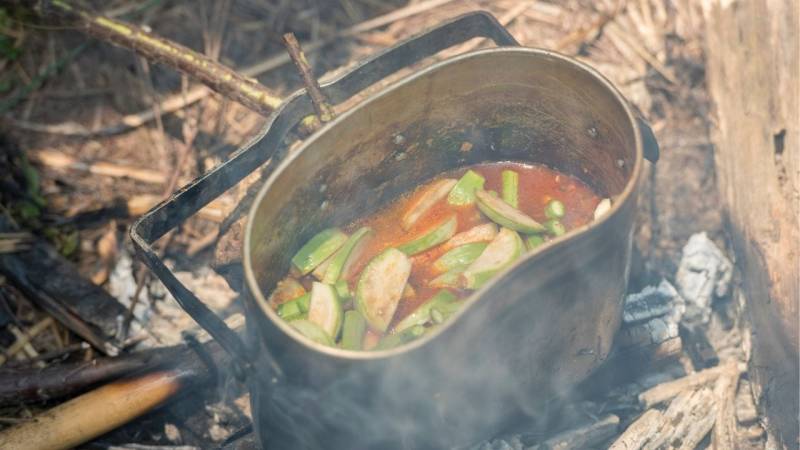 What is the Leave No Trace principle in Bushcrafting?
The Leave No Trace principle in Bushcrafting is a code of conduct that aims to leave nature as it was found. This includes not leaving any traces, properly disposing of waste, not damaging plants or animals, managing campfires appropriately, not disturbing wildlife, and being considerate of other visitors.
How to overcome the fear of sleeping in the forest?
To overcome the fear of sleeping in the forest, expand your knowledge of nature and be well-prepared. Combat unfamiliar sounds and fears by equipping yourself with an emergency plan, solid equipment, and positive thinking. Start with short trips and gradually increase the duration and distance from home to gradually acclimate yourself to the environment.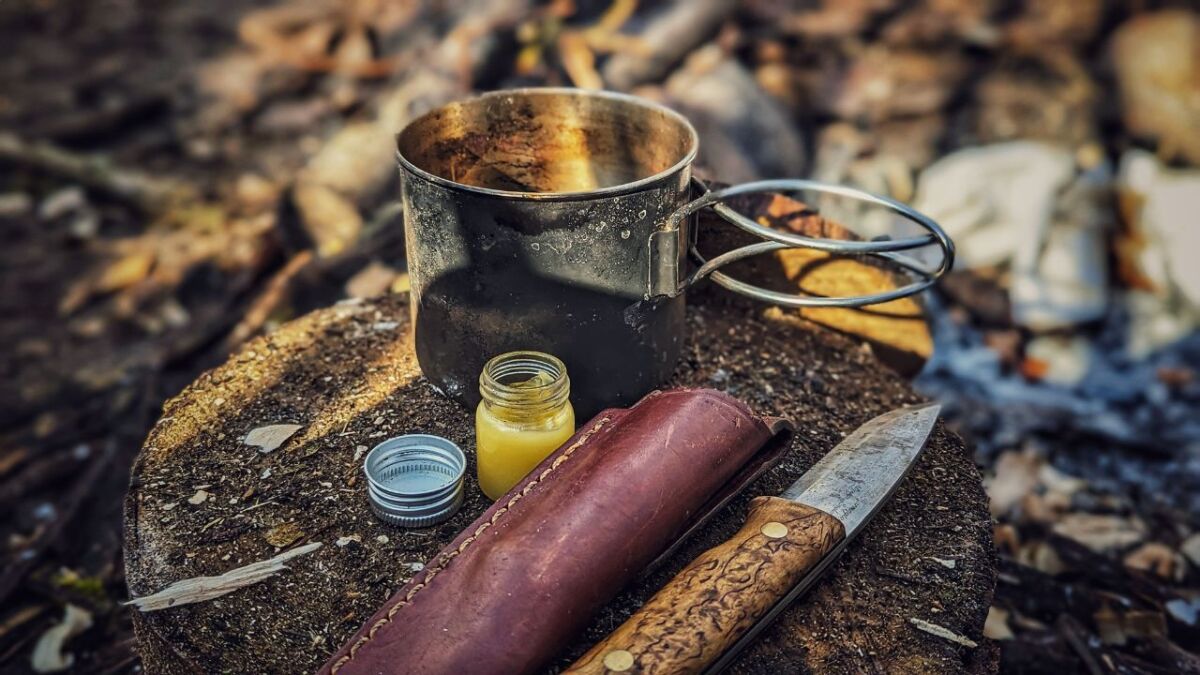 Conclusion: What you should take away - Essence of Bushcrafting
Now we sit here, you and me, at the end of this path full of knowledge - ready to explore the forests out there.
I want to take this moment to reiterate the most important insights to you:
Planning is half the battle: Knowing when and where you can safely and responsibly stay overnight makes all the difference.
Equipment is your best friend: Choosing the right tools and backpack will be your ace in the hole.
The art of camping: A good spot and the right shelter are everything.
Live by the Leave no Trace principle: Protect what nourishes you. Nature will thank you for it.
And finally: Just get started. The best teacher is doing.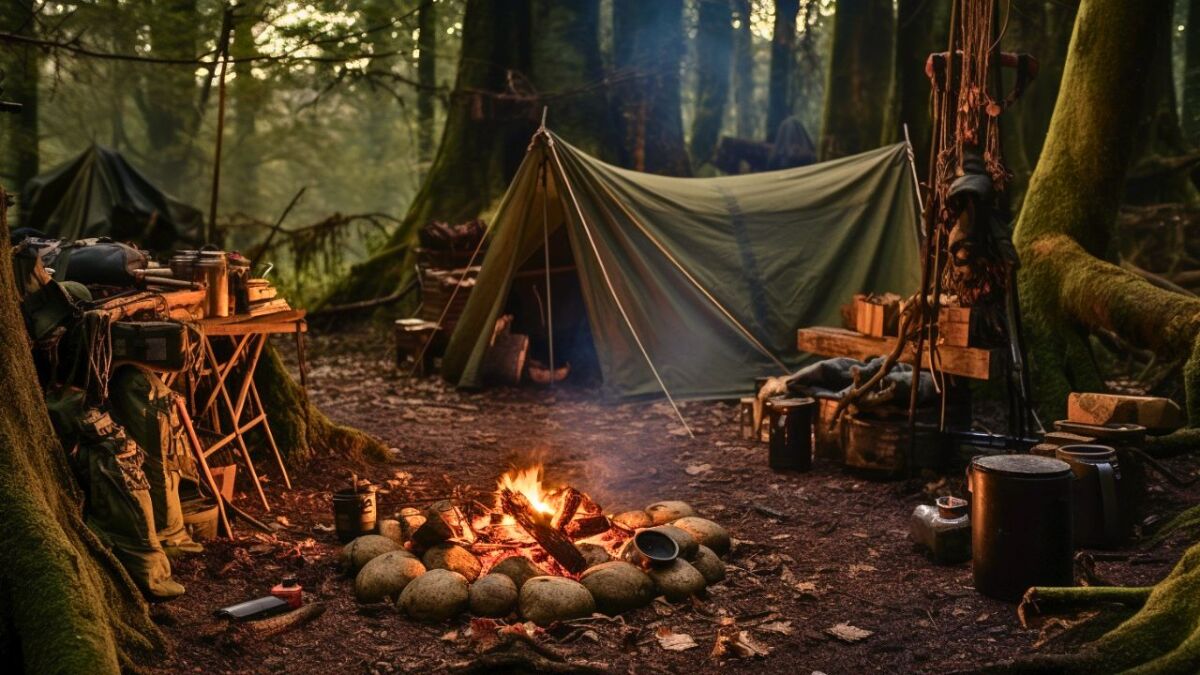 Now it's your turn - Share your story
I'm excited about your stories, your triumphs, your "Oh no!" moments.
Because yes, it will exist.
But every little challenge makes you smarter, stronger, and even more in love with this wild dance with nature.
If you're interested in delving deeper into the art of Bushcrafting, then check out my annual online course "Wildimpuls" (in German) here.
With 52 week missions, you will become a true woodsman. Every week a new task, a new learning moment, and at the end of the year, you will be unrecognizable.
Furthermore, afterward you will have a large toolbox full of ideas and impulses for educational group work.
Start now. Not tomorrow, not next week.
Now.
Pack your backpack, grab your gear, and step out into your greatest story. The wilderness is waiting for you.

Was this guide helpful?
12 people found this guide helpful.
5.00 out of 5 points (12 Ratings)