Back to german article
Adventure in the wilderness: Where in Germany can you practice bushcraft and survival?
Where in Germany can you practice bushcraft and survival? Can you go into the woods? Is the backyard suitable? What other places are there?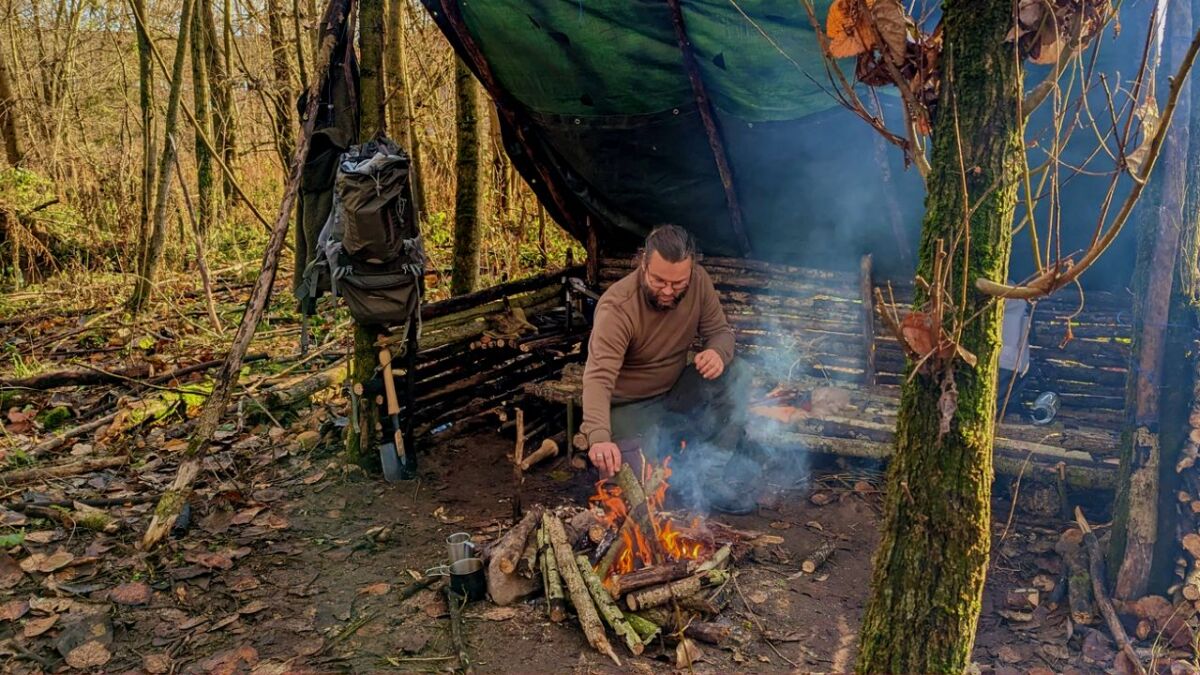 ---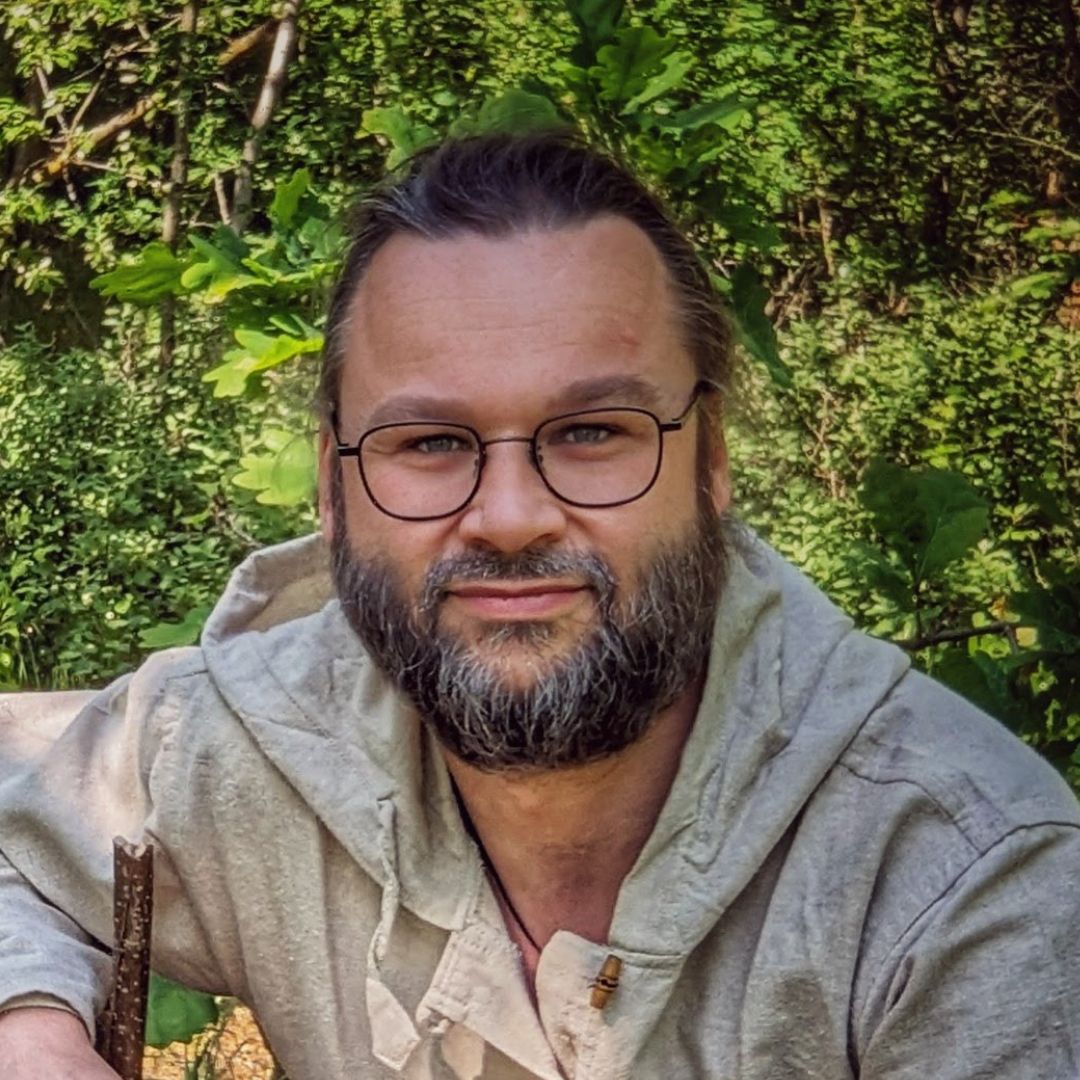 ---
👉 The key facts from this guide
Public forests are ideal places to practice bushcraft techniques, as long as you adhere to local rules and regulations.
Your garden or backyard provides a great opportunity to practice some basic bushcraft skills without having to travel far.
Bushcraft and survival courses offer professional guidance and a community of like-minded people.
Some campsites offer special areas for practicing bushcraft and nature handicraft techniques.
Legal wild camping sites in Germany allow you to practice in nature.
Abandoned land or fallow land in rural areas can be an excellent opportunity to test bushcraft skills undisturbed, provided you have permission from the landowner.
Hello adventure seekers.
If, like me, you're a big fan of bushcraft, survival, and nature crafts, then you know how important it is to find the perfect place to practice.
In this post, I want to share my personal recommendations for the best places to test and strengthen your skills in the wilderness.
Let's take a look at an exciting list together.
Public forests
The forest is my second home, and I'm sure you also feel this deep connection to nature.
Public forests are ideal places to practice bushcraft techniques, as long as you follow the local rules and regulations.
But be careful: you can't start a campfire or set up tents without permission here. However, for practice purposes, you can build an emergency shelter.
My request to you, however, is to dismantle your things again, never leave any garbage, and not disturb any animals - whether ants, birds or wild boars.
I also recommend that you read my article "Is Bushcraft legal? [Fire, Camping, Camp, Hunting, Fishing]".
Your garden or backyard
Sometimes paradise is right outside our doorstep!
Your garden or backyard offers a great opportunity to practice some basic bushcraft techniques without having to travel far.
Here you can make a fire, tie simple knots or even build a small bivouac.
And the best part? You don't have to search for a suitable campsite.
Bushcraft and survival courses
If you are looking for professional guidance and a community of like-minded people, bushcraft and survival courses are just right for you.
Here you can refine and learn new skills under the guidance of experienced trainers. Nothing beats sharing knowledge and experiences with other nature enthusiasts to grow and learn together.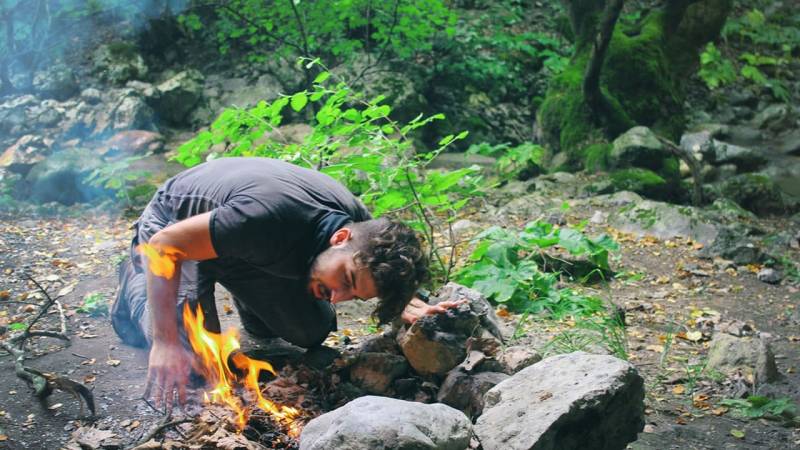 Campgrounds (with special bushcraft areas)
Some campgrounds offer special areas specifically designed for practicing bushcraft and nature craft techniques.
These offer a safe environment where you can test your skills without disturbing other campers.
When choosing such a campground, make sure it has such special areas or talk to the owners beforehand.
I can recommend the "Wilde Heimat" in Brandenburg.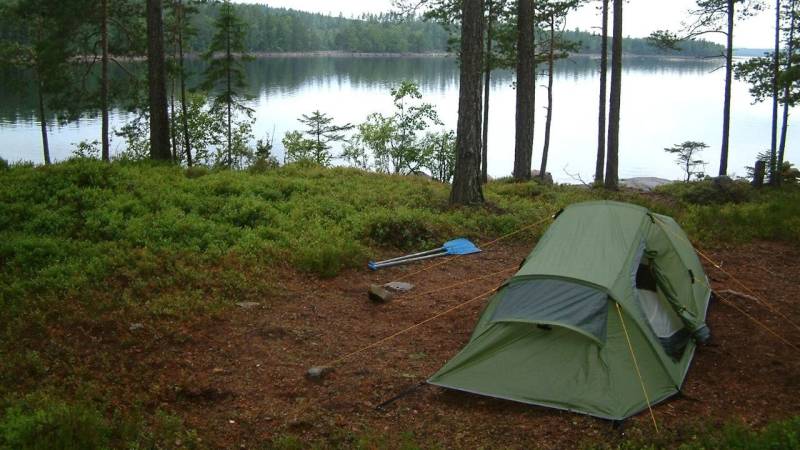 Legal wild camping sites
Did you know that there are hundreds of legal wild camping sites in Germany?
There, you can even light a fire in most places, and you are right in the middle of the forest. There isn't even a road leading there, and you can only reach this place by hiking trail.
You often even get a type of flat wooden platform on which you can set up your tent. And sometimes there is even a toilet. Depending on the equipment, that's pretty wonderful, isn't it?
Take a look at my guide here for the complete list of legal wild camping spots in Germany.
Abandoned properties or wasteland
Sometimes abandoned properties or wasteland in rural areas are an excellent opportunity to test your bushcraft skills undisturbed.
However, don't forget to first obtain the landowner's permission and make sure not to cause any damage to the environment.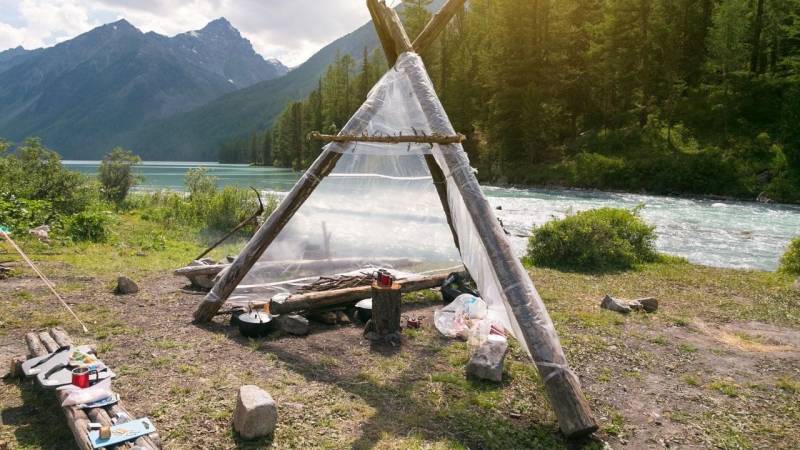 Friend or family property
If you're lucky enough to have friends or family members with forest or land ownership, ask them if you can practice your bushcraft and survival skills there.
This can be a great opportunity to train safely and undisturbed. Ask around in the family, maybe there's an uncle with land somewhere?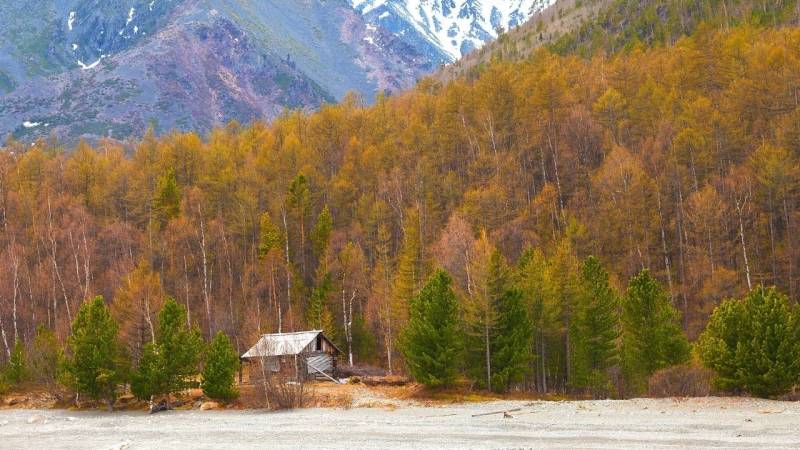 Designated wilderness areas
In some countries, there are designated wilderness areas specifically for outdoor activities and learning Survival Techniques.
These areas are often remote and offer an authentic wilderness experience. Make sure to inform yourself in advance about the rules and regulations of the respective areas.
Beaches & coastal regions
Beaches & coastal regions are also great for practicing bushcraft techniques. Here you can practice collecting edible plants & seafood, as well as igniting fires with natural materials & building shelters from driftwood.
However: Remember that rules apply here too and you're not allowed to just make a fire on the beach.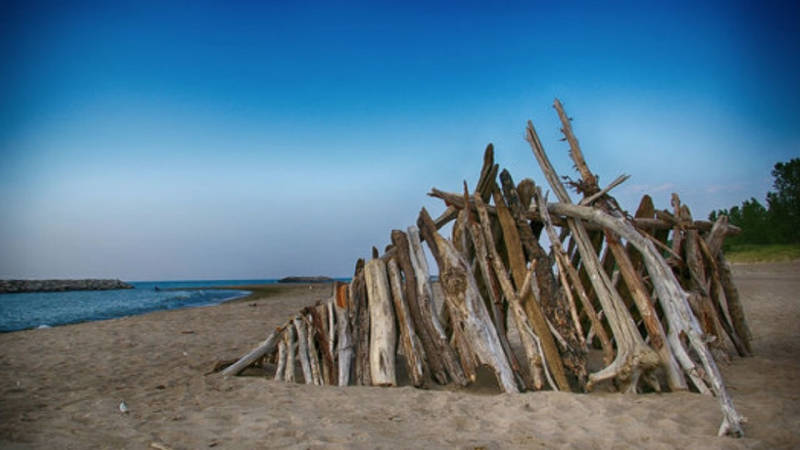 Camping with private individuals: A great option for nature lovers and bushcrafters
One of the best ways to practice bushcraft, survival training or your wilderness skills is to camp on private property.
These hidden gems offer you the freedom to light a fire and sleep under the stars without breaking rules or damaging nature.
Away from overcrowded campsites, here you can pursue your passions undisturbed and at the same time - if you want - enjoy the friendly hospitality of the property owners.
Usually, these places are very affordable, and the use often costs only a few euros. The big advantage is that you can pursue your outdoor activities in a safe and legal setting.
To find and book such places, I recommend taking a look at websites like camperland.de, roadsurfer.com, campspace.com, or ebay-kleinanzeigen.de. These platforms connect you with landowners who offer their idyllic places for camping and outdoor activities.
Many of these properties are surrounded by forests and provide the perfect backdrop for your wilderness adventures.
Camping with private individuals offers you the opportunity to collect unforgettable experiences and discover unique places that you may not have found otherwise.
In addition, you support local landowners and contribute to more people recognizing and appreciating the beauty of nature.
With respect and consideration: Land use for bushcraft and survival with the owners' permission
In addition to public forests and nature parks, there is also the option of using land from private owners such as farmers or forest owners to practice bushcraft and survival techniques.
If you want to take this route, there are a few important points to consider maintaining a good relationship with the landowners and ensure a respectful treatment of their property.
The right approach
It is essential to approach the owners politely and respectfully when asking for permission to use their land.
Explain to them what you plan to do and why you find their property interesting. Show understanding if they have concerns or react negatively. After all, it's their property, and they have the right to decide how it's used.
Make clear agreements
If the owners give their consent, you should make clear agreements about the use of the land.
Discuss exactly which areas may be used, which activities are allowed, and whether there are any time restrictions. It's also advisable to exchange contact numbers in case of questions or problems.
Act responsibly
Handle the land and its resources carefully. Respect the environment and leave no traces.
Be careful not to harm plants or animals, and be quiet to avoid unnecessarily disturbing the wildlife. If you want to start a fire, be sure to clarify this with the owners beforehand and choose a safe place for it.
Show gratitude
Thank the owners for their hospitality and show your appreciation by perhaps even giving them a small token of appreciation.
This could be in the form of homemade products from the forest, such as jam or teas.
---
By following these tips, you can build a trusting relationship with the landowners and perhaps even benefit from their generosity in the long term.
Always remember: Respect, consideration, and open communication are the key to successful cooperation and harmonious coexistence in nature.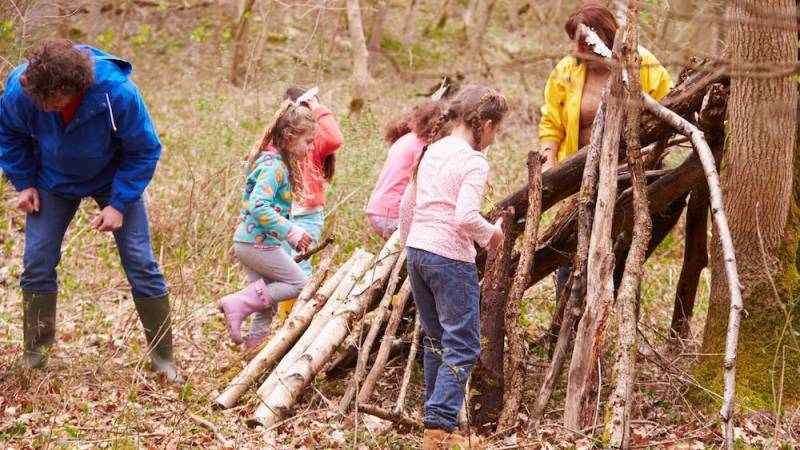 Legal aspects and environmental awareness
As a passionate outdoor enthusiast, I want to bring you closer to the importance of legal aspects and environmental awareness in the field of bushcraft and survival.
Because for all of us, nature is close to our hearts and the forest is our living room.
In Germany, it is important to follow the applicable laws and regulations.
This particularly concerns entering forest areas, collecting plants, and lighting fires.
The Bundeswaldgesetz and the respective Landeswaldgesetze (state forest laws) apply, regulating access to forests and handling of nature. It is almost always necessary to obtain permission for certain activities, such as building campfires.
Here are other essential guides on the topic:
Another important aspect is nature conservation
Our flora and fauna are valuable and deserve to be preserved and protected!
This means that when practicing bushcraft and survival, we should be mindful not to cause unnecessary damage to nature. Only take what you really need and leave no trace.
As the saying goes: "Take only memories, leave only footprints."
As an avid lover of the forest, I would like to urge you to always treat nature responsibly and respectfully.
Because nature is not only our playground, but also a place of peace and relaxation for us and the many animals that live there.
So let's make sure together that we can experience many unforgettable moments in the forest!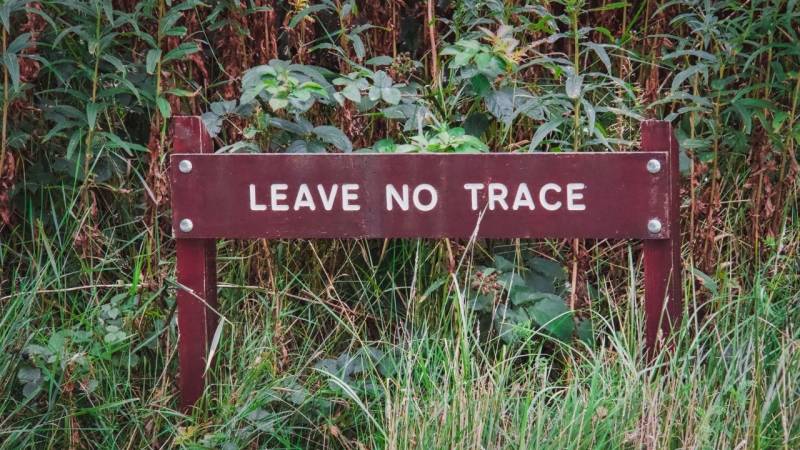 Tips and tricks for preparing for a bushcraft and survival adventure
Before you venture into the wilderness, there are some things you should consider to be well-prepared.
Here are my tips and tricks for you – after all, nature is my second home and I want you to enjoy it to the fullest.
Equipment and clothing: Invest in high-quality, weather-resistant, and functional clothing (here's my guide on this). Make sure it is breathable and comfortable. Good hiking boots are an absolute must. For equipment, I recommend having a good knife (find my best bushcraft knife / survival knife here), a flashlight, a firestarter set (here's my best fire starter recommendations), a map and compass, and a first aid kit.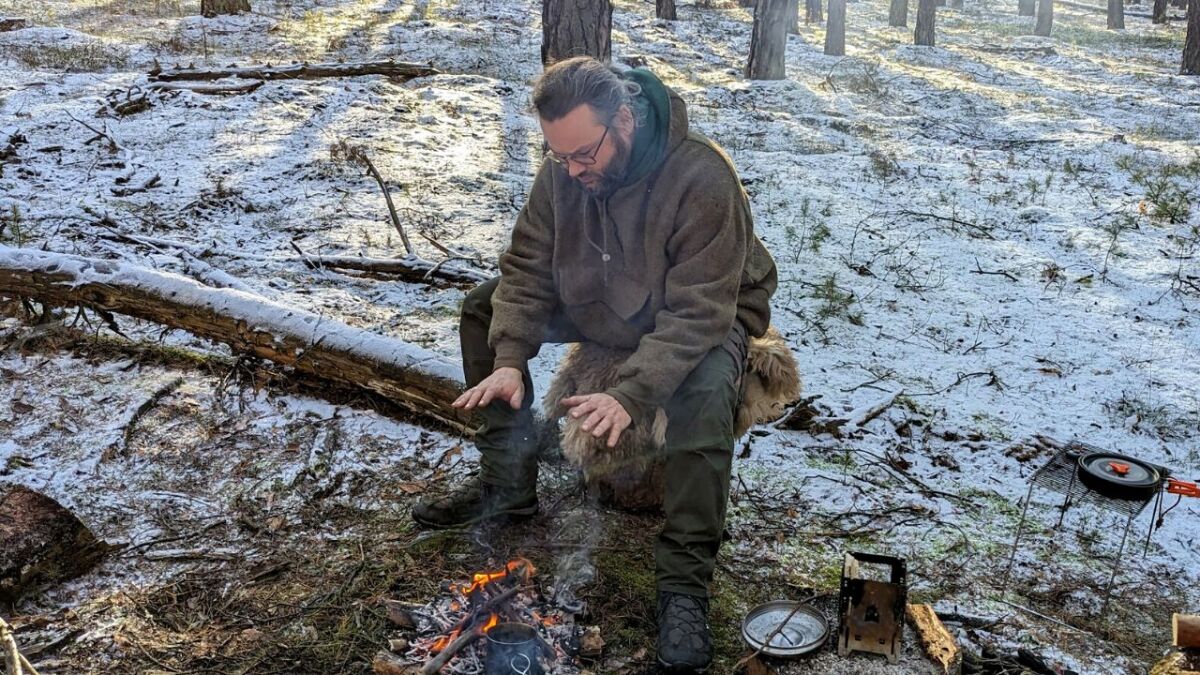 Safety Measures and First Aid: Inform yourself about possible dangers in the wilderness, such as poisonous plants or animals, and learn how to avoid them. It is also important that you are proficient in basic first aid measures. There's nothing worse than being in an emergency situation and not knowing what to do. Read more here about 15 common dangers in the forest.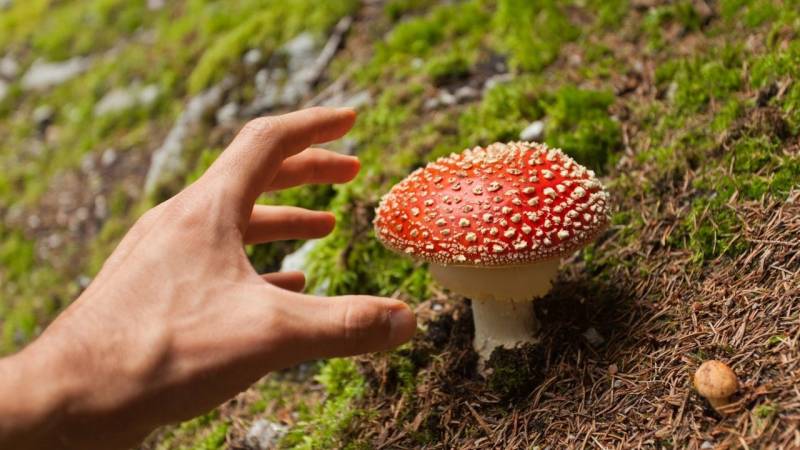 Resources and Courses for Further Education: If you really want to immerse yourself in the topic of bushcraft and survival, I recommend taking part in courses, workshops, or online distance learning courses (such as the Wildimpuls yearly course, in German). There you will learn from experienced experts and meet like-minded individuals with whom you can exchange knowledge and skills. Books, blogs, YouTube videos, and podcasts can also be great sources of information.
However, I recommend being critical and comparing various sources to gain a comprehensive understanding of the topics.
Now that you are well-equipped, it's time to embark on your bushcraft and survival adventure.
Go out into nature, learn new skills, and discover how fulfilling and enriching life in the wilderness can be.
You will see that the interaction of body, mind, and nature has something magical that will always pull you back into the arms of Mother Nature.
Whether you are alone or in a group, I wish you unforgettable and instructive experiences in the wilderness.
Let yourself be inspired by the beauty and diversity of nature and take these valuable insights into your everyday life.
Because, as John Muir once said:
In every walk with nature, one receives far more than he seeks.
In this sense, have fun on your adventure and may the forest be with you!

Was this guide helpful?
17 people found this guide helpful.
5.00 out of 5 points (17 Ratings)