Back to german article
The best gifts for Bushcrafters - every Bushcraft fan will be delighted by these ideas
From sturdy knives, collection bags, spice kits, books to clever survival tools - here you will find the hottest and best outdoor gifts for Bushcrafters.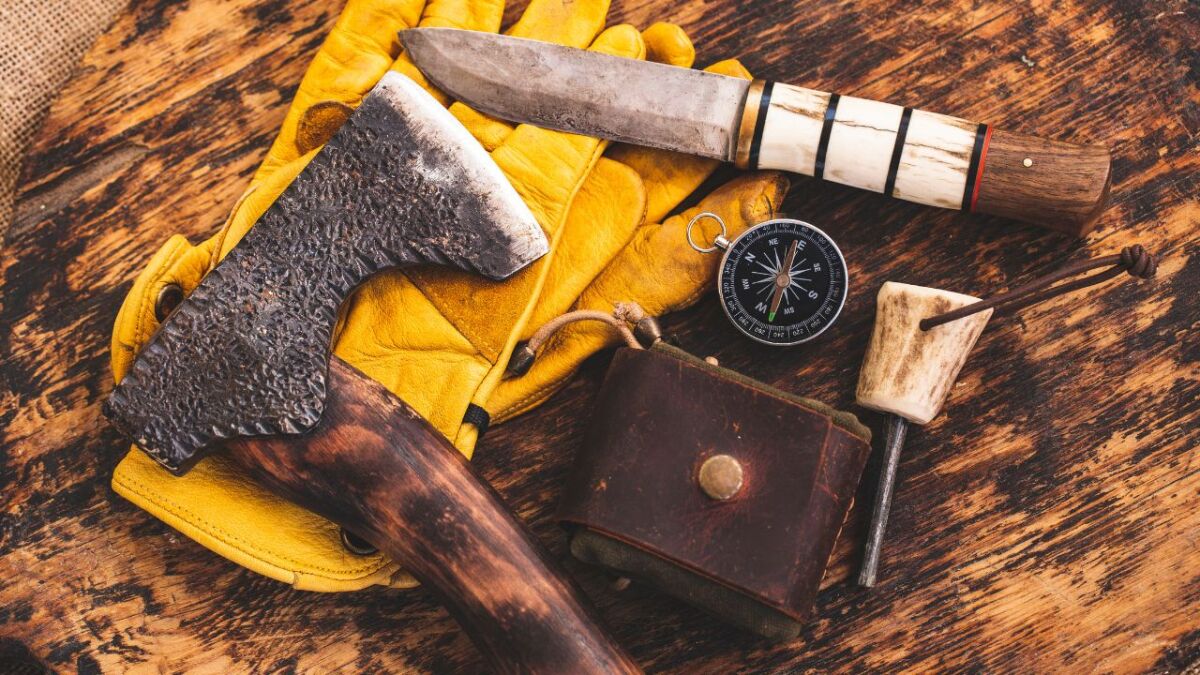 ---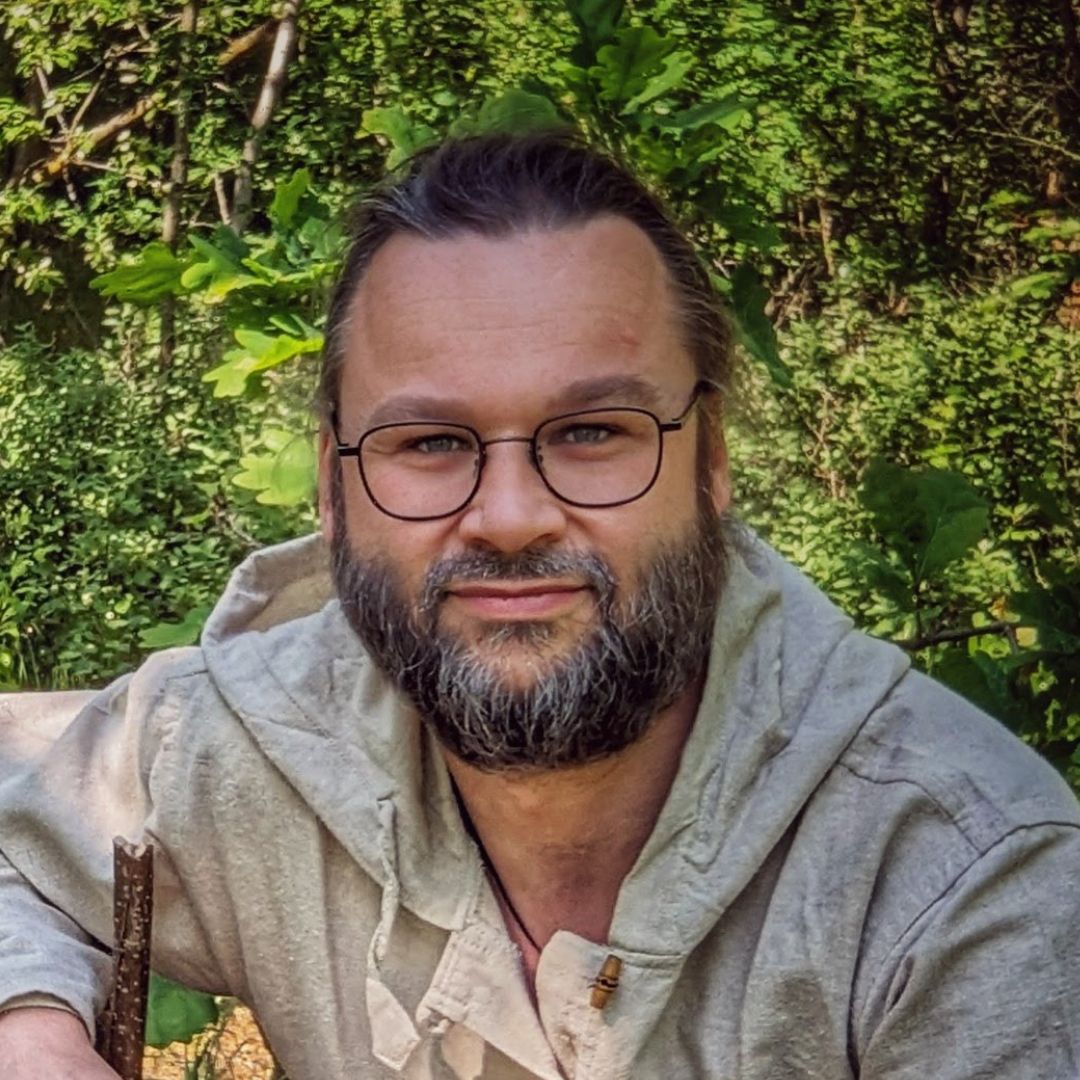 ---
👉 The key facts from this guide
A bushcraft knife is the best gift - it is an indispensable tool. However, you should know the person well and know what kind of knife they like.
Other good gifts are an axe, a fire striker, and a cooking set.
Buy high-quality equipment instead of cheap survival kits or survival bracelets.
Choose useful things that the recipient can actually use, such as a set of spice bottles, a leather pouch, or a tinder bag.
Find out about the recipient's preferences beforehand.
Think about usefulness - a gift should make life in the wilderness easier.
Find a suitable gift for Bushcrafters?
Sounds difficult at first, right?
But don't worry, I have selected the best gifts for Bushcrafters for you.
We're not talking about gifts that just look pretty in the display case.
No, we're talking about gift ideas for Bushcrafters that are truly useful when navigating the wilderness.
And hey, it doesn't matter if you're looking for Bushcraft gifts for men, women, or whoever.
When it comes to outdoor gifts, it's all about survival and living in and with nature.
So buckle up and get ready to discover some pretty cool stuff that makes life in the wilderness easier, safer, and more enjoyable.
From practical tools to inspiring books - I have compiled a list of very special things here (and also some that you shouldn't give as a gift!).
What is the best gift for Bushcrafters?
Bushcrafters appreciate gifts that they can use for activities in nature. Practical equipment such as knives, axes, cooking utensils, weatherproof clothing, carving tools, and survival books are a good choice.
If you want to focus on a gift, a sturdy Bushcraft knife is an excellent choice. A good Bushcraft knife is an essential tool and is needed for various tasks in the wilderness.
It is used for cutting, chopping, carving, crushing, igniting fire, and also as protection. A high-quality Bushcraft knife made of good steel is durable and multifunctional.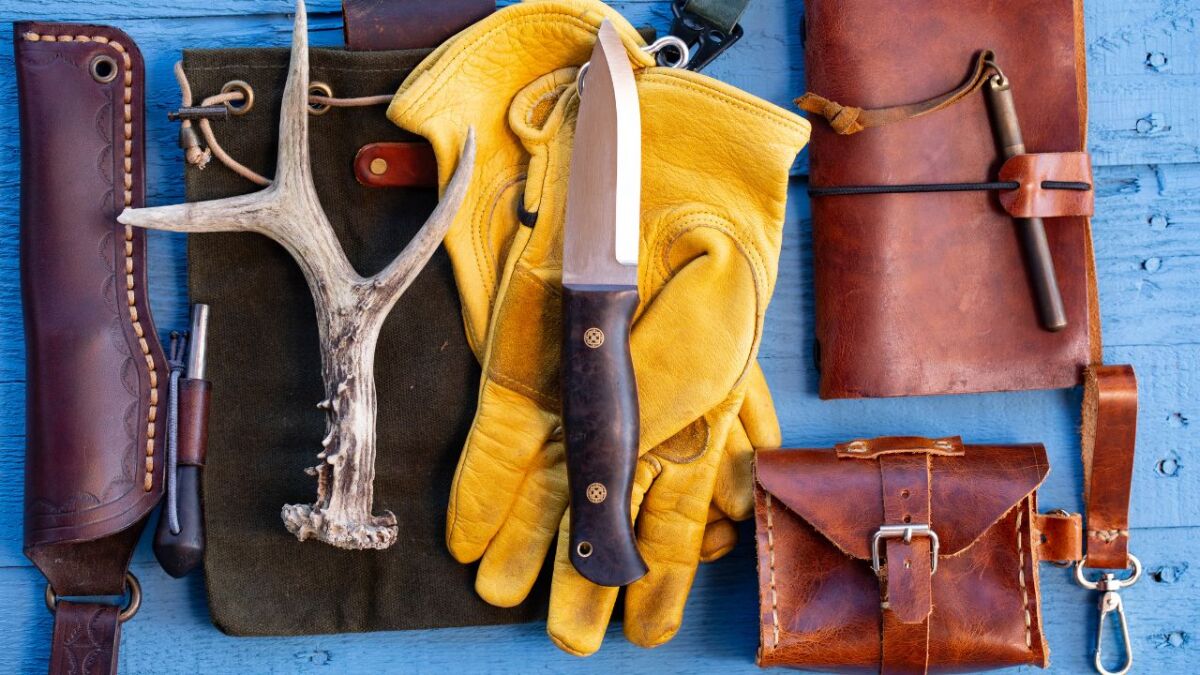 Other popular gift ideas include:
a small portable axe for woodworking
a reliable Firesteel
a cooking set for outdoor meals by the campfire
a survival manual with knowledge of survival techniques and Bushcraft
Overall, gifts are best when they show that you know the recipient's passion and provide practical tools.
So the Bushcrafter is optimally equipped for his next tour.
Let's dive deeper now.
Extraordinary and useful gift ideas for Bushcraft beginners
For those who are brand new to the adventure of Bushcraft (here's my beginner's guide), I also have some special ideas in store.
The key here is to choose useful and at the same time simple things that are not only practical but also easy to use.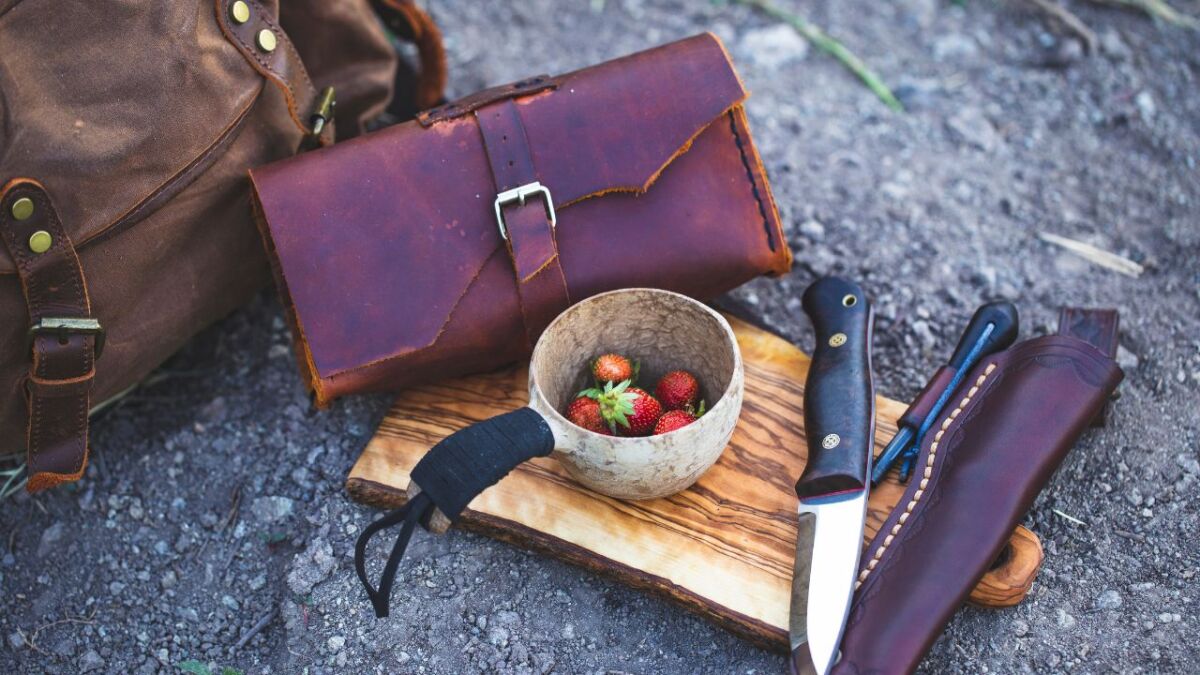 Because who wants to deal with complicated things when nature calls, right?
And of course, the perfect gift should also be extraordinary.
Because who wants a boring, standardized camping item when they can have a unique and special outdoor gift instead?
Swiss Army Knife: Practical for Every Bushcrafter?
With a Swiss pocket knife, you can never go wrong. With a single tool, various tasks can be accomplished in the great outdoors.
I have extensively tested the Victorinox Huntsman (here for the review). It has more than 15 functions and is of high quality. Find here my top 5 Swiss pocket knives in the buying guide & comparison.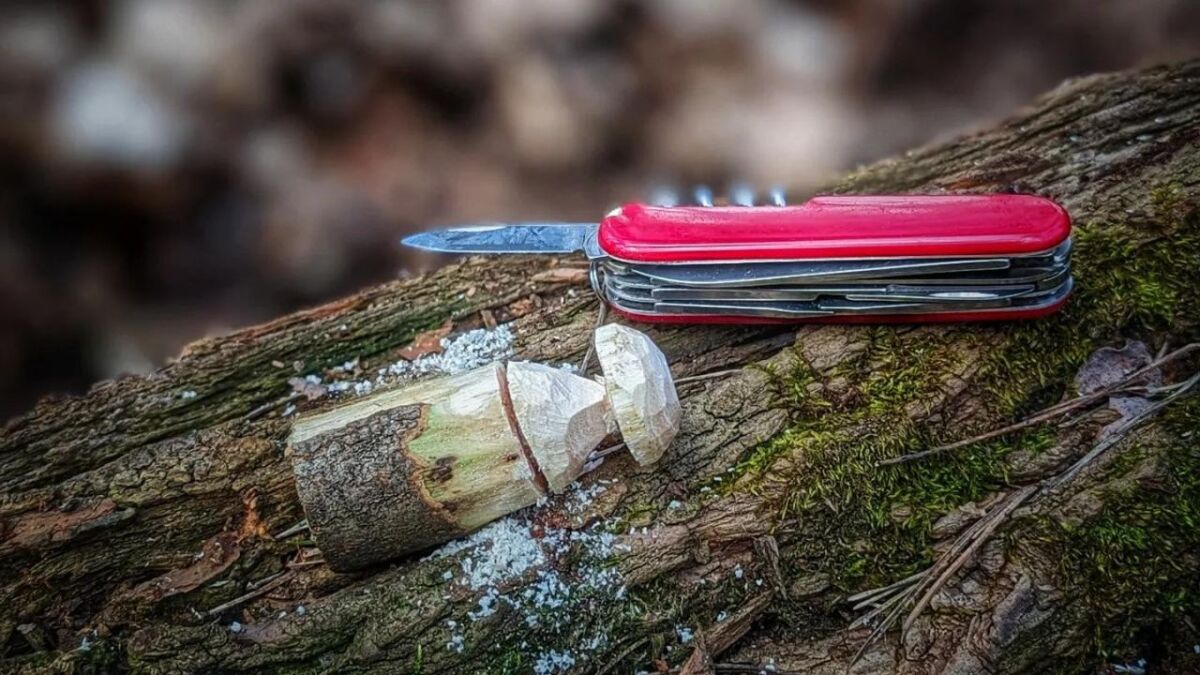 Whether it's about starting a fire, gutting fish, or simply setting up a tent - the right tool makes all the difference.
And remember, it's not just about covering the functions. A good Swiss Army knife is also easy to use and robust enough to withstand all weather conditions and requirements.
Because, at the end of the day, it is the practical and lasting gift ideas for Bushcrafters that are truly appreciated.
Survival and Bushcraft Books: Inspiration for the Wilderness
When it comes to survival in the wilderness, you need more than just courage and luck. This is where survival and Bushcraft books come into play.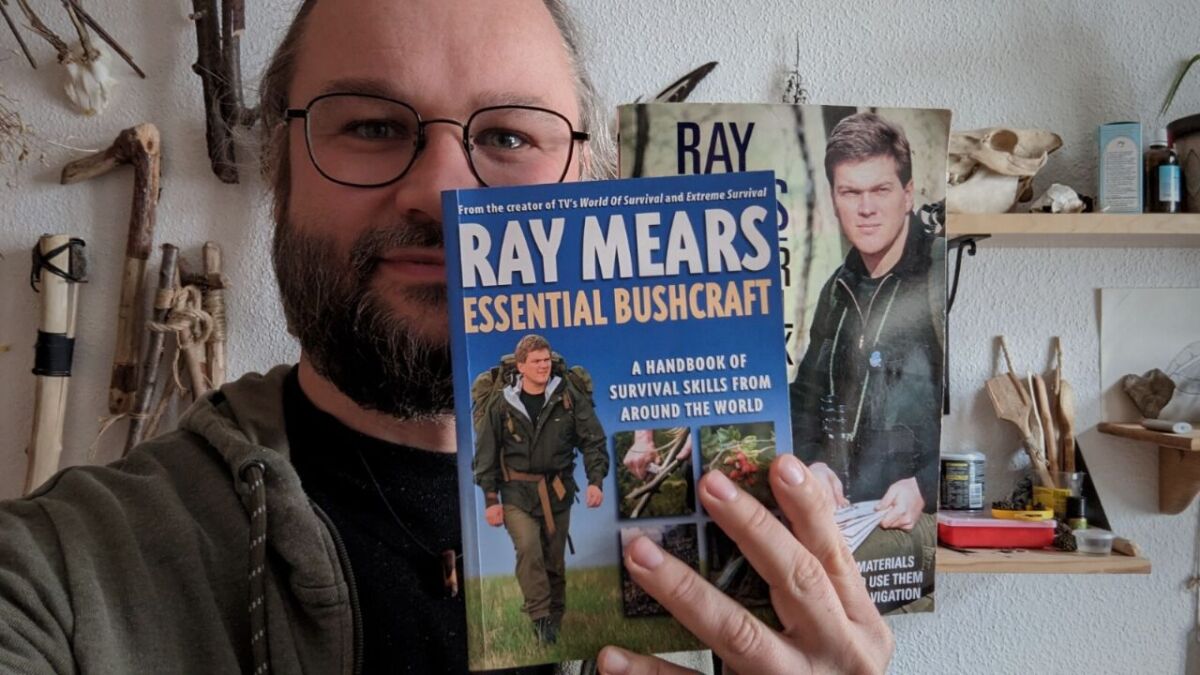 Why not give your loved ones a book like "Bushcraft 101"? This book covers many important aspects of Bushcrafting, such as building shelters and making fires.
It is a kind of survival guide that makes the dream of real outdoor life come true.
Dave Canterbury, the author of "Bushcraft 101", is considered a survival expert (read my guide to my favorite survival experts here).
His book offers a deeper insight into life and survival in the wilderness.
And if you want training on wilderness from an icon, I recommend the book "Outdoor Survival Handbook" by Ray Mears. His books provide valuable insights and tips that are useful in the wilderness. Unfortunately, only available in English.
If you're looking for more Bushcraft books, then read my guide "5 great books about Bushcraft (that you should read)".
Headlamps - Light for every outdoor adventure
A robust and bright headlamp is a fantastic gift for any Bushcrafter. Especially for beginners, a good lamp is indispensable.
Because one should never go into the forest without a source of light! A headlamp allows you to navigate safely and illuminate the surroundings even in darkness.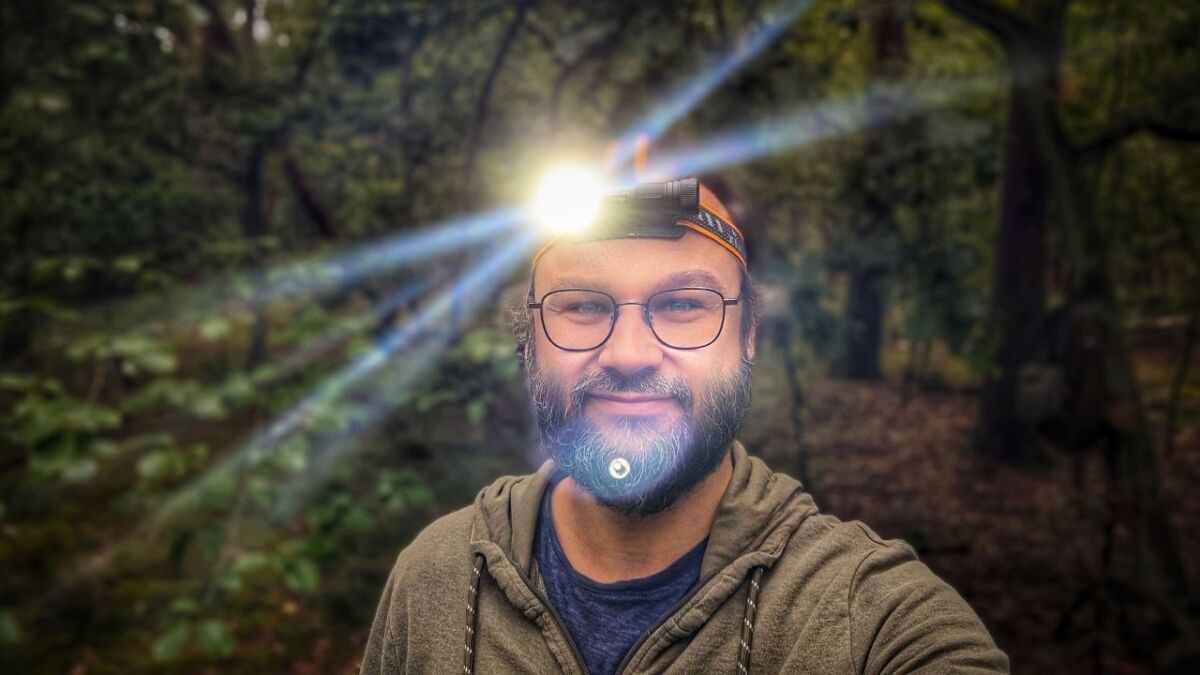 The fact is: The hands are free, as the lamp is simply worn on the head.
When making a purchase, pay attention to a waterproof design, a durable battery, as well as various brightness levels and flashing modes. The latter can also be used as emergency signals.
A great recommendation is the innovative and durable Ledlenser SEO-7R. With 220 lumens of brightness and up to 20 hours of runtime, you are prepared for any adventure.
Another very powerful option is the FENIX HM61R v2.0 headlamp. It offers an impressive 1600 lumens of brightness and a range of up to 162 meters.
Daten aktualisiert vor 0 Stunden
Thanks to the rechargeable battery, it lasts between 2 and 400 hours. The waterproof and shockproof lamp is ideal for demanding outdoor activities.
👉 Read here my full review of the FENIX HM61R v2.0 headlamp.
With this gift, the newcomer is optimally equipped for their first steps in the world of Bushcrafting.
Outdoor Cookware: Cooking like a Pro
And when we discuss survival in the wilderness, we must not forget the amusing outdoor cooking. That's where the outdoor cookware comes into play.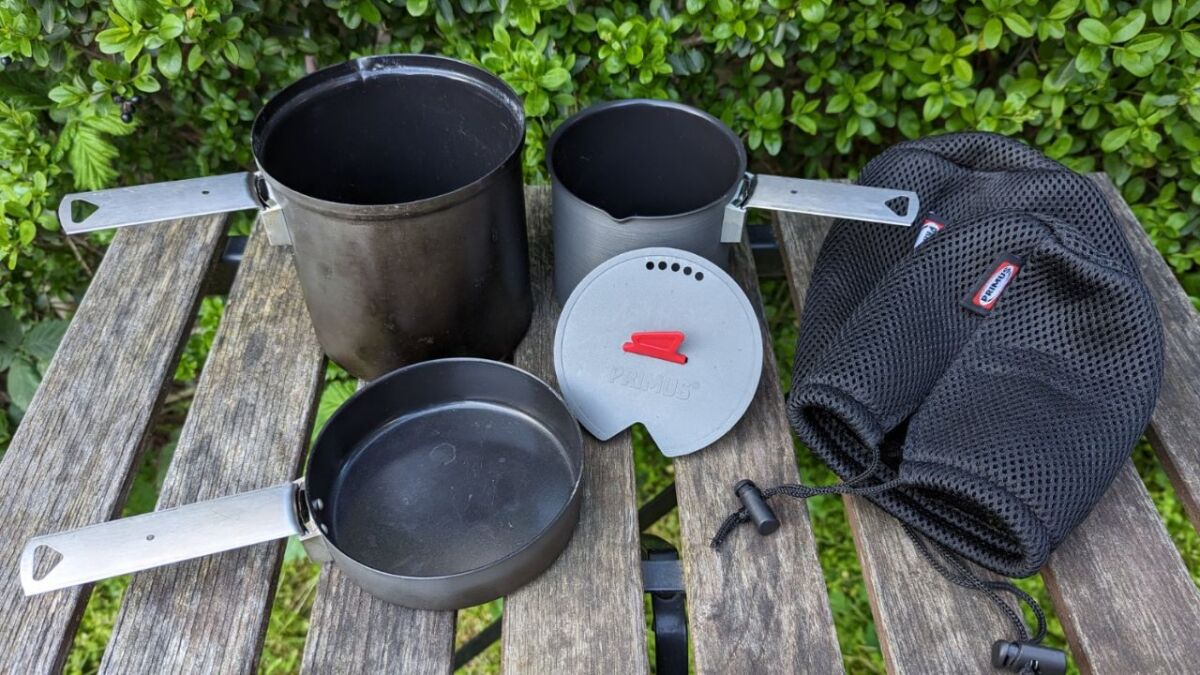 This is not only a perfect gift for a Bushcrafter, but also a necessity to prepare food like a pro (find my recipe database here).
How about the "Primus Trek Pot Set"? The material is extremely high quality, so you can be sure that you are getting a quality product. 👉 Here you can find my review about it.
Daten aktualisiert vor 0 Stunden
Deckel aus Kunststoff kann als Sieb verwendet werden
Spiralmuster am Boden für gute Wärmeübetragung
Antihaft-Beschichtung aus Keramik
Inklusive zwei Netzbeutel
Klappbare Griffe
74,99 €
UVP: 87,95 €
View Product
An outdoor cookware set usually includes everything a Bushcrafter needs on their journey, including two pots and a pan.
How about giving the Trangia 25 cookware set as a gift? It is lightweight, durable, and provides the best cooking experience for outdoor adventures - even for groups. 👉 Here you can find my review.
Daten aktualisiert vor 0 Stunden
Impressive gifts for advanced Bushcraft fans
What do you think about some impressive gifts for advanced Bushcraft fans?
Those that simply take your breath away? Whether you're looking for something for male or female outdoor enthusiasts, here are some great ideas that will inspire men and women alike.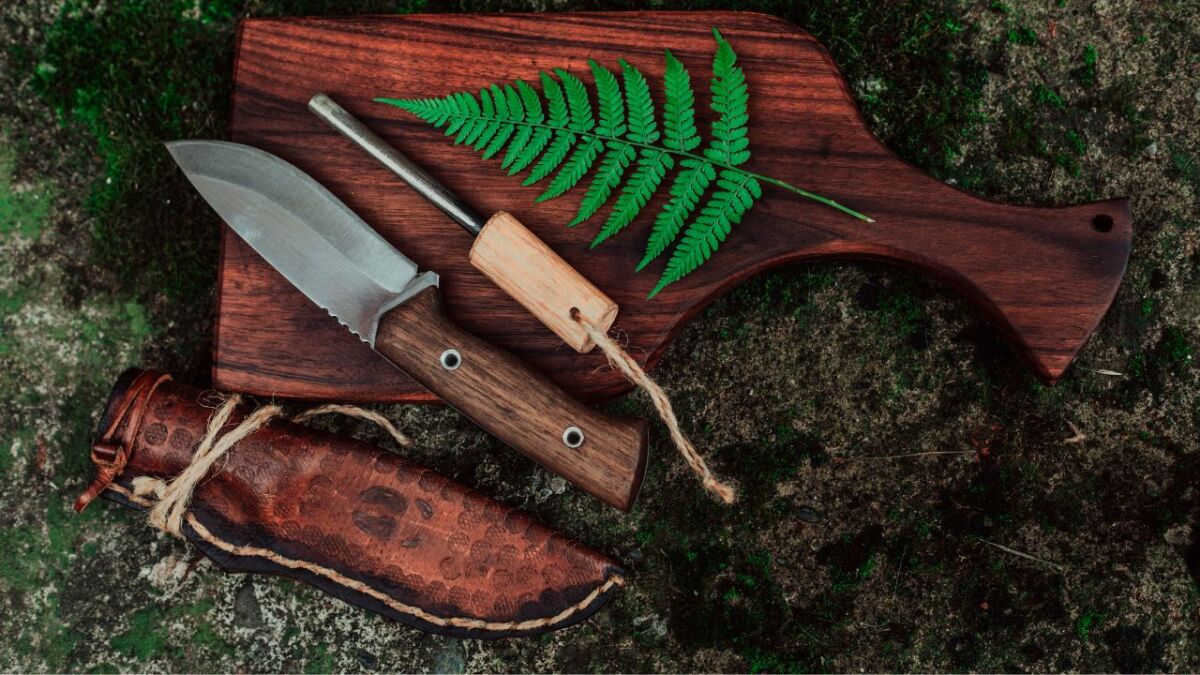 Maybe you know someone who already has an impressive collection of Bushcraft equipment, but I'm sure there's still room for another cool piece.
Navigation devices: Never get lost again
Did you know that people get lost all the time?
Take a look at navigation devices. Whether you prefer a classic compass or a high-tech GPS device - these devices are a valuable tool for any Bushcrafter.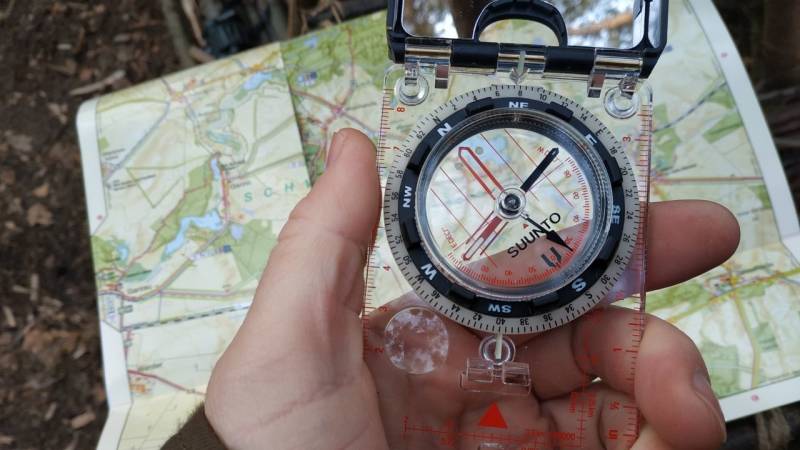 You help to determine the location, plan routes, and navigate in unfamiliar areas.
A good navigation device can greatly simplify life in the wilderness. So why not give this important Bushcrafter in your life a reliable navigation device?
Here are my recommendations for a high-quality compass:
SUUNTO Unisex Mc-2 G Mirror Compass Kompass, Weiü, Einheitsgröße EU
Professioneller Kompass mit hoher Präzision und zuverlässigen Funktionen, Spiegel für Richtungspeilung und Signalgebung, Mit Klinometer
Globale Ausrichtung, Gute Lesbarkeit bei schlechten Lichtverhältnissen durch leuchtende Markierungen, Einstellbare Deklinationskorrektur, Herstellung in Finnland
Bodenplatte mit Lupe, Metrische Skalen und Inch-Messer, Peilloch und Kimme, Abnehmbare Tragekordel mit Schnappschloss, Keine Batterien erforderlich
Hochwertige Edelstahlnadel mit Edelsteinlager, Flüssigkeitsgefüllte Kapsel für stabilen Betrieb, Lünette aus Kunststoff
Lieferumfang: 1x Suunto MC-2 G Mirror Compass, Inkl. Tragekordel, Schlüssel für Deklinationskorrektur, Schnellverschluss, Kurzanleitung, Farbe: Transparent/Schwarz, Maße: 65 x 101 x 18 mm, Gewicht: 75 g, Lünettenmaterial: Kunststoff
99,35 €
View Product
👉 And if you want to include a guide on how to use a compass, print out the guide "How to Use a Compass with a Map? - The Complete Beginner's Guide with Video" and give it as a gift.
Hammocks: Sleeping in the great outdoors
A hammock is not only a comfortable sleeping option for the Bushcrafter, but also a true lightweight (here's my guide on it).
She is easy to transport and takes up little space in luggage. Perfect for the Bushcrafter who wants to keep the equipment on their list compact and practical.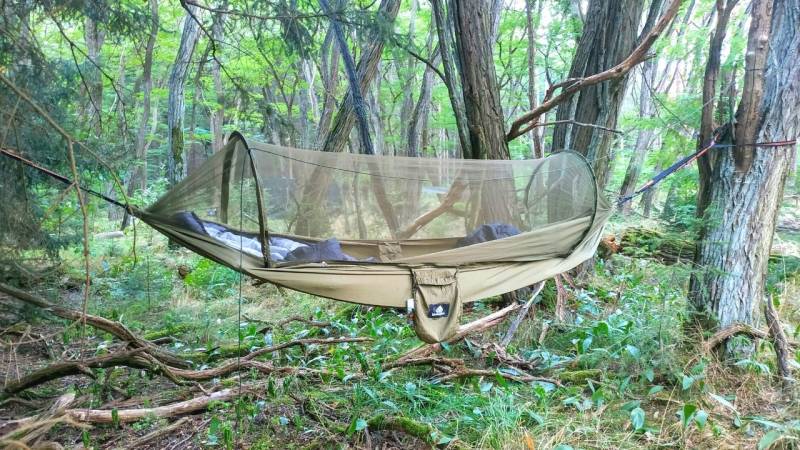 With a hammock, you can easily store lightweight luggage and sleep comfortably at the same time.
A hammock is also easy to set up and take down. With the right fastening elements, usually carabiners, it can be quickly and securely attached between two trees.
Here's my recommendation for the tight budget:
Daten aktualisiert vor 0 Stunden
NATUREFUN Ultra-Light Reisecamping Hängematte Moskitonetz Hängematte | 300 kg Tragkraft, atmungsaktiv Schnelltrocknendes Fallschirm-Nylon | 2 Premium Karabiner, 2 Nylonschlingen inklusive Schwarz
STARK- Speziell entwickelten ultrastarken Nylon-Endgurte,Diese sind stark genug.durch unsere.Das einzigartige Gurtdesign hat eine doppelt so starke Bruchfestigkeit, als die meisten Wettbewerber. Das 210T Fallschirm Nylongewebe in Militärqualität bietet sowohl ein robustes, als auch komfortables Bett und ist luxuriös dimensioniert, 275 x 140 cm. Mehr Platz in dieser Fallschirm Camping Hängematte. kann bis zu 300+ kg halten.
SUPER LEICHT,KOMPAKT - Der Stoffsack ist bequem in die Hängematte eingenäht, damit du diesen nicht verlierst. Lässt sich auf etwa die Größe eines Volleyballs verpacken, und wiegt nur etwa 1kg (Enthält zwei hochfeste Karabiner und Geschlungene Schlingen). Leicht und klein genug, um sie bei jedem Outdoor-Trip mitzunehmen! Hergestellt aus sehr starkem Nylon-Fallschirm mit Dreifach-Nähten. Atmungsaktiv, schnelltrocknend und resistent gegen Fäulnis und Schimmel.
STRAPAZIERFÄHIGES SCHNAKENNETZ - Verhindert, dass selbst kleinste Schädlinge deine Ruhe stören. Hochwertiger Doppelreißverschluss, von innen oder außen öffnend. Das Insektennetz enthält 2.100 Löcher pro Quadratzoll, sodass es Schnaken oder kleinste Flöhe fernhält.Kannst du die Schnaken Hängematte einfach umdrehen und als normale Hängematte verwenden!In dem Moment, in dem Sie die Hängematte aus der Tasche ziehen, wird das Netz automatisch aufgespannt.
EINFACHE REISE, CAMPING & AUFBAU - Packen Sie die Hängematte einfach in den kleinen, beigefügten Sack, packen Sie sie in Ihren Rucksack und los geht's. Mit den mitgelieferten Stahlkarabinern und den baumfreundlichen Gurten ist der Aufbau ein Kinderspiel - dank der beiden 2,8 m langen Gurte können Sie Ihre Hängematte sogar zwischen zwei Bäumen aufhängen, die mehr als 6 m voneinander entfernt sind - und müssen nie wieder Seile für ein Moskitonetz binden.
AUSGEZEICHNETES DESIGN - Wenn Sie die Hängematte falten, biegen Sie die Halterung zu einem Kreis und befestigen Sie zwei Enden, und dann mühelos Sack in die beigefügte Tasche.Es gibt eine 3. Option, wenn Sie nicht finden können, rechts 2 Bäume oder alle Ankerpunkte - flach auf dem Boden wie ein Zelt.Sie können eine zusätzliche feuchtigkeitsbeständige Matte und 2 Bodennägel, die leicht zu finden sind in Ihrem Camping-Ausrüstung benötigen.
33,99 €
UVP: 35,99 €
View Product
Spices for outdoor chefs
Even in the wilderness, the food has to taste delicious! With a spice bottle set, you can spice up your outdoor kitchen.
The compact set here on Etsy contains 9 glass bottles in a metal box. Individual spices and oils can be taken along in it.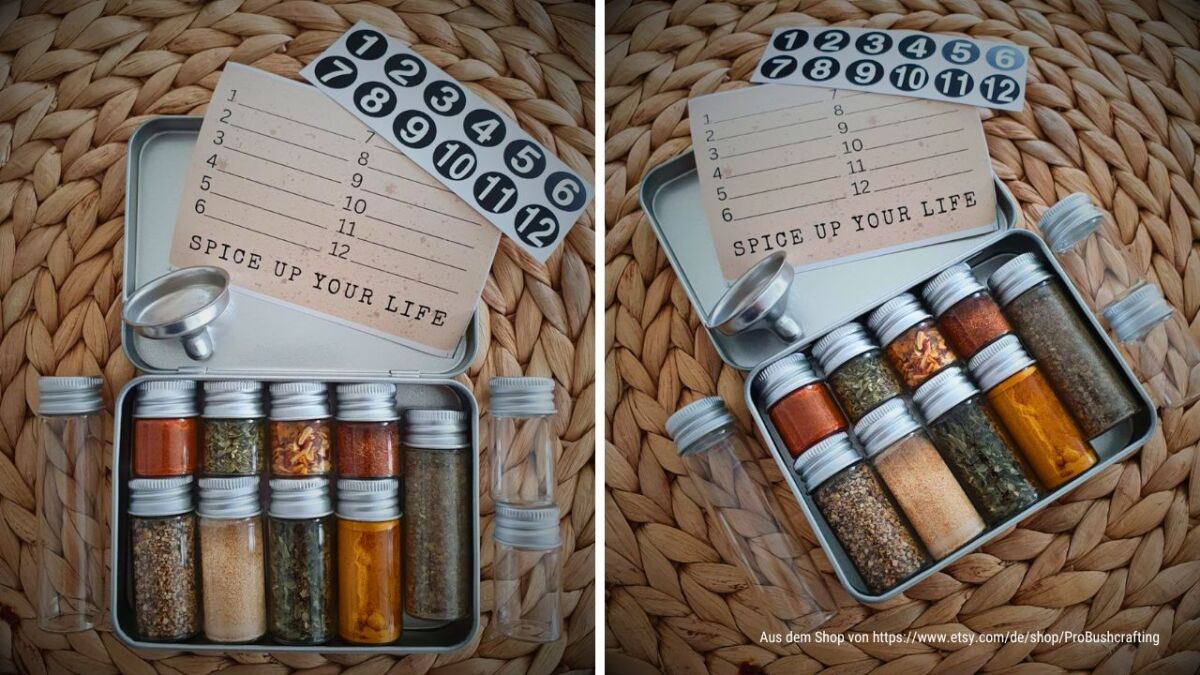 Practical are the different sizes of the bottles. This way, salt and pepper can find space next to fine herbs. A mini funnel makes filling easier.
The glass bottles are tightly sealable and robust. This ensures that the flavors arrive safely at their destination. In addition, the included stickers can be used to label everything.
If you're looking for something more natural instead of a metal box, then choose the spice glass bottles with leather pouches (here's the link).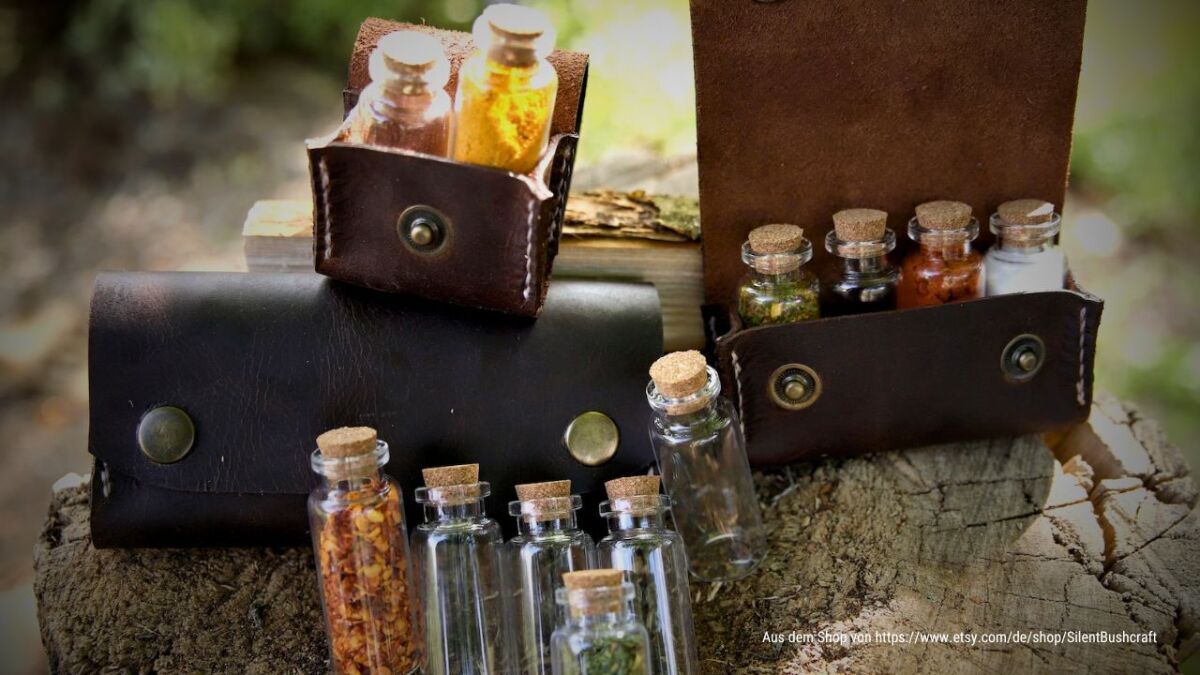 With this gift, the Bushcrafter can conjure up delicious dishes even in the wilderness. Simply bring along your favorite spices from home and off you go!
Natural Wilderness Collection Bag
When Bushcrafting outdoors in nature, you often come across small treasures like herbs, berries, mushrooms, or tinder. With a leather and waterproof cotton collection bag, you can safely store your findings.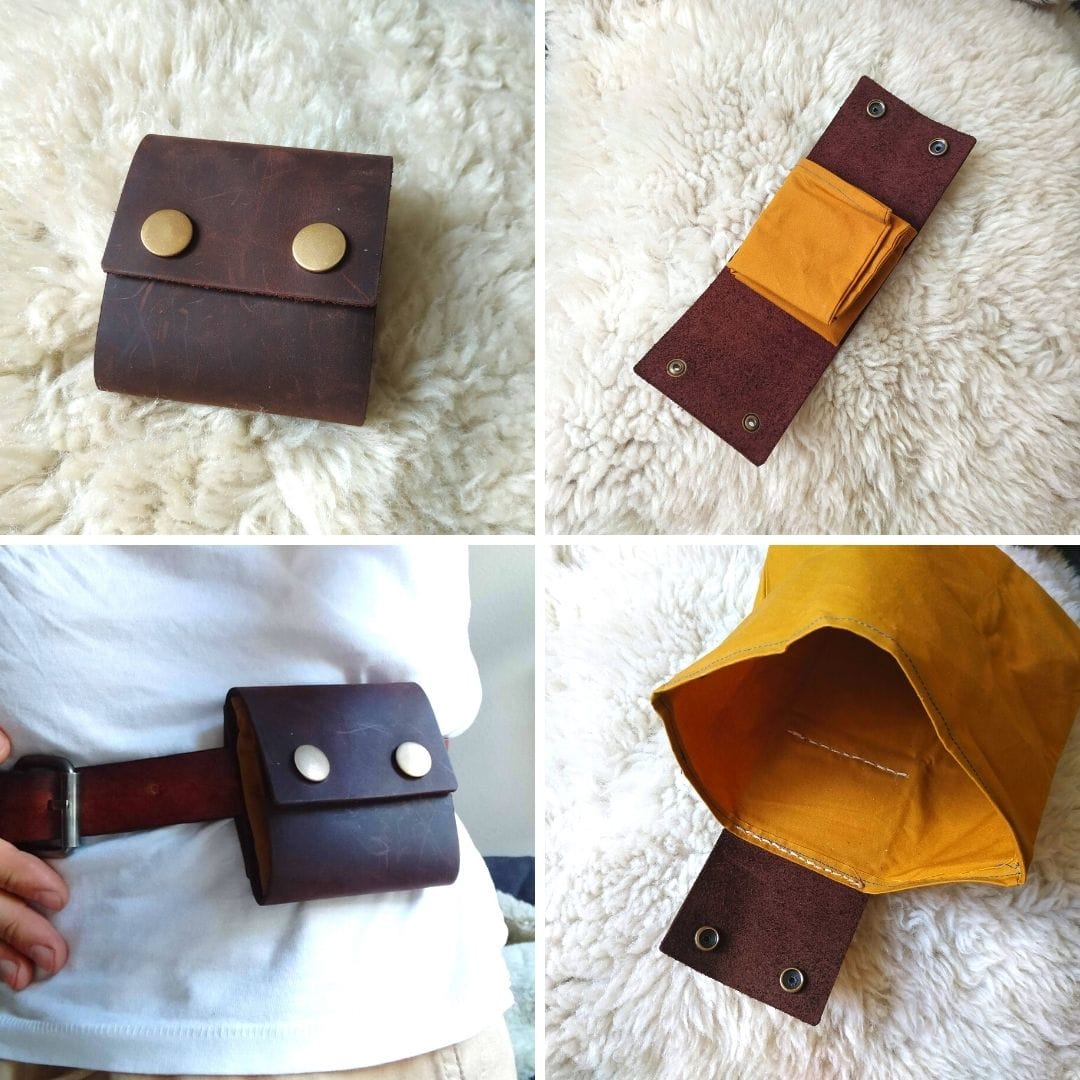 The majority of bags are generously sized at approximately 30 x 25 cm. The front opening allows for easy access. A leather lid securely seals the bag waterproof.
The processing is often high-quality, and all seams are neatly crafted. Thanks to the naturalness of the materials, the bag blends perfectly into the surroundings.
The fact is: With this sturdy collection bag, Bushcrafters are optimally equipped for their forays. Whether berries, herbs, or tinder - the treasures of the wilderness can be safely stored and transported in it.
👉 You can buy such a bag here on Etsy.
The perfect bag for precious tinder
When making a fire in the wilderness, good tinder is essential. With a handmade tinder bag, dried fuel can be stored and transported optimally.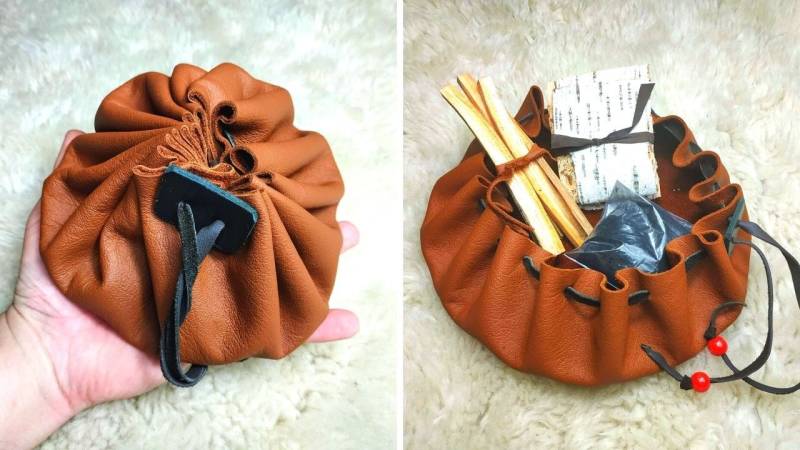 Such a small bag is made of sturdy oilcloth or leather. It is waterproof and keeps the valuable tinder dry. The bag can be closed with the cord.
For Bushcrafters, a tinder bag is a great accessory. It protects the tinder, often painstakingly collected, from moisture and damage. It is a gift that delights every outdoor fan and significantly facilitates fire making.
👉 At Etsy you can find some wonderful tinder bags, like this one, this one, or this one.
Axe or Hatchet: Bushcraft at a Higher Level
For the true Bushcrafter, quality and functionality are important, and that also applies to the tools he uses.
A hatchet or an axe are important companions for the Bushcrafter. These tools are not only useful for chopping or splitting materials like wood, but also for building shelters or tackling other tasks in the wilderness.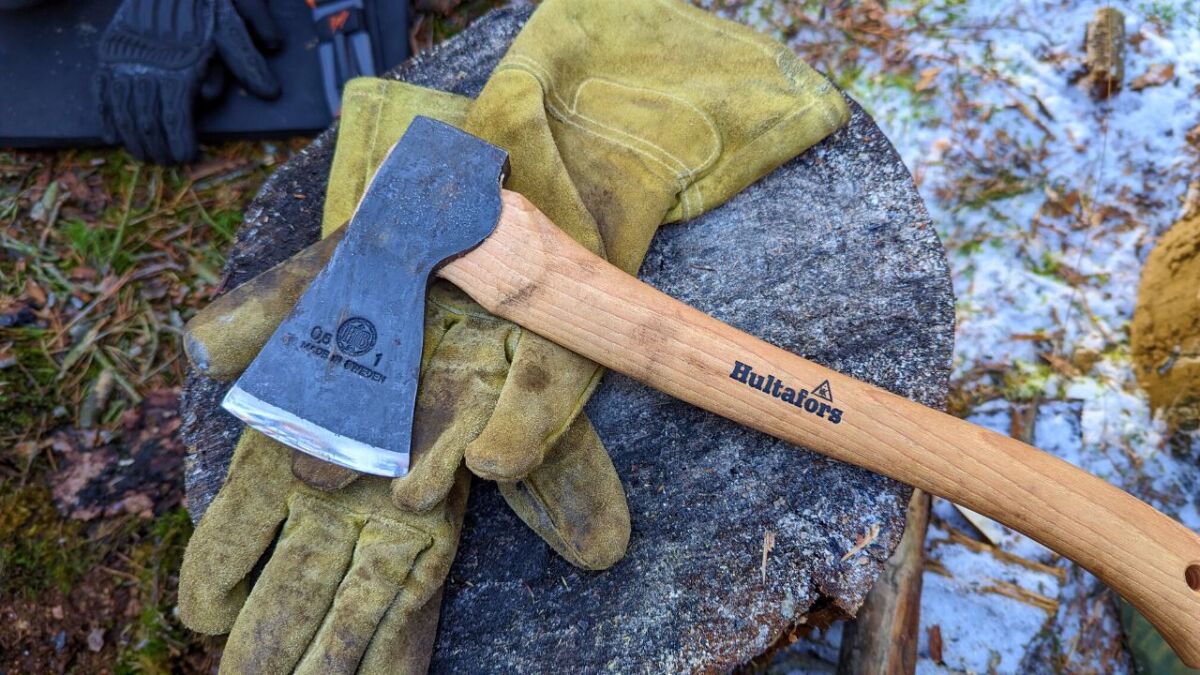 Please pay attention to the material and craftsmanship when choosing the axe or hatchet. High-quality steel and sturdy wood/plastic ensure a long lifespan and durability.
The weight and handling also play an important role. A well-considered choice of one of these tools can bring great joy to your Bushcrafter.
Here is my recommendation for the small budget (also read "The 3 best survival axes (presentation + pictures)"):
Daten aktualisiert vor 0 Stunden
Fiskars Universalaxt, Inklusive Klingen- und Transportschutz, Länge: 35,5 cm, Antihaftbeschichtet, Hochwertiger Stahl-Klinge/Glasfaserverstärkter Kunststoff-Stiel, Schwarz/Orange, X7-XS, 1015618
Universalaxt (Gesamtlänge: 35,5 cm) zum Spalten kleiner Scheite und Anzündhölzer < 7 cm für den Kamin, Ofen, Grill oder das Lagerfeuer
Extra scharfe Klinge aus doppelt gehärtetem Stahl mit hochwertiger Außenbeschichtung, Perfekte Balance zwischen Axtkopf und Stiel für einen effizienten Schwung und ein kraftsparendes Spalten
Langlebiger Stiel aus wetterbeständigem, glasfaserverstärktem Kunststoff, Hohe Sicherheit durch unlösbare Verbindung von Axtkopf und Stiel, Fester Halt dank innovativem, rutschfestem Griff mit 3D-Struktur und hakenförmigem Griffende
Made in Finland, Hohe Langlebigkeit, Einfaches Nachschleifen der Axt mit separat erhältlichem Axtschärfer (Art.-Nr.: 1000601)
Lieferumfang: 1x Fiskars Universalaxt X7-XS, Inklusive Klingen- und Transportschutz, Länge: 35,5 cm, Gewicht: 640 g, Material: Hochwertiger Stahl/Glasfaserverstärkter Kunststoff, Farbe: Schwarz/Orange, 1015618
35,72 €
UVP: 54,99 €
View Product
And here is a high-quality model that makes every Bushcraft enthusiast's heart beat faster. I have also written a review and test about it.
Daten aktualisiert vor 0 Stunden
Handgeschmiedetes Beil Hultan 375mm aus schwedischem Qualitätsstahl I Hultafors I Geschmiedet in Schweden I 805g Premium Axt mit Hickory Holzstil & inkl.Lederschutz I Nachschleifbares Beil I 841701
INHALT - Handgeschmiedete Premium Axt Hultan 805g inklusive Klingenschutz aus nachhaltigem schwedischem Kuhleder. Die Axt kann nachgeschliffen werden.
MAßE - Die kleine Axt ist 375mm lang. Ihr Gesamtgewicht beträgt 805g, wobei ihr Kopfgewicht 500g beträgt.
MATERIAL - Das Beil besteht aus hochwertigen Materialen. Der Axtkopf ist aus qualitativem CO2 neutralen schwedischen Stahl mit einem Härtegrad von 55 HRC gefertigt und als Korrossionsschutz mit Leinöl überzogen. Der Griff besteht aus nordamerikanischem Hickory Holz, das zugleich flexibel und stabil ist. Um eine sicherste Verbindung zum Stiel zu garantieren, ist der Axtkopf doppelt, sowohl mit einem Holzkeil, als auch einem Stahlring am Griff befestigt.
ANWENDUNG - Das handgeschmiedete Beil kann für diverse Arbeiten, wie Schnitzen, Holzbearbeitung, Outdoor und Survival Aktivitäten, Abtrennen von kleinen Ästen und Zweigen uvm. verwendet werden. Es ist klein und praktisch und kann somit immer mitgeführt werden. Der mit Leinöl imprägnierte Griff liegt perfekt in der Hand und erleichtert die Arbeit.
PREMIUM ÄXTE - Seit 1697 werden unsere Premium Äxte im schwedischen Hults Bruk auf traditionelle Weise von Hand gefertigt. Mit über 325 Jahren Erfahrung formen unsere Schmiede schwedischen Stahl zu hochwertigen Äxten und verleihen ihnen eine hohe Haltbarkeit und Lebensdauer. Jede Axt ist ein Unikat, dass bei richtiger Nutzung über Generationen weitervererbt werden kann.
99,90 €
UVP: 114,00 €
View Product
Exclusive gift ideas for the ultimate survival and outdoor experience
Gifts for Bushcrafters can be diverse and entirely depend on the needs and desires of the recipient.
I therefore recommend that you find out beforehand what your friend uses.
Does she prefer modern knives with plastic handles or does she prefer traditional blades with a wooden handle and a leather sheath?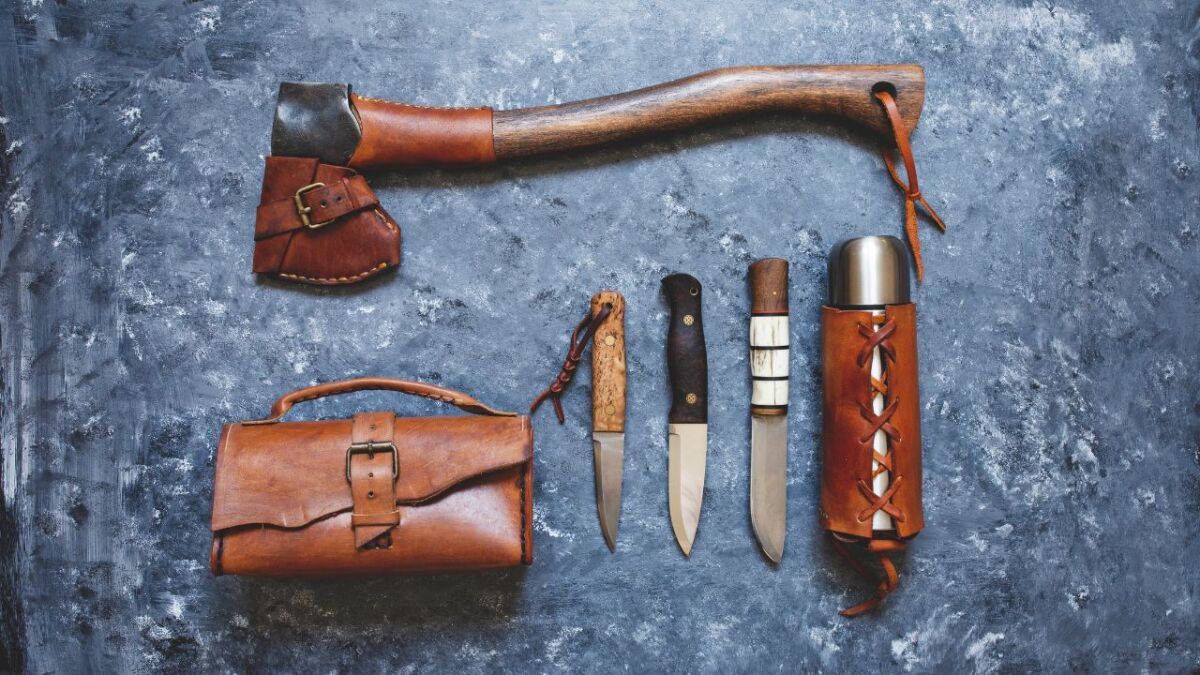 When buying a knife, I recommend you to take a close look at what you are buying.
(Be sure to keep the receipt and check if you can return a knife if you don't like it.)
Nobody is helped if the knife is in the cupboard - a knife belongs on the belt and in the forest.
The Bushcraft Knife: A Must-Have for Every Bushcrafter
The Bushcraft knife is another essential tool for any serious Bushcrafter.
It not only serves as a versatile tool for cutting and chopping, but can also be used to ignite fire or as protection in the wilderness.
A Bushcraft knife is a must-have in every survival kit and is guaranteed to withstand any Bushcraft adventure.
Maybe it needs to be a new one? Is the old one worn out or broken?
Take a look at my top list of Bushcraft knives / Bushcraft knives with fire steel and also my recommendations and reviews:
The Firesteel: more than just a piece of metal
A reliable fire starter is an essential tool for every Bushcrafter.
Whether it's a lighter, fire steel, or fire starter kit, it's important to always have a reliable way to make a fire to stay warm and prepare food.
But the fire steel is particularly recommended here.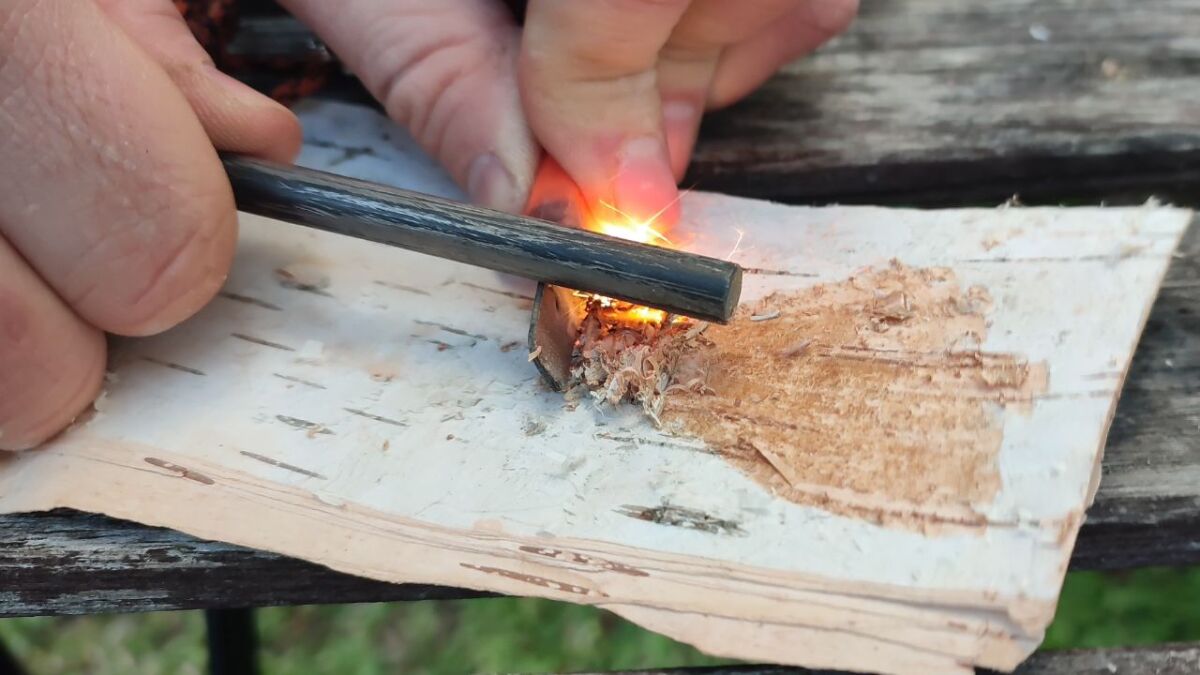 It's not only fun to ignite a fire with it, but it also lasts extremely long and works even when it's wet.
I can highly recommend the "LIGHT MY FIRE Firesteel" (here's my review). It offers 3000 ignitions, and you get the highest quality because it was specifically developed for the army.
LIGHT MY FIRE Feuerstahl Outdoor Scout 2-in-1 mit Notfallpfeife, Feuerstahl Survival Gadget Feuerstein Feuerzeug, Ewiges Streichholz mit Bio-basierter Kunststoffgriff 3000 Zündungen
EINGEBAUTE NOTFALLPFEIFE INKLUSIVE mit griffigem Design, sicher und so einfach zu bedienen, dass sogar ein Kind den Ferro Rod Magnesium Feuerstarter entzünden kann. Unser langlebiger Feuersteine lässt Sie nicht im Stich. Ideales Outdoor Notfall Survival Set. Farbe: CocoShell
WASSERDICHTES FEUERSTARTER WERKZEUG ermöglicht es Ihnen, Ihr Feuer wie ein Profi mit einem Stab und Streicher zu entzünden, die nicht aufgeben. Der Light My Fire Feuerstahl funktioniert immer, auch bei Nässe und Wind oder in großer Höhe, im Gegensatz zu billigen Versionen, die bei schlechtem Wetter versagen.
BIS ZU 3.000 ZÜNDUNGEN BEI 3000°C machen unsere Outdoor Feuerzeug jedes Lagerfeuer zu einem flammenden Erfolg. Diese Feuerstein Feueranzünder für Lagerfeuer und Grill sind vertrauenswürdige Accessoires für Outdoor-Kamine und Feuerstellen sowie BBQ- oder Camping Feuerzeug. Ferrocerium-Stabdurchmesser: 6.5 mm
BPA-FREIE, LANGLEBIGE GRIFFE AUS 96% BIO-BASIERTEN KUNSTSTOFF und Funken sicherer Magnesium-Feuerstarter-Legierung, robuste Nylonkordel, Edelstahl-Streicher, setzen unser zuverlässiges Ferro-Rod-Wildnis Survival Feuerzeug ab. Nehmen Sie diese reisesicheren unzerstörbaren Fire Starter überall hin mit.
LIGHT MY FIRE SCHWEDISCHER SCOUT FEUERSTAHL Überlebenswerkzeuge entsprechen militärischen Qualitätsstandards und werden in Schweden hergestellt. Wir sind das Original und unsere Überlebensausrüstung und -ausstattung ist von höchster Qualität. Wir verbinden Menschen wieder mit der Natur, um einen nachhaltigen Planeten zu schaffen.
15,00 €
View Product
If you are looking for other fire steels, read my buying guide "The best fire steel (+ buying guide)".
The perfect carving peeler
For Bushcrafters who enjoy carving small everyday items like spoons or bowls (here's my guide), a good peeling knife is essential.
I recommend peelers from Frost or Mora - they are ideal for this.
The 12 mm thick curved blade allows for precise carving and shaping of wood. The handle made of oiled birchwood feels comfortable in the hand.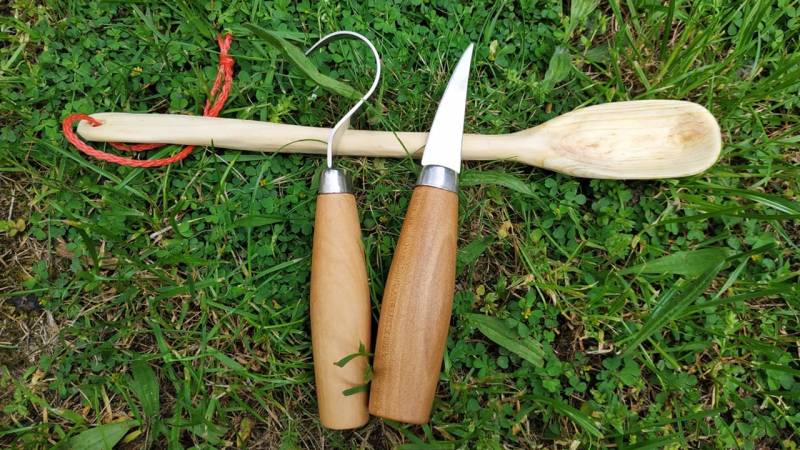 The knife is made of stainless steel and has an optimal hardness for carving work. It is specifically designed for right-handed individuals.
With some experience in carving and sharpening knives, this peeling knife allows for delicate work. This way, beautiful wooden masterpieces can be created by the campfire.
For ambitious Bushcrafters who enjoy carving, this peeling knife is the perfect precision tool. With it, true works of art can be created from wood.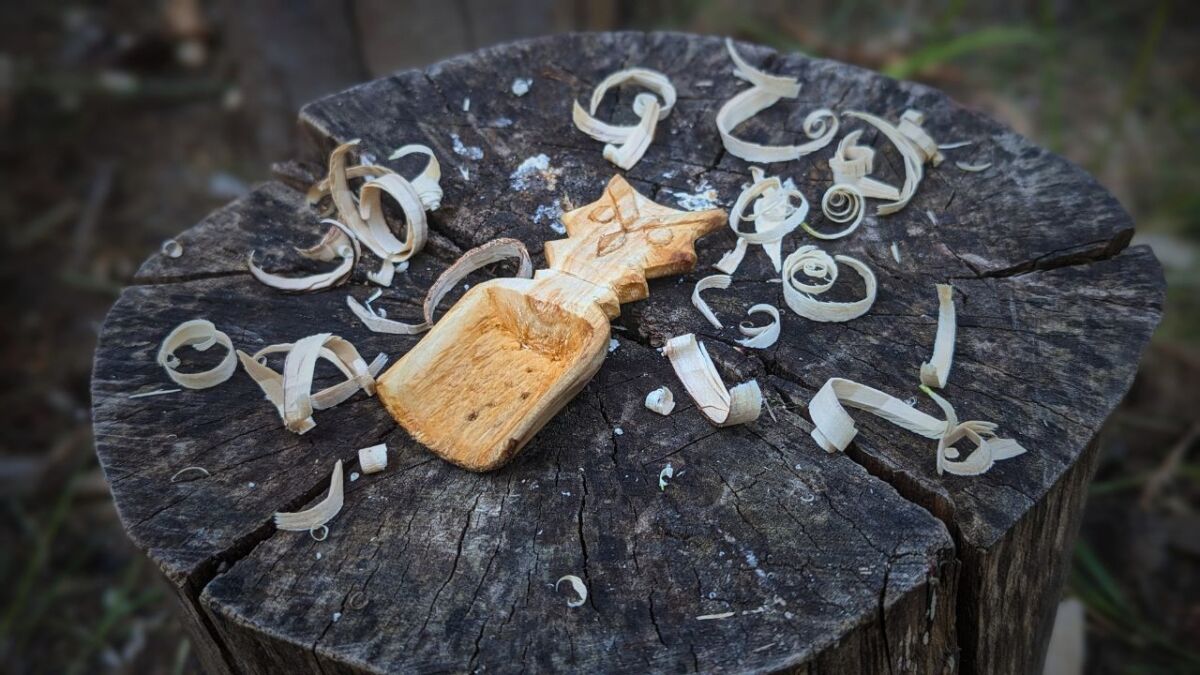 13 More Ideas to Give You a Boost
Waterproof Equipment

Waterproof equipment is a must for every Bushcrafter. A waterproof bag or backpack protects the equipment from rain and moisture. A waterproof lighter or matches are also practical gifts to ensure that you can always make a fire, even in bad weather.

Outdoor Watch

An outdoor watch with a compass and altimeter is a practical gift for Bushcrafters. It helps them keep track of time and navigate even when they are in unfamiliar terrain.

Camping Lamp

A sturdy and bright camping lamp is an essential gift for Bushcrafters. It allows them to navigate safely outdoors and illuminate their surroundings even in darkness. Find my top list here.

Outdoor Clothing

High-quality outdoor clothing is a must for every Bushcrafter. It should be weatherproof, breathable, and durable. A good rain jacket, hiking pants, and hiking boots are gifts that any outdoor enthusiast will appreciate. Find my guide here.

First Aid Kit

A well-equipped first aid kit is a gift that hopefully will never be needed but can be lifesaving in an emergency. It should contain bandages, disinfectants, painkillers, and other essential items. Take a look at the sets here.

Outdoor Emergency Equipment

Outdoor emergency equipment such as a signal whistle, signal light, or rescue blanket are important gifts for Bushcrafters. They can be used in emergencies to attract attention and call for help.

Outdoor Camera

An outdoor camera is a great gift for Bushcrafters who enjoy documenting their adventures. It should be shockproof, waterproof, and easy to use. A good camera allows them to capture their experiences in nature and share them with others through social media.

Outdoor Maps and Books

Maps and books about the region where the Bushcrafter is exploring are useful gifts. They provide information about hiking trails, points of interest, and local flora and fauna.

Outdoor Notebook

An outdoor notebook is a practical gift for Bushcrafters to record thoughts, observations, and adventures. It should be waterproof and durable to withstand the demands of the outdoors.

Outdoor Cookbook

An outdoor cookbook is a great way to inspire Bushcrafters and discover new recipes for their outdoor meals. It should include simple and delicious dishes that can be easily prepared outdoors.

Survival Workshop

A survival workshop or outdoor training is a unique gift for Bushcrafters. It allows them to strengthen their skills and learn new techniques. Here I present 5 courses.

Outdoor Protective Gear

Outdoor protective gear such as insect repellent, sunscreen, and hats are practical gifts for Bushcrafters to protect themselves from the elements.

Outdoor Socks

High-quality outdoor socks are a gift that is often underestimated. They should be comfortable, breathable, and durable to withstand the demands of the outdoors.
Should I give a survival bracelet as a gift?
Often a survival bracelet is advertised like this: "A survival bracelet is a useful accessory for any Bushcrafter. It often contains practical tools such as a knife, a compass, or a fire starter and can be used in case of emergency."
Is that really so?
The fact is: These advertising promises often do not hold up to critical scrutiny.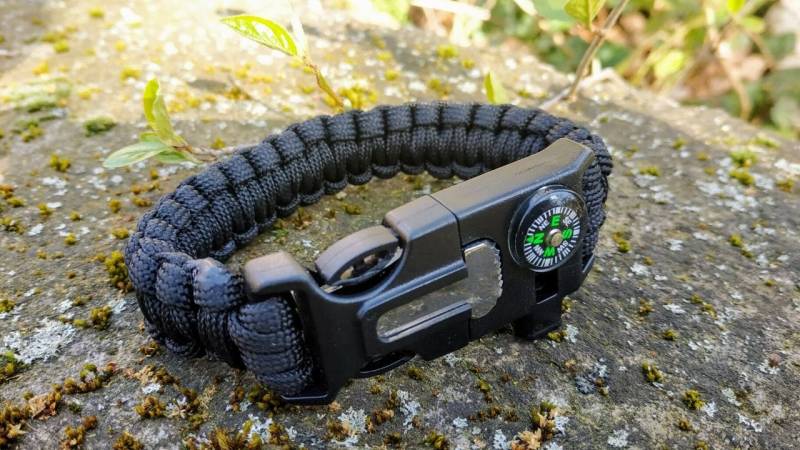 The tools and accessories included in survival bracelets are often of inferior quality. I have extensively discussed this in my guide "What is a Survival Bracelet? Gimmick or Useful?".
So the mini knives are hardly usable for the requirements of Bushcrafting such as carving or chopping wood.
Even the often included fire starters made of magnesium are clearly inferior to the more reliable models.
Even more serious is that the hidden knives in survival bracelets often violate § 42 of the Weapons Act. If the recipient is caught with such a prohibited knife during a police check, severe penalties can be imposed.
My tip: Instead of giving survival toys as gifts, it is more meaningful for a Bushcrafter to provide him with high-quality equipment for his outdoor activities.
More Bushcraft Gift Ideas - but are they meaningful?
Should I give a survival kit or Bushcraft kit as a gift?
Often a survival bracelet is advertised like this: "A survival kit is a comprehensive gift for Bushcrafters. It often contains a variety of tools and equipment items that can be used in emergencies."
Is that correct?
In reality, many of the items in these sets are cheaply made and of inferior quality.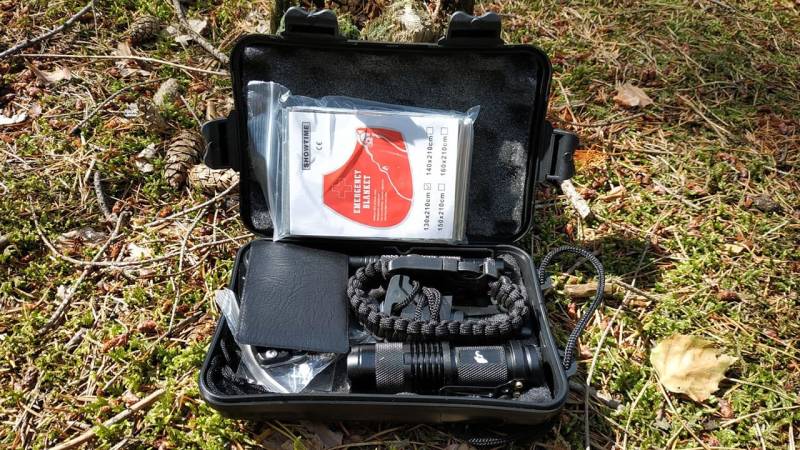 You often can't withstand the strain in the wilderness. In addition, the knives and tools included are usually too small and unsuitable for the coarse motor activities involved in Bushcrafting.
According to the provisions of the Weapons Act § 42, one-handed knives with a fixed blade are also not allowed to be carried in public. Some knives in survival sets fall under this prohibition.
The recipient could then get into legal trouble if they carry the knife in nature (Read here everything about knife law in Germany).
My tip: Instead, it makes more sense to give the Bushcrafter individual high-quality equipment items that he can really use for his activities.
That includes a sturdy Bushcraft knife, a good axe or saw, weatherproof and warm clothing, or a cooking set for campfires.
With thoughtful gifts like these, you show that you have put thought into it and know and support the recipient's passion.
Should I give a Tactical Pen as a gift?
No, because a tactical pen is more of an unnecessary toy than a truly practical tool for a real Bushcrafter.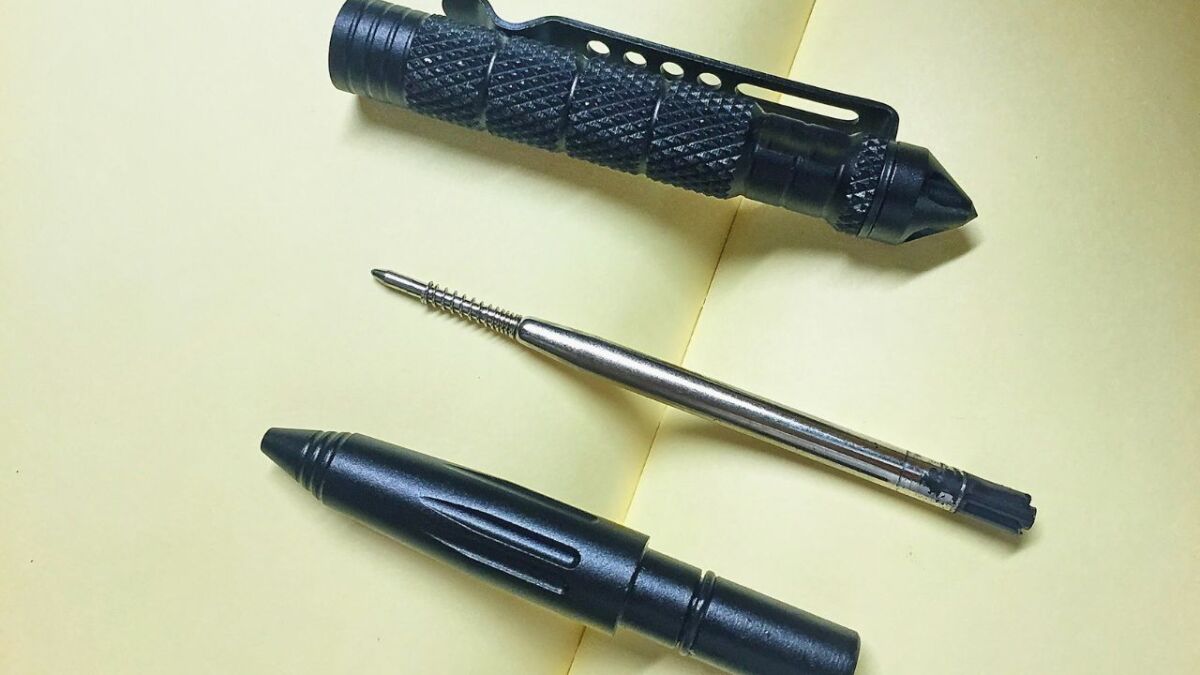 There are several valid reasons why a tactical pen is not very useful for Bushcrafters:
A tactical pen is also a weapon. But for a Bushcrafter, it's about useful tools and skills, not fighting.
The supposed benefits like smashing glass are not relevant in the wilderness.
A small robust pocket knife (like the Victorinox Huntsman, here's my test) is 100 times more useful than a tactical pen. It serves many functions, is practical for everyday use, and universally applicable.
My tip: For a true Bushcrafter, a good knife, a small axe, fire steel, paracord, and similar utensils are much more suitable. They enable survival in nature and are not weapons.
Should I give a multifunction tool as a gift?
At first glance, multifunction tools seem practical. They often combine various tools such as knives, screwdrivers, pliers, and similar items in a compact device.
Some Bushcrafters might like such a jack-of-all-trades.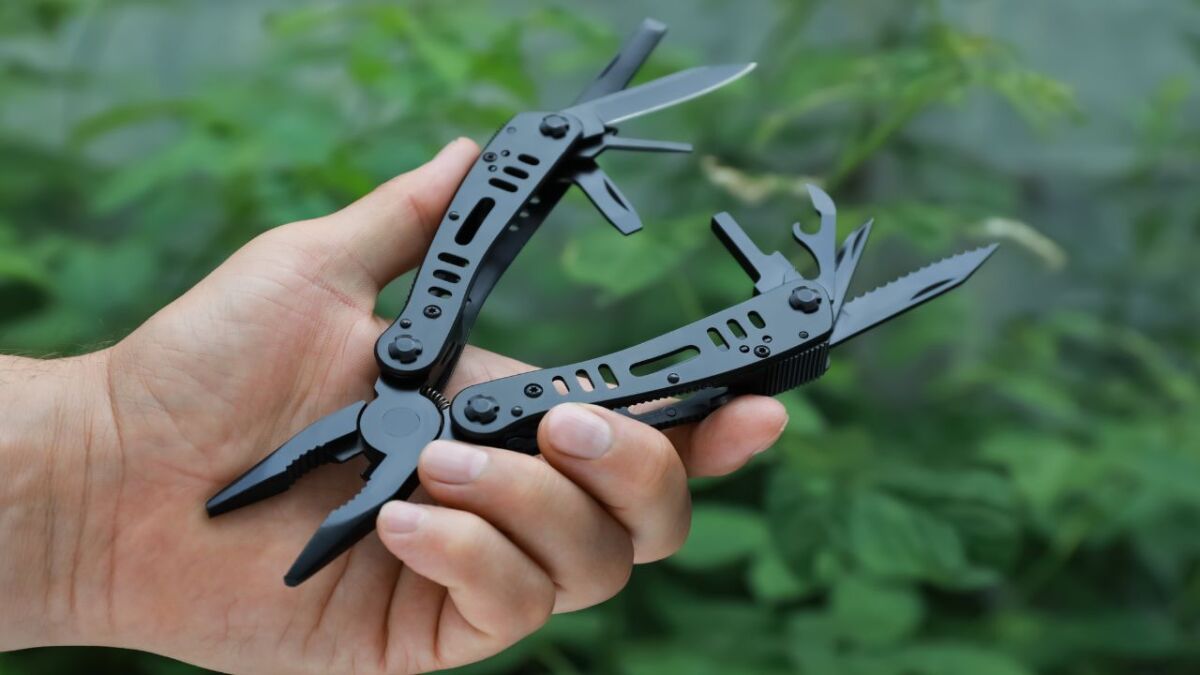 However, upon closer examination, it becomes apparent that the mini tools of multitools are only partially suitable for the requirements of Bushcrafting and survival in nature.
The knives are often too short and unstable for carving, they are too small to split wood properly (Batoning).
The mini saws are also hardly suitable for felling and chopping trees.
Who needs pliers in the forest? There are no nails there.
A screwdriver or hex key is also useless in the forest.
It is more meaningful to give the Bushcrafter individual high-quality tools that fulfill perfectly their specific purpose.
Whether it's a sturdy Bushcraft knife, a sharp axe, or a powerful folding saw.
With focused tools like these, he is much better equipped for the demands of the wilderness than with a multitool.
Ultimately, it depends on the preferences of the recipient. However, often, individual, high-quality tools are more useful than a compact multitool with compromises in quality and functionality.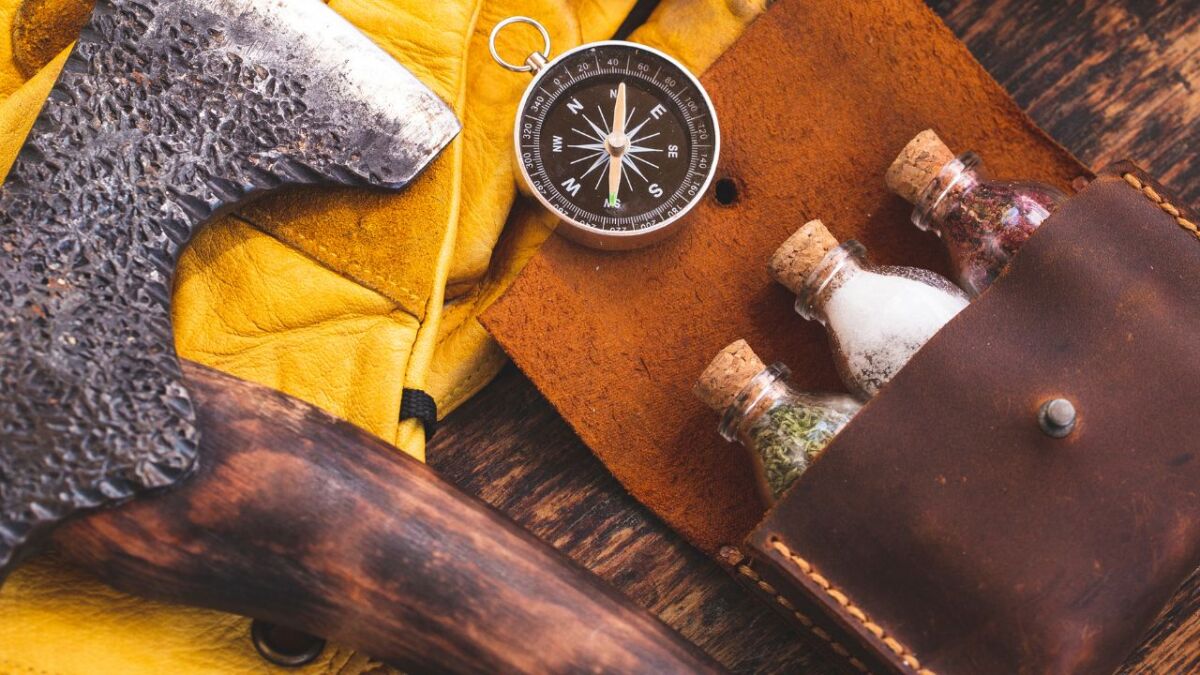 Wrap-up: The perfect gifts for every Bushcraft fan
Whether you're seeking a gift for a Bushcraft beginner or an experienced adventurer, there are plenty of great options.
Knives, axes, saws, ropes, fire steels, or clothing are excellent ways to help your loved ones navigate in the wilderness.
There are great things made of leather that match perfectly the traditional style of a Bushcrafter.
A tactical pen, survival kit, or survival bracelet, however, are not included.
And the best part is that some of these gifts are suitable for both beginners and advanced learners.
One thing is for sure, these gifts will definitely earn plenty of "wows" and "ahs". And when the next outdoor adventure awaits, they are well-prepared.
Whether at the campfire or in the woods, with these gifts every Bushcrafter will be well-equipped.
Moreover, remember, it's not about the price of the gift, but about the fact that you thought of them.

Was this guide helpful?
11 people found this guide helpful.
5.00 out of 5 points (11 Ratings)